Whether you're making your own baby food or storing store-bought baby food, you want containers that will keep it fresh and safe from harmful chemicals, prevent freezer burn, and be easy to use and clean.
As baby food storage containers come in all shapes, sizes, prices, and formats, it can be challenging to know which containers are worth buying. But we'll make it easy for you. We'll explain the advantages of the different types of food storage containers and how to use them to store your baby food safely.
We'll even compare the top products and give you our reviews of the best baby food storage containers for storing and freezing homemade baby food purees for use at home or on the go.
Image
Model
Product Comparison Table
Features
Best Glass Storage
WeeSprout Glass
Measurements on the container
Set of 12
High-grade, food-safe glass
Best Budget Pick
Sage Baby
Lots of jars for a good price
BPA-, phthalate-, and lead-free
Reusable
Best Freezer Tray
Kiddo Feedo
Includes baby food e-cookbook
Silicone is durable
Tight clip-on lid
Best Plastic Containers
Tovla BPA Free Plastic
Travel size
Attached, leak-proof lid
BPA-free plastic
Best SnapLock Containers
OXO Tot Baby Blocks
Includes carrying tray
Extra-secure lids
High-quality materials
Best Food Pouches
Wee Sprout Reusables
Extra wide, double-zipper bottom
Eco-friendly materials
Multiple sizes available
Best Large Containers
Collapsible Silicone
3 large sizes to choose from
Collapsible design
Airtight lids
Review Methodology: At Mom Loves Best, our comprehensive analysis and hands-on experience with baby food storage containers allow us to evaluate products from a user's perspective. We demonstrate our expertise in assessing and ranking these products based on key decision-making factors such as material, size, durability, and ease of use. Our research involves comparing different brands and designs, closely examining their effects on users, and measuring their performance using quantitative data. By reviewing these criteria, we provide you with factual evidence and professional insights to help you choose the best baby food storage containers that will cater to your needs and preferences. Trust our thorough evaluation process and findings, as we aim to assist you in making the best informed decision for you and your little one.
---
---
The Best Baby Food Storage Containers of 2023
These are our favorite baby food storage containers.
WeeSprout Glass Baby Food Storage Containers
Best Glass Baby Food Storage
If you are making baby food for the first time, this glass container set will be a great purchase. We like that it takes the guesswork out of storing baby food and has everything a beginner needs. Glass is also one of the safest materials to work with because it is so easy to clean and sterilize.
Choose from a set of 12 4-ounce or eight 8-ounce microwaveable, dishwasher-safe jars. Each jar includes measurement markings on the side so you can portion your baby's meals and track how much they eat.
All of the products are 100% BPA-, phthalate-, and PVC-free, so you don't have to worry about your little one being exposed to questionable chemicals.
These glass baby food storage containers work best for small-batch baby food prep. If you prefer to make large batches of homemade baby food, you may want to purchase several sets.
Pros
Set includes 12 4-ounce or eight 8-ounce containers.
Measurement markings on the container.
Microwave and dishwasher safe.
Cons
Jars may crack if introduced to sudden temperatures changes.
Our Ratings
Community Feedback
I recently purchased these containers for storing homemade baby food, and they've proven to be a fantastic investment. These containers are the perfect size for portioning out meals and can even hold two one-ounce cubes of frozen puree, making them ideal for sending to daycare. They are easy to clean and dishwasher safe, and the included dry erase pen makes labeling the lids a breeze. While I've heard some concerns about the containers cracking under certain conditions, I've mainly used them for freezing and thawing food in the fridge without any issues.
---
Sage Glass Baby Food Storage Containers
Best Baby Food Storage Jars
Baby food has traditionally been stored in tiny glass jars because jars are portable and strong, and they hold a tight seal.
We searched for the best large-quantity, high-quality set of baby food storage jars to use at home and found this great set from Sage.
The 12 reusable 4-ounce jars are made of glass, are safe to use in the microwave and freezer, and come with tight-sealing lids and a marker.
With 12 jars for one great price, this is an excellent option for moms on a budget who want to make baby food in bulk.
Pros
Lots of jars for a good price.
High-quality glass material.
Reusable.
BPA-, phthalate-, lead-, and PVC-free.
Cons
Takes up storage space.
Prone to breakage.
Our Ratings
Community Feedback
Love these glass jars for their portion control and dishwasher-friendliness! I've used them for baby food, freezing milk, and even measuring out wine. Just be careful, as they can break if mishandled, and the measurements on the outside might be a bit off.
---
Kiddo Feedo Freezer Tray
Best Freezer Tray for Baby Food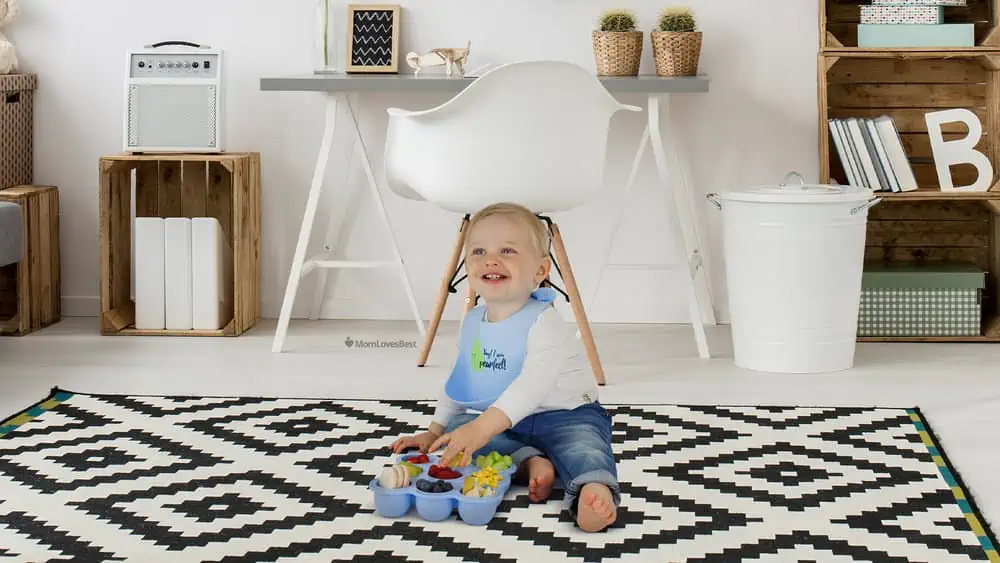 Silicone is the king of the freezer! Foods won't get stuck in silicone molds and will pop out easily. Silicone is washable, stain-resistant, and won't scratch or scuff over time.
Freezing larger batches of baby food is a popular way to cut down on time in the kitchen for busy moms. This silicone freezer tray makes it easy to make baby food in bulk, then store it in the freezer to use as needed.
Each tray comes with nine food pods that can hold up to 2.5 ounces of food. Each pod has individual measurement markings and a unique clip-on lid that prevents spills, protects against freezer burn, and makes stacking easy.
Purchase several trays in different colors and freeze different food types in different-colored trays to easily decipher which food you're grabbing at a glance. Once your baby food is frozen, you can leave it covered in the trays in the freezer and pop out a serving whenever you need one. Or transfer the frozen food to zip-top bags so you can reuse the tray.
Our favorite thing about this freezer tray is the downloadable 47-page e-cookbook and instruction guide that comes with your purchase. If you are nervous about storing baby food in the freezer, the cookbook can give you some ideas on the best recipes to use.
Pros
Includes baby food e-cookbook.
Silicone is durable.
Tight clip-on lid.
Our Ratings
Community Feedback
As a new grandmother tasked with making baby food, I found these trays to be incredibly useful for freezing homemade purée and other baby foods. The flexibility of the material allows for easy removal of individual frozen portions, and the silicone lid keeps each compartment airtight. While it took me a moment to figure out how to secure the lid properly, the overall experience with these trays has been efficient and enjoyable, making the process of preparing and storing baby food a breeze.
---
Tovla BPA-Free Plastic Baby Food Containers
Best Plastic Baby Food Containers (BPA Free)
Plastic containers have a lot of positives. They are generally less expensive than glass containers, easier to purchase in a wide variety of sizes, and fairly indestructible if your child gets a hold of them.
However, many concerns have been raised about the types of plastics used to make baby food storage containers. Low-quality plastics can actually leach harmful toxins and chemicals into your food and your baby's body (1).
One of the reasons we like this set from Tovla is because their plastic containers are food-grade safe and free of BPA. If you are a health-conscious mom who wants the convenience of plastic without the fear, this set may be just the thing.
This is the best set for on-the-go moms who may sometimes want to dispose of their baby food storage containers while they are out without breaking the bank. But don't worry, they're recyclable!
Each of the 50 plastic containers in the set holds approximately 3 ounces of food. The attached lids hinge and snap closed, meaning you will never lose a lid again.
Pros
Travel size.
Attached leakproof lids.
BPA-free plastic.
Cons
Not microwaveable.
The thin plastic can be squashed easily.
Our Ratings
Community Feedback
For a cost-effective solution to food storage, these containers have been a great addition to my kitchen. I've used them for freezing small portions of homemade pesto, my dog's meals, and even my son's baby food. Although the containers aren't the most durable, they have held up well in the freezer, fridge, and microwave without leaking. It's important to make sure they are completely snapped shut and to not overfill them when freezing to avoid any issues.
---
OXO Tot Baby Blocks
Best SnapLock Baby Food Containers
Sometimes you need to take your baby food on the go. Whether you are traveling to another state or just down the street, containers with snap lids add more security so your baby food stays right where it is supposed to be.
We are big fans of these special "baby blocks" storage containers, available in multiple sizes in a single set. They have a range of high-quality features, including BPA-free plastic and airtight, watertight, leak-proof snap lids.
They are freezer and microwave safe, making it even more convenient to feed your baby. What we most appreciate is the included carrying tray.
The carrying tray is made of plastic and holds all the containers. This means you can safely transport all the baby food you need without having to stuff jars in a diaper bag or have them floating about your car. It also keeps them in place if you're freezing baby food and don't want the trays tipping before the food is frozen.
Pros
Includes carrying tray.
Extra-secure lids.
High-quality materials.
Cons
Hard to stack without the tray.
Our Ratings
Community Feedback
After using these containers for meal prepping and baby food storage, I found them to be durable, easy to clean, and convenient for both refrigerator and freezer use. The container trays make stacking and organizing a breeze, and the measurement markings on the side of the containers are highly useful for portion control. While the lids have three parts and require thorough cleaning, they do not leak when properly assembled. However, it is important to note that the containers may not be completely leak-proof when tipped sideways or placed in bags for extended periods.
---
Wee Sprout Reusable Food Pouch
Best Food Pouches
Does the idea of using food pouches for homemade baby food intimidate you? Many mamas feel that way, thinking a food pouch is something only hip food companies use. However, we think they are an excellent tool for helping children feed themselves and gain some independence.
This double-zippered pouch was designed to make the process easy. The best part is the extra-wide zipper opening on the bottom. Simply unzip the bottom, pour the food in, and seal it.
Because the space to fill it is so large, you don't have to worry about making a mess when filling it up. One of the biggest concerns we have with food pouches is having food get stuck inside them, but the unique zip-open feature allows water to run right through it, so clean up is a snap.
Pros
Extra-wide, double-zippered bottom.
Eco-friendly materials.
Multiple sizes available.
Cons
Zippers can be hard to seal.
Our Ratings
Community Feedback
If you're looking for a sustainable and convenient way to feed your little one, these reusable pouches are worth considering. Personally, I've found them to be durable, easy to fill, and super handy for on-the-go meals, especially in the car. The included funnel makes filling the pouches a breeze, even with thicker purees. One downside is that the 7 oz size is a bit too large for my son, so I wish the funnel was available with smaller pouch sizes. Another helpful accessory to consider is a silicone food pouch nozzle, which prevents spills and messes.
---
Collapsible Silicone Food Storage Containers
Best Large Baby Food Containers
If you are a mama who makes baby food in bulk, a large container will save you time. Instead of carefully portioning everything you've made into multiple tiny jars, you can put it all in one large container and portion the food out.
These collapsible silicone containers from Wamery are best for baby food storage because they work for many situations. The largest container expands to hold up to 40.5 ounces, but you can convert them to whatever size you need.
The amount of food you need to make may vary depending on your baby's appetite, health, and growth rate. Use these containers to hold whatever amount of baby food you choose to make, and then store them away easily when you're done with them.
Pros
Three large sizes to choose from.
Collapsible design.
Airtight lids.
Made of easy-to-clean silicone.
Cons
Not designed specifically for baby food.
No space to mark expiration dates.
Our Ratings
Community Feedback
After purchasing these collapsible food containers, I've found them to be highly practical and versatile. They have a great capacity and easily fit in my bag, making them perfect for taking leftovers home from restaurants or storing snacks for work and school. The containers are easy to clean, although a bit more challenging with greasy substances, and they perform well in both the dishwasher and microwave. One unique feature is the ability to collapse them to hold smaller amounts of food, which I discovered by accident and now appreciate immensely.
Types of Baby Food Storage Containers
There are many types of baby food storage containers available, each designed to help moms. Here is an overview of the types of containers available and some of their benefits.
---
How to Store Baby Food Safely
You don't have to be a food science expert to figure out how to store baby food safely.
Just follow these six tips (2):
Never dip a spoon directly into the baby food storage jar: If you dip your baby's spoon into a jar of baby food, put it into your baby's mouth, and then place it back in the jar, saliva has now contaminated your baby food. If your baby does not finish a jar of food with saliva in it, you should throw it away. The bacteria in the container will continue to grow during storage, causing the food to spoil. Instead, open the jar, pour a little food into a bowl, and feed your baby from that.
Never leave food out for more than two hours: Once a jar of baby food has been opened, you can safely leave it out on the counter for up to two hours at room temperature. After that, bacteria can grow, especially if it is hot and humid. To be safe, we suggest never leaving opened baby food jars out on the counter. Always refrigerate them!
Opened baby food jars last up to 3 days in the fridge: Make sure you keep the lids on tight and no saliva has gotten into the baby food. Even if it hasn't been three days and the baby food looks or smells questionable, throw it out.
Freeze baby food for up to eight months: The amount of time you can store baby food in your freezer depends on what type of food it is. Anything with meat or eggs in it can be frozen for up to two months, while fruits and vegetables can last up to eight months. Homemade baby food you've pureed yourself generally lasts between two and four months in the freezer.
Wash your storage containers thoroughly: No matter what type of storage container you use, wash it carefully with hot soap and water. Food that is stuck inside can spoil and mold.
Write dates on the jars: Keep track of when you have bought, made, or opened a baby food jar by writing the date on the jar. Many jars come with a spot for a date and time, or you can purchase labels and stickers.
Storing Homemade vs. Store-Bought Food
Do you like to make your own baby food at home? Many moms do. It can be a more affordable, healthy option than factory-made baby food.
However, there are a couple of differences between storing baby food you make at home and baby food you buy in the store.
Most importantly, you need to keep everything clean (3). This includes your storage containers, all utensils, and your countertop space. It is also essential you wash your hands before and after the food-making process.
The shelf life of homemade baby food is also generally shorter than that of unopened store-bought baby food. This is because homemade food uses fresh ingredients and contains no preservatives. As a general rule, you should store homemade baby food for as long as you would an opened jar of store-bought baby food.
Making Your Own Baby Food
There are a lot of benefits to making your own baby food. You can control the ingredients and the portion sizes and save some money.
However, a new mom making baby food for the first time can be easily overwhelmed by the process. Did you use the right ingredients? How long will it last? Will your baby hate it and end up throwing most of it on the floor?
We don't have all the answers, but we think every mom should give it a try! The journey will be one of exploration and experimentation. But it can become a fun experience and a deeper way to feel connected to your child as you move on to the next stage of feeding and begin introducing different foods into their diet.
---
The Bottom Line
The WeeSprout Glass Baby Food Storage is our pick as the best baby food storage container as they come with everything a mom needs for making and storing her own baby food. Life is hectic enough, and WeeSprout's simple system of glass jars with airtight lids helps alleviate stress and keeps you and your little one happy.
If you can store your baby food safely in the best storage containers, a new world opens up for you to explore. Taking care of your child by making homemade baby food can be a delightful experience.
Thank You For Your Feedback!
Thank You For Your Feedback!