Reusable baby food pouches make it easy to feed your baby all your homemade baby food goodness at home and on the go. But we've learned the hard way that some pouches do a better job than others.
You don't want pouches that leak or are hard to fill. And you definitely want your pouches to be easy to clean to prevent mold and bacteria build-up.
As baby-food-making mamas ourselves, we've tried enough of these pouches and listened to the reviews of other parents to figure out which pouches are the most convenient. We've compiled this list of the seven best reusable baby food pouches so you can make feeding time easier for everyone and continue to feed your baby your homemade baby food when you're on the go.
Image
Model
Product Comparison Table
Features
Clear Winners
Healthy Planet Pouches
Environmentally friendly & recyclable
Transparent
Comes with an extra lids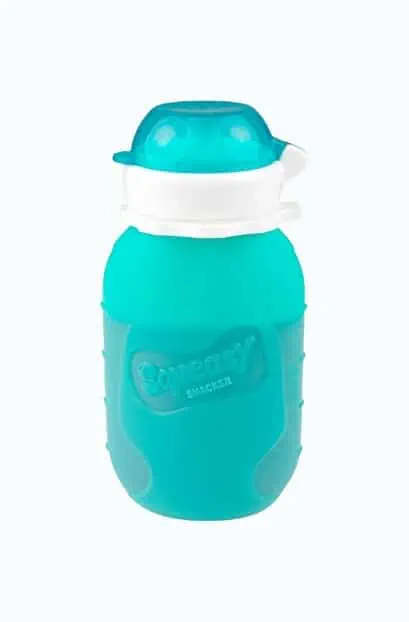 High Quality Must Have
Squeasy Snacker Pouch
Waterproof and leakproof
Made of very flexible material
Can be easily washed
Best Silicone Pouch
Haakaa Yummy Pouch
Super durable
Variable-flow opening
Free of toxins and microplastics
Great for Older Kids
Squooshi Large
Chemical free
Larger than other pouches
Used for multiple ages
Easy to Clean
WeeSprout Food Pouch
Easy to clean
Eco-friendly
No pesky corners to trap food
Bulk Option
Baby Brezza Pouches
Freezer safe
BPA-, phthalate-, and lead-free
Filling funnel included
Cutest Designs
ChooMee Food Pouch
5-ounce capacity
Reusable
Can be stored in freezer
Review Methodology: At Mom Loves Best, we conduct a thorough analysis and hands-on research to provide you with the most reliable information on the best reusable baby food pouches. Our team of experienced professionals evaluates each product based on criteria such as performance, design, user experience, and safety. We compare and rank these pouches using quantitative measurements, identifying key decision-making factors that set them apart from their competitors. By considering the most important factors like ease of use, durability, and materials used, we compile our findings and assessment in a comprehensive review. Trust our expertise as we present the top reusable baby food pouches backed by facts, results, and first-hand evidence to lead you to the best choice for your little one.
---
---
The Best Reusable Food Pouches of 2023
Here are seven great reusable baby food pouches to consider.
Healthy Planet Clear Reusable Food Pouches
Clear Winners
These pouches are transparent on one side so you can see how much food is left and verify that it still looks fresh when you take it out of the fridge.
The bottoms open completely to clean them, and the leakproof dual zipper helps prevent messes. If you're like most moms, the last thing you need is another mess on your hands.
They're freezer and dishwasher safe and completely recyclable once your little one doesn't need them anymore. They also come in two sizes to ensure you get the perfect capacity to match your little one's appetite.
Pros
Environmentally friendly and recyclable.
They're transparent.
They come with extra lids.
Cons
The lids are not attached, so they can get lost.
Your child will outgrow the smaller ones quickly.
Our Ratings
Community Feedback
When I first bought these reusable food pouches, I wasn't sure how much I'd use them, but they've become a staple in my household. Not only have they saved me money on store-bought puree pouches, but they've also been a great way to get my kids to eat healthier snacks. There's a bit of a learning curve when it comes to filling them, but once you get the hang of it, it's quite simple. Cleaning can be a bit tricky, especially in the corners and seams, but it's a small inconvenience compared to the benefits of these pouches.
---
Squeasy Snacker Silicone Baby Food Food Pouch
High Quality Must Have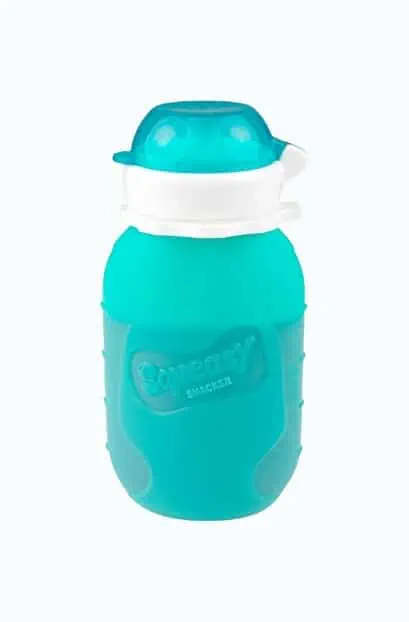 This pouch is made of food-grade silicone that fills from a wide-mouth top, so it can even be filled with liquid and not spill. The bottle-shaped design stands on its own, no matter how empty it is, and comes in three sizes and colors to suit all tastes and appetites. It also has a spillproof insert for extra protection for liquids.
It can be turned completely inside out for washing and popped in the dishwasher if you'd rather not hand wash.
And because it's made of silicone, it will last longer than some of the other reusable food pouches. Not having to replace your baby's food pouch as frequently might make you feel better about the money you're spending.
Pros
Waterproof and leakproof.
It's made of very flexible material.
You can easily wash it.
Cons
More expensive than other brands.
You only get one per pack, so you'll likely have to buy multiples.
Our Ratings
Community Feedback
Great product for both kids and pets! I bought these pouches for my twin boys a couple of years ago, and they have been perfect for applesauce and smoothies. They're super durable and easy to clean, even after my kids put them through the wringer. I also discovered that these pouches work wonders for dog training, as they can hold wet food and keep my pup focused during walks. The spill-proof attachment is especially useful for toddlers, making it an all-around versatile and reliable choice for busy families.
---
Haakaa Yummy Squeezable Food Pouch
Best Silicone Pouch
This kit includes two 4.4 ounce silicone pouches.  The neutral design is great for kids of all ages, and because it's made of durable silicone, it will outlast even the best plastic reusable food pouches.
To fill the pouches, you untwist and remove the spout, so you won't have to worry about messy leaks from the bottom of the pouch when in use. The spout is only activated by sucking, making these a fully spillproof design and ensuring little ones won't squeeze too much into their mouth.
These pouches can be cleaned in the dishwasher, sanitized in boiling water, and stored in the freezer with no ill effects on the silicone.
The design enables them to stand upright when filled, and you can add a straw to help your little one suck up every last drop of homemade goodness.
Pros
Super-durable silicone pouches.
Variable flow opening allows little ones to feed at their own speed.
Free of toxins and microplastics.
Cons
It can be hard to clean food out of the bottom creases.
They have a plastic smell upon unboxing.
Our Ratings
Community Feedback
My experience with these reusable pouches has been mostly positive, and my son absolutely loves them. I appreciate the ease of filling them with my own homemade food and the fact that they're dishwasher safe, which makes cleaning a breeze. However, I did notice that the cap on the straw doesn't stay on as securely as I'd like, causing occasional spills. Despite this minor issue, these pouches are far less messy than disposable ones, and they're a more eco-friendly option that saves money as well. Although a cleaning tool would be a helpful addition to the product, I've found that hot water, soap, and soaking work well enough to keep the pouches clean and ready for use.
---
Squooshi Reusable Baby Food Pouch
Great for Older Kids
These food pouches are gender-neutral with a versatile design, so they can be used for either babies or older children, boys or girls. They come in a larger size, 5 ounces, for bigger appetites, and the solid, leakproof zippered opening on the bottom helps prevent messes.
They're made without BPA, PVC, lead, or phthalates and have a rounded bottom so food particles cannot be trapped in the corners.
This is one of the best options if you want to use your reusable food pouches to send things like smoothies in your older child's lunch box, allowing you to get even more use out of them.
Pros
They're free of harmful chemicals.
They are larger than many other pouches.
They can be used for multiple ages.
Cons
Big for smaller toddlers.
Some users complained they are hard to clean.
Our Ratings
Community Feedback
I recently purchased these reusable pouches for my 2-year-old, and they have been a fantastic addition to our daily routine. The cute animal designs and their compatibility with my Omi bento box make them perfect for on-the-go snacking. They are easy to fill and clean, although they hold slightly less than the advertised 5 oz. Just remember to leave some room when filling to avoid spills while zipping up, and they'll become a staple in your household too!
---
WeeSprout Double Zipper Baby Food Pouch
Easy to Clean
One of the biggest complaints about reusable food pouches is that food can get stuck inside them, making them hard to clean. Not only is this annoying, but it can cause dangerous bacteria to grow. Use these double zippered pouches by WeeSprout to ensure your baby gets fresh, safe food every time.
Simply open the extra-wide bottom zipper, and turn on your faucet. Water flows through the zipper opening and out the spout. With a rounded design, there are no pesky corners to trap food.
Plus, these pouches are dishwasher safe. The backs of the pouches are transparent, so you can see how much food remains in the pouch and have a better idea if they're fully clean after washing.
They're a good choice for eco-friendly moms too. All the packaging and the pouches themselves are recyclable. You'll also feel good knowing there aren't any chemicals in the materials.
Each pack includes six pouches that hold five ounces of baby food.
Pros
Super large opening on the bottom makes them easy to clean.
Eco-friendly and chemical-free.
There are no pesky corners to trap food.
Cons
They're a little smaller and won't hold as much as other pouches.
Our Ratings
Community Feedback
These reusable pouches have been a fantastic solution for my son's homemade meals, allowing him to feed himself yogurt and purees without making a mess. The included funnel makes filling the pouches a breeze and ensures that thicker purees don't get stuck. However, the 7 oz size is a bit large for my son, as we need to use a chip clip to prevent food from pooling at the bottom. Pairing these pouches with silicone food pouch nozzles, like the ChooMee brand, further prevents spills and enhances the overall experience.
---
Baby Brezza Baby Food Storage Pouches
Bulk Option
This package gives you 10 reusable baby food pouches so you can freeze your food directly in the pouches for later use instead of having to transfer it from a storage container. Each pouch has a clearly-marked max fill line and a double zipper to prevent leaks and spills.
These pouches can be cleaned easily — water can run straight through — and the corners are rounded to prevent food particles from getting stuck. They're even dishwasher safe if you'd rather not hand-wash your pouches.
There's a handy peek-a-boo window on the side so you can see how much food is remaining. You may also use food labels and attach it to your pouch with your child's name, food, and date for maximum safety.
Pros
They're freezer safe.
BPA-, phthalate-, and lead-free.
You get a large package of pouches.
Filling funnel included.
Cons
May need to purchase baby food labels.
Will probably require immediate cleaning to prevent the food residue from sticking to the pouch.
Our Ratings
Community Feedback
Best reusable pouches I've ever purchased! I've been using these pouches since 2019 with my two children and they're still going strong. They're perfect for on-the-go breakfasts and snacks like oatmeal smoothies or yogurt and fruit mixes. Cleaning them is a breeze with a pipe cleaner-like tool for the corners and holes, and they come out looking like new. Both my young kids love using them and the pouches have saved me money since they're reusable. The only minor issue is some difficulty getting the last bit of contents out, but overall, these pouches have been a fantastic addition to our daily routine.
---
ChooMee Reusable Baby Food Pouch
The Perfect Try-it-and-See Pack
If you're unsure if reusable storage pouches are suitable for you, you don't want to go "all in" right away. This petite 4-pack gives you the perfect opportunity to try them out and see whether you want to start building a larger collection.
The cute, colorful designs will grab the interest of your little one, and the 5-ounce capacity is a versatile size that will work for both younger or older babies.
They can be washed on the top rack of the dishwasher and tossed in the freezer for longer-term food storage. They also have a window at the top to see the quality and quantity of the food remaining.
If you have a younger baby, you can buy a silicone spout separately to cover the hard spout.
Pros
They're cute.
They hold 5 ounces of food.
The bottom opens completely for easy cleaning.
Cons
The silicone spout is sold separately, making it an extra expense.
There are only four in a package.
Our Ratings
Community Feedback
Definitely a big money saver, these reusable pouches have been a fantastic addition to my household, especially with my kids who adore them. I've found that they hold a good amount, and it's so convenient to have control over what goes into each pouch, making it perfect for picky eaters. These pouches are also easy to clean and have a secure zip lock, ensuring no leaks or spills. While they can be a bit difficult to clean when it comes to seeds or leaves, using a bottle brush should do the trick. They're made from strong material and can be easily frozen and stored until ready to use. The fun pictures on the pouches are an added bonus, making them a hit with my little ones.
What are Reusable Baby Food Pouches?
Reusable baby food pouches are food storage containers that resemble the popular, squishy, single-use baby food pouches with twist-off caps available at most grocery stores. This pouch-style design is a newer innovation compared to the more traditional glass baby food jars.
Reusable baby food pouches typically have a spout on one end for releasing the food and a zippered enclosure on the other end for filling the container.
Why Do I Need Reusable Baby Food Pouches?
They're convenient: Because of their squeeze-and-suck design, pouches make it easy for babies to self-feed. This makes them ideal for on-the-go situations or when mom doesn't have time to sit down and feed the baby.
They're economical: Disposable pouches of baby food can cost upwards of $2 each. Glass jars can run around $1. If you buy organic baby food, the prices jump even higher. You can make your own baby food for pennies, spoon it into a reusable baby food pouch, and — voila! — instant savings.
They're healthier: When you make baby food at home and serve it in a reusable baby food pouch, you control the quality of ingredients and the sugar content of the final product. You ensure that you're only giving your baby your best.
They're less messy: If your baby is self-feeding, they can pop the spout of the pouch in their mouth and feed themselves with minimal mess. If you're feeding them with a baby spoon, it's also less messy to squeeze the puree onto the spoon instead of dipping it in a jar where the handle may get food on it and make a mess.
They're environmentally friendly: One of the major drawbacks of the baby food pouch craze is that they're not recyclable like the old glass baby food jars (1). Reusable baby food pouches give you the best of both worlds — the feeding convenience of a pouch without all the waste.
In Summary
Reusable pouches are not just for moms who make their own baby food. You can spoon puree from a traditional glass baby food jar into a reusable pouch to instantly transform it into a convenient on-the-go meal babies can feed themselves.
How to Choose Baby Food Pouches
Size: Know the volume your baby eats, and buy a pouch that corresponds or is a little larger. You can always fill it with less food, but if you overfill it and your baby does not eat the whole container, you'll need to toss out the leftovers, which is wasteful.
Material: Choose a container made of a material free of BPA, PVC, and phthalates as they've been linked to cancer and hormone disruption.
Easy to Clean: Choose a pouch that's easy to clean. Rounded corners are less likely to retain small food particles than sharp, square corners.
---
How Many Reusable Food Pouches Do I Need?
The number of baby food pouches you need will vary based on your frequency of use and how willing you are to wash them regularly.
It will also depend on whether or not you plan to use them for food storage or eating.
Some mothers like to make a full batch of baby food and fill the pouches directly, tossing them in the freezer and having them available at a moment's notice. Others make and store their baby food separately, filling the pouches as needed.
The good news is that most reusable baby food pouches come with several in a pack. However, if you plan to use them to store food, you may need to buy extra.
How to Clean Reusable Baby Food Pouches
While convenient to use, food pouches can be a bit cumbersome to clean. Follow the manufacturer's guidelines, but cleaning for most is pretty standard:
Remove the top or open the spout.
Open the bottom zipper.
Wash with warm, soapy water until all residue is removed.
Reusable Baby Food Pouches FAQs
---
The Bottom Line
Our top pick is the Healthy Planet Reusable Pouch. They come in two sizes, so you can choose the perfect size for your baby's appetite. They are free of harmful chemicals and are transparent, so you can see the quality and cleanliness of the inside of your pouch.
Plus, they're recyclable, so when you're done with them, you don't have to feel guilty about tossing them in the trash.
Self-feeding is fun, but it doesn't have to be messy. And it also doesn't have to come at the expense of the environment. Reusable pouches are great for your little one's nutrition, good for the environment, and encourage your child's independence.
Thank You For Your Feedback!
Thank You For Your Feedback!