For moms with limited space, high chairs are a constant issue. In addition to finding the space to keep and use an additional chair, you also want to create a comfortable, safe space for mealtime memories. There are many options available, but not all space-saving high chairs are created equal.
We've evaluated dozens of high chairs, comparing prices, safety features, and durability and asking real moms for their opinions. As a result, we've compiled this list of seven of the best space-saving high chairs to suit any home or budget.
Image
Model
Product Comparison Table
Features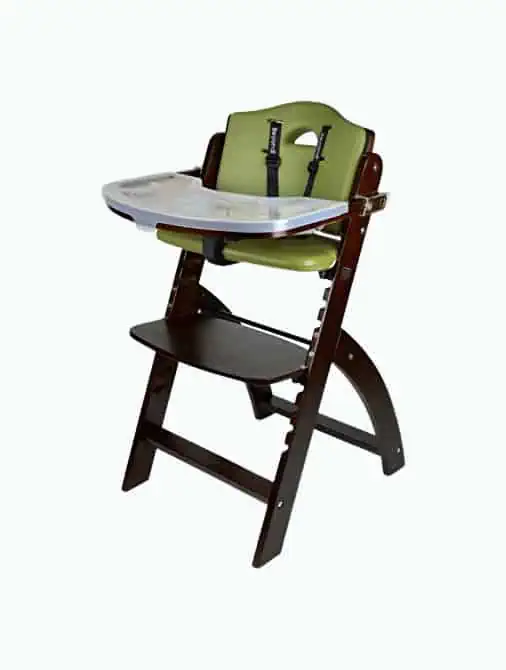 It's a Classic
Abiie Beyond
Made of sturdy beech wood
Stable design won't tip
Folds down for easy storage
Folds Flat to Fit
Joovy Nook
Lightweight metal frame
Food tray swings open
5-point safety harness
Small but Perfectly Formed
Fisher-Price SpaceSaver
Full-sized feeding tray
Spacious contoured seat
Multiple adjusting options
Snug and Compact
Summer Infant Deluxe
2-in-1 design
3-point harness
Easy storage and cleaning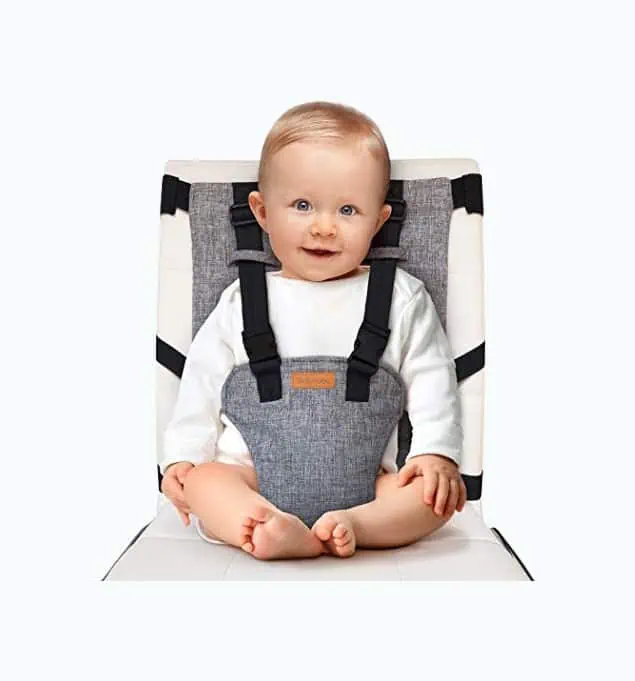 Out of the Box Design
Liuliuby Travel Harness Seat
Ultimate space saver
Machine washable
Fits easily on any chair
Clip on Convenience
Mountain Buggy Pod
Doesn't require extra chair
Lightweight yet robust
Safety harness system
Take it Anywhere
Pop and Sit Portable
Super lightweight and portable
Includes carrying bag
Use almost anywhere
---
---
The Best High Chairs for Small Spaces of 2023
Here are seven great high chairs designed to fit into small spaces.
Abiie Beyond Wooden High Chair
It's a Classic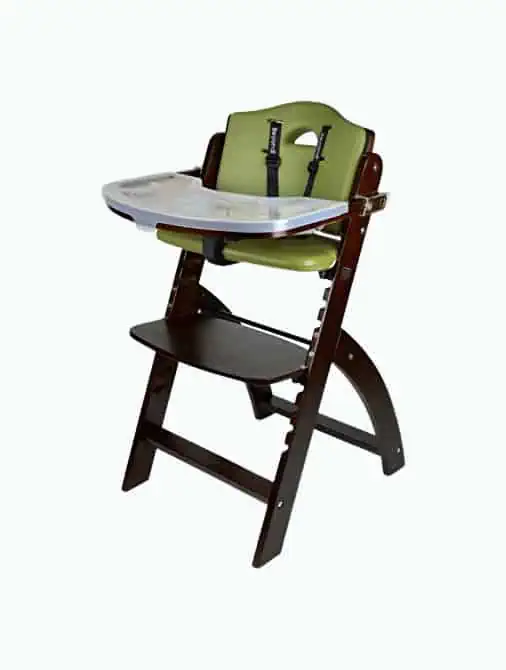 If you're really limited on space, you can appreciate the ingenuity behind the Abiie Beyond.
It is a high chair that grows with your child, but can also quickly be converted to a standard chair for adults — no tools required.
The chair comes in natural or mahogany wood, and the stain-resistant cushions are available in several color options. There is a wooden tray and a plastic, dishwasher-safe cover that can be removed with one hand.
Children can be secured with either a five-point or three-point harness.
Pros
Quality high chair made of real beech wood.
Can be used long after your child grows up.
Extremely stable design.
Can be heat sterilized to prevent bacteria buildup.
Cons
More expensive than other options.
Doesn't fold flat for storage.
Feeding tray can be difficult to remove.
Our Ratings
---
Joovy Nook High Chair
Folds Flat to Fit
This high chair has some of the best features of traditional high chairs without hogging precious real estate in your kitchen or living room.
Overall, the high chair stands approximately 3.5 feet tall and 23 inches wide. It has a swing-open tray with four adjustable positions, and the 5-point safety harness keeps your little one secure.
Other features include a comfortable leatherette seat and non-scratch floor pads. We especially like the lightweight metal frame and foldable design.
At only 15.4 pounds, this chair is ideal for travel and portability in your home. The metal frame design is also very open and spacious.
When you don't need it, the entire chair easily folds like a beach chair and can be stored without trouble.
Pros
Lightweight metal frame is easy to carry.
Folds down to half its size for storing.
Swing-open food tray makes feedings a cinch.
5-point harness for ultimate safety.
Cons
Height cannot be adjusted.
Safety straps take a minute to put on.
Our Ratings
---
Fisher-Price SpaceSaver High Chair
Small but Perfectly Formed
Do you want all the benefits of a traditional high chair with the convenience of a booster seat? Then this space-saving option by Fisher-Price may be the best high chair for you!
It features a full-size feeding tray, a three-position recline, a spacious contoured seat with cushioned seat pad, and a whole lot more. The best part? You can fit the entire booster seat onto most standard dining chairs.
We really like that it wasn't designed just for babies, but for moms too. The height and tummy adjustments plus the reclining seat allow your little one to be comfy while you find the best position for feeding.
Another important feature is the dishwasher-safe feeding tray and the easy-to-clean materials. Just wipe down the mess and you'll be good to go.
This is a great option for moms looking for their first high chair for their first baby.
Pros
Full-sized feeding tray.
Spacious contoured seat with cushioned pads.
Multiple adjusting options, including a 3-point recline.
Cons
Food can get trapped in the crevices under the cushion.
Our Ratings
---
Summer Infant Deluxe Comfort Folding Booster Seat
Snug and Compact
This 2-in-1 booster seat by Summer will turn any chair into a high chair. It features an infant feeding tray that's easily removed once your baby becomes a toddler along with two adjustable height options. The 3-point safety harness allows your baby to sit without the tray at a table.
No matter how you use it, the booster seat straps securely to a chair, both under the seat and through or around the back. Remove the straps when you're done, and fold the entire thing down for easy storage.
This is a major plus when you don't have a lot of room in your home. Other features include a machine-washable seat pad for extra comfort and plenty of child-friendly design options.
Pros
2-in-1 design lets this seat grow with your child.
3-point harness ensures both baby and booster seat are secure.
Folds down for easy storage.
Easy to clean.
Cons
Takes time to strap to the chair.
Bottom isn't slip-proof, so straps need to be ultra-tight so the booster seat won't slip around.
Not a great option if you don't have extra chairs.
Our Ratings
---
Liuliuby Portable Safety Harness Chair
Out of the Box Design
Life with a baby is unpredictable and this special high chair invention is designed to provide instant support when you need to feed your little one.
Simply slip the chair cover over the chair back and secure it with the 5-point harness. Your baby goes right into the little pouch and can comfortably join you at the table. The harness and straps prevent them from tipping over or wriggling out.
This nifty "chair" is made entirely of fabric, so it's ultra-portable. It folds down to the size of a diaper, making it perfect for slipping into a diaper bag or even a kitchen drawer.
The material is machine washable and comes with a matching carrying case. Though the straps can be adjusted, your baby definitely needs to be able to sit up on their own in order to use it.
It's the perfect choice for moms with older babies and toddlers who want to ditch traditional high chairs completely.
Pros
Folds down to the size of a diaper; the ultimate space saver.
5-point harness keeps baby safe.
Fits easily on any chair.
Cons
Baby needs to be able to sit up on their own before you can use it.
Padding is minimal, so your baby may become uncomfortable.
Our Ratings
---
Mountain Buggy Pod Clip-On High Chair
Clip on Convenience
If you don't have a lot of space around your table, even adding a booster seat to an adult chair is frustrating. A clip-on high chair that attaches directly to the table is a unique solution.
This high chair uses robust aluminum clamps with no-slip grips to secure a padded floating seat to the edge of the table. The padded back keeps your baby comfortable while they eat. It also comes with a shoulder harness system to keep your child right where you want them.
The biggest reservation moms have when testing out this unique high chair is that their child will somehow fall. However, if properly installed, this attaches to your table without any problems and can hold a child up to 37 pounds.
Pros
Keeps the space under and around your table clear.
Super lightweight, but robust and secure.
Safety harness system keeps baby close to the table.
Cons
A little intimidating at first.
Not suitable for card tables, glass tables, or tables with pronounced, beveled edges.
Our Ratings
---
Pop and Sit Portable High Chair
Take it Anywhere
A portable high chair is great for traveling, but it is also ideal for small spaces. Because it's lightweight and collapsible, you can carry and position it around a tiny kitchen or living space with ease.
This versatile high chair works well wherever you take it. It's a great option for using while camping, at a babysitter's house, or even at a park.
It features an innovative pop-up design so you can set it up and take it down with ease. You even get a carrying bag, so transporting and storing the high chair is super convenient. The base is fairly wide but still offers maximum stability on all terrains.
You also get no-slip rubber feet grips, a BPA-free hard plastic food tray, a rear storage pocket, and a 3-point safety harness.
This is a great option for moms who need to move their high chair around a lot or who have embraced an on-the-go lifestyle.
Pros
Super lightweight and portable.
Comes with a convenient carry bag.
Can be used almost anywhere for an enjoyable feeding time.
Cons
Wide base offers stability on all terrains but will take up more space when used indoors.
Food tray is smaller than those on traditional high chairs, so it may not be great for large quantities of food.
Our Ratings
How Big Are High Chairs?
Most traditional high chairs look very similar. High chairs come in a variety of sizes and can often be adjusted to different heights based on your needs.
The average height of a high chair is between three and four feet when fully extended. The width of the base and the size of the chair itself will vary depending on the accompanying features and materials, but many take up a good three to four feet in length and width as well.
We've looked for chairs that are both smaller than traditional high chairs when in use and those that collapse to save storage space.
How to Choose a Space-Saving High Chair
Whether your kitchen is small, you want something portable, or you have more than one child who needs a high chair, we've considered the following four essential points to help you choose the best space-saving high chair for your situation.
FAQs
---
Thank You For Your Feedback!
Thank You For Your Feedback!