Have you ever bought a craft kit that looks great on the package but ends up only including a couple of cheap supplies or having instructions that are far too complicated for the advertised age range?
We've been there, done that, and learned from our mistakes. In this article, we'll look at the benefits of arts and crafts, what features to look for, and how to find an age-appropriate kit for your child.
We'll also review the best art and craft kits for kids. These are no dollar-store crafting kits. We've ranked these kits based on how appealing they are to children of all ages, the cost, their skill-building abilities, and the quality of the included supplies.
Entertain your crafty kids with one of these creative kits, and help them build self-confidence, critical thinking, and fine motor skills at the same time.
Image
Model
Product Comparison Table
Features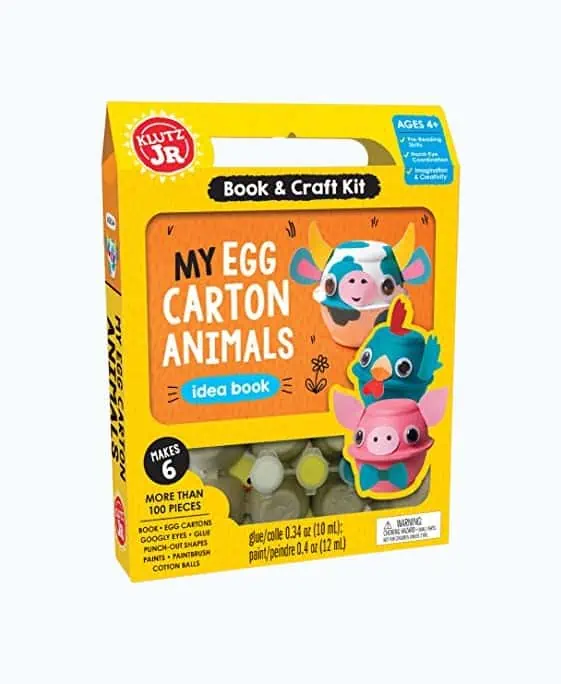 Best for Preschoolers
Klutz My Egg
National Parenting Center award winner
Crystal clear instructions
With a fast-dry glue
Reusable And Portable
On-the-Go Water Wow
Engaging animal & vehicle themes
Reusable pages
Easy-grip refillable water pen
Best Sensory Kit
Kinetic Sand Beach
3lbs of kinetic beach sand
2018 PAL Award winner
Wheat-, gluten-, and casein free
Best for Playdates
Here Fashion Paper Plate Art Kit
Affordable
Includes 10 colorful animals
Creative and entertaining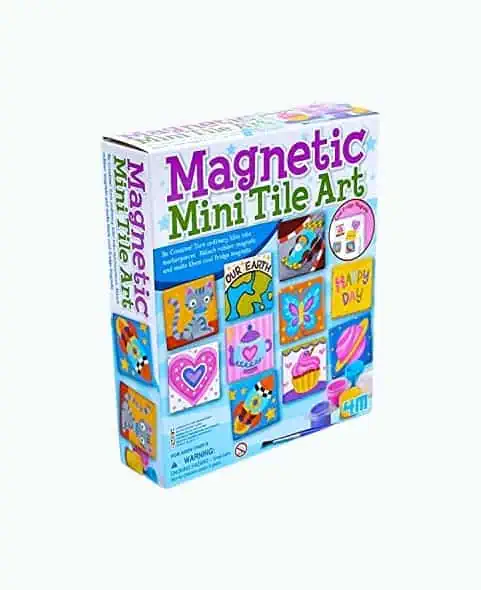 Best Art for Older Kids
Magnetic Tile Art
Useful magnets when completed
Contains 10 2x2 tiles
Complete art kit
Best Toddler Starter Kit
Alex Discover Tots
Winner of numerous awards
Includes easy-grip crayon
6 simple activities
Best Preschool Starter Kit
Alex Discover Giant
Create 16 different projects
Easy-to-follow instructions
Parent's Choice Approved Award winner
Best Create-and-Play
Elmer's Slime Kit
Washable
Safe and nontoxic
No-run, no-drip formula
Best Art Supplies Set
Darice Premium Art
131-piece premium art kit
Portable wood case
Comes with wide variety of supplies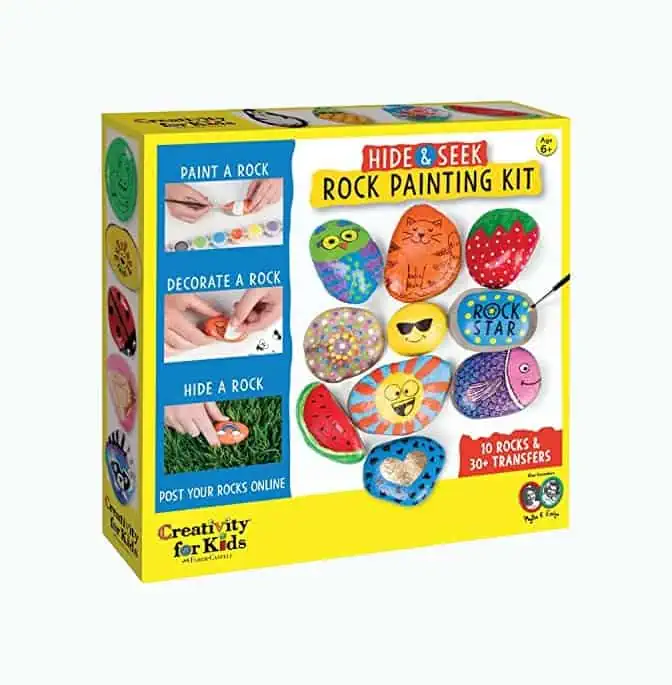 Best Art for Gifting
Hide & Seek
With many design options
Waterproof art supplies
Open-ended crafting
Review Methodology: At Mom Loves Best, we understand the importance of finding the perfect art and craft kits for your children. Our expert team has conducted thorough research, hands-on testing, and evaluations to determine the top kits available on the market. We've compared key factors such as safety, educational value, creativity, and age appropriateness. Through our assessments, we've ranked each product based on performance, design, and overall user experience. Our criteria for evaluating these kits focus on the materials included, ease of use, and the potential for skill development. By analyzing data and evidence from our tests, we provide an unbiased review that will help you make an informed decision when selecting the best art and craft kits for your kids. Trust Mom Loves Best to guide you in nurturing your child's artistic talents and creative growth.
---
---
The Best Art and Craft Kits of 2023
Here are our favorite art and craft kits for kids.
Klutz My Egg Carton Animals Craft Kit
Best Craft Kit for Preschoolers
This very affordable kit is always a hit with preschool-aged children. It includes specially made egg cartons that can be painted and decorated to make six farmyard friends. Over 100 pieces, such as paints, a paintbrush, googly eyes, and stickers, are provided to complete your animals.
Clear-dry glue is included, and the kit is safe and ideal for kids 4 years and older.
The ideas book has lots of fun facts about the animals as well as some great designs to create your barnyard buddies. And the best part is, once your kids have finished their creations, they may be inspired to continue creating a host of fun creatures using your own egg cartons and a few basic craft supplies.
Community Feedback
These egg carton animals are an adorable and engaging craft for kids, as my 6-year-old found it easy to follow the instructions and create super-cute critters. There's no shortage of inspiration for one's own creativity with the variety of ideas included. My child was able to complete most of the project independently, which was perfect when we had to stay home due to quarantine. However, we did encounter an issue with dried-out paint, so we had to use our own instead. Despite this minor setback, the egg carton animals brought so much joy that my child even went outside to collect grass for the sheep and has been asking for another set.
---
Melissa & Doug On-the-Go Water Wow
Reusable and Portable
These magical spiral flip books look like simple coloring books at first. The thick cardboard pages have line drawings of vehicles and animals until you use the water-filled pen. This chunky pen is easy for young children to hold and reveals bright colors when used on the pad. Let it dry, and the colors disappear, allowing it to be used again and again.
I particularly like that the pen fits in its own storage space in the cover and that the whole kit is portable. My kids have enjoyed these magical water pads for years. There are many themes to choose from, and they're ideal for traveling activities, visits to relatives, quiet times at home, or even doctor's office waiting rooms.
Community Feedback
I recently purchased this toy for my young children, and I have been thoroughly impressed with its ability to keep them entertained for extended periods of time. This product has been incredibly helpful during long car rides and even allowed my 3-year-old to sit quietly through an entire church service. The reusable aspect of the toy provides endless fun, as the designs dry and can be colored again, promoting fine motor and artistic development. Additionally, I appreciate the zero-mess factor, allowing my kids to enjoy it anywhere without creating a mess.
---
Kinetic Sand Beach Kingdom Playset
Best Sensory Kit
Kinetic sand is a favorite in my house. One of my kids has always been drawn to sensory activities and has played with this sand for many years. Kinetic sand has such a unique feel that I love playing with it alongside my children. It feels wet even though it's dry, and it never dries out.
It sticks to itself and is easy to mold, but it won't stick to your kids, so cleanup is easy. It's made from natural sand, and you get 3 pounds in this kit.
The box can be used as a beach setting for your kids to build their sandcastles in. Completing the set are molds and tools, letting your budding architect create their own castle. Kids ages 3 and over will love the imaginative play this kit brings.
Community Feedback
Bought this kinetic sand kit for my kids, and it quickly became a household favorite, especially for my sensory-loving child. The sand has a fascinating texture, feeling wet yet remaining dry, and it's easy to mold without sticking to our hands, making clean-up a breeze. This 3-pound set, made from natural sand, comes with various molds and tools, allowing my little ones to unleash their creativity while building sandcastles within the provided box. It's an excellent source of imaginative play for children ages 3 and up, and even I can't resist joining in on the fun!
---
Here Fashion Paper Plate Art Kit
Best for Playdates
Kids love colorful animals, so let them make their own with this fun kit. It includes ten paper plates with 10 pattern cards. Once your child has created their paper plate, they can put on a show for family and friends.
We found this to be the perfect group activity for playdates, as kids enjoy seeing what their friends create and can play with the animals together after completing them.
The instructions are easy to follow, with a variety of designs to choose from. All items are included to make the animals, and no cutting or coloring is required. This makes for easy cleanup and is an ideal kit for children as young as 2 years old.
Community Feedback
Excellent! This fun kit had my kids creating colorful animals with ease and enjoyment. With ten paper plates and pattern cards, it was perfect for playdates and group activities. The instructions were simple to follow, offering a variety of designs, and I appreciated that everything was included to make the animals without any cutting or coloring needed. This made cleanup a breeze and the kit suitable for children as young as 2 years old.
---
4M Magnetic Mini Tile Art Kit
Best Art Kit for Older Kids
Make your own decorated mini magnet tiles to place on your fridge or any other metal surface. The kit contains 12 2-inch by 2-inch tiles for your child to decorate using the paints and brush supplied. When they have finished and their work of art is dry, they can attach a magnet (also provided) and decorate your fridge or their school locker.
Kids over 8 years old can have fun creating these ornaments for themselves or as gifts for family and friends.
Community Feedback
I recently purchased this tile painting kit for my grandchildren and I to enjoy during their summer visit. The youngest, an 8-year-old budding artist, absolutely loved it, while the 11-year-old was fairly entertained. We opted to use a set of colored permanent ink pens to avoid the mess from the included paint, and it worked like a charm. The tiles are actual ceramic with a smooth, ivory shimmer on the front and a waffle texture on the back. While the adhesive magnets provided seemed to hold up well, I'm slightly concerned about their longevity due to the textured backs of the tiles.
---
Alex Discover Kids Art and Craft Activity
Best Starter Craft Kit for Toddlers
This kit is for your budding artist who is just starting out. It has lots of brightly colored stickers, tissue paper, crinkly paper, and fringe — 102 pieces altogether.
The easy-grip crayons are perfect for toddlers 18 months and older. Sheets of activity paper (shaped like a giraffe, a tree, and more) complete this fun, all-in-one starter kit. And we love that it doesn't require glue, making this easier for toddlers to use without assistance and with less mess.
Community Feedback
My toddler and I recently tried this art kit and we both had a blast working on the various projects together. The kit is well-organized, with each activity packaged separately, making it easy to complete one at a time. Our favorite part was the variety of textures and materials, like stickers and tissue paper, which kept my little one engaged and curious throughout the process. While some may argue that the cost is a bit high for the amount of supplies included, I found the convenience and quality of the items to be well worth it.
---
Alex Discover Giant Busy Box Craft Kit
Best Preschool Starter Craft Kit
Alex Toys scores another winner with this busy box for kids ages 3 and over. It has 16 projects, including making dough animals, decorating paper bag puppets, farm animal collages, and tissue art animals.
Everything you need is in the box, including easy-to-follow instructions and frames for your little one's creations.
Community Feedback
My experience with this busy box has been fantastic for keeping my 2.5-year-old entertained and engaged, especially as a working mom with limited time for crafting. The variety of age-appropriate, mess-free projects and the high-quality materials make it a great value for the price. I appreciate the individual packaging for each project, allowing me to grab one without overwhelming my child with all the options. However, I do wish the box came with better instructions and that the content matched the images on the box, but overall, my child and I have enjoyed our creative time with this box.
---
Elmer's Deluxe Slime Starter Kit
Best Create-and-Play Kit
Let's be honest, who doesn't like playing with slime? Even I enjoy sitting and squishing, stretching, and mashing this icky substance.
Kids love the feel of it too, and often use it to gross out their grandparents, siblings, or friends.
This kit is extra fun because it's visually stimulating as well as sensory appealing. Suitable for ages 3 and up, the three different colors of glitter glue need to be mixed with a couple of household items, and voila! Gloopy, toxin-free, washable, glittery slime for lots of fun.
Given that some mixing is involved at first, younger kids will need some support to create the slime, but they will enjoy playing with it on their own.
Community Feedback
I recently purchased this slime kit for my kids and it has provided hours of entertainment. The kit includes three glitter glue colors that, when mixed with a few household items, create a visually appealing and sensory satisfying experience. However, younger children may require some assistance in the initial mixing process, but once the slime is made, they can enjoy playing with it independently.
---
Darice Premium Art Set
Best Art Supplies Set
Contained in a stylish wooden box, this art set has everything your kids need to create beautiful pictures and drawings. There are 131 pieces, including paints, paintbrushes, pencils, crayons, and markers.
Just add paper and your child's imagination, and let them loose. The kit does contain small parts, so it's not suitable for younger children unless they're supervised. Due to the small parts and the inclusion of sharpeners and safety scissors, the manufacturer's recommended age is 6 years and up.
Community Feedback
This art set, housed in a stylish wooden box, offers a wide range of 131 creative tools for kids to produce stunning pictures and drawings. My children were enthralled with the variety of paints, paintbrushes, pencils, crayons, and markers – all they needed was paper and their vivid imaginations. However, I must caution that the set contains small parts, making it unsuitable for younger kids without supervision. The manufacturer recommends it for ages 6 and up, due to the inclusion of sharpeners and safety scissors.
---
Hide & Seek Rock Painting Kit
Best Art for Gifting
Painting, personalizing, and hiding rocks has become a worldwide phenomenon. Sometimes called "kindness rocks," these rocks contain images or messages for people to find and rehide or keep. This kit is suitable for crafters ages 6 to adult.
This is an activity I've enjoyed doing with all my kids. It's so fun to create the rocks and imagine someone else finding them, and it's always great to find other people's hidden rocks to add to our collection.
This kit has everything for painting waterproof designs on rocks for kids to leave around your community. Ten rocks are included, and you can continue to use the supplies to create more rocks of your own after those ones are used up.
If your kids choose to hide their rocks, you can set up a Facebook group or join an existing one so your kids know when their rocks have been found. You can also keep your child's creations or give them as gifts.
Choose from a variety of themed kits, including holiday, Halloween, glow-in-the-dark, pour paint, hydro dip (like tie-dye), and more.
This video shows people of all ages participating in the kindness rocks project.
Community Feedback
These rock painting kits are fantastic and provide an entertaining activity for kids aged 4-11. The colors are beautiful, especially the glow-in-the-dark ones, although they don't cover the entire rock. It's a complete set and a convenient option for creative fun, with enough supplies to paint about 10 rocks in various sizes. This activity is not only perfect for keeping kids engaged and away from screens, but it also encourages them to explore their surroundings and collect new rocks to paint.
---
Creativity for Kids Origami Craft Kit
Best for Instruction Followers
Use the included 60 neon-colored papers to create animals, flowers, and more. This mess-free origami activity hones fine motor skills and is suitable for kids ages 7 and up.
Step-by-step instructions are included, and there are stickers to bring your creations to life.
There are also instructional YouTube videos to follow, like this one.
Community Feedback
For a fun and engaging activity, this origami kit is perfect for kids of various ages and interests. My granddaughter and her friends, even the sporty ones, enjoyed working on the projects and were thrilled with the colorful, two-sided printed paper. The kit comes with easy-to-follow visual instructions, stickers for added creativity, and even YouTube videos to help users along. While the box may be larger than necessary and more projects would be a plus, this origami kit brought joy and quality bonding time to our family.
---
Alex DIY Knot-A Shark Kit Playset
Best Wearable Creation
Kids will want to snuggle up in this shark sleeping bag once they have made it. This kit includes everything you need to make this wearable fishy blanket friend and introduces children aged 8 and over to sewing and knotting skills.
Easy-to-follow instructions take you through stitching the shark's face and then knotting its sides together before finishing with its tail. All the pieces are pre-cut for ease of assembly.
Community Feedback
I've enjoyed watching my nieces, nephews, and my own children work on this DIY shark blanket project. It's a cute and fun concept that encourages creativity and learning, although some children might lose interest if it takes too long to complete. The blanket is easy to knot, but the sewing aspect can be challenging for younger kids, and the included needle could be more durable.
---
Alex Toys Craft Happily Ever Crafter
Best Crochet and Sewing Intro Kit
Skills such as embroidery, crocheting, and sewing are loved by young and old. This could be the start of a hobby for life. This kit is aimed at kids ages 8 and older, and all you need is packed neatly in the storage case.
Details for nine projects are included, so you can make your own stuffed dog, embroidered bandana, bracelets, coin purse, and more.
Community Feedback
Excellent variety of crafts provided in this kit for children around 8 years old, but it does have a few areas for improvement. The materials, such as scissors and threader, could be higher quality, as they tend to break easily. While the box is visually appealing, it would benefit from a handle for easy transportation and dividers to better organize supplies. The instructions can be unclear, requiring adult assistance for some projects, especially knitting. Despite these drawbacks, this creative kit offers a sense of accomplishment for children as they complete projects and gift their handmade creations to loved ones.
The Benefits of Arts and Crafts for Kids
Arts and crafts are fun for kids, allowing them to be creative and express themselves. Little do they realize the developmental benefits they're gaining. These activities help in many ways.
On top of these reasons, it gives you some time to bond with your kids while doing something fun in today's hectic life.
How to Choose an Arts and Crafts Kit
Age is one of the main considerations when buying an arts and crafts kit. You need to ensure that it will not be too difficult or too easy for your child. They want to be challenged, but they also need to achieve.
Some of the things you might consider include the following:
Quality: There's nothing worse than sitting down with your child and finding the kit you've chosen has bits missing or isn't good quality.
Safety: Check that any paints, pencils, or plastics are safe for children. This is especially the case with younger children, who might put things in their mouths.
Washable: Many markers and paints are now manufactured so they can be washed out of clothes or cleaned off walls. Despite our best efforts, I'm sure we will all experience the little one who wants to redecorate the home or furniture.
Engaging: Think about your child's interests. You want to choose something they will enjoy that will hold their interest.
---
Thank You For Your Feedback!
Thank You For Your Feedback!