We have a love/hate relationship with musical toys.
Although musical toys can be some of the most annoying toys, they are also some of the most educational — and they're usually our kids' favorite toys.
We figured there must be some musical toys that can keep the parents and the kids happy. So we spent many hours hunting for the best high-quality kids music toys that are durable, educational, and fun for the learner — and the listener!
After comparing hundreds of options — from noisy electronic toys to exercise-inducing super-instruments — we've come up with this list of 11 of the best musical toys for kids. Our list includes musical toys for babies and toddlers, portable toys, drum sets, guitars, and sensory toys too.
You're sure to find something your child will love and your ears can handle.
Image
Model
Product Comparison Table
Features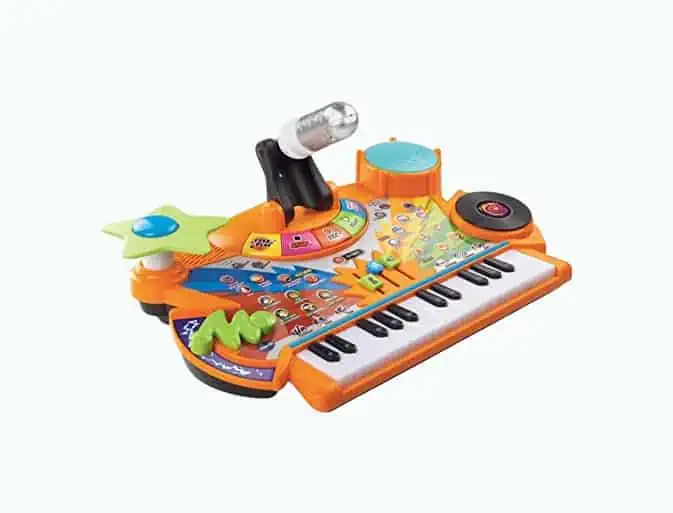 Best Creative Music Toy
VTech Record & Learn
Promotes overall sensory development
40+ songs and sound effects
Comes with a real microphone
Best Portable Toy
Baby Einstein Take Along
Battery operated
7 high-quality classical melodies
Volume control
Best for Small Babies
Munchkin Mozart
Recommended for young composers
Award-winning musical toy
With 8 Mozart masterpieces
Best Ukelele Toy
Baby Einstein
Two selectable play modes
Perfect size for toddler
Has over 30 melodies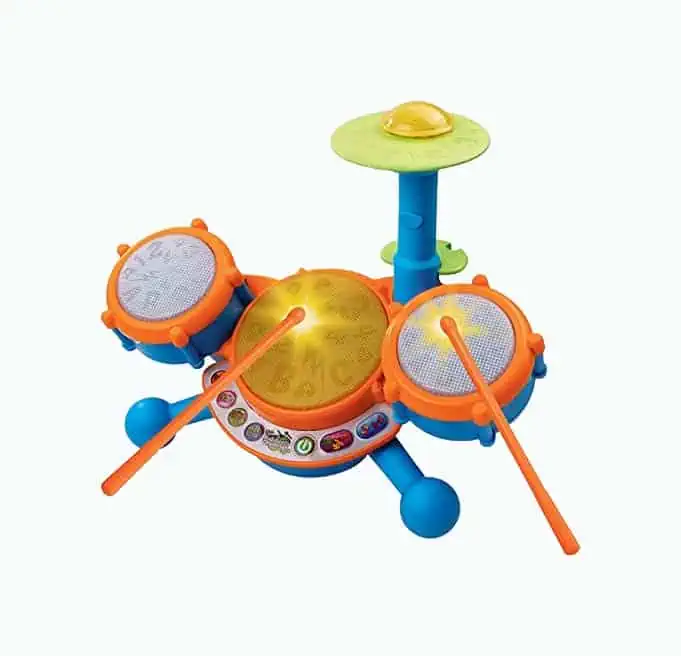 Best Toy Drums
VTech KidiBeats
9 pre-set melodies in various styles
Teaches letters, numbers, and music
Automatic shut-off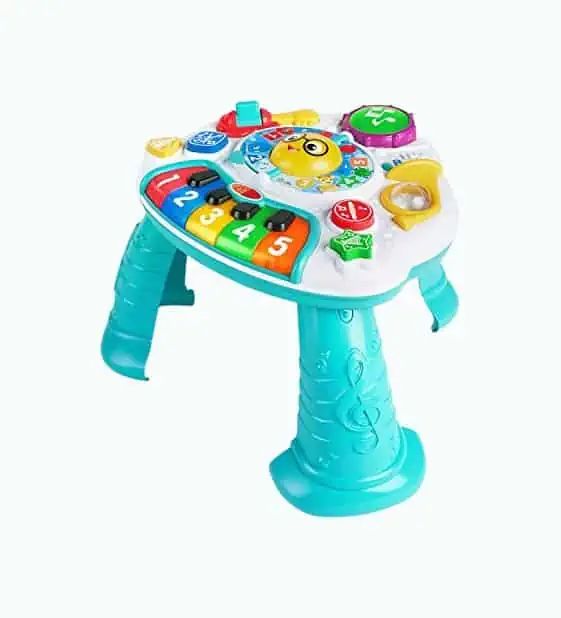 Best Piano Toy
Baby Einstein Music
Switch between 3 languages
For kids from 6 to 36 months
Piano keys teach numbers & colors
Best Educational Toy
WolVol Educational
Durable, sturdy design
Safety tested
Activities for learning & development
Best for Girls
Otamatone Unicorn
One of Japan's best-selling instruments
Battery operated
Fun & easy to play
Best for Boys
Little Tikes PopTunes
2 modes of play
Cost-efficient
Has LED lights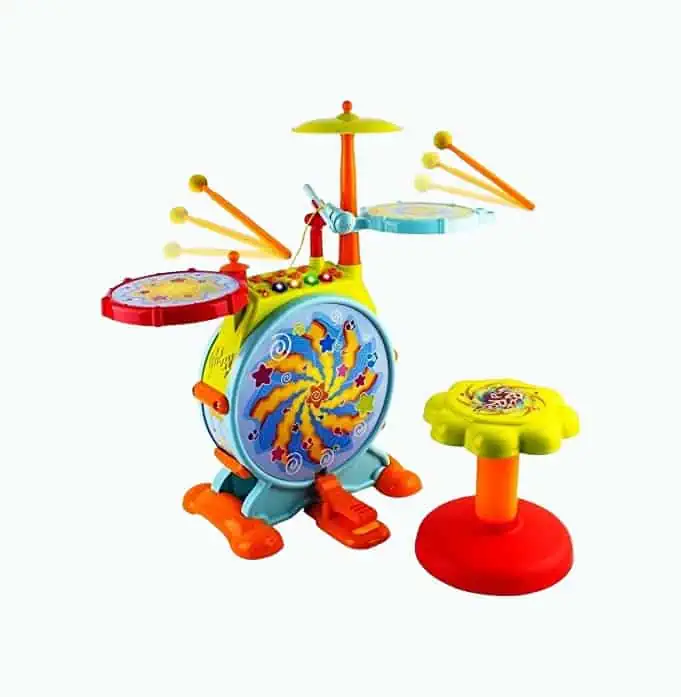 Best for Toddlers
WolVol Electric
Versatile learning tool
Develops fine motor and memory skills
All-in-one drum set
---
---
The Best Music Toys for Kids of 2023
Here are 11 great musical toys to consider.
VTech Record & Learn KidiStudio
Best Creative Music Toy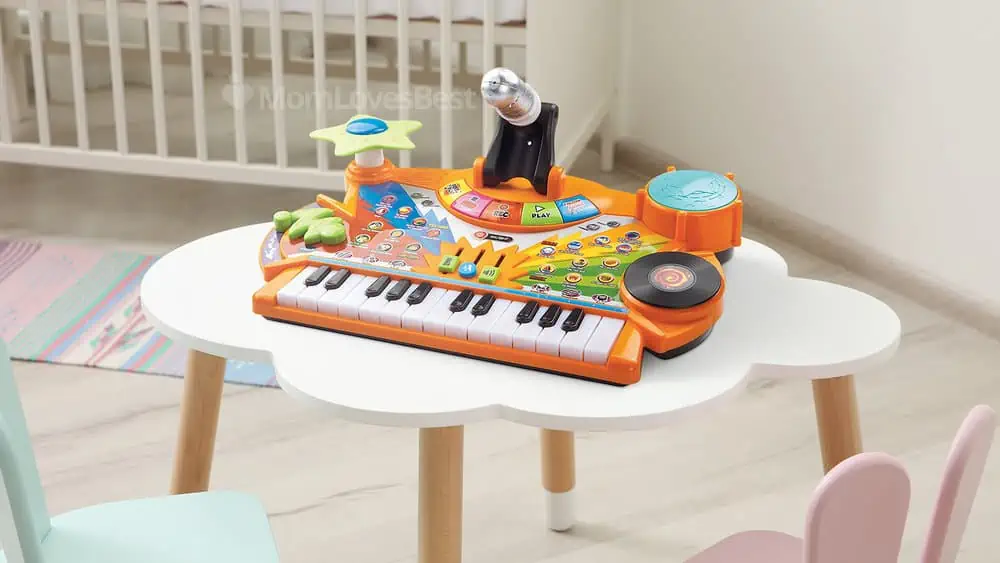 If your little one enjoys being creative and playing with different sounds, the Kidistudio by VTech is a great option.
This toy studio was designed for children aged three to six. It lets your child record and play back their very own tunes. It features a small piano and a microphone with a voice changer.
There are over 40 prerecorded songs and sound effects to play around with. Your little one can choose between different genres, like jazz, techno, and rock 'n' roll. The light-up keyboard is a nice touch to keep the wow factor going.
I even enjoy playing around with this toy myself. However, it can get a bit loud. There's a volume control slider, but I found it was a little too easy for my child to adjust without help.
---
Baby Einstein Take Along Tunes Musical Toy
Best Portable Music Toy
This take-along musical tunes toy from Baby Einstein is perfect for babies and small toddlers. It's small, making it excellent for little hands to hang on to.
This great little toy allows your child to take their music wherever they go. It was one of my little one's favorite vehicle toys. And it's easy for even young babies to press the big center button to activate the classical tunes.
It looks like a toy phone but has a large handle fitted with some rattles. When your little one is playing, they can choose between seven melodies.
There's also a small "screen" with lights that flash as the melodies play.
What I love about this toy, other than the stimulating features, is the volume control. These toys tend to get loud, but this one has two sound levels, and it's not easy for little hands to switch between sound levels.
However, be aware that the color on the rattles can wear off over time. We suggest you wipe it with a wet towel a few times before giving it to your child.
---
Munchkin Mozart Magic Cube
Best Music Toy for Small Babies
This musical cube from Munchkin hits the nail on the head. It's durable and fun for small babies to play with, and our toddlers also ranked it high on their list of favorites.
The cube features four large buttons that teach your little one how sounds combine. The "instruments," when played together, create Mozart masterpieces.
It plays sounds from various instruments, such as a French horn, piano, flute, and harp.
And as a bonus for us parents, there's a volume switch for when it gets too loud.
The toy plays eight different songs, but we wish it included more. As this was such a favorite of our little ones, we heard those eight songs countless times! However, I would choose Mozart's compositions over annoying electronic tunes any day.
---
Baby Einstein Magic Touch Ukulele
Best Ukelele Toy for Babies and Toddlers
If you're looking for a stimulating guitar toy for your little one, we highly recommend this musical guitar from Baby Einstein.
This toy ukelele is lightweight yet durable, perfect for your future rock star. It features two different modes: freestyle and play. Your little one can also choose to listen to 30 different guitar sounds.
And as much as we love listening to those guitar sounds, we're still thrilled that it has a volume setting to control the intensity.
---
VTech KidiBeats Drum Set
Best Toy Drums
Kids love drum toys for many reasons, but parents often despise them. However, this KidiBeats drum set from VTech passed the test because it helps children's sensory development.
It features three drum pads and a cymbal, all with their own sound. Your toddler can learn letters and numbers or play freestyle. It has nine preset melodies in different genres, such as pop, rock, and dance.
The drum pads also have built-in flashing LED lights. My little ones love drums, and these were an instant favorite.
It took some time to get used to the start button that you have to press every time, but once they had that figured out, this set was a hit.
---
Baby Einstein Music Activity Table
Best Piano Toy
This music activity board from Baby Einstein is another excellent example of a fun, educational toy for children.
Although we looked at many baby and toddler piano toys, this one stood out above the rest. It is much more than a piano and has lots of great features that young children love. Our older kids even found that they loved trying out songs on this little table.
The piano features different sounds, such as drums and a French horn. The toy encourages your little one to compose their own music. It also helps them develop their standing and walking skills as they make their way around it to discover more fun buttons and sounds.
The piano keys feature numbers and letters. And as a bonus, you can choose between three languages — English, Spanish, and French.
You can also remove the legs and place it on your toddler's lap or the floor if they're not ready for stand-up play.
If you decide to use it as a table, ensure it's secured. Place it on a mat or carpet to prevent slipping.
---
WolVol Educational Musical Cube
Best Educational Music Toy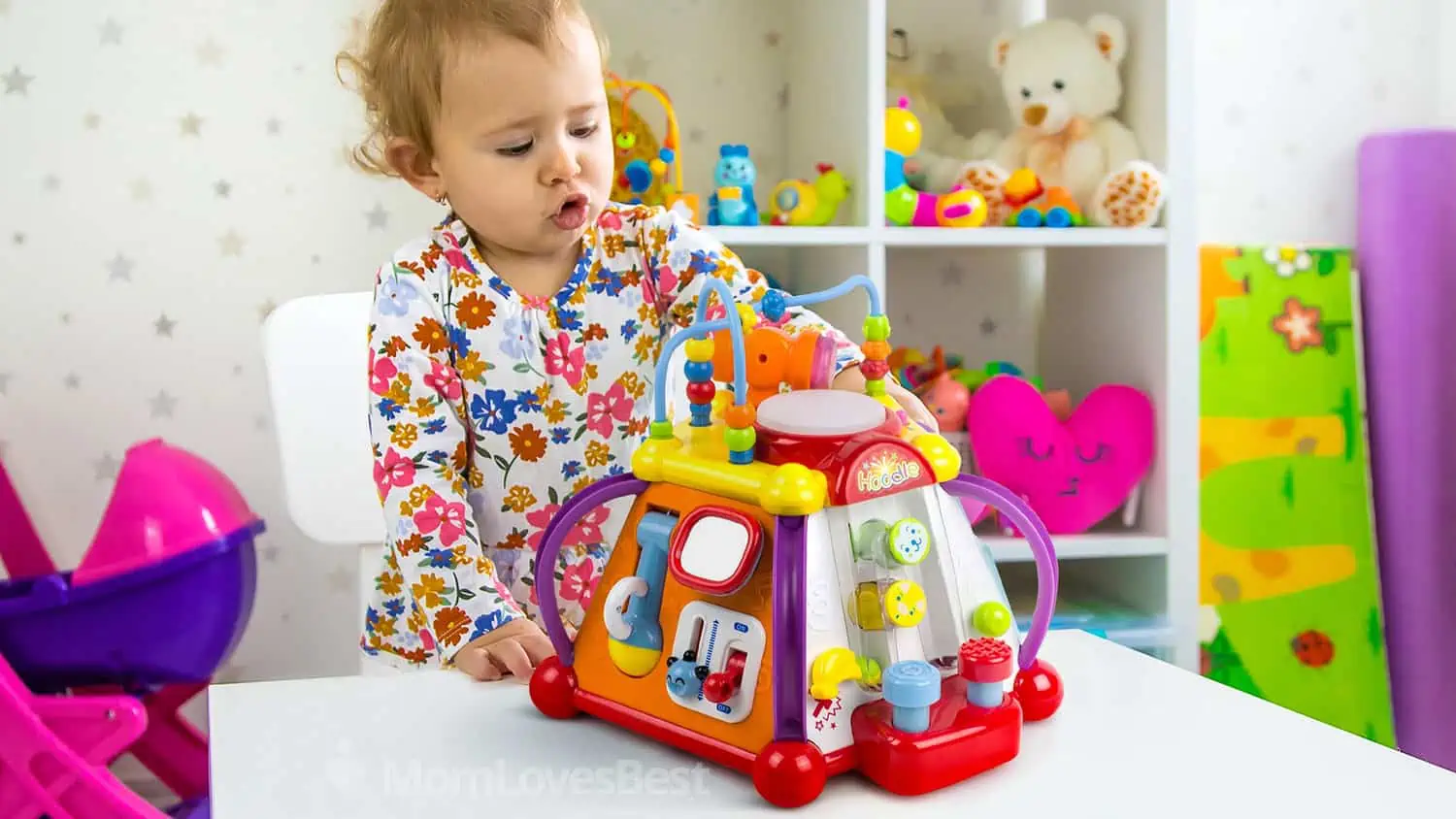 This musical activity cube from WolVol will undoubtedly keep your little one busy for hours. It features a vast range of activities for learning and developing.
It has a magic mirror where cute animations will appear, and a built-in microphone lets your child sing to the tunes.
You will also find a detachable phone and a steering wheel with motor functions. As your little one plays, it makes driving sounds.
This toy will stimulate many of your child's senses while they enjoy the music.
But before you hand it over, give all the features a gentle tug. We've heard reports of pieces coming apart, although we haven't experienced this ourselves. Test all parts regularly to ensure they remain as they should.
---
Otamatone Unicorn Toy from Cube
Best Music Toy for Girls
This is a bit different from the rest. But my little one just wouldn't let me pass by this Otamatone musical toy instrument from Cube. She absolutely loves this unicorn edition, so we had to include it.
This is a toy version of a Japanese Otamatone instrument. It creates a fun and silly way of creating some catchy tunes.
Your little one can play by sliding their fingers along the stem. The higher you slide your fingers, the higher the tone.
Although this is fun for toddlers, we don't recommend it for children younger than two years as it is somewhat fragile. It might take a toddler some time to get used to it, but it leaves room for creativity. Older kids especially love making music with this cute toy!
---
Little Tikes PopTunes Guitar
Best Music Toy for Boys
This PopTunes guitar from Little Tikes is perfect for toddler boys who want to rock.
It has all the potential to keep them entertained for hours. The guitar features plenty of flashy LED lights, three strings, and five musical buttons. This new updated version comes in a translucent gray color.
Your little rock star can choose between preset tunes or going freestyle.
---
WolVol Electric Big Toy Drum Set
Best Music Toy for Toddlers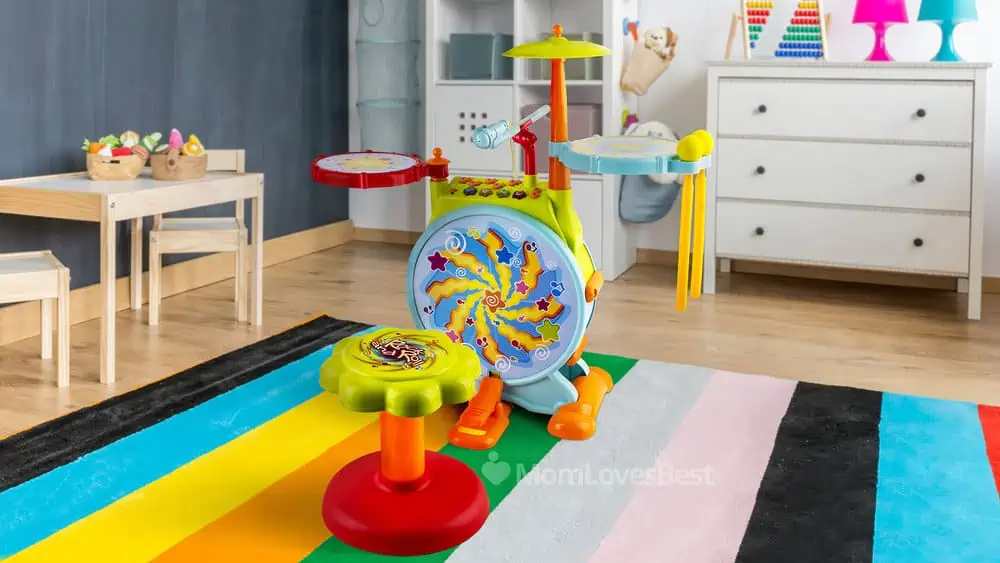 This drum set from WolVol is excellent for growing toddlers. It has all the fun elements, including a microphone, bass drum, hi-hats, and even a pedal and sticks.
It features many prerecorded melodies, songs, and drum beats for your little one to play along with and lots of fun lights.
The best feature is its durability. Your munchkin has to be super strong to break this toy!
The drum set is 24 inches tall and includes an 8-inch stool. Just watch out for the stool as it can be a bit unsteady. We recommend placing it against a wall for extra support.
---
Click N' Play Gigantic Keyboard
Best Music Step Mat
I don't know about you, but I haven't come across a child who doesn't love a piano mat. This mat from Click N' Play is fantastic and fun to look at while also providing some excellent tunes.
The mat features 24 black and white, heavy-duty keyboard keys that can play various instrumental sounds. Your child can choose between eight instrument sounds, such as guitar, saxophone, violin, banjo, and more.
The long, wide mat allows for plenty of room to get wild or play duets with friends.
The volume is adjustable, but if your little one steps in the wrong place, it increases and can get quite loud.
Benefits of Music for Child Development
Research shows that music has many benefits for a child's development. It can help children learn other subjects easier, as it enhances various skills they can use elsewhere.
Here are just two of many good reasons why you should buy a musical toy for your little one.
1.

Language Development

For younger children, music is most beneficial for language development. Every child has the ability to decipher sounds and words, but it's our job to help and encourage them. If we incorporate music, we can support these natural abilities.

Letting your little one grow up in a musically rich environment will help them reinforce and practice their developing skills.

This doesn't necessarily mean that your toddler should take piano lessons. Playing songs at home and encouraging them to clap along is more than enough.
2.

Increases Neural Activity

One interesting study found that people who are involved with music have increased neural activity, meaning their brain works harder. The same goes for young children and those learning to play an instrument (1).
How to Choose a Musical Toy
When looking for the best kids music toys, we came upon endless options. We narrowed down the options by looking for toys that were fun yet durable with good-quality sound. But, most importantly, we searched for toys that are also educational.
---
Thank You For Your Feedback!
Thank You For Your Feedback!