Are you staring at your child's noisy tablet and thinking it's about time they got a pair of headphones? Not quite sure what to look for? That's understandable; I didn't either when it was time to get a pair for my oldest child.
There are so many headphones available. Some claim to be specially made for children, while others prove unsafe for younger users.
Don't worry — we'll discuss everything you need to know about the best headphones for kids and review the top nine models on the market.
Image
Model
Product Comparison Table
Features
Best Over Ear Headphones
JLab JBuddies
Decibel limitation
Good noise-canceling ability
Pinch-free hinges
Best Wireless Headphones
Riwbox Foldable
Flashing LED lights
Excellent Bluetooth range
Long battery life
Best for Toddlers
Onanoff BuddyPhones
Foldable and durable
Wireless and corded
Comfortable ear cups
35 millimeter universal plug
Durable material
Adjustable for different sizes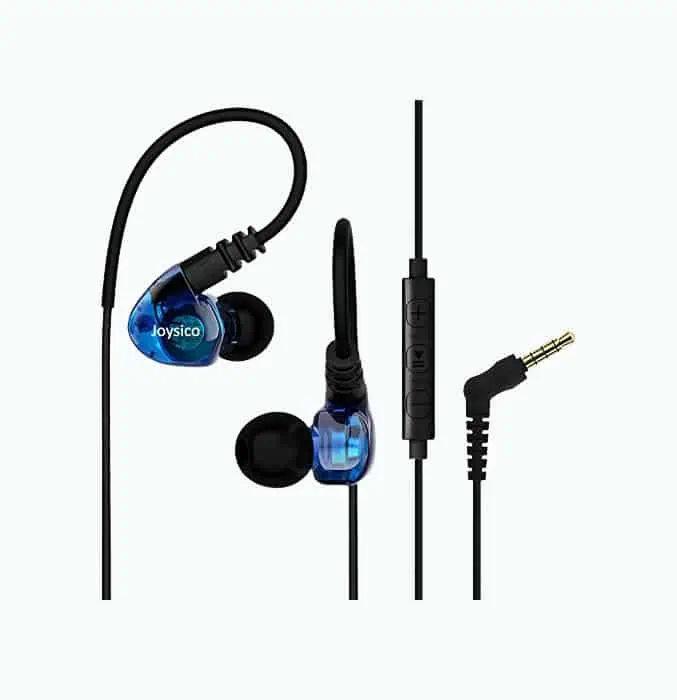 Best Earbuds
Joysico Sport Headphones
Child-friendly technology
Volume limitation
Decent noise isolation
Cutest Kids Headphones
CozyPhones Kids
Soft and cozy to wear
Great for traveling
Cute designs
Best for Gaming
Snug Play+ Kids
Sharing feature
Foldable & easy to pack
Adjustable size
Best Noise Canceling
LilGadgets Connect
Options for going wireless
Decibel limitation
Lightweight, padded ear cups
Best Budget Pick
MEE Audio Kid
Great price
Suitable for young kids
Good volume limit with hidden switch
---
---
The Best Headphones for Kids of 2023
Here are some great headphone options for kids.
JLab JBuddies Over-Ear Headphones
Best Kids Over-Ear Headphones
These headphones from JLab are designed for children. The over-the-ear cups sit comfortably without falling off.
The adjustable band suits growing children between the ages of 6 and 16. So there's no need to buy a new pair for every birthday.
The eco-leather material has cushions that provide an ample amount of padding all around.
JLab also included an 85-decibel sound limit. Even if your little one decides to blast up the volume on the device, the headphones will still keep the noise at a safe level.
However, they don't provide the option of going wireless if you bought the corded model or wiring up if you choose the wireless model. So you must decide beforehand if you need a cord or not.
Pros
Great design, suited for many ages.
Comfortable.
Decibel limitation.
Good at canceling out other noises.
Pinch-free hinges.
Cons
No option to switch between wireless and wired connections.
Our Ratings
---
Riwbox WT-7S Bluetooth Headphones
Best Wireless Headphones for Kids
These wireless headphones from Riwbox are as colorful as they are convenient. They come in four shades, allowing your little one some style input.
These also have an extra gem that will likely score big points from your kiddie. There are blue, red, and green LED lights on each ear cup. These flash up and down to the music's frequency, but you can also turn them off if they get annoying.
The headphones come with Bluetooth 5.0 technology. This means you'll only have to pair them with a device once, and the headphones will do it automatically after that. They also have a wide range so there's plenty of room to move about without the device.
They have on and off lights that show you when you're in Bluetooth mode and a voice reminder for when the battery level runs low.
However, they don't have a decibel limitation. Because of this, we wouldn't recommend that you buy them for smaller children.
Pros
Fun color choices.
Flashing LED lights.
Excellent Bluetooth range.
Long battery life.
Cons
No volume limit, so not suitable for younger kids.
Only one "boyish" color option.
Our Ratings
---
Onanoff BuddyPhones Explore
Best Headphones for Toddlers
I highly recommend this option from Onanoff for young children. This model has won awards for being specially made to suit the needs of a busy toddler.
Not only do they look fun and appealing, but they're also foldable and made with a durable plastic frame.
The soft, padded ear cups make these headphones comfortable for small ears. They work as corded or wireless, so if your toddler wants to break out the moves, they can do that.
And most importantly, there's a non-negotiable volume limit. This will keep the volume under 85 decibels at all times.
Pros
Foldable and durable
Wireless and corded.
Comfortable ear cups.
Decibel limitation.
Good color choices — they even include fun stickers so your toddler can customize them.
Cons
The plug may not fit if your device has a cover.
Can be difficult to connect both ear cups.
Our Ratings
---
Elecder i37 Kids Headphones
Best Kids Headphones for iPad
These durable headphones from Elecder are perfect for on-the-go listening. The cord is 59 inches long and made with sturdy yet flexible material. Children can pull and tug before it breaks, making this a fight-proof set.
The headphones are foldable and super easy to fit into small backpacks. An adjustable band allows it to fit a variety of ages — even adults — so you can quickly steal them when the kids fall asleep. Not that I have ever done that (wink).
The plug is compatible with most devices, including iPads.
However, the headphones have no decibel limit, so they are not the safest option for small children.
Pros
A universal plug of 0.137 inches (3.5 millimeters).
Durable material, especially on the cord.
Padded ear cups for a comfortable fit.
Adjustable for different sizes.
Fun color options suited for both boys and girls.
Cons
No volume limit.
The jack can break easily.
Our Ratings
---
Joysico Sport Earbuds
Best Earbuds for Kids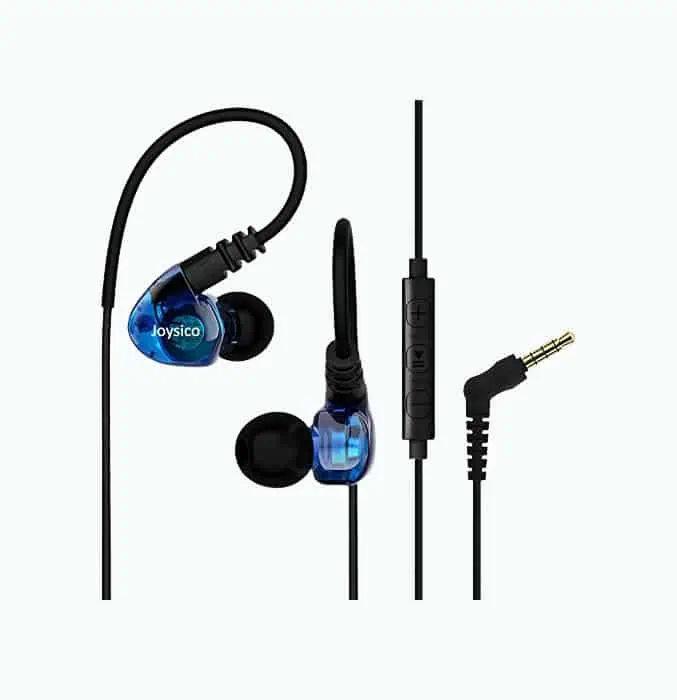 These premium in-ear earbuds from Joysico are an excellent choice for children's earbuds.
They are ergonomically shaped and lightweight at 0.04 pounds. They're made of silicone and have memory foam tips. There are four sets of earbuds in different sizes — including adult sizes!
The earbud technology is impressive. They have built-in volume control and a noise-isolating feature.
However, the plastic housing tends to cause discomfort after more than three hours of use.
We also found that even with the variety of earbud sizes, it was hard to find a good fit for some of our smaller children. This may not be the case for everyone, but it is worth considering when buying.
Pros
Four earbud sizes included.
Child-friendly technology.
Volume limitation.
Decent noise isolation.
Compatible with different devices.
Cons
May not be comfortable for long hours of usage.
Earbud sizes run big.
Our Ratings
---
CozyPhones Kids Ultra-Thin Speaker Headphones
Best Cute Kids Headphones
These super comfortable headphones from CozyPhones are cuter than cute — and comfortable too.
The whole design revolves around an adjustable animal-themed headband made from fleece. These have built-in ultra-thin speakers around the ears, transforming them into headphones. You can quickly remove them to wash the headband in the washer.
The adjustable headbands suit all types of sizes. And they come in cute animal designs for both boys and girls. Our favorite is the froggy design, which comes in either green or purple.
Although these are cute and probably some of our favorites on this list, they are a bit warm to use in hotter months. They're probably not suitable for summer unless you're near an AC unit.
Also, you must place the speakers just right to get the best sound. Otherwise, your little one may not hear much at all.
Pros
Soft and cozy to wear.
Great for traveling.
A good option for children with sensory issues who don't like the feeling of most headphones or earbuds.
Adjustable sizes.
Cons
Ears can get sweaty during warmer conditions.
Can be difficult to place correctly on the head to get the best sound.
Our Ratings
---
Snug Play+ Kids Headphones
Best Kids Headphones for Gaming
If your child is into gaming, these headphones from Snug are a great choice.
If they like to share their music or play two-player games, the headphones also feature a sharing port on one side. One ear cup connects to the device while the other links to their friend's.
Snug made these headphones specifically for children aged three to eight. But older children can also enjoy them.
However, the 93-decibel volume limit is a bit high for smaller children. We wish they would have kept it under 85 decibels.
We also found that the headphone cord isn't as durable as it should be for young children. Fortunately, the company seems to be more than happy to provide replacements.
Pros
Sharing feature.
Foldable and easy to pack.
Adjustable size.
Many fun colors and prints to choose from.
Cons
The volume limit of 93 decibels is a bit too high.
Sizes tend to fit smaller heads better than bigger ones.
Our Ratings
---
LilGadgets Connect+ Pro Premium Headphones
Best Noise Canceling Headphones for Kids
These noise-canceling headphones from LilGadgets are fantastic.
The lightweight, padded ear cups are comfortable. They go over the ear, readily blocking out any distracting noise.
The headphones have a 95-decibel limit — not as good as some, but still an ample effort.
Nevertheless, the headphones are not a good fit for children under 5. Even though you can adjust the band, they're still too large for smaller heads and ears.
Pros
Good noise-canceling abilities.
Options for going wireless.
Decibel limitation.
Bright, fun colors and patterns suited for both genders.
Lightweight and padded ear cups for extra comfort.
Cons
They don't fit younger kids well.
The 95-decibel limit is too high.
Not as durable as some other options.
Our Ratings
---
MEE Audio Kid Jamz Headphone
Best Cheap Headphones for Kids
These headphones from MEE Audio pack a punch for the price.
The headphones are lightweight and flexible, suitable for children aged 4 to 12. The durable plastic is hypoallergenic and BPA-free.
The volume limit is set at 85 decibels, so you won't have to worry about hearing damage.
Our favorite feature is the hidden parental switch. A small button on one of the ear cups turns off the volume limit. This can come in handy in noisy environments where it can be difficult to hear or if you want to borrow the headphones to rock out.
But one downside to these headphones is that the foam around the ear cups seems to get loose after a while. However, we discovered that you can glue it back on to get some extra use out of it.
Pros
Great price.
Excellent material.
Reasonable volume limit with a hidden switch.
Suitable for young kids.
Cons
The foam may loosen.
Not the best sound.
Our Ratings
Are Headphones Safe for Kids?
Kid's headphones are fabulous in many ways — they distract little ones and give us a much-needed ear break. However, there are some safety precautions we as parents must take.
For example, we all know that listening to high volumes for prolonged periods can weaken our hearing. The same goes for children.
If the volume is consistently high, it could damage your child's little eardrums, and they could lose hearing over time.
An estimation showed that of the 40 million Americans affected by hearing loss, roughly 10 million have high volume to blame. Noise-induced hearing loss (NIHL) can occur after only one high volume exposure.
The scary part is that when listening to music with earphones, the volume can reach 100 decibels. Listening to concentrated music at this high volume for just 15 minutes per day can cause permanent damage after a few days.
When listening to anything, be it music, audiobooks, or a game, the volume should always be under 85 decibels — preferably a maximum of 75 decibels for young ones. This will minimize the possible damage caused by the volume.
But before you throw the idea of kiddie headphones out the window, there are plenty of solutions to this problem.
Some of these fixes include apps and noise-restricting technology, while others are specifically made for younger users. These include built-in safety precautions, like a decibel limit, to protect our children's ears.
Headphones vs. Earbuds
Headphones and earbuds may seem quite similar — they both deliver sound straight from your device to your ear. But they have quite a lot of differences.
1.

Headphones

Headphones are speakers resting on the outer ear.

Some models, called "supra-aural," cover the entire ear surface; however, they don't seal out the outside world. Your child will still be able to hear surrounding noises, like cars, TVs, or a yelling mom.

Then there are over-the-ear models called "circumaural." You may know these as noise-canceling headphones. These headphones fully enclose the ear, keeping out any outside sound.

The benefit of headphones is that the risk of causing hearing damage is lower. The speaker rests on the ear rather than inside. However, the volume should still be low to prevent potential damage.
2.

Earbuds

Earbuds are generally meant to rest inside the outer ear canal. These are usually seen as less expensive alternatives to headphones. Plus, they're lighter and less bulky than headphones.

However, earbuds can be more dangerous to children's hearing, especially since you're supposed to insert them into the ear canal. In other words, they're basically miniature speakers sitting right in the most vulnerable zone (1).

But you can make earbuds safe by restricting the volume and time your little one spends using them.
How to Choose Headphones for Kids
There are several factors to consider when deciding which headphones you should buy. But your child will probably be most interested in the next pointer.
---
Thank You For Your Feedback!
Thank You For Your Feedback!