So, you've caved and agreed to buy your kid their first drum set. We've been there. We understand the fear of endless headaches and noise or total abandonment after a week.
But it doesn't have to be that way.
We've spent hours looking for sets that kids of all ages will enjoy and we, as parents, can at least tolerate. As it turns out, there are many great options, including drum sets with learning components, high-quality sound, and, best of all, headphone jacks! The hard part was narrowing them down to just a few of our favorites.
Check out our reviews of the best drums for babies, toddlers, and kids of all ages.
Image
Model
Product Comparison Table
Features
Best for Bilingual Learning
LeapFrog Learn & Groove
Supports 2 languages
Equipped with colorful lights
Teaches colors, numbers, and gross motor skills
Best for Simplicity
Little Tikes Tap-A-Tune
Unique sounds
Different ways to play
Sticks attach to drum for storage
Best for Curious Minds
Bright Starts Light
3 fun modes
Bright colors
Large handle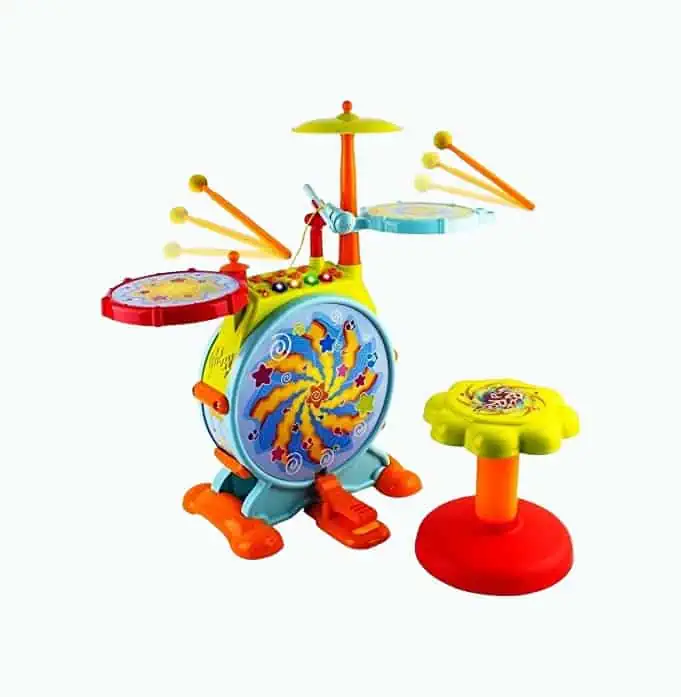 Best for Creative Minds
WolVol Electric
With microphone and stool
Features a kick drum
Durable
Best for Variety
VTech KidiBeats
3 electronic drums plus 1 cymbal
Features phonics and words
Power-saving mode
Most Portable Set
Alesis CompactKit 4
Many features and sounds to play
Velocity-sensitive pads
Loud speakers with headphone option
Best Single Drum
Remo Floor Tom-Tom
Sounds professional
Durable materials
Played in different ways
Best for Beginners
Mendini 3
Professional-looking set
Easy assembly
Accessories included
---
---
The Best Drums for Babies
There are our favorite three drums for babies.
LeapFrog Learn & Groove Color Play Drum
Best for Bilingual Learning
If you want your baby to explore the Spanish language apart from English, this could be for you. This adorable drum teaches your child to count and recognize colors and opposites while introducing them to music.
With this girly drum toy, your baby can hit and tap her way through many fun tunes. You can also join in the fun and create your own family band. This instrument is equipped with three music varieties: classical, marching, and salsa. What a great way to dance to the beat!
Pros
Interactive and educational.
The small size makes it easy to store.
Three musical styles, including salsa, marching, and classical.
Supports both English and Spanish language.
Fun for small babies as well as toddlers.
Cons
The audio is pretty soft, even on the highest volume setting, making it hard to hear the sounds clearly in a louder environment.
Our Ratings
---
Little Tikes Tap-A-Tune
Best for Simplicity
This drum might look simple without the lights and electronics of other models, but trust me when I say it's anything but. Babies love playing this drum with their hands or using the "magic" sticks when their fine motor skills are a little stronger.
Show your little one how to rub the sticks on the sides of the drum. Different patterns will create fun sounds for your baby to dance along to.
Losing bits and pieces of kid's toys can be frustrating, but you can attach these sticks to the drum when not in use.
Pros
BPA-free materials.
Unique sounds.
Different ways to play.
Compact size.
Sticks attach to the drum for storage.
Cons
It lacks the vibration to make a good hollow drum sound.
Our Ratings
---
Bright Starts Light & Learn Drum
Best for Curious Minds
Babies aren't as easy to please as one might think. If you have a little explorer at home, as I do, you might need to think outside the box.
This little drum has a mirrored surface, so your baby can see themselves as they have fun. It also lights up with different colors whenever your little one creates a beat.
Your child can play around with the various modes: numbers, colors, and drumming. Set the desired mode, and your baby will either learn colors or count to the beat.
In the music mode, the toy will play a fun tune for your baby to bang along to while flashing brightly colored lights. There's also a large handle that's easy for small hands to grasp. It's ready to use from the start since you get two AA batteries with the toy.
Pros
Three fun modes.
Bright colors.
Mirrored surface.
Large handle.
Cons
To register the sound and receive a response, you need to hit it harder than many babies are capable of.
Our Ratings
---
The Best Drums for Toddlers
Here are our favorite drums for toddlers.
WolVol Electric Big Toy Drum Set
Best for Creative Minds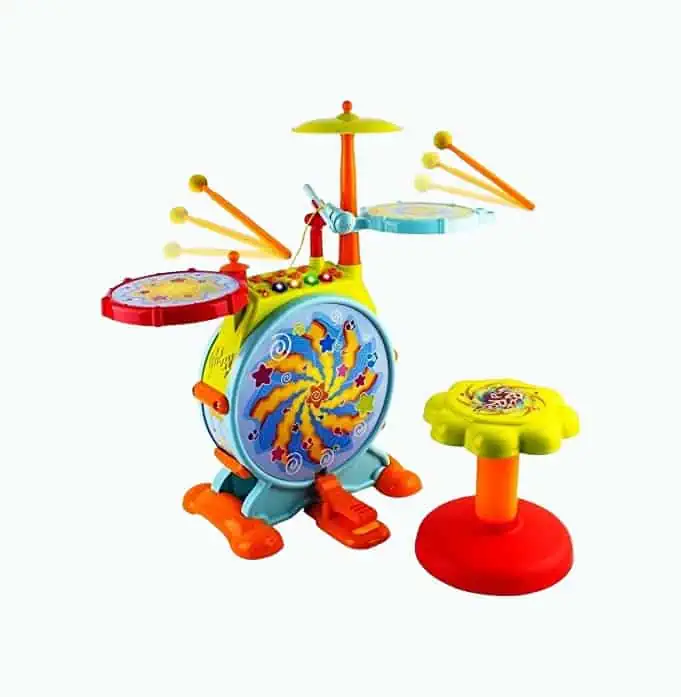 Toddlers love to express themselves, whether it's through talking, movements, or actions. Encourage your growing tot to go a little wild while creating music.
With this drum set, your toddler gets two drums to pound, a cymbal to bang on, and a kick drum to get those feet moving. There's also a fully-functioning microphone and a stool, so your kiddo can feel like a real drummer.
This kit has a variety of play modes, including songs, melodies, beats, music, and colorful lights. The stool is 8 inches high, which is a good size for the average toddler.
The set is also very durable and made for rough play. However, it requires three AA batteries, which aren't included.
Pros
Includes a microphone and stool.
Bright lights and fun music to play along to.
Features a kick drum.
Durable set lasts longer than many other toddler toys.
Cons
The kick drum can be challenging for toddlers to figure out.
The microphone only picks up sounds if you hold it really close.
Our Ratings
---
VTech KidiBeats Kids Drum Set
Best for Variety
Nearly every toddler loves colorful lights, loud noises, and the chance to get crazy.
This little drum set gives your tot four ways to play and learn. It has a number mode that counts up whenever your toddler hits a drum.
There's also a mode that teaches the alphabet, phonics, and words: excellent for babbling babes. Your child can play freestyle with 16 different drum sounds, or they can play along to a beat by following the lights.
Kids (and their sometimes-forgetful parents) sometimes neglect to turn off electronic toys. Then you might wake up to dead batteries and a sobbing child. Luckily this drum set has a power-saving function that allows it to "go to sleep" when left untouched.
Pros
Three electronic drums plus one cymbal.
Features phonics and words.
Power-saving mode.
Volume control.
Includes three AA batteries.
Cons
It can be difficult to turn off the background music.
Our Ratings
---
The Best Drum Sets for Older Kids
Here are our top drum kits picks for older children.
Alesis CompactKit 4
Best Portable Set
Electronic drum kits can be a blessing — if you appreciate your ability to hear — because you can plug in a set of quality headphones and enjoy the silence while your kids are drumming. This set gives your child four touch-sensitive pads, each with its own drum sound.
Not only does it sound like acoustic drums, but the pads also feel like real drums as you hit them, helping your aspiring musician get a real sense of the instrument.
The set will also provide your child with a variety of songs and rhythms to play along to, which is excellent for budding musicians. These patterns are the beginning of math skills for your child.
The LCD screen has a built-in game feature to help children learn, and a music-coach mode guides your child through the beats. The speakers are loud, so if your child wants to show off their stuff, you won't need any extras.
You can also plug in headphones for a quiet session.
Pros
Many features and sounds to play with.
Compact size.
Loud speakers with the ability for headphones.
Velocity-sensitive pads.
Cons
Some headphones are not compatible.
Our Ratings
---
Remo Floor Tom-Tom Drum
Best Single Drum
If your child is showing interest in percussion, it doesn't mean a kit is the only way to go. This floor tom drum can be just as fun and exciting.
A floor tom drum is usually a larger drum that you place on the floor or use as part of a kit. This drum is designed to be played on the floor.
The shell is made from "acousticon," a material made of sawdust and resin. It gives the drum an authentic sound.
Our kids loved the unique look of this rainforest-themed drum.
The pre-tuned drum head is made from "Skyndeep" polyester material, which has just enough elasticity to give it that quality sound.
Your rockstar can choose to play it with their hands or use the sticks that come with the drum. The company provides matching drums of other styles as well.
Pros
High-quality sound and durable materials.
Can be played in different ways.
You can add on to the kit.
Fun for many age groups.
Cons
Has a higher-pitched tone than authentic floor tom drums.
Our Ratings
---
Mendini 3-Drum Set
Best for Beginners
A kit like this one will give your growing musician two drums, one kick drum, and a cymbal to play with. It comes unassembled, so you'll have to put it together. But don't worry, the set includes easy-to-read instructions.
The hardwood drum shells are very durable. And since everything is attached to the kick drum, it doesn't take up too much space.
Your kiddo will also get a pair of wooden drumsticks and a pedal for the kick drum. An adjustable padded stool adds to the comfort level to keep your kid rocking.
Pros
Professional-looking drum kit.
Durable materials.
Easy assembly.
Accessories included, like padded stool and sticks.
Available in five glittery colors.
Cons
The mounts need to be adjusted from time to time.
It may not sound as professional as it looks.
Our Ratings
Why Drums?
Not only are the drums a popular option among kids, but they also offer some benefits, as most musical instruments do.
These are just a few of the best benefits of drums for kids and toddlers.
Confidence booster: Your child will learn how to play dynamically, and as they build up the courage to go for it, this will leave them feeling good about themselves.
Good for the brain: The drums require coordination — big time. This challenges the brain since it engages both the linear and creative sides.
A form of exercise: An hour of play/exercise is recommended for your child each day. Drumming can elevate the heart rate, and the repetitive pounding can build muscle (1).
How to Choose Drums for Kids
Drums are a favorite music toy for many. With the range of choices available on the market, and depending on your child's age, you may not know where to start. We're here to help.
---
Thank You For Your Feedback!
Thank You For Your Feedback!