So you're ready to take the leap and buy a keyboard or piano for your wannabe musician? We know how hard it can be to start.
With so many options available and such a wide range of prices, you can easily grow overwhelmed.
That's why we studied the market, tested the best products, and listened to feedback from hundreds of consumers. We discovered a wide range of keyboard pianos for all ages and skill levels to fit every purpose and budget.
Read on to learn more about what to look for and to read our reviews of the best keyboard pianos for kids.
Image
Model
Product Comparison Table
Features
Best Piano Playmat
Keyboard Playmat 71 Piano
Wide range of features & modes
Fun for all ages
Folds flat
Best for Babies
Discover & Play Piano
Different textures
Compact size
Classical music mode included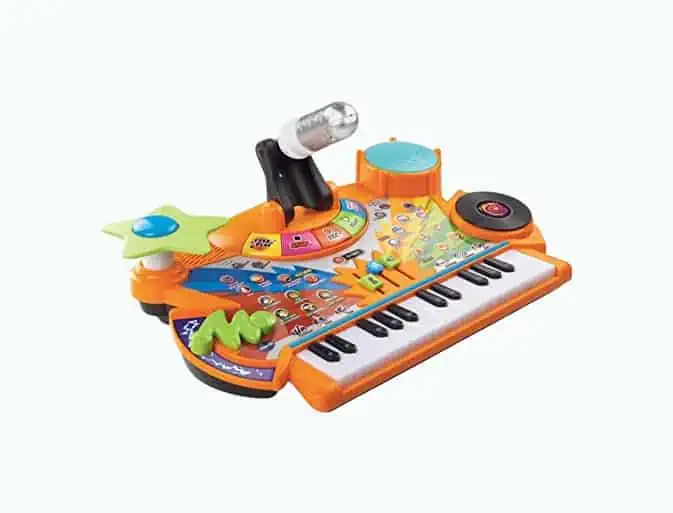 Best for Toddlers
VTech Record & Learn KidiStudio Piano
Built-in recording studio
Includes microphone with voice changer
Non-toxic material
Best with Mic
Electronic Keyboard Piano
Adjustable volume & tempo
Comes with a stool
8 entertaining demo modes
Best Budget Pick
Amy & Benton Piano
Built-in microphone
Record and replay features
Four musical genres
Best Mini Piano
Classic Wooden Grand Piano
Looks realistic
Hardwood material
Timelessly elegant design
Best Beginner Keyboard
Plixio Electric Piano
Good range of sounds and features
60 demo songs
61 key piano keyboard
Most Portable
Lujex Foldable Piano
Waterproof
Suitable for any age group
Built-in battery or external power supply
Best Learning Piano
RockJam 54-Key Portable
Various learning modes
100 tones and rhythms
Built-in stereo
Best for Older Kids
RockJam Electronic Piano
Excellent for beginners
Power supply included
LCD display for guidance
Review Methodology: At Mom Loves Best, we understand the importance of providing reliable, in-depth analysis and reviews on the best keyboard pianos for kids. Our experienced team conducts thorough research, assessments, and hands-on evaluations, comparing various products based on crucial criteria like sound quality, ease of use, durability, and educational value. We measure and rank each keyboard's performance, sharing quantitative data and first-hand evidence to help you make informed decisions. Our expertise in kids' keyboard pianos enables us to identify key decision-making factors, rate products in those areas, and explain what sets top contenders apart from competitors. Trust Mom Loves Best to guide you in choosing the perfect keyboard piano for your child's musical journey.
---
---
The Best Keyboard Pianos for Kids of 2023
Here are 10 great pianos for kids to consider.
Keyboard Playmat 71
Best Piano Playmat
This keyboard is recommended for ages 1 and over.
We found this "keyboard" to be a motivational tool for babies learning to walk. Letting them play around on a "magical carpet," with a new tune at every step, makes those first steps even more exciting.
The playmat has 24 keys to experiment with. If you have a toddler who gets bored quickly, you can change it up with the eight instrument sound options, including the violin, trumpet, banjo, and more.
There are also record, playback, and demo modes, so you can record your tot's original dance tunes!
The playmat is made of a highly durable vinyl material that can take plenty of stomping. We love pulling it out for playdates and birthday parties, as it's fun for kids to make music together.
Pros
Durable material.
A wide range of features and modes.
Fun for all ages.
It folds flat for easy storage.
Includes volume control.
Cons
Requires 4 AA batteries (not included).
Keyboard resorts to the highest volume setting whenever you turn it on.
Our Ratings
Community Feedback
Great keyboard playmat that kept not only my 3-year-old nephew entertained, but also the adults in the family. This playmat is durable and well-built, with nice features like background music and the ability to record your steps. My only complaint is that the volume resets to its loudest setting every time it's turned off, which can be annoying for adults when kids repeatedly switch it on and off. The variety of instrument sounds produced by the playmat is impressive, though not on par with a professional orchestra, it's perfect for a child's toy.
---
Discover & Play Piano
The best way to help your newborn develop their senses of touch, hearing, and sight is through play.
As your little one reaches the babbling stage, they might love something to "goo and gah" along to. This keyboard has a few surprises, so don't be fooled by its size.
Your baby will get to play around with animals, instruments, and numbers. Also, it features some classical tunes instead of the usual nursery rhyme songs. (Is anyone else so tired of hearing The Wheels on the Bus on repeat?)
Studies have shown that listening to classical music stimulates endorphin production in your child's body (1).
We love that this piano toy is compact — about the same size as a magazine. You can easily fit it in your diaper bag to pull out whenever your baby needs a little distraction.
Pros
Multi-textured toy includes soft keys.
Compact size for easy travel.
Classical music mode included.
Includes batteries.
Cons
The keyboard section only contains one key and one tone.
Not so easy to clean between the gaps.
Our Ratings
Community Feedback
I've enjoyed watching my grandson play with this Baby Einstein piano, as he can't get enough of the music and animal sounds. The cloth keyboard is great for little ones who tend to put everything in their mouths, and the fact that it doesn't have separate keys actually adds to its safety. This piano offers a variety of melodies and languages, making it both entertaining and educational for growing children.
---
VTech Record & Learn KidiStudio
Best Toddler Keyboard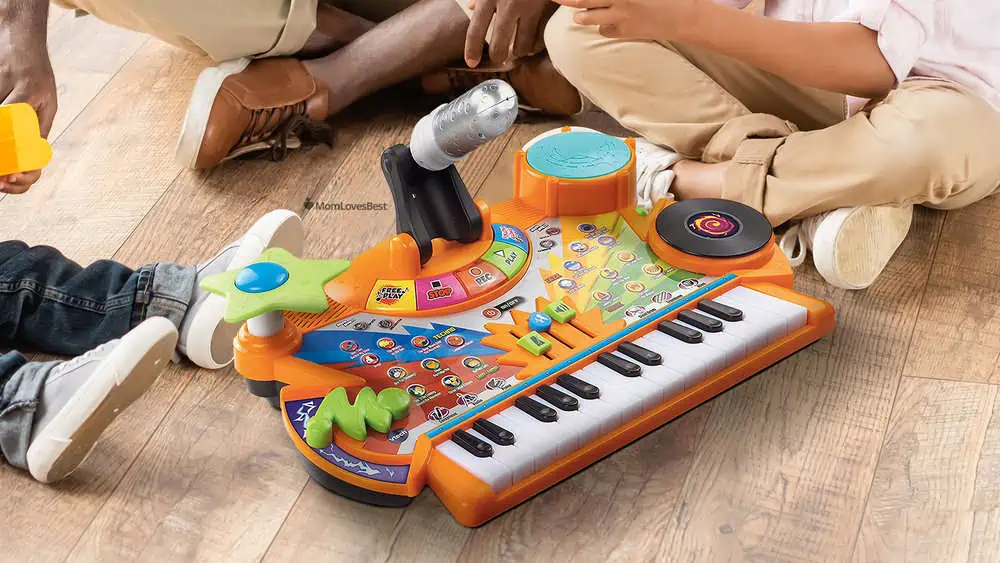 If durability and functionality are as valuable to you as a fun time, pay attention. This keyboard has a built-in recording studio that allows your toddler to play and record their own music.
Your kiddie will also receive multiple mode options with this piano toy. The keyboard plays more than 40 songs and sound effects, including drums, a scratch disc, and a whammy bar. Your tot will also get to use their imagination while listening to jazz, techno, and rock and roll.
It also helps kids learn to play music as the correct keys light up to encourage your child to play along to the melody.
It's made of non-toxic plastic, so you won't have to worry too much if your child likes to use their sense of taste! The buttons are easy for small fingers to press, and it comes with three AA batteries.
This keyboard also includes a fun microphone with voice-changing functions, so your child can work on their full stage performance.
Pros
Built-in recording studio.
Soft keys.
Includes a real microphone with voice-changing functions.
Helpful lights teach kids to play along to the song melodies.
Cons
The microphone has a quiet sound.
Our Ratings
Community Feedback
If you're looking for a fun and engaging toy for young kids, this DJ station is a hit! My child absolutely adores playing with the various sound effects and buttons, even though not all of them control the volume. The microphone and light-up keys make it a great way for little ones to explore music and sing along, providing endless entertainment for both kids and their parents.
---
Electronic Keyboard with Microphone
Best Toddler Keyboard with Microphone
Sometimes fun includes sacrifice — in this case, it might be your quiet time. This light-up keyboard gives your toddler 37 keys to play.
The keyboard sounds include piano (of course) plus many other instruments, such as the violin, trumpet, and even a music box. It also offers a range of animal sounds, such as a frog, cat, and dog.
Your child can play along to rock, samba, and six other rhythms, allowing them to create their own songs and beats. The playback feature lets them record and listen to their creations.
The built-in microphone includes a keyboard stand. A little stool is also provided, so your young musician can sit comfortably while playing.
Pros
Adjustable volume and tempo.
Comes with a stool.
The microphone can be held by hand or on a stand.
Available in two colors.
Cons
Microphone and speaker can create feedback when they're too close to each other.
The microphone volume is loud and non-adjustable.
Our Ratings
Community Feedback
When I first got this piano for my young kids, they were absolutely thrilled and started playing with it daily. It's been a joy to watch them express themselves through both keyboard and voice, as the microphone adds an extra layer of fun with its echo effect. The piano is suitable for children aged 2 to 6 years old, but be warned that the keyboard can come off the stand quite easily and might be difficult to secure. One thing I would change is having it start at a low volume and then be adjusted up, instead of starting loud and needing to be turned down.
---
Amy & Benton Piano
Best Budget Mini Piano
If you're a person who likes to get the most out of your money, this multifunctional piano should appeal to you. It looks like a miniature grand piano, but it can do more than play piano tunes.
It has 24 keys, and your tot can choose between a variety of drums and other instruments. There's also a music box and different rhythms, such as disco and tango.
You can adjust the volume as desired, and your child can play with the tempo. Your little one will also get to use their vocals and maybe even record a song using the built-in microphone.
It comes with a cable, so you can hook it up to a speaker or iPad. This enables your child to show off their skills, and you could even play along.
This piano requires four AA batteries and a 1.5-volt battery, so make sure you have those on hand before you set it up, or you'll have a disappointed little musician.
Pros
Built-in microphone.
Record and replay features.
Four musical genres.
Cons
Advertised as suitable for 1-6 years, but is small and more suited to toddlers.
Batteries aren't included.
Our Ratings
Community Feedback
This toy piano is a well-made item with an easy setup and a gentle, pleasing sound, unlike many other musical toys for babies. It's sturdy enough to handle the rough play of a two-year-old and is suitable for children of varying abilities, including those with disabilities. The size is perfect for little ones, and the butterfly-shaped buttons add a cute touch. However, the microphone cord could be shorter for safety reasons, and the toy could benefit from a small songbook.
---
Classic Wooden Miniature Grand Piano
Best Mini Grand Piano for Kids
If you want to give your child a gentle push in the musical direction, this mini piano might help. It looks very similar to a real grand piano, although this one only has 30 keys.
It comes with a stool and a music holder to make it even more like the full-size version. The stool is not adjustable, so smaller children might need an additional cushion or pillow.
The hardwood piano has an elegant glossy finish. You can also choose between a black, pink, or white version.
There are no extra features or sounds, and it only plays like a piano, but that shouldn't be a bad thing. If you want to introduce your child to the art of music without distractions, this is a good way to go.
This piano is suitable for children ages 1 to 5 years and will help them prepare for piano lessons on a full-sized piano when they're old enough.
Pros
Looks realistic.
Stool and music holder included.
Made with durable hardwood.
The 30 keys offer a nice range to play with.
Cons
The tones sound "toy-like," not quite like a standard piano.
The stool is not adjustable.
Our Ratings
Community Feedback
If you're looking for an affordable and adorable toy piano for your little one, this product could be a great option. Assembling it is reasonably easy, though the legs might not be as sturdy as you'd expect. Despite not having a true piano sound, the xylophone-like tones are still enjoyable and can entertain young kids. As a piano player myself, I appreciate the decent key-feel and action, even if it doesn't fully replicate a real piano's sound.
---
Plixio Electric Keyboard
Best Children's Beginner Keyboard
This electric keyboard is not just for kids; it can also be helpful for older beginners. It's portable and light, so your child can bring it to school or music lessons. It functions with batteries, or you can plug it into an outlet for unlimited piano fun.
There are 54 keys for your child to get accustomed to; however, they are a little on the small side compared to a standard piano. Regardless, it's a good way for your child to start learning notes and chord placement.
The electrical keyboard setting gives your budding musician 140 tones and rhythms to play along to and 60 demo songs. Your pianist can create amazing music, record it, then listen to and share it.
The keyboard also has a lesson mode that teaches your child the different notes and chords.
Pros
Good range of sounds and features.
60 demo songs.
100 rhythms and 40 tones to play along to.
Cons
It's not easy to switch between the different modes.
Our Ratings
Community Feedback
Love this affordable keyboard with full-sized piano keys! I'm a beginner and found it perfect for trying out piano without committing to a more expensive instrument. It's portable, making it great for taking on trips or even camping. The sound quality isn't the best, especially when using headphones, but it's decent for the price.
---
Lujex Foldable Keyboard
Best Portable Kids Piano Keyboard
If your child loves to play the piano anytime, no matter the location, this foldable keyboard makes it easy.
You can roll it up to fit in a backpack. The speakers are built-in, and your child can also insert headphones if they want to play without an audience.
The waterproof silicone makes it sturdy and durable.
You can even connect the keyboard to your computer using a "MIDI" cable — although you'll have to purchase it separately. Then you can edit the music as you play or record it on the computer.
You might think that a foldable keyboard can't be very realistic. However, there are 61 keys, very similar to a real piano. The feel, of course, won't be the same, but it could be good for finger-placement practice.
There's also a massive range of tones and rhythms to choose from and 40 demo tunes.
Pros
Connects to a computer for production options.
Waterproof silicone material.
Suitable for musicians of any age.
Built-in battery or uses an external power supply.
Cons
Keys are sometimes unresponsive when pressed consecutively.
The smooth surface makes it difficult to distinguish between keys.
Our Ratings
Community Feedback
Great portable piano that's perfect for adult travelers, but may not be suitable for younger children due to its sensitive keys. I found the silicone rubber construction to be of premium quality, and the battery life exceeded my expectations. However, playing chords with black keys can be challenging, and it's best played on a solid surface to avoid issues with key sensitivity.
---
RockJam 54-Key Portable Electronic Keyboard
Best Learning Piano
Learning to play the piano well usually takes years. Your child has to stay focused to become proficient, but this piano might make it a little easier. It has 54 keys, and with learning mode on, your child will be guided by the LCD, which indicates the keys and chords to be played.
The keyboard allows you to plug in a phone or tablet with the Simply Piano app, which provides feedback on your playing and teaches notes and songs.
It could make the process of learning more fun. It might also be easier for children who struggle with the "traditional" way of learning the piano.
Pros
Features LCD screen and learning app.
Suitable for older children and adults.
Works with outlet or batteries.
Built-in headphone socket.
Cons
Lightweight keys make it harder to adjust the tone.
Not a fully authentic sound.
Our Ratings
Community Feedback
Best keyboard I've bought in a while! I've been using it to learn piano and it has semi-weighted, full-sized keys that feel great to play. The built-in speakers are decent for daily practice, and the Grand Piano voice sounds pretty realistic. It has a MIDI out, which is useful for connecting to other hardware or my PC. My only issue is that the initial volume is a bit loud, but overall, I'm very happy with this purchase and have been enjoying practicing on it daily.
---
RockJam Electronic Keyboard
Best Music Keyboard for Older Kids
Having a comfortable setting for your child to practice in can potentially make or break their interest. This keyboard comes with a padded stool and adjustable stand, so your child can play sitting down or standing. You can also take it off the stand and place it on a table.
The keyboard includes headphones, so your child won't have to share their masterpieces until they're ready. The noteholder can easily hold an iPad or smartphone.
The keyboard features 100 sounds, 100 rhythms, and 50 demo songs for your child to practice with.
RockJam offers a one-month free membership to the "Simply Piano" app, filled with songs to choose from. You will also receive two months of free face-to-face lessons via the app.
Pros
Excellent for beginners.
Power supply included.
LCD display for guidance.
The foldable stool and keyboard stand make for easy portability.
Cons
The stool is not adjustable.
Some reported that the keys are stiff.
Our Ratings
Community Feedback
This keyboard package is an excellent choice for beginners, providing not only the keyboard itself but also a stool, stand, and music/tablet holder for added convenience. My daughter, who has been gradually getting into music, absolutely loves it and practices for at least an hour a day. The sound quality is impressive, and the inclusion of a 6-week free trial to SimplyPiano is a valuable bonus for those wanting to improve their skills. However, be aware that the lessons provided may require a subscription after the initial trial period, which could be disappointing for some users.
How to Choose a Keyboard for Kids
What you need in a keyboard piano depends primarily on your child's age. For a baby or toddler, start with something fun that features characters, music, and lights.
If your child is older and interested in pursuing this as a serious hobby, you'll need to find a more advanced and long-lasting instrument. Here are some things to consider.
---
The Benefits of Learning Piano
Introducing your child to the piano is just one way to encourage creativity, but did you know there are many other benefits that learning an instrument can offer your child? We'll delve into just a few of them.
Tips for Teaching Kids to Play the Keyboard
1.

Make It Fun

Games are an excellent option for getting young kids excited about playing a new instrument. You could also ask them to create their own melody and perform it for you or their friends.
2.

Set Practice Times

Make a schedule for your child so they can keep track of their practice time and gain discipline in the process. Don't forget to praise them for meeting these times.

A few things to consider:
Other activities: Decide how many hours of practice a week are realistic for your child, along with their other hobbies and responsibilities.
Start slowly: Build your child's practice time slowly so they don't suffer from burnout or lose interest early on.
What it means to your child: Will piano be just a hobby, or is your child serious about playing? Encourage a balance between fun and discipline, and see where it takes them.
3.

Listen to Your Child

Take note of your child's cues. There will inevitably be music they love to play and music they do everything to avoid. Find songs your kiddo loves, making sure they are simple and easy to follow for young beginners.
4.

Consider a Teacher

A piano teacher might be a good choice if you want your child to learn more. Piano lessons can help your child develop the skills necessary for reading and playing a wide range of music and can give them opportunities to perform and collaborate with other young musicians.
---
Thank You For Your Feedback!
Thank You For Your Feedback!