If your child dreams of becoming a singing sensation, you need the perfect karaoke machine to help them practice.
We've tested our voices on many machines to bring you the best of the best.
We looked for players that produce clear sound, have options like Bluetooth and CD+G capabilities, and include individual microphone settings and controls. And we found a karaoke machine for every need — from performing in front of a live audience to recording homemade music videos for online sharing.
We'll review all the best kids karaoke machines and explain their features to help you find the perfect model for your family.
Image
Model
Product Comparison Table
Features
Best Karaoke Microphone
Bonaok 4 in 1
Highly portable
Rechargeable batteries
Bluetooth connection
Best Speakers
JYX Karaoke Machine
High-quality speaker & microphones
Built-in FM radio
Includes disco lights
Best for Young Singers
Little Pretender 2 Mic
Connects to other devices
Adjustable stand
Bright colored light effects
Best Portable
Singing Machine Mic
Bluetooth capability
Record and replay features
Active voice control feature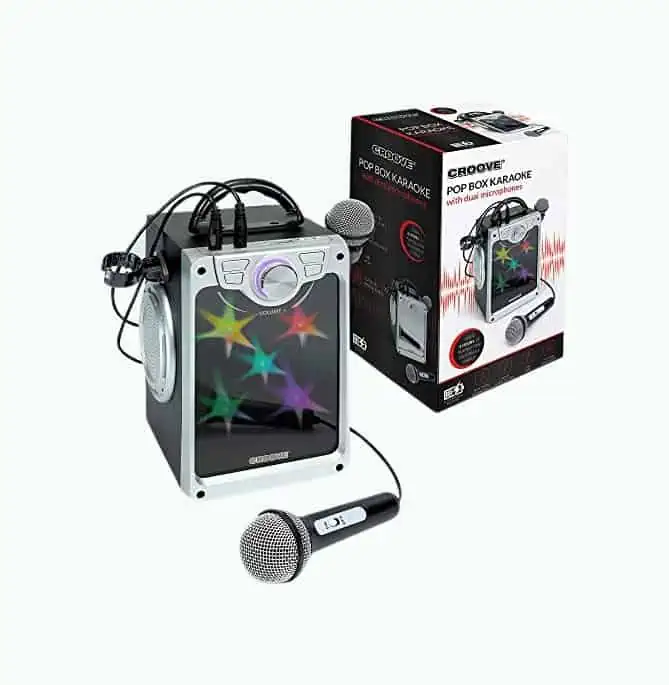 Best for Duets
Croove Two Mic
Money-back guarantee
High-quality speaker
Different ways to connect
Best Karaoke Pedestal
Singing Machine Bluetooth Karaoke Pedestal
Great-quality screen and speakers
Good height for children and adults
Can connect to TV
Best with Screen
Karaoke USA System
Remote control
Phone holder
Built-in amplifier
Best Karaoke Toy
KiddoLab Penguin
BPA-free material
Simple fun features
Easy for a toddler to use
Best Compact Machine
Singing Machine Player
Auto voice control
Small and compact size
Individual settings for microphones
Review Methodology: At Mom Loves Best, we conduct thorough research and hands-on testing to provide you with a reliable evaluation of the best kids karaoke machines. Our experienced team analyzes and compares various products using a set of criteria such as sound quality, ease of use, and durability. We gather data from professional reviews and user experiences to measure and rank each karaoke machine's performance. In our assessment, we focus on key decision-making factors like design choices, unique features, and overall value to help you make an informed choice. Our detailed reviews offer first-hand evidence, ensuring that we recommend only the top-performing karaoke machines that will keep your kids entertained and engaged.
---
---
The Best Kids Karaoke Machines of 2023
These are the best kids karaoke machines and microphones you'll find anywhere.
Bonaok 4-in-1 Portable Handheld Karaoke Machine
Best Karaoke Microphone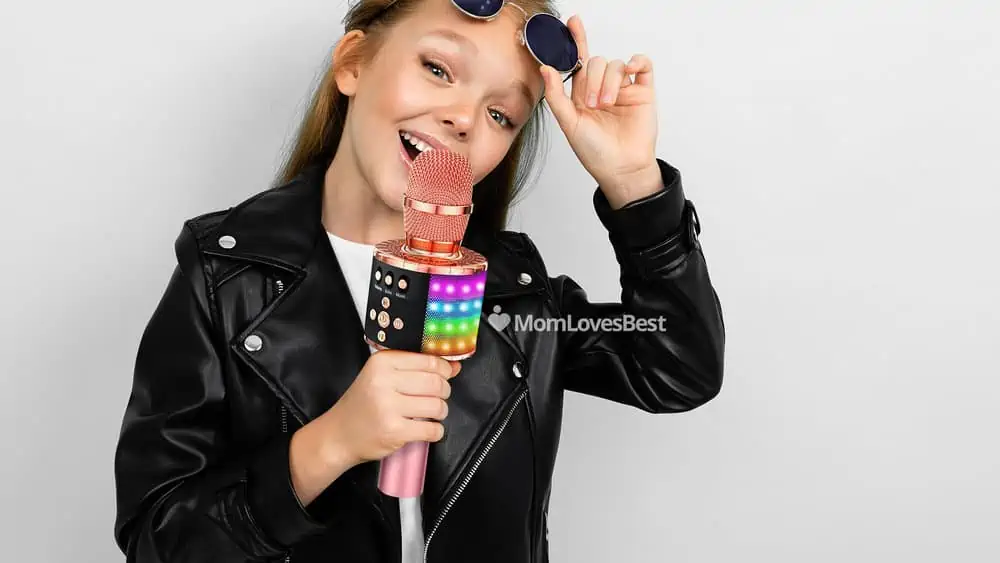 If you want a karaoke machine that's truly compact and lightweight, this four-in-one mic will be sure to impress you.
The device looks like a regular microphone; however, it has built-in speakers, LED lights, and more — basically, everything your child needs for karaoke fun.
Your little pop star can also record their songs and connect to a computer or other device to save or share those songs.
The LED lights will flash along to the rhythm and become brighter as the sound gets louder. That could encourage a little voice to find its strength!
It also has a multi-protect lithium battery, which should give you plenty of hours of singing fun. Recharge it whenever the battery runs low.
This karaoke microphone comes at an affordable price and in a wide variety of modern colors.
Pros
Portable.
Rechargeable batteries.
Rhythmic LED lights.
Bluetooth connection.
Cons
Some parents found the Bluetooth distance to be short.
The sound will only come from the mic, even if connected to a TV.
Our Ratings
Community Feedback
I've recently purchased this four-in-one karaoke microphone and I must say, it's quite impressive for its compact and lightweight design. My child loves the built-in speakers and LED lights that flash to the rhythm of their singing, which encourages them to find their voice. The rechargeable lithium battery provides hours of singing fun, and the option to record and connect to other devices is a huge plus. This karaoke microphone is available in various modern colors and is quite affordable. However, the Bluetooth connection range could be better, and the sound only comes from the microphone, even when connected to a TV.
---
JYX Karaoke Speaker Machine
Best Karaoke Speakers
If you're a karaoke-loving family, you might need something a little more professional than a toy. With this high-end machine, you'll get a 5200 mAh battery karaoke machine. However, you might need to buy some earplugs for your neighbors!
You can connect your phone or other device using the Bluetooth function. And this high-quality machine is compatible with television, iPad, tablet, and PC.
You won't have any problem when you need to take the karaoke out in the yard, as it only weighs 6.53 pounds. It also has a shoulder strap, so you don't need to carry it by hand. The wireless microphone allows for a wide range of low-key karaoke fun.
The speaker case has a durable leather handle and is made of wood, giving it a nice crisp sound. It also has 5.25-inch woofers and tweeters. That sounds like a system created for animals, but I'm told it's what makes this machine's sound so much cleaner than many other devices.
Pros
High-quality speaker and microphones.
Built-in FM radio.
Includes disco lights for added fun.
Cons
The battery does not last long compared to others on the list.
Our Ratings
Community Feedback
I'm thrilled with this karaoke machine's portability and sound quality, making it perfect for both practicing and entertaining guests. The microphones work exceptionally well, but be mindful of their battery usage as they lack a stand-by or auto shut-off feature. Despite some issues with instructions and the battery life, this device has become a regular part of my daily routine and has helped me improve my singing skills.
---
Little Pretender Karaoke Machine
Best for Young Singers
For aspiring little rock stars, this straightforward machine is a karaoke microphone stand featuring two mics: one attached and another for the guest singer.
You can adjust the stand from 18.5 inches to 40 inches to fit your child's height, making this an excellent option for toddlers and preschoolers.
The speaker portion of the machine is lightweight and can be carried while in use if your tot likes to move around. There's a flip-out handle for them to grab onto.
There are various sound effects and songs for your child to play with. The two pedals at the bottom help your child quickly switch between desired effects and songs using only their foot.
Pros
Connects to other devices via an AUX cable for more song choices.
Two microphones.
Adjustable stand.
Easily portable.
Bright colored light effects.
Cons
The microphone cord is pretty short, limiting your child's movements.
Our Ratings
Community Feedback
This karaoke machine is a fantastic gift for young kids who aspire to be rock stars, as it's easy to assemble and quite durable. My 6-year-old and even my toddler have been playing with it non-stop, enjoying the cool lights and sounds. The only downside is the microphone stand, which tends to detach frequently and can be frustrating for the little ones. The machine is also great for family fun, as my two-year-old grandbabies and their dad have formed their own little band! However, be aware that it may not be compatible with all iPhones, especially those without an auxiliary connection.
---
Singing Machine Bluetooth Karaoke System
Best Portable
This karaoke machine features brightly colored LED lights that flash to the beat of the music — a feature our kids loved. And for those who still love using CDs, you'll appreciate the included CD holder.
But don't worry; if you're a digital music lover, you can connect it by Bluetooth to other devices, like an MP3 player or phone. Then your child can have a nearly endless selection of songs to rock out to.
Production features include record and replay, which are great fun for children who like to replicate, or the little stars who want everyone to hear their music. There's also an active voice control feature that allows you to separate the music and vocal tracks.
Connect the machine to your TV to display lyrics and video effects. It includes an RCA cable outlet; however, you'll have to purchase the cable separately.
The single wired microphones might only cause an issue if you have more than one child. You can also control the volume and echo for sound effects.
Pros
Record and replay features.
Various color options.
Has AVC (active voice control) feature.
Echo control.
Bluetooth capability.
Our Ratings
Community Feedback
This karaoke machine is a hit with its flashy LED lights and a CD holder, as well as Bluetooth connectivity for endless song choices. I enjoyed the record and replay functions, and the active voice control feature is a fantastic addition for separating music and vocals. The inclusion of two wired microphones is great for multiple kids, and the volume and echo controls provide fun sound effects.
---
Croove Two Mic Machine
Best for Duets
Whether for a sleepover or a family night, having a karaoke machine for two will only double the fun.
This machine is great for children and adults. The speaker base has color-changing lights. You can freely bring it anywhere as it only weighs four pounds. And the karaoke fun night starts quickly with its simple to operate mechanism.
The microphone holder splits into two at the side, giving you two flexible holders. You can also choose to buy a standalone mic holder instead.
You can connect it to any device and opt for more song options using the AUX, USB, or Bluetooth.
Pros
Money-back guarantee.
High-quality speaker.
Multiple connection options for more song choices.
Kid-friendly light option.
Durable materials.
Cons
Microphone stand not included.
Buttons may be too overwhelming for smaller kids.
No production options.
Our Ratings
Community Feedback
I'm thrilled with how much joy this karaoke machine brings to my family, especially the little ones. The Bluetooth connectivity is a breeze, allowing us to easily pair devices and access our favorite playlists. While the sound quality and volume might be average, the dual microphones and endless entertainment it provides make it a valuable addition to our gatherings.
---
Singing Machine iSM1030BT Bluetooth Karaoke Pedestal
Best Karaoke Pedestal
For those families who are more serious about their karaoke endeavors, it's worth it to invest in something a little bigger.
This pedestal will give your singing superstar all the tools needed to win a karaoke contest. The two powerful tower speakers produce a clear sound, making it easy to stay on beat.
There's a 7-inch color screen, and the pedestal sets the screen at a good height for children and adults to read the lyrics.
Underneath the screen, there's a CD player for easy input, and the USB port makes it easy for you to sing along to your own tunes.
You can also record those extra-special performances and send them to loved ones who couldn't make it to karaoke night.
Pros
High-quality screen and speakers.
Good height for children and adults.
Can connect to a TV.
Cons
Due to its size, transportation is inconvenient.
Our Ratings
Community Feedback
I've recently been using this karaoke machine, and it has provided tons of fun for my family and me. The Bluetooth capability, easy assembly, and compatibility with CDGs and YouTube videos make it an enjoyable experience for all. However, a couple of minor issues have surfaced, such as the CD player function ceasing to work and the display only working with CDs. Additionally, the speakers aren't designed for maximum volume, producing static and crackles at high levels. The lightweight design of the machine may also pose a risk of being knocked over by pets or small children.
---
Karaoke USA 2-Mic System with Screen
Best with Screen
If you want a professional karaoke machine, check this out. The machine comes with two large, wired microphones. Your child can record songs and instantly replay them. They can even create a little remix.
The screen has a 7-inch TFT digital color display. If you find it hard to read, you can place the machine on a stool to add a little height. There's also a solid amplifier for an extra sound boost.
The LED lights will add a little pizazz to karaoke night as they flash to the beat. The remote control makes it easier to operate from afar, meaning you don't have to get up to press a button every two minutes.
There's a phone holder at the top of the machine, and you can plug in your phone, iPad, or tablet for more song options.
Pros
Remote control.
Phone holder.
Built-in amplifier.
Our Ratings
Community Feedback
I've recently purchased this karaoke system and it has been a blast for my family and friends. The setup was incredibly easy, as I was able to connect it to my phone and stereo system with no issues. While I haven't used the built-in speaker or explored the Bluetooth and recording features yet, the overall user-friendliness of the product is noteworthy. My son adores it, and it even had a group of 25 teenagers entertained during a karaoke party. This karaoke system truly offers great value for the money spent.
---
KiddoLab Penguin Karaoke Buddy
Best Karaoke Toy
The family's youngest member might not be able to read lyrics off a screen, but they'll still want to join in on the singing action.
This karaoke penguin has a microphone so your tot can sing along. It will also play songs that are easy to remember and maybe even some your child already knows. A few fun animal sounds are included to play around with.
There are only three buttons your child needs to become familiar with: play, pause, and skip. The penguin buddy also has an applause button, so if Mommy isn't around to give a hand, the penguin can offer some praise.
This toy flashes colorful LED lights to the music, which will help keep your toddler's attention.
Pros
BPA-free material.
Simple, fun features.
Easy for a toddler to use.
Bright lights.
Cons
The microphone wire is a bit short.
Our Ratings
Community Feedback
I recently purchased this Penguin Karaoke Buddy, and although my child absolutely adores it, I found a few drawbacks. The microphone cord is delicate and got pulled out easily, so I had to buy a second one. This karaoke toy is quite loud, and there's no way to adjust the volume, which can be a bit bothersome. Additionally, the size and price ratio might not seem worth it to some; however, it does provide a great entertainment source for kids who love singing.
---
Singing Machine Karaoke Player
Best Compact Karaoke Machine
A compact, portable karaoke machine is great for when your child wants to take their concert to a friend's house or on vacation. This machine is a practical size and has a handle, so it's easy for small hands to hold.
You can play CD+Gs and connect it to a TV to display lyrics and video. It has a fun little LED display to help set the music mood. There are also two microphones, so your child can sing along with a friend.
The microphones each have their own volume, echo, and balance controls. For the family member feeling discouraged or shy, there's also an auto voice control to help them sound like a superstar.
Pros
Auto voice control.
Small and compact size.
Individual settings for the microphones.
Cons
The speaker quality could be better.
Our Ratings
Community Feedback
In my experience, this karaoke machine offers hours of fun for both kids and adults. It does require some initial setup, such as adjusting the volume, but once that's done, it's a hit. The microphone quality is impressive and it even has disco lights for added entertainment. Just a small tip for those with younger kids who can't read fast enough for the lyrics, using a regular CD for them to sing along to works wonders and keeps the fun going.
How Can Singing Benefit My Child?
How To Choose a Karaoke Machine
There's more to karaoke than just singing. Do you need several microphones so multiple children can sing together? Does your kid love video effects? Are you looking for a built-in screen or the ability to connect to a TV?
You might want to consider your child's age and the type of songs that would be best. Some machines also have the option to connect to a phone or tablet via Bluetooth, which means they can stream music, creating endless possibilities.
Let's look at some of the features karaoke machines provide.
---
Thank You For Your Feedback!
Thank You For Your Feedback!