So you've made the brave decision to purchase a violin for your child. Congratulations!
If you can survive those early days of screeching and howling sounds, you may eventually find your home filled with peaceful, calming violin music. But this is only possible if you purchase a quality instrument!
That's why we're here. We've done all the research necessary to help you narrow down your search for the best kids violins.
We'll answer all your questions about starting out with this beautiful instrument. We'll also review the top products on the market to help you make the perfect choice for your budding musician.
Image
Model
Product Comparison Table
Features
Best for Fun Play
Mendini 1/2 MV500
All-in-one purchase
Fantastic quality
Padded shoulder rest
Best Complete Set
Kennedy Violins
Made from high-quality wood
Includes hygrometer
Good bow
Easiest to Play
Cecilio CVN-300
Classic look
High-quality wood and materials
Nickel-plated fine tuners
Best Craftsmanship
LilPals Amazing Child
Features notes and songs
Comes in two shades
Durable material
Most Realistic Toy
ADM Acoustic Violin Set
Fully wooden construction
High-quality and beautiful sound
Complete kit and accessories
Best Traditional Style
Vangoa 1/4 Violin
Quality materials
Comes with essentials & extras
High-quality bow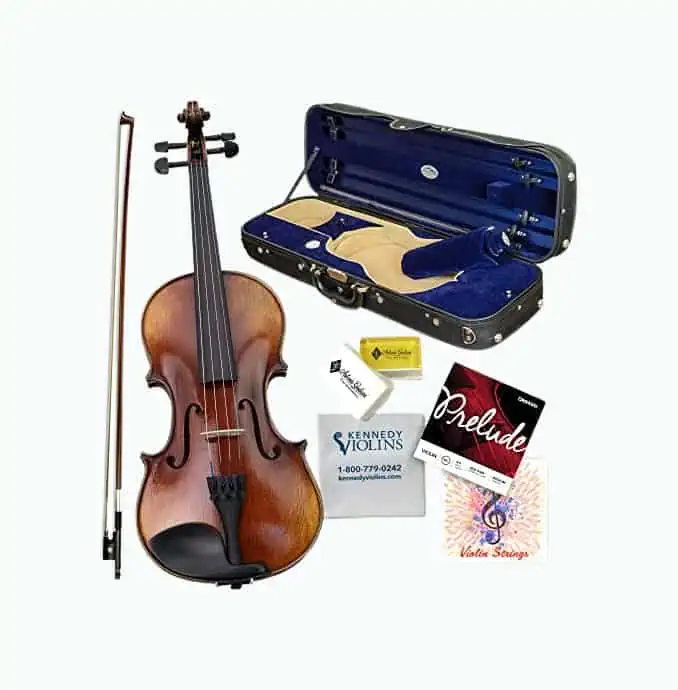 Best Sound Quality
Kennedy Violins
Convenient case included
Made with durable materials
Built-in fine tuners
Best for Small Hands
Cecilio with Ebony Fittings
Unique design
Strong battery
Headphone jack for quieter practice sessions
Best for Learning
Eastar Violin Set
Natural horsehair bow
Lovely to hold
Quick and easy tuning
Review Methodology: At Mom Loves Best, we understand the importance of finding the perfect violin for your child. Our analysis and evaluation of various violins are based on hands-on experience, professional assessments, and data-driven research. Our team compares and reviews the top violins, measuring their performance and design choices to help you make an informed decision. We identify key factors such as sound quality, size, durability, and affordability, ranking each product accordingly. By sharing our findings and expertise, we aim to provide you with an objective, user-focused perspective that highlights the top choices for your child's musical journey. Trust us at Mom Loves Best to guide you in choosing the ideal violin for your young musician.
---
---
The Best Violins for Kids of 2023
Here are nine great violins for kids.
Mendini 1/2 MV500 Solid Wood Violin
Best Craftsmanship
This Mendini MV500 1/2 acoustic violin has a beautifully contoured body that will help your child get a good feel for the instrument. It's made from maple wood with a spruce top, giving it a warm, bright acoustic sound. Two larger sizes are also available.
Your child can make quick adjustments to the tuning, and the tailpiece allows for much finer adjustments. Your budding violinist will also receive a "92D" chromatic string tuner to help get the notes just right.
This beautiful violin comes with a lightweight hard case to keep the instrument safe when not in use. This package includes a rosin cake (a block of resin rubbed on bow strings to facilitate grip), extra strings, two bridges, a shoulder rest, and a bow.
The bows are made of brazilwood and Mongolian horsehair. The shoulder rest will help your child maintain good posture while playing. This will also make long hours of practice more comfortable.
Pros
Everything you need in one purchase.
High-quality violin with a beautiful sound.
Padded shoulder rest.
Cons
The strings are not the best quality.
Our Ratings
Community Feedback
In my experience, the Mendini MV500 violin is a great choice for beginners. The dark stained design is visually appealing, and the wood quality is decent, making it a good-looking violin. Although the craftsmanship could use some improvement, it does not significantly impact the sound quality. Once I replaced the strings and bow with better quality alternatives, the violin produced a pleasant, rich tone.
---
Kennedy Violins Pupil Violin
Best Complete Set
If you want to give your child a head start in the art of violin, you should ensure they have a high-quality instrument.
Kennedy violins are finished by professional "luthiers," or violin builders, in Washington. They're made of maple and spruce woods, providing a smooth sound. The sides of the violin are also carved rather than machine pressed.
The fingerboard and pegs are made of polished ebony. And the whole violin has a satin finish instead of an oily lacquer, which can alter the sound.
This violin is 1/8 size, which is the smallest size available from this producer, but you can also choose between three other sizes. The bow is made of brazilwood and fitted with 100% Mongolian horsehair. It also has a leather grip for comfortable play.
The violin case is big enough to hold everything you need. It has velour lining and large accessory compartments. The Velcro closings keep it securely fastened, and it includes a hygrometer so you can check the humidity.
Pros
Made from high-quality wood.
Comes with accessories, including a hygrometer.
Good bow.
Cons
Some parents found cosmetic flaws on the body.
Our Ratings
Community Feedback
My experience with the Bunnell Pupil violin kit from Kennedy Violins has been nothing short of fantastic. As a former guitarist looking to learn the violin, this kit exceeded my expectations, both in terms of quality and value. The violin itself is well-built, with no visible defects, and the sound it produces is truly impressive. The kit also comes with a sturdy, padded case, a bow, rosin, an extra set of strings, and a hygrometer.
---
Cecilio with Ebony Fittings Electric Violin
Most Attractive
As your child advances and begins to discover "their sound," it might be a good time to step away from the acoustics and try something different. This hand-carved electric violin is made from durable maple wood. It has ebony pegs, a chin rest, a tailpiece, and a fingerboard.
The body design is very unusual and slightly avant-garde looking. This violin is powered by a rechargeable alkaline battery. Your child can also plug in headphones for personal practices and to spare everyone else the screeching sounds of a beginner violinist!
It comes with a lightweight case, rosin cake, and brazilwood bow with Mongolian horsehair. There's also a bridge to help keep the strings extra tight and an AUX cable.
Pros
Unique design.
You can hook it up to a computer, speaker, or guitar amplifier.
Strong battery.
Headphone jack for quieter practice sessions.
Cons
It can be a bit heavy for younger users to carry around.
Our Ratings
Community Feedback
For someone who has never played a string instrument before, this electric violin exceeded my expectations. The sound quality is decent and it's quiet enough for an apartment dweller to practice without disturbing neighbors. The case, bow, and rosin provided were not top quality, but they were functional.
---
LilPals Amazing Child Prodigy Violin Toy
Best for Fun Play
Colors are essential to a child's life, so why not find a colorful toy violin? Giving your toddler a violin toy to play around with could encourage them to learn later on.
The one we found here comes in two colors: blue and pink. It's highly durable and should be able to take a few hits without breaking into pieces.
It's also easy to figure out for developing minds. All your child has to do is move the bow across the pad on the violin. This violin also plays several notes and songs. However, as it does require a little skill to maneuver the bow and is a little fragile, we don't recommend it for children under 3 years of age.
Pros
Features notes and songs.
Realistic size.
Durable material.
Cons
The bow is a little too fragile.
Our Ratings
Community Feedback
I've recently purchased this little violin for my young daughter, and it has quickly become her favorite toy. It has a free play option that allows her to create her own music, as well as preset songs that she enjoys imitating her favorite violinists with. The design helps her get used to properly holding a real violin, which is a nice touch. One downside is that the volume can be quite loud, but placing a small piece of tape over the speaker helps to lower it. Although the violin is a bit on the smaller side and may not be as durable as I would like, it does the job and keeps my daughter entertained.
---
ADM Acoustic Violin Set
Most Realistic Toy Violin
If your little one is serious about the violin, this is a fantastic option to transition from playing with a toy violin to trying out the real thing. This full-size violin is made with a spruce top and maple body and finished with an antique varnish, making it very fancy indeed.
It makes a great stepping stone to an adult violin in the future since it has the technical fingerboard, chin rest, aluminum alloy strain plate, and other authentic features.
Because it's a full-size instrument, it's best suited for kids 11 years and up. It has an adult arm length of 23.5 inches, so make sure this will fit your child.
Pros
Fully wooden construction.
High-quality instrument with beautiful sound.
Complete kit includes a case, bow, music stand, tuner, and more.
Cons
Not suitable for left-handed users.
The craftsmanship could be better.
Our Ratings
Community Feedback
Great beginner violin with a beautiful design and solid sound quality, although the original strings might not be the most durable. This violin comes with useful accessories like a comfortable chin rest, a music stand, and a tuner, but note that the battery for the tuner may not always be included. As a beginner, setting up the bridge might be a bit challenging, but once it's done, the violin is enjoyable to play and perfect for learning.
---
Vangoa 1/4 Violin
Easy to Play
For young beginners who are serious about their music, it's worth it to invest in a violin package. These typically include a case, one or two bows, rosin cake, and maybe extra strings.
If you purchase this Vangoa violin set, your child will receive an acoustic 1/4 violin (you can also select bigger sizes if desired). It's made from a combination of durable woods such as spruce and maple.
The bright, open, and very smooth sound makes it suitable for beginners getting used to the violin. The ebony fingerboard, pegs, and chin rest make it nice and comfortable for young hands.
This violin comes with digital tuner, note sticker and manual. You'll also get an adjustable shoulder rest, extra strings, a rosin cake, and two bridges.
However, the violin strings are not the best quality and may need to be replaced shortly.
Pros
Crafted with quality materials.
Comes with essentials and extras.
High-quality bows.
Cons
Low-quality strings will likely need replacing.
Some users complained the rosin cake was dried out.
Our Ratings
Community Feedback
I recently purchased this violin, and while it is not a genuine, high-quality instrument, it does have some redeeming qualities. Upon first use, I noticed the sound quality was subpar compared to traditional violins. However, for someone looking to practice and familiarize themselves with playing the violin, this instrument could be a viable option. It is crucial to manage expectations and understand that this violin may not be suitable for professional or advanced musicians.
---
Kennedy Violins Louis Carpini
Best for Sound Quality
For this piece, we must revisit Kennedy violins. There's a good reason for that as they offer high quality for the price range. This Louis Carpini has a warm tone with good resonance.
It's an acoustic 4/4 hand-carved violin made from maple wood with an ebony chin rest, pegs, and fingerboard.
The violin has four built-in tuners at the tailpiece. These will enable your child to make even finer tunings. Your child will get one brazilwood bow, a hand-carved French Aubert maple bridge, and D'Addario Prelude strings.
Both Kennedy violins on our list come with the same case type. It has room for four bows with extra pockets for sheet music. It also has a sturdy zipper and a latch to keep everything in place.
Pros
Convenient case included.
High quality instrument made with durable materials.
Enables fine-tuning.
Cons
It has to be re-tuned often in the early stages of use.
Our Ratings
Community Feedback
This violin from Kennedy Violins is an excellent purchase for beginners and intermediate players alike. Upon receiving the package, I was impressed by the quality of the included accessories such as the wooden shoulder rest, bow, rosin, electronic tuner, and spare strings. The oblong-shaped case is also well-designed, featuring magnetic fasteners for quick access and a spacious top pocket for music books and notes. Upon playing the violin, I noticed that it is significantly lighter and louder than the one I was previously renting. The strings do not require much pressure, making it easier to play. My instructor and I agreed that this purchase is a great deal considering its solid construction, good accessories, and beautiful sound. One downside is that the size may be slightly smaller than a standard 4/4 adult size. However, overall, I am delighted with the quality and value of this violin and would highly recommend Kennedy Violins to others.
---
Cecilio CVN-300 Solid Wood Violin
Best Traditional Style
This acoustic 1/4 violin is made from maple wood with a spruce top. It has purfling lining, or decorative edge, to give it that classic look. It also has an antique varnish to help keep the instrument safe from environmental damage.
The fingerboard, pegs, and chin rest are made of ebony. The tailpiece is fitted with four nickel-plated tuners, which can help your child tune the instrument. It comes with D'Addario Prelude strings.
This is a highly responsive violin, meaning it's easy to play without too much pressure. The sound is smooth and warm.
Your aspiring violinist will also get a lightweight hard case to store the instrument when it's not in use. The package includes two bows with Mongolian horsehair, a rosin cake, an adjustable shoulder rest, and an additional bridge.
Pros
A good varnish.
Classic violin look.
Made with high-quality wood and materials.
Nickel-plated fine tuners.
Cons
Although the quality of the violin is excellent, the accessories aren't so great.
Our Ratings
Community Feedback
I'm genuinely impressed with this violin, especially considering its affordable price point. As a beginner with over a year of experience, I found the quality of the violin to be decent, and it has served me well so far. The included book has some helpful exercises, but I would recommend seeking guidance from a teacher or online tutorials for proper technique. The bows provided are not the best quality, and I would suggest investing in a better wooden or carbon fiber bow for improved performance. Additionally, the shoulder rest could be upgraded for better comfort and support, but overall, this violin is a great choice for beginners and intermediate players looking to learn and practice.
---
Eastar EVA-2 4/4 Violin Set
Best for Learning
If your little one wants to play the violin but you don't know where to start, check out this Eastar violin set.
This violin was designed to work with primary learners and has handy fingerboard points to help with learning.
The fingerboard uses the Muscovite fingerboard point, which is great for students since many teachers use this method. It also helps them learn about the handle position quickly to assist their learning.
Before you know it, your child will be a master violinist, and you'll have lovely music to enjoy throughout the house. Plus, these learning tools mean you won't need to buy expensive fingerboard stickers or try to figure out where to put them.
This is a very comfortable and realistic violin setup. It has a maple wood neck with a pearwood fingerboard, wooden chin rest, tail nail, strain plate, and four fine-tuning tuners.
Pros
It comes with a natural horsehair bow which is what older players use.
It's a beautiful handmade violin that is lovely to hold.
It comes with a built-in tuning knob for quick and easy tuning.
Cons
It's hard to tune it yourself. Once it is in tune, it comes out of tune quite easily.
The bow feels cheap.
Our Ratings
Community Feedback
Great violin package for beginners and experienced musicians alike! I was pleasantly surprised by the beautiful matte finish, which allows the wood to breathe and should improve the tone over time. The tone is soft and blends well with other instruments, making it perfect for ensemble or group playing. The package also includes decent quality strings, rosin, and a tuner, making it an excellent value for the price.
How to Choose a Violin for Kids
---
Thank You For Your Feedback!
Thank You For Your Feedback!