Are you searching for a guitar to channel your child's artistic side?
Sometimes all you need is a fun toy with an authentic appearance, but some kids — even young kids — are ready for the real thing.
We've dug deep into the world of children's guitars, speaking with musicians and music teachers to help narrow down your guitar choice.
We'll help you determine what type of guitar your child is ready for, and we'll share our favorite options with you. We'll review the best kids guitars, from guitar toys to basic, playable models to professional-quality acoustic or electric guitars.
Image
Model
Product Comparison Table
Features
Best Electric Toy
Little Tikes PopTunes
Rock 'n' roll design
Each string will play a riff
Two preset tune modes
Best Classical Guitar
Hohner HAG250P
Best for beginner
Child-friendly nylon strings
Relatively easy to tune
Best for Volume Control
Dimple Kids Electronic Guitar
One-year warranty
3 play modes
No assembly required
Best for Small Toddlers
VTech Zoo Jamz
Extra fun for toddlers
Lots of options for preset songs
Volume button
Best for Authentic Sound
Yamaha JR1
Ideal first guitar
Authentic sound
Yamaha quality
Best for Rock 'n' Roll
Ibanez 6 String
Slim neck for small hands
Good choice of bright colors
Great sound
Best Acoustic Toy
Pyle Classical Acoustic Guitar
Standard size
Complete set
Neutral color
Best Custom Guitar
Rogue Starter
Rosewood fretboard
High quality and durable
Smaller body style
Best All-in-One Set
YMC Electric Guitar
Complete accessories
30 inches
21 frets
Review Methodology: At Mom Loves Best, we conduct thorough research and hands-on testing to provide you with an honest evaluation of the best kids guitars available. Our experienced team analyzes and compares numerous factors such as sound quality, playability, and design, while considering the needs and preferences of our young audience. We assess each guitar's performance based on criteria such as durability, size, materials, and ease of use. Our comprehensive reviews take into account key decision-making factors, such as the guitar's features, affordability, and user experience, while offering first-hand evidence to support our recommendations. By ranking and measuring these essential aspects, we ensure that you can trust our findings and make an informed choice when selecting the perfect guitar for your child.
---
---
The Best Guitars for Kids of 2023
Here are some great guitars for kids to consider.
Best Toy Guitars for Toddlers and Babies
Little Tikes PopTunes Guitar
Best Electric Toy Guitar
This fun toy guitar from Little Tikes is the perfect pick for an active toddler who wants to rock out.
If your little toddler tends to get bored quickly, this will likely keep them swinging for longer. The Little Tikes toy guitar comes in a grey translucent design, fitted with red and blue LED lights for special effects.
It features two modes of play — preset tunes and rock 'n' roll riffs that allow your toddler to go a little crazy.
Each string sounds a tune, and there's a small tuner to help give the effect of a real guitar. Of course, this is only for pretending.
The guitar is a decent size and weight, so it won't be too heavy for your little one to take with them.
Pros
Rock' n' roll design with LED lights.
Strings and big colorful buttons on the neck.
Two preset tune modes to keep your little one entertained.
Cons
There is no strap, making it challenging to move around while playing.
The package states that it's for children from 24 months to five years, but it might be too small for a 5-year-old.
Our Ratings
Community Feedback
Great toy guitar for young kids who enjoy music and lights! I bought this guitar for my little one, and it quickly became a favorite; the colorful buttons and two noise levels keep them entertained. However, the interface could be improved, as the tunes play continuously without stopping, causing my child to lose interest occasionally.
---
VTech Zoo Jamz Guitar
Best Toy Guitar for Small Toddlers
If you have a smaller toddler and want a guitar-inspired toy, this is ideal. It's a super cute guitar with a zoo animal theme.
The toy is giraffe shaped, with its long neck doubling as the guitar neck. It sports eight colored buttons and four strings.
The light-up buttons make cute animal sounds or play chords. Your little composer can create their own zoo song or play along to the preset tunes. They can also pick between acoustic and electric guitar sounds.
The handy strap allows your toddler to take it anywhere with ease. Best of all, it has a volume control dial — every mom's favorite feature!
Pros
The zoo theme makes it extra fun for smaller toddlers.
An ample amount of light-up buttons keep it interesting.
Includes a strap for easy standing play or carrying.
Lots of preset songs and animal sounds.
Three-setting volume button dial allows you to reduce the noise.
Cons
The volume button is too easy for toddlers to adjust.
It can be loud, even on lower settings.
Our Ratings
Community Feedback
When I gave this toy guitar to my young nephew, he was instantly drawn to its colorful design and multitude of buttons. However, I found it a bit disappointing that the strings were non-functional and the buttons only played chords or riffs instead of individual notes. Despite these limitations, the adjustable volume and preset tunes provided some entertainment for both my nephew and his older brother during long car rides.
---
Pyle PGAKT30 Classical Acoustic Guitar
Best Acoustic Toy Guitar
If you're looking for an authentic-looking acoustic guitar for your musical toddler, this is it!
The guitar from Pyle looks like a real guitar, with all the essentials, such as strings, picks, and tuners. It's excellent if you want to get your little one into instruments or if you frequently spot them trying to strum yours.
We don't recommend this guitar if your child is serious about wanting to learn to play, as it won't stay in tune. But it makes an excellent toy for a younger child who enjoys the guitar sound.
It consists of a basswood body with six strings. It even comes with a pitch pipe tuner. These really do tune the guitar, so your little one can get an authentic experience.
Pros
Authentic appearance.
Six strings that can be tuned like a full-size guitar.
Neutral color, suitable for boys or girls.
Cons
Although it's more of a toy than an instrument for learning to play, it's pretty fragile.
Nearly impossible to tune.
Our Ratings
Community Feedback
This youth guitar exceeded my expectations for its low price. The neck is straight, and the sound quality is surprisingly good. However, the frets are not metal, which is disappointing, but not a deal-breaker for a starter guitar. The gig bag that comes with it is minimal and the zipper broke on my first use. My advice would be to switch to nylon strings for better longevity and to avoid putting too much tension on the neck.
---
Best Acoustic Guitars for Kids
Hohner HAG250P 1/2 Sized Classical Guitar
Best Classical Guitar for Kids
This is an excellent option if you're looking for a first guitar for a slightly older child. This classical acoustic guitar from Hohner Accordions is the perfect fit for a beginner.
The 30-inch guitar is half the size of a standard guitar. This means it fits most children between the ages of 4 and 7.
The guitar has six nylon strings, which are what you should look for in a beginner guitar since they are a lot softer for the fingers and easier to play.
The guitar is made of a blend of different types of wood, including Agathis. This blend gives it a rounded, crisp sound when playing.
It's relatively easy to tune and has low action, so short arms can comfortably reach all the strings.
Pros
Low action makes for easy reach.
Nylon strings won't hurt little fingers.
Once in tune, it makes a good sound.
Cons
Goes out of tune pretty quickly due to the nylon strings and plastic tuners.
Our Ratings
Community Feedback
In my experience, this Hohner guitar is a fantastic choice for beginners and those with smaller hands. Although the initial strings weren't the best, I replaced them with a better quality set and noticed a significant improvement in tone. This guitar may have some minor flaws in the finish and the tuning pegs might require more frequent adjustments, but it's well-built and durable, handling daily use with ease.
---
Yamaha JR1 3/4 Size String Acoustic Guitar
Best for Authentic Sound
This junior guitar from Yamaha is excellent for children who want to take their practice seriously. It's the real thing, scaled down for little arms and fingers.
Yamaha is a well-known brand that is famous for its quality instruments, and this guitar does not disappoint. This junior version makes a balanced, authentic sound with a warm base.
Because this guitar sounds so good, it's perfect for the beginner who needs some encouragement.
The neck is slim and comfortable for small hands. And the tuning pegs are sturdy and easy to handle, making it a breeze to tune.
Pros
Ideal first real guitar for a child.
Authentic sound to encourage budding rockstars.
The slim neck makes it easy for short fingers to grasp.
Made from a brand known for high-quality instruments.
Cons
The strings can be hard on little fingers at first.
Our Ratings
Community Feedback
This 3/4 size Yamaha FG acoustic guitar is a fantastic choice for beginners, particularly children or those with smaller hands. I was initially concerned that the steel strings would cause discomfort due to nerve damage in my fingers, but I found the low action and overall playability surprisingly easy and pain-free. The guitar holds its tune well and has a rich sound for its size, although it may be a bit small for taller individuals or those with larger hands. While it doesn't have the power of a more expensive guitar, it offers good intonation and more than average projection. I also found the fretboard to be slightly heavier in comparison to the body size, but it's not a significant issue.
---
Rogue Starter Acoustic Guitar
Best Custom Guitar for Kids
If your child is asking for a guitar with a different look, this is the one. This acoustic guitar from Rogue is not only beautiful, but it's also well made and durable. At 7/8 scale, older children or even adults with smaller hands can play this model.
The guitar is made with a blend of maple in the neck, rosewood on the fingerboard, and a mahogany body. The maple wood neck prevents it from bending, and the mahogany body makes a great sound.
But the best part about this guitar is the beautiful blue to black sunburst finish with a smooth surface, making it a gorgeous instrument to look at. It also comes in pink, black, or several classical brown versions. However, this blue was our young testers' first choice.
Unfortunately, this guitar doesn't produce a top-quality sound, but it's still playable. It's inexpensive and makes a good choice for a child who is just starting out.
Pros
The beautiful color stands out and is attractive to kids.
The blend of wood used for the material makes it durable.
There are several color options to choose from.
Cons
The sound could be better.
Our Ratings
Community Feedback
These 7/8 size starter guitars are a fantastic choice for beginners or younger players. I was pleasantly surprised by the quality and sound of this instrument, especially considering its affordable price. It feels solid and comfortable for smaller hands, although the action was initially set a bit high and required some adjustments. After experimenting with different strings, I found that the Ernie Ball Earthwood silk & steel extra soft strings provided the perfect balance of playability and sound for this guitar, making it a great value for the money.
---
Best Electric Guitars for Kids
Dimple Handheld Electronic Toy Guitar
Best for Volume Control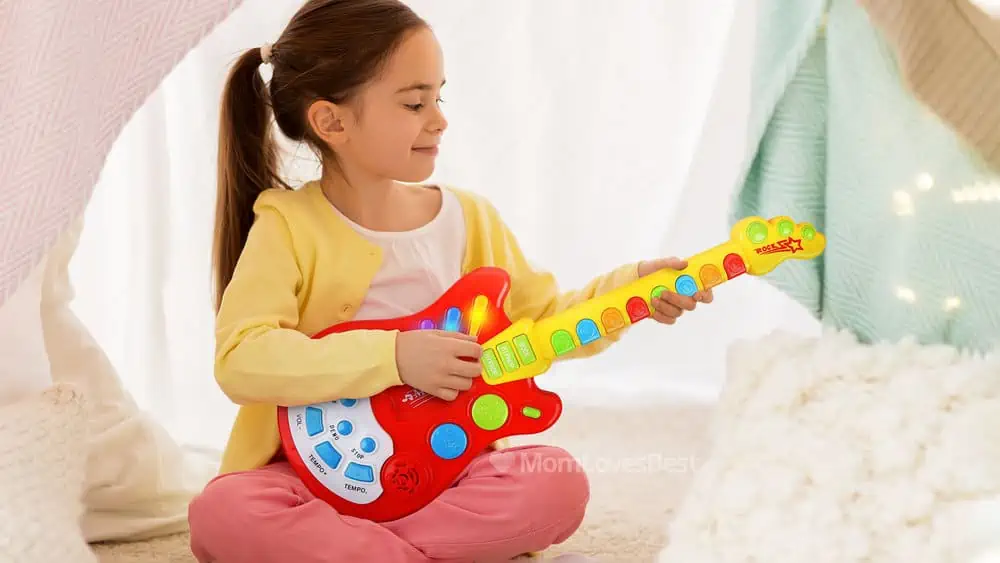 As much as you love your little one playing with interactive toys that challenge them, we can't deny that it gets a little annoying after a while. Thankfully, this guitar will be music to your child's ears as well as yours. When it's getting a bit too loud, you can adjust the volume.
Another fantastic feature of this colorful guitar is the three play modes. Kids can rock out to three beats that teach them different musical tempos and sounds.
Don't forget about the whammy bar that plays an epic solo. It adds a bit of excitement to the songs.
You can widen the adjustable strap as your little one grows so they can continue to take this guitar with them wherever they go.
Pros
Volume control to please parents.
Three play modes.
One-year warranty.
Lightweight at one pound.
Cons
The lowest volume is still louder than some parents prefer.
Our Ratings
Community Feedback
This guitar is visually appealing and offers numerous buttons to push, keeping my 4-year-old grandson entertained all day. However, the strap doesn't stay on as expected and the strumming mechanism initiates a new song instead of continuing the current one when strummed again. The volume can be quite loud even on the lowest setting, which may be annoying for some parents. Despite these shortcomings, this guitar has become a favorite toy for my grandson, akin to a cherished teddy bear for other kids.
---
Ibanez 6 String Electric Guitar
Best for Rock 'n' Roll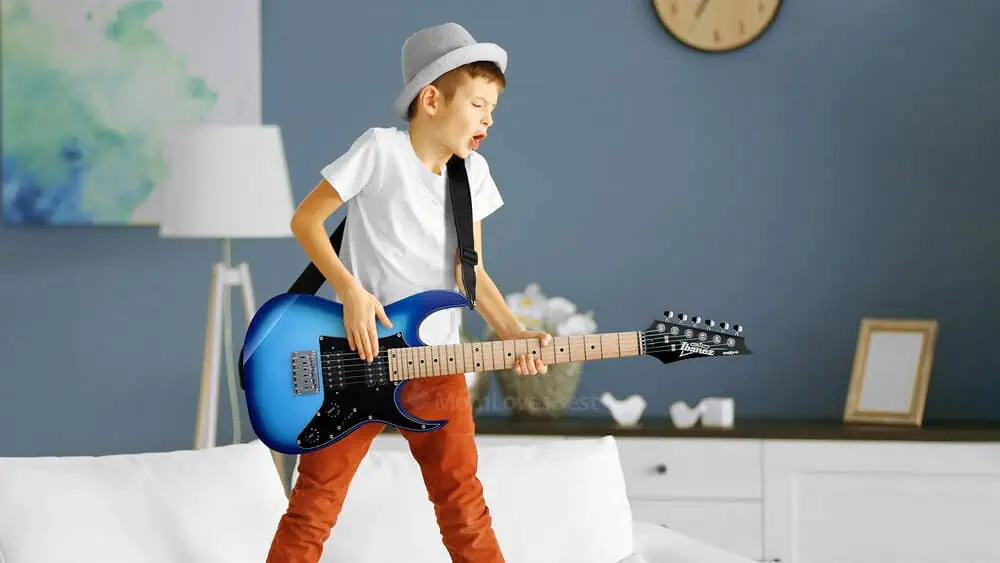 This six-string electric guitar from Ibanez will surely give your kid some rock 'n' roll vibes!
It has a smooth, slim neck for smaller hands, which makes it easier to slide up and down to change chords.
Let's be honest. Children often base their choices on colors. So one way to keep their interest going is by giving them something they can be proud of.
This model comes in a variety of shades. Our example is the blue burst color that screams for attention with its rockstar appearance. Secretly, my favorite is the purple model, but you can also purchase the more conservative colors of black, white, or classic walnut.
It has all the qualities of its full-size bigger brother, so you know you're buying a real guitar, not just a toy. This is another one that bigger kids and smaller adults can enjoy too.
Pros
Slim neck for small hands.
Good choice of bright colors.
High-quality sound.
Cons
It can be difficult to tune.
Our Ratings
Community Feedback
If you're looking for a versatile and affordable guitar, this Ibanez Mikro is a solid choice. The body finish is durable and attractive, while the lightweight design and easy-to-play neck make it perfect for smaller players. The Infinity R humbuckers provide a decent sound for various music genres, and the electronics are reliable. However, be prepared to make some adjustments after purchase, such as replacing the stock tuning heads and strings for better performance.
---
YMC Kids Electric Guitar
Best All-in-One Set
This guitar from YMC fits well in the hand without feeling too wide. This guitar makes an excellent gift for kids who want to strum. It includes all items needed to start playing immediately: the guitar, amplifier, cable cord, strap, picks, gig bag, and extra strings.
The style is also attractive, with its double-cutaway style basswood body and maple finish fretboard running up the neck. It is an impressive guitar your young rock 'n' roller will love to own.
The excellent quality of the instrument makes it durable for years to come.
Pros
Complete accessories.
30-inch length.
Twenty-one frets allow for a full range of play.
Cons
Poor-quality strings.
Hard to keep in tune.
Our Ratings
Community Feedback
My 8-year-old son and I have enjoyed exploring this guitar together, although the amp that came with it was rather disappointing. We opted for a better quality amp, which made a huge difference in sound quality. The guitar itself is a solid choice for young beginners, and my son has found it to be the perfect size for him. Just be prepared to invest in better strings and a good amp to make the most of this guitar.
What Age Can Kids Start Learning Guitar?
When it comes to buying a guitar for your little one, there really isn't an age limit (1). Well, of course, babies who haven't yet developed fine motor skills aren't going to benefit. But for toddlers and older kids, there are only three things to consider:
Types of Guitars for Kids
Some parents are unsure about buying a real guitar as a first for their child. Others see toy guitars as a waste of money. Here are the pros and cons of each type.
How to Choose a Guitar for Kids
When buying your child's first guitar, you want to make sure it's one they will enjoy playing.
This means you should look for one that makes a good sound with little effort. For example, many guitars we tested created an annoying buzz because the strings were too close to the fretboard. And many guitars had the opposite problem: the strings were too high, making them too difficult for children to press down.
Standard measures are around 0.062 inches at the highest string and 0.094 inches at the lowest. But this can vary from type to type.
Next, your child's guitar should be easy to tune. Some guitars fall out of tune pretty quickly, and playing a poor-sounding instrument is never fun. And if your child isn't able to tune the guitar on their own, they'll frequently need your help.
We also found that our younger kids were more likely to stick with playing a guitar that had some additional interesting features, like crazy colors.
You'll also want to ensure you choose a guitar that isn't too heavy for your child. Sometimes, acoustic guitars can be bulky and difficult for small children to carry. In this case, you can buy a strap; however, this will only help when they're playing the guitar.
Finally, check out the overall size of the instrument compared to the player's little body. Playing a guitar that's the wrong size can severely impact your child's playing, and it may even put them off entirely.
Kids' Guitar Sizing Guide
Buying the right size guitar for your child is crucial. Having one that's too large can make it impossible to play. In contrast, one that's too small can make it challenging to learn how to play correctly (2).
A typical adult-sized guitar is around 40 inches long. Children, of course, need one smaller than that. These are the standard measurements for children:
A child who is 3 feet 3 inches to 3 feet 9 inches needs a guitar that is 33 inches.
Children between 3 feet 10 inches and 4 feet 5 inches should have a 34-inch guitar.
From 4 feet 6 inches to 4 feet 11 inches, a guitar measuring 36 inches will fit.
Children with a height of at least 5 feet can have an adult-size guitar.
---
What Other Accessories Will I Need?
Don't forget about the essentials to buy alongside the guitar. Your child may not need them all in the beginning, but once they get more serious, these will come in handy.
Guitar picks: These can help when learning how to strum. Buy a few of different thicknesses — thin, medium, and thick.
Tuner: The guitar will need re-tuning eventually, if not immediately. This little tool can help make it a bit easier, even for beginners.
Spare strings: These are good to have in the closet in case one breaks.
Straps and strap locks: This will allow your little rockstar to stand or walk around while playing or even help them get a better grip while sitting.
How To Teach Kids Guitar
The best thing you can do is begin small.
Teach your child the string names by associating them with one of these funny phrases:
Eddie Ate Dynamite Good Bye Eddie.
Elephants And Donkeys Grow Big Ears (3).
This adds a fun element and makes it easier for your child to remember the names.
Next, you can start by playing some well-known rhymes. These generally require fewer chords to play to get a song, which means less strain on little fingers.
And lastly, don't pressure your child; just be supportive. Kids can get discouraged easily if their goals are too hard to reach.
If you want a visual guide for some easy chords to play, there are lots of videos online, such as this one:
---
Thank You For Your Feedback!
Thank You For Your Feedback!