So you want to protect your child's hearing — good for you! Children are regularly exposed to a variety of loud sounds — and some of those are loud enough to cause permanent hearing damage (1).  But how do you convince your little one to wear a set of ear protectors — and keep them on?
We're moms, so we understand this battle well! We've compared dozens of the top brands of hearing protection devices for babies and kids to find the best, most comfortable, easily adjustable, affordable, and stylish noise-canceling headphones and earmuffs on the market.
Whether you're heading to the movies, a concert, a sporting or automotive event, traveling, or just hanging out at home, these ear protectors will keep your little one's hearing intact.
And with loud sounds diminished and these stylish headphones comfortably in place, your battles will finally be over — at least the ones pertaining to wearing headphones.
Image
Model
Product Comparison Table
Features
Best for Infants & Toddlers
Baby Banz Earmuffs
No interference when sleeping
Provides great fit
Cushioned ear cups fully cover ears
Best for Sporting Events
Decibel Defense
High NRR for great protection
Adjustable and suitable for all ages
Safety standards certified
Best for Autism
Muted Designer
Padded headband and soft ear cups
Light on the ears
Great for daily use
Best Budget Pick
HearTek Kids Earmuffs
Easy to travel with
Affordable
Safety tested and approved
Best for iPad
iClever HS19 Headphones
Variety of designs
Built-in microphone
Multifunctional wire control
Best for Big Kids
Fnova Earmuffs
High NRR
Lightweight with full coverage
Withstand serious use
Best for Airplanes
Vanderfields Earmuffs
Light-duty hearing protection
Compact design
90-day money-back guarantee
Review Methodology: At Mom Loves Best, we understand the importance of protecting your child's hearing, which is why we've conducted thorough research and hands-on evaluations to provide you with the most reliable information on the best hearing protection for babies and kids. Our experienced team has analyzed and compared various products based on key criteria such as comfort, noise reduction, and design. We've assessed the performance of each item, ranking them according to the most crucial decision-making factors. By sharing our findings and first-hand experiences, we aim to help you make informed choices on which hearing protection products stand out from the rest. Trust our expertise as we present you with a detailed review and quantitative measurements of each product, ensuring that you have access to the most accurate data and results possible.
---
---
Best Noise-Canceling Headphones for Babies of 2023
Here are our favorite noise-canceling headphones for kids.
Baby Banz Earmuffs Hearing Protection
Best for Infants and Toddlers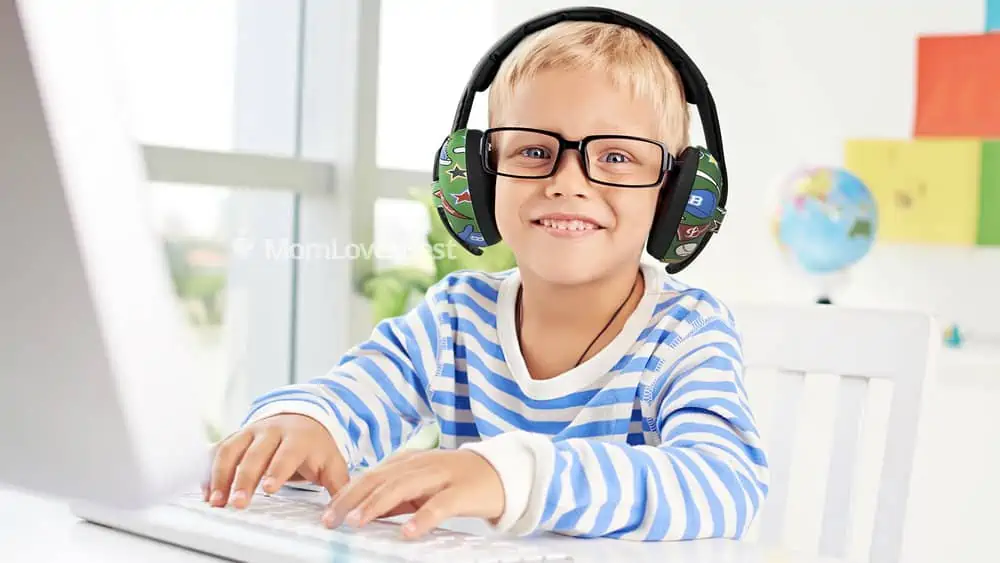 The slim and lightweight design of these Baby Banz earmuffs means there's much less bulk on your little one's head.
While moms have enough baby stuff to carry around, these don't add much weight and are compact enough to fit into the smallest spaces.
This headset has multiple safety certifications and boasts a generous NRR of 31 decibels. All you need to do to provide safe ear protection is ensure the cups fit snugly.
The soft headband material won't irritate your little one's head, and the cushioned cups allow plenty of room for growing ears.
When you combine the selection of fun prints and colors with the comfort factor of these earmuffs, you might find your little one doesn't want to take them off at the end of the day!
Pros
No interference when sleeping.
They provide a great fit, even for smaller than average babies.
The padded headband sits directly on the head, and the cushioned ear cups fully cover the ears.
Cons
Babies younger than 3 months may not be big enough to fit these.
Our Ratings
Community Feedback
In my experience, these headphones have been fantastic for my little one, especially during loud events or environments. They provided effective noise protection, allowing my baby to nap comfortably, even during a concert. While they can cause some sweatiness on the ears, it's a minor inconvenience for the peace of mind these headphones bring when taking my baby out to potentially noisy places.
---
Decibel Defense Hearing Protection Ear Muffs
Best for Sporting Events
Offering a whopping NRR of 37 decibels, these earmuffs are a great option if you like to watch sports live and ultra-loud.
They provide hearing protection suitable for all ages — even through to adulthood. You can adjust the earmuffs adjusted to fit any head size, which is valuable if you're sharing them. However, we found that it took two hands and a little time to adjust them for a new user, so it's better if you don't have to resize them constantly.
The headband is wide and comfortable, making it well-suited for extended periods of wear. The padded ear cups provide additional comfort.
We love that these are both practical and fun. They fold away for simple storage and carrying yet come in vivid, striking colors our kids were crazy about.
Pros
High NRR for great protection.
Adjustable and suitable for all ages.
Safety standards certified.
Easy to wear with glasses.
Cons
We found these headphones work best for high-frequency noise, not low-frequency sounds.
Because of the larger adjustability range, they can be a little tricky to resize between users.
Our Ratings
Community Feedback
Definitely impressed with these Decibel Defense ear muffs! They significantly reduce noise levels and are comfortable enough to forget I'm wearing them during various tasks like chainsaw work, vacuuming, and lawn mowing. While they don't completely silence low frequencies, they do a good job of blocking out annoying noises like motorcycles. One minor issue I encountered is the need for occasional readjustment, but overall, these ear muffs are effective and worth the price.
---
Muted Designer Hearing Protection
Best for Autism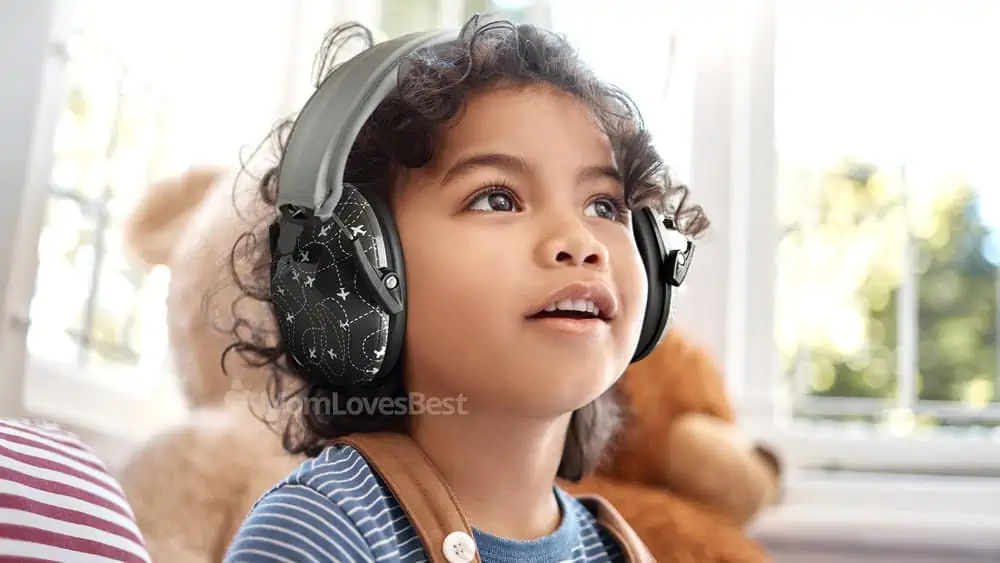 These ear protectors come in a variety of trendy patterns, including flamingoes and airplanes. In addition to the cute designs, it's important to have something comfortable; after all, your child may spend hours every day wearing them. These earmuffs come with a padded headband and soft ear cups.
Many autistic children have exceptional hearing (2). However, that gift can bring incredible sensitivity.
For many, the daily exposure to regular life can be overwhelming. If your child wears earmuffs to prevent sensory overload, you'll want them to have something they look forward to wearing.
Besides being comfortable, these are safety certified and meet ANSI requirements. An NRR of 27 decibels means they should reduce the external buzz while allowing your child to hear and take part in what's happening around them.
These earmuffs are highly adjustable, allowing them to fit your child from toddler to adulthood. This is another great feature for children who struggle with change.
Pros
Comfortable padded headband and soft ear cups.
Lightweight — great for extended wearing.
Great for daily use or noise-level reduction at events.
Tough and durable construction holds up to everyday use.
Cons
The headband tension can make them a little challenging to put on.
Older children with larger heads may find these too tight.
Our Ratings
Community Feedback
These noise-canceling headphones have been a hit with both my niece and my son, despite a few minor issues. My niece found them a bit uncomfortable when wearing earbuds underneath, but otherwise loved them. My son experienced some tightness, but overall, the headphones effectively block out loud noises, making them perfect for sensitive children in noisy environments. The adjustable design and soft material that rests against the ear enhance comfort and durability. These headphones have been especially helpful for my autistic child, allowing more peaceful experiences in public spaces.
---
HearTek Kids Earmuffs
Best Budget Noise-Canceling Headphones
These earmuffs are a great option if you're only looking to spend a little but still want a quality product.
The HearTek earmuffs come in a variety of colors and patterns to suit your child's preferences.
The mounted ear cups help distribute the weight and pressure of the earmuffs evenly to provide ultimate comfort. The padding allows for longer periods of wear, and the cups self-adjust to protect ears with a snug fit.
However, although they are advertised to fit toddlers to teens, you can't adjust the headband width, so these may not fit your child for as long as some other options.
We love how small the headphones become when collapsed and stored in the included travel bag.
These muffs strike the perfect balance between protecting hearing and allowing your child to hear what's happening around them.
They're perfect for loud activities like sporting events and parades. They boast an NRR of 27 decibels and are certified ANSI S3.19, so you know they will provide a safe amount of protection (3).
We love that these earmuffs are made in the United States by a family-owned business.
Pros
Comfortable and attractive.
Easy to travel with.
Affordable.
Safety tested and approved.
Cons
Unable to adjust the width.
Our Ratings
Community Feedback
For over two years, these Hear Tek earmuffs have been an absolute godsend for my family. Not only have they provided comfort and noise reduction for my kids during various events like NASCAR races and Monster Jam, but they have also been a great help to my oldest child who suffers from sensory processing issues. The earmuffs are adjustable, making them suitable for both children and adults, and they even outperform military-issued ear protection. In addition, they've been a fantastic solution for my autistic son, allowing him to better cope with noisy environments.
---
IClever HS19 Kids Volume Limiter Headphones with Microphone
Best for iPads
These headphones from iClever are fun and attractive for your child, but our favorite feature is that they also offer volume capping. You won't need to worry about your kids pumping up the volume louder than they should.
This headset is made to withstand the abuse it might experience in the hands of a child. They're durable and have been designed to bend and twist.
Compatibility is another plus. They're geared to work with various tech platforms, including cell phones, tablets, and computers.
Pros
Multifunctional wire control.
Built-in microphone.
Softly padded headband and ear cushion.
Cons
Sizes run smaller than average.
Our Ratings
Community Feedback
I'm quite pleased with these headphones that I purchased for my daughter's trip. They're durable, cute, and easy to use, providing great sound quality for watching movies on her tablet. The fit was a bit big for my 13-month-old toddler, but I appreciate that he'll grow into them over time. Plus, the primary colors match his iPad case, which is a nice bonus!
---
Fnova Hearing Protector Earmuffs
Best Hearing Protection for Big Kids
These professional-grade noise-canceling ear defenders boast an NRR of 34 decibels. This level of hearing protection is suitable for preteens heading to their first concert and standing too close to the speakers.
The colored accent on the ear cups is just enough to add a little personality, and your child can choose from several colors to find the perfect pair to suit their style.
Their solid construction includes two layers of noise-dampening foam and a hard plastic outer shell.
These earmuffs are adjustable and can easily fit a growing child. You can even expand them enough to fit an adult. Swivel cups and a padded headband should spare you from getting your head squeezed.
They're collapsible and portable while still being tough enough to go the distance. The 60-day warranty means you should have time to put them through their paces.
Pros
Attractive design comes in a variety of colors.
High NRR.
Lightweight for easy portability.
Built to be long-lasting and withstand serious use.
Cons
Additional earplugs (included) are required to gain the full NRR of 34 decibels.
Users have said they don't offer a good fit on above-average-sized heads.
Our Ratings
Community Feedback
These noise-cancelling headphones have been a great addition to my daily routine, whether it's for office work or sleeping. The comfortable ear cups fit well even with my earrings, and I've noticed that they mute unwanted background music effectively. I've tried using these with earbuds as well, and the roomy ear cups allow for a comfortable fit. The adjustable headband ensures a snug fit for various head sizes, and overall, they do a good job in reducing noise levels. While they may not block out all vibrations, they provide a good balance between noise reduction and the ability to still hear important sounds such as alarms.
---
Vanderfields Kids Hearing Protection Earmuffs
Best Noise-Canceling Headphones for Airplanes
These earmuffs are great for traveling since they're ultra lightweight and compact. With today's airlines, where space is at a premium and carry-on items are limited, features like this can make all the difference.
With an NRR of 26 decibels, they should reduce noise levels enough for your child not to be disturbed while sleeping.
The padded ear cups allow for hours of continuous wear, and they're adjustable for a closer fit. The lined headband should also add to comfort levels, even while resting on an airplane.
They fit children, teens, and smaller adults, and the variety of funky colors should also be a hit with the kids.
We really like how they dampen noise just enough to take the edge off but don't block out sound completely. This means my children should still be able to hear me when I speak to them. Whether they actually listen or not is the issue!
Pros
Light-duty hearing protection.
Attractive and fun.
Compact design.
90-day money-back guarantee.
Cons
They don't provide the most comfortable fit for larger heads.
Our Ratings
Community Feedback
I recently purchased these adjustable earmuffs for my young children, and they fit comfortably on all of them without any issues. The noise reduction was impressive, allowing my kids to enjoy loud events without being overwhelmed by the sound. However, I found that when I tried to wear them, they felt too tight on my head and caused discomfort after a while.
How to Choose the Best Baby Soundproof Headphones
When we evaluate soundproof headphones, these are the criteria we look at:
Safety Certifications: If the ear protection is sold with the NRR (Noise Reduction Rating) label, it's been thoroughly tested and approved by the American National Standards Institute (ANSI).
Noise Reduction Rating: The NRR indicates how much noise (in decibels) is cut out by wearing hearing protection. The higher the number, the more sound they should block out.
Comfort: Kids won't wear anything for long if it irritates them. We always look for padded earphones with soft materials for babies to get the best, most comfortable fit.
Adjustability: If you've birthed more than one baby, you'll know that no two baby heads are shaped the same. We carefully evaluate the adjustability of the headband and earcups to ensure they will fit snugly on any child.
Aesthetics: Older babies and toddlers are more likely to wear ear protection if the design and colors appeal to their tastes.
---
Thank You For Your Feedback!
Thank You For Your Feedback!