Were you shocked to hear your three-year-old ask for a tablet after preschool today? Since the release of the first iPad in 2010, tablets have become more than just an office tool for adults.
But that doesn't mean that all tablets are suitable for children. When purchasing a tablet for a child, you want something intuitive that won't be a challenge to use and a device with safety nets in place, so they don't end up viewing things they shouldn't.
We've reviewed dozens of devices to create this list of the 10 best tablets for kids, so you don't have to spend hours comparing specs. Our list includes options for toddlers to teens. We've reviewed and ranked these products based on their educational value, child-safety features, durability, ease of use, battery life, storage space, and affordability.
From reading tablets to drawing tablets to devices with all the capabilities of a cell phone or laptop — we've found the best device for your situation.
Image
Model
Product Comparison Table
Features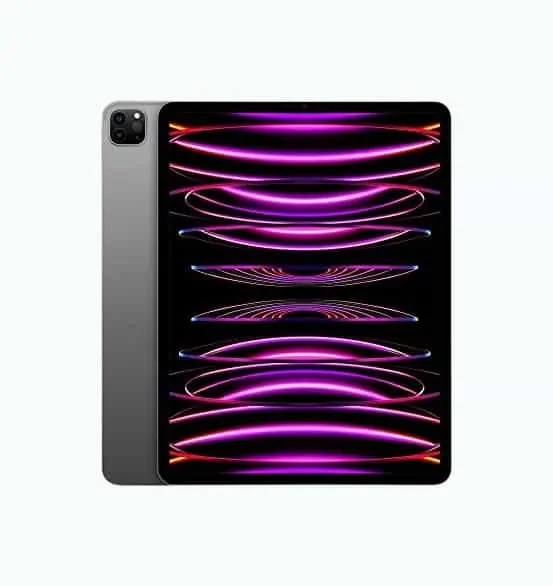 Best New Tablet
Apple iPad Pro
10 hours of battery life
Weighs about 1.5 pound
High-resolution imagery
Best Reading Tablet
Amazon Kindle Paperwhite
Single charge lasts for 6 weeks
Wireless connectivity enabled
Waterproof
Best Small Tablet
Apple iPad Mini 64GB
8.3-inch liquid retina display
10-hour battery life
Apple Pencil compatible
Best Android Tablet
Samsung Galaxy Tab A7
Dolby Atmos surround sound
Robust battery life
Ultra-lightweight at only 1.04 lbs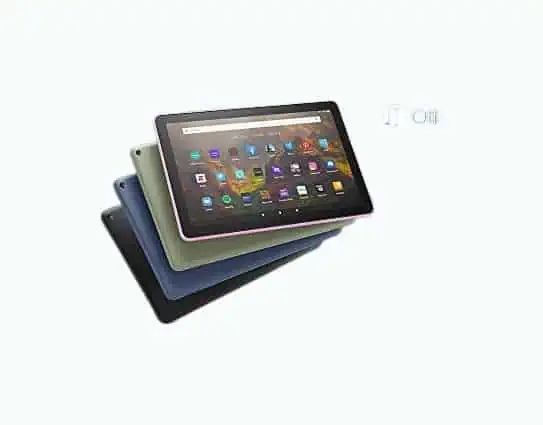 Best for Older Kids
Amazon Fire HD 10
One-year warranty
Alexa hands-free enabled
12 hours of battery life
Best Drawing Tablet
Sunany LCD
8.5-inch no-glare screen
3 different color options
One extra battery included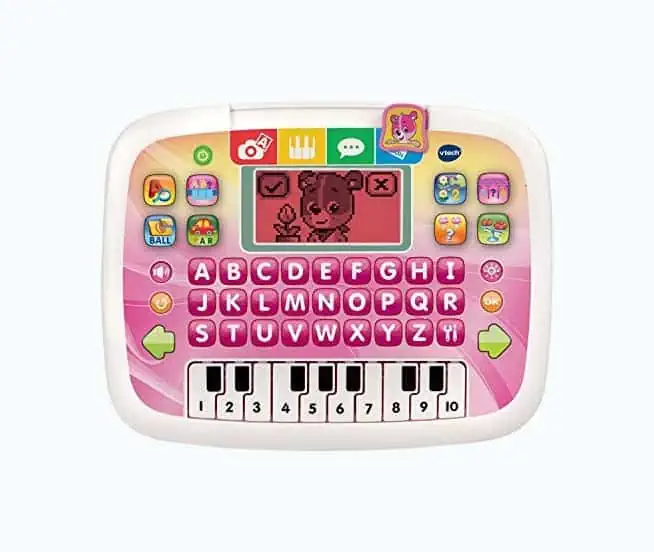 Best for Toddlers
VTech Little Apps
Includes age-appropriate lessons
Budget-friendly
Volume control and automatic shut off
Best for Autistic Kids
Samsung Galaxy Tab A 8.0
64GB built-in storage
Bluetooth Connectivity
13 hours of video playback
Best Educational Tablet
LeapFrog LeapPad
Built-in protective bumper
Robust parental tools
Built kid-tough and drop tested
Best Budget Tablet
Kids Toddler Tablet
Premium parental control
Android 10
Durable silicone case
Review Methodology: At Mom Loves Best, we value your trust and prioritize providing accurate information through thorough research, hands-on experience, and data-driven analysis. Our team of professionals assesses and compares tablets for kids based on essential criteria like performance, safety features, durability, battery life, and ease of use. We evaluate products from a user's perspective, considering key decision-making factors, and rate each tablet in those areas. Our findings are supported by first-hand evidence, ensuring that we recommend only the best tablets for your children, taking into account design choices and their effects on users. Trust Mom Loves Best to guide you through the process of selecting the perfect tablet for your child's needs.
---
---
The Best Tablets for Kids of 2023
Whether you have a toddler or an older child, these are some great tablets to consider.
Apple iPad Pro
Best New Tablet for Kids
As the original tablet, the iPad will always have a leg up on its competition. As with any Apple product, the iPad Pro interface is intuitive — even for young kids. With this tablet, they'll have independent access to a variety of apps, streaming services, and music options.
The tablet connects to Wi-Fi, but you can also connect it to cellular data if you'd like more opportunities for use. This is especially great for older kids who have research projects and homework portals on the web.
For younger kids, the tablet is compatible with the Apple Pencil, so your child can practice drawing or writing letters. If you're concerned about how much time they spend on the tablet, the fingerprint ID system allows you to control when they start tablet time.
Pros
Comes with 128GB, 256GB, 512GB, 1TB, or 2TB storage options.
Ten hours of battery life.
Four speakers for better audio.
High-resolution imagery for FaceTime with family and friends.
Our Ratings
Community Feedback
After using this iPad Pro for a while, I found it incredibly user-friendly and perfect for kids of all ages. The ample storage options, impressive battery life, and high-quality audio and visuals make it a fantastic tool for educational and entertainment purposes. The compatibility with Apple Pencil allows children to practice drawing or writing, enhancing their creativity. However, keep in mind that you'll need to buy a kid-friendly carrying case separately to ensure the tablet's safety.
---
Amazon Kindle Paperwhite E-Reader
Best Reading Tablet for Kids
The Amazon Kindle is a product that's been around for a while and continues to improve. While you can certainly download the Kindle app on a traditional tablet, there are benefits to getting your child a tablet for reading.
This Kindle is smaller than most tablets — only six inches by four inches. This makes it easy for kids to hold it for longer periods. Unlike traditional tablets, it's designed to fight the sun's glare, making it possible for your child to read at the beach or the park.
It's Bluetooth enabled, so if your child has a pair of wireless headphones, they can listen to books as well as read them. The latest version also has a higher pixel count, making the screen easier on the eyes.
Pros
Comes in two color options.
A single charge can last up to six weeks.
Wireless connectivity enabled.
It's waterproof, surprisingly enough.
Our Ratings
Community Feedback
I recently got my hands on the Amazon Kindle, and it's been a fantastic addition to my daily routine. I love its compact size, measuring just six by four inches, making it easy to hold for extended periods, especially when compared to traditional tablets. The anti-glare screen is a game-changer, allowing for comfortable reading outdoors, and the waterproof feature adds an extra layer of protection. The latest version has improved screen resolution and Bluetooth connectivity, so I can listen to audiobooks with my wireless headphones. The only downside is the limited 4GB of storage, but with the ability to hold thousands of books, it's a minor issue for me.
---
Apple iPad Mini 64GB
Best Small Tablet for Kids
The iPad Mini comes with most of the awesome features of the traditional iPad but in a smaller size. With an 8.3-inch screen, it is much easier for younger kids to handle.
The tablet has a fingerprint sensor, so you can control who's using the tablet and when. It has two 12-megapixel cameras, one for FaceTime and one for taking pictures and videos. With 64GB of storage, your child will be able to store a ton of data without worry.
For kids learning how to write, you can purchase the Apple Pencil to write, draw, or edit instantaneously. This will also help with any homework or research needs for older kids.
Pros
Up to 10 hours of battery life.
Comes in four color options.
Option to buy a cellular network-enabled edition.
Landscape speaker audio.
Generous 12-megapixel front and rear cameras.
Cons
Doesn't come with a protective carrying case.
Our Ratings
Community Feedback
After using the iPad Mini 6 for a few days, I found the battery life, screen, and responsiveness to be impressive, especially the full screen experience without a home button. The Pencil 2 support was a significant improvement, making the tablet more practical in various scenarios, like using it in the cockpit of a small plane. However, I did notice the jelly scroll effect in portrait mode, which was slightly disappointing, and I wish the battery charged faster and lasted longer.
---
Samsung Galaxy Tab A7
Best Android Tablet for Kids
This tablet was designed with kids in mind and comes with a carrying case. By downloading parental control apps, you can set a time limit for use, monitor your child's progress, and only allow access to predetermined content.
Despite having a wide screen that measures 10.4 inches, this tablet is surprisingly lightweight. The long-lasting battery and octa-core processor are a sure fit for heavy tab users.

Pros
Dolby Atmos surround sound.
Durable carrying case and 32GB memory card included.
Robust battery life.
Ultra-lightweight, weighing only 1 pound.
Our Ratings
Community Feedback
I'm impressed with the overall quality and color of this tablet, but there are a few drawbacks. The touchscreen sensitivity can be quite frustrating at times, as I often have to tap the screen multiple times to get a response. While the sound quality and speed are better than expected, I did have trouble opening the slot tray for the SD card. Additionally, the tablet's Wi-Fi connectivity can be inconsistent and slow, making it difficult to watch videos in full HD. Despite these issues, I still enjoy using this Samsung tablet for gaming and other tasks.
---
Amazon Fire HD 10
Best Tablet for Older Kids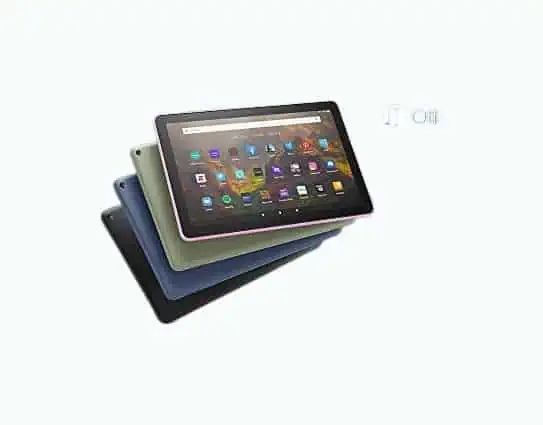 If you are an Amazon Prime member, this tablet is especially great for you. Prime membership gives your kids access to more free shows and books, which can be found through the app on the tablet.
Our kids love this tablet for so many reasons. Aside from offering Amazon content, the tablet also supports apps such as Netflix, Disney+, HBO Go, and YouTube. It's compatible with social media applications for kids who want to stay in touch with friends.
Set up Amazon Kids on the tablet to provide a child-friendly, age-appropriate tablet experience, so you don't have to worry about your little ones stumbling into the dark side of the internet. The program is free to use with any apps offered in the Amazon App store. It also offers the option of a child-safe web browser in which you can limit browsing to Amazon-recommended websites or your predetermined websites, or you can opt out of website browsing entirely.
If you subscribe to Amazon Kids+, your child will receive access to over 20,000 kid-friendly books, videos, and apps for a monthly fee.
The tablet also works with Alexa, making it hands-free and available for calling family and friends. For kids who love music, the Kindle Fire is manufactured with Dolby audio for high-quality sound.
Pros
Choose between 32 and 64GB storage options.
Multiple color options.
Up to 12 hours of battery life.
One-year warranty.
Our Ratings
Community Feedback
Love my new tablet for its impressive video quality and affordability, but it does have some drawbacks. I recently took it on a trip and was disappointed to find that it's incompatible with the American Airlines app for in-flight entertainment. However, it's perfect for streaming movies and reading e-books, making it a great budget-friendly option. The sound quality could be better, and connecting to certain Wi-Fi networks was a bit of a challenge.
---
Sunany LCD Writing Tablet
Best Drawing Tablet for Kids
This LCD tablet has an 8.5-inch screen, making it super portable and easy for kids to handle. Because they use a pen to draw on the screen, you never have to worry about a mess. It also comes with two pens, in case you lose one.
It's powered by a replaceable battery, so you never have to find an available outlet. Once the kids are done using it, they hit the delete button and have a fresh screen to use. The magnetic strip on the back will let you store it on the refrigerator to use for notes or just to keep it out of the chaos.
Pros
Easy to use for a wide range of ages, including toddlers.
Comes in three different color options.
The LCD screen has no glare.
One extra battery included.
Cons
No internet connection available.
Our Ratings
Community Feedback
This LCD drawing tablet is an affordable and versatile tool for both kids and adults. I found it to be lightweight and easy to use, with two included batteries and pens, providing endless opportunities for creativity. The colors may not be as vibrant as advertised, but they are still bright enough for enjoyable drawing experiences.
---
VTech Little Apps Tablet
Best Tablet for Toddlers
This tablet is designed for kids aged 2 to 5 years. It came on the market after the VTech InnoTab Max was discontinued. It includes 12 learning activities that progressively get more difficult as knowledge develops.
Your child can practice typing on the touchscreen letters or even play piano on the keys. The apps offer lessons on counting, words, and letter recognition. There's even an activity about daily life logistics, like checking a calendar.
The Little Apps tablet is powered by AA batteries, which means it will always be mobile-ready for kids on the move.
Pros
Age-appropriate lessons that won't overwhelm your child.
Budget-friendly device.
Volume control and automatic shut off to save battery.
Cons
Includes a limited number of apps.
Our Ratings
Community Feedback
This VTech Little Apps Tablet has been a fantastic addition to our household. It truly captivates my child's attention with its engaging noises and sounds. My 23-month-old even calls it her "iPad," and I must say, it's a much healthier alternative to actual screen time. These tablets have taught my children various skills such as counting, letters, numbers, and shapes through the lovable character, Scout. However, be cautious around liquids, as it isn't liquid-friendly and may start to glitch.
---
Samsung Galaxy Tab A 8.0
Best Tablet for Kids with Autism
Samsung products are, in my opinion, the most intuitive Android devices. For kids with autism, that's an important feature.
The benefit of going with an Android is the range of software available for installation and the opportunities for learning life skills. If your child likes numbers, you can download Microsoft Excel. If your child likes art, there are applications for drawing or photo editing. If your child struggles with communication, there are apps to assist self-expression.
Most offices in the world still use Microsoft operating systems, which more closely resemble Android interfaces than Apple interfaces. Many kids with autism don't like change. Training them on a widely-used system like Android will help reduce challenges in the future.
Pros
Comes with 64GB of storage.
A lot of processing power for kids interested in games.
Bluetooth connectivity for wireless headphones or speakers.
Opportunities to wirelessly share content with other Samsung tablets.
Cons
Not able to connect to cellular networks.
Our Ratings
Community Feedback
I recently upgraded to this tablet, and it's been a pretty good experience for gaming, color by number, and video chatting with family. However, I did face some issues while using Bluetooth and earbuds during video calls, which was disappointing. On the bright side, this tablet has proven to be durable, even after being dropped and exposed to water. The display is clear, with strong sound and a long-lasting battery, but the internet browsing speed can be frustratingly slow at times.
---
LeapFrog LeapPad
Best Educational Tablet for Kids
We're big LeapFrog users in our home. The brand is well-known for its line of educational products. These toys are designed to introduce technology to kids in a fun and age-appropriate.
The LeapPad is a suitable tablet for children ages three to eight years. We love that it comes with access to the LeapFrog library, containing over 700 games, books, and videos to increase your child's problem-solving and creativity skills. With 16GB of memory, it can store a decent number of apps since the tablet doesn't have a camera for video or photos.
If you have younger kids, you may want to introduce them to the internet without worrying about all the content out there. This tablet allows them limited access to pre-selected web pages designed for kids. They can practice the logistics of the web without wandering into spaces you don't want them to be in.
Pros
16GB storage.
Comes surrounded by a built-in protective bumper.
Password-protected to ensure kids play only when you want them to.
Can save multiple activities even without an internet connection.
Cons
A bit smaller than most tablet screens, at 5 inches.
Unable to connect to cellular networks.
Our Ratings
Community Feedback
This tablet has its ups and downs, but overall, it's a fun and educational tool for kids. On one hand, the device itself can be a bit cheap, with issues like freezing and charging port problems; on the other hand, the games are engaging, educational, and provide a safe environment for young learners. However, be prepared to spend quite a bit on games and subscriptions, as there are limited free options available and the games can be expensive.
---
16 GB Kids Toddler Tablet
Best Cheap Tablet for Kids
If you're looking for something that can provide an educational space for your child and won't break the bank, this tablet is for you. It comes with pre-installed games and apps and access to the Google Play store.
The tablet is made with a durable protective case that will keep even the most accident-prone children from breaking it. Parental controls allow you to limit game time, choose content, and set goals for children's work.
This product can be a great introduction to early education games for younger kids who are just learning how to use tablets.
Pros
16GB memory running in Android 10 OS.
Dual cameras for taking photos and video.
High-resolution imagery will protect kids' eyes.
6 hours of battery life.
Supports microSD cards.
Our Ratings
Community Feedback
Got this tablet for my kittens, and it turned out to be a great choice for keeping them entertained. The built-in "pop the balloon" game is a huge hit with them, and the battery life is impressive, lasting several hours. The screen is clear, and the tablet offers good parental control features. However, the charging port broke after a few months, making it unusable, so durability is a concern.
Should Kids Use a Tablet?
The debate over screen time ranks among the most heated of parent controversies — right up there with "breast vs. bottle" and "cloth vs. disposable diapers." I've met countless moms who proudly proclaim that they "don't do screen time" in their house.
But what does science say? These days, computer skills dictate the jobs we can get, how we run our households, and even how we socialize. If used correctly, tablets can be a learning tool that prepares children for the big, diverse world we live in.
On the other hand, many parents worry screens are keeping their kids from socializing and using their imagination. Others are concerned that tablets present an unrealistic world to our kids. If they offer experiences that are too stimulating, how will they learn to cope with real-life boredom?
According to the American Academy of Pediatrics, children younger than 2 should have minimal exposure to media other than video chatting (1). Children between the ages of 3 and 5 can benefit from controlled access to games and videos.
If you're interested in determining what's appropriate for your child, you may want to check out this media planning tool for your family (2).
The truth is, we still don't know a lot about how tablet time will affect the brains of this generation. Tablets are relatively new — there just hasn't been enough time to monitor long-term impacts. As this generation grows older, science will be able to tell us more.
We do know one thing, however. Nothing is better for young children than real-life imaginative play. It keeps them active and allows them to practice physical and social skills. The more individual, peer-to-peer, and parent-supervised play a child can get, the better.
How to Choose the Best Kids Tablet
There are many different kinds of tablets. Some brands are specifically aimed at younger children, like Kurio, VTech, or LeapFrog. Others are designed to encourage specific passions, like drawing, math, or reading.
Others, such as Apple and Samsung, are designed for adults but have some parental control options for when children are using them. Regardless of which kind you choose, here are a few features you may want to consider before purchasing.
---
What Apps Should I Download?
Once you've chosen a tablet, it's time to pick which apps you want to download. If you've purchased a kid's tablet, they often come with a selection of pre-installed apps. However, if you're using a tablet designed for adults, you'll need to download and perhaps purchase apps from an app store.
There are thousands of apps out there. So, how do you know which games or services to choose? Some of the choices will depend on your device's operating system. However, there are a few broad themes you may want to consider.
1.

Program Diversity

Let's face it — sometimes, we use the tablet for entertainment. Whether you have to get dinner on the table or you need to make a work call, we all need to distract our little ones at some point. If that's the case, you'll probably want to download a few streaming apps for movies and television shows.

When choosing programs or movies, you may want to choose subjects that are really different from the things they see in their everyday lives. Doing this can give you the opportunity to talk to them about what they've watched and answer any questions they might have.
2.

Learning Experiences

No matter what tablet you go for, you'll have your choice of kids' games to choose from. There are games designed to teach your kid almost anything: math, reading, foreign languages, etc.

This process might be more child-driven than you realize. Older kids may hear about games at school and ask if they can try them. Younger kids just want to try different ones until they discover what they like.

Once you settle on a few apps, try them first yourself, so you can help your child learn how to play. Kids love to show you what they can do, and it can be a fun activity to play together.
3.

Music

Though we often think of visual entertainment when it comes to tablets, they can also be a great source of music. Most tablets designed for adults offer radio and music streaming apps.

If your tablet has a Bluetooth option, you can connect it to speakers. Then you can make a playlist for the house to help make chores or other activities more fun.
---
Thank You For Your Feedback!
Thank You For Your Feedback!