Is there any modern parenting invention more important than the disposable diaper? We can't think of one!
Disposable diapers save you from wasting time, save you from extra stress, and save you from stinky laundry loads. You don't have to worry about scooping poop, deep cleaning, or carrying around a dirty diaper on the go.
But how do you choose the best disposable diapers? What size does your baby need? Do they need to wear different diapers at night? What about treating a nasty diaper rash?
We'll tackle these questions and more, in our in-depth disposable diaper reviews and buying guide.
Image
Model
Product Comparison Table
Features
Best Eco-Friendly Diapers
Andy Pandy Eco Friendly
Environment and baby skin friendly
Provides ultimate hydration
Form-fitting design
Best for Newborns
Pampers Swaddlers
Protects your baby's belly button
Quilted liners
With wetness indicator strip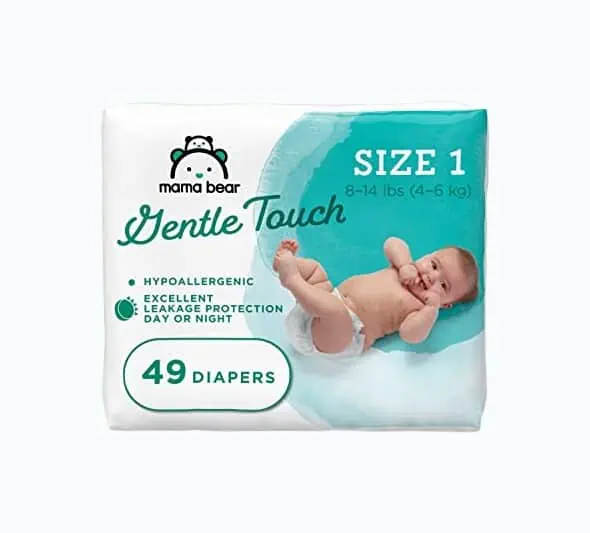 Best Store-Brand
Mama Bear Diapers
High-quality diapers
20% off with Amazon Prime
Hypoallergenic materials
Runner-up for Newborns
Mama Bear Newborn
Umbilical cord cutout
Impressive absorbency
Hypoallergenic and chemical-free
Best for Sensitive Skin
Free & Clear Seventh
Clinically proven gentle on skin
Soft quilted liner
Absorbent, moisture-wicking core
Runner-up Eco-Friendly
Babyganics Ultra
Uses organic plant-based materials
Meets rigorous environmental standards
Chemical-free
Best for Toddlers
Huggies Little Movers
Double grip strips
Keeps baby dry and comfy
Contoured fit allows flexibility
Best Budget Diapers
Luvs Pro Level
Only 12 cents per diaper
Comes in a huge box
Great value for money
Best for Overnight
Honest Overnight
Ultra absorbent, ultra-thin lining
Eco-friendly, sustainable materials
Contoured, stretchy design
Best for Blowouts
BabyBackup Extenders
Helps prevent blowouts
Easy to use and apply
Made of comfy & safe materials
Review Methodology: At Mom Loves Best, we thoroughly analyze and assess the best disposable diapers on the market, using hands-on experience, professional evaluations, and data-driven research to provide you with trustworthy results. Our team of experts compares each product based on key decision-making factors such as absorption, comfort, fit, and environmental impact, ranking them according to their performance. We share our findings and first-hand evidence to help you understand what sets the top diapers apart from their competitors. Through our comprehensive review process, we ensure that our recommendations are based on the most important criteria, so you can make an informed decision and choose the best disposable diapers for your little one.
---
---
The Best Disposable Diaper Reviews of 2023
Now that we've gone over a few disposable diaper essentials, let's take a closer look at some of our favorites currently on the market!
Andy Pandy Eco-Friendly Disposable Diapers
Best Eco-Friendly Disposable Diapers
Save the environment and your baby's sensitive skin with Andy Pandy's premium disposable diapers. They're made of bamboo and are 100 percent free of chlorine, alcohol, preservatives, fragrances, and other chemicals.
This means they provide as low an impact on the environment as possible while also being super soft and durable. If your baby is especially prone to rashes or dry skin, they're also naturally hypoallergenic and antibacterial. There is even an aloe liner to keep your baby's skin hydrated and prevent itchiness.
Bamboo is also a good material for breathability, allowing air to circulate to keep your baby's skin dry and prevent irritation.
But how do they work at stopping leaks and blowouts? The 3D shape of the diaper was created to be especially form-fitting and combined with the flexible side panels and elastic waistband, the mess stays right where it's supposed to be.
Pros
Bamboo material is good for the environment and your baby's skin.
Aloe liner provides ultimate hydration.
Form-fitting designed prevents leaks and blowouts.
Cons
They are not designed to be used overnight.
Sizes tend to run large.
Our Ratings
Community Feedback
Bought these Andy Pandy diapers for my newborn and at first, I really loved them. They were incredibly soft, stretchy, and did a great job at containing messes. However, they seemed a bit too big and wide for my baby, so I had to wait until he grew a bit to use them. Once he started fitting into them better, I noticed that they molded to his body nicely and the wetness indicator strip was a nice feature. Unfortunately, after some time, my baby developed a diaper rash from these, so I had to stop using them.
---
Pampers Swaddlers Newborn Diapers
Best Diapers for Newborns
Give your baby soft, strong protection with these special newborn diapers from Pampers. They're just about as soft as your cuddles and extremely useful as you get used to diapering a tiny baby.
The Swaddlers line is known for being one of the softest available. The quilted heart liners is two times softer than the leading brand, so your baby can enjoy ultimate comfort. With a wetness indicator strip and super stretchy side panels, figuring out when your baby needs a diaper change is also easy.
Our favorite feature, however, is the umbilical cord notch. While most diapers have a straight line around the waistband, these curve down near your baby's belly button. If your newborn still has an umbilical cord stump, you can rest assured knowing their delicate belly area is protected from tugging, pulling, and irritation.
We love these diapers for brand-new moms who need to take care of their first bundle of joy.
Pros
Umbilical cord cut-out protects your baby's belly button.
Quilted liners ensure comfort and softness.
Cons
Includes chemicals and fragrances, so your baby's super sensitive skin may have a reaction.
Our Ratings
Community Feedback
These diapers have been consistently reliable for my grandchildren, providing excellent absorbency and preventing diaper rash. I've noticed that they are particularly soft and easy to put on a squirmy baby, making them a great choice for first-time parents. While the clasps may look flimsy, they hold up impressively well against a newborn's kicks and wriggles. The yellow line feature on the diaper, which changes color to indicate wetness, has been incredibly useful in determining when a diaper change is needed. Although they can be a bit pricey, the quality and leak protection offered by these diapers make them a worthwhile investment for our family.
---
Mama Bear Diapers
Best Store-Brand Disposable Diapers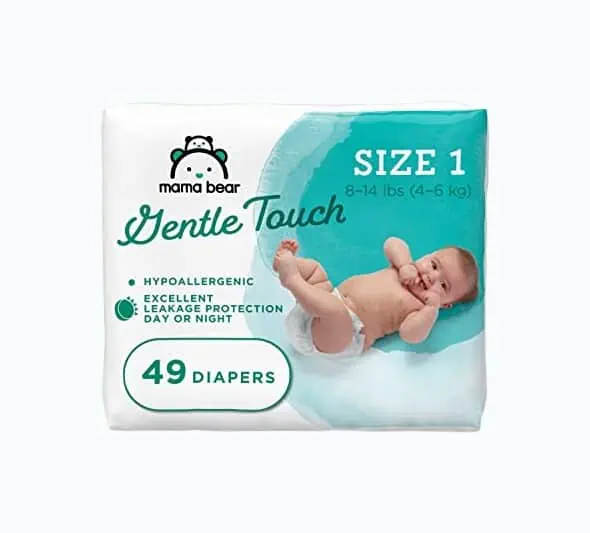 Chances are you've heard about the most popular name-brand disposable diapers, most notably Luvs, Huggies, and Pampers. However, store-brands are another option many moms forget about. Target, Walmart, and even smaller retailers have their own brands of diapers and they're often more affordable.
When you've got to choose, which one should you pick?
We suggest choosing Mama Bear by Amazon. Why? Out of all the store-brands, they easily meet a number of important standards for disposable diapers.
All have a flexible fit, flexible leg cuffs, and ultra absorbent cores. They also have umbilical cord cut-out and useful add-ons such as wetness indicators and hypoallergenic materials.
However, one of the reasons we love the Mama Bear range is because of their many options. Every baby is different and Mama Bear offers a suitable diaper for every stage of life.
You get an automatic 20% off when you order with Amazon Prime and "subscribe" to certain products. This doesn't just apply to diapers, but all Mama Bear baby products, which includes baby food, diaper wipes, laundry detergent, and vitamins.
Pros
High-quality diapers in a variety of sizes.
20% off with an Amazon Prime membership.
Hypoallergenic materials means they're soft and gentle on skin.
Free of fragrances, elemental chlorine and natural rubber latex
Cons
They don't have specialty diapers, such as overnight or swimming diapers.
Our Ratings
Community Feedback
I'm a picky parent who's always on the hunt for the perfect diaper, and Mama Bear diapers have become a strong contender. These diapers are soft and gentle on my baby's sensitive skin, preventing any rashes or irritation. I appreciate the hypoallergenic and unscented design, which keeps my baby comfortable throughout the day. However, I have noticed that the absorption could be improved, as the diaper sometimes leaves gel-like balls on my baby's skin. While they may not be as cushiony as some other brands, they have held up well during overnight use, locking in moisture for 12-plus hours.
---
Mama Bear Newborn Diapers
Runner-up for Newborns
Newborns need a lot of extra love as they come into the world, and so do you. No matter how many children you already have, adjusting to a new baby is always a learning curve. Finding a good newborn diaper can help!
We think newborn diapers should be smaller, super snuggly, and free of chemicals to ensure a newborn's extra-sensitive is protected. The Mama Bear Newborn Diapers from Amazon meet these requirements and more, making them a great option to start your diapering journey with.
They offer reliable 12-hour leakage protection, bolstered by an absorbent core, a quilted inner liner, and a pocketed-back waistband. Not only does this special waistband prevent liquid leaks, but it helps keep any extra mess inside the diaper where it belongs.
Flexible leg cuffs and soft, stretchy sides provide a contoured fit, even with your newborn's small size. You also don't have to worry about chemicals. These diapers are hypoallergenic and free of fragrances, chlorine, and latex.
However, our favorite part is the umbilical cord cut-out. A newborn baby still has a little stump from the umbilical cord while their belly buttons heal. With the cut-out on this diaper, your baby won't have fabric constantly rubbing against that tender spot.
Pros
Umbilical cord cutout protects your baby's belly button.
Impressive absorbency and good for stopping leaks and messes.
Contoured to fit your small baby's unique shape and movement.
Hypoallergenic and chemical-free.
Cons
Diaper tends to sag when fully saturated.
Our Ratings
Community Feedback
In my experience, these Mama Bear diapers offer a great value for the price and are a solid alternative to more expensive brands. They are soft, unscented, and gentle on sensitive skin, which is important to me as my child struggled with rashes early on. However, the absorption could be better, as it sometimes leaves gel balls behind on my baby's skin. Despite this minor issue, I find myself alternating between these diapers and another brand, appreciating the cost savings and overall quality they provide.
---
Free & Clear Seventh Generation Diapers
Best Diapers for Sensitive Skin & Diaper Rash
Diaper rash can happen for all sorts of reasons, but it always leads to an unhappy baby. Caused by wet diapers, infrequent diaper changes, chafing, and skin sensitivity (1), diaper rash needs loads of TLC. If your baby's skin is looking red and raw, it might be a good idea to find a chemical-free diaper that fits snugly and stays dry.
One of your best options is the Free & Clear diaper line from Seventh Generation, which is specially designed to take care of your baby's sensitive skin. This not only means making the diaper chemical-free but also upping the absorbency so that extra wetness won't cause chafing and discomfort.
We were pretty impressed by the list of what is and is not in these diapers. Each one is made of totally chlorine-free processed wood fluff pulp, sustainably sourced to protect forests and animals. You also won't find any lotions, fragrances or chlorine bleaching here.
A feature demonstrating how committed Seventh Generation is to safe diapers is actually in the design. Cute animal prints will make your little one smile, but we think you'll be the one smiling when you learn the inks and pigments used on the diaper are free from lead and other toxins.
These diapers have been clinically proven to be gentle on a baby's sensitive skin. So, if your baby is prone to rashes or irritation, the Free & Clear line may be a good option to consider.
Pros
Clinically proven to be gentle on skin.
Soft quilted liner for ultimate comfort.
Chemical free to keep your baby's skin healthy and safe.
Absorbent, moisture-wicking core keeps baby dry.
Cons
Not as great a fit as other diapers, making them less ideal for lots of movement or long nights.
On the expensive side.
Our Ratings
Community Feedback
My experience with these diapers has been a bit of a mixed bag. On one hand, they are incredibly soft and gentle on my baby's sensitive skin, which is definitely a plus. However, they do require frequent changing and aren't the best at containing messes. I've also had a couple issues with the diaper gel leaking out.
---
Babyganics Ultra Absorbent Diapers
Runner-up for the Environment
We especially like the diapers from Babyganics, which uses an organic blend of plant-based materials to create their diapers. This includes a seed oil blend made of tomato, sunflower, cranberry, cumin, and raspberry to keep your baby's sensitive skin hydrated and protected.
While these diapers aren't totally biodegradable, they're made to minimize the ecological footprint created by diapers as much as possible.
You may be wondering if a diaper like this can really have the same absorbency and effectiveness as a traditional disposable one. The answer is yes! These diapers are absorbent, come with a contoured fit to prevent leaks, and have all of the standard features you'd expect in a quality diaper.
You don't have to sacrifice quality just to help the environment. With these, you get a diaper that's good for both your baby and the world they'll grow up in.
Pros
Good for you, your baby and the environment.
Special seed oil blend is a natural way to pamper your baby.
Meets rigorous environmental standards.
Chemical-free.
Cons
Reviewers found they tend to run smaller, so finding a good fit may be harder.
Not as soft and comfy as diapers with non-organic fabrics.
Our Ratings
Community Feedback
From personal experience, these diapers are more absorbent than most other brands, and they're softer than 7th Generation diapers. However, I've noticed that the quality seems to have changed recently, with some users experiencing leaks and issues with the diaper tabs being too small. Despite these issues, I still appreciate the wetness detector strip and the fact that they offer a newborn size option.
---
Huggies Little Movers
Best Diapers for Toddlers
Toddlers are movers and shakers, budding explorers of a brave new world. You need a diaper that can keep up with them! For us, this means finding a diaper with a great fit.
Huggies Little Movers are popular for toddlers because they were designed with flexibility of movement in mind. The contoured fit frees up your baby's legs for crawling and walking while the snug waistband helps the diaper stay in place no matter how your baby twists and turns.
While the Huggies Little Movers line, available in a number of sizes, has a lot of high-quality features, there are two in particular that make them ideal for toddlers.
Firstly, the "Double Grip Strips" secure the diaper across two points, so moms don't have to worry about them coming loose. Secondly, the DryTouch liner is designed to whisk away moisture so your little one can move around with comfort, even if there's a wait till their next diaper change.
Life with a toddler can be a tornado of both trouble and fun. With a diaper like this, you can stop worrying in between changes and just enjoy it all.
Pros
Double grip strips keep diaper extra secure.
Inner liner keeps your little one dry and comfy.
Contoured fit allows for flexibility and movement.
Cons
Compared to other diapers, the fabric isn't the softest or most plush.
Some moms have found the diapers cause rashes.
Our Ratings
Community Feedback
My experience with these diapers started off great due to their ability to keep my baby dry with the DryTouch Liner. However, I initially faced some issues with the rough, stiff strips causing cuts on my baby's thighs. Thankfully, on trying these diapers again with my second baby, I did not encounter any cuts and enjoyed the leak protection they provided, even during explosive moments.
---
Luvs Pro Level Leak Protection Diapers
Best Budget Diapers
In their first year, most babies will go through 8-10 diapers every day (2). That can really add up! Moms on a budget need to keep their babies dry and happy while not losing too much money maintaining their diaper stock.
Many brands on the market offer coupons, bulk discounts, and reward systems to help you save. However, we wanted to find a cheap disposable diaper right from the start. Our top pick is Luvs Pro Level of Leakproof Diapers.
A single box, depending on the size, contains between 144-294 diapers, making every diaper only 12 cents apiece on average.
For many moms, cheap is synonymous with poor quality. However, Luvs does a great job with their diapers, providing super-soft materials and a NightLock Plus feature to protect against leaks, even overnight.
Budgeting aside, you have enough to stress about already, so it's important that changing time doesn't add any extra pressure to your day. The large, refastenable stretch tabs and the wide fastening area makes changing time easier, so you can get those stinky diapers dispatched ASAP.
Pros
Only 12 cents per diaper on average.
Comes in a huge box with at least 144 diapers and up to 294.
Fastening tabs make diaper changes a breeze.
Paraben- and latex-free.
Cons
Buying in bulk is always a risk and getting your money back can still be a pain.
Reviewers found they may be leakier than other brands.
Our Ratings
Community Feedback
I've been using these diapers for a while now and have found them to be good quality and affordable. The number of diapers in the box is impressive, and I love the powder scent they have. They feel squishy when full, but haven't caused any diaper rashes for my baby. While they don't have a blowout pocket and could be slightly thicker, they still work well overall. These diapers have become my go-to choice for baby gifts for first-time mothers as well.
---
Honest Overnight Diapers
Best Overnight Diapers
A good night's sleep is essential for a happy baby and a happy mom. Without sleep, you could all end up exhausted and cranky. An overnight diaper is designed to help your baby sleep through the night and sparing you those late-night laundry loads.
If you're on the hunt for a great overnight diaper to help reclaim your sanity, we suggest the Honest Overnight line. Not only do they have some great features for overnight protection, but they're also eco-friendly.
The Honest Company specializes in creating diapers from plant-derived materials without latex, chlorine, or fragrances. This is unlike many other overnight diapers which have a lot of extra padding and chemicals. With this brand, you get something that's safe your little one and good for the environment.
One extra cool feature about these is the ultra-absorbent, ultra-thin lining. Compared to their other diapers, the overnight style is up to 20% more absorbent, but you don't have to worry about super heavy, stiff padding. The inner lining has a bio-based core with sustainably harvested fluff pulp, resulting in an effective, but lightweight lining.
Pros
Ultra absorbent, ultra-thin lining offers comfortable, effective protection.
Eco-friendly, sustainable materials are good for your baby and the environment.
The contoured, stretchy design allows your baby to move comfortably at night.
Cons
The absorbent core holds a lot, but it may leave your baby's skin feeling damp.
A bit on the expensive side.
Our Ratings
Going a size up in an overnight diaper helps the baby stay dry even longer and maybe help everyone sleep through the night.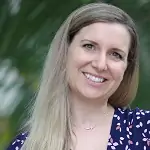 Editor's Note:
Katelyn Holt RN, BSN, BC
Community Feedback
For the past month, I've been using these overnight diapers on my 7-month-old, who is a heavy wetter and sleeps for 10-12 hours straight. I've found these diapers to be highly absorbent, leaving my baby's skin completely dry in the morning, with no leaks or jelly-like residue. Although the diapers are a bit firm and the sizing may run smaller than other brands, they still work effectively for my little one, who isn't bothered by the fit. The cute sheep design is an added bonus that my daughter enjoys, making these diapers a reliable and charming choice for our nighttime needs.
---
BabyBackup Diaper Extenders
Best Diaper for Blowouts
Diaper blowouts are a stinky, messy nightmare! For those who haven't yet experienced their first blowout, this is when your baby's bowel movement isn't contained by the diaper but seeps everywhere, especially onto your baby's back.
Many diapers have snug waistbands and contouring to help prevent blowouts. However, after doing a little research, we found a special diaper add-on you can use on any of your favorite diapers. They are called BabyBackups.
BabyBackups are disposable absorbent pads with a sticky strip. Simply peel off the backing and press onto the rear-top of the diaper. There's an indicator line to help you place it correctly, plus they're hypoallergenic, comfy, and completely disposable.
The pad extends up your baby's back ever so slightly and keeps all of the mess where it belongs, inside the diaper. It fits snugly between the waistband of the diaper and your baby's skin. The goal of the BabyBackup is to prevent the mess from getting caught between your baby's skin and the diaper.
Pros
Helps prevent blowouts in any type of diaper.
Easy to use and apply.
Made of comfy and safe materials.
Cons
It's yet another thing to buy, which can get expensive and inconvenient.
Our Ratings
Community Feedback
In my experience, these diaper extenders have been highly effective in preventing blowouts and saving clothes from messes. I have used them during car rides and as overnight diaper extenders, and they have worked well 99% of the time. Although slightly expensive and sometimes smaller than desired, I have found it useful to peel them off and reuse them if they remain clean.
---
Eco Boom Bamboo Diapers
Best Bamboo Disposable Diapers
Out of all the sustainable disposable diaper materials, bamboo may just be the best. It's organic, anti-fungal, hypoallergenic, and one of the softest all-natural materials. Bamboo diapers even come in either disposable or reusable forms.
We're particularly impressed with Eco Boom's diapers. Both the top sheet and back sheet are made from bamboo, which is soft, silky and seriously comfortable. The diapers absorb a lot but because bamboo fiber is perforated, it still allows fresh air to circulate and keep your baby dry.
This is a great diaper for your baby. However, one particular reason we love it is that it's awesome for the environment. Most eco-friendly diapers are not biodegradable, but practically everything about this one is.
The main part of the diaper is made from 100% biodegradable bamboo. The only parts of the diaper that needs to be removed before you compost are the sticky fastener tabs. What's more, both the outer carton and inside packaging bag are also biodegradable.
These diapers are free from latex, PVC, and TBT.
If you have a baby with super sensitive skin or if responsible consumption is a priority, these diapers are a great choice for you and your little one.
Pros
100% biodegradable bamboo is great for the environment.
Bamboo fibers are breathable, absorbent, and silky to the touch.
Naturally hypoallergenic and antibacterial.
Packaging is also biodegradable.
All natural materials no chemicals.
Cons
You have to remove the sticky fasteners to compost.
Absorbent, but not great for overnight.
Our Ratings
Community Feedback
I'm really impressed with these eco-friendly diapers and their softness. I first tried them when my baby was around 10 pounds and they were a bit big, but had great absorbency and no leaks. Even as my baby grew, they continued to fit well and kept her comfortable overnight. Though there have been a few near leaks, overall, these diapers have been a great clean option at a lower price point than similar brands, and have significantly reduced diaper rash issues for my sensitive baby.
---
Pampers Splashers Diapers
Best Swim Diapers
Most diapers swell and expand when wet. While this is normally a good indicator that your baby needs to be changed, it quickly becomes uncomfortable and soggy when you want to have a fun day by the water.
Splashers diapers from Pampers have been specifically designed for use at the beach, pool, splash park, or even just water play at home. Your baby can splish and splash and the diaper won't swell.
Not only does this prevent your baby from becoming uncomfortable, but you won't have to worry about your little one streaking across the beach as their soaking diaper eventually sags and slips right off.
Another feature that will help your little one move around in the water is the specialized waistband. It has a 360 degree all-around stretchy waistband designed to fit like swimwear. When you get home or need to change your baby, it will pull right off, even when wet.
Of course, you may be wondering how effective these diapers are at keeping the mess contained so it doesn't spill out into the water. You and the rest of the swimmers are in luck. Dual barriers around your baby's legs prevent any leakage while allowing your little one to kick and splash with total freedom.
Pros
The diaper won't swell or get soggy in water.
Stretchy, 360-degree waistband keeps the diaper but is easy to pull off.
Fun aquatic designs will make children smile.
Cons
They don't come in smaller sizes for younger babies.
It's hard to know how effective they are at absorbing urine when they're wet.
Our Ratings
Community Feedback
For my baby, these Pampers splashers diapers have been a great addition to our water play experiences. The diaper doesn't swell or become uncomfortable in water, and the 360-degree stretchy waistband ensures a snug fit while being easy to remove. However, they don't come in smaller sizes for younger babies, and it can be challenging to determine their effectiveness at absorbing urine when wet.
The Anatomy of a Disposable Diaper
Go to your local store and you'll see aisles packed with the things. While there are many different features to choose from (we'll get to that in a bit), nearly all disposable diapers have the same basic construction.
Made out of wearable plastic materials such as polyesters or polyethylene, disposable diapers have three distinct layers, each with a specific function (3):
Top sheet: The top sheet creates the inner lining of the diaper and is the layer in contact with your baby's sensitive skin. It often contains a barrier ointment to reduce redness and diaper rash.

Absorbent Inner Layer: The inner layer is designed to absorb as much fluid as possible. Super absorbent polymers can absorb 30 times their own weight.
Back sheet: The back sheet is the outermost layer of the diaper and is often waterproof to prevent leaks and help whisk away moisture.
Depending on the brand, your disposable diaper may also contain perfumes and dyes. If your baby has sensitive skin, you may want to do some research on how these additives may cause a rash or irritation.
What About Eco-Friendly Disposable Diapers?
When it comes to the environment, cloth diapers are always the least harmful. However, eco-friendly or "green" diapers have entered the scene to combat some of the environmental issues surrounding disposable diapers. You can still throw them away, but you can feel better knowing you're reducing your ecological footprint.
While the construction is similar to traditional disposable diapers, eco-friendly diapers have two major differences:
Biodegradable Materials: Eco-friendly diapers are made out of biodegradable materials that won't linger for years in a landfill. Plant-based materials are the most popular and include corn, wheat, or bamboo.

Chemical Free: Most eco-friendly diapers shy away from using any sort of chemical additives. You won't find chlorine, latex, perfumes, or dyes in most eco-friendly diapers.
If you're interested in eco-friendly disposable diapers, you're in luck. Due to their rising popularity, today you'll be able to find more options in stores than ever before.
Choosing the Best Diapers
Every baby is different and it may take some experimentation to find the diaper that works best for both you and your little one. However, no matter the disposable diaper you end up trying, we suggest looking for these five awesome features.
1.

Contoured Fit

The best way to prevent leaks and ensure your baby stays comfortable is to find a diaper that fits properly. In diaper language, you want to look for diapers with a contoured fit. This means the diaper has been designed to fit snugly around your baby's legs and hips.

When a diaper has a contoured fit, your baby can wiggle and squirm and their diaper just moves with them.
2.

Re-sealable, Strong Fasteners

A diaper fastener is how your diaper stays on your baby once it's been placed onto their body. Most disposable diaper fasteners are made of a thin tab of plastic with some sort of sticky adhesive on it. Just pull the fastener tab tight and stick it onto the diaper front.

We suggest looking for a diaper with strong fasteners you can re-seal. That way, if you open up the diaper and find it can last a little longer, you can re-seal it without worrying about it falling off or coming undone.
3.

Perfume Free

We know diapers can be stinky, but that doesn't mean your diaper needs to be scented. Perfumes contain chemicals you don't want coming into contact with your baby's skin.

Some companies work hard to use non-allergenic perfumes, but we think it's best to stay away from anything with added chemicals. Always check the packaging before buying and confirm whether the diaper is perfumed in any way.
4.

Wetness Indicator

Do you know when it's time to change your baby's diaper? It can actually be harder than many parents realize. Save yourself some stress by looking for a diaper with a wetness indicator. This is especially helpful in the newborn phase, those wet diapers can be impossible to tell.

Wetness indicators can be found on the outer part of the diaper, as a line or symbol. When the line becomes wet from urine, it changes color, indicating that it needs to be changed.

However, you need trial and error to monitor how effective a wetness indicator actually is. Sometimes, a heavily soiled diaper won't change the indicator in time.
5.

Ultra-Absorbent Core

At the end of the day, you want a diaper that's going to work. You need something that will hold a lot of fluid without making a mess or causing your baby discomfort. With an ultra-absorbent core, you won't be changing your baby's diapers every thirty minutes.

Purchase a small number to try before you commit to buying in bulk to see how much they hold and how they work for your little one.
---
How to Find the Right Size Diaper
When looking for a disposable, you've likely noticed a lot of numbers when it comes to sizing. What do these mean and how can you find the right size diaper? After all, finding the right fit is essential for a diaper's effectiveness.
Each brand has variations, but most follow the same system. A diaper is sized according to your baby's weight, not their age (4). The weight range correlates to a number, generally one through six.
As your baby grows, the weight increments increase. So, while a size 1 diaper normally has a six-pound difference before you need to switch, a size 6 will likely have a 15-pound difference.
Always make sure to check the

diaper sizing guide

on the packaging before purchasing.  If your baby starts leaking it's probably because they're ready to go up a size.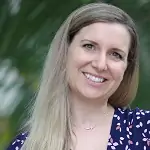 Editor's Note:
Katelyn Holt RN, BSN, BC
How to Save Money on Diapers
As you start to go through diapers, you may feel your wallet getting thinner. This is especially true if you have more than one child in diapers at a time. How can you save some money without sacrificing quality?
Here are five simple tips for buying in bulk, clipping coupons, and reducing your monthly diaper budget.
How to Prevent Diaper Rash
Most babies will experience diaper rash, but you can take a number of steps to prevent it.
Here's how to address the most common causes of diaper rash (5):
Frequent Changing: The urine and stool inside a diaper can cause friction and irritation, leading to a diaper rash. Do all you can to change your baby's diapers frequently and as soon as you notice it's been soiled.
Gentle Products: Many diapers contain chemicals that can damage sensitive skin. Look for diapers and wipes without fragrances, lotions, chlorine, or other strong additives.
Proper Fit: If a diaper doesn't fit properly, it can lead to rubbing and chafing on your poor baby's bum. Make sure the diaper is snug, but not too tight.
Air Out: Moist, warm areas are breeding grounds for bacteria and funguses; some are similar to a yeast infection. It may help to monitor your baby as they nap or sit without a diaper occasionally.
How to Dispose of Diapers
Disposable diapers are convenient because you're supposed to just throw them away without thinking twice, right? However, you may need to be giving an extra thought or two on how you are getting rid of those stink bombs.
Don't worry; you won't need a hazmat suit. Just follow these five simple steps:
Dump the contents of the diaper into the toilet.
Wrap up the diaper to contain the mess.
Seal the diaper in a plastic pail, container, or can.
Throw out the diapers in an appropriate location.
Wash your hands!
It shouldn't be a surprise to learn that fecal matter is a hazardous waste that shouldn't be put into our landfills (6). Dumping the solid mess into the toilet beforehand is one of the most important steps that many people skip.
3 Diapering Essentials You Need
Keeping your baby's bottom clean isn't just about diapers. A few essentials will make your diapering routine a little easier.
Here are three that every mother should have.
Diaper Wipes: These soft, damp cloths are designed to clean your baby so you can put on a fresh diaper without any gross residue transferring over. You'll want to look for an extra-strong wipe without lots of chemical additives.
Diaper Pail: If you put a diaper in a regular trash can, the smell can be pretty horrendous. Get yourself a special diaper pail designed to trap the odor in special disposal bags.
Snap-Close Outfits: In the event of a leak, blowout, or even just a fast change, you don't want to have to take all your baby's clothes off to get to the diaper. Choose baby onesies or pants that have a snap closure in the crotch.
Disposable Diaper FAQs
---
Thank You For Your Feedback!
Thank You For Your Feedback!