Baby jumpers are one of those items that take up a lot of space in your home. So, are they really necessary? That's a decision you'll have to make, but we believe they're well worth the loss of space.
Baby jumpers keep babies happy and active, allowing them to use that jumping instinct and jump to their heart's content — without exhausting your arm muscles. A jumper allows your baby to experience some excitement, get some exercise, and get tired out for naptime!
If you're shopping for the best baby jumper, you've probably realized the market is pretty flooded.
But don't worry — we've reviewed the best picks on the market, evaluating each for safety, convenience, and fun factor. We've rounded up everything you need to know to choose the right one for your home and baby.
Image
Model
Product Comparison Table
Features
Best Activity Jumper
Fisher-Price Rainforest
With sounds and lights
Comes with many different toys
Machine washable seat
Best for Big Babies
Baby Einstein Active
Durable
Seat is machine washable
5 height positions available
Best Portable Jumper
Taleco Gear Jumper with Stand
Portable
Easy to store
Safer than doorway jumpers
Easiest Storage
Jolly Jumper Door
Seat fits tighter to the body
Good for small spaces
Unisex design
Best Whole Body
Skip Hop Explore and More
3-stage activity design
Increases spatial awareness
360-degree rotating seat
Best All-In-One Jumper
Fisher-Price Animal Wonders
Durable
Colorful and eye-catching
Doesn't require door frame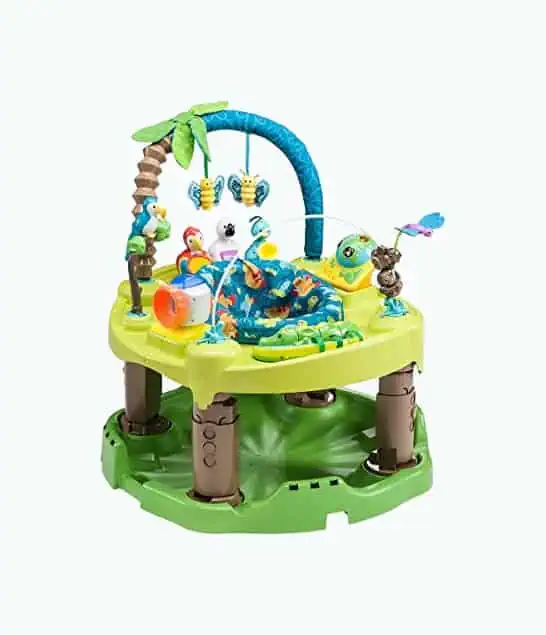 Best for Small Spaces
Evenflo Triple Fun
3-in-1 design
Made & assembled in U.S.
Has carrying handle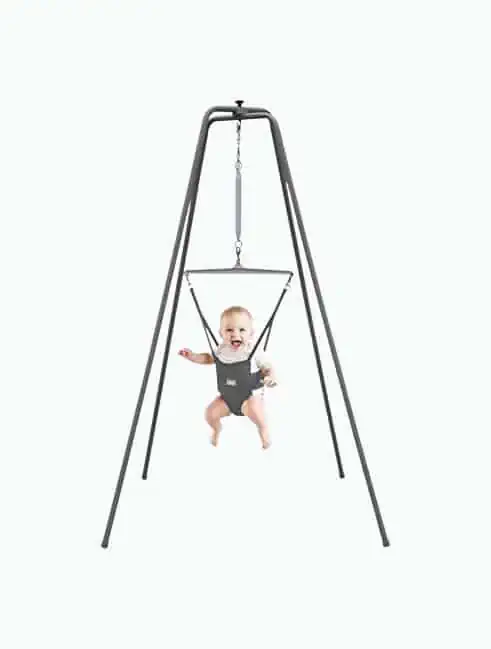 Safest Jumper
Jolly Jumper Original
Portable
It stores flat
Supports proper posture
Best Travel Jumper
Summer Infant Pop N' Jump
Lightweight and portable
Has sunshade
No assembly required
Most Affordable
Bright Starts Playful Parade
Compact and portable
Economical
Includes a cushion
Review Methodology: At Mom Loves Best, we pride ourselves on providing you with a thorough analysis and assessment of the best baby jumpers available. Our hands-on research and experience allow us to evaluate products from a user's perspective, ensuring you receive reliable, data-driven information. We compare and rank baby jumpers based on crucial factors such as safety, stability, adjustable height settings, and entertainment options. Our reviews demonstrate our expertise in the field as we share quantitative measurements of each jumper's performance and identify key decision-making factors. We also delve into each product's design choices and their effects on users, providing first-hand evidence to support our recommendations. Trust us to guide you in finding the perfect baby jumper that meets the highest standards for you and your little one.
---
---
The Best Baby Jumper of 2023
Here are our favorite baby jumpers on the market.
Fisher-Price Rainforest Jumperoo
Best Activity Jumper
From your babe's jumping feet to the birds dangling overhead, this bouncer is three-dimensional fun. Lights and sound reward your child for jumping and spur them on toward more fun.
It has a light-up musical piano that babies love to pound on.
The seat fully rotates, and the springs that facilitate jumping are covered to help prevent pinched fingers. When it's time to pack it away, the frame folds in on itself to shrink the size and make it more compact.
Because moms are constantly thinking about clean-up and safety, they should be relieved to know the soft seat pad is removable and washable, and it's made of BPA-free plastic.
Pros
It has sounds and lights to motivate baby to jump.
It has many different toys to grab baby's attention.
The seat is machine washable.
Cons
It's bulky.
It does not store flat.
There are only three height adjustments.
Our Ratings
Community Feedback
This jumper has been a great addition to our home, providing endless entertainment for my baby with its variety of toys and music. I've noticed my baby's leg strength improving, and it's been a convenient option for keeping them occupied both indoors and outdoors. The assembly is user-friendly, and its portability allows us to easily bring it to friends' houses for our little one to enjoy.
---
Baby Einstein Activity Baby Jumper
Best Jumper for Big Babies
This jumper will accommodate a large variety of baby sizes. It has five different height settings, and the weight limit is 25 pounds. The seat can spin 360 degrees so your child can easily reach any of the tempting toys.
The seat cushion is removable and machine washable, and everything else on the jumper can be wiped down and sanitized as it's hard plastic. You can hang additional toys from loops on the jumper, allowing you to personalize the jumper and mix it up when they start to lose interest.
Finally, even though it's rather large, it can fold flat for storage and may even fit out of sight under a bed or crib.
Pros
It's versatile.
Seat is machine washable.
It will hold baby's attention.
It has five height positions available.
Cons
It's bulky.
It is expensive.
Some features require batteries.
Our Ratings
Community Feedback
My experience with this jumper has been mostly positive, as it provides entertainment and stimulation for my 4-month-old. Assembly was straightforward, but attaching the seat proved to be quite challenging and required some extra help. The seat sits lower to the floor and is more shallow compared to other jumpers, which affects my baby's ability to touch the ground and reach the toys. The bright colors and various play stations are engaging, although some areas could use more lights or interactive features. Despite a few minor drawbacks, the jumper has been a valuable addition to our baby's playtime, allowing me to complete tasks around the house while she enjoys herself.
---
Taleco Gear Jumper with Stand
Best Portable Baby Jumper
This baby jumper is not as compact as a doorway jumper but is much more versatile because it doesn't require a doorway.
Because of its simple fold-flat design, it's perfect for on-the-go use — whether that's to grandma's house or on your next camping trip. It will fit in the trunk of your car while still allowing you enough room for your other luggage.
The stand was designed to facilitate better jumping action, but because it's on a free-standing frame, you no longer have to worry about the risk of your child running into the door frame and getting hurt.
The narrow seat keeps your baby's legs from bowing while jumping, and it can easily be used indoors or outdoors.
Pros
It is portable.
It collapses flat for easy storage.
It is safer than doorway jumpers.
Cons
It is not versatile because it doesn't have any toys attached.
It is not as compact as doorway jumpers.
Our Ratings
Community Feedback
I've been using this baby bouncer for a while now, and I must say it's a fantastic value. Not only is it easy to assemble, but it's also portable, allowing me to move it from room to room or even take it outside on a nice day. My little one absolutely adores it, giggling and kicking nonstop, which makes for a happy and tired baby afterwards. The multifunctional aspect is a bonus, with spaces for a swing and even the possibility of using it for water play. The only minor drawbacks are its large size when open and the difficulty of getting the baby in and out, but overall, it's a great addition to our home.
---
Jolly Jumper Exerciser with Door Clamp
Best Jumper for Small Babies
Unlike many other bouncers, the seat on this one more closely resembles a wearable harness. This means it fits closer to your child's body to prevent them from falling to one side or another, which is of particular concern if your child is smaller than average.
However, even if you have an average- or larger-sized baby, this product should still work, as the upper weight limit is 28 pounds.
Since it's a door jumper, it secures to the door frame and molding, meaning it won't take up valuable real estate in your living room. It also takes up minimal space in storage.
The height is adjustable by using more or fewer chain links, and the design is such that your baby can jump enough to have fun but not so much that they may get injured.
Pros
Seat fits tighter to the body.
It's good for small spaces.
It stores well.
It is a unisex design.
Cons
Your door and frame must fit certain specifications.
Cannot be used outside.
The spring is exposed, which could lead to pinched fingers.
Our Ratings
Community Feedback
Great product for energetic little ones, this baby jumper has provided my child with endless joy and exercise. Although it may take a few tries for some babies to get the hang of it, once they do, their excitement is contagious. The jumper's design is sturdy and secure, giving me peace of mind about my baby's safety while in it. However, it might be a bit tight for babies with larger frames, so an adjustable option would be a welcome improvement.
---
Skip Hop Explore and More Baby Center
Best Whole Body
This baby jumper has more than meets the eye. With a special three-stage activity design, your baby can have fun while developing motor skills and higher brain function. They'll enjoy it for years to come.
We love that it supports a whole-body approach to play and learning. It features a 360-degree rotating seat, four movable toys with room to attach more, and a discovery window — one of the best features.
The discovery window is a clear panel, allowing children to see their feet. Your child will learn how their leg movement causes the jumper to move. They'll also gain a better understanding of spatial awareness.
All of this combines into three activity stages. You can use it as a simple chair jumper that stays in one place, an activity cruiser that toddlers can stand at and cruise around, and a stand-alone play table.
Pros
Three-stage activity design gives you years of play.
Discovery window increases spatial awareness.
Cons
Some of the attached toys can pinch your baby's fingers.
Our Ratings
Community Feedback
I purchased this activity center for my 9-month-old and, despite the high price tag, found the quality to be a bit underwhelming. Within a week, one of the sensory activities, a rattle cloud, tore at the bottom. However, my baby does seem to enjoy the center, easily turning around to play with the various toys for about 10 minutes before getting bored. The adjustable height and ability to convert into a table as the baby grows are nice features. While I can't fully justify the price, this activity center does serve its purpose and keeps my little one entertained for short periods.
---
Fisher-Price Animal Wonders Jumperoo
Best All-in-One Jumper
This jumper has no exposed springs, so your little one's fingers will be safe. The seat is removable and washable, and you can wipe down the rest of the BPA-free bouncer.
The frame is made of sturdy steel, so your child can bounce without you fearing for their safety. The seat adjusts to three different heights, so you can personalize it based upon their unique size.
Every aspect of this jumper should make worried moms feel more at ease, including the wide base that is less prone to tipping.
There are lights, sounds, and music to delight your child, along with sensory toys. The seat spins 360 degrees so your child can reach each point of interest.
Pros
It's durable.
Colorful and eye-catching.
It does not require a door frame.
Cons
It takes up a lot of space.
Some features require batteries.
It only has three height adjustments.
Our Ratings
Community Feedback
This activity bouncer is perfect for active babies, providing a safe and engaging environment for them to explore various toys and develop motor skills. The easy-to-assemble and clean design, as well as the adjustable height, ensures a hassle-free experience for parents. My little one particularly enjoys the bouncing aspect, which seems to strengthen their legs and tire them out. The neutral colors of this bouncer also make it blend seamlessly into the main area of our home, while the diverse selection of toys keeps my baby happily entertained.
---
Evenflo Exersaucer Triple Fun Learning Center
Best for Small Spaces
This jumper can take the place of three pieces of gear in your space-limited home, and it offers entertainment through a variety of stages of play. Not only is it an activity jumper with loads of toys attached, but without the jumping feature, it also can be used as either a playmat or an activity table.
When used as an activity jumper, there are three adjustable heights. It contains 11 toys and activities designed to help your child with fine motor skills, object exploration, and tactile development.
It has a removable soft seat pad that you can toss in the washing machine, and the whole toy was designed, created, and assembled in the U.S.
Pros
It's a 3-in-1 piece of baby gear.
It is made and assembled in the U.S.
It has 11 different toys to keep your baby entertained.
It has a carrying handle.
Cons
It only adjusts to three heights.
It takes up floor space.
Some features require batteries.
Our Ratings
Community Feedback
In my experience, this Exersaucer has been a great addition to our baby's playtime. It took about 30-45 minutes to assemble, and I recommend using a power screwdriver to make it easier. Our little one started using it around 3.5 months and enjoyed both the tummy time mat and the Exersaucer itself. The variety of toys and activities kept our baby entertained, but make sure to buy batteries as three of the toys require them.
---
Jolly Jumper Original on a Stand
Best Safe Jumper
This is all the fun of the classic doorway jumper with none of the risks. The saddle seat clips directly to a frame instead of a tension-set clip, which reduces the height from which it's suspended and the risk of product failure.
It's a good pick for safety-minded moms who feel doorway jumpers are unstable.
The seat supports your baby's spine to facilitate proper posture, and you can adjust the actual height of the jumper so your baby's feet can be positioned properly on the floor.
It folds flat for easy storage or portability and can be used either indoors or outdoors.
Pros
It is portable.
It stores flat.
It supports proper posture.
Cons
Babies may outgrow the height quickly.
It requires a lot of space when set up.
No included toys to capture baby's attention.
Our Ratings
Community Feedback
Love how this jumper keeps my baby entertained for hours, and it's definitely well-made and sturdy. My little one learned to jump quickly and enjoys every moment, although I'd recommend using shoes to prevent any toe injuries. While it does take up a decent amount of space, the happiness it brings to my baby makes it totally worth it.
---
Summer Pop 'n Jump Baby Jumper
Best Travel Baby Jumper
Sometimes, when you're on the go, you need a place for your baby to play without getting full of dirt and sand. This portable jumper could be the perfect solution for your active lifestyle.
Arriving fully assembled and needing only to be unfolded, this activity jumper is ready to go at a moment's notice. And it collapses just as easily — fitting into an included travel bag with a shoulder strap.
It can adjust to three heights and even has a sunshade included, which is a great alternative to using sunscreen on your baby's delicate and sensitive skin.
And after a day at the beach with your baby, you can pop the seat off and toss it in the washer to clean.
Pros
Lightweight and portable.
It has a sunshade.
It fits well with an active lifestyle.
There is no assembly required.
Cons
It's not as durable as traditional activity jumpers.
It only has three height adjustments.
It may not be as stable as full-feature jumpers.
Our Ratings
Community Feedback
I absolutely love this baby jumper for its portability and convenience. With four kids, including a daughter who adores it, this lightweight jumper is a breeze to assemble and clean, making it perfect for busy soccer games and family outings. The adjustable height ensures a comfortable fit, and the detachable sunshade offers added protection, allowing for more fun-filled adventures with my little one.
---
Bright Starts Playful Parade Baby Jumper
Best Affordable Option
The maximum weight for this economical jumper is 26 pounds, so it's easy to justify this inexpensive purchase as you know your baby will get plenty of use out of it.
The spring is covered to help protect your little one from finger pinches, even though it's well out of their reach. An adjustable strap allows you to change the height based on your child's size to help foster better posture while jumping.
The two straps alongside the seat promote stability, though the top strap and spring are long and could cause your child to swing a little more wildly than you'd expect. Make sure you always supervise your child in a jumper, and stay close to your child if you choose this one.
Pros
It is compact and portable.
It's economical.
It has additional toys to play with.
It includes a cushion to prop up smaller babies.
Cons
The construction is not as sturdy as wider jumpers.
The long spring may cause your baby to swing more than you'd like.
Our Ratings
Community Feedback
My experience with this baby jumper has been mostly positive, as it was easy to assemble and provided a cute and sturdy activity for my little one. This jumper offers several places to attach toys, which my child enjoyed, but they did get bored after a while, as it doesn't provide much vertical bouncing. One issue I encountered was the difficulty in getting both of my baby's feet in without assistance. Additionally, I noticed that my baby's head sometimes hit the door frame, so I would suggest using a wider door for safety. Despite these minor drawbacks, my child loves this jumper, and it even gives me some free time.
What Is a Baby Jumper?
A baby jumper is an activity seat affixed to an elastic harness that allows your baby to use their legs to propel themselves up and down.
They may also be known by these names:
Types of Baby Jumpers
There are several types of baby jumpers available.
Doorway Jumper
Perhaps the most common thing you picture when you hear the term jumper is a baby seat that attaches to a door frame. With this style, the baby is secured in a belt or harness and is able to jump up and down in the doorway.
Pros
Space-saving.
Inexpensive.
Cons
Potential safety issues if clamp breaks.
Can be hard to use the doorway without bumping into baby.
Stationary Jumper
This design is similar to a doorway jumper, but it comes with its own frame, so the whole thing sits lower to the ground. This means it's more versatile because you can use it outside or in spaces that don't have a door frame.
It's also safer as the bungee cord is not as long and can not swing your child as far.
Pros
Easier to store than an activity center.
Safer than a doorway jumper (1).
Can be used in more spaces.
Cons
More expensive.
Potential stability issues.
Activity Center
These jumpers are also commonly known as exersaucers, a brand name by Evenflo. They not only feature the ability to bounce but provide buttons to push, rattles to shake, and other attention-grabbing toys and features to keep your child busy even after they're done jumping.
Pros
More versatile than other models.
Offers a variety of entertainment.
Cons
More expensive.
Takes up a lot of floor space.
May be overstimulating for some babies.
How to Choose a Baby Jumper
When purchasing a baby jumper, look for the following:
---
Why Do I Need a Baby Jumper?
Jumpers provide great fun for babies and a break for their parents. They allow your child to play independently, see the world from a new perspective, and often include some new toys.
They also give caregivers peace of mind since they know the child is safely contained and not at risk of wandering or getting into things around the house.
How Old Should My Child Be to Use a Jumper?
Babies should never be placed in a jumper until they have the strength to control their neck — usually around 4-6 months (2). Because they are in a seated position and the jumping motion can be a bit jarring, babies should only use a jumper when they have good head control and their neck muscles don't tire too quickly.
In addition to that general age threshold, each manufacturer outlines the recommended age, weight, and height restrictions of its products.
Watch The Restrictions
Follow their minimum guidelines for use, and never try to make your baby fit earlier than recommended by stuffing blankets or other cushioning in the seat.
Baby Jumper Safety Considerations
In addition to following your manufacturer's age and size guidelines, there are some other things to be aware of when purchasing and using a baby jumper.
Duration of use: Though terms like "exersaucer" and "jumper" make it seem like your baby is getting exercise and working their muscles, the truth is that these devices have the potential to cause more developmental harm than good. This is primarily because of the baby's position in the jumper. It can affect their posture, hinder muscle control, and even delay walking. Limit use of the jumper to 15 minutes a day to avoid potential developmental delays (3).

Height position: Make sure your jumper is positioned at the proper height for your baby — they should not be flat-footed, nor should they be on their tiptoes. Pay close attention to the jumper's height to ensure it is not in a developmentally harmful position.
Dual bungee cords: Doorway jumpers tend to have the highest potential for injury — both from product failure like the clamps not being secure and from children bumping into the door frame from all the bouncing. You can minimize this risk by choosing a jumper with two bungee cords, which offers more stability and helps direct a child's motion up and down and back and forth, reducing side-to-side bouncing or wild swinging that could cause them to hit the side of the wall. The challenge is that these are not widely available. Alternatively, you can use a standard jumper, but place it in a wide door frame.
Baby Jumper FAQs
---
Thank You For Your Feedback!
Thank You For Your Feedback!