What's the best way to keep babies happy? With a rattle, of course!
For hundreds of years, rattles have been a favorite among growing babies, who will shake, bite, and throw them around.
Today's baby rattles are nothing like what we had in the past. We got by with simple balls attached to a handle that made such a ruckus; our parents regretted buying them.
Today's rattles are nothing like that. In this guide, we'll show you all of the best baby rattles to help brighten up your baby's world.
Image
Model
Product Comparison Table
Features
Hello, Moose
Lamaze Mortimer The Moose
Super soft baby toy
Teethable antlers
Tail rings create engaging sounds
The Friendly Horse
Playgro Horse
Easy for baby to hold
Bright & vibrant colours
Various textures
Chewable Loops
Manhattan Toy Winkel Rattle
BPA-free
Lightweight construction
Soft, pliable teething loops
Baby's First Rattle
The First Years First Rattle
Multi-textured
High-contrast patterns
Easy-grip fingers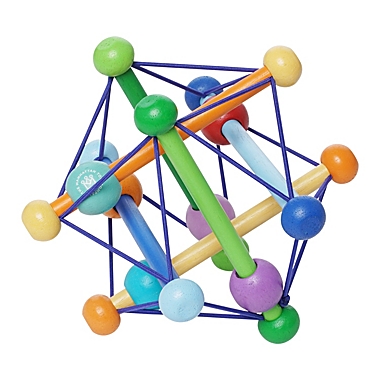 Time for Geometry Class
Manhattan Toy Color Burst
Constructed of sustainable wood
Award winning
Non-toxic finish
Will You Take This Ring?
Sassy Ring Rattle
Easy-to-grasp rattle
High contrast colors
Innovative functional features
Shake-A-Leg
Fisher-Price Rattle 'n Rock
Includes 2 toy maracas
Soft, colorful pom poms
Colorful beads
Great for Sensory Development
Bright Stars Grab and Spin Rattle
Budget-friendly
Great for on-the-go
Cute and colorful
Soothing Sounds Of Rain
Oball Rollin' Rainstick Rattle
Makes soothing raindrop sounds
6 inches in diameter
Bright, colorful and nearly indestructible
An Elephant On the Move
Skip Hope Elephant Rattle
Multi-sensory
Easy to clean
Mirror for self recognition
---
---
The Best Baby Rattles of 2023
Here are 13 great baby rattles to consider.
1. Lamaze Mortimer The Moose Baby Rattle
Hello, Moose
Mortimer has got to be the most endearing rattle ever, and there's plenty here for your baby to enjoy. He comes with high-contrast knotted hooves, a squeaker tummy, and antlers that are perfect for teething.
The clickety clackety tail rings are designed to amuse and entertain your baby. When your little one is finally ready to sleep, the super-soft body is perfect for snuggling.
---
2. Playgro Clip Clop Horse Baby Rattle
The Friendly Horse
This happy little fella will put a smile on your baby's face. The rattling horse has multiple textures, all designed to awaken a child's curiosity and senses. With click-clack rings around his foot, he's sure to keep your baby busy.
Your baby will also discover that the bell around his neck can be used to soothe his gums while the horse's foot makes an enticing noise. Don't be surprised if the little guy is banged on the floor several times. He's making baby music.
---
3. Manhattan Toy Winkel Baby Rattle
Chewable Loops
This award-winning toy features several soft tubes that are interlocked in a maze-like fashion. There's a cube in the middle that produces a pleasant rattling sound when shaken.
Its bright colors are designed to appeal to your little one, who will have no problem clutching onto it. It's ideal for babies ages 0 to 2 years. Teething babies, in particular, will love sinking their gums into the tubes, which are BPA-free.
---
4. The First Years First Rattle
Baby's First Rattle
This brightly-colored rattle is just right for very young babies who love clutching their parent's hands. Its multi-textured surface will feel soft against your baby's skin and in their hands. It's also safe for your baby to chew on.
The colors and high contrast patterns are great for reinforcing visual tracking as you move it across their field of vision. You can also attach it to a play mat or car seat, allowing your baby to enjoy it anywhere.
---
5. Manhattan Toy Skwish Color Burst Baby Rattle
Time for Geometry Class
Your baby is definitely not ready for geometry class, but they'll love this uniquely shaped toy. It features colorful rattling beads that slide along wooden dowels, which are strung together using elastic ties.
This rattle encourages two-handed play and is suitable for babies of all ages. Your baby will love squishing down this rattle and watching it spring back to its original shape.
---
6. Sassy Ring Baby Rattle
Will You Take This Ring?
With one sassy ring, you get three amazing benefits. The contrasting polka dots, stripes, and colors will capture your baby's attention and help develop their visual and motor skills.
Multiple textures around the rattle are great for teething and enhancing your baby's tactile sensitivity. Suitable for newborns and older babies, this is clearly one ring you'll want your baby to have.
---
7. Fisher-Price Rattle 'n Rock Maracas
Shake-a-Leg
This baby-sized set of two is ideal for babies ages 3 months and above. The topside of the maracas is made of soft fabric, while the rest of the toy comes in smooth plastic.
These textural differences, coupled with the soft-sounding beads, will help expand your baby's sensory knowledge. Let's not forget the sweet sound maracas are so famously known for. Your baby will be making their own beats in no time.
---
8. Bright Stars Grab and Spin Rattle
Great for Sensory Development
This rattle features two clear spheres containing a mirror and colorful beads, and a textured handle for a great grip. Your child's curiosity will be aroused as they watch the light, listen to the sounds, and feel the different textures.
It's lightweight, easy to clean, and ideal for babies of all ages. Parents will love being able to slip it into the diaper bag before heading out.
---
9. Oball Rollin' Rainstick Rattle
Soothing Sounds of Rain
This toy is great for little ones in need of a teether or who want entertainment. It features a ball with holes, plus a rainstick in the middle. As your child turns the rattle, the beads cascade, mimicking the soothing sound of raindrops.
Recommended for babies ages 3 months and above, this rattle's colorful appearance will hold your child's interest for a long time. They can beat on it like a drum, shake it, roll it or put it in their mouths.
The OBall has longevity- it's a ball, my kids still play with it! And one even made it onto our Christmas tree as an ornament!
Editor's Note:
Katelyn Holt RN, BSN, BC
---
10. Skip Hop Elephant Rattle
An Elephant on the Move
This adorable elephant is a must-have for babies over 3 months old. It features multi-sensory details that are safe for teething or chewing. The large holes offer an easy grip, while its head has a different texture to pique your baby's interest.
Babies who are starting to get curious will surely love the attached mirror on the elephant's teether, enough for your young ones to recognize their own face.
---
11. Oball Kids Shaker Toy
Easy Grab and Shake
This toy is made up of two mesh-like balls attached to either side of a textured handle. The clear handle holds several brightly colored balls that your child will love shaking and watching.
The balls are great for teething and are made to suit tiny fingers, making them easy to grab, bite, or shake away. It's one of those wipe-me-down types that will be a favorite in your home.
---
12. PlanToys Baby Key Rattle
Where Are My Keys?
This delightful set of keys is made from high-quality, sustainable rubberwood and is coated with non-toxic finishes. The vibrant colors are derived from vegetable dyes, and the keys are connected using a ring of rope.
This toy is ideal for babies ages 4 months and over. It's safe for teething and promoting visual and gross motor skills. Next time the baby is going out of the house, why not let them carry their own set of keys?
---
13. 4-Piece Wearable Baby Rattles
Don't Just Shake It, Wear It
This cute monkey and elephant set features two wrist rattles and two socks fitted with bells and rustled paper. They're great for enhancing visual and auditory skills and introducing the concept of cause and effect to your baby. Every time they wriggle, something happens.
Your baby will enjoy waving their arms or wiggling around, which will help promote their gross motor skills. Plus, older children will be able to identify the animals from their favorite books or cartoons.
Why Do Babies Love Rattles?
Rattles do more than keep the baby happy when mom is busy with other things. Grabbing and shaking the rattle will help enhance your baby's gross motor skills.
Your baby will discover cause and effect as they play with a rattle. They'll understand that whenever they shake that colorful object, it makes a sound (1).
You can help develop your baby's hand-eye coordination by shaking the rattle and moving it across their field of vision. Your child will follow it around and in no time be reaching out to take it.
How to Choose a Rattle for Baby
Here are some things to remember when you go out shopping for your baby's new rattle:
---
Thank You For Your Feedback!
Thank You For Your Feedback!