Are you looking for a security blanket to help your little one feel secure during transitions?
Where once a child would have been relegated to dragging a heavy quilt around with them, these days, security blankets come in a wide range of styles, colors, and animal designs.
So how do you choose the perfect design for your little one? We've made the process a little easier by evaluating hundreds of loveys and narrowing the list to include only the softest, sweetest, and safest designs.
In this article, we'll review the ten best baby security blankets on the market so you can find the perfect design to help your little one feel secure — wherever their road leads them.
Image
Model
Product Comparison Table
Features
Best for Snuggles
Saranoni Super Soft
Incredibly fluffy and breathable
Made with 100% polymicrofiber
Top-class service and fulfillment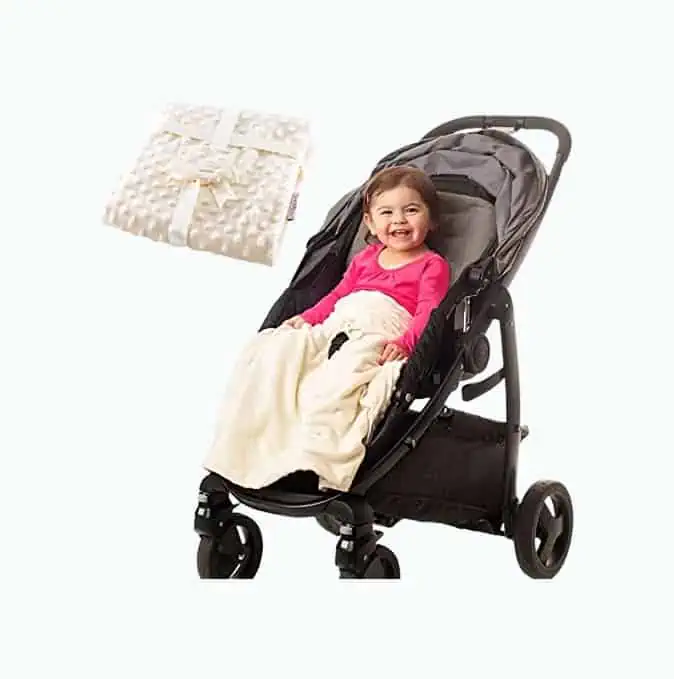 Best for Travel
Intimom Security Blanket
Cozy softness
Made from soft, snuggly fleece
Compatible with most carriers
Best for Newborn
Jellycat Soother
Velvety soft
100% polyester
Suitable from birth
Best Lambie Blanket
Baby GUND Huggybuddy
Sweet whimsical designs
Machine washable
Company recognized worldwide
Best Security Blanket Set
Hudson Baby
100% cozy plush fabric
Optimal for everyday use
Affordable
Best Unisex Blanket
Bearington Lil' Snuggler
Luxurious fabrics
Silky satin trim and lining
Known for their outstanding quality
Best Bunny Blanket
Mary Meyer Bunny
Machine washable
Award-winning design
Neutral colors
Best for Extras
Stephan Baby Activity Toy
100% bisphenol-free plastic attachments
Colorfully striped cotton knit fabric
Machine washable
Best Organic Blanket
Burt's Bees Organic Cotton
100% organic cotton
Super-durable
Meet the highest global standard
Best for Summer
Aden and Anais Muslin
Super-soft 100% cotton
Finely woven breathable fabric
Durable
---
---
The Best Baby Security Blankets of 2023
Here are our favorite baby lovey blankets.
Saranoni Super Soft Luxury Blanket
Best for Snuggles
This super-soft, exceptionally snuggly, and superbly comfortable blanket is so appealing I was tempted to buy one for myself to cuddle at night!
This security blanket is made from a soft and durable polyester-microfiber blend. But its strength doesn't compromise the quality of its fabulous fluffiness.
The fabric is machine washable, and we can attest that it remains soft and snuggly even after multiple washes.
You can purchase this blanket in two sizes. One is perfect for small hands to grasp when on the go. The larger version is a luxurious throw, perfect for your child to cuddle up and watch a movie.
Our Ratings
---
Intimom Security Blanket for Strollers and Car Seats
Best for Travel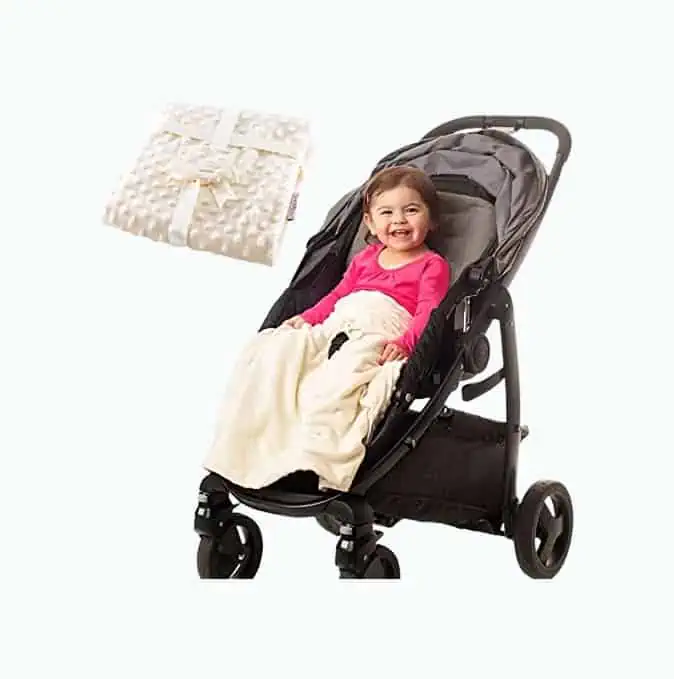 This security blanket is one I should have had to save me from losing so many! Not only is it soft and strong, but it also has two openings for securing it to car seats or strollers. So it will stay put while keeping your little one cozy.
The minky fleece material keeps this blankie soft — no matter what your little one drags it through. At almost 30 inches wide, this blanket is larger than most. Thread it through the crotch strap on your stroller or car seat to keep your child snug and warm.
An unexpected extra with this blanket is that it has a double texture. With a smooth, flat finish on one side and bumps on the other, your little one will enjoy exploring the different feels.
Our Ratings
---
Jellycat Soother Security Blanket
Best for Newborn
This velvety snuggler is small and light, making it a good choice for a newborn. Jellycat has designed these security blankets with safety in mind, with only stitching used for detailing, making it safe for the smallest of babies.
Available in various colors, you can choose one that suits your nursery decor.
This sweet bunny is small enough for little hands and compact enough to take with you wherever you go. Grown-ups will love that it's machine washable too.
Our Ratings
---
Baby GUND Lamb Huggybuddy
Best Lambie Blanket
This is the loveliest lamb we could find. It is suitable from birth and beyond and for unisex use. This lambie consists of a soft toy and a small blanket, and it's super soft, cuddly, and cute!
It's machine washable, made from 100% polyester plush, and has satin underneath for tactile fingers. Your little one will enjoy playing with the different textures.
The lamb has stitched details rather than unsafe buttons or plastic parts. And the stitching makes its eyes appear as though it is sleeping — a perfect nap buddy!
Our Ratings
---
Hudson Baby Security Blanket
Best Security Blanket Set
Hudson has hit the nail on the head with these adorable sets. You're spoiled for choice with the variety of colors and prints and with a selection of attached animal friends to choose from.
The polyester plush fleece of both the security blanket with the attached animal buddy and the larger snuggle blanket will ensure your little one's comfort and warmth. The smaller blanket is large enough to tuck into the car seat for long drives but small enough for portability.
Machine washing is a bonus, and these blankets were created for durability — which is a good thing when it travels everywhere with your toddler!
Our Ratings
---
Bearington Lil' Spout Snuggler
Best Unisex Blanket
The combo of babies and elephants — is there anything in the world more adorable? This elephant just looks like he needs a hug, and I'm sure your little one would happily oblige.
This fluffy half blanket half elephant is made with a gray velour and satin lining, perfect for little, exploring hands. Its super soft fabric improves its huggability!
The eyes are embroidered for safety, and there is a patterned bow around the neck which adds to its cuteness. This security blanket makes a great baby shower gift.
Our Ratings
---
Mary Meyer Oatmeal Bunny Blanket
Best Bunny Blanket
Bunny rabbits are certainly popular in the security blanket ranges, and this one is a personal favorite of mine. Part soft toy and part fabric blanket, it is so soft and gentle, making it suitable for your precious cottontail. If they love it so much, there's even a whole family of the bunnies available to buy.
The neutral color is calming, and the blanket is, thankfully, machine washable. The design has been finished with embroidery, and it is small enough for little hands. Your little one will enjoy the varying textures of the polyester fabric.
However, at just 10 by 13 inches, you may find this too small for your growing child.
Our Ratings
---
Stephan Baby Activity Toy Security Blanket
Best for Extras
Yay — another elephant in the top ten!
But this one is a teething chew, security blanket, and activity toy, all in one. The plastic elements are all chemical-free, and your little tyke will love playing with them. The toys featured are a satin knot, triangle, ring rattle, and teething chew — one on each corner.
The soft toy/blanket is made from polyester plush and has lots of embroidery for added texture with patterns to stimulate visual development (1).
Our Ratings
---
Burt's Bees Organic Cotton Blanket
Best Organic Blanket
This little blanket is made from certified organic cotton with no harsh chemicals used in its manufacturing process. You can take comfort knowing you are being eco-friendly while giving your baby a special security blanket.
The organic cotton velour shell is soft, and there is a knot at each corner for fiddling fingers and mouths. The fabric is not only gentle and soft, but it is also durable, holding up to countless washes. The bumblebee attached plush has bold colors, making it visually appealing.
However, some may find this a little plain compared to others, and it is only 12 inches square, plus the 3-inch bee. But if you're looking for simple and adorable, this sweet little bee is the perfect find.
Our Ratings
---
Aden and Anais Muslin Security Blanket
Best for Summer
This blanket is a tiny sheet of 100% cotton muslin, making it more breathable due to the larger weave and allowing for better airflow. There are two machine-washable blankets in each set, and they fold easily for travel. The fabric is comfortable and cool — making it a good choice for the warmer months.
The child appeal isn't so great compared to all the other available blankets, as the design is pretty simple. But if you have a little one who loves their muslin swaddled and you don't want to have to drag a large blanket around with you for the next few years, these little squares are the perfect fix.
They are available in a variety of sweet animal prints and have a satin trim for toddlers' tactile sensory needs.
Our Ratings
What Is a Security Blanket?
You may still have your very own favorite teddy bear or doll from when you were a child. Although now it's a few decades old, has one eye, and is looking particularly sorry for itself. Why is Polly Dolly in such a state? Grandma's house, sleepovers, show-and-tell — you took her everywhere.
Even if you have no idea where Benny Bear is these days, you probably remember everything about him — how you got him at the emergency room after you fell and bumped your head and took him with you wherever you went from that day on. Benny Bear and Polly Dolly were basically a form of security blanket.
My eldest carried a pillowcase everywhere he went until he was almost three years old.
These days, blankets with soft toys attached are fan favorites among children in the same way we used our own bears, dolls, hats, or whatever the item was.
How to Choose the Best Baby Security Blanket
These are some considerations you should make when looking for a security blanket.
Texture: The material the blanket is made from matters. If your baby wants something to cuddle, it needs to be soft!
Age: Is the blanket suitable for your child's age? Or does it have little parts or pieces that aren't suitable for babies or young children?
Extras: Do you want a blanket with extra functions, such as a teether or rattle attached?
Multi-buy: Would a set of multiple blankets be better for you? If you're anything like me and lose bottles and pacifiers with every trip out of the house you take, then yes! Having an extra or two on hand is a necessity.
Child appeal: With different patterns and fabric textures, there is one to suit every child. The most popular blankets seem to have cute animal themes or soft toys attached to appeal to little ones.
Machine washable: Having a machine washable lovey will make your life so much easier. The idea behind a security blanket is that it becomes a figure of reassurance and attachment to infants. It will undoubtedly get dropped, spilled upon, and muddied, as your child will take their buddy wherever they go.
Durability: Longevity and strength are a must. The last thing you need is to have to try to replace your child's favorite blankie when they are particularly attached to it.
There are many styles of security blankets, but your choice will depend on what your child likes. You know your child better than anyone, so you know what item will be most comforting to them.
---
Thank You For Your Feedback!
Thank You For Your Feedback!