Teething toys are a lifesaver when your little one is suffering from the pain of cutting teeth. But you want to ensure that you find safe and comfortable toys for your baby to chew on to ease their pain and not make it worse.
Some teething toys are not soft enough or have rigid parts that can hurt and frustrate your baby. And some are poorly designed and don't reach those painful spots. You also want to ensure that your teething toys are not laden with harmful chemicals or BPA.
We've tested all the top brands to find the ten best teething toys for your little one. These teethers are both parent and baby approved and are sure to turn your baby's cries into gummy smiles.
Image
Model
Product Comparison Table
Features
Best Teething Rings
Bonbino Teether Rings
Dishwasher safe
Babies can hold them easily
Non-toxic, phthalate-free, BPA-free
Best Silicone Teether
Nuby Teethe-Eez
Inexpensive
Made entirely of soft, chewy silicone
Comes with a case
Best for Early Teethers
Baby Elefun Teethers
Multifarious textures
Passed all safety testing certification
Massages baby's gums
Best for Toddlers
Sili Chews Cell Phone Teether
Smooth, round edges
Heavy-duty teether
Perfect for baby's grip
Best Toy Animals
Sprinkles The Jellyfish
Soft cuddly body
Multiple textures
Eye-catching bright colors
Best Freezable Teether
Tinabless 4-Pack
FDA approved
Affordable and non-toxic
Freezer and dishwasher safe
Best Organic Teether
Farm Buddies Rattle
All-natural materials
Cute design
Soft for cuddling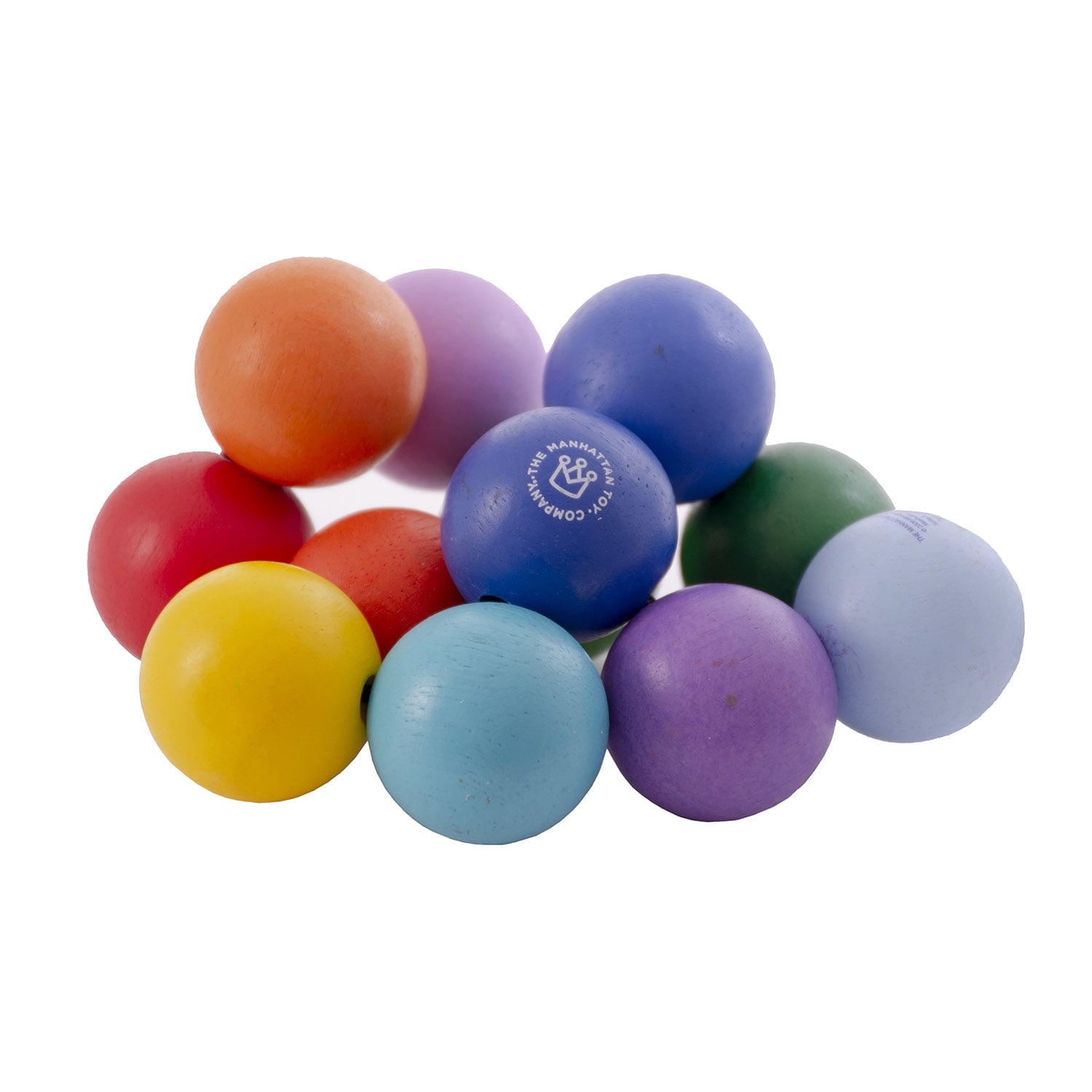 Best Wooden Teether
Manhattan Toy Beads
Award-winning grasping toy
Non-toxic & water based
Attractive bright colors
Best Nuby Teether
IcyBite Keys Teether
Affordable
Can be refrigerated
Different textures
Best Teething Set
Rattle Teether Set
Keeps baby entertained
Wide variety of shapes to choose
Comes with 9 toys
---
---
The Best Teething Toys of 2023
Here are the top teething toys on the market.
1. Bonbino Teether Rings 4-Pack
Best Teething Rings
Moms who like traditional teething rings should approve of this four-pack set. These teethers are non-toxic, phthalate-free, BPA-free, and they come in four bright colors.
Each silicone ring has several different textures so your baby can find a spot that feels good on their aching gums.
The ring shape, along with the texture, will help your baby get a firm grip. You can also slide them onto your wrist or your baby's wrist so you always have one on hand (no pun intended).
Pros
They're dishwasher safe for easy sanitizing.
Babies can hold onto them easily.
It comes with an e-book of remedies to help your baby with teething.
Cons
They may be too large to reach a small baby's back teeth.
Costly for four simple rings.
---
2. Nuby Silicone Teethe-eez Teething Toy
Best Silicone Teething Toy
This teether is made entirely of soft, chewy silicone. One end has flexible bristles that can help soothe your baby's sore gums. It also has different textured surfaces on the handle and the end of the teether so your baby can chew on either side of it.
It comes with a carrying case so you can keep it clean when it's not in use, making it easy to take it along in the diaper bag on trips.
Pros
It's inexpensive.
The small ring attached makes it easy for babies to grab onto.
It comes with a case so it won't get dirty when not in use.
Cons
If you have pets, their hair will stick to it like crazy.
It's a bit big for babies who are cutting their first teeth.
---
3. Baby Elefun Teethers Teething Toy
Best for Early Teethers (3-4 Months Old)
To entice your child into wanting to try these, they made it easy to hold and apetizing to look with its colorful hues.
That's why they're perfect for babies who are 3 and 4 months old, who are at that point where they're very interested in food. This helps develop fine motor and hand-eye coordination skills while at the same time helps soothe their gums.

Pros
Multifarious textures so your child won't get bored.
Passed all safety testing certification.
The teether has a textured surface to massage your baby's gums.
Cons
Wear and tear may be noticed.
Limited design.
---
4. Sili Chews Cell Phone Toddler Teething Toy
Best Teething Toy for Toddlers
Toddlers can be like teenagers — they both love to get their hands on a phone. Since this teething toy is made to look like a cell phone, toddlers will want to check it out. With a phone of their own, maybe they won't be as interested in yours.
This teether is also easy to clean — you just have to rinse it off.
The smooth, rounded edges won't be too sharp for your baby's mouth, and the phone is big enough that it'll fit well in your baby's hands.
Pros
It's easy for toddlers to hold.
The phone has ridges on it, so they can chew on the part that feels most comfortable.
It may be enough to get your toddler to leave your phone alone.
Cons
It's a bit pricey.
The simple design may not keep your toddler occupied for long.
---
5. Lamaze Sprinkles The Jellyfish Teething Toy
Best Teething Toy Animals
This is an adorable product that offers a lot more than just teething relief. It doubles as a cuddly, comforting toy that can go everywhere with your little one.
The tentacles on the jellyfish are soft teethers your baby should have fun chewing on, and its face will crinkle every time your baby grabs them.
When your baby shakes the toy, it creates a delightful sound. The jellyfish also has a clip that will keep it attached to your baby's stroller or diaper bag so it doesn't get dropped.
Pros
Soft, cuddly toy.
Multiple textures to keep your baby interested.
It has eye-catching bright colors.
Cons
Others thought that design and features could be improved.
Runs a bit small.
---
6. Tinabless 4-Pack Teething Toys
Best Freezable Teething Toy
You can stash this pack of four fruit-shaped teething toys in the freezer so your baby will feel the soothing chill whenever they chew on them.
Concerned about safety? These are FDA approved and made of food-grade silicone, plus they're free of phthalates, latex, BPA, lead, and PVC.
The fruit toys have various textures, so your baby will get a different sensation with each one. The handles also have a no-slip grip, making them easy to hang onto, even when they're covered in drool.
Pros
The various textures offer different sensations on your baby's gums.
They are affordable, considering you get four in the package.
They're safe in the freezer as well as the dishwasher.
Cons
The handles are very thin, making them tricky for younger children to hold.
---
7. Organic Farm Buddies Teething Rattle
Best Natural Teething Toy (Organic)
This charming rattle is made of 100 percent organic cotton, so you don't have to worry about your baby really tucking into it.
It also uses sustainable corn fiber filler, which is natural and hypoallergenic. These toys are safe for any age, and moms concerned about unnatural substances in their baby's toys will like that these are good for babies and good for the environment.
This cuddly toy can be used for comfort as well as pain relief.
Pros
Made of all-natural materials.
Cute-looking design comes in different animal characters like fox, cow, or koala.
It's soft for cuddling.
Cons
The rattle part is pretty quiet.
The handle is fairly big, making it difficult for a younger baby to grasp.
It doesn't hold up very well in the wash.
---
8. Manhattan Toy Wooden Beads Teether
Best Wooden Teething Toy
These giant wooden beads are connected by elastic.  Their bright colors make them visually appealing to babies and toddlers. And the non-toxic, water-based color doesn't pose any threat to your child.
The wood won't splinter or chip, and when your baby pulls on the beads or twist them around, they make a fun clanking noise.
Pros
These are big enough your baby wouldn't choke if the elastic breaks.
Made without toxic chemicals.
The bright colors are attractive for babies.
Cons
It's pretty heavy for younger babies.
The heavier design can be painful if babies accidentally hit themselves with the toy.
---
9. Nuby IcyBite Keys Teething Toy
Best Nuby Teething Toy
These cute keys come in bright colors and are all attached to a ring. There's a variety of different surfaces your baby will love gnashing on. The softer parts feel great when their gums are tender, but when they're trying to do the difficult work of cutting a tooth, they may go for the harder parts.
Your baby will be able to reach all their teeth due to the shape of the keys, and the ring is easy for young babies to hold.
You can stick this in the refrigerator for a while to give your baby an extra cooling effect.
Pros
They're affordable, so you can purchase one set for home and another for the diaper bag.
Can be refrigerated.
The different textures will feel nice on your baby's gums.
Cons
It's possible for the teether to be punctured and leak fluid.
Because of all the nooks and crannies, the keys can be hard to clean thoroughly.
---
10. WishTime Rattle Teething Toy Set
Best Teething Toy Set
This fantastic set comes with nine teethers and rattles for your baby to enjoy. The variety of colors will help attract your baby's attention.
The ABS plastic is non-toxic and BPA-free. The set also comes in a cute baby bottle carrying case, so when your baby gets a little older, they can have fun putting the toys in the case and dumping them out again.
The case also makes this set portable, so it's great to take with you on vacation or to a babysitter's house.
Pros
Some of the toys make noise, which will keep your baby entertained.
A wide variety of shapes to choose from.
You'll get a lot of toys for the price.
Cons
The edges are a little rough.
Some parents may find the horn toy's noise to be loud.
When Should I Give My Baby Teething Toys?
Most babies will get their first tooth when they're 4 to 6 months old (1), but teething pain can start weeks before that.
Take Note
A good rule of thumb is to have teething toys available when your baby is about 2 months old. Aim to have about five different teething toys on hand for your baby to choose from.
How to Choose Teething Toys for Baby
With such a wide variety of teething toys available, you need to put some thought into what you want or you'll be overwhelmed. Here are some factors to consider to help you narrow your search.
---
The Bottom Line
The 4-pack of teether rings is our top pick as the best teething toy. They're simple, but we like that about them. They are everything we want in a teether — easy to hold, easy to chew on, non-toxic, and they have a variety of textures.
We also like that they aren't filled with any liquid or gel that can eventually leak, and you can pop them in the dishwasher for easy cleaning.
Thank You For Your Feedback!
Thank You For Your Feedback!