Most toddlers love to mimic their parents' actions, so if you have a stroller for your toddler, they'll likely want to have a baby doll stroller for their own "babies."
To make your search a little easier, we've done all the hard work and and found all of the best baby doll strollers. All the products on our list are safety-tested, toxin-free, and of course, adorable.
Image
Model
Product Comparison Table
Features
Best Umbrella
My First Umbrella
Mixed fabric
With seat belt
Super easy to fold and store
For Baby's First Steps
Fisher-Price Walker
Sturdy
Encourages early role play
Easy-grasp handle
Stylish & Foldable
Hushlily® Double Stroller
Top quality
Compliant with safety standards
Easy to assemble
For The Whole Doll Family
Badger Basket Doll Pram
Pretty in pink polka
Fits a 22-inch doll
Safe fabric
Zig-Zag Dolly Ride
Adora Doll Zig Zag
Gender-neutral zig zag design
Safety tested and non-toxic
Hypoallergenic
Rollin' With A Pram
Exquisite Buggy Pram
Eye-catching design
Heavy-duty & adjustable handle
Safety child lock
Simple And Sweet
The New York Doll
Safe & secure travel system
Easy storage
Fits up to 18" dolls
Polka Dots for Princess
Precious Toys Foldable
Tested for USA safety regulation
Solid and smooth wheels
High quality metal & fabric
It's Twin Time
Babyboo Deluxe Twin
Adjustable handle
Fully assembled
Attractive design
For Little Joggers
Precious Toys Jogger
Super easy to fold and store
Lead free
Durable
---
---
The Best Baby Doll Strollers of 2022
Here are 13 great baby doll strollers for you to consider.
1. My First Umbrella Doll Stroller
Best Umbrella Doll Stroller
The design of an umbrella stroller is meant to be lightweight and compact. So to mimic mommy's, this look-a-like is perfect for older toddlers and preschoolers, aged 3+. This stroller is simple to figure out as it comes fully assembled.
Complete with a little seat belt for dolly, it's made out of a soft fabric and has a strong metal frame. It also has double wheels for stability. When you need to transport or store it, quickly fold it and you're good to go.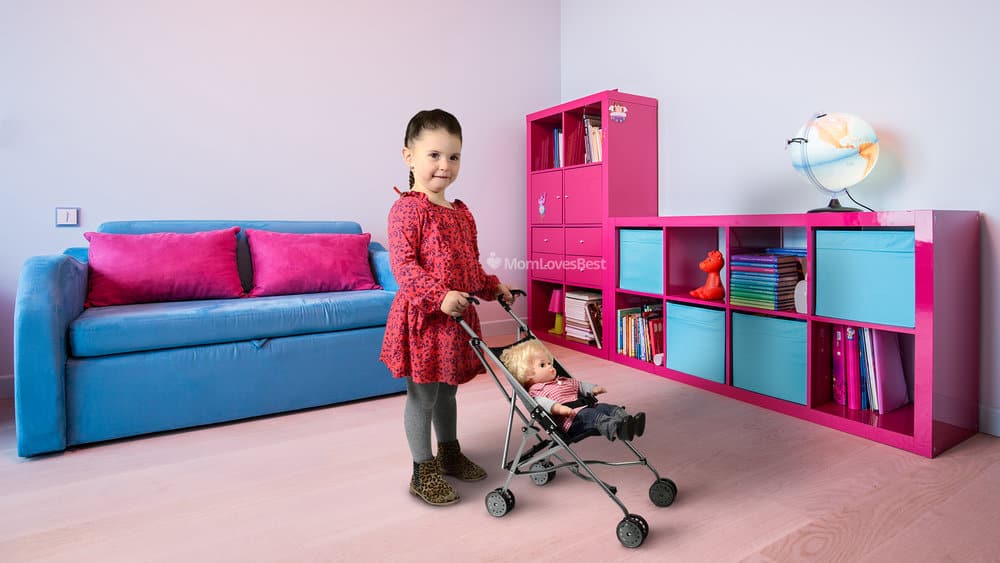 ---
2. Fisher-Price Stroll-Along Walker
For Baby's First Steps
This sturdy, two-in-one walker/stroller from Fisher-Price might just be the perfect walking assistant for the youngest family member. It's suitable for babies aged 9 months and up.
It features music as your baby pushes along, with several fun accessories to help encourage your little one to walk. Make sure your little one does not use this near any stairs. When your baby gets tired, they can simply plop down and enjoy the activities attached to the handlebar.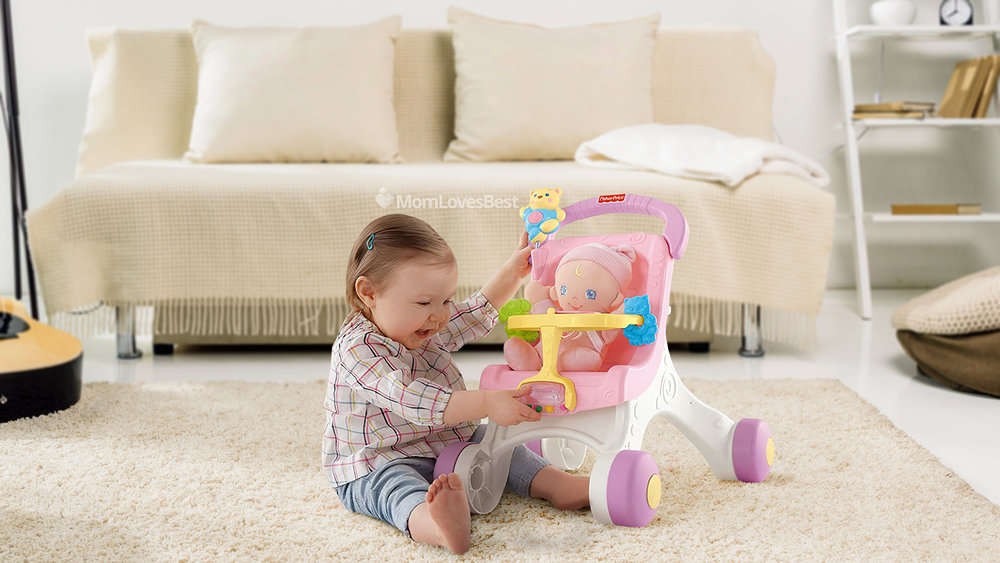 ---
3. Hushlily® Tandem Double Doll Stroller
Stylish Foldable Doll Stroller
This chic stroller can be folded so your child can take it anywhere. It's made from high-quality material. It has a neutral gender design and is has passed both US and EU standards for safety.
At 24.8 inches high, it's a good height for children from ages 2 to 8 years. The stroller is easy to navigate, with the help of the non-skid wheels, and there's plenty of storage room in the basket.
---
4. Badger Basket Just Like Mommy 3-in-1 Doll Pram and Stroller
For the Whole Doll Family
Your baby girl who adores doll and the shade of pink will find this toy a perfect match. More functional and great capacity toy wagon, your little one will enjoy taking their favorite stuffed animals for a quick spin.
It looks similar to a regular stroller, and there's room for loads of toys. It has a comfortable handle and is a good size for preschoolers. Furthermore, the stroller seat is adjustable allowing several recline positions for the dolly fella. It is recommended for children aged 3 and up. The only downside is that it requires your need to assemble the item. Don't worry as it won't eat much of your time though.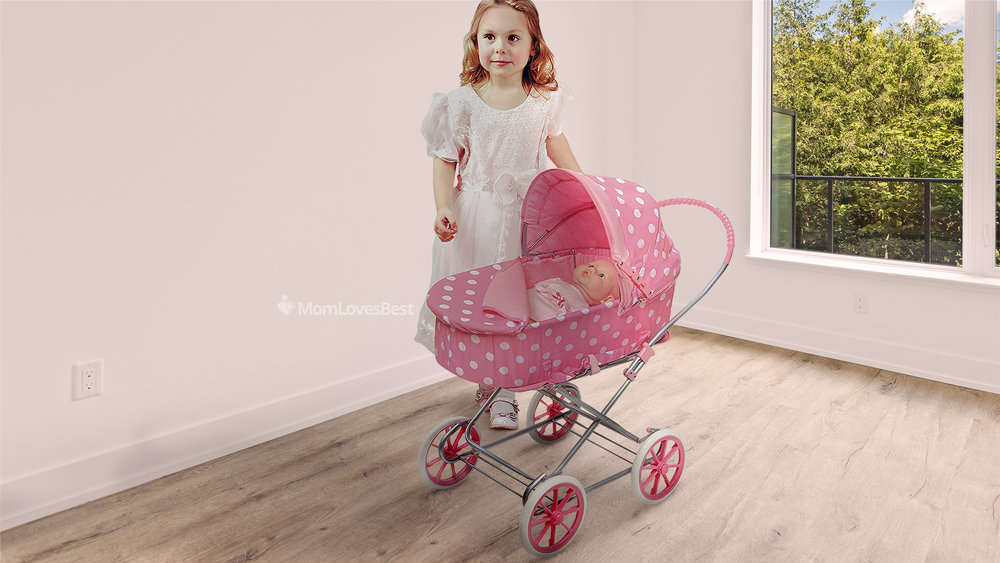 ---
5. Adora Doll Zig Zag Stroller
Zig-Zag Dolly Ride
This baby doll stroller features a super cute gray and white zig-zag design with a pretty mint border — great gender-neutral colors. It's an umbrella stroller so it's easy to fold and unfold.
The stroller can fit large dolls or stuffed animals up to 18 inches and is suitable for age 2 years and over. Last but not least, matching items are available, including a feeding chair and baby carrier, so your little one will be rocking in style.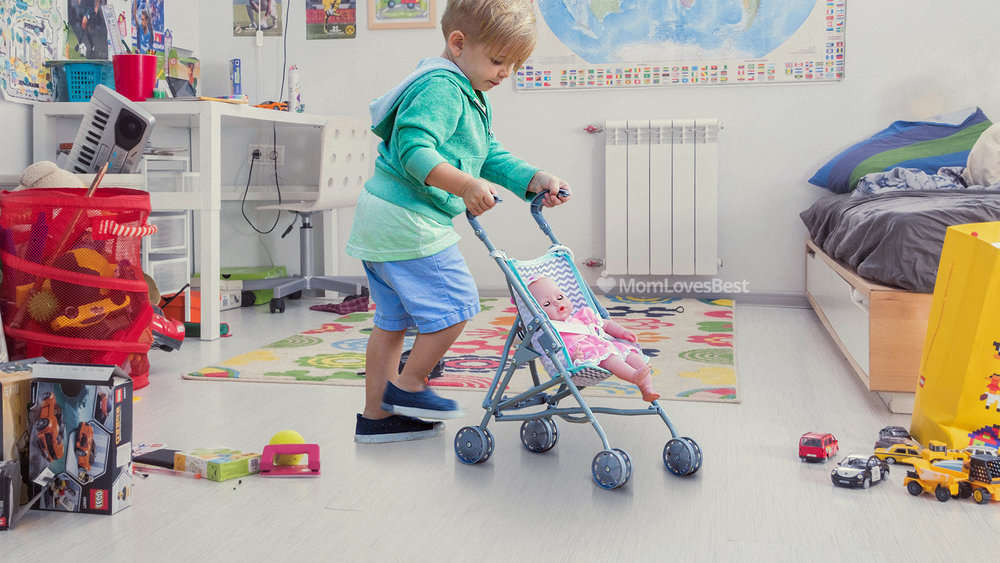 ---
6. Exquisite Buggy Doll Pram Stroller
Rollin' with a Pram
First class, this pram is a classic design and comes complete with a basket, two "magic" bottles, and the option to be used in stroller mode.
The height-adjustable handle (up to 21.5 inches) is rugged and comfortable to hold, making it excellent for children aged 3 and up. The handle can be moved from front to back, too. It can be folded for storage.
---
7. The New York Doll Stroller
Simple and Sweet
From the New York Doll collection, this lightweight stroller may be just what your toddler wants. This simple stroller, in bright pink with white hearts, is suitable for ages 2 to 4 years.
It features a foldable hood, basket, and seat belt. It also has double wheels to keep it stable, even in the hands of a wild tot. The stroller is easy to fold and can be stored completely flat.
---
8. Precious Toys Foldable Doll Stroller
Polka Dots for Your Princess
This cute baby doll stroller is super pink and girly, perfect for a little toddler princess. It has a foldable hood, basket in the bottom, and a seat belt to keep the doll in place. When your girl is ready to play, this design will keep her occupied for hours.
The stroller is easy to push around with its three solid pink wheels. Fold or unfold it easily for transport or storage. It's about the right size for 2 to 5-year-olds.
---
9. Babyboo Deluxe Twin Doll Stroller
It's Twin Time
If your daughter has taken on the huge task of raising twin dolls, she will need the right equipment. Finished in a fun gumball theme with matching carry bag, this piece can be used as a stroller or a pram. It's great for children aged 3 and up, with an adjustable handle height.
There's lots of room for extra toys or accessories in the basket underneath. The handle can be reversed so the twin dolls can face either "momma" or the street. Each seat has belts and the stroller is lead-free.
---
10. Precious Toys Jogger Doll Stroller
For Little Joggers
For a brisk walk in the park, your child needs a stroller that can keep up. The compact frame and three wheels make it lightweight, easy to maneuver, and perfect for children between 2 and 5 years old.
It has a foldable hood, and the whole stroller can be folded flat for easy storage. With its hot pink and contrasting black colors, your little one will be feeling cool in no time.
---
11. Badger Basket 3-in-1 Stroller
Three-in-One
This 3-in-1 stroller can be transformed into a pram, carrier or regular stroller. Lots of opportunities for imaginative play. This classic style has a 26-inch handle height and fits up to 22-inch dolls. You can choose from several different colors and patterns.
The soft rubber grip on the handle makes it comfortable for your child to push around. Complete with a seat belt, this little number may remind you of the old movies, though fashion does seem to come back around. For children aged 3 and up.
---
12. Fash n Kolor Foldable Pram
Funky Functionality
This stunning-looking stroller, in contrasting hot pink and white polka colors, is made to grow with your child. Suitable for children aged 3 years and up, the handle height adjusts from 17 inches to 24 inches.
The stroller can be folded compactly and has three varying designs but all in the shade of pink. It comes with a diaper bag, and there's a large basket underneath, too.
---
13. Mommy & Me My First Baby Doll Stroller
Just Like Mommy's
What could be better than being able to look just like mommy? With this stroller, your toddler will be able to effortlessly transport her favorite doll around. It has swivel wheels to make it even easier to navigate.
The stroller seat can fit up to a 16-inch doll. It comes fully assembled but it can also be a breeze for kids to fold. It looks and feels like a real-life stroller as it has a hood, storage basket underneath, and seat belt. It should be good from 3 years and above.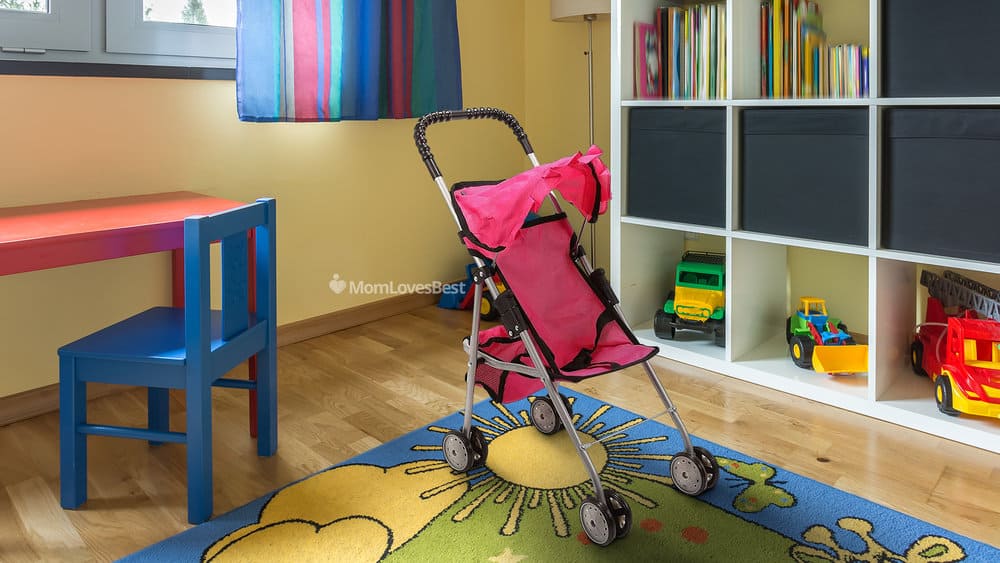 The Importance of Encouraging a Nurturing Child
Toys such as dolls, strollers, carriers, and prams are meant to help your child role-play as a caregiver. They can help introduce important traits, such as empathy (1).
You might have a new baby at home and your older child wants to care for their doll the same way. As they play, they might feed the doll, change it, walk with the stroller — things they see us do as parents (2).
They may pretend that the doll is happy, sad, hungry, tired, and care for it accordingly. By doing this, they expand their imagination. And the best part is that it teaches them to care for others, which will only benefit them as they grow.
How to Choose a Baby Doll Stroller
Let's take a closer look at some of the things we considered while researching the best baby doll strollers out there.
---
In Summary
Playing with dolls or stuffed animals is a great way to teach children how to care for others. Baby doll strollers will only make the play more fun as it becomes more realistic. Just remember to always create a safe environment for your child by always observing them when playing with the stroller.
Thank You For Your Feedback!
Thank You For Your Feedback!