Shopping for a baby doll stroller is like shopping for a stroller for your own baby. You can find them anywhere, but not all are safe, easy to use, or built to last.
We don't want toys that will frustrate our kids and never get used, and we're sure you feel the same way. So to make the search a little easier for everyone, we spent hours comparing all the features of dozens of tiny strollers. We've reviewed our toddler-approved favorites here for you.
Our list of the best baby doll strollers only includes items that are safety-tested, toxin-free, and of course, adorable. Read on to find the perfect frustration-free stroller for all your little one's favorite toys.
Image
Model
Product Comparison Table
Features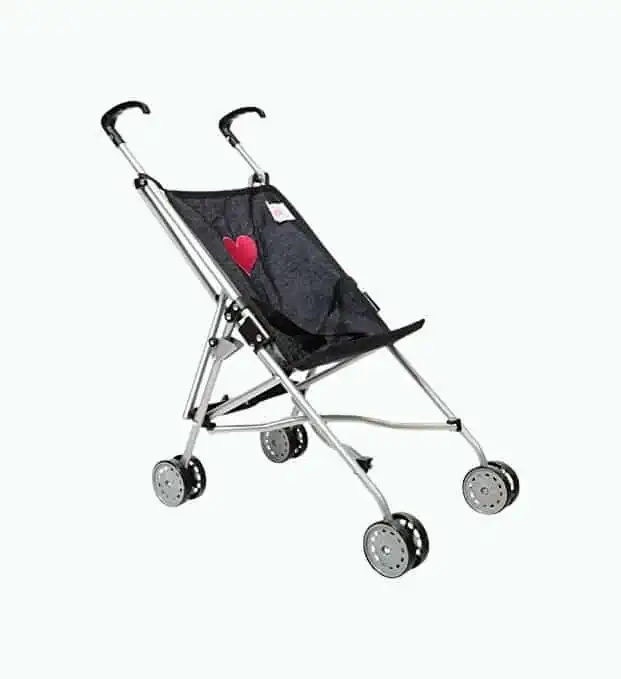 Best Umbrella
My First Umbrella
Mixed fabric
With seat belt
Super easy to fold and store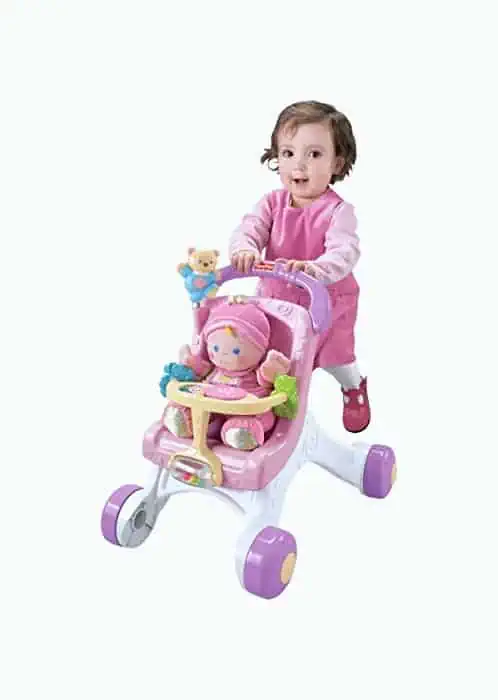 For Baby's First Steps
Fisher-Price Walker
Sturdy
Encourages early role play
Easy-grasp handle
Best Foldable Option
Hushlily Double Stroller
Top quality
Compliant with safety standards
Easy to assemble
For The Whole Doll Family
Badger Basket Doll Pram
Pretty design
Fits a 22-inch doll
Safe fabric
Best Budget Pick
Adora Doll Zig Zag
Gender-neutral zig-zag design
Safety tested and non-toxic
Hypoallergenic
Best Three-Wheeler
Exquisite Buggy Pram
Eye-catching design
Heavy-duty & adjustable handle
Safety child lock
Best for Storage
The New York Doll
Safe & secure travel system
Easy storage
Fits up to 18" dolls
Best for Fashionistas
Precious Toys Foldable
Tested for USA safety regulation
Solid and smooth wheels
High quality metal & fabric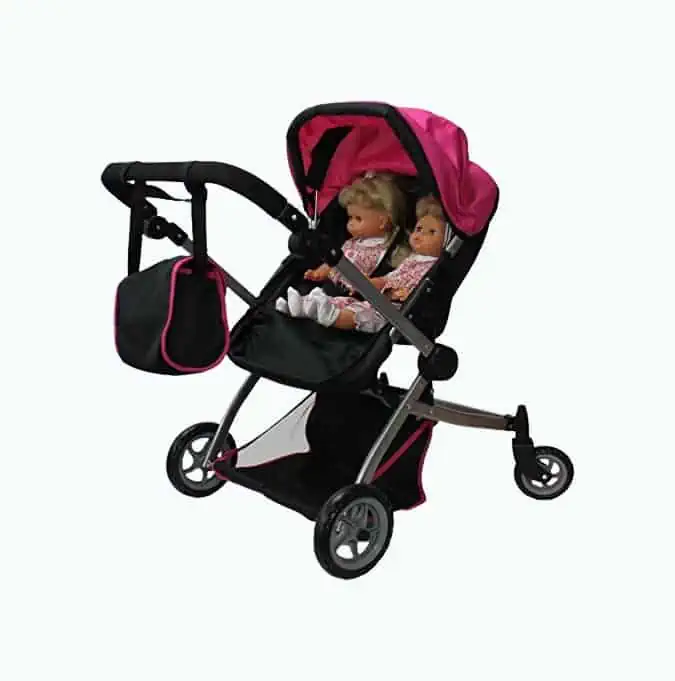 Best for Double Duty
Babyboo Deluxe Twin
Adjustable handle
Fully assembled
Attractive design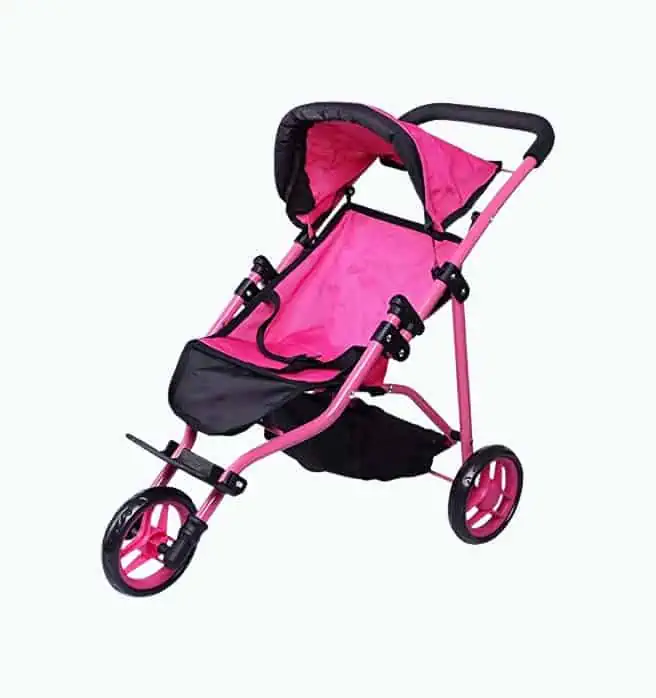 Best for Little Joggers
Precious Toys Jogger
Super easy to fold and store
Lead free
Durable
Review Methodology: At Mom Loves Best, we prioritize your trust by providing thorough research, hands-on experience, and data-driven analysis when evaluating the best baby doll strollers. Our team of professionals compares various products using criteria such as design, performance, user-friendliness, and safety features to ensure we deliver accurate and reliable information. Through our assessment, we identify key decision-making factors and rate each product according to those factors. We also share first-hand evidence to highlight what sets a product apart from its competitors. Our comprehensive review covers important aspects such as stroller size, durability, age appropriateness, wheel quality, and additional accessories to help you make the best choice for your child. Trust our expertise at Mom Loves Best to guide you in finding the perfect baby doll stroller for your little one.
---
---
The Best Baby Doll Strollers of 2023
Here are 13 of our favorite baby doll strollers for you to consider.
My First Umbrella Doll Stroller
Best Umbrella Doll Stroller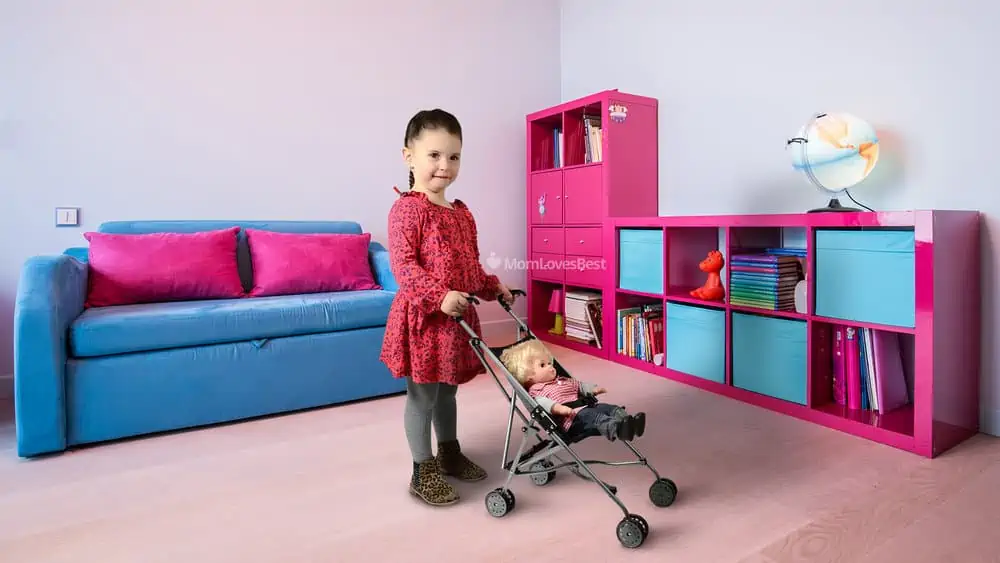 The design of an umbrella stroller is meant to be lightweight and compact. This look-a-like umbrella stroller is just like Mommy's — perfect for older toddlers and preschoolers aged 3 and up who want to be just like you. This stroller is simple to figure out as it comes fully assembled.
It comes complete with a little seat belt for your dolly. It's made of a soft fabric and has a strong metal frame. It also has double wheels for stability. When you need to transport or store it, you can quickly fold it up and you're good to go.
Community Feedback
As a parent of a preschooler, I found this umbrella stroller to be perfect for my child's imaginative play. The lightweight and compact design, complete with a seat belt for their dolls, made it easy for my little one to use and enjoy. The soft fabric and sturdy metal frame with double wheels provided stability and durability. Plus, the stroller's foldable feature made transportation and storage a breeze.
---
Fisher-Price Stroll-Along Walker
Best for Baby's First Steps
This sturdy, two-in-one walker/stroller from Fisher-Price might just be the perfect walking assistant for the youngest family member. It's suitable for babies aged 9 months and up.
It features music as your baby pushes along, with several fun accessories to help encourage your little one to walk. However, you'll need to ensure your child does not use this near any stairs. When your baby gets tired, they can simply plop down and enjoy the activities attached, including a spinning rattle, cat and dog toys, and a flip book.
Community Feedback
From the moment I introduced this Fisher-Price walker/stroller to my little one, it quickly became a favorite in our household. Perfectly designed for babies aged 9 months and up, this two-in-one walking assistant not only helps encourage walking with its fun music and accessories, but also keeps my baby entertained when they're tired of walking. I particularly appreciate the attached activities, such as the spinning rattle, cat and dog toys, and flip book. However, it's essential to keep a watchful eye on your child when using this walker near stairs.
---
Hushlily Tandem Double Doll Stroller
Best Foldable Doll Stroller
This chic stroller folds so much better than any double stroller I've ever owned. This makes it easy for kids to take it anywhere they go. It's made from high-quality materials and has a gender-neutral design. It has passed both U.S. and EU safety standards, so you don't need to worry about chemicals or other risks.
At 24.8 inches high, it's a good height for children from ages 2 to 8 years. The stroller is easy to navigate with the help of the non-skid wheels, and there's plenty of storage room in the basket, which is great as double the babies require double the supplies.
Community Feedback
This double stroller is incredibly easy to fold and convenient to take on-the-go, making it a standout among other double strollers I've used. The high-quality, gender-neutral design is safe, meeting both U.S. and EU safety standards, and perfect for kids aged 2 to 8 years. I appreciate the non-skid wheels that make it effortless to navigate and the ample storage space in the basket for all the supplies needed for two little ones.
---
Badger Basket 3-in-1 Doll Pram and Stroller
Best for the Whole Doll Family
If your baby adores her dolls and the color pink, this toy could be the perfect match. This sweet carriage has almost as much space as a toy wagon, and your little one will enjoy taking their favorite stuffed animals or doll family for a quick spin.
It looks similar to a regular bassinet-style stroller. It has a comfortable handle and is a good size for preschoolers. Furthermore, the stroller seat is adjustable, allowing several recline positions for its inhabitants, whether they're asleep or awake. It is recommended for children aged 3 and up.
You can also purchase this stroller in several other colors, including a neutral navy shade that some boys may prefer over the pink designs.
The only downside is that you have to assemble the unit yourself, but for most people, this takes 20 minutes or less.
Community Feedback
Great for doll-loving kids, this toy carriage offers ample space for their favorite stuffed animals or doll family to enjoy a fun ride. With its adjustable stroller seat, it provides multiple recline positions for both sleepy and awake passengers. This carriage is designed for children aged 3 and up, and is available in various colors, including a neutral navy shade. Keep in mind, assembly is required, but it typically takes less than 20 minutes to put together.
---
Adora Doll Zig Zag Stroller
Best Budget Pick
This baby doll stroller features a super cute gray and white zig-zag design with a pretty mint border — great gender-neutral colors. It's an umbrella stroller, so it's easy to fold and unfold. And it's a really affordable option, which is great if you're on a budget or if you're uncertain how much your little one will use it.
The stroller can fit large dolls or stuffed animals up to 18 inches and is suitable for ages 2 years and over. You can purchase matching items, including a feeding chair and baby carrier, so your little one will be rocking in style.
Community Feedback
In my experience, this baby doll stroller is not only adorable with its gender-neutral gray and white zig-zag design, but also incredibly practical as an umbrella stroller that's easy to fold and unfold. I appreciate its affordability, especially when unsure how much my little one would use it, and the fact that it can accommodate large dolls or stuffed animals up to 18 inches. Additionally, the availability of matching items like a feeding chair and baby carrier allows for a stylish and cohesive playtime experience.
---
Exquisite Buggy Doll Pram Stroller
Best Three-Wheeler
This pram is a first-class classic design and comes with a basket, two "magic" bottles, and the option to be used in stroller mode.
The height-adjustable handle (up to 21.5 inches) is rugged and comfortable to hold, making it excellent for children aged 3 and up. You can also move the handle from front to back and fold the stroller easily for storage.
Community Feedback
This doll stroller has been a hit with my two-year-old daughter who enjoys pushing her dolls around and feeding them in it. The quality is impressive, and it even has a convenient basket underneath, which many play strollers lack. Assembly was straightforward, although attaching the fabric seat was a bit challenging due to its tight fit. Surprisingly, the stroller can even hold the weight of a toddler without any issues. While it may not be the sturdiest option, it's perfect for a small toddler to play with and is foldable for easy storage.
---
The New York Doll Stroller
Best for Storage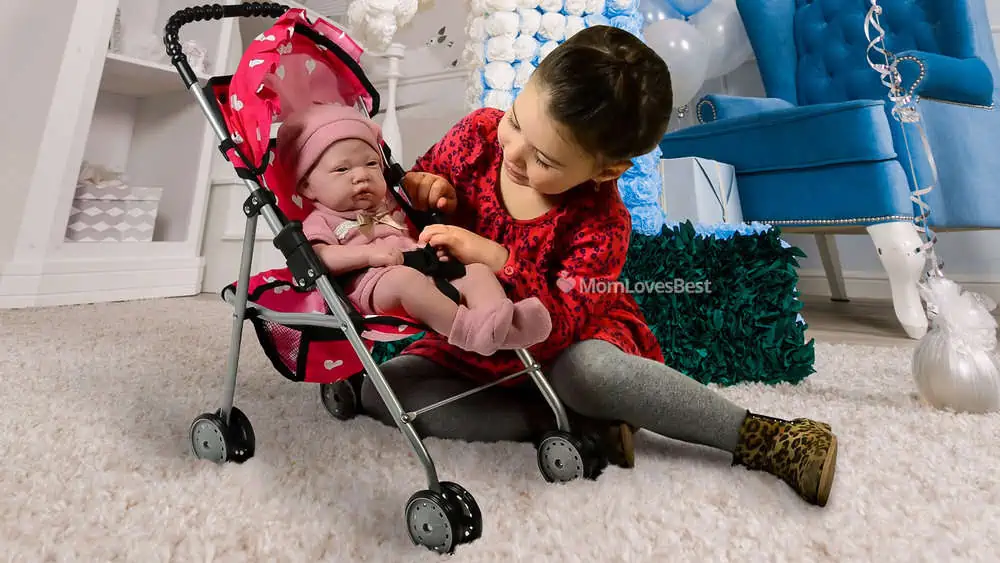 This lightweight stroller from the New York collection may be just what your toddler wants. This simple stroller, in bright pink with white hearts, is suitable for ages 2 to 4 years.
It features a foldable hood, a basket, and a seat belt. It also has double wheels to keep it stable, even in the hands of a wild tot. The stroller is easy to fold and can be stored completely flat.
You can also purchase this sweet stroller in a gender-neutral denim color, a vintage red-and-white flower design, or a soft quilted pink.
Community Feedback
My experience with this stroller has been mostly positive, as it is well-made and came assembled, making it easy to set up with minimal effort. The material pattern is attractive, and it's a great size for my 3-year-old niece who can easily push it around. However, the stroller is a bit small for older children who may have to hunch over while using it, and the closure on the straps can be challenging for young kids to operate at first. While it is sturdy enough to withstand minor bumps and occasional dragging, it did get slightly bent after some use.
---
Precious Toys Foldable Doll Stroller
Best for Fashionistas
This cute baby doll stroller has a trendy pink polka-dot print, perfect for your little fashionista. It has a foldable hood, a bottom basket, and a seat belt to keep the doll in place. When your little one is ready to play, this design will keep them occupied for hours.
The stroller is easy to push around with its three solid pink wheels. Fold or unfold it easily for transport or storage. It's about the right size for children ages 2 to 5.
Community Feedback
Love this toy stroller for its durability and appeal to kids of various ages. I initially bought it for my granddaughter, and she was thrilled to put her dolls in it and show it off everywhere we went. This stroller even held up well when my nieces, who weigh around 30-45lbs, decided to sit in it and play. It's easy to assemble and quite sturdy for the price, although it may not be suitable for kids older than 3 or 4 years. The only downside is that the front wheel doesn't turn, but it's still easy to maneuver on different surfaces.
---
Babyboo Deluxe Twin Doll Stroller
Best for Double Duty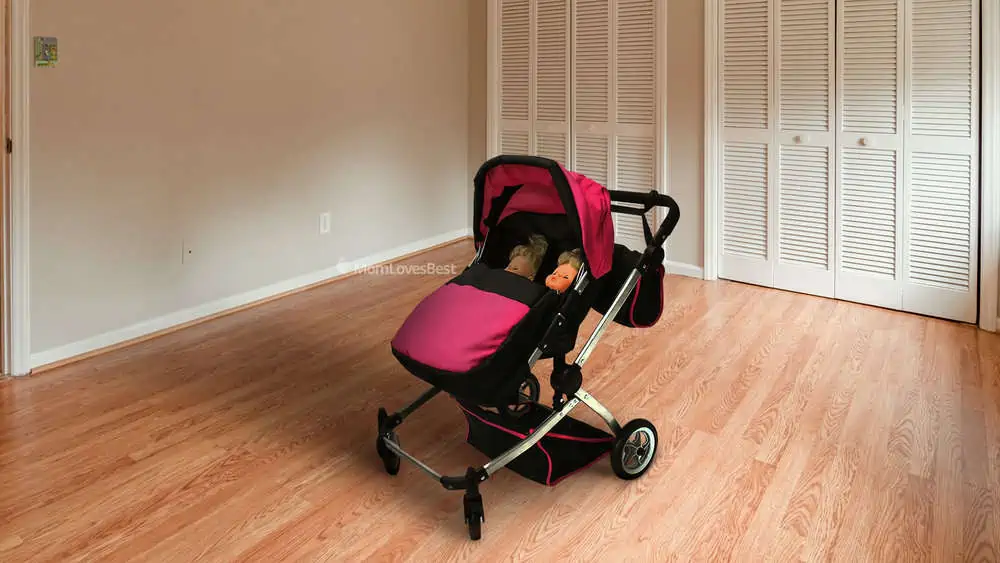 If your child has taken on the huge task of raising twin dolls, they will need the right equipment. The stroller comes with a matching carry bag and can be used as a stroller when upright or a pram when reclined. It's great for children aged 3 and up and has an adjustable handle height.
There's lots of room for extra toys or accessories in the basket underneath. You can reverse the handle so the twin dolls can face your child or the street. Each seat has belts, and the stroller is lead-free.
Community Feedback
Love this side-by-side stroller for my daughter's dolls; the adjustable handlebar and swivel wheels make it easy to maneuver. However, the handlebar can be difficult for her to adjust herself, and the stroller's fabric and stitching could be better quality. Despite minor flaws, it's still a sturdy and well-made stroller that my daughter enjoys using.
---
Precious Toys Jogger Doll Stroller
Best for Little Joggers
For a brisk walk in the park, your child needs a stroller that can keep up. The compact frame and three wheels make this one lightweight, easy to maneuver, and perfect for children between 2 and 5 years old.
It has a foldable hood, and your little one can fold the whole stroller flat for easy storage. With its hot pink and contrasting black, your little one will be feeling cool in no time.
Community Feedback
When I first purchased this toy stroller for my granddaughter, she immediately fell in love with it and enjoyed showing it off. This stroller has proven to be incredibly durable, even holding up when my nieces, who weigh between 30-45lbs, play with it. However, the front wheel doesn't turn, making maneuvering a bit challenging, and it tends to tip over easily for younger toddlers. Despite these minor issues, the toy stroller remains a great, affordable option for children up to the age of 3 or 4.
---
Badger Basket 3-in-1 Stroller
Best Three-in-One
This 3-in-1 stroller can be transformed into a pram, carrier, or regular stroller. Lots of opportunities for imaginative play. This classic style has a 26-inch handle height and fits up to 22-inch dolls. You can choose from several different colors and patterns.
The soft rubber grip on the handle makes it comfortable for your child to push around. Complete with a seat belt, this little number may remind you of the old movies, though fashion does seem to come back around. For children aged 3 and up.
Community Feedback
My experience with this baby doll stroller has been quite positive overall, as it easily accommodates my granddaughter's dolls and is simple to assemble. The dark color is practical for hiding any dirt or marks that kids inevitably make, and the sturdier material makes it easy to wipe down. However, I believe a bottom basket could have been included, as it would provide additional storage and enhance its stability.
---
Fash n Kolor Foldable Pram
Best for Functionality
This stunning-looking stroller, in contrasting hot pink and white polka colors, is made to grow with your child. Suitable for children aged 3 years and up, the handle height adjusts from 17 inches to 24 inches.
You can fold the stroller to be nice and compact, and it comes in three varying designs, all in shades of pink. Our little ones love the matching diaper bag, and there's a large basket underneath, too.
Community Feedback
Great gift for my granddaughter who loves playing with dolls. This doll stroller was easy to assemble and can be converted between a flat/lay down style to an upright style with just a few snaps. The adjustable handle is a nice feature, but it might be a bit small for taller kids. Despite a minor assembly issue with the u-bar at the feet end, the stroller is sturdy and good quality.
---
Mommy & Me My First Baby Doll Stroller
Just Like Mommy's
What could be better than being able to look just like mommy? With this stroller, your toddler will be able to transport their favorite doll around effortlessly. It has swivel wheels to make it even easier to navigate.
The stroller seat can fit up to a 16-inch doll. It comes fully assembled, but it's also a breeze for kids to fold. It looks and feels like a real-life stroller as it has a hood, storage basket underneath, and seat belt. It should be good for children 3 years and older.
Community Feedback
For my daughter's second birthday, I decided to gift her this doll stroller, and she instantly fell in love with it. The darker pink color and simple wheel movement make it perfect for little ones learning to play with dolls. This stroller comes with a storage pouch in the back for her doll's accessories and a canopy that can be easily adjusted. Although the seatbelt is a bit tricky for younger children to figure out, it hasn't caused any real issues.
The Importance of Encouraging a Nurturing Child
Toys such as dolls, strollers, carriers, and dollhouses are meant to help your child role-play as a caregiver. They can help introduce essential traits, such as empathy (1).
You might have a new baby at home and your older child wants to care for their doll the same way. As they play, they might feed the doll, change it, and walk with the stroller — things they see us do as parents (2).
They may pretend that the doll is happy, sad, hungry, or tired and care for it accordingly. By doing this, they expand their imagination. And the best part is that it teaches them to care for others, which will only benefit them as they grow.
How to Choose a Baby Doll Stroller
Let's take a closer look at some of the things we considered while researching the best baby doll strollers.
---
Thank You For Your Feedback!
Thank You For Your Feedback!