If your kids are getting too big for their stroller but still can't handle long outings on their feet, the wagon is the perfect solution. Unfortunately, I learned the hard way that not all wagons are worth their weight in gold — and some weigh a LOT more than others!
Having learned my lesson the hard way, I made a list of everything I wanted in a wagon — and what I should avoid. With list in hand, I read hundreds of product descriptions, specs, and reviews to find the best kids wagons on the market. These wagons have good-quality wheels and are spacious, easy to transport, easy to pull, and comfortable for your little one.
I'm sharing my list with you, so you can avoid the struggle and enjoy many outings with your almost-independent explorer.
Image
Model
Product Comparison Table
Features
Best All-Terrain
Radio Flyer All-Terrain
UV protection canopy
Seatbelts for added safety
Tires works on many different surfaces
Best Folding Wagon
Mac Sports Collapsible Wagon
Portable and convenient
All-terrain tires
150 pound capacity
Best Baby Wagon
Radio Flyer Classic
Resist push feature
Natural solid wood body
Furniture friendly bumper
Best Toddler Wagon
Radio Flyer My 1st
4-wheeled stable base
Durable rolling wheels
Extra large storage space
Best Wagon for Big Kids
Keenz 7S Stroller Wagon
Attractive color
2 five-point harnesses
Multi-purpose
Best for Twins
Step2 Wagon
Safety belts included
Easy to assemble
Grows with your child
Best for Big Kids
Berlin Flyer Wagon
300 lb. capacity
No-tip steering
Non-toxic painted hardwood
Best With Canopy
Step2 Canopy Wagon
Spacious wagon interior
Rear wagon storage
Easy transport
Best Beach Wagon
Creative Outdoor
Fits in most car trunks
Open in 3 easy steps
120-pound weight capacity
Best Wagon With Cup Holders
MacSports Classic Wagon
Handles up to 150 pounds
Easy to transport
Folds up to 5.5 inches thick
---
---
The Best Kids Wagons of 2023
Here are 10 great kids wagons to consider.
Radio Flyer Deluxe All-Terrain Family Wagon
Best All-Terrain Wagon
As always, the Radio Flyer really delivers with this all-terrain wagon. It has five seating and storage options, with seat belts and a canopy to shade your kids from the sun. You can also convert it to a flatbed, and it has covered storage spaces when a seat is folded.
There are also four cup holders for water bottles and drinks. It measures 41.5 inches by 18.5 inches by 40 inches and weighs 27.35 pounds. The Dura-Tred all-terrain tires help give a quiet and comfortable ride and maneuverability.
This wagon is a snip to pull around and steers easily. The pulling handle is comfortable to hold and long enough that you won't get a backache from bending to pull the wagon.
Pros
Includes seat belts for safety.
Seats can fold flat to be used as a sleeping area or for diaper changing.
Tires work well on many different surfaces.
Cons
The canopy fixings aren't very strong, making the canopy unstable.
Our Ratings
---
Mac Sports Collapsible Folding Outdoor Utility Wagon
Best Folding Wagon
Mac Sports brings us a durable, collapsible wagon for kids. It can also double as a utility wagon for tailgating, picnics, camping, working in the yard, or going to fairs.
It has a 150-pound capacity when opened, but it still folds to a mere eighth of its original size. This makes it easy to store in the back of a cupboard, and it won't fill your trunk when you put it in the car.
It's also lightweight, at about 22.5 pounds. This makes it easy to pack away and carry when not in use.
The wagon comes fully assembled; simply open and go. This is great if you hate the hassle of putting things together when they arrive.
Wide base rubber wheels are great for stability and coping with different terrains. The front wheels also swivel, making steering a breeze. You can load your wagon with the kids, their toys, and the picnic and not worry about it tipping.
Pros
Collapses for easy storage.
Available in several colors.
Handle locks in an upright position, avoiding trip hazards.
Cons
No seat belts for kids.
Might not work as well on sand or soft surfaces.
Our Ratings
---
Radio Flyer Classic Walker Wagon
Best Baby Wagon
Push toys are great for little ones finding their feet. This classic infant wagon from Radio Flyer has a push-resistant feature to adjust the speed, making it ideal for budding walkers. It's suitable for children from 12 months to 4 years old.
With a 35-pound capacity, it measures 22.44 inches by 14.57 inches by 17.13 inches. There is plenty of room for little ones to store toys to push around the home or take for a walk in the yard. Made from wood, this sturdy wagon has detachable sidebars.
Worried about your little one crashing into the furniture and damaging it? Radio Flyer has you covered with a bumper on the front to prevent knocks. If you have more than one child, they'll enjoy pushing each other around in this wagon.
Pros
Sturdy for little ones to pull themselves up.
Good for storing toys.
Easy to assemble.
Cons
Some moms said the "push resistant" feature doesn't work well and makes a clicking noise.
Our Ratings
---
Radio Flyer My 1st Wagon
Best Toddler Wagon
Radio Flyer makes our top picks again, which is no surprise, as the company produces some great wagons. You can use this two-in-one wagon with the handle locked as a push toy to help a toddler walk. It converts to a pull wagon when your little one grows a bit more confident.
It comes in the standard Radio Flyer classic red and can carry up to a 35-pound load. It measures 19.3 inches by 11.8 inches by 18.5 inches and is suitable for children between 1 and 4 years old.
The wide wheelbase makes the wagon stable, and the large wheels glide easily over carpet or wooden floors. This makes it easy for your toddler to load it up with toys and pull them around the home.
The storage area is deep, letting little ones put teddies, shape sorters, and many other toys inside. They can take them out and play with them, then pop them back and return them to where they belong.
Pros
Plastic construction with no sharp edges.
Lightweight, weighing only 4 pounds.
Sturdy enough to be used in a yard.
Cons
Too small for most children over about 3 years old.
The handle is very short, so it may be uncomfortable for taller people to use.
Our Ratings
---
Keenz 7S Stroller Wagon
Best Wagon for Big Kids
Designed with active families in mind, this multipurpose stroller wagon is useful for a variety of situations. It can be a go-to stroller for families with bigger kids, as it can accommodate up to 110 pounds despite being only 32 pounds when folded. Furthermore, it has two five-point adjustable harness for toddlers. A removable canopy, a red cooler bag, and a cup holder are included.
More accessories are available at an extra cost. These include a 2-in-1 snack and cup holder and a phone holder.
The 1.6 mm aluminum frame supports the sidewalls. And there is a front basket you can use to store your belongings. The handle is highly adjustable, and you can push or pull the wagon.
You can trust that your children will be safe in this stroller wagon as it is certified by the American Society for Testing and Materials.
Pros
For multipurpose usage, enjoyed both by kids and fur babies.
Comes with a cooler bag, shoe storage, and a cup holder.
Folds compact for storage.
ASTM-certified safe stroller.
Cons
May be challenging to maneuver when pushing the wagon.
Our Ratings
---
Step2 Wagon for Two Plus Blue
Best Wagon for Twins
The Step2 Wagon for Two will delight your kids with its train-like design. The classic edition comes on its own, but you can purchase an additional trailer that connect to the wagon to tow more things or extra children. This is great when you need a wagon with additional space.
The carriage has a seat belt to keep your little ones safe as you pull them along. There is also a storage compartment for your toddlers to store their food and drinks. This is located under the seat, which can be lifted for storage,, or you could use an extra trailer for storing a picnic, toys, or other supplies.
Made from plastic, this wagon has a weight capacity of 75 pounds and measures approximately 42.5 inches by 20.25 inches by 38.25 inches. It's suitable for kids from 18 months to 10 years, but pulling along two or more 5-year-olds might be a full-on workout!
Pros
Can be added to accommodate multiple kids or storage.
Rolls smoothly.
Solid, durable design.
Cons
Some moms find there is a limited turning radius.
It's difficult to back the wagon up.
The shorter handle makes it difficult for taller parents to use.
Our Ratings
---
Berlin Flyer Wagon for Kids
Best Big Kid Wagon
The Amish-made Berlin Flyer is a sturdy, solid hardwood wagon that older kids will love. It can carry a 300-pound load, making it perfect for towing multiple children or older children with special needs.
This wagon has even been owned by royalty. Michelle Obama chose it as a gift for Prince George.
The large body measures 36 inches long by 17.25 inches wide. The painted hardwood rails can be removed, allowing it to be used as a flatbed or a seat at outdoor events.
No-tip steering makes it easy to pull around, and the 10-inch, foam-filled, "no-flat" tires can cope with different terrains. This wagon will grow with your kids all the way to adulthood. Don't expect them to leave it behind when they leave home.
Pros
Made in the USA.
No pinch handle.
Non-toxic paints.
Large weight capacity.
Cons
More expensive than some similar models.
Our Ratings
---
Step2 Canopy Wagon
Best Wagon With Canopy
This wagon has plenty of storage space for the extras you take with you and your kids. It has a compartment in the rear for snacks and six drink holders.
The door set in the side makes it easy for little ones to climb in and out, and it latches for safety. It can accommodate a weight capacity of 75 pounds, which is plenty for two little ones.
It measures 41 inches by 19 inches by 39.5 inches and weighs 24 pounds. The plastic construction makes it sturdy but lightweight.
The seat platforms fold to form a seat, table, or flatbed, and there's a canopy included to keep your kids shaded. The canopy is easy to attach and remove.
Pros
Whisper-ride rubber wheels.
Safety latch on the door.
Handle folds under the wagon for storage.
Seat belts for safety.
Cons
Requires assembly; the instructions are hard to follow.
The canopy could be more secure.
Our Ratings
---
Creative Outdoor All-Terrain Folding Wagon
Best Beach Wagon
This foldable wagon will easily fit in the trunk of your car when you head off to the beach. Opening it is a breeze, with no tools required, and it can carry up to 120 pounds.
You can load it up with the kids and everything else you need for a day out. It measures 36.5 inches by 23 inches by 24 inches and weighs 23 pounds. The best thing about it is the wide 360-degree swivel wheels, which let you navigate the wagon over the sand.
Besides the beach, this wagon can also cope with being hauled around many other terrains. The 100% denier fabric and steel frame provide support for your wagon.
There are a couple of handy pockets, which are ideal for a cell phone, keys, wallet, or other small items.
Pros
Travel sleeve for protection when storing or transporting.
Easy to maneuver.
Removable liner for washing.
Flip-open side storage pockets.
Cons
The rear wheels are hard to position for folding away.
Our Ratings
---
MacSports Classic Two-Tone Wagon
Best Wagon With Cup Holders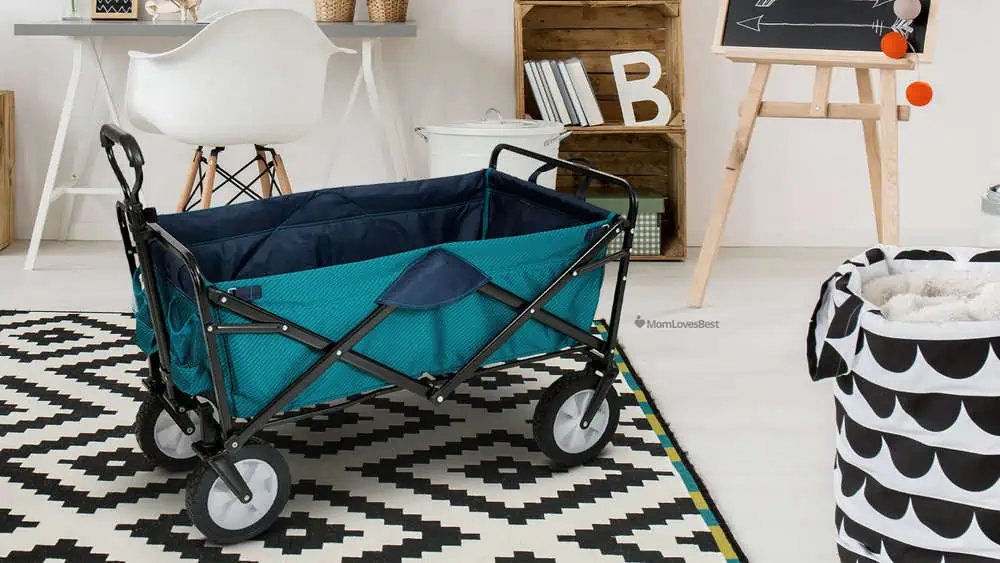 Enjoy a brilliant day trip with the MacSports Classic two-tone wagon. This wagon is available in three beautiful two-tone colors. Let your kids choose their favorite style, and they'll be happy all day in this spacious wagon.
It has many fun features, including two mesh cup holders. Your little ones can keep their drinks safe and secure as you wheel them through the park, theme park, outdoor events, or gardens.
The wagon also has an adjustable handle, so transport is a breeze, no matter your height.
This wagon has a spacious capacity, and the heavy-duty frame can handle up to 150 pounds. We especially love that it's easy to clean, and it's UV- and mildew-resistant!
Pros
Wagon folds up to only 5.5 inches thick.
Handles up to 150 pounds.
Includes cup holders and adjustable handle.
Easy to transport.
Cons
Doesn't stay upright when folded.
Doesn't work on sand.
Our Ratings
The Benefits of Having a Kids Wagon
Here are several benefits your kids can get from a wagon:
Toy transport: A wagon is a great place for your little ones to transport and store their toys. It could be from the bedroom to the family room and back, around the yard, or on trips out. It can also get little ones used to cleaning up after themselves.
Exercise: Wagons can give your kids a workout. Whether pulling or pushing, it will engage many of their muscles and build strength. Pulling a wagon full of toys around is hard work and will burn off some of their energy.
Walking aid for toddlers: When your little one finds their feet, they will want to be on the move. Some wagons double as push toys and walkers for younger children.
How to Choose the Best Wagon for Kids
Deciding what you want from a kids wagon can help you choose the best one for you. Here are some things to consider before deciding.
---
Thank You For Your Feedback!
Thank You For Your Feedback!