Are you struggling for space and tired of picking up toys? Wouldn't it be nice to have some handy toy storage solutions and get some tips on organizing toys?
In this guide, we'll show you some brilliant toy storage ideas so you — and your child — can organize toys and keep them tidy.
Key Takeaways
Use shelves, bins, and baskets for versatile toy storage solutions.
Repurpose items like shoe organizers and hanging planters for creative toy organization.
Utilize under-bed storage and hanging hammocks to save space.
Combine storage with play spaces, like play tents or storage and play mats.
---
25 Brilliant Toy Storage Ideas
Here are our top toy storage ideas to help keep your kid's bedroom organized and clutter-free.
1.

Utilize Shelving

A simple shelving unit can give you plenty of room to organize your children's toys. You can set some out on display and store others in baskets, boxes, or bags. This will also grow with them, and eventually, you can replace the toys with books and stationery.

We like the versatility this option offers, plus the fact that we can place things on high shelves out of reach.
2.

Space Saver Storage and Seating

You might want to keep some toys on hand in the family room but not want them on show when your child has finished playing. A storage box is an excellent tool for keeping toys out of view.

We particularly like that this option doubles as a seat for extra room when we're entertaining.
Furniture that doubles as storage is so handy! My daughter's ottoman in her bedroom functions as a toy chest, helps her climb into her big girl bed, and is a place to sit.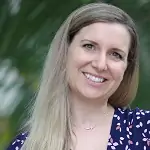 Editor's Note:
Katelyn Holt RN, BSN, BC
3.

Stackable Open Storage

Simple plastic vegetable racks make a superb storage solution for organizing toys. They stack on top of each other and keep those building blocks off your floor and out from under your feet. Easy to access, this toy organizer is a budget-friendly option you can pick up in any hardware store.
4.

Easy-to-See Low-Level Storage

The plastic bins in this storage unit make it easy for you and your child to see what's in them. No more digging to the bottom of the toy box to find what they want. Each bin can be assigned its own toys, removed for playtime, then replaced when it's time for playtime to be over.
5.

Plastic Bins

Plastic bins and containers are excellent for storing small items on shelves. You could color-code your little one's Lego pieces into boxes or keep all of a doll's accessories together. As your children grow, you can use the bins for art and craft accessories for your budding artist.
6.

Utilize the Space Under the Bed

A simple "DIY" solution for under-bed storage is rolling carts. You can roll out an open-topped wooden box with a handle when it's needed and safely store it away out of sight afterward. Just get some wood, wheels, and nails, and away you go.

You could even make dividers for your drawers. This video shows you an easy way to do it.
7.

Plastic Baskets Make Good Storage

Want to keep all your child's electronics in one place? Maybe they have a lot of dolls that need a bed at night. A plastic basket, with or without handles, can keep everything visible in one place. If you want to store smaller items that could fall through the slats, line the basket with some fabric.
8.

Repurpose a Shoe Organizer

Hanging a shoe organizer on the back of a door makes great storage for many items without taking up space. It could be many teddies, cars, Barbies, superhero figures, or crayons and pencils. You can choose from clear plastic pockets where everything is easily identifiable or cloth ones to hide them from view.
9.

A Play Tent With a Purpose

All kids love a tent to play in. A play tent can be an excellent solution for organizing indoor or outdoor toys.

You can store outdoor toys in the tent when your children aren't playing in it. Indoors, it can give your little ones a hiding place for them and their soft toys.
10.

Somewhere to Park the Cars

Toy cars have a habit of hiding under furniture or being spread all over the home to trip you up when you least expect it. Create a space to organize all those cars. Use a wooden crate and some plastic tubing — a solution your budding Nascar racer is sure to love.
11.

A Simple Drawstring Bag for Storage

You can use a drawstring bag — decorated or not — to organize small toys. Whether you have cars, trains, soft toys, wooden blocks, or Lego, pop them in the bag and hang them from the door handle or on a hook. You could even get a bag to color coordinate with your room decor.
12.

Knit a Toy Bag

Are you handy with a pair of knitting needles or a crochet hook? Put your talents to use and create a bag to organize toys for your little one. Make it nice and chunky using a large knitting needle or crochet hook and some thick, sturdy twine. A bonus is it could be washable if you use the right fabric.
13.

Utilize a Hanging Flower Planter

Do you have a hanging planter stored away in your garage that you don't use? A lick of paint and some added decoration will make it the perfect place to organize soft toys. It will keep them off the bed, and as you can see into it, it's easy for your child to choose a sleeping buddy every night.
14.

Hanging Hammocks

Does your child have a lot of stuffed animals or dolls that they refuse to part with? Use some net hammocks — crochet or macrame — to organize toys in the corner of their room. You could even string one across the bottom of their bed to give them instant access to their favorites. If you're crafty, you can find patterns online. If not, there are many options available for purchase.
15.

Double Duty for a Diaper Holder

Are you wondering what to do with your diaper stacker now that you no longer need it for diapers? Why not use it to organize all the extra cuddly toys that are stacked three high on the end of your child's bed? They'll look cute, sticking their heads out to see what's going on.
16.

Shelving Unit Made From Plastic Crates

Plastic crates can be fixed sideways to any wall with a few screws to make a versatile shelving storage system. You can add as many or as few crates as you need and place them as high or low as you want. Use them for board games, books, soft toys, cars, and many other things.
17.

Quick and Easy Open Baskets

Freestanding individual baskets that can be stacked on top of each other are quick and easy to declutter a room and organize toys. Choose your colors and place them in the corner of a room. Get your child to help you sort the toys so they know where to find them later.
18.

Stitch Some Clear Drawstring Bags

These are ideal for storing Legos, hair accessories, dolls' clothes and accessories, or all the fiddly little bits that come with toys. It just takes a little stitching to pull this project together and ensure those small pieces never get under your feet again.
19.

Storage and Play Mat in One

This is a space-saving way to store Lego which doubles as a play mat. Your children can build to their heart's content. They can pull the drawstring to store the bricks away when they're done.
20.

Use Magnetic Knife Blocks for Cars

Little ones love playing with cars, but storing them can be an issue, especially when your child wants them where they can see them. Attach magnetic knife strips to a wall for a great place to display metal cars. Even an older child might like displaying their car collection in this way.
21.

Organize Toys in Your Yard

Does your yard look like a kindergarten classroom crossed with a toy store? You go out to mow the lawn but spend hours picking up balls and toys first. Why not get some metal buckets and store them on shelves in the shed or garage?

Not only will it organize toys, but it also protects them from the elements. You can put lids on for further protection if preferred.
22.

Bath Time Baskets
Bath toys seem to take forever to dry out, especially rubber toys. They're great fun to play with, but you don't want them in the tub when you're going for a relaxing bath. Use a tension shower rail, some hooks, and plastic, rust-free baskets to organize toys in the bathroom.
23.

Bath Storage on a Budget

We love this simple idea for drying and storing bath toys. Use a mesh zip-up laundry bag and a plastic hanger. Put the toys in when bath time is over and hang them from the shower head.

Just make sure your net and zipper are strong enough to take the weight of the wet toys.
24.

Look After the Little Things

Does your child get frustrated when they reach the end of a puzzle and find that a piece is missing? Are you forever looking for Barbie's missing shoe or the spare rubber wheels for a toy car? Why not use pencil cases to keep all those things together? You can then organize these toys in a place where you can always find them.
25.

Hang Your Board Games

Board games can take up so much room. If you're like me and at a loss about where to put them, this is a good solution. It's just a closet organizer hung from a fixed pole. You could get more than one and organize other games and toys beside it.
---
Thank You For Your Feedback!
Thank You For Your Feedback!