If your child loves working with their hands, it makes sense that you want to find them a quality toy workbench. Like play kitchens, toy workbenches help benefit several aspects of growth and development and help children learn necessary skills as they play.
We know that as moms, we want what's best for our children, and looks can be deceiving when it comes to play sets. So we've studied the market, compared all the options, and asked parents and caregivers for their input.
We'll explain what to look for in a toy workbench and review all the top-rated workbenches to save you time and help you choose a top-quality workbench for all your little one's projects.
Image
Model
Product Comparison Table
Features
Great for Practicality
Hape Master Workbench
Looks just like grown-up workbench
Award-winning
Adjustable height for long-term use
Best Classic Design
Melissa & Doug Workbench
High-quality materials
Storage shelf underneath
100% satisfaction guaranteed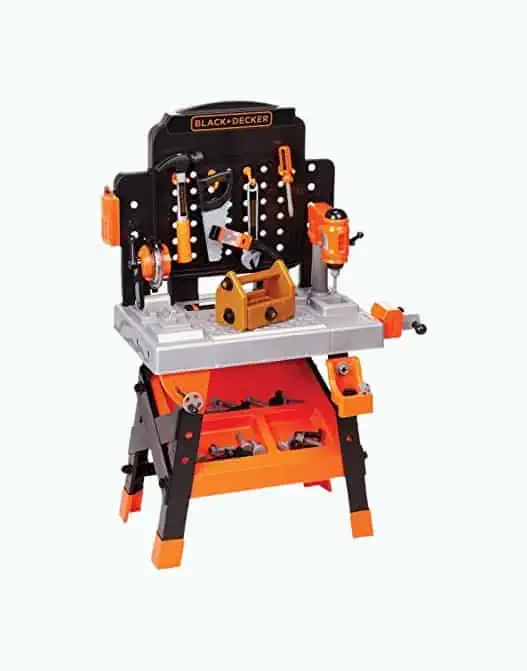 Most Realistic Design
Black+Decker Junior
75 tools & accessories
Realistic lights and sounds
Encourages safety
Best for Toddlers
Little Tikes Workshop
For indoor or outdoor usage
Sliding doors for extra storage space
For children under 3 years old
Best Tool Variety
Liberty Imports Workbench
Collapses into transportable tool kit
Many different tools and objects
Real working drill
Best Bang for Your Buck
Step2 Big Builders
Comes with a birdhouse kit
Good for parents of multiples
Plenty of storage
Most Compact
EverEarth Toddler
Great for small spaces
Eco-friendly and FSC certified
Non-toxic, water-based paint
Most Interactive
Step2 Pro Play Workshop
Comes with several project ideas
76-piece pretend play accessory set
Pull-out utility bench
Great for Young Carpenters
Learning Resources Fix It!
Soft, durable toddler-safe tools
Fosters imaginative play
Ideal for traveling
Review Methodology: At Mom Loves Best, we understand the importance of finding the perfect workbench for your kids. Our thorough analysis and hands-on evaluations are based on a set of criteria and benchmarks, ensuring that your child has the best experience possible. Our team of professionals compares and ranks workbenches by considering factors such as safety, durability, functionality, and educational value. We assess design choices that affect your child's experience and provide first-hand evidence to support our recommendations. By examining performance measures, user perspectives, and key decision-making factors, we ensure that our reviews help you make the best choice for your child's needs. Trust us to guide you in selecting a workbench that promotes creativity, learning, and fun.
---
---
The Best Kids Workbenches of 2023
Whether you're looking for classic or high tech, compact or life-size, we've put together a variety of options for you. We selected these workbenches because of their educational and developmental features, durability, visual appeal, affordability, and fun factor.
Hape Master Workbench for Kids
Great for Practicality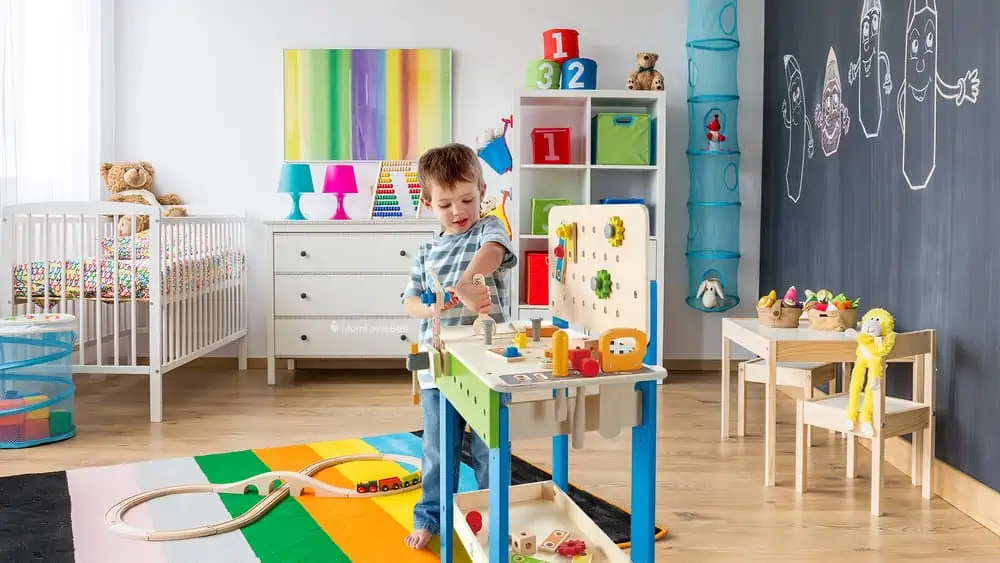 The Master Workbench by Hape is unique because it has an adjustable height option, so it can grow with your child.
It also comes with storage space underneath the bench to store all 32 pieces that come with this set.
Those pieces include several gears that can be twisted into the pegboard — an excellent tool for teaching cause and effect. This set is recommended for children ages 3 years and up.
Pros
Looks just like a grown-up workbench.
Great for developing fine motor skills.
Adjustable height for long-term use.
Cons
Vague assembly instructions.
Our Ratings
Community Feedback
Got this workbench for my two-year-old and he loves it! The bench is a nice height and has storage for tools and pieces, making cleanup easy. He enjoys using the hammer, wrench, and screwdriver, as well as nailing the sprockets to make them spin. However, the screws require a bolt on the opposite side, making it difficult for him to use independently, and the vice doesn't hold items very well.
---
Melissa & Doug Wooden Project Kids Workbench
Best Classic Design
This workbench by Melissa & Doug comes in a timeless design and includes tools and other pieces that work together. This particular bench is great for kids who like to use their hands and build things.
It has a step-by-step guide for six projects and a storage compartment underneath to make clean-up fast and easy.
This bench is a great option for families that take a natural approach to toys. It's made of high-quality wood to ensure stability and safety for children ages 3 to 6 years.
Pros
Made of high-quality materials for safety.
Storage shelf underneath.
100% satisfaction guaranteed.
Cons
Assembly requires a drill and some construction skills.
Our Ratings
Community Feedback
I've recently purchased this workbench for my child, and they have been having a blast with it. The bench itself is sturdy and provides a great working space, but the included pieces can be a bit difficult to connect when trying to build something. I found it helpful to buy some additional pieces to make it more functional. This workbench promotes creativity and hands-on learning, with a guide for building different projects, although some may be a bit advanced for younger kids. The overall quality is good, but there is room for improvement in terms of the durability of certain pieces, like the wooden screws. Despite these minor drawbacks, my child enjoys playing with this workbench, and I believe it will continue to provide entertainment and learning opportunities as they grow.
---
Black+Decker Junior Power Workbench Workshop
Most Realistic Design
Recommended for ages 3 and up, this workbench is suitable for kids who like sensory toys. The Black+Decker Junior Power workbench workshop comes with 75 different tools and accessories.
It also provides realistic drilling sounds with its battery-operated power drill. Each tool is made to look identical to tools you might see in an adult's workshop.
This workbench comes with storage space underneath the work area, so those 75 separate pieces don't sound as intimidating as they did initially. Aside from the encouragement of pretend play and motor skills, this particular set is also great for teaching kids about safety.
Pros
Same brand as mom and dad's tools.
Equipped with realistic lights and sounds.
Encourages safety.
Cons
Only comes with one project.
Our Ratings
Community Feedback
I've recently purchased this tool bench for my young son and found it to be a fun and engaging toy. The assembly process was enjoyable, as my son was able to help put it together with the included plastic nuts and bolts, giving him a sense of accomplishment. Although I was initially disappointed with the lack of extra bolts for playtime, the realistic sounds and lights from the table drill and table saw, as well as the detachable light, more than make up for it, providing hours of entertainment for my little one.
---
Little Tikes Tough Workshop
Best Workbench for Toddlers
While most workbenches for kids are geared toward children ages 3 and older, this Little Tikes workshop is made for ages 2 and up. It comes with 11 accessories, a sliding door underneath, and a pegboard and hooks for optimal storage.
The complexity of this workbench isn't very high, which is great for children who are just beginning to enjoy pretend play. It comes with a hammer and nails that can be pounded into a provided hole, which makes for great hand-eye coordination practice.
Pros
Can be used inside the house or out in the yard.
Sliding doors to hide storage space.
Caters to children under the age of 3.
Cons
Doesn't come with anything to cut with the saw.
Our Ratings
Community Feedback
Definitely a fun and engaging toy, this workbench caught my toddler's attention, especially with the three tools included in the set. It's held up well over the past two months, even as my little one pushes it around our carpeted living room. Assembly took a bit longer than expected, around 25 minutes, due to having to create some of our own holes for the screws. The workbench seems sturdy and has been a great teaching tool for my child. Just a heads up, you might need a drill for assembly, as not all holes are pre-made.
---
Liberty Imports Toy Tool Workbench
Best Tool Variety
This handy toolkit-turned-workbench comes with a huge range of tools, so your child can learn a variety of skills. They'll never get bored experimenting with all the pieces in this set.
The set includes 11 tools, a variety of screws in multiple sizes, and much more, and it opens up from a basic took box to a full workbench. Even grandpa will be jealous!
One tool we know your child will love is the realistic drill. Add two AA batteries, and it will mimic an authentic drill with real sounds!
Each tool has its own place on the workbench. This makes it easy to store, but it can also be easily transported. Since everything has its place, you're less likely to lose parts as you move it from place to place.
Pros
Collapses into a transportable tool kit.
Includes over a dozen tools and objects.
Battery-operated working drill.
Every tool has a place.
Cons
It could be more sturdy.
The poor-quality drill may not last long.
Our Ratings
Community Feedback
I've enjoyed watching my young relatives delight in playing with this toolset, which offers both functioning tools and the option to use it as a tool box or unfold it into a workbench. The assembly process was a bit challenging, but once it was set up, the kids found it easy to dismantle and put back together. On the downside, the materials used in the construction seem to be flimsy and breakable. Although it's not perfect, the working drill and overall versatility make it a fun and engaging toy for kids.
---
Step2 Big Builders Pro Workshop
Best Bang for Your Buck
The Step2 Big Builders Pro Workshop comes with 45 pieces, including a foam birdhouse kit that changes color when you "paint" it with water. It also comes with a built-in table saw for the most creative projects.
This is a bigger workbench, at 27.5 inches by 38.5 inches, so it may not be optimal for families with limited space. However, its size makes it an excellent toy for more than one child to play with at the same time. There's also plenty of storage space underneath to keep all the pieces. For ages 3 and over.
Pros
Comes with a birdhouse kit to build.
A good option for families with multiple children.
Plenty of storage.
Cons
Assembly is time-consuming.
Instructions only include pictures.
Our Ratings
Community Feedback
I've enjoyed watching my granddaughter play with this tool bench, which offers loads of pieces and a great value. The battery-operated drill, LED light, and various tools make it interactive and fun, while the foam birdhouse is a neat addition that changes color when "painted" with water. However, be cautious with younger kids who might chew on the foam pieces or small parts.
---
EverEarth Toddler Workbench
Most Compact Workbench
The EverEarth toddler workbench is optimal for families with limited space. This workbench can easily fit on a shelf. We love that it's made of eco-friendly, toxin-free wood — good for kids and the environment.
The workbench comes with five tools and several wooden nails, screws, and other accessories. Some of the pieces are small, so they should be put away if your child puts things in their mouth. Because of the small pieces, it's recommended for children ages 3 and above.
Pros
Measures 15 inches by 9 inches by 13 inches — great for small spaces.
Materials are eco-friendly and FSC-certified.
Wood is stained with non-toxic, water-based paint.
Cons
Older children may find it too small at just over 2 feet high.
Our Ratings
Community Feedback
My experience with this toddler workbench has been quite positive overall, as it features bright colors and quality wooden materials. I found the assembly to be slightly complicated due to the picture-only instructions, but the wooden screws used for both assembly and play make for interesting configurations as my child grows. The size of the workbench is suitable for younger kids, though it may not be ideal for children 3 years and older. Despite some design flaws, such as the confusing screw and nail heads, this workbench provides a fun and engaging learning experience for young toddlers.
---
Step2 Pro Play Workshop & Utility Bench
Most Interactive Workbench
The Step2 Pro Play workshop is the big kahuna. Although at the top end of the price range, it comes with the most accessories, and it's huge! It has a 76-piece accessory set and foam projects for little ones to put together.
The Pro Play workshop provides children with a variety of activities for playing with this set.
It also comes with a utility sink, pull-out bench, and plenty of storage space to store all the accessories. This workbench is optimal for children ages 3 and up.
Pros
Comes with several project ideas.
Lots of storage.
Plenty of interactive properties, including a working vice.
Our Ratings
Community Feedback
Excellent toy workbench for the little ones, but not without a few flaws. I found the assembly process to be a bit frustrating, with unclear instructions and missing parts. However, once assembled, my grandson absolutely loves playing with the working tools and exploring the different projects. The foam pieces can be a bit difficult for younger children to put together, and some design aspects could be improved for better functionality.
---
Learning Resources New Sprouts Fix It!
Great for the Youngest Carpenters
The Learning Resources New Sprouts Fix-It kit is a good fit for parents looking for something simple and inexpensive for their toddler. Although it's not a workbench, your little one can work wherever they please. It comes with five tools and a little carrying caddy to hold them in.
The drill makes a noise when you squeeze the handle. But you don't need batteries as the noise comes from a spring inside the drill.
This set is great for little ones ages 2 and up. It introduces the world of pretend play by providing a few tools and leaving the rest to your child's imagination.
Pros
Great for kids from 2 years old.
Tools are the perfect size for little hands.
Fosters imaginative play.
Cons
The drill could be more durable.
Our Ratings
Community Feedback
Got this adorable tool set for my nephew, and he's been obsessed with it since day one. The tools are perfect for his little hands, and he enjoys mimicking our movements and actions with them. Although the material is a bit heavy and could potentially cause harm during playtime, overall, this tool set has held up well and sparks my nephew's imagination and creativity.
How to Choose a Kids Workbench
Finding the right workbench for your kid can be tough when so many unique options are available. Maybe you're looking for something more compact to fit in your limited space. Or it could be that you want a really realistic workbench for your little construction worker.
When searching for just the right toy, there are certain factors to consider to ensure you pick something that will suit your child and grow with them.
---
Thank You For Your Feedback!
Thank You For Your Feedback!