If your little wizard is ready to stun their audience with some real magic tricks, you'll want to find the right kit for them to work with.
We compared dozens of products and read hundreds of reviews so we could help you narrow your search and provide you with a list of the best magic kits for kids. These kits are age-appropriate, include easy-to-understand instructions, have been approved by thousands of users, and have a wide range of tricks to keep your magician — and their audience — fascinated for more than a few minutes.
Surprise your child with one of these mind-blowing kits, and watch the magic unfold.
Image
Model
Product Comparison Table
Features
Best All-Inclusive
Learn & Climb Jumbo
Illustrated manual & instructional DVD
Multiple learning levels
Excellent storage system
Best Card Magic
Marvin's Magic Card Tricks
Easily portable
Entertainment for all ages
Excellent icebreaker
Best Educational
National Geographic Magic
10 science magic experiments
Encourages hands-on learning
Great for science enthusiasts
Best for Wizards
Scientific Explorer
Science-based magic kit
Cast spells & create concoctions
Fun for the whole family
Best Classic Magic
Melissa & Doug Classic
Easy-to-learn magic tricks
Cool & sturdy storage box
Child-friendly instructions
Best On the Go
Ideal Magic Spectacular
Access to online videos
Includes magician's hat
Versatile suitcase
Best for Mindfreaks
Criss Angel Platinum
Learn from a master illusionist
Hundreds of magic tricks
Levitation secrets included
Review Methodology: At Mom Loves Best, we understand the importance of finding the perfect magic kit for your child. Our expert team conducts thorough research and hands-on testing of various magic kits, comparing them based on criteria such as performance, design, and user experience. We evaluate each product from a user's perspective, using data and facts to identify key decision-making factors and rank the kits accordingly. Our experience and professional assessment of each kit ensure that we provide you with the most accurate information, highlighting what sets a product apart from its competitors and how it can benefit your child. Trust our in-depth analysis and reviews to help you make the best choice for your young magician.
---
---
The Best Kids Magic Kits of 2023
Here are our favorite magic kits for kids.
Learn & Climb Jumbo Magic Kit
All-Inclusive Magic Kit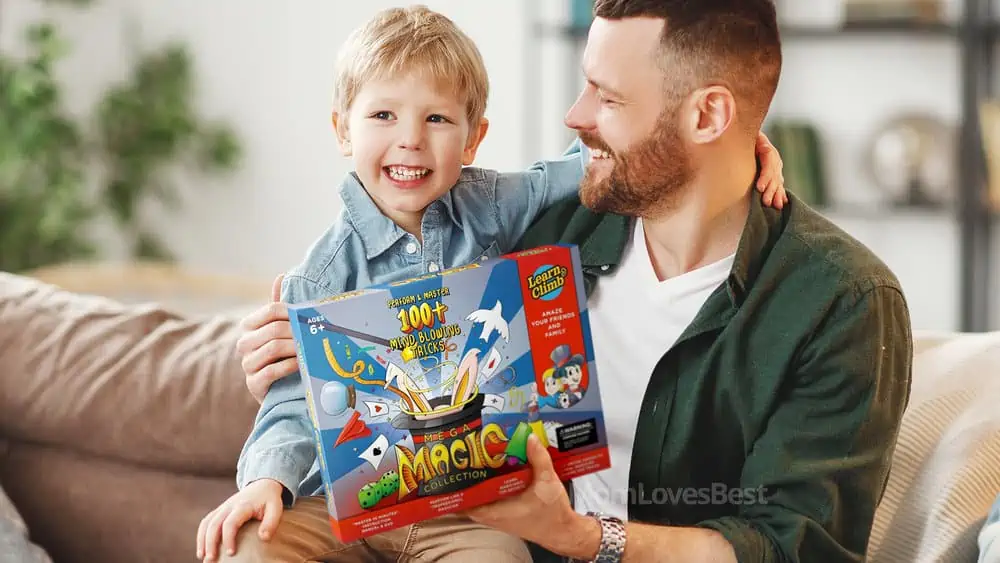 Ultimate fun and magic begin right here with the mega magic kit. Your little magician will have access to 28 props and a large variety of tricks that'll stretch their imagination and creativity. The kit has different activity levels, allowing your child to grow with it from age 6 up.
As your child stages the performance, their self-esteem and confidence will improve. They'll also gain public speaking skills, memorization abilities, and hand-eye coordination.
The kit consists of two drawers that provide easy storage for all the props. You'll also find a comprehensive instructional DVD and an easy-to-follow illustrated manual. You can scan the included QR codes to access the manufacturer's full game manual online.
Pros
Illustrated manual and instructional DVD included.
Multiple learning levels for varying ages.
High-quality materials.
Excellent storage system.
A variety of props and tricks to keep your kid entertained.
Cons
The instruction manual is complicated for young users.
Our Ratings
Community Feedback
Got this magic set for my kids and they absolutely love it, although the cape and hat shown in the photo were not included. The kit is made of durable plastic and comes with an instructional DVD, which makes learning the tricks easier for them. My 4-year-old niece enjoys performing the tricks she can master, while my older kids, aged 5 and 7, have been impressing us with their newfound skills. Just be aware that some tricks may be too challenging for younger children, but overall, it's a great set for sparking an interest in magic.
---
Marvin's Magic Fifty Greatest Card Magic Tricks
Card Magic for Tweens
Marvin's Magic kit gives your child a chance to engage in one of the oldest magic tricks known to man.
You will find a comprehensive instruction manual to teach your kids how to perform over 50 tricks. It will not be long before your child becomes a pro. You can expect to say "wow" a lot as your child stages their act.
The kit is recommended for all ages, offering great entertainment for the whole family.
Pros
This kit is easily portable.
Instructional video accessed by an online QR code.
Entertainment for all ages.
An excellent icebreaker.
Cons
Some of the tricks are really hard to master.
Our Ratings
Community Feedback
Love the concept of this magic kit, but it's a mixed bag. Some tricks are easy and fun, while others are poorly explained, though YouTube can help with that. The cards aren't the best quality, but they should last for a good number of uses if treated gently. This kit was a hit as a last-minute gift, but it's important to know that it includes trick decks instead of a regular deck for classic sleight-of-hand magic. While it's entertaining for kids, it may not meet everyone's expectations due to the reliance on trick decks and the need for additional video tutorials.
---
National Geographic Science Magic Kit
Best Educational
Create evidence-based science magic tricks with the National Geographic Magic Kit. It's a good way to introduce your kids to magic tricks and could pave the way to honing their scientific skills. This kit is suitable for children aged 8 and above. It's perfect for kids who are just beginning to show interest in the world of magic and science. With simple and easy-to-learn tricks, your child will impress their audience in no time.
The kit contains 10 experiments like making snow magically appear in your hand, changing solution colors, and some others — all backed with explanations.
With this kit, your child will be engaged for hours as they build their confidence to perform tricks for their cohorts.
Pros
Easy-to-master tricks.
Made to incorporate magic in the world of science.
Very affordable.
Great hands-on learning for science enthusiasts.
Cons
Some of the tricks are very similar.
Our Ratings
Community Feedback
After giving this set as a gift to a 9-year-old, I was delighted to hear how much they enjoyed exploring and experimenting with it. My 6-year-old also had a blast, particularly with the bubble-holding activity, which kept both my oldest and youngest entertained. This kit has been a hit with kids of various ages, including my 10-year-old grandson and his friends, making it a popular and fun choice for children.
---
Scientific Explorer Magic Science Kit
For Wizards Only
The inquisitive child who wants to know the science behind magic will find this kit fun, informative, and educational. This make-it-yourself kit is suitable for children aged 6 and above; however, it's for wizards only!
The magic kit comes with an activity guide, test tubes, measuring scoops, and an assortment of chemicals. Your kid will also get to create their own wizard hat, an essential accessory for serious wizards.
The kit engages kids in nine fun activities, including creating test-tube crystals and a fizzy frenzy. Between exploration and entertainment, there will be much learning and tons of laughter.
Pros
Science-based magic kit.
Cast spells and create concoctions.
Fun for the whole family.
Cons
Given the ingredients and projects, adults might need to supervise.
Our Ratings
Community Feedback
As a scientist, I found this kit to be a fantastic learning tool for kids ages 6 to 12. My friend's two boys and I spent about 4 hours completing the experiments, which focused on acid-base reactions and color mixing. The kids were engaged and excited throughout the process, making predictions and learning as we went along, even though the last experiment didn't work as expected.
---
Melissa & Doug Classic Magic Tricks
Classic Magic Moments
Any magic-loving 8-year-old will appreciate this set of tricks. Your child will have a chance to master and perform well-known magic tricks and illusions. It's a great kit for individual play or when they have friends over for a party or sleepover.
From a vanishing coin to a disappearing ball and magic number prediction, this kit is designed to improve hand-eye coordination. Additionally, some of the tricks require a bit of thinking, so they'll stretch your child's imagination.
Pros
Easy-to-learn magic tricks.
Comes with a cool and sturdy storage box.
Quality materials used.
Child-friendly instructions.
Cons
The kit contains only 10 tricks.
Our Ratings
Community Feedback
My experience with the Melissa & Doug Deluxe Magic Set has been quite positive overall. The wooden construction of the tricks and box gives it a sturdy and appealing look, setting it apart from the typical cheap magic kits. The set is educational, teaching critical thinking and presentation skills, and the tricks themselves are unique and entertaining. However, there were a couple of minor issues with some of the tricks being broken or printed incorrectly, but these can be overlooked considering the overall quality and fun the set provides.
---
Ideal Magic Spectacular Magic Suitcase
Magic on the Go
Looking for a magic kit that allows your little magician to travel in style? This is your go-to magic kit. It comes with a wand, hat, and suitcase that also doubles as a magician's table. Your child can put on a show anywhere.
Suitable for children aged 8 and above, the kit contains tons of quality props. Your child can learn and master up to 100 tricks, including multiplying balls, a magic card shuffle, disappearing juice, and more.
Pros
Access to online videos for more tricks.
The magician's hat makes for serious business.
Versatile suitcase for storage, practice, and performance.
Cons
The "suitcase" is made from sturdy cardboard but may not be too durable.
Our Ratings
Community Feedback
For someone who's always been fascinated by magic, this kit has been a delightful addition to my collection. I was pleasantly surprised at the variety of tricks included, although not all of them are the greatest magic tricks, they still provide a wonderful starting point for beginners. The instructions were clear and easy to follow, which made mastering the tricks a breeze. While the collapsible top hat wasn't of the best quality, it did add a fun touch to the overall experience. The kit comes in a sturdy black cardboard box, which is great for keeping all the pieces organized.
---
Criss Angel Platinum Magic Kit
For Little Mindfreaks
If your children like watching popular magicians in action, they'll love this magic kit by Criss Angel. It provides a comprehensive tutorial of over 350 tricks for beginners, intermediate, and advanced young magicians from 8 years old.
Your kids will learn magic tricks from one of the best magicians alive. They'll have tons of fun conducting stage performances and showing off their mastery of mind-blowing illusions.
The kit includes cups and balls, penetration glass, sponge balls, a secret floating device, and the "Mindfreak" secret deck, among others.
Pros
An included manual for trick time.
Learn from a master illusionist.
Hundreds of magic tricks.
Levitation secrets included.
Cons
The instructional DVD is basic and short, so reading the manual is a must.
Our Ratings
Community Feedback
After purchasing this magic set for my 7-year-old son, we've had a great time learning tricks together. The DVD included in the set is a major highlight, as it demonstrates how to perform the tricks effectively, unlike other sets that only have vague written instructions. The quality of the pieces is also impressive, being more durable than the usual cardboard found in other magic sets. However, some tricks could use clearer instructions, as they can be a bit confusing at first.
The Benefits of Magic for Kids
Besides keeping your kids, family members, and friends entertained, magic kits have many benefits. Here are some of them:
Promotes creativity: Your kids will explore different card tricks and out-of-the-box thinking. The performance alone demands creativity — they'll be thinking about what to say during the performance and what costume to wear.
Boosts self-confidence: The appreciation your child receives when they perform a magic trick will boost confidence, both in themselves and their abilities. It's a skill they could carry with them for a long time.
Great way to start a conversation: "D'you wanna see a magic trick?" has got to be one of the best ways to get conversations going with kids and adults. Rather than racking their brains looking for something to say, let a magic trick do it for them.
How to Choose a Magic Kit for Kids
As with all other toys, there are certain features that you should look for in a magic kit to make it worth your child's while. Here are some things to keep in mind:
Versatility: Magic kits containing multiple tricks will keep them entertained longer.
Bolster imagination: Toys that push your child to think for themselves will increase their problem-solving abilities (1).
Easy-to-understand instructions: A straightforward manual will help your child's understanding rather than frustrating them because they can't grasp the concepts.
Other Things to Consider
There are several other things to keep in mind as you shop for a magic kit for your kids. Let's go over them.
---
Thank You For Your Feedback!
Thank You For Your Feedback!