Is it time to get your child their first train set or upgrade their existing track? A train set might be one of your longest-lasting toy purchases, so you should consider your options carefully.
We've studied and compared dozens of train set models to create this guide. We'll discuss some factors you'll need to consider when searching for the best train set for your kids, including room space, safety features, your child's abilities, and more.
We'll also share our favorite trains for every situation, based on criteria such as durability, affordability, extra features, ease of use, and child appeal. We'll highlight the best features of each set so you can find the perfect fit for your kids. Our list will save you time and money and help you choose a set that lasts for years.
Image
Model
Product Comparison Table
Features
Best for Basic Skills
Maple Landmark
Highly personalized
Safe, non-toxic paint
Sturdy maple hardwood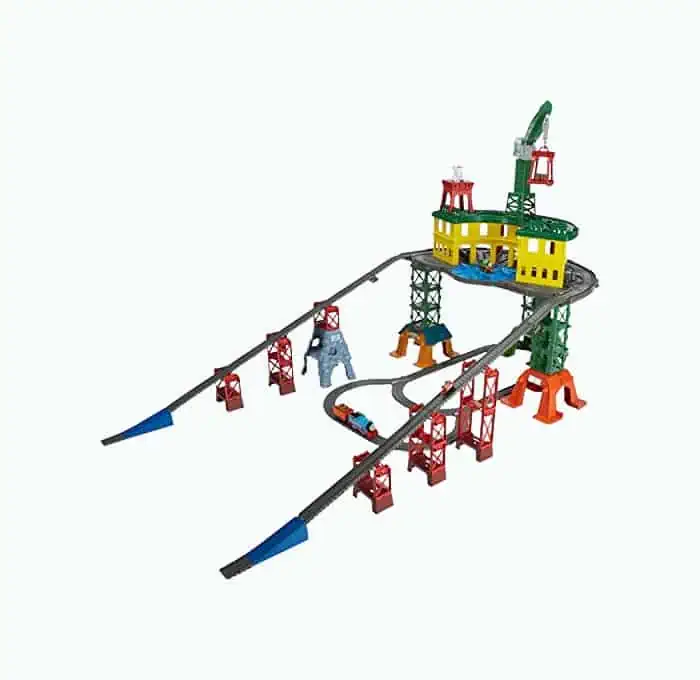 Best Cartoon-Themed
Thomas & Friends Station
111-piece set
Benefits fine motor skills
Manually powered
Best for Lego Fanatics
Lego City Cargo
7-speed infrared remote control
Full circular track
Includes 4 minifigures
Best Rideable Train Set
Thomas & Friends Wheels
Up to 1 mph speed
Easy-to-assemble track
Push-button operation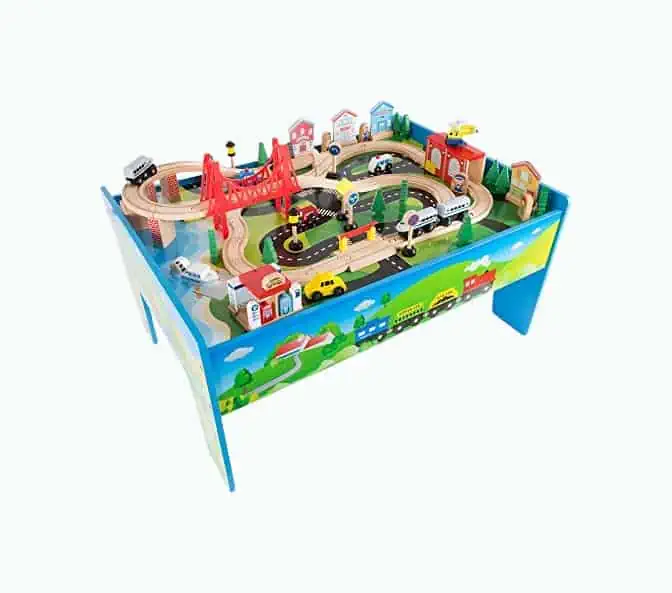 Best Multi-Purpose Set
Hey! Play! Set
Sturdy, durable poly construction
75-piece set
No batteries needed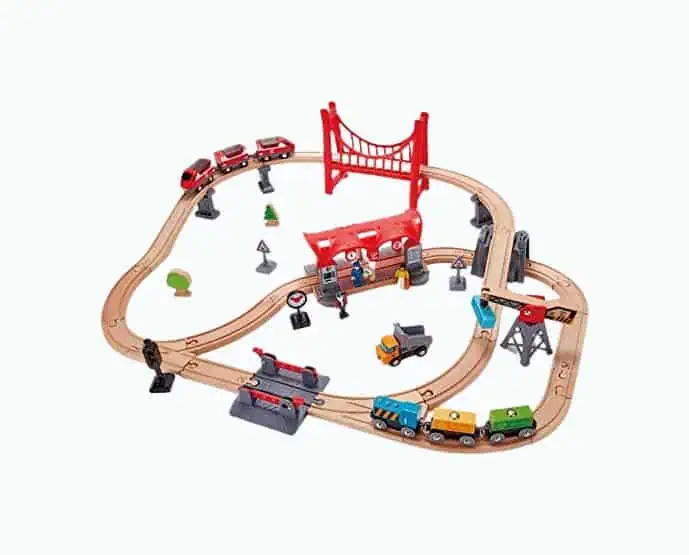 Best City Train Set
Hape Busy City
Non-toxic finishes
Will last for years
Realistic crane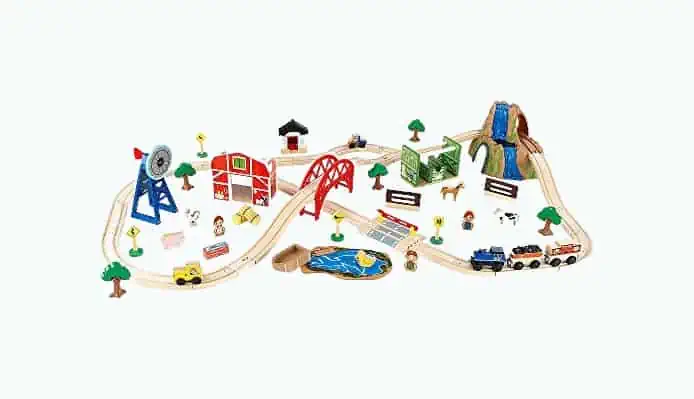 Best Farm-Inspired
KidKraft Farm
Brilliantly detailed
Sturdy construction
75 colorful rural-themed pieces
Best for Beginners
My First Railway
Frustration-free play
Simple guiding tracks
Tougher than tough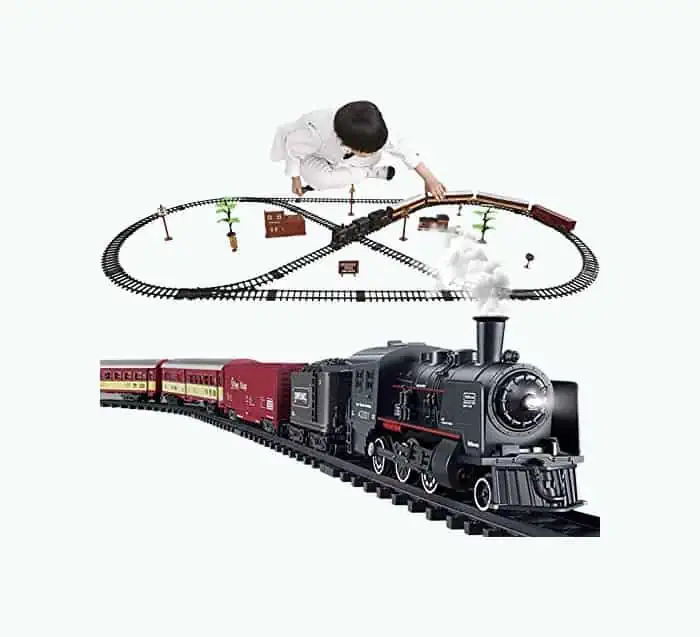 Best for Older Kids
Electric Classical Train
Battery-operated set
High-quality locomotive
41 piece set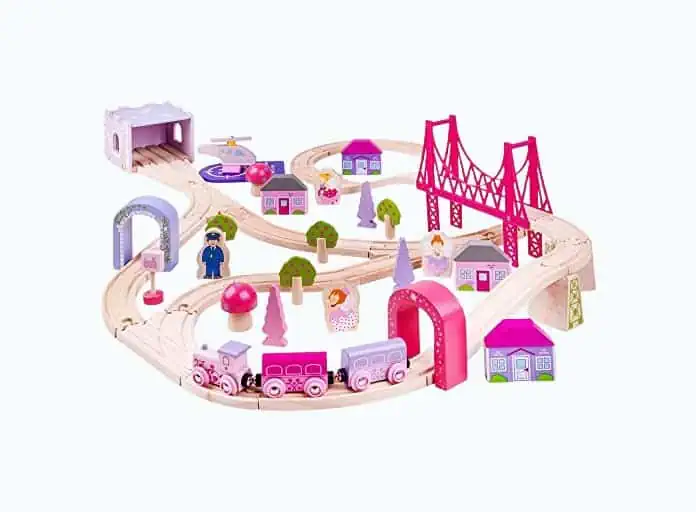 Best Transportation-Inspired
Bigjigs Wooden Fairy Town
Compatible with other wooden tracks
Different shades of pink
Magnetic linking trains
Review Methodology: At Mom Loves Best, we pride ourselves on our thorough analysis and hands-on experience with train sets for kids. Our team of professionals conducts comprehensive research and assessments, comparing various criteria such as design, performance, and safety to provide you with reliable, data-driven evaluations. We evaluate products from a user's perspective, focusing on key decision-making factors like durability, age-appropriateness, and educational value. By tracking and ranking products based on these factors, we can confidently recommend the best train sets that stand out from the competition. Our reviews are supported by first-hand evidence and facts, ensuring that you can trust our findings and make informed decisions for your child's enjoyment and learning experience.
---
---
The Best Train Sets for Kids of 2023
Here are our favorite train sets for kids.
Maple Landmark Name Train
Best Train Set for Basic Skills
Are you looking for a unique, personalized present? Combining learning and fun, this personalized "name train" might be a good option for kids 3 years and older.
Each colorful letter is coated with safe, non-toxic paint. They attach to each other with a simple magnet, easy for any child to assemble and disassemble on their own. This versatile train is made of sturdy hardwood and is compatible with other wooden train tracks.
Community Feedback
I've enjoyed watching my 3.5-year-old son, Jaxson, play with this adorable name train that we got him for Christmas. The strong magnets and well-made design ensure that it stays together during playtime, and the non-toxic paint adds a nice touch of color. This name train has quickly become a favorite in our household, and it's a perfect gift for any young train enthusiast.
---
Thomas & Friends Super Station
Best Cartoon-Themed Train Set
Does the name Percy sound familiar? If it does, it might be because it's one of your kid's favorite animated friends. This train set can hold up to 100 engines, and given all the accessories, boredom shouldn't be an issue.
Your child can configure this space-friendly train set in different layouts. It fits small playrooms and connects to other "Thomas & Friends" tracks. This is a gift made to impress.
Community Feedback
Definitely an impressive and versatile addition to our Thomas the Train collection, this track set has provided endless entertainment for my son since 2019. The height is perfect for preschoolers, and the design allows for countless setup possibilities, including Cranky the crane and Harold the airplane. I appreciate how all the track pieces are compatible with other sets and even come with special adapters for additional brands. My grandson can spend hours reconfiguring the track, using Cranky to lift cars, and creating imaginative stories with his favorite Thomas characters.
---
Lego City Cargo Train Set
Best for Lego Fanatics
With its 888 pieces, this Lego train set takes modeling and construction to the next level. Because of its complexity and many small pieces, it's most suitable for kids over 6 years old. Due to the number of pieces, you might need a special storage box for this one.
With so many features and accessories to play with — including a crane — your kid will have numerous opportunities for their imagination to run wild. The remote control will keep the locomotive rolling.
Community Feedback
I'm a huge fan of LEGO, and this LEGO City Trains Cargo Train Set exceeded my expectations. The set, with over 800 pieces, provided hours of fun for my kids and me as we assembled the intricate trains and cargo terminal. The power functions were easy to set up, and the train can be controlled by an IR remote, adding to the excitement. My kids love loading and offloading cargo at the terminal using the gantry crane and exploring their creativity with the various train components.
---
Power Wheels Thomas & Friends Track
Best Rideable Train Set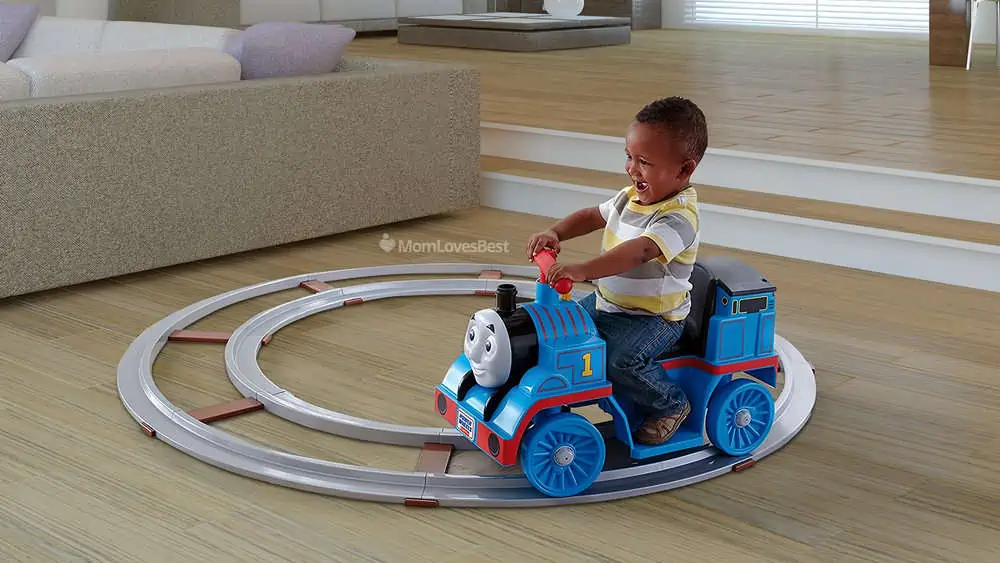 A train track is sensational for toddlers, but sitting on a battery-operated locomotive is even more exciting. Also, if Thomas & Friends happens to be your little one's favorite cartoon, this is guaranteed to be a special set for them. This durable car-like locomotive is easy to operate and is accompanied by sounds and phrases.
This train is suitable for children ages 1 to 3. And if your child gets bored of going around in circles, the locomotive also functions off the track. Watch out!
Community Feedback
I've had a great experience with this train, and it has quickly become a favorite toy for my young child. The footrest is a unique feature that makes it easy for kids to climb on and comfortably ride. This train's battery life is impressive, lasting for days after an initial 18-hour charge. It's also versatile, working well both on and off the tracks and can be used indoors or outdoors. The only downside is that the motor can be a bit loud, but it's tolerable and doesn't take away from the overall enjoyment of the toy.
---
Hey! Play! Wooden Train Set
Best Multi-Purpose Train Set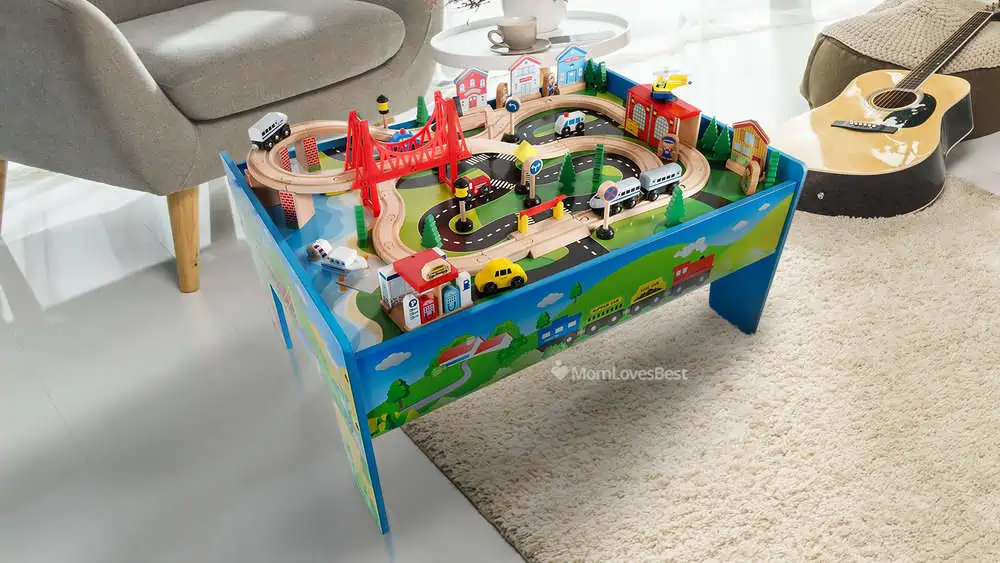 If you have limited space for a train track, this might be the solution you're looking for. This train set comes with a table, keeping all the pieces in one area. And the multi-level tracks will hold your little one's interest much longer than a basic one-level set.
The set includes plenty of accessories, including a bridge and tunnel. The bright colors will make it a point of interest in your child's bedroom or playroom.
Because it's made of 100% wood, it doesn't require batteries. It will save you space and money.
Community Feedback
My experience with this train table has been a mix of excitement and disappointment. The vibrant colors and perfect size brought joy to my child's face, but the quality of the materials left something to be desired. We had some missing pieces and minor damages, but we fixed it up and made it work. Just be cautious that your child may use this table as a playground, as mine did, leading to some broken parts that needed fixing.
---
Hape Wooden Train Set
Best City Train Set
This complete city-themed railway set features a passenger train, a freight train, a station, automatic gates, and a bridge. This set teaches your kids what a city entails. Traffic lights and signs will make their stories more animated and creative.
The wooden train set is also compatible with other tracks. When your child grows, you won't have any hassle adding on to it. This product is durable and child-safe, contains water-based paint, and has non-toxic finishes.
Community Feedback
This train set has provided hours of entertainment and imaginative play for my 3.5-year-old. The elevated tracks securely snap into the support system, preventing them from getting knocked down during play. The trains glide smoothly on the tracks, and the crane's tip-and-push style operation is easy for my child to use. I appreciate the additional features like the traffic light that changes from red to green, and the passengers that can be placed in the train. However, there have been minor issues with the trains getting stuck in the tunnel and the tracks coming apart on the sides of the bridge, but these flaws haven't significantly impacted our enjoyment of the set.
---
KidKraft Farm Train Set
Best Farm-Inspired Train Set
This train set contains 75 wooden pieces inspired by rural living. It will take your kid on adventures through mountains and past lakes, passing farms, cows, horses, pigs, and more. The design is thoughtful, and the pieces are attractive.
Because these wooden tracks are compatible with other brands, you'll be able to add different tracks to expand the set and keep your child interested.
Community Feedback
I recently purchased this wooden train set for a young family member, and it has become a real hit. The set is visually appealing with colorful and cute designs, but I was disappointed to find that not all the pieces are made of wood, as some are plastic. The track joints are a bit loose, causing occasional derailments of battery-powered trains. On the other hand, assembly is pretty easy and the kids have spent hours building different tracks and playing with the train set. While the quality of this train set is not top-notch, it still provides a fun and engaging playtime experience for children. Just be aware that some parts may not be as durable as expected, so handle with care!
---
My First Railway Train Set
Best Train Set for Beginner Enthusiasts
This high-quality wooden train set makes for the ideal starter kit for any child 18 months or older. Get your little one's creativity flowing with different track layouts, ramps, and a colorful bridge.
This train set is easy to assemble and dismantle and compatible with other wooden train tracks for further development. Adventure awaits!
Community Feedback
I've been using this Brio "My First Railway" set with my 18-month-old, and it has been a great introduction to wooden trains for them. The design is safe and durable with enclosed magnets, and the tracks fit together well. The set includes train cars, a colorful over/underpass, and ramp pieces for easy train access, which is perfect for little hands. My toddler especially enjoys the engine car with a spinning drum filled with beads.
---
Electric Classical Train Set
Best Electric Train Set for Older Kids
This item from Temi is the type of electric train set your child might keep around for a lifetime. It is listed as suitable for kids 3 years or older, but older kids will also enjoy this train set the most.
The high-quality locomotive contains detailed wagons with looped fast tracks. It's great for tech-savvy kids who like construction and model railroading. The product meets safety standards and is made from eco-friendly materials.

Community Feedback
I'm thrilled with the overall appearance and performance of this train set, but there are a few drawbacks. Though the track layout is a fun figure 8 configuration, I had issues leveling it on my tree and the train sometimes struggles to go "uphill." The train is also quite loud, but with some effort, I was able to cut the sound wire to make it more bearable. Despite these issues, the train set is engaging and enjoyable for both kids and adults alike.
---
Wooden Fairy Town Train Set
Best Transportation-Inspired Train Set
If your little girl doesn't play with anything unless it's pink, this fairy-themed train set might be a good match. Lighter, feminine colors make it stand out amongst the countless primary-colored train sets.
The 75-piece wooden train set includes a dainty train made to stroll through an enchanting little town. The set is composed of houses, fairies, and a helipad and is also compatible with other wooden tracks, so your child can spread the magic.
Community Feedback
I'm impressed with the design and quality of this train set, which is perfect for young girls who love trains. The set comes with a generous amount of track and numerous accessories, making it a great value. However, I did experience an issue with one of the arches arriving broken, which was disappointing given the price I paid. The train itself tends to derail quite easily, which can be frustrating for both children and parents. Despite these drawbacks, my daughter still enjoys playing with the set and it has sparked her interest in trains.
How to Choose a Train Set
Depending on your child's age, there are some particular features to keep an eye on to appease them and also help them learn. Furthermore, as moms, we must always keep safety, space, and more in mind. Let's look at what's important:
---
Thank You For Your Feedback!
Thank You For Your Feedback!