Is it time to get your child their first train set or upgrade their existing track? A train set might be one of your longest-lasting toy purchases, so you should consider your options carefully.
We've studied and compared dozens of train set models to create this guide. We'll discuss some factors you'll need to consider when searching for the best train set for your kids, including room space, safety features, your child's abilities, and more.
We'll also share our favorite trains for every situation, based on criteria such as durability, affordability, extra features, ease of use, and child appeal. We'll highlight the best features of each set so you can find the perfect fit for your kids. Our list will save you time and money and help you choose a set that lasts for years.
Image
Model
Product Comparison Table
Features
Best for Basic Skills
Maple Landmark
Highly personalized
Safe, non-toxic paint
Sturdy maple hardwood
Best Cartoon-Themed
Thomas & Friends Station
111-piece set
Benefits fine motor skills
Manually powered
Best for Lego Fanatics
Lego City Cargo
7-speed infrared remote control
Full circular track
Includes 4 minifigures
Best Rideable Train Set
Thomas & Friends Wheels
Up to 1 mph speed
Easy-to-assemble track
Push-button operation
Best Multi-Purpose Set
Hey! Play! Set
Sturdy, durable poly construction
75-piece set
No batteries needed
Best City Train Set
Hape Busy City
Non-toxic finishes
Will last for years
Realistic crane
Best Farm-Inspired
KidKraft Farm
Brilliantly detailed
Sturdy construction
75 colorful rural-themed pieces
Best for Beginners
My First Railway
Frustration-free play
Simple guiding tracks
Tougher than tough
Best for Older Kids
Electric Classical Train
Battery-operated set
High-quality locomotive
41 piece set
Best Transportation-Inspired
Bigjigs Wooden Fairy Town
Compatible with other wooden tracks
Different shades of pink
Magnetic linking trains
---
---
The Best Train Sets for Kids of 2023
Here are our favorite train sets for kids.
1. Maple Landmark Name Train
Best Train Set for Basic Skills
Are you looking for a unique, personalized present? Combining learning and fun, this personalized "name train" might be a good option for kids 3 years and older.
Each colorful letter is coated with safe, non-toxic paint. They attach to each other with a simple magnet, easy for any child to assemble and disassemble on their own. This versatile train is made of sturdy hardwood and is compatible with other wooden train tracks.
---
2. Thomas & Friends Super Station
Best Cartoon-Themed Train Set
Does the name Percy sound familiar? If it does, it might be because it's one of your kid's favorite animated friends. This train set can hold up to 100 engines, and given all the accessories, boredom shouldn't be an issue.
Your child can configure this space-friendly train set in different layouts. It fits small playrooms and connects to other "Thomas & Friends" tracks. This is a gift made to impress.
---
3. Lego City Cargo Train Set
Best for Lego Fanatics
With its 888 pieces, this Lego train set takes modeling and construction to the next level. Because of its complexity and many small pieces, it's most suitable for kids over 6 years old. Due to the number of pieces, you might need a special storage box for this one.
With so many features and accessories to play with — including a crane — your kid will have numerous opportunities for their imagination to run wild. The remote control will keep the locomotive rolling.
---
4. Power Wheels Thomas & Friends Track
Best Rideable Train Set
A train track is sensational for toddlers, but sitting on a battery-operated locomotive is even more exciting. Also, if Thomas & Friends happens to be your little one's favorite cartoon, this is guaranteed to be a special set for them. This durable car-like locomotive is easy to operate and is accompanied by sounds and phrases.
This train is suitable for children ages 1 to 3. And if your child gets bored of going around in circles, the locomotive also functions off the track. Watch out!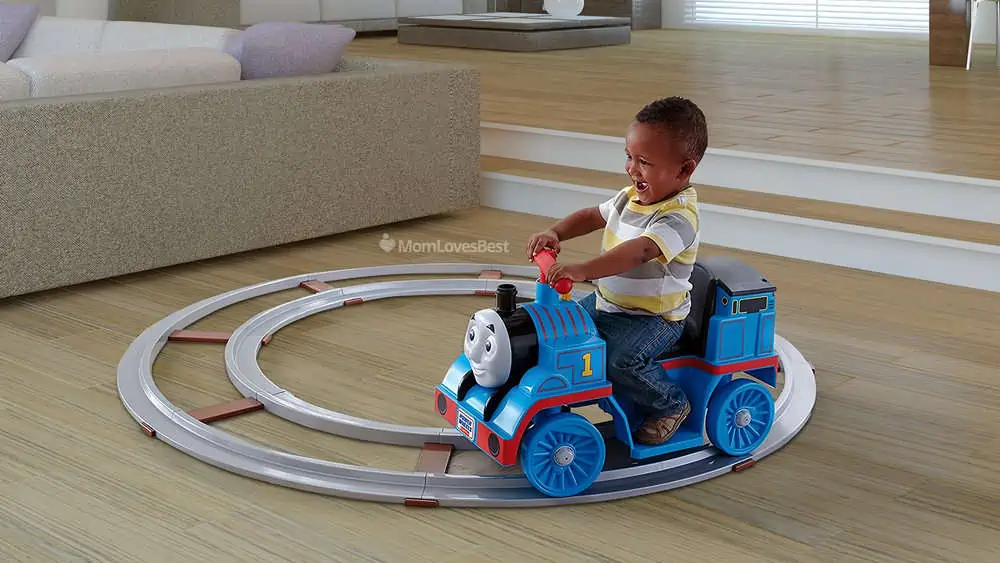 ---
5. Hey! Play! Wooden Train Set
Best Multi-Purpose Train Set
If you have limited space for a train track, this might be the solution you're looking for. This train set comes with a table, keeping all the pieces in one area. And the multi-level tracks will hold your little one's interest much longer than a basic one-level set.
The set includes plenty of accessories, including a bridge and tunnel. The bright colors will make it a point of interest in your child's bedroom or playroom.
Because it's made of 100% wood, it doesn't require batteries. It will save you space and money.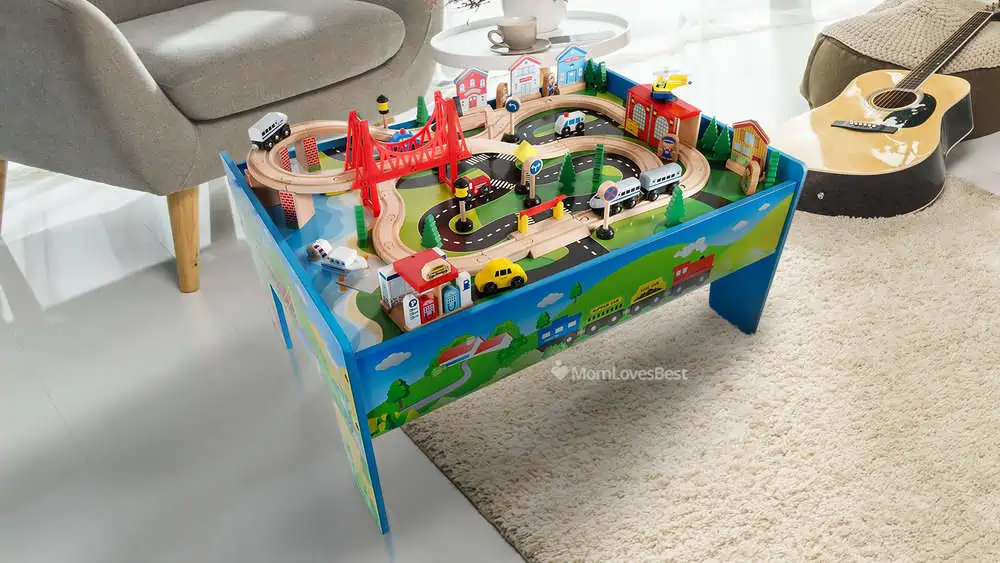 ---
6. Hape Wooden Train Set
Best City Train Set
This complete city-themed railway set features a passenger train, a freight train, a station, automatic gates, and a bridge. This set teaches your kids what a city entails. Traffic lights and signs will make their stories more animated and creative.
The wooden train set is also compatible with other tracks. When your child grows, you won't have any hassle adding on to it. This product is durable and child-safe, contains water-based paint, and has non-toxic finishes.
---
7. KidKraft Farm Train Set
Best Farm-Inspired Train Set
This train set contains 75 wooden pieces inspired by rural living. It will take your kid on adventures through mountains and past lakes, passing farms, cows, horses, pigs, and more. The design is thoughtful, and the pieces are attractive.
Because these wooden tracks are compatible with other brands, you'll be able to add different tracks to expand the set and keep your child interested.
---
8. My First Railway Train Set
Best Train Set for Beginner Enthusiasts
This high-quality wooden train set makes for the ideal starter kit for any child 18 months or older. Get your little one's creativity flowing with different track layouts, ramps, and a colorful bridge.
This train set is easy to assemble and dismantle and compatible with other wooden train tracks for further development. Adventure awaits!
---
9. Electric Classical Train Set
Best Electric Train Set for Older Kids
This item from Temi is the type of electric train set your child might keep around for a lifetime. It is listed as suitable for kids 3 years or older, but older kids will also enjoy this train set the most.
The high-quality locomotive contains detailed wagons with looped fast tracks. It's great for tech-savvy kids who like construction and model railroading. The product meets safety standards and is made from eco-friendly materials.

---
10. Wooden Fairy Town Train Set
Best Transportation-Inspired Train Set
If your little girl doesn't play with anything unless it's pink, this fairy-themed train set might be a good match. Lighter, feminine colors make it stand out amongst the countless primary-colored train sets.
The 75-piece wooden train set includes a dainty train made to stroll through an enchanting little town. The set is composed of houses, fairies, and a helipad and is also compatible with other wooden tracks, so your child can spread the magic.
How to Choose a Train Set
Depending on your child's age, there are some particular features to keep an eye on to appease them and also help them learn. Furthermore, as moms, we must always keep safety, space, and more in mind. Let's look at what's important:
---
Thank You For Your Feedback!
Thank You For Your Feedback!