Looking for the perfect nursery theme? Consider choosing a woodland motif. It's rustic, gender neutral, and – most importantly – absolutely adorable. Here are 31 ideas to help you put together the perfect nursery for your little one.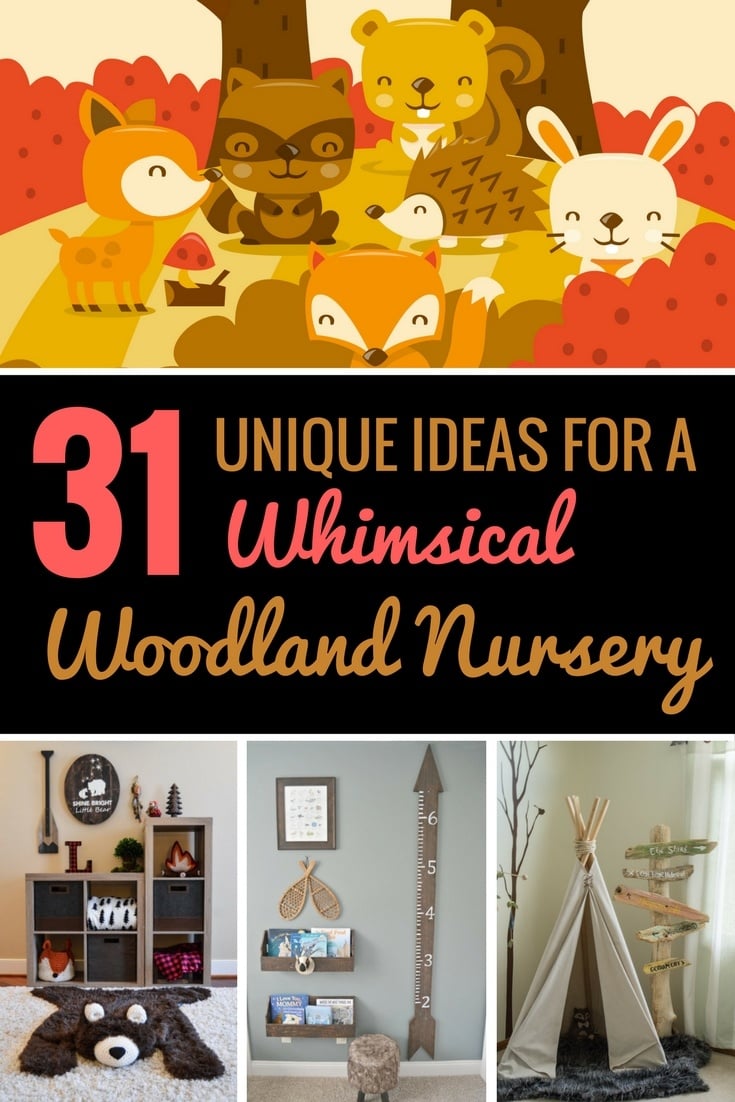 P.S. If you loooove these Woodland Nursery ideas as much as I do, don't forget to share them on Pinterest to inspire another mom <3
1. No nursery is complete without a name on the wall.
From Pinterest
2. Arrows are super trendy right now, and fit perfectly with this theme.
From Etsy
3. Transform the room into a cozy cabin! Install tongue-in-groove flooring on the wall for a rustic, unique look.
From Lady's Little Loves
4. Want a woodland theme that looks a little more feminine? Just add a pop of pink!
5. If you're not artistic enough to paint an elaborate mural, don't worry. Two words: vinyl decals.
6. Decorating can't get any easier than a glass jar and pine cones.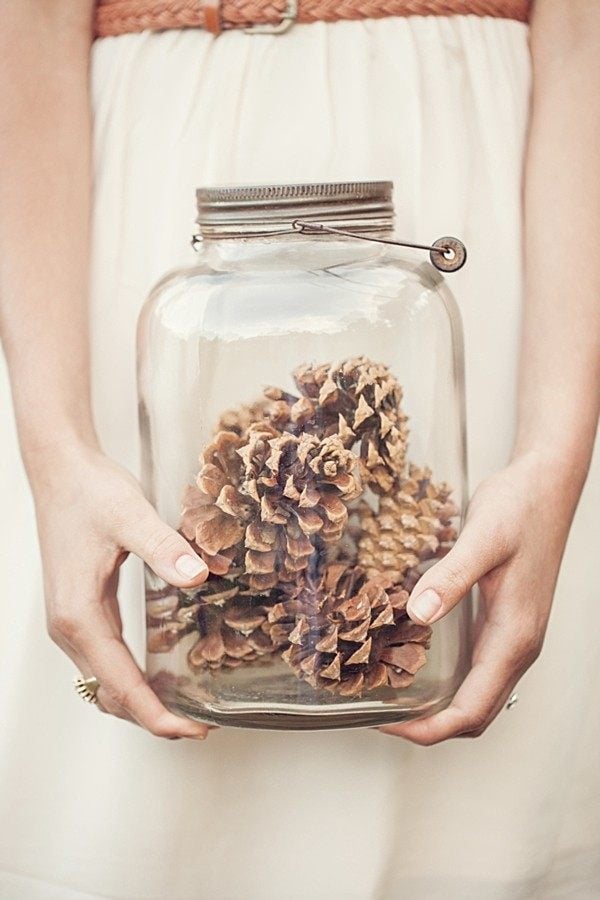 From Mountainside Bride
7. Make your own custom mobile!
From Vintage Meets Glam
8. How fun will this be when your little one starts crawling? The perfect hiding spot.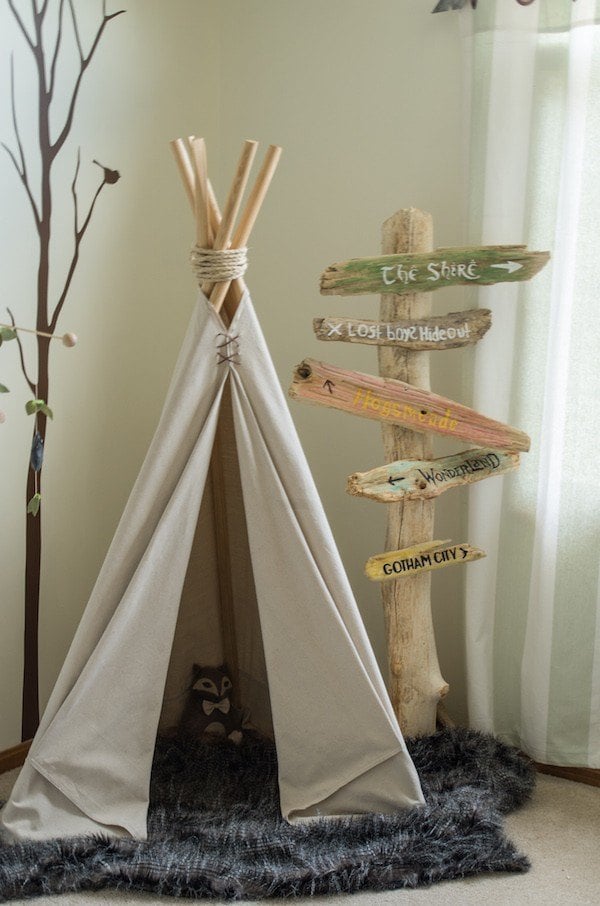 From Mary's Making
9. Think outside the house for a unique – and inexpensive – curtain rod.
From One Young Love
10. Of course the babe needs super cute sheets
11. Scare away those nightmares with this adorable campfire night light.
From petagadget
12. Maximize both space AND cuteness with this fabulous idea for stuffed animal storage.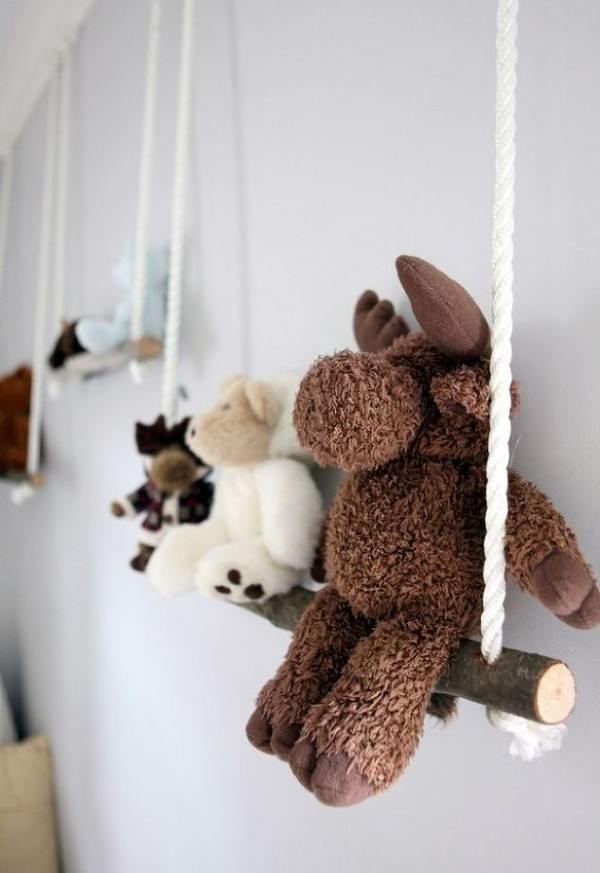 From hometalk
13. Add some whimsy with hand-painted woodland creatures.
14. We all know that babies grow too fast. Keep track of their growth with this giant height ruler.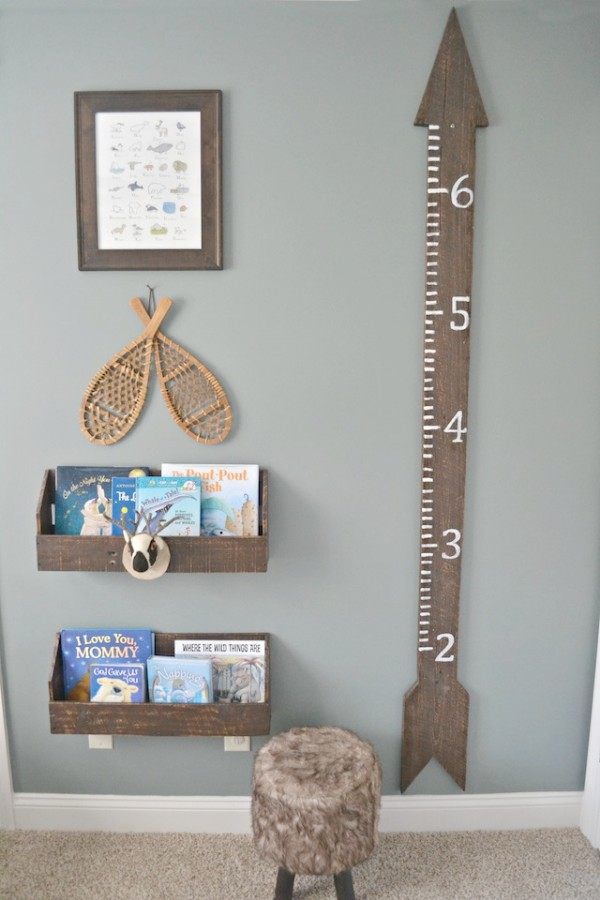 From Fawn Over Baby
15. If you're rocking your baby in their woodland nursery, you NEED matching burp cloths.
16. The smallest of details make the biggest of statements. Instead of traditional curtain tie backs, try these.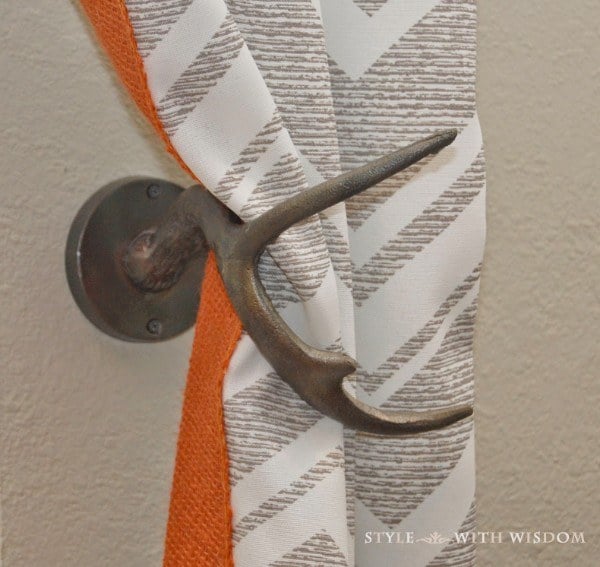 From Style With Wisdom
17. Can you imagine how soft and cozy tummy time would be on this rug?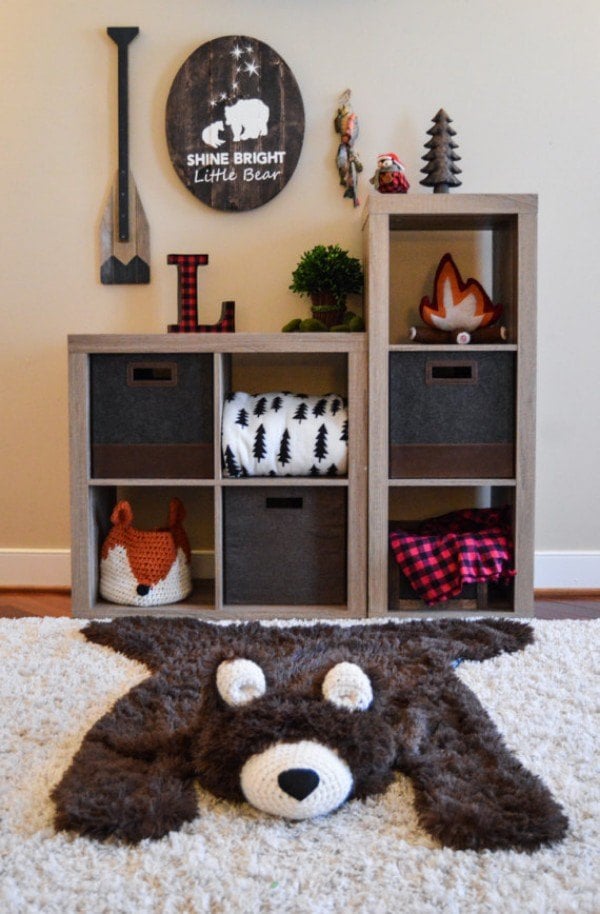 18. Your little one will sleep soundly in these sweet and cozy cotton swaddle blankets.
From Little Unicorn
19. This
20. Make a serious statement with this antler chandelier. Not just any baby could pull it off!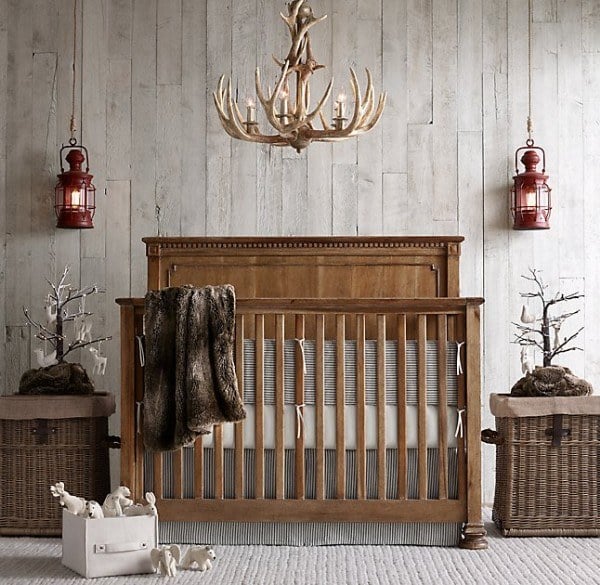 From RH Baby & Child
21. No need to buy a side table when you can just bring in a giant round of wood. You can't get much more natural than this.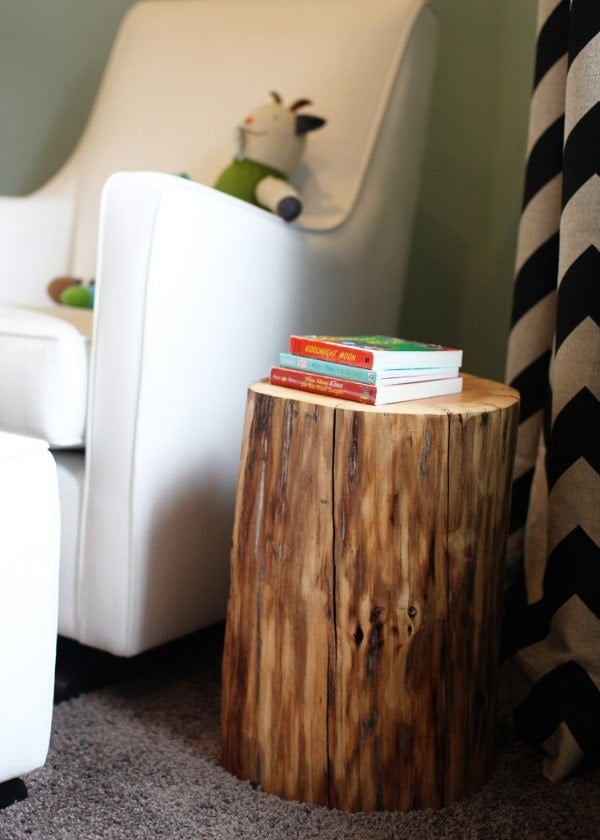 From Project Nursery
22. Transform a regular dresser into something completely unique with this simple – and practically FREE – modification.
From decoist
23. Fashion, meet function. A soft gray chair matches the theme perfectly, and provides a comfy place for those midnight feedings.
From Lazy Sunday Studios
24. Decorating doesn't have to be complicated. How perfect is this simple lantern?
25. Print your own woodland characters for super sweet wall décor.
From Hudson & Co
26. Who needs a rocking horse when you can have a rocking moose?
27. Paint an initial – or their whole name – to match the theme with these peek-a-boo woodland creatures.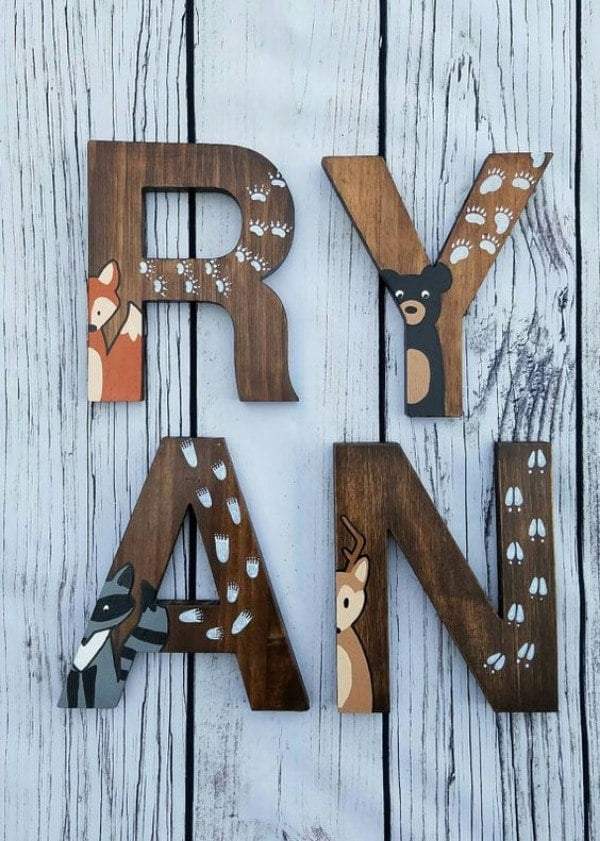 From Etsy
28. You'll feel like you're in the actual forest with this tree-made shelf tucked away in the corner. Just don't forget to bolt it to the wall to keep your sweet little one safe!
From Pinterest
29. Every parent knows how good pacifiers are at disappearing. Keep them from escaping with a rustic glass jar on the dresser.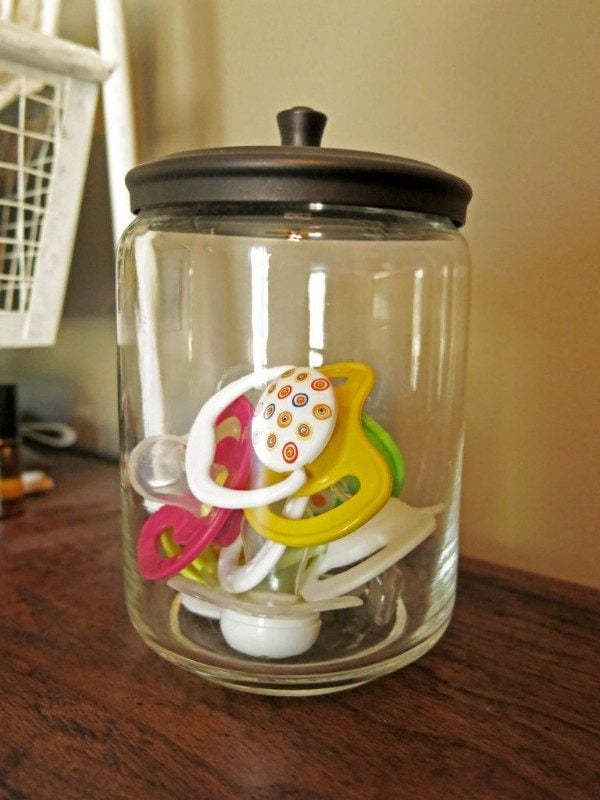 30. Turn a simple piece of scrap wood into an oh-so-practical clothes hanger.
From Project Nursery
31. Soften the edges of a rustic woodland nursery with a few flowers and flecks of gold. Check out this gorgeous monogrammed piece of art made from twigs.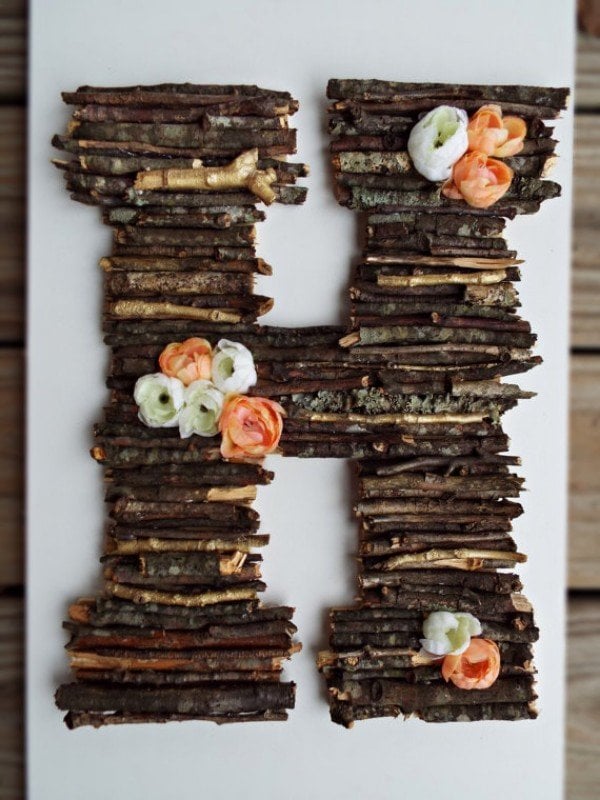 From Etsy
32. Instantly transform your walls using Vinyl.
From Decomurale
33. The most adorable rustic inspired nursery.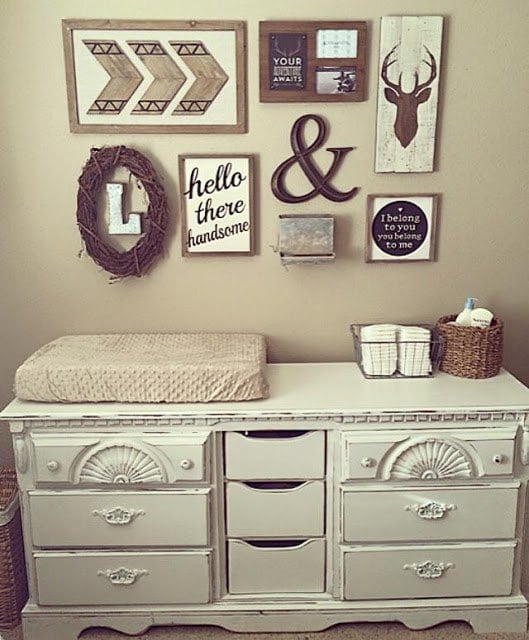 Are you planning a woodland themed nursery? Which of these ideas would help make the space perfect for your little one? Share this with a mama-to-be to help them make a room that is warm, cozy, and oh-so-fun for their sweet babe to grow up in!