If you're shopping for a baby mobile, you want something that's going to capture your child's attention and keep them interested.
As moms ourselves, we've tested out plenty of mobiles over the years. Some kept our little ones quiet and content for long periods, but others went completely unnoticed. We don't want you to waste your money like we did — far too many times!
So what does a good mobile look like? What visions will captivate your little one?
We've compared dozens of mobiles and got plenty of input from babies themselves — or at least their parents' interpretations of their input — to create this list of the ten best baby mobiles. Whether you're looking for some musical entertainment, something to help your little one to drift off to sleep, a toy to distract them on long car rides, or something to stimulate their little brain into deep thinking, one of these mobiles will fit the bill — and your budget too.
Image
Model
Product Comparison Table
Features
Best Musical Mobile
Mini Tudou Musical Mobile
Plays 150 songs
Detachable toys
Nightlight included
Best Portable Mobile
Tiny Love Take Along
Velcro fastener for infant carrier
Attatches to cribs, strollers, bassinets
Large clip for stroller
Best Musical Variety
Tiny Love Meadow Days
Grows with your baby
Soothing motion
Includes a soft night light
Best for Early Development
Wimmer-Ferguson Infant
Introduces baby to high contrast images
Graphic cards are labeled by age
Adjustable cord on mobile
Best All-Rounder
Tiny Love Classic
Supports baby's development
Easily transforms as your baby grows
Includes night light function
Best Night Light Combo
Tiny Love Princess Tales
Mobile soother and night light modes
Includes 3 adorable spinning toys
Plays 18 non-repetitive tunes
Best Wooden Baby Mobile
Wooden Beads Mobile
Attaches easily to most crib styles
Intricately balanced rods and beads
Bright colors enhance baby's vision
Best Bluetooth Baby Mobile
HolyFun Crib Mobile
Music or Bluetooth selection
BPA-free materials
Light projection
Best Scandanavian Design
Sorrel + Fern Scandinavian
Environment-friendly materials
Simple yet elegant
Easy to construct
Best for Car Seat and Stroller
Tiny Love Pack and Go
Clips easily to strollers, car seats
Attractive colors and patterns
Foldable
---
---
The Best Baby Mobiles of 2023
These are the best tried-and-true, baby-approved mobiles we've found.
1. Mini Tudou Baby Musical Crib Mobile
Best Musical Baby Mobile
This musical mobile is excellent for music lovers. It provides your baby with an array of musical options.
The musical mobile contains 150 beautiful tunes in a variety of styles — from lullabies to show tunes to natures sounds. If your baby is playing with it, it will run continually for an hour, encouraging your child's interaction. But it will auto sleep after 20 or 40 minutes when set to timer.
A remote control is also included in the set that has buttons to control the volume and rotation. These buttons ensure you won't be stuck with the same selection of songs each time, as you can skip to your favorites or replay the songs your baby loves.
The soft, colorful toys include animals, baby character, and shapes, and they can be removed from the mobile so your baby can play with them. We love that the toys include rattles and nightlights, making this mobile a dual-purpose toy that grows with your baby.
This musical mobile is unlike any other we tested in that it has many options for musical play, safety features, interactive pieces, and inviting colors to captivate your little one.
Pros
Plays 150 songs — up to an hour of music.
The toys detach for your child to play with once they outgrow the mobile.
Made with non-toxic, durable materials that will hold up to teething.
Nightlight is included.
Adjustable music sound level and ability to navigate the song list.
Cons
No options to choose lights.
Some people may not like the song randomization.
Can only be affixed to a limited dimension.
---
2. Tiny Love Take Along Baby Mobile
Best Portable Baby Mobile
The Tiny Love Take-Along Mobile is a colorful and engaging mobile that easily goes everywhere with your baby. Thousands of moms and babies have approved this mobile because it's so easy to use and so portable, while still providing visual and audio entertainment.
From a very young age, babies appreciate the sense of security and continuity invoked by taking this mobile wherever they go.
You can choose from a range of colors and themes for the spinning toys, including bright-colored under-the-sea creatures, a black and white woodlands theme, a feminine-colored baby animals theme, and a bright animals design.
We love how easily this adaptable mobile attaches to most carriers, play yards, cribs, strollers, and bassinets, so you can take it along wherever you and your baby choose to go. And it's super easy to attach and remove from items with its big claw-shaped clip.
This is the best baby mobile we found for little ones who get attached to their toys, and moms love the convenience of this portable unit.
Pros
Attaches easily to cribs, strollers, car seats, play yards, bassinets, and more.
Plays 30 minutes of uninterrupted music with five different melodies.
Velcro fastener for infant carrier.
Includes large clip for stroller.
Cons
Doesn't attach to some bouncers or swings, such as the Mamaroo.
Some users find the motor to be a little noisy.
---
3. Tiny Love Meadow Days Crib Mobile
Best Musical Variety
The Soothe 'n Groove Mobile is an ingenious way to entertain your child from their earliest days through their toddler years, both at home and on the go.
Babies love this mobile for its variety of musical options. With six musical categories and 18 tunes, it plays continuously for up to 40 minutes. We love this because it means we don't have to keep returning to the mobile to reset the song, disturbing our baby just as they're about to fall asleep, and interrupting our much-needed quiet time.
The mobile's soothing motion captured our babies' attention and kept them engaged for longer than we'd expected. And the colorful buttons allow them to activate and change the music on their own. The unique design features two high-quality speakers for great sound and easy-to-control volume.
This mobile is especially useful for parents hoping to get more out of the traditional mobile. It works great when attached to a crib, but unfortunately, we couldn't find a way to attach it to a pack and play.
Pros
Transitions from a crib toy to a stand-alone music box.
Offers six musical options with 18 melodies.
Forty minutes of uninterrupted music with your choice of calming or energetic tunes.
Specially-designed soothing motion for a calm and relaxed baby.
Includes a soft night light to comfort your baby at night.
Cons
Some users noticed a clicking sound when in use.
Doesn't attach to most play yards.
---
4. Wimmer-Ferguson Infant Stim-Mobile
Best Baby Mobile for Early Development
The Infant Stim Mobile is a unique crib mobile that incorporates research-based black and white, high-contrast graphics and images to engage your infant fully.
If you are looking for the best mobile for baby development and entertainment, this is it!
The easy-to-install crib mobile arm includes an adjustable cord to change the distance of the graphic cards as your baby's vision develops. The arm lock fits most cribs, so you shouldn't have to fight to install it.
Babies cannot see anything distinct when they're first born, so this mobile will be great from the start as their sight develops and they learn to recognize shapes, colors, and images.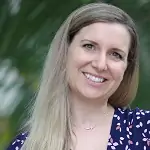 Editor's Note:
Katelyn Holt RN, BSN, BC
The Stim-Mobile was developed in 1988 and has received numerous accolades over the years.  It was recently named Best Mobile by Reader's Favorites. The company prides itself on its attention to detail and milestone-specific graphics to help encourage your baby to learn.
There are 10 graphics to choose from, so you can be sure it will continually stimulate your baby. The images are also designed with age in mind, so your baby will constantly be challenged and encouraged to learn.
Pros
Introduces your baby to high-contrast images and colors for early visual development.
Ten interchangeable cards offer a range of simple to complex patterns and graphics.
Graphic cards are labeled by age to help ensure you use the best cards for your baby's current stage.
The adjustable cord allows you to easily change the distance of the cards from your baby.
Cons
The pictures can be tricky to keep in place.
Product assembly can be challenging.
Does not include music.
---
5. Tiny Love Classic Developmental Baby Mobile
Best All-round Mobile
With this mobile, your baby gets the best of both worlds. The unique and innovative design combines a mix of the stark black and white patterns of developmental mobiles and the adorable, cute characters children so often love.
Three hanging spirals and three animal characters hang from the top of the mobile. Choose one of the four melodic tunes from the music box, including a 20-minute continuous classical music loop. It also features movement and light features.
Moms can control the level of engagement the mobile offers by turning off the lights, movement, or sound as they see fit. Once your baby gets a bit older, you can remove the arm and let them play with the music controls independently. A glowing night light function is helpful in the night.
We love that this mobile has so many functions to entertain your baby and support their development.
Pros
Design elements support development and entertainment.
Easily transforms as your baby grows.
Includes night light function.
Cons
Does not include the three necessary C batteries.
---
6. Tiny Love Tiny Princess Tales Crib Mobile
Best Baby Mobile and Night Light Combo
If you are trying to find a baby mobile that creates a soothing rather than entertaining environment, this is your best option.
This cute mobile combines many great features to promote sleep. It plays 40 minutes of music, including jazz, world, classic or lullaby, or you can opt for white noise or nature sounds instead.
The soft blue night light displays a sweet deer and butterfly image your baby will be drawn to, and it's designed to fit almost all modern-day cribs with ease.
With cute character friends your baby will love and a detachable music unit they can carry around with them when they're older, this mobile is sure to be a hit.
Once your child outgrows the need for a mobile, the unit converts into a table lamp or night light. Parenting, as we all know, can get expensive, so we love multi-use items like this mobile that save us money in the long run!
Pros
Mobile soother and night light modes to grow with your baby and promote sleep.
Mobile includes three adorable spinning toys.
Plays 18 non-repetitive tunes for 40 minute of musical enjoyment.
Universal attachment to fit most cribs.
Cons
Large unit isn't very portable.
Doesn't attach to mesh cribs or play yards.
---
7. Wooden Beads Infant Mobile
Best Wooden Baby Mobile
If you are looking for a simplistic mobile that doesn't have so many features that it will overstimulate your baby, this unit is your best option.
Designed as an indoor "wind chime," the design features neutral colors and a geometric stars, moon, and planet design that will instantly capture your baby's attention.
The gently swaying motion will encourage your baby to focus and track movement, and the offset appendages help develop depth perception. This not only helps your baby's developing vision but is calming as they settle into their crib or wake from sleep. As it is suspended from the ceiling by a cord, it will move on its without without any need for batteries.
Pros
Celing suspension means it works with any type of baby bed.
The rods and beads are intricately balanced to twist and turn to mesmerize your baby.
Soothing neutral colors aren't distracting.
Carefully constructed with environmentally friendly materials.
Cons
Does not play music.
Isn't portable as it's attached to the ceiling rather than the crib
---
8. HolyFun Musical Crib Mobile
Best Bluetooth Baby Mobile
The HolyFun Bluetooth Mobile starts as a motorized crib mobile for newborns with music, toys, and a light show.
Using the Bluetooth function, you can calm your little one with music and soothing sounds – without disturbing your baby! The music mode allows you to play an uninterrupted minutes of melodies and the full-color ceiling-projected light show directly from the remote.
And if the lights and sounds aren't enough, the animal and shape toys rotate to keep your baby's attention focused on this colorful unit.
Pros
Choose from music and Bluetooth sound options.
Music sounds and ceiling light projection.
Easy installation.
Cons
No option of attaching this baby mobile on a bassinet.
Doesn't attach well to cribs with thicker slats.
Height isn't adjustable.
---
9. Sorrel + Fern Scandinavian Elephant Baby Mobile
Best Natural Elements
If you love the look of natural wood and felt elements and soothing colors in, you'll adore this sweet Sorrel + Fern Baby Crib Mobile. It features unique 3D design character projections made of eco-friendly felt and unfinished wood that will lull your baby soundly to sleep in no time.
We love this mobile's minimalistic design, which we found to be best for babies who tend to get overexcited by bright colors, lights, and sounds. The calming design is gender neutral and will match the decor of most nurseries.
Choose from several simple yet beautiful themes, such as elephant and stars, a nautical theme, or a variety of bird and cloud designs. The hypoallergenic, environment-friendly felt elements hang from a minimalist wooden hoop that attaches directly to your crib.
Pros
Hypoallergenic and environment-friendly materials.
Simple yet elegant.
Easy to construct.
Cons
Wood frame is not very durable.
Strings are prone to tangling.
---
10. Tiny Love Pack and Go Mini Baby Mobile
Best Mobile for Car Seats and Strollers
We know the struggle of trying to keep a baby happy in their stroller or car seat when you can't always come to their rescue quickly. This mobile is an excellent solution for on-the-go travel because of its compact design that allows you the freedom to bring it anywhere.
The colorful toys will help capture your baby's attention and hopefully distract them from the fact that you can't easily reach them.
One of the best features of this mobile is that it is designed to be closer to your baby than most crib mobiles. This means your baby will be able to interact with it fully, and the pieces are safe for your baby to grab.
There aren't any strings or dangerous objects that pose a suffocation or choking hazard. This is especially important if you choose to use it in your car where you can't have your eyes on your baby constantly.
Pros
Clips easily to most strollers and car seats.
Colors and patterns attract your baby's attention.
Bell-shaped wind chime makes pleasing sounds when baby touches.
Easily folds away to be carried anywhere.
Cons
No movement or music.
Some noted the wind chime is heavy and could be dangerous.
Why Do Babies Love Mobiles?
As you have probably heard many times by now, back sleeping is best for your baby. But when your baby is on their back in their sleeping area, the ceiling above can be a rather uninviting place to look.
Babies thrive on stimulation, so having something entertaining to look at may be the difference between your baby being content or quickly becoming fussy. No one wants to stare at a blank ceiling, but your baby will be intrigued if there is an interesting object above.
A baby mobile is like you're baby's first entertainment center. The best baby mobiles will fascinate your baby — as much as your cell phone fascinates your toddler. They're the equivalent of screen time for older kids — but in a healthy way! A mobile will stimulate your baby's eyes, mind, and even their ears if they include music.
They're great for parents hoping to get a little extra free time when their baby is in bed or resting. If your baby gets fussy every time you leave the room, their mobile can be a comforting and distracting companion.
Types of Baby Mobiles
Aside from the fact that baby mobiles have different features, many are built in different ways. We'll help you become familiar with all the different attachments, uses, and features so you can make an easier decision about which mobile will be best for your little one.
There are typically three types of baby mobiles:
Crib-mounted Mobile
This is the most popular type of baby mobile, and it's also the easiest to assemble. Clip it to the side of the crib, and your job is done. These mobiles can support more weight, so they often have more complex items hanging from them.
Ceiling-mounted Mobile
This type of mobile is less popular because it's not portable. You have to hang a hook from the ceiling and hang the mobile from it. If you ever want to move the mobile, you have to create another hole in the ceiling.
Portable Mobile
Much like the crib-mounted mobile, portable ones often clip onto any item you choose. The difference between these and crib-mounted mobiles is that the hanging items aren't as heavy because the mobile is meant to be frequently moved around.
How to Choose the Best Crib Mobile
The best crib mobile is the one that suits your baby's entertainment preferences and fits with where you want to use it most. These are some questions you should consider before choosing.
---
Crib Mobile Safety Considerations
As with most baby items, you need to be aware of the safety risks.
1.

Out of reach

Although it may be cute, if your baby can touch or hit one of the hanging items, you'll need to raise the mobile.

If your baby has the potential to pull the mobile down or get caught up in the strings, it can pose a serious risk. Not only could this be a strangulation hazard, but it could also cut off circulation to tiny fingers or other body parts.

Once your baby can sit up or easily access the mobile and you can no longer raise it, it is time to remove it. You don't want to put your baby at risk.
2.

String length

Even if you feel like your mobile is far enough from reach, pay attention to the length of the strings. The American Academy of Pediatrics advises that mobiles have strings that are shorter than seven inches to prevent a serious strangulation hazard.
3.

Keep it clean

Your mobile will collect dust just like any other object in your house. It is best if you try to clean it once a week. If you allow dust to collect and then turn the mobile on, all of that dust goes directly to your baby and their bed.
4.

Keep it secure

You need to make sure the mobile is completely secure. Once you install it, you should give it a tug. If it feels even slightly loose, adjust it to be safer. You can use zip ties to reinforce crib attachments. You don't want your baby pulling it down on their head (1).
5.

Age appropriate

Pay close attention to your mobile's age range. Most mobiles are designed with newborns in mind rather than older babies or toddlers.

If a mobile has a suggested age range like 0-6 months, it is probably best you remove it by 6 months because your baby will soon master certain milestones that could make using your mobile dangerous.

If you still want to utilize your mobile once the age range has expired, you can always find another spot for it. Many parents move their mobile above the diaper changing area to keep their little wiggle worm slightly distracted and make diaper changes a little easier.
---
Thank You For Your Feedback!
Thank You For Your Feedback!