Your baby will spend a lot of time in their crib, so it's important for you to decide what you want out of it.
Do you want a convertible crib you can use as a toddler bed later? Are you worried a crib will never fit in your apartment? Or are you concerned about the impact a crib will have on your limited budget?
There's a crib for every baby — no matter how limited your circumstances may seem — and we've made it our goal to help you find the perfect one.
We'll answer all your crib questions to help you understand your options and share our top 11 picks for the best cribs of every kind.
Image
Model
Product Comparison Table
Features
Best Convertible
Babyletto Hudson
Greenguard Gold Certified
Converts into toddler & child bed
Meets ASTM International safety standards
Most Beautiful
Delta Children Canton
Easy to follow directions
3 different mattress positions
JPMA certified
Best for Portability
BabyBjorn Light
Easy to carry around
Beautiful, with nice color selections
Meets safety standards
Best Folding Crib
Dream On Me Portable
Heavy-duty crib
Lock wheels for added safety
Meet CPSC & ASTM safety standards
Best for Travel
Lotus Portable Playard
Easy to carry
Big enough to hold a toddler
Zippered side door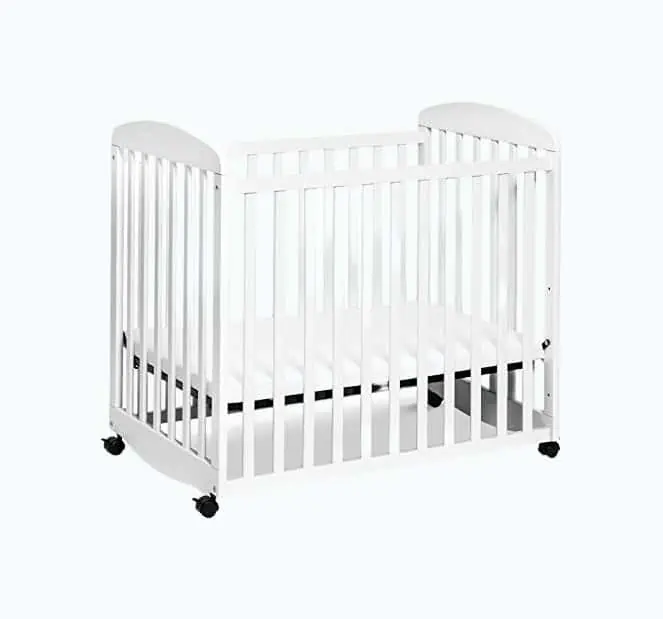 Best for Small Spaces
DaVinci Alpha Mini
Easy to assemble
Affordable
Very portable
Best for Newborns
Graco Travel Lite Crib
Removable bassinet
20% smaller than traditional playards
Compact fold
Best for Tight Budget
Dream On Me 4-in-1
Super affordable
Easy to assemble
Lasts for years
Best for Short Moms
Stork Craft Tuscany
Convertible crib
Complete bedroom solution
3 different mattress heights
Best for Co-Sleeping
Delta Children Portable
Affordable
Can easily be stored
Built to last
Review Methodology: At Mom Loves Best, we understand the importance of finding the perfect crib for your baby, and we're here to help. Our team of experts has conducted an in-depth analysis and hands-on assessment of various cribs, comparing them based on key decision-making factors such as safety, durability, design, and functionality. We evaluate products from a user's perspective and use quantitative measurements to rank each crib's performance. Through our research and experience, we've identified the top cribs that stand out from their competitors, providing you with first-hand evidence and insights. Our comprehensive review covers essential criteria such as material quality, ease of assembly, mattress support, and convertible features, to ensure you make the best choice for your little one's comfort and safety. Trust Mom Loves Best to guide you through the process of selecting the ideal crib for your family.
---
---
The Best Baby Cribs of 2023
Here are 11 great cribs to consider.
Babyletto Hudson 3-in-1 Convertible Crib
Best Convertible Crib
A crib should be a safe space for your baby. With this eco-friendly crib from Bablyetto, you can rest assured your nursery is good for your baby and the environment.
Each crib is made from sustainable New Zealand pine and is Greenguard Gold certified. This means it has passed rigorous testing, including a screen for over 10,000 chemicals, as a product that contributes to a safe environment for children and parents.
Because this is a 3-in-1 crib, you'll be able to use it as your child grows. The included transition kit turns this crib into a toddler bed and a big kid bed. This saves you money and helps protect the environment from unnecessary waste.
We love the stylish modern design with its simple charm. It also has four mattress support settings, though it's important to note that a crib mattress is not included with the crib.
Pros
Greenguard Gold certified and made from sustainable New Zealand pine wood.
Converts into a toddler and child-sized bed as your little one grows.
The four mattress settings allow you to find the perfect height.
Meets ASTM international and U.S. CPSC safety standards.
Our Ratings
Community Feedback
I've recently purchased this Greenguard Gold Certified Crib, and I couldn't be happier with my decision. The assembly was a bit challenging, but once completed, the crib is incredibly sturdy and visually appealing. The white color adds a touch of class, and unlike other cribs I've seen, there is no paint chipping. As a shorter individual, I initially had some difficulty placing my baby in the crib, but this issue has since resolved itself as my baby has grown. One minor drawback was the initial smell of the crib, which required an air purifier for the first few days; however, this issue has subsided.
---
Delta Children Canton 4-in-1 Convertible Crib
Most Beautiful Crib
This multi-purpose crib fits a variety of your baby's needs. In addition to being a crib, you can use it as a toddler bed, a day bed, and even a full-sized bed complete with a headboard and footboard. You won't have to spend extra money to buy another bed for your child because this one will last.
The crib portion comes with three different mattress positions you can use to ensure your comfort and your baby's safety.
It's carefully made with a non-toxic finish, so you won't have to worry about your baby ingesting lead or other harmful chemicals. It doesn't have a drop-side either, so you don't have to worry about any harm coming to little fingers.
It comes in five color choices, so you'll be able to find one to complement the nursery colors you've selected.
During hotter months, your baby will get plenty of circulation in this crib because there are slats on each side. And most moms love the modern sleigh style design.
Overall, this is a good, sturdy choice if you're looking for a solid crib for your baby.
Pros
The directions are easy to follow.
Having three mattress positions is a nice perk.
It's a beautiful, stylish crib.
JPMA certified to meet all required safety standards.
Cons
You may need help assembling this because the wooden pieces are pretty heavy.
It's initially pricier than some other cribs, but you'll regain that money by not buying a toddler bed later.
Our Ratings
Community Feedback
I've had this crib for my grandson and it has been a great value for the price. Assembly was straightforward, but make sure to assemble it in the room where it's going to stay, as it won't fit through a standard door once assembled. The crib looks fancy and feels solid, with smooth edges and a nice finish. One downside was a slight odor for the first 24 hours, but it didn't seem harmful and quickly dissipated. While not an heirloom piece, this crib will serve its purpose well and is worth the investment.
---
BabyBjorn Travel Light Crib
Most Portable Crib
If you want a portable crib you can move from room to room with ease, the BabyBjorn Travel Light may just be the best crib for you. At just 13 pounds, it's easy to move around your house. Because it's so simple to set up and pack away, it's also good for traveling or taking to your daycare provider's house.
It comes with a thin mattress, and the mesh sides allow for air circulation, and you'll be able to check on your child without having to peek over the top.
With its seven different color options, this is one stylish-looking crib with a modern flair. Your baby will get a lot of use out of this, both as a crib and a play yard. At two feet in height, your baby will be able to use it as they grow into toddlerhood.
Unlike some other portable cribs meant for travel, this one feels durable and doesn't seem to sag from your baby's weight after extended use.
Pros
It's easy to carry around, both inside and outside your house.
It's beautiful and has nice color selections.
JPMA Certified to meet safety standards.
Cons
Pretty expensive for a portable crib.
It might be hard for shorter moms to reach their babies.
Our Ratings
Community Feedback
This travel crib has been a fantastic addition to our baby gear, as it is lightweight, easy to set up and take down, and provides a comfortable sleeping space for our little one. The mattress is slightly thinner than I had hoped, but our baby doesn't seem to mind and sleeps well in it. While it is smaller than a typical pack n play and may not be ideal for older babies to play in, it serves its purpose well as a travel crib. The only downside is the expensive Baby Bjorn sheets, but we found alternative sheets that fit reasonably well for a fraction of the cost.
---
Dream On Me 2-in-1 Folding Crib
Best Folding Crib
This crib folds totally flat, so you never have to worry about finding a place to store it. It only takes a couple of minutes to fold it completely. Once folded, it fits in any closet and sits flush against the wall. It's a good option for traveling — your baby will always have a place to sleep when you stay overnight in hotels.
It comes with wheels so you can roll it around, but they lock, so you don't have to worry about your baby getting into mischief when they're old enough to push off from the wall.
You can also turn this into a playpen easily — and you only need one hand to do it.
It's made out of birch, which is an excellent hardwood that doesn't scratch easily. It comes with a one-inch crib mattress pad and every tool you'll need to put the crib together. Unlike some other models, this one is simple to assemble.
However, this crib is on the smaller side at 40 x 26 x 38 inches — which can be an advantage if you want to save space or a disadvantage if you're looking for something that can grow with your child.
Pros
Shorter moms will be able to reach their babies in this crib.
This is a heavy-duty crib that will hold up to a lot of use.
The wheels lock for added safety.
Meets CPSC and ASTM safety standards.
Cons
It only has two mattress height settings.
It's smaller than a full-sized crib.
Our Ratings
Community Feedback
In my experience, this crib has been a sturdy and compact solution for limited spaces. Assembly was a bit challenging and could use clearer instructions, but once set up, the crib felt secure. The included mattress was thin, so I opted for a 3-inch one instead, which fit well. The crib's espresso color matched my other furniture, and I appreciated the added features like the plastic rail guard and metal wheels for easy mobility.
---
Lotus Travel and Portable Playard
Best Crib for Travel
When you're hitting the road and need something that won't be a problem to lug around and set up, this may be the best crib for you as it doubles as a playpen.
It only takes a few seconds to set up, and it folds into a carrying case you can cart around like a duffel bag or a backpack. It only weighs 13 pounds, so you don't have to be super strong to carry it.
The side zips up, which gives you a way to reach your baby if bending over that far isn't an option for you. And when your baby grows into the toddler phase, they'll be able to zip themselves in and out of the playpen.
The mesh crib sides allow your baby to breathe freely while sleeping. Plus, you'll be able to see through the mesh and keep close watch over your baby whether you're camping or in a hotel room.
This crib has no potentially harmful flame retardants, and you don't have to worry about other unwanted chemicals like PVC, phthalates, and lead.
Pros
It's lightweight and easy to carry.
At 25 inches deep, this is also big enough to hold a toddler.
The zippered side door is a feature toddlers will like.
Cons
It's pretty expensive for a travel crib.
Wrestling this back into its carrying bag can be tricky.
Our Ratings
Community Feedback
These Lotus Cribs are fantastic for traveling families due to their lightweight and portable design. I found that setting it up takes no more than a couple of minutes and requires no tools, making it much more convenient than our previous pack 'n' play. The safety features are top-notch, with a longer and narrower design that can accommodate taller babies and no fabric border posing a suffocation hazard. I appreciate the sturdiness of the top rail and metal legs, which can support heavy infants without a problem. The side zipper is a fun addition that my toddler enjoys, transforming the crib into an entertaining play space.
---
DaVinci Alpha Mini Rocking Crib
Best Baby Crib for Small Spaces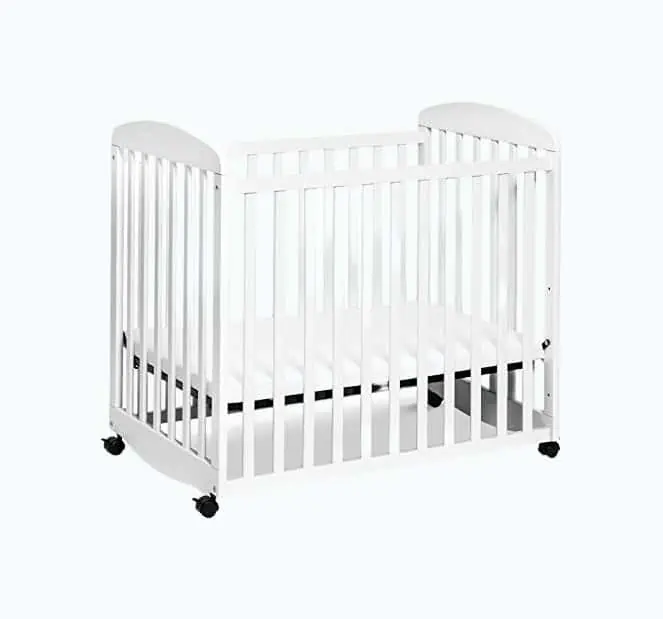 This crib has four mattress support positions, which means you'll always find one that works for both you and your baby. The lowest setting is 25 inches from the top rail.
It comes with wheels, but you don't have to use them as they're easy to snap in and out.
The crib is made of New Zealand pine, using a non-toxic painting process, and it doesn't contain lead or phthalate.
This mini crib comes with a one-inch waterproof pad. When you take off the wheels, you have the option of using it as a rocking crib, but you have to rock it manually.
The assembly for this one isn't tough. Even people who are not mechanically inclined should be able to figure it out. The final product measures 40 x 28 x 34 inches.
If you have a small space, this mini crib should work just fine, and even if you assemble it in another room, it will fit through standard-sized doorways.
Pros
Easy to assemble.
It's affordable.
Easy to move from room to room.
Cons
Lightweight, so you may want to anchor it to the wall.
The wood scratches easily if your baby chews on it when teething.
Our Ratings
Community Feedback
I'm thrilled with this mini crib, as it's perfect for small spaces and has a unique rocking feature that helps my baby stay asleep. The crib feels sturdy and looks great, but it was a bit of a challenge to find the right sheets and mattress pad to fit. The rocking feature is neat, but once your baby can stand up, it's essential to lock it in place to prevent tipping.
---
Graco Travel Lite Crib
Best Crib for Newborns
When you bring your baby home from the hospital, you'll feel like you never want to let them out of your sight. But this can be difficult when you're trying to get things done during nap time. This crib is an excellent solution to that problem.
You can set it up in your living room, and it won't hog all the space because it's smaller than a standard playpen and crib combination. The wheels make it easy to drag into any room you like, so you never have to let your baby out of your view.
Because it weighs less than 20 pounds, you'll be able to take it with you if you're traveling or visiting a grandparent's house. It's simple to convert into a playpen as your baby grows and has a canopy with soft toys attached.
The crib portion should only be used for babies weighing 15 pounds or less. Once they're able to get into the crawling position, you should stop using the crib part.
Pros
You can always keep your sleeping baby in your line of sight.
Your toddler will enjoy the pack 'n play long after they've outgrown the crib.
It's very affordable.
Cons
Babies don't fit in the crib part of this unit for very long.
The wheels don't lock.
Our Ratings
Community Feedback
After using this Graco mini crib for several months, I can confidently say that it has been an excellent addition to our small living space. The crib is easy to assemble, portable, and comes with a carrying case, making it perfect for travel or tight quarters. Despite the lack of padding, adding a soft blanket makes it comfortable for my baby to sleep in. The adjustable height levels and the canopy shade are great features that add versatility to the crib.
---
Dream On Me 4-in-1 Convertible Mini Crib
Best Budget Crib
This option is cheap enough that you won't feel much sting in your wallet when you buy it. The price is even more of a bargain because it's a 4-in-1 convertible crib. When your baby outgrows it, you can reconfigure this into a toddler bed. Once they outgrow that, you can change it into a twin-size bed or daybed.
It's made of solid pine and composite and comes in seven different color choices, so you'll be able to find one to match your nursery decor.
The mattress adjusts to three different positions, so you'll find a comfortable setting no matter what stage your baby is in. With a maximum recommended height of 36 inches and 40 pounds, this will last your baby well into their toddler years.
If you aren't great at putting things together, you'll love this crib's easy assembly. You won't be scratching your head wondering where all the parts go with this one.
Pros
It's super affordable.
Easy to assemble.
It will last for years.
Our Ratings
Community Feedback
I'm really pleased with this mini crib, as it's a space-saving alternative to a full-sized crib and was simple to assemble. It's lightweight and easy to move around, but I recommend purchasing a thicker mattress since the one included is quite thin. The crib is sturdy and fits well in our small room, but keep in mind that it may not be suitable for a growing toddler as the description suggests.
---
Stork Craft Tuscany 4-in-1 Convertible Crib
Best Crib for Short Moms
This crib has three adjustable mattress positions. You can use the highest setting until your baby can pull up into the crawling position. Then, as they get bigger, you can use the lower settings. By then, your baby will be capable of reaching up to you, so your height won't be as much of an issue.
After your baby outgrows their crib, it can convert to a toddler bed. After that, it can be changed into a daybed and, later, a full-size bed.
It's made of solid wood that meets all the safety requirements for U.S. cribs, and the classic sleigh design incorporates clean lines that'll look good in any nursery.
If you want all your baby's nursery furniture to have a complementary look, this company also makes matching pieces like a changing table, dresser, and nursery glider.
Pros
It's affordable, considering it's a convertible crib.
Comes in five colors.
It has three mattress heights.
Cons
Assembly instructions lack detail.
The wood is easy to mark up.
Our Ratings
Community Feedback
I'm really impressed with this crib's sturdiness and beautiful espresso color. When I first placed my newborn son in it, he seemed tiny, but as he's grown, it's proven to be the perfect size for him to roll around in. The assembly process was straightforward, despite some initial difficulty finding the instructions. Although the wood may scratch or dent easily, it has held up well for us so far, and I appreciate its versatility with the ability to convert into a toddler bed.
---
Delta Children Crib
Best Baby Crib for Co-Sleeping
This mini crib's lower height lets you easily see your baby from your bed. With a simple glance, you'll be able to confirm they're still breathing and check whether they're sleeping or awake.
Plus, it's small enough that you should be able to find space to put it right next to your bed.
As a bonus, you can wheel it to other rooms during the day so your baby will always be in reach. The lightweight design makes it easy to transport within the house. And if you need more space, you can easily fold it flat and store it in a closet.
Because it's so lightweight and folds so well, this is a good crib for travel purposes as well.
It comes in five colors and has slats around each side, including the ends, so nothing will block your view of your baby.
To ensure it remains safe as your child grows, you can lower the mattress height since it has two different positions.
Pros
It's affordable.
This can easily be stored when not in use.
It sits low enough that you can see your baby even when you're lying in bed.
Cons
Assembly is difficult for some parents.
Not as durable as some other options.
Our Ratings
Community Feedback
My experience with this mini crib has been positive overall, as it is both compact and sturdy, making it perfect for occasional use when my grandchild visits. The crib was simple to assemble and easy to move from room to room, but I did invest in a better mattress for added comfort. One drawback is that the castors do not lock, which could be an issue on hardwood floors as the baby gets bigger, but I am still satisfied with my purchase.
---
DaVinci Emily 2-in-1 Crib
Best Crib For Twins
This mini crib is a perfect alternative to a full-sized version. For moms of twins, it can be a great space saver. You'll be able to fit two into one nursery so your babes can be together like they were in the womb.
It also sits lower than many other cribs, which is great for moms recovering from C-sections or who have bad backs. You won't have to lift your baby as high as moms using traditional size cribs will, and since there are two different mattress positions, you can adjust the height as your baby grows.
When your babies outgrow the crib, you can convert it into a twin bed, which will save you money in the long run.
Moms who are worried about wood finishes should be relieved to know that this is made of New Zealand pine and uses a non-toxic painting process. That means there won't be any lead concerns if your baby decides to use the top of the crib as a chew toy once they start teething. It's also phthalate-free.
Pros
This option is a space saver.
You save money because it converts to a twin bed.
It has adjustable mattress positions.
Cons
Some parents say the crib isn't easy to assemble.
If you expect to have a tall child, this may not be long enough for you.
Our Ratings
Community Feedback
I'm impressed with the sturdiness and premium finish of this mini crib, perfect for fitting in smaller rooms without compromising on quality. While I found the assembly instructions somewhat confusing and time-consuming, the final result was worth the effort. One downside is the chemical odor, which required airing out the crib and wiping it down with vinegar, but overall, this crib has proven to be a reliable and space-saving option for my growing family.
Types of Baby Cribs
Baby cribs come with many features and in all shapes and sizes.
Here are some you'll encounter as you search for that dream crib for your baby's nursery.
How to Choose a Crib for Baby
Buying a crib is a significant investment, so you'll want to make sure you're making the right decision.
Here are some features you should consider to help you find the best baby crib for your needs.
---
Baby Crib FAQs
Thank You For Your Feedback!
Thank You For Your Feedback!