Cribs are one of the biggest and most costly items we have to purchase for our babies. But when you have twins, there are some extra factors to consider.
Whether at home, traveling, or visiting friends, your babies' sleeping space needs to be safe. We'll discuss the safety protocol for twin sleep and do our best to answer your top questions.
Since we know you don't have much time, we've spent hours researching cribs, talking with parents of multiples, and comparing caregiver reviews to bring you our recommendations for the best twin crib options for every situation.
Image
Model
Product Comparison Table
Features
Best Bassinet for Twins
Baby Trend Twin
Separate bassinets
Wheels and locking mechanism
Music and nightlight component
Best Pack 'n Play for Twins
Joovy New Room2
Affordable and portable
2-year limited warranty
Durable material & construction
Best Traditional Crib for Twins
DaVinci 3-in-1
Height adjustment feature
Space-saving design
Converts to a daybed
Best Mini Crib for Twins
Dream on Me
Easy setup
Affordable price
Meets safety regulatory standards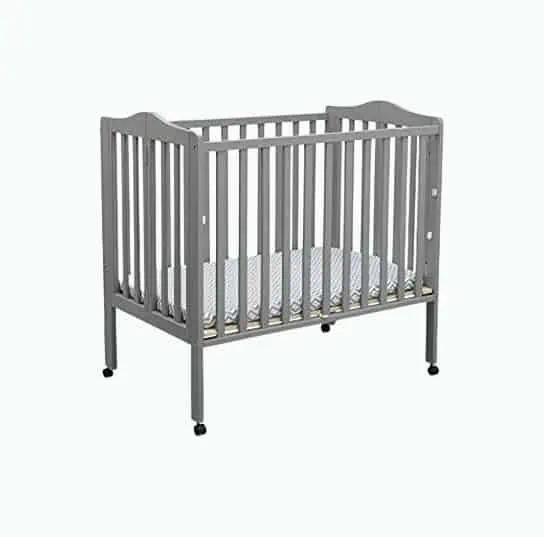 Best Portable Crib for Twins
Delta Children
Has wheels for maneuverability
Two mattress height settings
Easy to transport
Review Methodology: At Mom Loves Best, we prioritize your needs, ensuring that our analysis, assessment, and hands-on experiences provide you with the most accurate and helpful information. We test and compare various cribs for twins, using criteria like safety, design, and functionality to rank their performance. Our research and evaluation process is extensive, focusing on the essential factors like durability, space efficiency, and ease of use. We identify key decision-making factors such as material quality, adjustability, and practicality to offer you the best product recommendations. Combining our professional expertise with real-life experiences, we provide first-hand evidence on what sets each crib apart from its competitors, helping you make an informed decision for your family's needs. Trust Mom Loves Best to guide you in choosing the best crib for your twins.
---
---
The Best Cribs for Your Twins of 2023
Here are 5 great cribs for parents of twins to consider.
Baby Trend Twin Nursery Center
Best Bassinet for Twins
This is a playpen and bassinet combo, making it useful for both sleep and play (and saving parents one extra purchase). The twin option comes with two separate bassinets that easily click into place on top of the play yard.
When not using the bassinets, you can repurpose the space into a diaper changing area. A changing table flips out for easy accessibility. But what makes this unit so unique is the music station that offers a night light, vibration mode, and music with volume control.
It has wheels for easy moving, but there's a locking mechanism for safety. This bassinet comes with a storage bag for easier travel and a box organizer for all those go-to items.
However, it does weigh just over 40 pounds, which is something to consider if you're looking for portability. For parents who are often on the go with their babies, ensure there's an extra pair of hands around just in case.
Pros
Separate bassinets.
Wheels and locking mechanism.
Combines playpen and bassinet.
Diaper changing station.
Music and night light component.
Box organizer and storage bag included.
Cons
Heavy when folded up for traveling.
Twins outgrow the sleeping space within a few months, but it can still be used for one baby.
Our Ratings
Community Feedback
I've recently tried out this twin nursery center, and overall, I'm quite pleased with it. Assembly took around 45 minutes, and although the instructions were a bit ambiguous, it wasn't too difficult. The materials used are of high quality, and the bassinets are sturdy and comfortable for my newborn twins. One downside is the inability to use the organizer and changing table when both bassinets are in use. Despite that, I find the compact size and overall functionality perfect for my needs, especially with its portability for travel.
---
Joovy Room2 Playard
Best Pack 'n Play for Twins
The Joovy2 Playard was designed with twins in mind. It's 50% larger than most playpens, allowing two babies to fit inside easily and still have room to play with each other. With clear mesh sides, you'll always be able to keep an eye on them.
It also has wheels to allow easy travel throughout the house, depending on whether you need it in the kitchen or near the laundry room. At nearly 30 pounds, it's heavier than some other models, although the size makes it worthwhile.
A mattress and soft fitted sheet are included, and many twin parents rave about the stability and durability of this unit. It even holds up well on outdoor adventures.
Optional extras include a nursery center with a divider for twin nap times.
Pros
Big enough for two babies.
Affordable and portable.
Durable material and construction.
Mattress and fitted sheet included.
2-year limited warranty available from the manufacturer.
Cons
You have to purchase the diaper changing station separately.
Our Ratings
Community Feedback
Definitely a fantastic play yard for growing little ones, the Joovy Room2 is spacious and well-constructed. I found the setup to be a bit challenging at first, but a YouTube video cleared up any confusion, and I loved that it came with a washable sheet. The size is perfect for my twins, and they seem to enjoy their time in this sturdy play yard, which also has convenient wheels for easy mobility.
---
DaVinci Union 3-in-1 Convertible Crib
Best Traditional Crib
This crib has a simple design that won't hog space when two are placed side by side. It has a non-toxic wood finish, making it sturdy and safe for your babies. And the Union crib is durable enough to last for years.
Traditional cribs often get bad press for newborns because you need to bend down deep to pick your baby up, which can be hard on your back. But this crib comes with four mattress height settings to alleviate that concern.
It converts to a daybed for toddlers, which will be great when they start trying to climb out or become too heavy to lift in and out easily.
The crib comes with a hypoallergenic waterproof cover that is tear-resistant and easy to clean. This is a definite plus for messy situations in the crib.
Pros
Four mattress height settings.
Space-saving design.
Affordable.
Convertible to a daybed for toddlers.
Cons
You have to purchase the daybed conversion kit separately.
Mattress not included.
Our Ratings
Community Feedback
In my experience, this crib has been a fantastic addition to our nursery for our 7-month-old son. The assembly process was simple and the quality of the materials, such as the strong bolts, ensures its durability. However, I was slightly disappointed that the bed guard attachment for transitioning to a toddler bed was not included and had to be purchased separately. The gray color is beautiful and the crib fits a standard mattress snugly without any gaps. Despite a few minor drawbacks, like the wood being somewhat fragile, I believe this crib offers great value for its price and will serve its purpose well for our growing child.
---
Dream on Me Convertible Crib
Best Mini Crib for Twins
The Dream on Me mini crib offers everything you need in a mini crib, at an affordable price. The style is simple and easy to set up, and the mini crib takes up even less space. Considering you'll need two cribs, saving space where you can is important.
You can convert this mini crib to a daybed as your babies grow. And if you're interested in saving money later, you can use an optional conversion kit to turn it into a twin bed.
Even though your babies will quickly outgrow the mini crib, you can continue to use this investment for many years as a twin bed.
The one challenge parents have with this crib is that the mattress is still pretty low at the highest level. Leaning over the side to reach your newborn can be especially hard if you've had a C-section.
Pros
Space saver.
Affordable price.
Easy setup.
You can convert it to a daybed or twin bed.
Cons
Low mattress height.
The conversion kit to make it a twin bed is pretty costly.
Our Ratings
Community Feedback
Best mini crib I've purchased for our small space! This crib is lightweight, easy to move, and surprisingly sturdy. I found it simple to put together in about an hour, and the semi-gloss white color looks great in our nursery. One recommendation I have is to purchase a 3-inch mattress, as the one included is quite thin. While it's perfect for small spaces and younger babies, keep in mind that it might not be suitable for toddlers as they grow.
---
Delta Children Folding Portable Crib
Best Portable Crib for Twins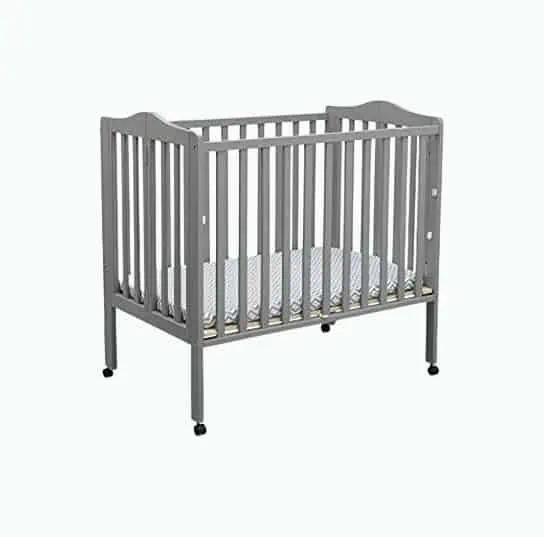 The Delta Children portable crib has a sleek design that makes it pretty and space-saving. The crib folds along its length, so it's easy to set up and collapse. It has wheels, allowing easy movement around the house while still fully set up.
The crib is made of wood, which means it can take any of the hits that baby gear often has to deal with. It also has two mattress height settings to keep your babies within reach when they're younger, potentially saving your back from injury.
At 34 pounds, this crib is lightweight for its wooden structure but still quite sturdy. It comes with a 1-inch thick mattress pad, but we recommend replacing it with a firmer mattress.
Pros
Easy to set up and take down.
Has wheels for maneuverability.
Two mattress height settings.
Affordable.
Cons
The mattress pad is flimsy and too soft for safe sleep.
Our Ratings
Community Feedback
My experience with this mini crib has been fantastic for my small living space. The compact and sturdy design fits perfectly in tight spaces while still being comfortable and safe for my baby. Assembly was a bit challenging, but once set up, the crib is easily movable thanks to the wheels, although I would appreciate a brake feature for added safety. The included mattress is thin, so I recommend investing in a thicker one for extra comfort, but overall, this crib has been a perfect solution for our needs.
Sleeping Safely: The Twin Edition
Public health agencies have worked tirelessly over the past decades to ensure moms and dads everywhere know the safest sleep protocol.
There are a wide array of items that can help you monitor your twins' sleep. But medical experts warn that it's more important to take preventative measures.
Whether you have one baby, twins, or multiples, these best practices are the same for every situation:
Place babies on their backs: Babies who sleep on their stomachs are at an increased risk of sudden infant death syndrome (SIDS). It's best to teach your babies from the beginning that sleeping on their backs is best (1).
Remove all toys and pillows from the crib: Your babies should sleep with only a sheet and a mattress in their crib. Stuffed animals are cute, but newborns aren't able to ensure they stay away from their mouths and noses.
Keep the babies in your room in the beginning: Medical experts do not recommend co-sleeping. However, they do recommend keeping your babies' cribs in your room for the first few months so you can keep an eye on them.
Many parents wonder if allowing twins to sleep together for the first few months is OK. It can be difficult to fit two cribs in your bedroom, and twins are used to being close together in the womb.
However, medical experts maintain that separate beds are best (2). For smaller bedrooms, there are great bassinet or "pack 'n play" options that we'll review in this article, to help with those early days of life.
Crib Options for Twins
When you think of a crib, you probably picture a wooden, rectangular box. However, there are many different styles for every unique situation.
There are five main baby bed types. Each style has advantages and disadvantages, so many parents have more than one kind to serve different purposes.
1.

Bassinets

Bassinets are a great option for many parents, and they've come a long way from the bassinet your parents probably slept in. You can choose from many different shapes and sizes, which allows for more flexibility during the first months of your babies' lives.

Bassinets are typically smaller, round cribs with lower sides that will only safely hold babies for their first few months. They're a great option for parents with smaller bedrooms.

The downside of a bassinet is its limited lifespan. It can only accommodate your child for a maximum of four to six months. This means you'll need to buy more gear and spend more money later.
2.

Mini Cribs

Mini cribs are normally bigger than bassinets but still smaller than traditional cribs. While bassinets are usually made of a material other than wood, mini cribs are typically miniature, wooden cribs.

These are a great option for parents who need something smaller for the first months but still want it to be sturdy and durable. Like bassinets, babies will likely outgrow these cribs within four to six months.
3.

Portable Cribs

Portable cribs and mini cribs are typically the same size. However, you can easily fold and move portable cribs elsewhere. This is perfect for traveling and many other scenarios.

Some parents want their babies to nap in a different room than where they sleep. Portable cribs allow for that kind of flexibility for the first few months.
4.

Pack 'n Plays

Pack 'n plays are foldable cribs, typically with mesh siding, that many parents associate with playtime. However, most of these cribs are now safe enough for everyday sleeping.

Pack 'n plays can be a great option for parents of twins. Some even have a twin bassinet option that allows for two removable bassinets to lay on top.

This is a great space saver for parents who want their twins to sleep in their room but don't have the square footage for two cribs.
5.

Traditional Cribs

Traditional cribs are full-size, rectangular cribs, typically made of wood or something similar. They're sturdy and large enough to hold your child for several years. Some cribs even come with conversion kits that help toddlers transition into their "big kid" beds.

Crib sizes are standardized by law. Full-size cribs are approximately 28 inches wide by 52 inches long in their interior (3). Depending on your crib's style, you may need to allow for a few extra inches of space to cover the width of the railings or the length of an attached shelf.
---
Thank You For Your Feedback!
Thank You For Your Feedback!