If your child is transitioning to a big-kid bed, a toddler bed rail or bumper can keep them safe. But which style is best for you?
We've tested and compared a wide range of products to find the best safe sleep solution for your toddler — so they can remain in their bed without injury or the temptation to run wild in the night.
Read on to learn more about how, when, and why you should use a bed rail or bumper. And if you want to ensure that the next thing that goes bump in the night is not your little one falling out of bed, check out our top seven recommendations for the best toddler bed rails and bumpers.
Image
Model
Product Comparison Table
Features
Best Foam Bumper
Hiccapop Safety Guard
Affordable
Cover is machine washable
No installation or tools needed
Best Inflatable Option
The Shrunks Portable Bumper
Hardy and easy to clean
Very easy to use
Fits all beds
Easily Adjustable
Summer Infant Double Rail
Affordable
Little assembly required
Folds down for easy access
Best Convertible Option
Hiccapop Convertible Rail Guard
Folds down fully
No assembly required
Fits almost every brand of crib
Quick Fold-Down
Regalo Swing-Down Rail
Taller and longer
No assembly required
Fits up to queen size bed
Best Large Size
ComfyBumpy Extra Long Rail
The longest bed rail
No possible way to fall out
Universal fit
Most Portable
Milliard Travel Bumper
Portable
Impossible to fall out of
ASTM certified
Review Methodology: At Mom Loves Best, we understand the importance of your child's safety and comfort, which is why we've conducted thorough research and hands-on evaluations to bring you the most reliable information about the best toddler bed rails & bumpers. Utilizing our expertise and experience, we've assessed each product based on criteria such as design, durability, ease of use, and effectiveness. Our analysis compares various brands and models, taking into account key decision-making factors, performance measures, and user experiences. We identify what sets top-performing products apart from their competitors and provide first-hand evidence to support our recommendations. In our comprehensive review, we discuss design choices, their impact on users, and rate each product in areas such as safety, installation, and versatility. Trust Mom Loves Best to guide you in making the best choice for your little one's bedding needs.
---
---
The Best Toddler Bed Rails and Bumpers of 2023
After comparing all the strengths and weaknesses of the top-selling toddler bed rails and bumpers, we've found these seven options to be the very best.
Hiccapop Foam Safety Guard for Bed
Best Foam Bumper
We aren't the only ones who love this product — and for good reason. This foam bumper consistently gets high ratings from parents looking for an easy-to-install solution. The materials used are free from nasty chemicals, and the bumper passes all federal safety standards. The manufacturers offer a lifetime guarantee, so you don't need to worry if it gets damaged.
The cover is machine washable, and the whole bumper is perfect for travel as it only weighs 2.2 pounds. If you're a little freaked out by the idea of caging in your toddler at night, this is a gentler option. Two bumpers on either side can create a cozy cocoon your child will actually want to sleep in.
If you co-sleep, you might even find that you fall in love with this bumper, too. It's soft, reassuring, and easy to put on or take off as needed. It's high enough to keep little ones contained but low enough that it still feels like part of the bedding.
Pros
Affordable compared to most rails.
No installation or tools needed.
No fussing with sizing, straps, clamps, etc.
Cons
The bumper sometimes shifts around during the night or falls off the bed.
More determined children can roll right over it.
It's bulky and may take up valuable real estate on a bed.
Our Ratings
Community Feedback
After trying out this foam bumper, I found it to be an easy-to-install and affordable alternative to traditional bed rails. The bumper is made from chemical-free materials, meeting all federal safety standards, and comes with a machine-washable cover. It created a cozy, cocoon-like environment for my child, who enjoyed sleeping with it. However, it did occasionally shift around at night and could be bulky for some bed sizes, but overall, it provided a gentle and reassuring sleeping experience for both my child and me.
---
The Shrunks Portable Bed Rail Bumper
Best Inflatable Bumper
This bed bumper is low commitment, hygienic, water-resistant, and seriously easy to use. Plus, I feel like anything inflatable is just more fun somehow. It's made of really thick, odorless PVC, and even the clumsiest toddler would find it hard to hurt themselves on it.
I like this solution because of its elegance. Blow it up, tuck it under the sheets, and just like that, your kid's bed resembles a bouncy castle. And don't worry, the plastic surface has a silicone back that holds it in place.
An inflatable bed bumper is a gentle and bouncy reminder of where the bed edge is, so your toddler can simply roll back into place if they're prone to moving around on the mattress as they sleep. You can deflate the whole thing and fold it up, ready to take on trips, or simply pack it away when not needed.
Pros
Hardy and easy to clean. Just wipe down.
Couldn't be easier to use.
Fits all beds, meaning you don't have to worry too much about sizing.
Cons
If you have very tight fitted sheets, these bumpers may be too snug to fit.
A really acrobatic sleeper could conceivably dislodge one during the night.
It takes up quite a lot of room on the bed, which can be a challenge for co-sleepers.
Our Ratings
Community Feedback
In my experience, this inflatable bed rail has been quite effective in preventing my young child from rolling off the bed. The strong vinyl smell upon opening was nostalgic for me, though others may find it off-putting. Inflating the rail was surprisingly easy using the manual pump, even for someone like me with asthma. The rail is quite long and sturdy, but I did struggle with securing it under the sheets due to my thick mattress.
---
Summer Infant Double Safety Bed Rail
Best Adjustable Bed Rail
This cheap and cheerful bed rail set is ideal for when you know you'll only be needing a rail temporarily. The rails adjust to fit beds from twin to queen size and come in a pair, making it ideal for beds that aren't pushed directly against the wall, although you should note that only one of the rails folds down.
We especially liked the sturdy construction and how easy this was to install. The design and minimalist gray color also go surprisingly well with any room decor.
The best thing is that these rails can be adjusted to fit a whole range of beds, meaning you could reuse them for a different bed or another child's room later on.
Pros
Affordable.
Minimal assembly required.
Folds down for easy access to bedsheets.
Cons
Not suitable for beds without a box spring.
The fold-down mechanism can be a little stiff, making it tricky to use.
You must use both rails at once, so avoid if you only need one.
Our Ratings
Community Feedback
My experience with this bed rail has been mostly positive, as it effectively prevents my toddler from falling out of her high twin bed. The sturdy construction holds up well even when she sleeps right against it, but the interlocking mechanism under the mattress could use some improvement, as it can come undone if pressure is applied in just the right way. Despite this minor issue, the bed rail serves its purpose and even helps keep my child's stuffed animals from rolling out of the bed.
---
Hiccapop Convertible Crib Toddler Bed Rail Guard
Best Convertible Crib Bed Rail
We loved using this bed rail, and many moms seem to agree. What's unique about this product is that it securely, and I mean securely attaches to the crib.
Unlike other rails that "float" and are just held down by the child's weight or anchors on the other side of the mattress, this one directly attaches to the metal frame of the crib.
With two adjustable steel clamps screwed to the crib frame under the mattress, you won't find a more secure fit. After screwing the frame in place, you can easily fold the rail down and click it back up into place.
This is the ideal rail for convertible cribs and will give you peace of mind for a smaller child whose weight might not be enough to hold down a less secure rail. Since it's on the smaller side, this rail is also more portable and is quite tall, making it a great all-around choice.
Pros
This rail folds down fully.
No assembly required.
Fits most crib brands.
Cons
This cheaper rail won't take much wear and tear on the mesh.
If you have a particularly thin mattress, the support bars might distort it.
The lightweight frame doesn't hold up well to rough use.
Our Ratings
Community Feedback
Best toddler bed guardrail I've come across! I easily installed this guardrail under the mattress platform for added safety, and the Velcro straps held it securely in place. Not only does it prevent my little one from rolling off the bed, but it also allows them the independence to climb in and out of bed on their own.
---
Regalo Double-Sided Swing-Down Bed Rail
Best Fold-Down Bed Rail
The Regalo bed rail frequently comes out on top when rated by parents — and we agree that it's an excellent choice. These very sturdy rails are generous in length and relatively tall at around 20 inches.
The set includes two rails, which means it's the right choice if you have a standard single-size bed situated in the middle of the room and want to make sure your child isn't falling out of either side of the bed.
These rails fit up to a queen-size mattress and attach with straps, making them ideal for co-sleeping arrangements. The rails are neutral-colored and fold out of the way easily, leaving the bed easy to make and accessible for storytime. The design ensures no annoying gap between the mattress and the rail.
Pros
Taller and longer than most rails, ideal for attaching to your own bed for co-sleeping.
No assembly required.
Fits up to a queen-size bed securely.
Cons
The tall railing may hit the floor when flipped down if you have a shorter bed.
The bars are uncushioned and may be uncomfortable for more active sleepers.
The product takes time to disassemble.
Our Ratings
Community Feedback
This bed rail was a breeze to set up and has provided peace of mind for both my child and my elderly Labrador. The fold-down feature is convenient for story time and daily use, and it's versatile enough to use during hotel stays or for transitioning a toddler from a crib. However, be aware that the safety straps may not fit larger beds like a king, and the support straps might not be long enough for some setups. Despite these minor issues, the rail has held up well and serves its purpose in keeping my loved ones safe and secure.
---
ComfyBumpy Extra-Long Bed Rail Guard
Best Large Size Bed Rail
If your toddler seems to be an escape artist, you might prefer this extra-long rail that covers the entire length of a full-sized bed. Install one, and you have a pretty foolproof way of keeping your toddler where they belong as they co-sleep with you. Install two, and you create a large, transitional crib for the child who needs a bit more encouragement to move over to the big kid bed.
The construction of the flat iron bars is innovative, which is great if you have a princess-and-the-pea situation and want to sleep without feeling any lumps or bumps under the mattress.
What I really like about this rail is its breezy assembly, not to mention that it is free from harmful chemicals like BPA, phthalate, latex, and lead, ensuring your child is not only safe from falling but also safe from toxins.
The mesh is finer than on other models, making it feel quite airy and light, and the minimalist design allows you to match your room theme. The mesh still allows you to peek through and check up on your little sleeping beauties.
Pros
The longest bed rail option.
No possible way to fall out.
Fits up to a king-sized bed.
Cons
Bulky once installed.
Doesn't work with toddler mattresses.
Our Ratings
Community Feedback
These bed rails have been a great addition to our household, especially for our little ones transitioning from cribs to big kid beds. Assembly was a bit tricky with the provided instruction booklet, but the online video made it much easier to understand. One of the best features is their compatibility with platform beds, as they can be properly installed and fold up and down without any issues. The rails are quite sturdy and provide the necessary safety for our children, preventing any accidental falls during the night. However, the extra length of the extended version can make it challenging to unlock both sides of the rail locks simultaneously, but with some practice, it becomes manageable.
---
Milliard Portable Travel Bumper
Best Portable Bumper Bed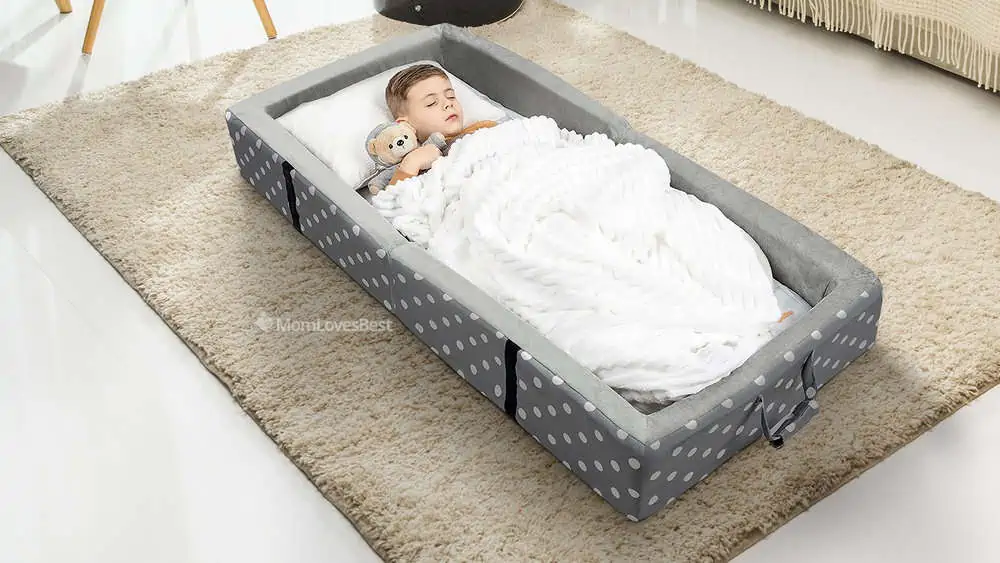 Of all the toddler bumpers and rails on this list, your kid will probably consider this one the best. This bumper was created for travel and is a snug little way to ensure your toddler doesn't go rolling into trouble when you're away from home.
The cover design is super cute and makes a nice comforting "nest" if your child is a nervous traveler. Pack a favorite toy and the right blankie and you can offer a cozy zone just for them that will settle any nerves about sleeping away from home.
We love that it's basically an all-in-one bed. All you need to do is add a pillow and bedding, and you're ready to go. But you may still need an additional permanent sleeping arrangement at home, as some parents have found that it's not great to use on top of an ordinary bed.
Pros
Portable and easy to set up.
Impossible to fall out of.
Pretty darn cute.
Cons
The foam warps over time.
At 27 inches tall when folded, this still may be too large to lug on shorter weekend trips.
Our Ratings
Community Feedback
I'm impressed with this toddler bumper as it's perfect for traveling and provides a cozy sleeping environment for my little one. The cute design creates a comforting nest, and it's incredibly easy to set up and secure. However, the foam tends to warp over time, and its folded size might be a bit too large for shorter trips.
Are Toddler Rails Necessary?
Nothing sinks a parent's heart quite like hearing a dull thud when their backs are turned. The transition from crib to bed is stressful enough without any scary nighttime falls, so if you're feeling nervous about bedtime safety, installing a bed rail has a lot of benefits.
They're safer: You don't want your toddler hurting themselves if they roll over and fall. This can be a scary experience for a child, and the disorientation can set back their progress, especially if they were already a little apprehensive about the new bed. But another benefit is that there's less chance for them to wander unsupervised in their room and get into mischief!
The psychological transition to a big bed is easier: A toddler bed with a bed rail can be comforting to a child as they leave behind the safety of their crib. The sudden lack of crib bars can feel frightening, but a bed rail can make a child feel more contained.
You get a better night's sleep: A bed rail means no leaping out of bed to pick up a screaming child from the floor in the middle of the night. Enough said.
Types of Bed Rails and Bumpers
Let's look at the most common types of bed rails and their pros and cons.
How to Choose the Best Bed Rails & Bumpers
Here are some factors we consider when comparing bed rails or bumpers.
---
When Should My Child Start Using a Bed Rail?
You and your toddler can decide together when you're ready to use a bed rail — if you use one at all.
The first thing to remember is that you don't have to use one. You may have a child who is content to hop into the big-kid bed without too much fuss.
You can use a bed rail if you feel your child is ready to progress from the cot but not quite ready to be on their own in the big, scary bed yet. Bed rails are all about transitions, but it's your call how long you want to keep it up.
How to Fit Bed Rails
How you install a bed rail depends mainly on what kind you choose. If you're unsure about installation, choose a lightweight fixed bed rail that doesn't require much effort.
Most fixed, adjustable, and fold-down bed rails will require a little assembly, for example, piecing together the tubing through pockets in the mesh. But after that, it's pretty much plug and play. Follow your manufacturer's instructions, insert the support prongs underneath the mattress, and you're done.
Make sure you maintain around 19 inches of free space on either side of the rail. If extra support straps are included, make sure to fix these carefully. Many models require a strap to go under the mattress and anchor on the other side with discs or hooks, so make sure these are firmly in place.
Test out the rail yourself by getting in the bed and pushing on it. The rail should remain firm and safely clicked into place.
---
Getting That Elusive Good Night's Sleep
It sometimes feels like getting your children to sleep peacefully through the night should be classified as an Olympic sport. But you've got this! As you tackle sleep transitions, remind yourself that you'll get there eventually.
As frustrating as it can be to help your baby grow up, it's scarier still for them as they venture out into the world. Be patient. Take your time to find a product that works for you. And relax. Most tumbles out of bed are usually nothing more than a slight embarrassment.
Thank You For Your Feedback!
Thank You For Your Feedback!