It can be hard to keep tabs on twins — especially once they're mobile — if your baby monitor doesn't have some essential functions.
If you're feeling like you're spread thin trying to care for your babies, whether you have multiples or two babies born close together, you're not alone. We've been there!
Sometimes a mama's best superpower is her baby monitor, especially when it allows her to keep an eye on more than one child at once. So we've spent hours researching, testing, and comparing every monitor on the market to help you gain an extra set of eyes and make your life a lot easier.
We'll explain what features make some monitors better than others when it comes to monitoring twins. And we'll share our reviews of the best baby monitors for twins, whether your little ones share a room or sleep separately.
Image
Model
Product Comparison Table
Features
Multi-Adjustable Camera
Infant Optics DXR-8 Monitor
Clear vision with good-sized monitor
Good battery life
Changeable camera lenses
Easy-View Screen
Axvue 720P HD Monitor
Good vision with sound-light detection
No Wi-Fi needed
Long working range
Crystal Clear Sound
VTech VM321-2 Baby Monitor
Crystal-clear sound
Vibration alert function
Excellent reception range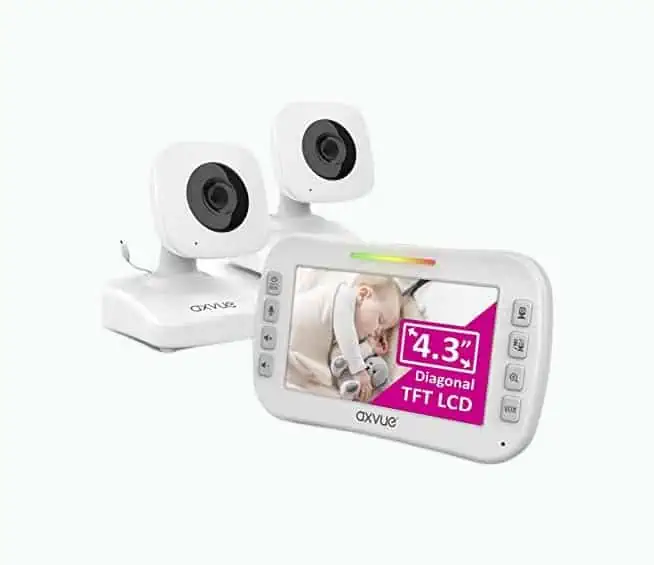 Super Split Screen
Axvue E632 Baby Monitor
Large, clear color split-screen function
Two cameras included
Power-saving feature
Money Saver
Babysense Video Monitor
Built-in preset alarms
Long battery life
Secure connection
Review Methodology: At Mom Loves Best, we understand the importance of finding the perfect baby monitor for your twins. Our team of professionals conducts thorough research and hands-on evaluations to provide you with an unbiased analysis of the top products on the market. We compare features, measure performance, and assess design choices to help you make the best decision. Our criteria include factors such as range, video quality, battery life, and ease of use. We gather first-hand experiences and data to help you identify key decision-making factors and rank the products accordingly. Trust our expertise as we guide you through the process of selecting the best baby monitor for twins, ensuring you have all the necessary information to make an informed choice.
---
---
Best Baby Monitors for Twins of 2023
Here are our favorite baby monitors for twins.
Infant Optics DXR-8 Video Baby Monitor
Multi-Adjustable Camera
Are you keeping your twins in the same room? This camera range is fantastic, and you can control it with the handheld monitor. You can pan the camera 100 degrees vertically and 330 degrees horizontally, so you should be able to get a good view of the whole room.
This monitor will grow with your twins, as you can add up to four cameras and a wide-angle lens.
A nice-sized 3.5-inch screen gives you a clear, crisp picture in a real-time video stream. You won't be squinting to try to make out what your little treasures are doing.
What we particularly like about the Infant Optics monitor is that the battery life last ups to eight hours while in use and 12 hours on standby. We love that it comes with a spare battery as well — keep them both charged, and you can change them out when you need to.
There's no need to worry about interference or privacy with the 2.4 GHz wireless transmission.
Night vision is provided via infrared, giving you a clear view of your babies sleeping, or not, at night. You can always use the two-way talk feature to try to soothe them back to sleep.
This monitor gives you lots of options. Turn on the audio and display if you prefer to watch and listen. Want some peace while taking an important phone call? Then use the screen only. The monitor will alert you to your babies' cries with illuminated LED lights.
Are you spending too much time watching the monitor screen? Switch over to the audio-only feature.
This monitor also has a good range, perfect for moving freely around the house or popping out to the garden. Don't worry about moving too far away — a beeping alarm will let you know you need to go back in range.
This device even monitors the nursery temperature and displays it on the monitor screen, and an alarm will tell you when the camera batteries are low.
Pros
Clear vision with a good-sized monitor.
Good battery life.
Changeable camera lenses.
Excellent range.
Cons
Camera charges via wires.
Other devices on the same wireless frequency may interfere with the signal.
Our Ratings
Community Feedback
Great baby monitor with impressive video quality and signal range! I've been using this monitor for 28 months, and although I recently had to replace it due to charging port issues, the new one paired perfectly with the old camera. The temperature sensor and long battery life are fantastic features, and the monitor has proven to be quite durable, surviving many drops and tumbles. The talk back function and audio quality are also top-notch, making this monitor a valuable addition to any nursery.
---
Axvue 720P 5-Inch HD Video Baby Monitor
Easy-View Screen
I don't have the best eyesight, so having a large monitor screen is a must-have for me. This one is larger than most at 5 inches.
You get two cameras with this monitor. While you might not need it, you could have a multi-angle vision of one room — easily seen on the split-screen parent unit. It's a bit like directing your own baby movie from your armchair. Or you can keep your cameras in different rooms, so you don't have to move them from room to room when your little ones are sleeping or playing.
This function can even be sound triggered when automation is switched on.
Moving around your home or garage with this monitor is a breeze, as it has a massive 1,000-foot unobstructed range. This range will be much shorter in the real world, where there are walls and doors.
The night vision mode is automatically activated when the light gets low, and we were surprised at just how it works.
The units allow two-way communication, letting you speak to your little ones remotely. It might soothe them enough to save you a trip to the nursery.
Its anti-hack wireless transmission protects your digital privacy with coded video recording.
This baby monitor has other features, including room temperature and sound-activated lights. The interface is easy to use and features a one-click shortcut.
Pros
No Wi-Fi needed.
Good vision with sound-light detection.
Long working range.
Cons
The volume can be difficult to adjust.
Our Ratings
Community Feedback
My experience with this baby monitor has been a mix of positives and negatives. On the bright side, the split-screen feature and the ability to view both cameras simultaneously has been extremely helpful, especially with two children. The night vision and picture quality are also quite impressive. However, I've encountered some issues with the battery life and the fragility of the device. Additionally, the monitor sometimes displays a black screen, and the lack of a mute option on the volume can be inconvenient.
---
VTech VM321-2 Baby Monitor
Crystal Clear Sound
If your babies sleep in two separate rooms, you'll need a monitor with two cameras. The VTech baby monitor comes with a parent unit and two cameras. You can also expand your viewing range by adding an additional two cameras for a total of four viewing units.
Keeping tabs on your little bundles of joy is no problem with a powerful zoom and automatic night vision. This lets you make sure they are safe and sound.
The parent unit lets you switch between cameras or have a split-screen view. This is so handy for watching both babes at once on the 2.8-inch color display.
This monitor has exceptional audio that uses DECT technology to cut out background noise and prevent interference. This ensures a crystal-clear sound you can adjust from the monitor. You can even filter out sounds like music playing, so all you hear are your babies.
Both video and audio are transmitted securely via a 2.4 GHz frequency to ensure security and privacy.
The monitor has a room temperature sensor and plays five different lullabies. The talk-back feature allows you to reassure your child remotely.
When the parent unit is in your pocket, the vibrate alert function will let you know if your babies are making noise. The open field range is 1,000 feet, meaning you can still see and hear your little ones with this monitor if there are no walls or doors to interfere with the signal.
The camera cords are a little short, so you might need an extension cord if your outlet isn't close to where you'd like to mount them. Also, while you can adjust the camera zoom from the monitor, you can't adjust the angle. You have to go to the nursery to change it.
Pros
Crystal-clear sound with background noise elimination.
Vibration alert function on the monitor.
Good range of reception.
Cons
The thermometer readings aren't always accurate.
The shorter battery life may not last through the night.
You cannot adjust the camera angle from the monitor.
Our Ratings
Community Feedback
Bought this VTech Safe & Sound Video Monitor with the hopes of keeping a close eye on my active 3 1/2-year-old as he transitioned to his own room. The video quality and sound are excellent, and the two-way communication feature allows me to stay connected with my son, even if I can't hear him when I'm speaking. The voice activation and sleep mode features work well, adjusting to my needs as a light sleeper. However, I do wish the zoom function had the ability to pan left and right from the parent unit for a better view of the room.
---
Axvue E632 Baby Monitor and Two Cameras
Super Split Screen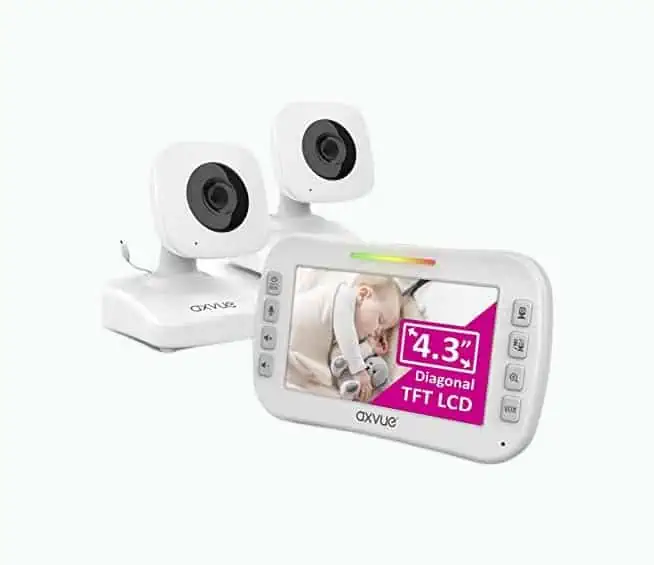 Axvue brings us this two-camera baby monitor. You'll have one camera for each room if your twins are separated and you want a camera facing each child.
You can tilt the camera to almost any angle, but you cannot do this remotely. This can be a bit of a chore once your babes are old enough to move around their cribs and bedrooms.
Thankfully, you can zoom in from the monitor. This one has a large 5-inch TFT-LCD color screen.
The high-quality video stream picture is clear and easy to see — even at night when the automatic infrared night vision kicks in.
The two-way talk function is perfect for speaking to your babies if you cannot go to them right away. You can adjust the volume through five different levels, and the baby unit gauges the room temperature.
The battery life on the parent unit lasts up to eight hours, and the range is effective to about 800 (unobstructed) feet. This should let you take the garbage out or collect the mail while still monitoring your little ones.
You can switch between screens yourself or allow the monitor to change the view every eight seconds. The power-saving function lets you turn the screen off and use audio only. LED indicator lights alert you if your babies are crying.
Digital 2.4 GHz technology supports your privacy when transmitting.
Pros
Large, clear color screen with split-screen function.
Two cameras included.
Power-saving feature to prolong battery life.
Cons
Cannot adjust the camera angle from the monitor.
Battery life can be poor.
Our Ratings
Community Feedback
My experience with the AXVUE E612 Video Baby Monitor has been mostly positive. The automatic camera-switching feature and the ability to attach up to 4 cameras make it easy to monitor multiple rooms, which I found very convenient. The night vision quality is also better than some other monitors I've used in the past. However, there are a few downsides: the battery life is not great, requiring frequent charging, and the cameras are quite zoomed in, making it difficult to get a full view of my children's cribs. Additionally, the microphone is not the best quality, resulting in a somewhat distorted sound.
---
Babysense Video Baby Monitor
Money Saver
This affordable baby monitor from Babysense may be a good solution when you want your twins to sleep separately. It comes with everything you need to set it up straight out of the box.
Once installed in your nursery and angled at where each baby sleeps, you can use the high-definition, 2.4-inch monitor to check on them. You can even pan around on zoom mode, letting you get in close to see exactly what your little ones are doing.
You can watch their eyelids flutter and see their chests rise and fall as they breathe. I found this particularly reassuring with my little one when she was sleeping.
Privacy and security are always a concern in this age of technology. The 2.4 GHz digital wireless connection ensures a private, uninterrupted transmission up to a range of 900 feet.
Other useful features include a two-way talk-back function, built-in lullabies, and a room temperature gauge. It also has high-quality infrared night vision.
Want to have a quiet romantic dinner with your partner? A sound-activated LED light display on the monitor will alert you when your babies are crying.
The alarms on this unit are plentiful. Built-in alarms notify you when the battery is low, if you are out of range, or if the temperature becomes too low or high. You can also set alarms to remind you of feeding times, diaper changes, and more.
The battery life is good for about 8 hours, and you switch to eco mode, which deactivates the sound and video until the unit detects noise. This unit can also be expanded to take up to four cameras.
Pros
Built-in preset alarms.
Good battery life.
Secure connection.
Cons
The power cord is quite short.
The feedback sometimes lags when switching cameras.
Our Ratings
Community Feedback
This baby monitor has impressive night vision, sound quality, and sensitivity, making it a reliable choice for keeping an eye on my little one. However, the parent unit feels a bit flimsy, as a minor fall led to some broken pixels on the screen. Despite this, the monitor's range is fantastic, as it works throughout the house and even outside in the yard.
One Baby Monitor or Two for Twins?
Before you head straight out and buy a monitor for your twins, there are a few things to consider. If you plan on having your two precious bundles sleep and play together in the same room for the first couple of years, then a single monitor should be enough.
However, if they will be in separate rooms at any time, then it's a whole different ball game.
You will either need two separate baby monitors or a monitor with more than one feed. This could be two audio or camera units that send signals to a single monitor. Some monitors have split-screen facilities for this purpose.
You might be comfortable using a monitor that provides an audio feed alone. For me, having the option to see what was happening on-screen in real time was invaluable.
Even though I don't have twins, it lets me watch my toddler getting up to make mischief in one room while my baby sleeps peacefully in another. My toddler's latest trick is trying to scale the crib and escape, so now I can avoid a catastrophe before it happens.
How to Choose the Best Baby Monitor for Twins
Let's look at some of the most important elements in a monitor for twins.
---
Winding it Up
Of all the monitors we have looked at, our top pick as the best baby monitor for twins is the Infant Optics DXR8. While it only comes with one camera, you can purchase and add up to three more. This makes it perfect for any scenario.
It has a clear screen, a good range and battery life, a talk-back function, and a temperature gauge. One of the outstanding features is the control you have over the camera from the monitor and the option of different lenses.
This monitor will meet the needs of most families. However, the decision is ultimately up to you.
Thank You For Your Feedback!
Thank You For Your Feedback!