Audio baby monitors may seem like a thing of the past, as so many parents have moved on to using more complex video baby monitors. However, many people — ourselves included — prefer the simplicity and cheaper price tag of an audio model.
But when does a cheap price tag indicate poor quality? It can be hard to tell.
We've done the research to help save you precious time and money. We've evaluated dozens of monitors based on their sound quality, battery life, distance range, and additional features. We used this data to create the ultimate audio baby monitor guide.
We'll explain all you need to know about audio-only monitors. We'll also review the best audio baby monitors on the market, so you can be confident in your purchase and stay connected to your little one at all times.
Image
Model
Product Comparison Table
Features
Best Two-Way
Motorola Audio Baby Monitor
Two-way high-sensitivity mic
Displays room temp & sound alerts
1,000-foot range
Best Budget Pick
VTech DM221-2
Monitors temperature
Lightweight & easy to set up
Works up to 1,000 feet
Best Design
Time Flys Digital
Continuous sound feed
Night light feature
Long-lasting battery life
Best Features
Philips Avent DECT
DECT technology
Lullabies included
Battery-saving mode
Best Night Vision Monitor
GoodBaby Video Baby Monitor
Infrared night vision
Expands up to four cameras
Feeding clock function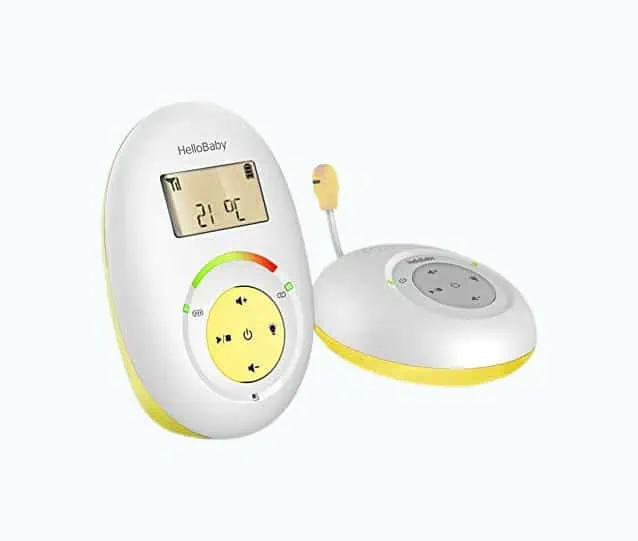 Best Compact Design
HelloBaby Audio Baby Monitor
Light indicator for noise level
Zero interference
High-sensitivity microphone
Best for Long-Range
VTech DM111 Monitor
Clear and secure transmission
Excellent range
Up to 8 hours battery life
Review Methodology: At Mom Loves Best, we prioritize your trust by conducting thorough research and hands-on evaluation to provide you with the most reliable information on the best audio baby monitors. Our experienced team analyzes and compares various factors such as performance, range, clarity, battery life, and interference to ensure that you make the right choice for your family. We assess products from a user's perspective, scoring them on key decision-making criteria, and sharing our findings backed by first-hand evidence. Our in-depth analysis enables us to identify what sets each monitor apart from its competitors and helps you choose the one that best meets your needs. Rest assured that our unbiased reviews and recommendations are based on facts, data, and practical experience to guide you towards the perfect audio baby monitor for your home.
---
---
The Best Audio Baby Monitors of 2023
Here are seven great audio baby monitors to consider.
Motorola MBP24 Audio Baby Monitor
Best Two-Way
There are many features that make the Motorola baby monitor stand out.
It's reasonably priced, so even budget-conscious parents will like this one.
It has a two-way microphone, so if you hear your baby crying or chatting, you can talk back before you go up to check on them. This is great if you're in the middle of something and need to soothe your baby for a couple of minutes before you get to their room or if you're working on sleep training.
This monitor also provides peace of mind for parents, thanks to room temperature monitoring. It lets you know how cool the room is so you can ensure it's suitable for your bundle of joy.
The sensitive microphone is a win with parents, too. You won't miss a single sound, thanks to the high sensitivity. You can turn the volume up and down on the parent unit to ensure you hear everything. Enjoy free range, too, with 1,000 feet of connection.
As parents who travel often, we love that this is compact and easy to set up. It runs on its own wireless technology, so you don't have to spend much time setting it up and connecting it to Wi-Fi when you go away. Just plug it in, turn it on, and you're good to go.
Pros
It has a two-way microphone so parent and baby can communicate.
Clear audio with up to 1,000 feet of range.
High-sensitivity microphone lets you hear every noise your baby makes.
The backlit display screen shows you room temperature and sound alerts.
It's compact and lightweight, making it an excellent option for travel.
Affordable price is great for parents on a budget.
Cons
The sound isn't very loud; it's hard to hear over the sink or TV.
Some units have connection issues, even when well within range.
Our Ratings
Community Feedback
I'm extremely pleased with the Motorola baby monitor for several reasons. First, the two-way microphone allows me to communicate with my baby, offering a soothing voice when needed. Additionally, the impressive 1,000 feet range and highly sensitive microphone ensure that I can hear my little one from a distance. The backlit display screen is another useful feature, providing room temperature and sound alerts. Lastly, this compact and lightweight baby monitor is perfect for travel and budget-friendly, making it a great option for families on the go.
---
VTech DM221-2 Audio Baby Monitor
Best Budget-Friendly Option
One of the best features of the VTech DM221 is the two-way talkback feature. You can use it just like you would a walkie-talkie.
For those who get tired of hearing static, the audio on this monitor works a little differently from other models. When the baby is not making any noise, the receiver goes silent. You won't hear any of the ambient sounds in the nursery. But as soon as your little one makes a sound, the audio kicks back in, so you won't miss a moment.
The receiver comes with a power-saving mode to keep you from running the batteries down when you need the monitor most. Plus, the three included batteries are rechargeable.
The unit range covers up to 1,000 feet, giving you plenty of room to wander — perfect for busy parents. For parents on the go, the belt clip is handy. An instant dim option on the nursery unit allows you to have peaceful nights.
Pros
Convenient waistband clip.
Monitors temperature.
Lightweight and easy to set up.
Good range — covers up to 1,000 feet.
Two-way talkback.
Cons
Even at full volume, it's not very loud.
Our Ratings
Community Feedback
Bought this monitor for my toddlers' new bedroom, and it's been a great addition to our setup. The sound quality is excellent, and I appreciate the adjustable volume and built-in night light. The only downside is the battery life on the parent unit, but keeping it plugged in solves that issue.
---
Time Flys Digital Baby Monitor
Best Design
The sleek-looking Time Flys monitor gives you a continuous digital sound feed from the nursery. Plus, it has two-way talkback action. The receiver can travel pretty far, at 1,000 feet in an open space, before losing range or 150 feet indoors.
The night light feature on the nursery monitor gives off a soothing glow, and you can turn it on or off from the portable receiver.
We found the belt clip handy for carrying the parent unit around. It's a great option if you're like me and also have an older child to chase after.
The blue penguin design is adorable, but you can also choose a cute panda model. Both models make it easy to tell at a glance which unit is for the parent and which is for the nursery, as the parent unit animal has a more "aged" appearance.
The battery can last up to 20 hours, giving you nearly an entire day's worth of listening. Plus, the battery is rechargeable when it runs out of juice. The monitor comes with two USB cables and one adapter, making it easy to charge the units just about anywhere. This adaptability makes it a good travel monitor.
Pros
Continuous sound feed.
Range up to 1,000 feet in open space.
Night light feature.
Comes with multiple USB chargers.
Long-lasting battery life.
Cons
The receiver doesn't indicate if the night light is on or off.
Our Ratings
Community Feedback
Excellent sound quality and range initially impressed me with these baby monitors, but their durability and reliability left much to be desired. The built-in night light was a nice touch, but the clip fell off and seemed to render the monitor useless, as something inside came loose. Furthermore, the monitors had issues with static, battery life, and struggled to pick up normal talking voices, making it difficult to fully rely on them for their intended purpose.
---
Philips Avent DECT Baby Monitor
Best Feature-Heavy Option
The wide range of features on the Philips Avent makes it a popular choice among parents. While it doesn't have a motion sensor, it does detect the room's temperature. The talkback function is also helpful for parents who want to speak to their baby.
LED lights on the parent unit indicate the sound level in the nursery in case you have friends visiting and don't want the sound turned up. But remember to turn the volume back up before you go to sleep!
Another cool feature of this monitor is the lullaby player. You can have the unit play a lullaby in your baby's room from the receiver and leave the night light on for some extra comfort.
The high-quality DECT speaker sound has a range of 900 feet. It uses a digitally encrypted signal for transmission, making it a secure option.
You'll have to purchase AA batteries for the parent unit if you don't want to keep it plugged in. However, it does have an eco mode for battery-saving efficiency. We were happy with the battery life as they seemed to last longer than many other models.
It's worth it to purchase rechargeable batteries and a battery charger to save money and prevent the waste of frequent battery disposal.
Pros
DECT technology.
Lullabies included.
Two-way talkback function.
Temperature sensor.
Battery-saving mode.
Cons
Shorter range than other units.
Doesn't include a rechargeable battery.
Our Ratings
Community Feedback
In my experience, this baby monitor is a reliable and effective sound monitor. It has a battery-saving feature, which only transmits sound when the baby is crying or there's sustained noise, though it does require regular 2AA batteries. The parent unit can be used unplugged with batteries, and the volume is adjustable, with the option for silent mode where the monitor only lights up when crying is detected. However, the monitor is thicker than it appears in pictures, making it difficult to fit in a pocket. While it's not perfect, this monitor meets the basic needs for monitoring my baby's sounds and has provided peace of mind.
---
GoodBaby Video Baby Monitor
Best Night Vision Monitor
Although this monitor isn't an audio-only model, we had to include it. We love the GoodBaby monitor because of its infrared night vision, which allows you to see your sleeping baby even in a super dark room. Turn off the light, leave them to fall asleep, and take the monitor with you to keep an eye on them.
This monitor also measures the room's temperature, so you can ensure it's at the optimum level for your baby.
The two-way talk function works up to 1,000 feet away, allowing you to enjoy two-way conversations with your baby, sing them lullabies, or soothe them when they cry.
When they make noise, the parent unit's screen automatically wakes up. You can also set alarms on the device to remind you when it's feeding time.
The baby unit camera has a 2x zoom. You can zoom in on your baby to check if they're asleep or awake (or confirm that they're breathing, as I tend to do when it's too quiet in the nursery). The camera portrays a high-quality image.
Pros
Infrared night vision.
Two-way talking.
You can connect up to four cameras to the parent unit.
Feeding clock function.
Cons
You can zoom in, but you can't move the cameras with the remote.
The lullabies are pretty loud, which may not help your little one drift off.
Our Ratings
Community Feedback
Love this baby monitor for its clear picture quality and impressive battery life on the parent unit. The closed network provides a sense of security and the range allows me to move freely around the house and yard. However, the thermometer can be a bit inaccurate, and the lullabies aren't the best, but overall, it's a reliable and worthy purchase.
---
HelloBaby HB180 Audio Baby Monitor
Best Compact Design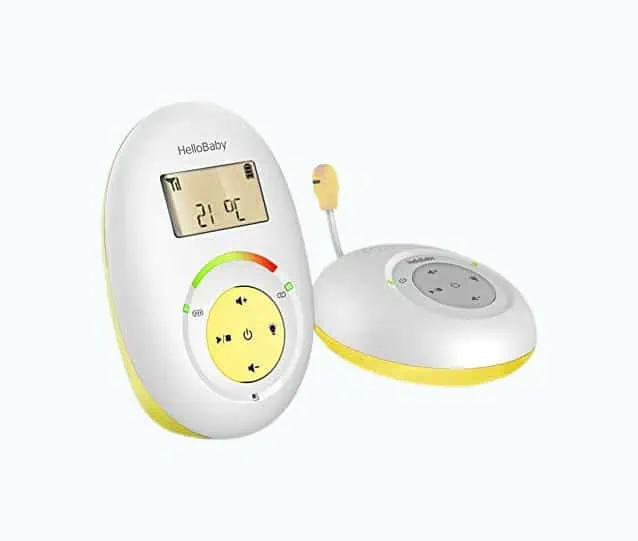 Baby monitors can be chunky things. But this one was designed with convenience in mind. You can easily fit the parent unit in your back pocket as you get some things done while your baby is napping.
It uses DECT 6.0 technology, which guarantees zero interference and a clear sound. The high-sensitivity microphone can pick up tiny noises, allowing you to hear everything more clearly. This even works from 1,000 feet away, so it's suitable for most homes. You can carry it outside while taking out the trash or cooking dinner on the barbecue.
We also love that the sound indicator on the parent unit has a visual indicator level, so you'll know if your baby is making noise even if the unit is muted. There is a set of five LED lights to indicate the sound level. This also makes it a good choice for hard-of-hearing parents.
Parents love the high-quality, crisp and clear sound. Some even use this to play music to their baby from another room. For a very budget-friendly price, this is a top-notch choice.
Pros
1,000-foot range.
Zero interference.
High-sensitivity microphone with clear sound.
The noise indicator lights up when the unit is muted.
Cons
The battery doesn't last as long as with some other models.
The unit doesn't always work unless plugged into the wall.
Our Ratings
Community Feedback
My experience with this baby monitor has been generally positive, providing me with a sense of security when my child began sleeping in their own room. The sound quality and adjustable cry sensitivity are particularly useful features, although the image quality can be a bit grainy and the temperature reading may not always be accurate. Despite these minor drawbacks, this monitor stands out for its affordability and the fact that it doesn't connect to WiFi, which alleviates concerns about potential hacking.
---
VTech DM111 Audio Baby Monitor
Best For Long Range
This is another high-quality DECT audio baby monitor from VTech. The 1,000-foot range means you can clean the entire house while still listening closely to your baby. However, we recommend you use it to take some much-needed time for yourself when your little one is asleep.
The light and sound indicators will help you keep tabs on your baby. It also has a sophisticated audio system transmitted through a secured frequency channel. The sound feed transmits loud and clear.
The battery lasts up to eight hours between charges. Receivers should at least make it through a night without needing to be recharged.
An LED light indicator displays the noise level in your baby's room, which is a lifesaver when you want to mute the monitor or when you have to find a pacifier in the middle of the night.
Pros
Clear and secure audio transmission.
Excellent range.
Light and sound alerts.
Volume control.
Easy to use.
Cons
It may not filter out white noise.
Our Ratings
Community Feedback
Definitely a great budget-friendly option for monitoring your kids, especially when they're sick. This monitor is lightweight, easy to use, and has clear sound quality. Though there's some static if you're too close, it's unnoticeable from a few feet away. The only downside is the parental unit's battery life could be better, but for the price, it's worth it.
Benefits of Audio Baby Monitors
The baby monitor market is vast and diverse. There are many different styles, including audio, video, heartbeat trackers, and more. Yet there are a few serious benefits to sticking to the classic audio monitor.
An audio monitor is going to be a bit kinder on the budget. You can get a high-quality model for much less than a video monitor. Also, setting up an audio monitor is usually straightforward.
Another often-overlooked bonus to an audio-only monitor is that grandma and grandpa will be familiar with this style. It'll be easier for them to look after your little one without needing to learn how to use a fancy video system or smartphone app!
An audio baby monitor allows you to be out of earshot without actually being out of earshot. It can keep you from running to the nursery every two minutes to take a look. Plus, you won't find yourself glued to a screen watching for the slightest twitch.
Some parents choose the audio-only option because they worry about the possibility of a video monitor being hacked (1). It is possible, but you can take steps to keep would-be hackers out of your baby's nursery (2).
How to Choose an Audio Baby Monitor
With a variety of different types of audio baby monitors to choose from, it can be an overwhelming mission. While there's no right or wrong to the features you choose, it is helpful to understand what's on the market.
One of the best things about audio monitors is that their relative simplicity and straightforward function make them a no-frills and hassle-free experience. These are the features we evaluate when determining the best audio baby monitors.
---
Digital vs. Analog
The first baby monitor was invented in 1937, and it worked pretty much like a walkie-talkie. Today's audio baby monitors are a little more complex, but their primary purpose is the same.
While the basic design of the audio-only option is less complicated than a video monitor, we need to consider things like privacy and interference. Let's look at their primary differences:
Digital: A digital monitor will make a signal private by encrypting it but can sometimes pick up interference from the surrounding area. Some monitors include digital enhanced cordless telecommunications (DECT). With this feature, the signal is not only encrypted, but interference is rare.
Analog: An analog monitor uses a radio channel for transmission. It's susceptible to interference, and the signal is not private.
There are still plenty of analog monitors on the market, and they're usually budget-friendly. However, we've decided to stick with digital or DECT monitors due to technological advancements and the need for safety and privacy.
---
Thank You For Your Feedback!
Thank You For Your Feedback!