Baby breathing monitors have come a long way since they were introduced a few decades ago (1). You can purchase a basic model that exists only to monitor your baby's breath, or you can buy one with a whole host of bells and whistles.
You may feel anxious when your little one is sleeping and think a monitor is the perfect solution, but not every baby requires a breathing monitor (2). And while it's fun to have some extra features if you do purchase a breathing monitor, they aren't always necessary either.
We've studied countless baby breathing monitors to learn more about their features and purposes. We've looked at alarm-based monitors, sensor-free monitors, video monitors, and more. In this article, we'll explain who should consider buying a baby breathing monitor and whether it's worth it.
We'll help you choose the best baby breathing monitor for your little one by reviewing the top options, highlighting their features and explaining any downfalls to help you decide what's best for your little one (and your nerves!).
Image
Model
Product Comparison Table
Features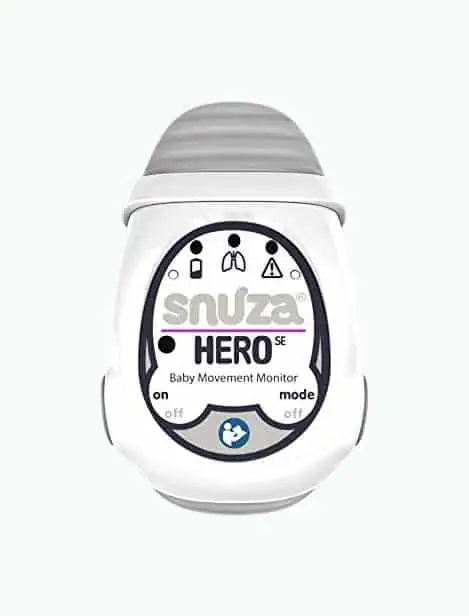 Best All-Round
Snuza Hero SE
Clips directly to the diaper
Stimulation feature
1-year warranty
Best in Design
Owlet Camera
Monitors heart rate & oxygen levels
Can access stats from smartphone
4X zoom
Best Night Vision/Video
Nanit Pro Camera & Wall Mount
HD camera and night vision
Reliable alert system
HSA and FSA approved
Best Clip-On
Sense-U Breathing
Monitors breathing, rolling, & room temperature
Easy to connect via Bluetooth
Free tracking app
Best for Preemies
Babysense Video and Movement Monitor
Helps monitor for SIDS
Wireless
High-accuracy reports
Best On-the-Go
Snuza Pico 2
Small and lightweight
Quick charge
Straightforward design
Best Affordable
iBaby Breathing Monitor
No subscription fee for baby analytics
Night vision
Non-wearable
Review Methodology: At Mom Loves Best, we understand your concerns as a parent, which is why we've conducted a thorough analysis and hands-on evaluation of the best baby breathing monitors available. Our experienced team has compared and ranked these monitors based on key decision-making factors, such as performance, reliability, design, and user experience. We've assessed each product using strict criteria, and our findings are supported by factual data and real-life testing. By providing an in-depth review, we aim to help you make an informed decision when choosing the perfect baby breathing monitor for your family. Trust us to guide you through features and benefits that set these products apart from their competitors, ensuring the safety and well-being of your precious little one.
---
---
The Best Baby Breathing Monitors of 2023
Here are seven great baby breathing monitors to consider.
Snuza Hero SE Baby Movement Monitor
Best All-Round Baby Breathing Monitor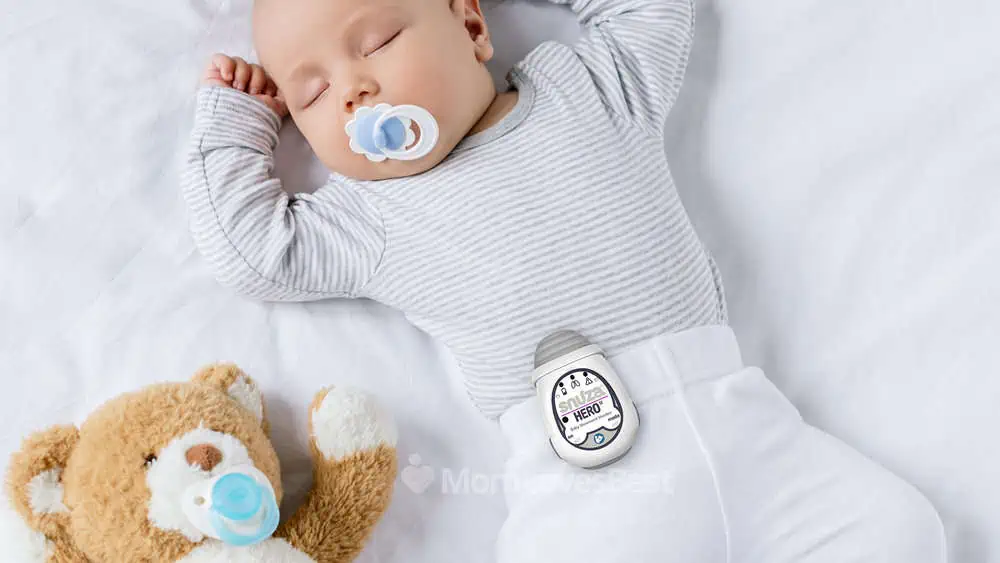 The Snuza Hero is a great little monitor, and it's popular for a few reasons. You can clip it over your baby's diaper. This makes it easy to use, even on hot summer days when your baby isn't wearing a sleep sack or pajamas.
The size makes it easy to travel with because it isn't bulky, and you'll be able to monitor your baby's breathing no matter where your travels take you.
One unique feature is that the device will vibrate to stimulate your baby if there is no abdominal movement for 15 seconds. At the 20-second mark, the device will sound an alarm.
There are no wires or cords to create a safety hazard. Plus, the device is made of medical-grade plastic to prevent skin reactions. This makes it a good option for babies with sensitive skin or allergies.
A rechargeable battery is included.
Pros
Clips directly to the diaper.
The small size is perfect for travel.
Stimulation feature.
Made from quality materials.
The machine includes a one-year warranty.
Cons
Hard to hear alarm through clothing.
You'll have to reclip the monitor to every new diaper.
Our Ratings
Community Feedback
I'm extremely impressed with this baby breathing monitor, which has been a lifesaver for my peace of mind. The device easily attaches to my baby's diaper or pants, and the green light or clicking sound indicates each breath they take. If there's no movement detected for 15 seconds, it beeps and vibrates to potentially stimulate a breath, and if still no movement, a loud alarm will sound. The simplicity of the monitor is a huge plus, as it doesn't require Wi-Fi or an app connection. However, I've experienced a few false alarms as my baby grows and moves differently, but overall, this monitor has been invaluable in helping me sleep better and worry less about my baby's safety.
---
Owlet Camera Video Baby Monitor
Best in Design Baby Breathing Monitor
The Owlet Smart Baby Monitor can track your baby's heart rate and oxygen levels. Using motion, sounds, and app notifications, it will inform you about your baby's breathing status throughout the night or during naptime.
The monitor comes with separate washable socks, though you can purchase extras. These socks wrap around your baby's feet and connect to the base station via Bluetooth.
Real-time readings are sent to your phone, while heart rate and oxygen levels can be accessed on multiple phones simultaneously. This means you, your partner, and other family members can keep an eye on your precious bundle.
Pros
Monitors heart rate and oxygen levels.
130-degree wide-angle view.
You can access stats from a smartphone.
Four times zoom.
Room temperature sensor.
HD night vision.
Cons
Camera speed takes a few seconds to display real-time view.
Our Ratings
Community Feedback
When I first got the Owlet Cam, I was impressed by its sleek design and easy installation process. The picture quality is excellent, allowing me to see my baby's entire room, and the sound quality is great, too, with only a slight delay. I love that I can use the same app as the SmartSock, view readings from the sock on the video, and have multiple users monitoring at the same time. However, there are a few drawbacks: there's no notification capability unless the app is open, the camera doesn't pan or zoom, and the app can drain my phone's battery quickly if I leave it running. Despite these minor issues, this camera has been a valuable addition to our baby monitoring system, providing peace of mind and convenience.
---
Nanit Pro Complete Infant Sleeping and Breathing Monitoring System
Best Night Vision/Video Baby Breathing Monitor
The Nanit Pro Complete infant monitoring system offers breath monitoring with HD video and night vision. It connects to a free smartphone app. It will notify you via the app about any changes that occur in your baby's movement and breathing.
It will also alert you when a certain sound threshold is reached, giving you an idea that your precious one is crying. These features can all be customized in the app.
One of the things we love best about the Nanit pro is its breathing band that monitors how many breaths your baby takes per minute. Wrap the sensor-free soft fabric band around your baby, and the secure HD video camera will monitor the movement of the geometric shapes on the band to confirm breathing.
The complete system comes with accessories for additional monitoring. The adorable koala-printed Smart Sheet goes on the bed like a regular fitted crib sheet. The camera registers the sheet's pattern and uses that pattern to measure your baby's length while they sleep. It's the easiest way to track your child's growth daily.
The monitor needs the "bird's eye view" to work properly, so you must mount it over the crib for it to work. This would have been a problem for me, living in rental housing. Yet, if you are free to drill holes in your nursery wall, it could be an option.
Pros
One-year warranty.
Great customer support.
HD camera and night vision.
Reliable alert system.
Height tracking.
Cons
You must mount it to the wall.
Paid subscription for some features.
Our Ratings
Community Feedback
Best purchase I've made for my baby's nursery! This monitor provides a clear night vision, useful running timers, and a screen-darkening mode that's perfect for nighttime use. The background audio mode and integrated temperature and humidity readings are great added features. However, the camera resolution could be better, and the breathing band sizing was a bit off, but overall, I'm loving the added peace of mind this monitor brings.
---
Sense-U Breathing & Rollover Monitor
Best Clip-On Baby Breathing Monitor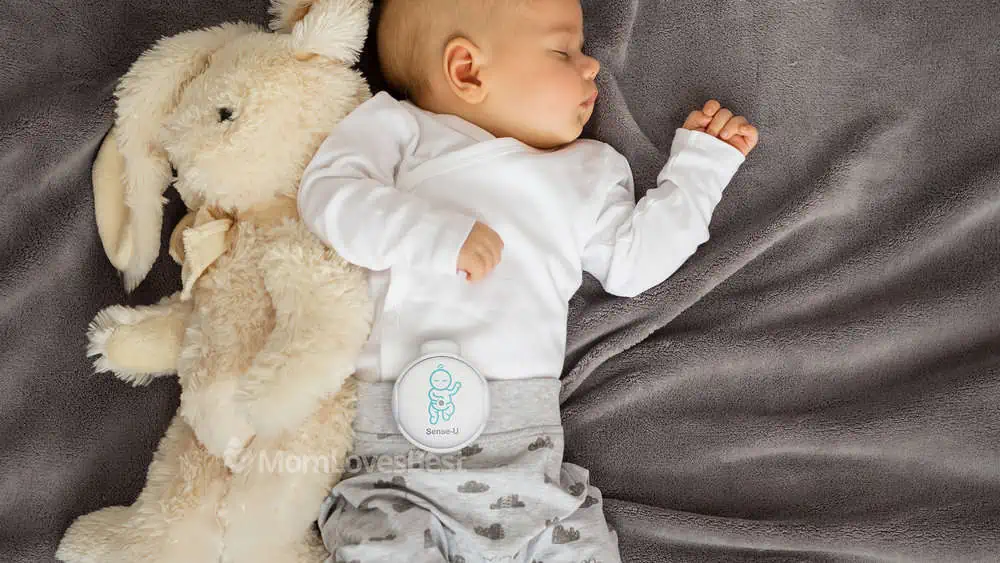 This monitor works in conjunction with your smartphone to monitor your baby's breathing while sleeping. It includes an alarm for both lack of breath and rapid breathing. It will also notify you if or when your baby rolls onto their stomach.
In addition to monitoring breathing and rolling, it will also monitor the room's temperature and humidity levels. This bonus feature will help you make sure your baby isn't getting too cold or too hot.
The easy clip-on unit can be attached to sleepwear, onesies, or even the sleep bag. Your smartphone will pick up the signal via Bluetooth. The corresponding tracking app is free for Android and iOS.
You can get your baby's statistics right from the cloud. This makes it easy to review them with your doctor or pediatrician.
You can also share the data easily with friends and family.
Pros
Monitors breathing, rolling, and room temperature.
Easy to connect via Bluetooth.
Free tracking app.
Easy to clip on and use.
Cons
The range of 50 feet may not be suitable for those in large living spaces.
False alarms happen occasionally.
Our Ratings
Community Feedback
This product has its pros and cons, but overall, my wife and I have found it helpful as a "second set of eyes" on our child. One major drawback is that it can only be paired with one phone at a time, which can be inconvenient when switching between parents. Additionally, you need to clear it from your phone's background to prevent battery drain. On the positive side, adjusting the settings and alarms helps reduce false alerts, providing more peace of mind for us as parents. However, it would be useful to have a pause or on/off button on the sensor, as going into the app after every changing or feeding can be tedious. Finally, it's important to note that the sensor is not waterproof, only water-resistant, so be cautious during diaper changes. Despite some issues, the product has proven to be a cost-effective alternative to more expensive options, providing valuable monitoring and peace of mind for our family.
---
Babysense Video and Movement Monitor
Best for Preemies Baby Breathing Monitor
This straightforward, highly-sensitive monitor is designed for parents who are simply interested in making sure their baby is moving regularly, without all the special features.
It uses two ultra-skinny pads under the mattress that supply adequate coverage. These pads can detect even the most subtle movements, abdominal and otherwise, from your baby.
If the baby is still for 20 seconds, you will get a warning alarm on the control unit. This is a particularly helpful monitor for parents of preemies or anyone worried about SIDS.
There are no loose wires in the crib to worry about, and the sensors do not emit any radiation that could harm your baby.
Pros
Helps monitor for SIDS.
No dangerous wires in the crib.
High accuracy reports due to two full-coverage sensor pads.
Highly sensitive.
Cons
Not as many special functions as other monitors.
Some parents say it works much better with a thin bassinet mattress than a standard crib mattress, which is thicker.
Our Ratings
Community Feedback
My experience with the Babysense monitor has been a game changer in easing my anxiety as a new parent. It's super sensitive and detects every little breath my baby takes, giving me peace of mind. I appreciate that it's not a wearable device for my baby, making it much more convenient to use. The only downside is that it can pick up other movements if placed too close to other objects, so it's best to keep the bassinet away from anything that might interfere with the monitor's accuracy.
---
Snuza Pico 2 Baby Monitor
Best On-the-Go Baby Breathing Monitor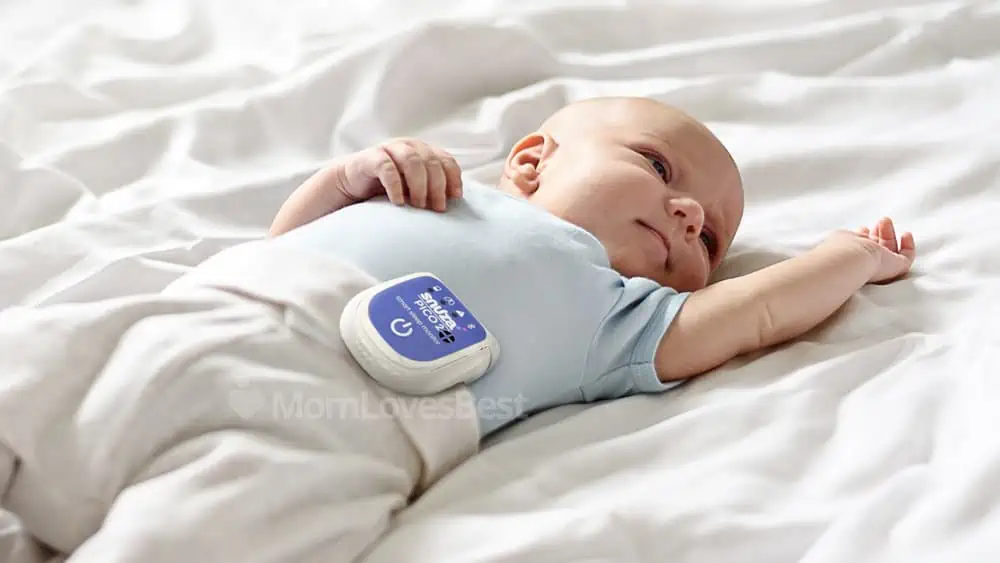 The Snuza Pico 2 is the baby sibling of the Snuza Hero. The biggest difference between the two is that the Hero version doesn't offer the skin temperature reading, body position, and sleep pattern features the Pico 2 has.
It clips to the diaper, just like the Hero, and will send an alarm if your baby has not been breathing for 15 or 20 seconds. A green light indicates all is well, while an orange light communicates that your baby's movements are weak or infrequent.
To avoid false alarms, you need to attach the clip with care.
This unit is handy for travel due to its size, as it can easily be slipped into most bags.
Pros
Quick charge.
Small and lightweight.
Long battery life.
Straightforward design.
Cons
May encounter false alarms.
Our Ratings
Community Feedback
After trying out the Snuza Pico 2, I can confidently say that it has brought peace of mind to my family. The accurate motion detection, body position tracking, and temperature monitoring have been very helpful. However, I have experienced a couple of false alarms when my baby pulled the device off or shifted slightly, but these instances were not too bothersome. While the Bluetooth connectivity can only be linked to one device at a time, it hasn't been a major issue for us.
---
iBaby Breathing Monitor
Best Affordable Baby Breathing Monitor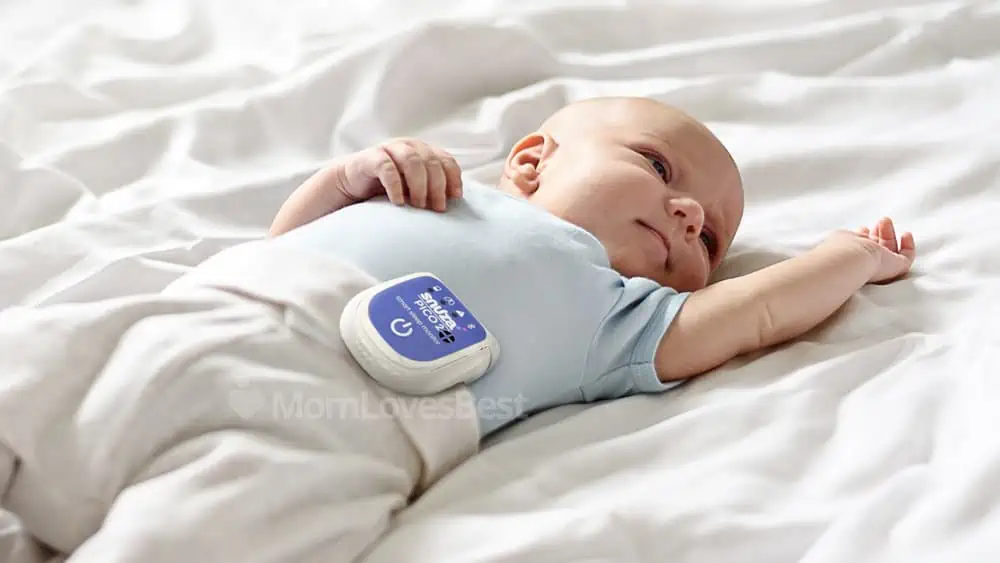 This sensitive baby breathing monitor won't break your bank. Unlike other breathing monitors that require wearing a bracelet or band, this device uses artificial intelligence to detect your precious one's face, movement, breathing, and sleeping patterns. It has alarms for your baby's movement, room temperature, and humidity.
It also includes cloud storage of 300 alert pictures and 100 video clips, free of charge.

Pros
No subscription fee for baby analytics.
Night vision.
Non-wearable alarm system.
Two-way audio.
Cons
You need a mounting area for the camera.
No pan or tilt function.
Our Ratings
Community Feedback
This iBaby monitor has proven to be a useful and reliable addition to my baby care routine, providing essential features such as breathing and activity analysis, room temperature measurement, and two-way communication. The setup was straightforward and the bendable monitor allowed for versatile placement options. However, I experienced some inconsistencies with the breathing function, though the image and sound quality remained top-notch, making this a valuable baby monitoring tool overall.
What Does a Baby Breathing Monitor Do?
While you usually breathe at a steady rate, your newborn may not. Periodic breathing refers to when young babies show pauses in their breathing patterns. While it is usually normal, especially for preemies or when a baby is in a deep sleep, it can be distressing for a parent (3).
You might hear your newborn take a few shallow breaths, then pause before starting to breathe again. A breathing monitor can help differentiate between normal sleep breathing patterns and dangerous ones.
It closely monitors your baby and alerts you when irregularities surface. This usually entails pauses in breathing or lack of motion lasting longer than 15 to 20 seconds.
Periodic breathing usually fades away on its own with time. But this special alarm system can provide parents with a bit of extra relief and support in the early days.
Should I Use a Breathing Monitor?
If your baby was born at full term, is an average weight, and is healthy, your doctor probably won't recommend getting a breathing monitor.
Any apparent life-threatening event (ALTE) or brief, resolved, unexplained event (BRUE) may be grounds for keeping a better watch with a breathing monitor (4).
Premature babies with a history of breathing troubles and slow heart rates may need this device. Doctors may also recommend a breathing monitor if your baby has sleep apnea or chronic lung disease.
Other rare medical conditions may prompt your baby's doctor to advise you to monitor their breathing. These conditions include respiratory distress syndrome, transient tachypnea, and persistent pulmonary hypertension, as well as those infants with a history of cardiac issues (5).
Make sure you discuss your breathing monitor with your pediatrician. There may be a particular one they recommend to suit your needs and the needs of your baby.
How to Choose a Baby Breathing Monitor
While picking out a breathing monitor can be a particularly complicated task, there are a few factors we always look for. These should also be your main considerations when narrowing down your choices.
---
When to Seek Help for Irregular Breathing
When you have a question about your baby's health, you should address it with your pediatrician. Health issues can progress rapidly in a newborn, so it is crucial to seek help quickly if you are worried.
While these symptoms are not all-inclusive, they are some of the more prominent signs of breathing issues:
Breathing pauses that happen more and more often.
Your baby has a blue tinge around their lips and mouth.
Your baby's skin looks blue, even while they're breathing at a normal rate.
You notice lethargy or your baby is not responding as usual.
Rapid breathing as a common occurrence.
Any other symptom you deem abnormal.
All of these symptoms can be frightening if your baby is experiencing them. Furthermore, they could signify a more serious issue, such as sleep apnea. Try to keep calm and contact your doctor or 911 center immediately (6).
---
Thank You For Your Feedback!
Thank You For Your Feedback!