Babies and toddlers spend more time wearing their cozy pajamas than anything else.
But did you know that some PJs are not made with safety in mind? We've seen pajamas that contain small pieces or parts that could potentially be choking hazards and others that do not meet the safety requirements for flame resistance.
So we searched high and low to find the safest, warmest, and coziest mom-approved PJs for babies and toddlers. Our list includes the best baby pajamas of every type, including footless PJs, no-slip PJs, and PJs for summer, winter, Christmas, or Halloween.
Save your time for baby snuggles, and check out our complete list of trusted PJ sets for your little one.
Image
Model
Product Comparison Table
Features
Best Organic Baby Pajamas
Burt's Bees Baby Organic
Free of flame retardants
Non-slip bee grip footies
Cribsie Award Winner for Snuggliest PJs
Best Footed Baby Pajamas
Leveret Baby Girls
Designed for safety
Natural, chemical-free cotton
Grip material on the feet
Best for Chunky Babies
Owlivia Footless
Handy neck-to-knee zipper
Ready-to-grow cuffs
Certified GOTS organic cotton
Best for Summer
Simple Joys by Carter's
Snug-fitting
Elasticized waistbands
Soft, ribbed texture
Best Non-Slip Baby Pajamas
Burt's Bees Baby-Non-Slip
Snug fit
Breathable material
100% organic, GOTS certified cotton
Best Unisex Baby Pajamas
Little Me Unisex
Zips from neck to feet
Has fold-over wrist cuffs
Machine washable
Best for Christmas
Simple Joys by Carter's
Ankle-to-chin zipper
Set of 2 gripper-foot pajamas
Fabrics free of chemical treatments
Best Baby Girl Pajamas
Gerber Baby Sleep 'n Play
Pull-on closure
100% cotton
Safety neck tab over zipper pull
Best Baby Boy Pajamas
Gerber Baby Boys
Front zippers
Washing machine friendly
Cotton/ polyester diamond quilt
Best Quilted Baby Pajamas
Baby Deedee
Non-skid soles
High-quality YKK zippers
Breathable fabric
---
---
Best Pajamas for Babies & Toddlers of 2023
Here are our favorite pajamas for babies and toddlers.
1. Burt's Bees Baby Organic Cotton Pajamas
Best Organic Baby Pajamas
Babies have sensitive skin, so harsh or treated fabrics can irritate or even cause rashes. These certified cotton pajamas are made by one of our favorite natural brands, Burt's Bees Baby. The fabric is highly breathable to help your baby maintain a comfortable body temperature.
Long zippers are a gift from heaven when you need to change your little one. The zipper on these PJs runs all the way down the leg. The sleeves have wide cuffs with scratch mitts incorporated on the newborn and 0-3 month sizes.
A soft ankle elastic holds the footies in place, making it possible to buy a larger size to fit longer without your little one tripping all over the place. And we love the adorable non-slip bumblebee designs on the bottoms of the feet as they help prevent injuries such as slips and crashes.
Parents voted to help these PJs win the Cribsie award for Snuggliest and Softest PJs five years in a row!
Choose from over 30 patterns, colors, and designs to suit any baby boy or girl, and know that your little one will be wrapped in the softest comfort all night long.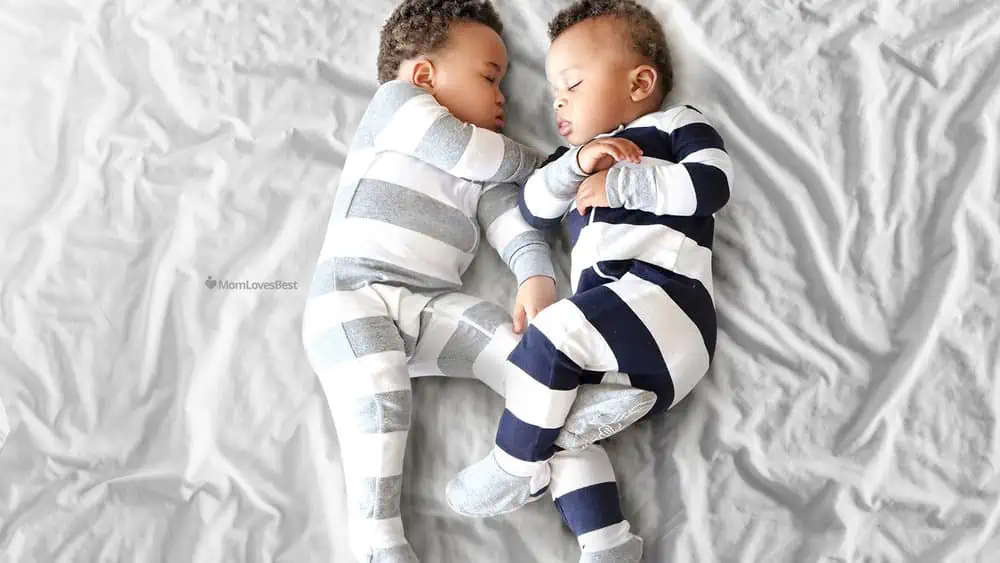 ---
2. Leveret Baby Girls Footed Pajamas
Best Footed Baby Pajamas
Separate socks or booties are cute. But if your baby pulls off everything you put on them, they can cause more trouble than they're worth. These one-piece footed pajamas will keep your baby warm and happy.
With footed pajamas, like these ones, you won't have to worry much about your precious peanut getting cold feet. The pajamas are made from 100% cotton and have a snug fit. The feet have a non-slip grip finish for safe walking.
Tags can be a nuisance, and if you cut them off, you're often left with harsh edges. However, with these pajamas, the label is printed onto the fabric.
---
3. Owlivia Footless Sleep 'n' Play Set
Best for Chunky Babies
For babies on the heavier side, footless pajamas might be a better choice. My babies were chunky and tall, so they outgrew footed PJs quickly.
This Owlivia one-piece suit is made from certified organic cotton fibers. Your chunky monkey will stay comfy and enjoy the feel of this gentle fabric on their skin.
The long zipper allows for quick and easy diaper and clothing changes, and the zipper tab keeps your baby safe from the zipper's hard edges.
The cuffed sleeves and legs allow the pajamas to fit snugly to keep your little one safe.
---
4. Simple Joys by Carter's Snug-Fit Pajama Set
Best for Summer
Lightweight and breathable pajamas are an excellent choice for keeping your baby cool during warm summers.
This set includes everything you need for warm summer evenings. The long-sleeved shirt is suitable for cooler nights or air-conditioned rooms. But you also get two short-sleeved shirts, a pair of shorts, and two long pants with ribbed cuffs.
These are snug-fit cotton pajamas, but they're not flame-resistant.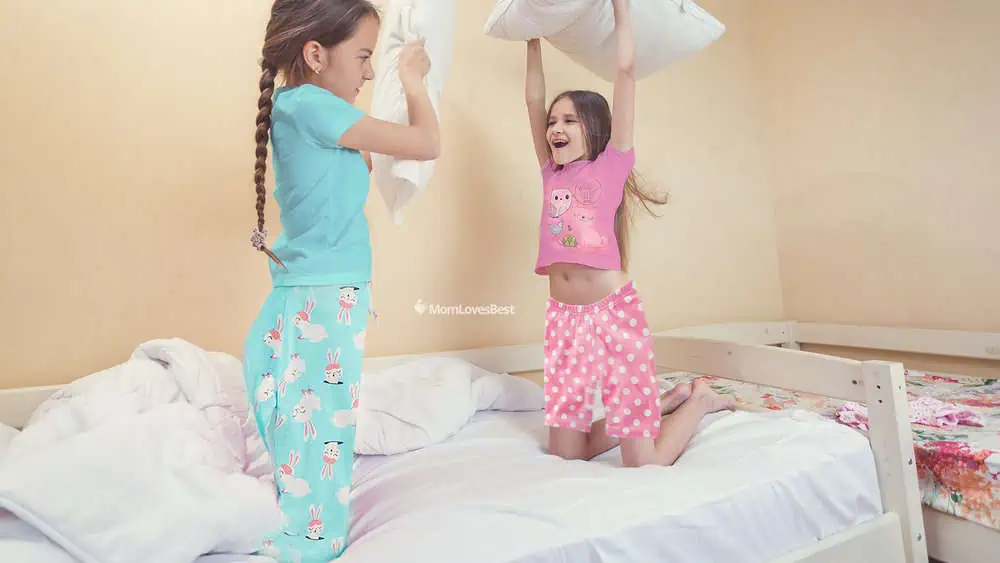 ---
5. Burt's Bees Baby Non-Slip Pajama
Best Non-Slip Baby Pajamas
Footed PJs aren't always ideal for babies learning to walk since the soft footies can cause little ones to slip. But this set has a non-slip grip that covers the entire bottom of the feet. Burt's Bees calls it the "bee grip," and it helps your baby stay upright as they move about. These grippies kept our little ones out of slippery situations many times!
The long zipper helps you get the snug-fit PJs on and off easily, even if your baby is sleeping soundly. The sleeves have ribbed cuffs to keep them from slipping over your baby's hands, and smaller sizes have convertible mitts in the cuffs.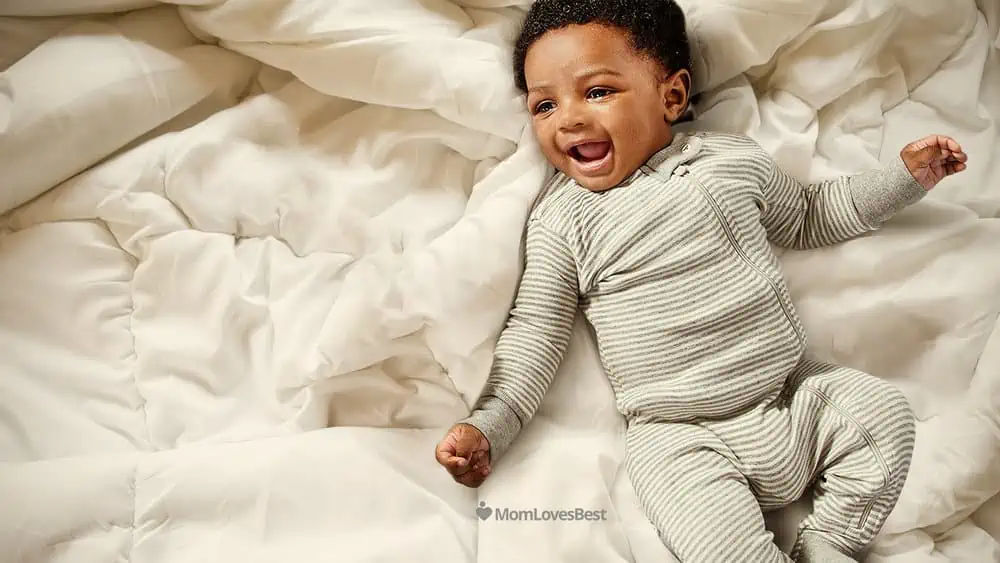 ---
6. Little Me Unisex Footed Pajama
Best Unisex Baby Pajamas
Unisex clothing can be so charming. Not everyone is into princesses or trucks. Unisex clothing takes a more neutral approach, but that doesn't necessarily mean boring.
These footed PJs have a cute giraffe on the front. They fit snugly and have no flame-retardant chemicals to worry about.
The soft and warming cotton fabric has snaps that go from the neck to the foot. Your little bundle of joy will also get a matching hat to keep their head warm.
These baby pajamas make the best baby shower gift as they work perfectly for babies of any gender born in any season.
---
7. Simple Joys by Carter's Holiday Fleece Footed Pajamas
Best for Christmas
At Christmas, we love to snuggle our babies in warm and cozy PJs with cute seasonal designs.
These fleece holiday PJs by Carter's are the perfect set for babies and toddlers. The footed design includes a neck-to-ankle zipper for easy diaper changes. The long zipper also makes it easy to slip your little party animal into their PJs even after they've fallen asleep.
However, since it's fleece, you should consider what your baby is wearing underneath to prevent overheating. Unless the room is cold, you may not need any additional layers.
---
8. Gerber Baby Sleep 'n Play
Best Baby Girl Pajamas
A little princess needs cute pajamas. And this Gerber Sleep 'n Play set is not just adorable; it's made from pure cotton, making it a soft, breathable choice.
Late-night changes have to be quick, and the long zipper on these sleepers makes it easy. Ruffles elegantly hide the zipper, and there's a protective tab at the top to prevent scratches.
You get two sleepsuits in this pack, and you can choose from over 20 color combos.
---
9. Gerber Baby Boys 2 Pack
Best Baby Boy Pajamas
If you are looking for something warm and snug for your little boy, look no further. These pajamas are made from 100% cotton and are so soft, you'll find it hard to set your sweet little bundle down, even after they're asleep.
The safety tab at the top to prevents the zipper from scratching your baby. Two sets of pajamas are included, and you can choose between a wide range of colors and sweet prints.
---
10. Baby Deedee Cotton Quilted Pajama
Best Quilted Baby Pajamas
During the coldest months of winter, parents often resort to clothes made of fleece to keep their baby warm. But fleece is not always breathable.
These quilted pajamas are made of highly breathable pure cotton to prevent overheating.
The zipper is long, and there's a non-skid grip at the bottom of the feet to help your baby stay upright when walking.
---
11. Gerber Baby Girls' 4 Piece Pajama Set
Best Cheap Baby Pajamas
Cheap doesn't always mean bad. Buying two pairs at once makes sense and is easier on the pocket.
We were very impressed with the quality of this set. It's made from cotton, and the waistbands are pinch-free, so they shouldn't leave a mark.
The neckline is stretchy, making it easy to pull over your little one's head. This set includes a long-sleeved top, short-sleeved top, pair of shorts, and pair of long pants with ribbed cuffs.
Choose from several cute and fun designs (our favorite is the llama print!).
---
12. Carter's Unisex Baby Halloween Glow-In-The-Dark
Best for Halloween
Let the Halloween fun commence with trick or treating then continue at home — with no need to change for bedtime. Your little one will love these scary face PJs that glow in the dark. This set is made from cotton and has a snug fit with a wide neckline for easy dressing.
If you're not into spooky eyes and sharp teeth, there are also skeleton and Frankenstein options. I just hope they don't freak you out when your little monster pays a midnight visit to your bedroom!
---
13. Carter's Boys' Cotton Pajamas
Best for Winter
For cold winter days and nights, your little one needs something warm to sleep in.
Cold air can sometimes slip through loose openings around ankles and wrists. This two-piece pajama set has ribbed cuffs to keep it all out, and it's made from soft cotton.
Waistbands can be irritating for a child at times, but these pajamas have wide, pinch-free waistbands. And the snug-fit style will keep your little one safe.
Are Baby Pajamas Necessary?
Two-piece pajamas might not be necessary until your baby is closer to the toddler age.
For newborns and infants, it's a better choice to dress them in one-piece pajamas for bedtime. If your baby moves around when asleep, loose clothing could ride up over their face and create an unsafe environment.
You can dress your baby in a sleep sack over pajamas when it's chilly. This is the safest option for keeping them warm, as you should never cover your sleeping baby with loose blankets (1).
Use your own body as a guide: If you need a sweater or a blanket on your bed, chances are, your baby will need an extra clothing layer (2).
Should Baby Pajamas Be Flame Resistant?
Once babies begin to move around, their pajamas should be fire safe. There are two types of fire-safe clothing — snug-fit and flame-resistant. All sleepwear for older babies and children must be one or the other.
Snug-fit: This sleepwear will have ribbed cuffs, and it will not be loose in any place.
Flame-resistant: This sleepwear is usually coated in a flame-retardant chemical. These should be able to either resist a flame or not catch fire at all (3).
How to Choose Baby Pajamas
---
Thank You For Your Feedback!
Thank You For Your Feedback!