We all know how hard it is to find quality baby socks that stay in place on your little one's feet and don't leave elastic marks around their precious little legs.
I have a bin stuffed full of ill-fitting and mismatched socks because half of the pair disappeared on our journeys, leaving my baby's toes cold and exposed. I swore it would never happen again.
That's why we moms invested many hours of our time, searching for  the best baby socks on the market. We were surprised to learn how many good options were out there! If only I'd found these before wasting so much money on that bin full of duds.
But at least we can spare you the trouble! Check out our top baby sock picks, including options for preemies, newborns, babies, and toddlers. We'll even share our favorites for cold weather, chubby legs, Christmas, and more.
---
---
The Best Baby Socks of 2023
Here are our favorite baby socks that actually stay on.
Kakalu Non-Skid Ankle Socks
Best Baby Socks That Stay On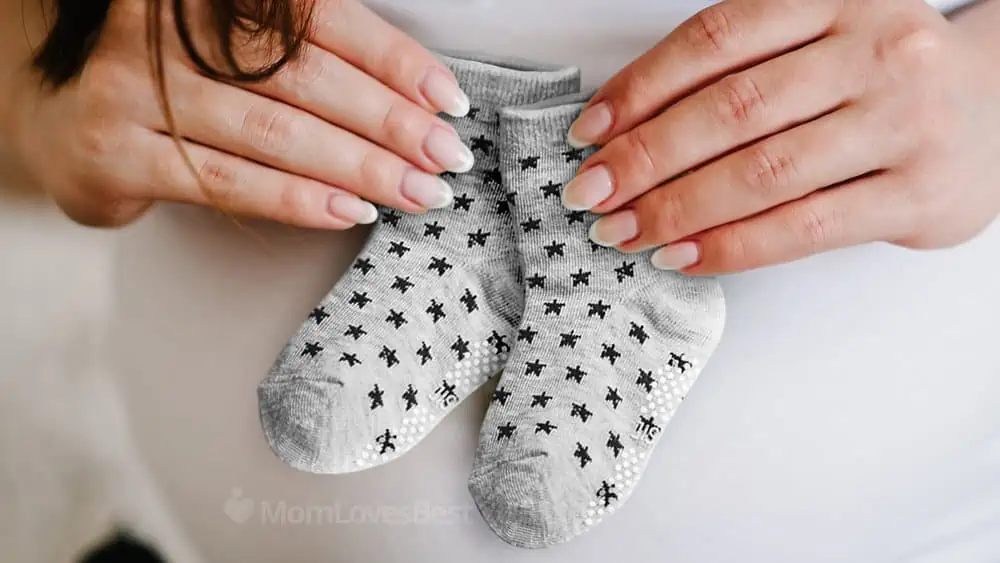 These knitted anti-slip socks from Kakalu are perfect for babies with active feet!
The material is a blend of cotton and nylon, making them super soft but with good elasticity to stop them from slipping down. This also makes for vast stretching potential, perfect for accommodating growing feet.
The comfort and warmth provided by the Kakalu socks make them a good winter essential. They're also breathable, so you don't have to worry so much about your baby overheating.
Non-skid socks are an excellent choice for a baby who is starting to stand. It doesn't take much to topple a new walker; you don't want it to be because of their socks.
Community Feedback
I'm thrilled with these socks for my toddler! The non-slip bottoms are perfect for my little one who's always running around on our slippery floors, and they're also thin enough not to affect the fit of their shoes. These socks are well-made, stretchy, and have held up well after many washes. Plus, the cute and gender-neutral designs go with any outfit, making them a great choice for my little one's wardrobe.
---
Rative Anti-Slip Crew Socks
Best for Boys
Rative's adorable socks for boys will add even more cuteness to your little dude's look. Whether he's into cars, space rockets, helicopters, or fire trucks, and with four different sizes to choose from, it's easy to find the perfect pair for your little guy. The material is mostly soft cotton, with some polyester for elasticity.
Most importantly, they have non-slip grips in various patterns and shapes on the bottom. Our little guys are always on the run and looking for new adventures. But this feature provides some peace of mind that they won't go sliding across the floor or crashing into things.
Community Feedback
Great non-slip socks for my little one with big feet! These socks fit my 19-month-old perfectly, though he might need to size up soon. They provide safety and style as he walks and plays on our slippery floors. The quality and designs are excellent, and they've held up well through washing. While they may not last forever, their non-slip feature and adorable look make them well worth it for my toddler.
---
Trumpette Baby Socks For Girls
Best for Girls
Cuteness alert! These tiny, ballerina-inspired socks from Trumpette will undoubtedly be a hit with your little princess.
The cotton-based fabric has an elastic top to keep the socks from falling down. On the bottom, the non-slip features ensure your little girl can walk, run, or dance in safety.
A little heads up if you buy the pair with bows — make sure they are attached well. It might be worth adding an extra couple of stitches to ensure they don't fall off.
Community Feedback
In my experience, these socks are adorable and fit my newborn well, but the stitching started coming undone after the first wear. They've received numerous compliments and make for a unique gift that lasts through several washes, with colors that match various outfits. However, I've found that the sizing tends to run small, and the Trumpette tread on the bottom doesn't provide as much grip as desired for a toddler sock.
---
TwinkleToes Quote Socks
Best Funny Baby Socks
If you're a mom who likes to dress your baby in something other than "just cute," these are the ones for you! These baby socks from TwinkleToes are hilarious and full of sass.
They are neutral in color, with four pairs in the pack, each featuring a funny phrase on the sole printed in a non-slip material.
The fabric is mainly combed cotton, which gives them a soft feel. They also include a touch of spandex, so the socks will fit a variety of foot sizes.
Community Feedback
I recently purchased these footies as a gift and was pleasantly surprised by their accurate description and charming appearance. When I saw my friend's baby wearing them, they looked adorable and truly enhanced the little one's cuteness. Although the quality might not be top-notch, they still served their purpose well, and my friend absolutely loved the present.
---
Jefferies Non-Slip Socks
Best Non-Slip Baby Socks
If your baby is ready to crawl or stand against furniture, or if they're beginning to walk, these non-slip socks from Jefferies Socks Store are perfect.
The main fabric in these is cotton, mixed with polyester and spandex for stretch. They are excellent for the crawling, almost-walking age, where we tend to worry about slippery floors.
However, one downside is that they tend to run smaller than average sizing, so it's better to buy one size larger.
Community Feedback
If you're searching for baby socks that don't bind and cater to little ones with chubbier ankles, these socks are perfect! I found the plain colors matched my baby's outfits well, and the snug fit ensured they didn't slide off during playtime. The grippers on the bottom provided extra safety for my walking toddler on hardwood floors, and the foldable cuff allowed for versatility in length. These socks have been a fantastic addition to our baby's wardrobe, and I look forward to seeing how they hold up after multiple washes.
---
Tphon Non-Skid Toddler Socks
Best for Chubby Legs
It can be challenging to find a pair of socks for chubby ankles. Believe me — I've tried! I've had to shop for socks in larger sizes just to keep from getting tight elastic marks on my little one's legs. But then the socks ended up fitting too loosely around the feet.
These socks solved this problem! They are made of stretchy material, meaning they can comfortably accommodate some extra chub while still fitting comfortably in the foot. They have a loose opening with good elasticity.
As they come in a pack of 12 pairs, you'll have a pair to match all your baby's outfits. And there are several fun print and color options to choose from to suit boys or girls.
Community Feedback
These socks are not only cute, but also comfortable and sturdy. My daughter loves the variety of colors and designs, and the non-skid bottoms make them perfect for active kids. I've noticed that air drying is the best way to prevent them from shrinking over time.
---
Hudson Baby Knee-High Socks
Best Knee High Baby Socks
We adore these Hudson Baby knee-high socks, and our little ones beg to wear them too. They'll keep your baby or toddler's legs warm and look super cute at the same time.
Choose from stripes, colors, plaids, or fun prints, such as mustaches, ballet-style "shoes," or animal designs. Your little one will be excited to get dressed up in these sweet socks, and they serve a double purpose in protecting little legs while crawling.
The material is a mix of cotton, nylon, and spandex. They stretch easily and reach just under the knee (depending on which size you get). The socks are available in three sizes, 0-6 months, 6-12 months, and 12-24 months.
Community Feedback
If you're looking for baby socks that stay put, these are a great option! I've used them for my 18-month-old and they don't fall down easily, even after several days of wear. The colors are vibrant and the material is stretchy and thin, making them perfect for all-day wear. However, be aware that the band can be a little tight and they don't have grips on the bottom. While they may leave some marks on the thigh, folding them below the knee can provide a more comfortable fit.
---
Lovful Fuzzy Animal Winter Socks
Best for Winter
These animal-inspired fuzzy winter socks from Lovful are perfect for keeping toes warm during the cold months.
They are soft and thick, made from a plush and fuzzy fleece material. At the same time, they're also quite breathable. They can be slippery, though, so if your baby is already walking, they might not be ideal. As they are thicker than the average sock, they are meant to be worn without shoes.
The design is simple yet cute — it sure makes you wish you could get a pair for yourself. And your little one will love having these animals fitted on their toes.
Community Feedback
I'm impressed with the softness and adorable animal patterns of these socks, which provide warmth and comfort for my little one. However, after a few washes, I noticed some unraveling threads and elastic issues, so they might not be the most durable option. Despite this, my child enjoys wearing them, but I do wish they had grippers on the feet for better traction on slippery surfaces.
---
Luvable Friends Newborn Socks
Best Newborn Baby Socks
These newborn socks from Luvable Friends will be a good fit for your newborn's feet. The terry fabric combines polyester, spandex, cotton, and nylon, and they have reinforced heels and toes.
The rolled cuffs keep the socks in place without causing any discomfort. If your baby is accomplished enough to wiggle their way out of them, you can unroll the cuffs and have your little one wear them as knee socks, ensuring they stay in place.
They come in sets of six pairs, and you can choose form neutral or gender-specific colors or prints.
The artwork is knitted into the design, which means you won't have the disappointment of seeing the plastic transfers fall off.
Community Feedback
These baby socks are a fantastic find for parents who are tired of traditional socks that constantly fall off. I personally enjoyed how well they stayed on my newborn's feet, and the fold-over design adds a touch of practicality. However, be prepared for some shrinkage after washing, but with a little stretching, they'll be back to their original size in no time. The soft and snug fit is perfect for tiny feet, and the variety of colors adds a lovely touch.
---
Touched By Nature Organic Socks
Best Organic Baby Socks
Organic baby socks can be hard to find. But we love these sweet options from Touched By Nature as they are an excellent choice of organic baby wear.
They are soft and comfy and did not disappoint at all, even after machine washing them. We love the neutral colors and the wide variety of styles.
However, we learned quickly that these tend to fit small, so if your little one has chunky legs, you'll want to size up.
Community Feedback
My experience with these socks has been a mix of delight and slight disappointment. The adorable patterns, soft organic material, and thick, warm texture made them perfect for cold weather. However, they did shrink after washing, requiring one to order a size up and be mindful of potential tripping hazards for little ones learning to walk.
---
Vanberfia Unisex Baby Christmas Socks
Best for Christmas
Christmas is the best time of year, especially when you have young children. And with these Christmas-inspired socks from Vanberfia, your little one will be suitably dressed for the holidays.
The material is a high-quality combed cotton, spandex, and nylon blend. The socks are so soft and comfy — perfect for Christmas morning. The designs are well made, plus they will hug your baby's tiny feet just right.
These also make the perfect stocking stuffers for any little Christmas angels in your life. And they come in a wide range of sizes, fitting newborns to 10-year-olds, so you can purchase matching pairs for all your kids this Christmas!
Community Feedback
Definitely a delightful addition to the holiday wardrobe, these Christmas socks are both adorable and cozy. While they are a great fit for younger children, they may run on the smaller side for older kids, so consider sizing up. The socks are soft, comfortable, and hold up well to washing, making them perfect for keeping little toes warm. However, be aware that they lack non-slip grippers on the bottom, which could limit their use for some toddlers around the house.
---
Gerber Neutral Unisex Baby Socks
Best Unisex Baby Socks
These classic Gerber unisex baby socks are soft and comfy — the best choice for keeping your little one's tosies cozy on a cool day.
This set includes six pairs in various gray and white designs. They are made of cotton, polyester, nylon, and spandex, making a great fit for feet of all lengths and thicknesses.
The upside of having unisex socks is that you can use them for more than one child. Since babies grow out of their socks so quickly, and they stay relatively clean before little ones learn to walk, you can pass them on to another child to extend their wear.
However, these socks also tend to run a little small, so buy a size bigger to ensure your little one can wear them as long as possible.
Community Feedback
Definitely a fan of these classic Gerber unisex baby socks! They're soft and comfortable, perfect for keeping my little one's feet warm and cozy. I love that they come in various gray and white designs and the mix of materials ensures a great fit for all foot sizes. A major plus is that they can be used for multiple children, extending their wear. Just a heads up, they do run a bit small, so I'd recommend going a size up to make sure your baby can enjoy them for as long as possible.
---
Gerber Preemie Baby Socks
Best Premature Baby Socks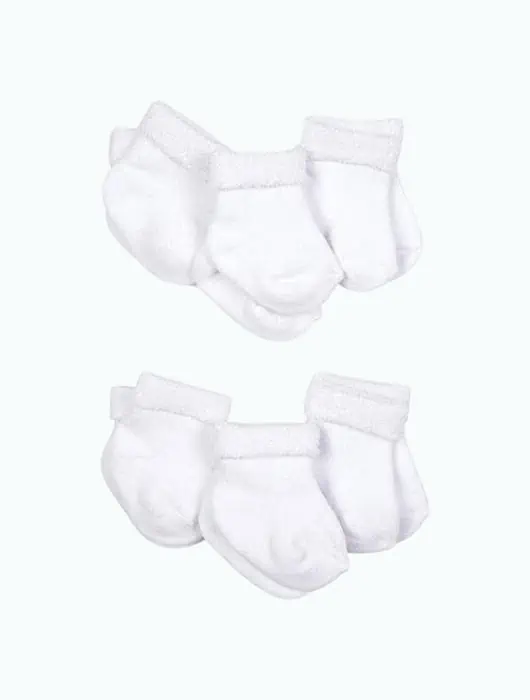 Finding socks — or any clothes — to fit your preemie can be a difficult task. However, these preemie socks from Gerber are ideal for the smallest of small feet. They measure two inches from toe to heel, but they have a lot of stretch, so they'll fit for longer than a week or two.
The design is unisex — plain white and simple. The fabric is a blend of cotton, polyester, nylon, with a hint of rubber, so they'll stay on your baby's tiny tootsies.
Community Feedback
If you're looking for preemie socks, these do the job for slightly larger preemies around 4-5 pounds. I found them to be a bit on the thicker side, which kept my baby's feet warm, but they sometimes came off easily. After a few washes, I noticed some fraying at the top, but it was manageable with a little trimming. They were a good fit for my baby girl who was born at just over 5 pounds.
Are Baby Socks Necessary?
Socks are a necessity for babies when the temperature drops. Babies have poor circulation at first, and their feet are often colder than ours. If you're feeling cold, your baby is likely colder.
Can Babies Wear Socks While Sleeping?
In the colder months, your baby can wear socks or a sleeper with attached feet.
However, make sure there isn't a risk of overheating. Keep the room at a comfortable temperature. If it's on the warmer side, avoid using socks (1).
How to Choose the Best Baby Socks
The first thing you'll want to ensure is that your baby's socks aren't too tight. There's no need for tight-fitting footwear on a baby who is not yet standing or walking.
As long as they aren't so loose that they constantly fall off, purchasing baby socks one size up should be OK. Babies' feet grow quickly, and they will outgrow them before you know it.
When choosing baby socks, we always look at the fabric content. You want socks that are breathable but soft and with a good amount of stretch.
Baby socks come in all different sizes and styles. Some babies do better at keeping socks on if they have rolled cuffs. We've found these are particularly helpful for little ones with skinny little legs and ankles. Other babies do better with a higher crew style. We found these were great for our little ones with chubby feet and legs, although we had to watch that they weren't too tight at the top.
There are many options for colors, prints, and patterns on baby socks. Some baby socks are designed to look like little sneakers or ballet shoes, while others may have animal prints and faces and even extras like attached ears or satin bows to add to their appeal.
Some parents find it best to purchase all their baby socks in one solid color, so when the washing machine gets hungry and eats a sock or two (or ten!), at least they can make another match.
If your little one is learning to walk, or almost at that stage, look for anti-slip socks to keep them safe and provide some stability while they navigate their newfound freedom.
---
Review Methodology
At Mom Loves Best, we understand the importance of finding the best baby socks for your little one. Our team of professionals conducts thorough research, analysis, and hands-on testing to evaluate each product based on key criteria, such as comfort, safety, durability, and design. We compare and rank baby socks based on our findings, considering factors such as material, size, and grip performance. Our assessment also includes first-hand user experiences and quantitative measurements, ensuring that we provide you with an honest and reliable review. By examining a product's design choices and their effect on users, we identify what sets it apart from competitors. We are committed to helping you make informed decisions by sharing our expertise and evidence-based recommendations for the top baby socks on the market.
Thank You For Your Feedback!
Thank You For Your Feedback!