It can be challenging to find the best baby and toddler snowsuits because snowsuits are made with different conditions in mind.
Some are perfect for warm climates, while others are meant to keep your child cozy and dry in extreme snow or wet conditions.
We've studied and tested many products to find the perfect baby snowsuit for every situation. We looked specifically for snowsuits made with quality materials, that are warm in a variety of conditions, comfortable for little ones, and don't restrict movement.
We'll review our findings here to help you make the perfect choice for your little one. We'll also discuss why your child should never wear a snowsuit in their car seat.
Image
Model
Product Comparison Table
Features
Best Two-Piece Snowsuit
Columbia Double Flake
Waterproof fabric
Insulated
Adjustable storm hood
Best for Skiing
iXtreme Two-Piece
Adjustable shoulder straps
Ankle gaiter
Free headband with purchase
Best for Infants
Columbia Tiny Bear
Machine washable
Fold-over hands and feet
Zipper closure
Best for Girls
Pink Platinum
Convertible sleeves
Cozy and cuddly
Thick polyester and fleece
Best with Ears
Carter's Hooded Sherpa
Cotton-lined hood with 3D ears
Cozy polyester sherpa
Washing machine safe
Best for Boys
iXtreme Puffer
100% Polyester
Wind and water resistant
Plush fleece hood
Best Waterproof Snowsuit
Happy Cherry Bodysuit
Eash-access zipper system
3 colors to choose from
Great for easy diaper changes
Best Fleece-lined Snowsuit
OshKosh Snowsuit
Machine washable
Functional pocket
Various design and size option
Best Splurge Snowsuit
The North Face
Asymetrical front closure
Super-soft sherpa lining
Built to last
Best Fleece Snowsuit
Simple Joys
Convertible mittens attached
Good quality fabric
Roomy fit
---
---
The Best Baby Snowsuits of 2023
Here are our favorite snowsuits for babies and toddlers.
Columbia Baby Double Flake Set
Best Two-Piece Toddler Snowsuit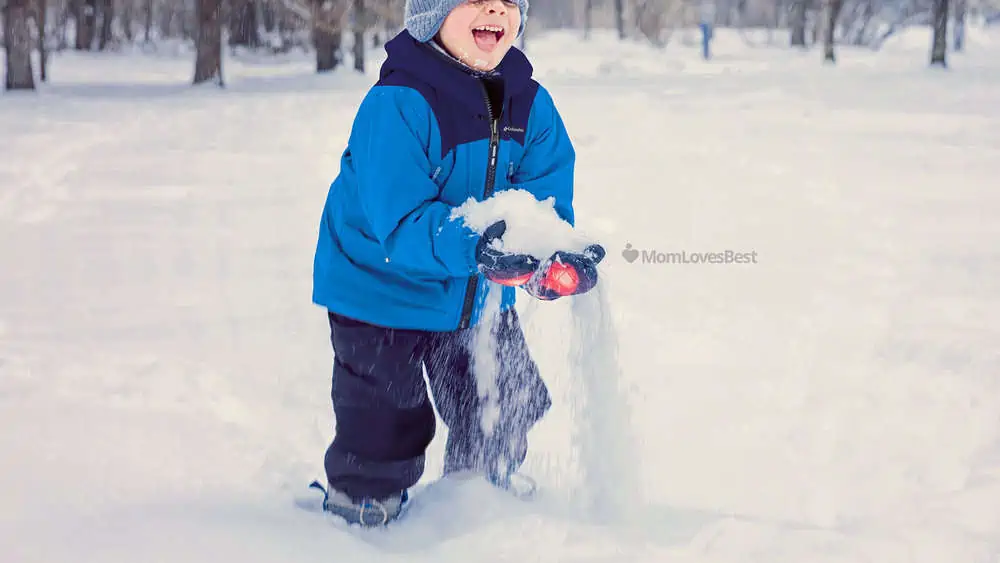 Every parent knows how fast kids grow; clothes that fit one week become too small the next. If your baby shoots up, this one-size snowsuit allows you to loosen the straps to make the sleeves and pants longer.
It's available in 12 vibrant colors, which both boys and girls should love. The suit isn't as thick as some but should be sufficient for an overactive toddler or limited time outside at one stretch.
---
Simple Joys by Carter's Baby Fleece Jumpsuit
Best Fleece Baby Snowsuit
Not only will your baby look absolutely adorable in this fleece snowsuit, but they'll also be so cozy. It's soft, super warm, and great for making your baby feel snuggled up during a cold day.
It's made of 100% polyester, so it's easy to machine wash. The lined hood with cute little ears will protect your baby's head from cold weather while ensuring they look super adorable.
The one-piece design and the foot and hand covers make it easy to slip over any outfit. If your baby gets too warm, just unzip the front and let them cool down.
And we love that this has a fair price, making it a good option for families on a budget.
---
iXtreme Boys' Insulated Two-Piece Snowsuit
Best for Skiing
Skiing and sledding are must-do winter activities for kids! Outerwear that allows free movement is necessary for active children — particularly when skiing.
The iXtreme two-piece ski suit is insulated and water-resistant, and it does a great job of keeping little ones warm and dry for days out on the slopes. Numerous size and color combinations are available, so there's sure to be one that's just right for your toddler.
The dungaree-style pants will cover the chest, and the adjustable straps keep them in place. The jacket has a nice insulated hood, two pockets, and a strong zipper. This outfit is ideal for keeping your go-getter warm and happy during snow activities.
---
Columbia Tiny Bear Bunting
Best for Infants and Small Babies
Sharing the joys of a winter wonderland with your new bundle of joy is priceless. But keeping them warm is crucial.
We love how this Tiny Bear Bunting suit is available in an incredible range of colors. We also appreciate how the soft but dense fleece keeps cold air out but still allows little ones to move their arms and legs freely.
The zipper runs asymmetrically from midway on the leg up to the chin, making it easy to take off or put back on for diaper changes. You can also roll down the hand and feet cuffs to add an extra layer of protection for mini extremities.
One of our favorite things about the suit is that it is easy to use in the stroller as it isn't very bulky. And did we mention those adorable little bear ears?
The only downsides to this snowsuit are that we found it runs a little big, and it may not be suitable for the coldest climates.
---
Pink Platinum Baby Girls One Piece
Best Baby Snowsuit for Girls
This Pink Platinum suit comes in a beautiful combination of lilac and plum. It has a long zipper that makes it easier to dress your little lady.
You can fold the mittens and booties over your baby's hands and feet to offer extra protection and avoid the need for adding boots and mittens on short treks.
The fully insulated polar fleece lining keeps your tiny tot snug and warm. It's also water- and wind-resistant, so your child can play in the snow for a little while without getting soaked.
The suit also features a large hood with faux-fur trim, which is great for keeping the wind chill out and your baby cozy.
---
Carter's Baby Hooded Sherpa Pram Sleep & Play
Best with Ears
With cute animal ears on the jersey-lined hood, this outfit takes your baby's winter cuteness to a new level.
The outer layer of soft polyester sherpa fabric feels like lambs wool but dries quicker and isn't as heavy. This suit is perfect for a quick outing in a winter wonderland.
The footed design means there's no need for boots, which appeals to younger adventurers who haven't found their snow legs yet.
Its generous size makes it simple to put on and allows for plenty of layers underneath.
---
iXtreme Baby Boys Expedition Puffer Snowsuit
Best Baby Snowsuit for Boys
This snowsuit is packed with polyester filling to keep your little guy toasty. The fabric folds over your baby's feet and hands to keep everything warm.
This snowsuit is both wind- and water-resistant, which allows your boy long hours of outdoor play. The hood has an elastic trim to snugly fit your little snowman.
The whole suit is polar fleece lined, so not only will it keep your baby or toddler warm, but they'll also be comfortable with only cloud-like softness against their skin.
It's available in two color combinations; navy and yellow or blue and orange. Both are great for budding snowball pitchers, but we love the edgy look of the navy and yellow combo.
---
The North Face Thermoball Infant Snowsuit
Best Splurge Snowsuit
If you're looking to splurge and treat your baby to the best of the best, this North Face snowsuit is for you.
When you take your baby to visit the snowy hills or the icy lakes, this suit will keep them super warm. It's made with ThermoBall Eco Bunting (an eco-friendly material made from post-consumer recycled polyester), a fluffy sherpa lining, and a quilted softshell to protect your child from cold winter elements.
We love this snowsuit because it keeps our kids warm while they do outdoor activities such as hiking, watching sporting events, attending festivals, or just getting through the winter in colder climates.
However, it's not the best option if your little one likes to get wet outdoors, as the outer layer doesn't do a very good job keeping moisture out.
---
Happy Cherry Thermal Bodysuit
Best Waterproof Baby Snowsuit
A waterproof snowsuit is vital for any little winter adventurer. You want your child to be able to play in the snow without worrying they'll get soaked.
Not only is this snowsuit waterproof, but it's also windproof and breathable. It will keep your baby dry on the inside and outside.
The dual-zipper system allows you to dress your baby quickly and easily and change their diaper without hassle.
This suit doesn't have built-in booties, but it has ribbed cuffs on the legs to help keep the snow out.
It's available in three vibrant colors, all of which will suit boys or girls.
We wish the hood had a fleece lining to be softer on babies' little heads, but we found it was great for keeping our little ones cozy when combined with a knit or fleece hat.
---
ColdControl Max Snowsuit
Best with Detachable Feet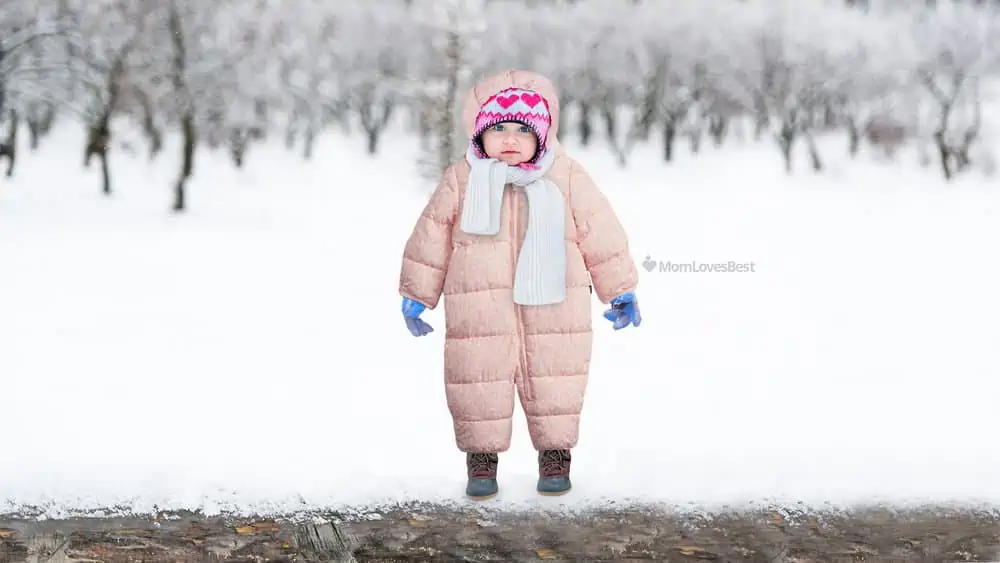 If your child is between the walking and crawling stage, you might need to change from socks to boots often.
This snowsuit has removable booties for when you want to switch between the stroller and the sidewalk.
It also has a long zipper which makes it fuss-free to change in and out of. The hood will protect your baby's head and ears from winter elements.
There's a little hook loop in the neckline for easy storage, or if the weather has been rough, you can quickly hang it up to dry.
We love the style and quality of this snowsuit, but it would have scored much higher in our books if it came in additional colors better suited to both genders.
---
OshKosh Baby Girls Ski Jacket and Snowbib Snowsuit
Best Fleece-lined Baby Snowsuit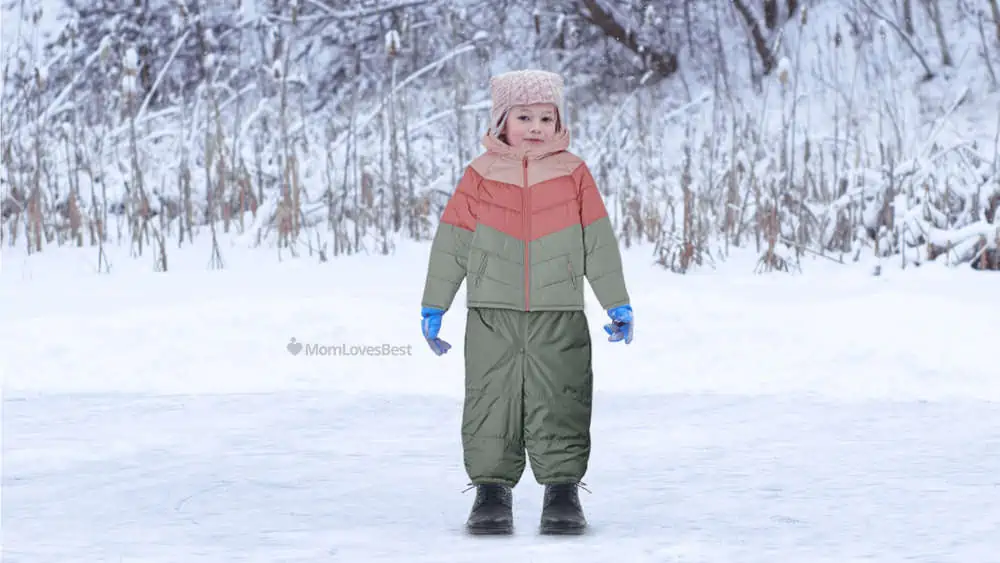 OshKosh's bib and jacket combo comes in five colors, including several suitable for boys. We love that this one in sage green has subtle color detail that won't display every single dirty mark, as lighter shades do.
The jacket has a strong zipper with a shield to tuck it away and buffer the wind. The deep pockets allow your toddler to keep their treasures nearby.
The combination of snow pants and a jacket means you can dress your child how you like. Use the jacket alone when you have no need for snow pants, or dress your little one in the snow pants for rides in the stroller or short walks on warmer days when there's still snow on the ground.
---
DDY Unisex Hooded Snowsuit
Best Unisex Baby Snowsuit
This hooded snowsuit is ideal for little boys or girls. It's available in four colors (gray is our favorite) with a cotton outer and inner layer and warm polyester filling. The suit has a long zipper that runs from ankle to neck for quick diaper or clothing changes.
The hood fastens to the snowsuit with snaps, so you can remove it easily if you want to lose some extra bulk and have your little one wear a hat instead.
The fold-down tab secures over the zipper with two snaps, keeping it from slipping and away from your baby's face.
A unisex snowsuit is always a good idea if you're planning on having more than one child, as you can save money by passing it down to your next little blessing.
---
Haokaini Newborn Bear Warmer Snowsuit
Best Affordable Baby Snowsuit
There are many reasons why you might choose a less expensive suit for your baby. Little ones grow so fast, and they might not get much wear out of it.
With this Haokaini snowsuit, your baby can stay warm, and your wallet can stay happy. Even though it's inexpensive, the quality isn't compromised, and we love the extra detail.
It comes in a wide range of designs, including cute bears in various color combinations and a blue puppy look. Even the little booties have ears on them.
The plastic snap closures make for smooth diaper changes, and the quilted inner fabric is soft, breathable, and cozy.

When Should Your Baby Wear a Snowsuit?
While snowsuits are designed for chilly temperatures, you don't have to wait until it's snowing before your baby wears one. You also don't want to jump the gun and put them in it at the first sign of cooler weather.
To keep your baby comfortably warm, dress them in one more layer (or a warmer layer) than you have on. So if you feel it's cold enough to take out your coat, it's probably best to put your baby in a snowsuit. Babies feel the cold much quicker than adults.
How to Choose the Best Snowsuit
It's crucial you don't get carried away by all the cuteness when looking for a snowsuit. Some can look oh-so-adorable, but the warmth and practicality are what you need to focus on.
---
Can My Baby Wear a Snowsuit in a Car Seat?
For a car seat to protect your baby, the seatbelt has to fit snugly across your baby's chest and crotch. Heavy, bulky clothing can make it look like the straps are adjusted correctly when they aren't. If you have a long car ride, your baby can overheat in a heavy snowsuit (1).
It's best to remove the snowsuit or jacket and buckle your child in as usual. Then tuck a blanket over your little one to keep them cozy.
Try warming up the car before heading out. When you arrive at your destination, quickly slip your baby into the snowsuit before leaving the vehicle.
---
Thank You For Your Feedback!
Thank You For Your Feedback!