Did you know that 90% of baby mitts don't stay in place, leaving your baby with scratches on their face and body or frozen little fingers? Although I just made that statistic up, it certainly felt true of all the mitts I tried for my first baby and those my friends have complained about.
But it doesn't have to be that way! There are companies who genuinely care about your baby's precious skin and are committed to keeping their tiny nails secured in a safe environment — and we've made it our goal to find them all!
We'll share our discoveries with you so you can buy the best baby mitts that actually stay on and keep your baby from looking like a miniature version of Edward Scissorhands.
Image
Model
Product Comparison Table
Features
Best Non-Slip
Crummy Bunny
Lifetime warranty
Extra-roomy design
Very safe and durable
Best for Teething
Nuby Soothing Teething
Soft silicone teething surfaces
Comes with a hygienic travel bag
BPA free
Best Unisex Mittens
Goumimitts Scratch Free
Scratch free
Organic, soft, and natural
Two-part closure system
Best Classic Knitted
Jan & Jul Winter Mitts
Provides great coverage
Premium quality stretchy knit
Soft, cuddly sherpa fleece lining
Best Mitten & Hat Set
N'Ice Caps Pilot
Warm and a little water resistant
Soft and fuzzy fleece lining
Time-tested design
Best Waterproof Mittens
SnowStoppers Kids
Patented snowstopper sleeve
Fully waterproof drypel liner
Tough-grip palms
Best for Winter
MarJunSep Winter
100% organic cotton gloves
Dye-free fabric
Great value for money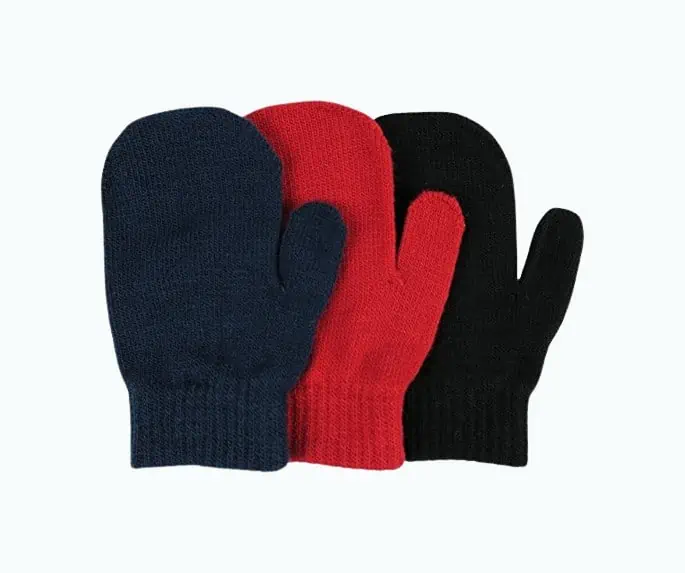 Best with Thumbs
N'Ice Caps Magic Stretch
Magic stretch-knit materials
Designed with ribbed cuffs
Naturally warm
Best for Boys
Gerber Baby Boys'
Pull-on closure
Machine washable
100% cotton
Best for Girls
Hudson Baby
Optimal for everyday use
Affordable
Made with superior fabrics
---
---
The Best Baby Mittens of 2023
Here are our favorite anti-scratch mittens for babies.
Crummy Bunny Baby Mittens
Don't Fall Off
It's no secret that the mittens you put on your baby could potentially fall off. However, these lightweight mitts have a longer-than-average soft elastic cuff, which prevents slippage, however much your little one wiggles.
They're roomy, so you won't have to worry about sweaty fingers or hand movements being constricted.
Two sizes are available, fitting babies from birth up to six months old. The bigger size could benefit babies with eczema or other skin conditions where you want to keep them from deliberately scratching.
And if you register your purchase with the manufacturer, you get a lifetime warranty. If you lose a mitten or it gets damaged, they'll replace it for free!
---
Nuby Soothing Teething Mittens
Best for Teething Babies
Teething is part of growing up; however, it can be a rough time for babies and parents. Babies will often become extra fussy when those first buds are coming through.
Here's a product I wish I had known about earlier. This mitten comes with a built-in teether. It's revolutionary! It looks like a regular mitten but has a soft silicone top that a baby can gnaw on.
Some babies begin teething earlier than others (my little one was only two months old). A teether is great at soothing itchy gums. However, younger babies may have difficulty holding on to an object. This teething mitten can fix that problem and help your baby self-soothe.
---
Goumimitts Scratch Free Mittens
Best Unisex Mittens
If you want a mitten that will stay on your baby, this is an excellent option.
These unisex mittens are available in a variety of colors, sizes, and patterns. They have a Velcro closure around the wrist, and parents swear they stay put, even on the wiggiest babies.
The fabric is a breathable mix of bamboo and cotton, so you won't have to worry about sweaty hands. You can adjust the mittens to fit your baby as they grow, with up to three months of growth in each size.
---
Jan & Jul Baby Winter Mittens
Best Classic Knitted Mitten
Is there anything as classic as knitted mittens? My mother decided to make a pair for my first baby. Four years later, she finished — just in time for my second baby.
If you prefer to buy your mittens rather than wait so long, these knitted mittens are adorable. You can purchase them in a variety of sweet colors or with a cute beanie hat to match.
The sherpa-fleece lining keeps your baby's fingers extra toasty. They come in one size that fits up to 9 months, so they should last throughout the winter.
---
N'Ice Caps Pilot Hat and Mitten Set
Best Mitten and Hat Set
If you want your baby's hands and head to stay warm and snug in cold weather, this set may be just what you need. It comes in several vibrant color options and various sizes.
The mittens are lined with plush sherpa, which will keep tiny fingers cozy, and they're fitted with elastic to keep them from slipping off. They also come in a variety of cute colors and patterns to match your baby's style (or their winter jacket).
---
SnowStoppers Kids Waterproof Mittens
Best Waterproof Mittens
When your baby is first born, waterproof mittens are probably the last thing on your mind. However, depending on where you live, you may need them.
During cold and wet weather, your little one has to stay warm and dry to remain healthy. These mittens don't have separate thumb holes to try to stuff little digits into, which is a huge bonus in our books. And they fit babies from 6 to 18 months, so you might get two winter seasons out of them.
The tall cuff keeps out the chilly winds. The mittens also have Thinsulate insulation, which means they're lightweight but warm.
---
MarJunSep Winter Warm Gloves
Best Mittens for Cold Winters
During the chilly months, you may need something thicker to keep your baby's hands warm. You might also need an extra pair in case the first gets drenched in drool.
There's a reason these mittens are bestsellers: their sherpa fleece lining feels like sheep's wool and absorbs moisture, making these a good choice if you want your little one's hands to stay warm without sweating.
They fit babies from birth to 12 months. They have an elastic closure and are made from organic cotton.
---
N'Ice Caps Magic Stretch Mittens
Best Mittens with Thumbs
As babies grow into toddlers, they want to use their hands more for playing. This is when you may need an upgrade from traditional baby mittens.
Mittens with thumbs will give your baby the freedom they need to grab things. These classic mitts are very lightweight and breathable to keep your little one comfy. However, they're not well suited for playing in the snow as they have no waterproof layer and become saturated quickly.
You get three pairs in a pack, and you can choose between colors and prints, such as dinosaurs and trucks.
---
Gerber Baby Boys' Organic Mittens
Best for Baby Boys
If you want something that will keep your little man scratch-free but stylish, try these awesome baby mitts made of lightweight, super-soft cotton.
Each one has a cute, modern print and is fitted with an elastic band around the wrists. You get four in one packet, and they fit babies up to 3 months old.
---
Hudson Baby Headband and Mitten Set
Best for Baby Girls
Deciding on the perfect items for your beautiful girl can be challenging since everything looks so cute. This set, fitting babies up to 6 months old, is no exception!
The mitts are made of a soft cotton and spandex blend, which is stretchy and breathable to keep your baby girl snug. They also have elastic around the wrist to keep them on securely.
Three pretty color combinations mean they will complement every outfit your baby has. Each pair in this set has a matching headband to make your little princess even more irresistible.
Are Baby Mittens Necessary?
While baby mittens aren't a necessity (you can always keep your baby wrapped in blankets or purchase a snowsuit with built-in mittens), there are some circumstances when they can be beneficial.
Since newborns can't control their limbs, their nails can damage the soft skin on their faces and possibly cause infection.
Babies with dry skin conditions can also benefit from wearing mittens. This will help prevent them from scratching and damaging their skin further.
In winter or on cold days, warm mittens, hats, and booties can keep your baby snug while out and about. If you carry your baby in a wrap or baby carrier, their hands could be exposed to the cold. If you need gloves, chances are your baby will also need mitts!
Choosing the Best Baby Mittens
These are some of the things we consider (besides the cuteness factor!) when looking for baby mitts:
Breathable fabric: Those little fingers can get sweaty. The best baby mittens are 100% cotton or a highly breathable cotton blend.
Straps or elastic: We want those mitts to stay on. Straps made of Velcro or a wide elastic will suffice.
Room to grow: Babies seem to grow by the minute, so you may want to get a pair with room for wiggling, growing fingers.
Be careful to never overtighten any straps or put your baby in mittens that are too small.
---
Thank You For Your Feedback!
Thank You For Your Feedback!