Are you a new mom-to-be looking for the best way to keep tabs on your precious bundle? Our guide to the best baby monitors on the market today can help you narrow down your choices.
We've spent a lot of time studying all kinds of baby monitors. We've experimented with many popular monitors, including audio, video, and smartphone options. We compared their battery life, range, safety features, and extra functions.
We'll review the pros and cons of the best baby monitors and answer some frequently asked questions to help you choose the right one for your situation.
Image
Model
Product Comparison Table
Features
Best for Twins
Infant Optics DXR-8
Out-of -range alarm
Changeable camera lenses
Audio or screen-only options
Best Two-Way-Talk Monitor
VTech VM3252 Video Monitor
1,000-foot range
Temperature sensor
Day and night vision
Best Audio Monitor
Angelcare Sound
Good two-way audio
Ultra-sensitive microphone
Lightweight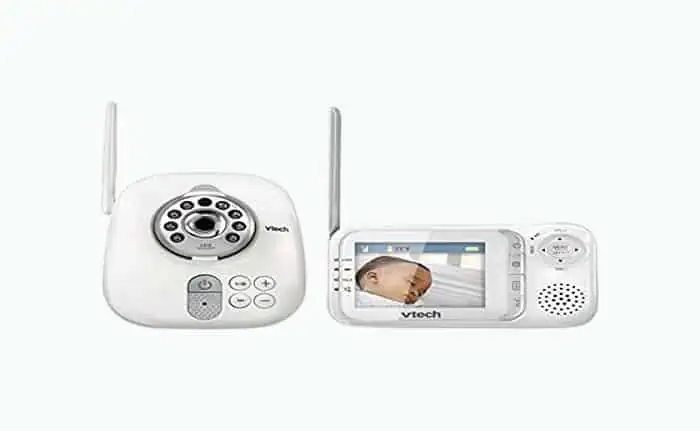 Best Long-Range
VTech VM321
Room temperature monitor and alarm
Five built-in lullabies
Split-screen viewing
Best Breathing Monitor
VTech DM221
Five sound levels and vibration alerts
1,000-foot outdoor range, 160-feet indoors
Doubles as a night light
Best Video Monitor
Kodak Cherish
High-quality video output
HD night vision
Accommodates two-way talk
Best Movement Monitor
Babysense Video & Movement Monitor
Monitors micro movements
Wireless
Battery-operated system
Best for Travel
Philips Avent DECT
Compact and lightweight
No Wi-Fi connection needed
Doesn't transmit white noise
Best Budget Monitor
Babysense Video
Good monitor picture
Affordable price
Accommodates up to four cameras
Best Wi-Fi Monitor
Nanit Smart
HD video picture
Can be accessed from anywhere
Built-in night light
Review Methodology: At Mom Loves Best, we evaluate the best baby monitors with a thorough analysis, assessing each product based on key criteria such as performance, reliability, and ease of use. Our hands-on experience and professional research allow us to compare and rank baby monitors, providing you with data-driven results. We measure factors like audio and video quality, range, battery life, and security, while also considering design choices and their effect on users. Through our comprehensive reviews and first-hand evidence, we help you make informed decisions by identifying the top products that excel in meeting your needs and expectations. Trust our expertise as we guide you in choosing the perfect baby monitor for your growing family.
---
---
The Best Baby Monitors of 2023
Here are 11 great baby monitors for you to consider.
Infant Optics DXR-8 Video Baby Monitor
Best Baby Monitor for Twins
This baby monitor has one incredible camera. You can zoom, pan, and tilt the lens, all from the handheld video monitor. This allows you to get on with other things while your little ones are asleep.
It doesn't matter if your twins share a room or have their own space; this monitor will grow with them. You can add a wide-angle lens and up to four cameras. We love that we can watch all our children at once while we do all the "mom stuff" around the house and yard.
It displays a clear, crisp picture on a 3.5-inch screen in a real-time video stream. Making out what your little treasures are up to will be a breeze.
The battery life is excellent, at eight hours while in use and 12 hours on standby. It even comes with a spare, so you will never have to worry about them running out. The sound transmits via a secure wireless transmission, so you don't have to worry about the neighbors listening in on your babies' twin talk.
This monitor covers all bases with night vision and a two-way talk feature.
We also love how versatile the Infant Optics monitor is. If you want to watch and listen, turn on the screen and audio. Want to settle down and watch your favorite Netflix series? Use the screen only. The monitor has illuminated LED lights to alert you to your babies' cries.
Pros
Out-of-range alarm.
Nursery temperature display.
Changeable camera lenses.
Audio or screen-only options.
Cons
The cameras aren't wireless.
Having other devices operating on the same frequency can sometimes cause interference.
Our Ratings
Community Feedback
I've been using this baby monitor for over two years and I must say, I'm impressed with its durability, video quality, and range. The night vision is fantastic, and the temperature sensor helps me ensure my child's comfort. However, the charging port has given me some issues, requiring a bit of fiddling to charge.
---
VTech VM3252 Video Baby Monitor
Best Two-Way-Talk Monitor
Do you want to talk to your baby easily when you're in another area of your house? The VTech VM3252 is the best baby monitor choice to make communication easy between you and your baby, even from 1,000 feet away! There's no need to keep going back up and down the stairs. Save time and energy with this little gadget. Plus, it's a good way to transition your baby to sleep in a separate room from you.
We also love that this monitor is super easy to set up. When it arrives, you just have to plug it in, and it's ready to use.
Use the sound and lullaby function if you have dinner guests but your little one is struggling to get to sleep. There are five calming lullabies and four sets of ambient sounds, including white noise and a trickling stream. These soothing noises can help your baby drift off into a deep slumber.
Pros
1,000-foot range.
Two-way talk system.
Temperature sensor.
Day and night vision.
Cons
You can't mute sound on the receiver.
Poor battery life.
Our Ratings
Community Feedback
These baby monitors offer decent picture quality and good sound without the need for Wi-Fi, making them a secure choice for monitoring your little ones. I appreciate that the monitor has basic functions and doesn't require an internet connection to work. However, the battery life is quite disappointing, as it only lasts about 5-10 minutes when not connected to the charger. Despite this drawback, the monitor has proven to be reliable and useful, especially when rooms are further away.
---
Angelcare Sound and Movement Monitor
Best Audio Baby Monitor
This device not only monitors your baby's every sound, but it also detects movement. A wireless sensor pad fits under the crib mattress, picking up the gentlest rise and fall of your baby's chest. This gives you double the peace of mind when you aren't at your little one's side.
The digital audio is crystal clear, and the parent unit has a range of up to 750 feet. It also has a two-way talk function, meaning you can soothe your baby from anywhere with the sound of your voice.
The movement pad sets off an alarm if no movement is picked up for over 20 seconds. While this can sometimes trigger a false alarm if set on high sensitivity, many find it better to err on the side of caution.
The lightweight, rechargeable hand unit is battery operated and has a cradle for charging. Pop it in the cradle on your nightstand to ensure the battery doesn't run low during the night.
Pros
Good two-way audio, with the bonus of monitoring movement.
Ultra-sensitive microphone.
A favorite with parents of preemies or babies with health issues.
Cons
The mat sensitivity settings might need some adjusting to prevent false alarms.
Instructions can be a little confusing, especially if you are a technophobe.
Our Ratings
Community Feedback
I'm a parent who has used this baby monitor for quite some time, and I have mixed feelings about it. On one hand, the motion detection feature seemed promising, but it turned out to be inconsistent and unreliable, leading me to remove the sensor pad altogether. However, as an audio-only monitor, it has served its purpose, although the charging port on the parent unit broke after some time, which is a common issue according to other reviews. This monitor does have some nice features, such as the ability to turn off the beeping and adjust settings, but it requires careful attention to instructions.
---
VTech VM321 Video Baby Monitor
Best Long-Range Baby Monitor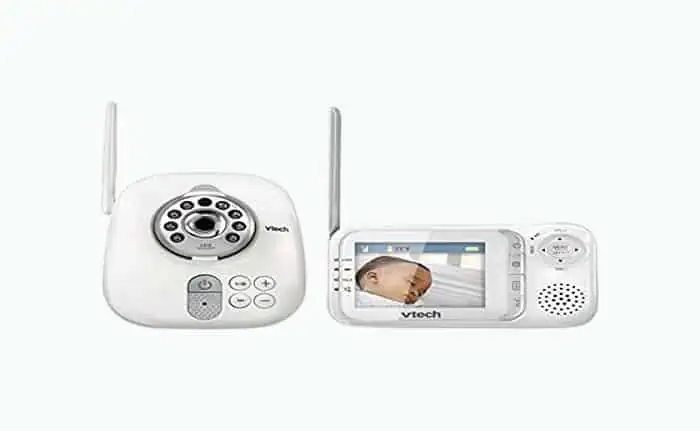 This VTech video monitor has excellent audio and an impressive range of up to 1,000 feet. It can also cover up to 150 feet inside the home with no outages.
Is your laundry in the basement? You'll have no worries with this monitor by your side.
DECT technology gives a good audio output, cutting background noise and preventing interference.
Other great features include a talk-back function, automatic built-in night vision, and a powerful zoom. You can watch and listen to your baby day and night, even in a dark nursery.
You can add up to three more cameras, letting you watch up to four kids overnight. You can also set cameras up in the rooms your baby uses most often, so you can keep your eyes on them at all times.
A 2.4 GHz frequency protects your privacy, and your security is protected. An ample 2.8-inch LCD screen provides a living color video screen. An alert will simply tell you when you're out of range, meaning you can move around with confidence.
Pros
Split-screen viewing.
Room temperature monitor and alarm.
Five built-in lullabies.
Cons
The battery may not last all night.
Additional cameras can interfere with sound quality.
Our Ratings
Community Feedback
Bought this video monitor for my 3 1/2-year-old son, and the video and sound quality have been excellent so far. The two-way communication feature is useful, though it functions like a walkie-talkie, so only one party can hear at a time. The zoom feature is great, but I do wish it had pan zoom capabilities for better room coverage.
---
VTech DM221 Digital Audio Baby Monitor
Best Baby Monitor for Deaf Parents
This VTech model is a top choice for deaf or hard-of-hearing parents. An indicator displays sound levels, making it easy for hard-of-hearing parents to "see" the sound in their baby's room. There are five levels that may appear, so you can determine how urgent the cries or noises are.
This monitor includes one parent unit and one nursery unit. The parent unit also has a vibration alert. You can use the belt clip, hang it onto your clothing and still feel the vibrations when there's a notification. You can take this up to 1,000 feet outdoors or 160 feet indoors, allowing you some flexibility while your baby is sleeping.
On the nursery unit, the top loop also functions as a night light. This allows your baby to see in the dark so they're not scared. It also allows you to keep an eye on them without waking them up when you enter the room.
You can use the talk-back feature to speak to your baby through. Soothe them, sing them a song, or when they're a bit older, you can have a conversation with them.
Pros
Five sound levels and vibration alerts.
1,000-foot range outdoors, 160 feet indoors.
Doubles as a night light.
Talk-back system.
Cons
Poor battery life; may need to remain plugged in at all times.
Static sounding feedback.
Our Ratings
Community Feedback
Bought this audio monitor for my hearing-impaired needs, and it has been a fantastic addition to my home. The sound quality is clear, and it's been working perfectly for over 5 years, even with my granddaughter who experiences seizures. The only downside is the charging cord tends to fray over time, so I added cable protectors to prevent that issue.
---
Kodak Cherish C520 Video Baby Monitor
Best Video Baby Monitor
This video baby monitor from Kodak offers the best of both worlds. It has a 5-inch clear HD-quality screen and the ability to monitor from a smartphone via Wi-Fi. This is great for parents who need to travel for work but still want to keep tabs on their mini human.
You can also record these moments for posterity using the Kodak Smart Home app or an SD card for recording. After all, it's great to see little ones interacting with their favorite bedtime teddy or discovering their toes. They will never forgive you for sharing these moments with their first boyfriend or girlfriend, though.
Other features include a two-way talk function, temperature alerts, night vision video, and sound and motion notifications. It will also play lullabies or white noise.
Pros
Good for multi-tasking with split-screen mode.
High-quality video output of 720p.
Accommodates two-way talk.
Our Ratings
Community Feedback
My experience with this baby monitor has been mostly positive, as it offers a clear picture and the option to connect with my phone for added convenience. The sound quality could use some improvement, as it can be quite loud and sometimes picks up static noise. The battery life has been sufficient so far, and the range is decent for everyday use, though it may struggle in larger outdoor spaces. One downside is that changing Wi-Fi networks requires going through the entire setup process again, which can be a hassle.
---
Babysense 7 Video & Movement Monitor
Best Baby Breathing Monitor
This is a straightforward monitor designed for parents who just want to know that their baby is moving regularly. If you don't want to be watching a monitor or listening to your baby's every sound, the Babysense 7 might be best for you.
It has two thin pads you place under the mattress. While small and skinny, they have adequate coverage of the whole crib. Even the baby's smallest and subtlest movements are detected.
The battery-operated system has no loose wires to cause you concern, and the unit doesn't emit any radiation. This means safety for your baby and less worry for you.
An alarm is sent to the control unit if the pads detect your baby has been still for more than 20 seconds. This is particularly helpful for parents of preemie babies or anyone worried about SIDS.
The video monitor provides several handy features, such as room temperature monitoring, a night light, sound-activated LED indicators, an alarm, a timer, and double digital zoom. You can add up to three extra cameras and soothe your baby with white noise sounds and lullabies.
Pros
Monitors micro-movements and helps monitor for SIDS.
Baby's environment is free from wires.
It's listed as a medical device in Europe, Australia, and other countries worldwide.
Cons
Requires four AA batteries, which are not included.
Our Ratings
Community Feedback
My experience with this baby monitor has been fantastic, providing me with peace of mind and the ability to get some sleep without constantly worrying about my baby's breathing. The sensitivity of the device is impressive, even picking up my movements when the bassinet was too close to our bed, so I moved it further away for accuracy. Although it's not designed for portability and can be affected by air disturbances from ceiling fans, the ease of use and effectiveness of this monitor have truly made it an invaluable addition to our home.
---
Philips Avent DECT Baby Monitor
Best Travel Baby Monitor
When you're away from home, you want a baby monitor that will easily travel with you. This simple one from Philips could be the solution.
You don't need to worry about Wi-Fi connections. Every sound your baby makes is transferred over a secure DECT connection from the nursery unit to the parent unit.
You can plug in the parent unit or use it with batteries. And the 1,000-f00t range means you can easily sit out on the balcony while your baby sleeps in your hotel room.
If you mute the sound on the parent unit, lights will alert you if your baby wakes up crying. There is also a comforting night light on the nursery unit.
This can be especially soothing when your little one is in an unfamiliar crib in a strange room. It can also light your way if you need to check on your baby at night, saving you from having stubbed toes.
Pros
Compact and lightweight.
No Wi-Fi connection needed to operate.
Works with 220V, making it good for travel.
Highly sensitive to baby sounds.
Doesn't transmit white noise.
Cons
The nursery unit isn't cordless.
You can't talk to your baby through the unit.
Our Ratings
Community Feedback
In my experience, this baby monitor is a reliable and straightforward device that gets the job done, though it does have a few drawbacks. The battery-saving feature is always on, meaning you can't hear anything unless there's crying or sustained noise in the baby's room, and using a white noise machine can drain the parent unit's battery quickly. However, the monitor boasts a sensitive noise gate, excellent range, and the ability to adjust volume or place into silent mode, making it a practical choice for those seeking a no-frills solution.
---
Babysense Video Baby Monitor
Best Budget Baby Monitor
This video baby monitor from Babysense has a decent coverage range, up to 900 feet outside and 160 feet indoors. This lets you move about freely and still have eyes on your baby.
A wireless digital connection gives privacy and an uninterrupted signal. It also has a built-in alarm, should you move out of range or if the battery is low. You know your little one is covered at all times.
The 2.4-inch screen provides a clear picture, and you can control a pan-and-zoom function on the camera from the handheld parent unit.
Other features include a two-way talk-back function, a temperature sensor, built-in lullabies, and infrared night vision. An LED light display alerts you if your baby cries when the unit is in silent mode.
The battery life is about eight hours, but the unit has a power-saving eco mode. When in use, this detects sound and turns the handheld unit on.
Pros
Good monitor picture.
Affordable price.
Will accommodate up to four cameras.
Cons
The power cord is a little short.
The unit frequently beeps as connection is interrupted.
Our Ratings
Community Feedback
My experience with this monitor has been mostly positive due to its compact size, durability, and ease of use. The picture and sound quality are great for the price, and the fact that it doesn't require Wi-Fi or additional apps is a huge plus. I appreciate the range of this monitor as it works well even when I'm at the far end of my property, though it does cut out occasionally when I'm behind multiple walls. The battery life is impressive, lasting for several hours before needing a charge, but I do wish the night vision and screen brightness settings were a bit better.
---
Nanit Smart Baby Monitor and Wall Mount
Best Wi-Fi Baby Monitor
Nanit provides your eye in the sky with a wall-mounted, over-crib camera and monitoring unit. It's easy to install. Simply pair it with your Apple or Android device, and you're all set.
The live stream transmits via Wi-Fi, even when your internet is down. You can even watch what your baby is doing in the crib while you're away from home. This is super helpful for evenings out when a babysitter has your little one. You can see if your baby is sleeping well, allowing you to enjoy one last drink before coming home. (Just be sure to let your sitter know you can view the camera from anywhere.)
If you want to take a closer look, you can zoom in and out.
Soothe your baby back to sleep from the comfort of your bed with the two-way talk function. Or tell an older toddler to lie down and go back to sleep instead of playing with their teddies.
You won't miss a moment of your baby's day, or night, with the saved videos. You can also share videos and images with family by granting them access to the monitor. A bonus is you can restrict this whenever you want, so Grandma can watch only when you want her to.
Pros
Dashboard tracks sleep patterns and gives you a report.
HD video quality picture.
It can be accessed from anywhere.
Built-in night light that can be remotely controlled.
Cons
Subscription is required for full accessibility after a 30-day free trial.
It can drain your device's battery quickly.
The camera does not turn or rotate.
Our Ratings
Community Feedback
My experience with this baby monitor has been a mix of pros and cons. The picture quality and night vision are impressive, and it's great to have temperature readings and the ability to check in on our little one from multiple devices. However, I've encountered connectivity issues and occasional problems with displaying temperature and humidity readings. Although it's on the pricier side and lacks a two-way talk feature, this monitor has been helpful in keeping a close eye on our baby, especially with the insights and tracking features.
---
Axvue 720P 5-Inches HD Video Baby Monitor
Best Dual Baby Monitor
If you're visually challenged, you will love the 5-inch screen on this monitor. It includes two cameras for dual-monitoring different angles.
In the real world, doors and walls can interfere with range, but this monitor can operate up to 1,000 feet unobstructed. Its 6x zoom and continuous room-temperature detection will save you many trips to the nursery.
We were pleasantly surprised by the clarity and quality of the camera in night vision mode, which kicks in automatically in low-light situations.
A coded wireless transmission secures your privacy. Other features include sound-activated lights and room temperature display.
Many parents appreciate that this baby monitor does not use Wi-Fi to transmit video for real-time monitoring, as hackers can potentially access Wi-Fi monitors.

Pros
No Wi-Fi needed.
Easy to use interface.
Good vision and split-screen function.
One click shortcut.
Can use monitor with multiple cameras.
Our Ratings
Community Feedback
Great baby monitor with a split-screen feature, allowing me to easily keep an eye on both of my children in their separate rooms. The screen is large enough to see everything clearly, even with the night vision. One downside is the battery life, as it seems to weaken quickly, but when plugged in, it works perfectly. The monitor can be a bit sensitive, as it broke after accidentally dropping it from a short distance. Additionally, the temperature readings are often inaccurate, but that's not a deal-breaker for me.
Types of Baby Monitors
There are many variations of baby monitors you can choose from, depending on your needs and budget. Some are simple and straightforward, while others come with all the bells and whistles. Here are some types to consider:
Audio Only Baby Monitors
These monitors have a listening unit in the nursery that pairs with one or more parent units. It transmits your baby's cries and gurgles, letting you keep an ear on what they are doing. You will be able to hear when they wake after a nap, or cry for milk in the middle of the night.
Audio and Video
This one gives you eyes and ears on your munchkin when they are in their crib or playing in their playpen. Some video units output to a dedicated monitor, while others allow you to use smartphones, tablets, or computers as the receiver. These devices might have multiple cameras, letting you watch more than one child simultaneously.
Motion and Breathing Monitors
These are either placed in your baby's bed or attached to their diaper or clothing. As you might have noticed, babies are rarely still for long, even if it's just the gentle rise and fall of their chest. The sensors on these units send a signal that triggers an alarm if your baby hasn't moved for more than about 20 seconds.
How to Choose a Baby Monitor
When compiling our list of the best baby monitors, these are the top features we review:
---
Baby Monitor Safety
Your baby's safety is paramount, so with this in mind, here are some tips for setting up a baby monitor in the nursery (1):
Don't place a monitor directly on or in a crib: The nursery monitor should be kept well out of your baby's reach. Even a cordless device should not be situated in or on a crib. For breathing and motion devices, make sure you follow the manufacturer's directions for positioning.
Secure cords away from the crib: Wires must be located at least 3 feet away from the reach of tiny hands. Babies grow quickly and learn to explore their surroundings. Make sure you reassess the positioning of wires and monitors regularly.

Security and privacy: Analog monitors can allow other nearby devices to listen in. Digital monitors encrypt transmitted information, making them more secure. If you are using a Wi-Fi connection with a smartphone, make sure you have good security and encryption to prevent hackers from tuning in (2).
Baby Monitor FAQs
---
Thank You For Your Feedback!
Thank You For Your Feedback!