Nap mats provide a soft place for a child to sleep when away from their regular bed. Nap mats come in a variety of styles, sizes, and materials, which can make it a challenge to determine which will be best for your child.
We've spent hours reviewing all the top nap mats on the market, comparing their sizes, how portable they are, and considering their cleaning instructions so that we can help you find the best nap mat for your little one's needs.
You can rest easy that one of these ten Comesoptions will be a great fit. The only remaining challenge will be convincing your little one to go to sleep!
Image
Model
Product Comparison Table
Features
Best for Toddlers
Wildkin Olive Kids
Machine washable
Blanket and pillow are attached
Portable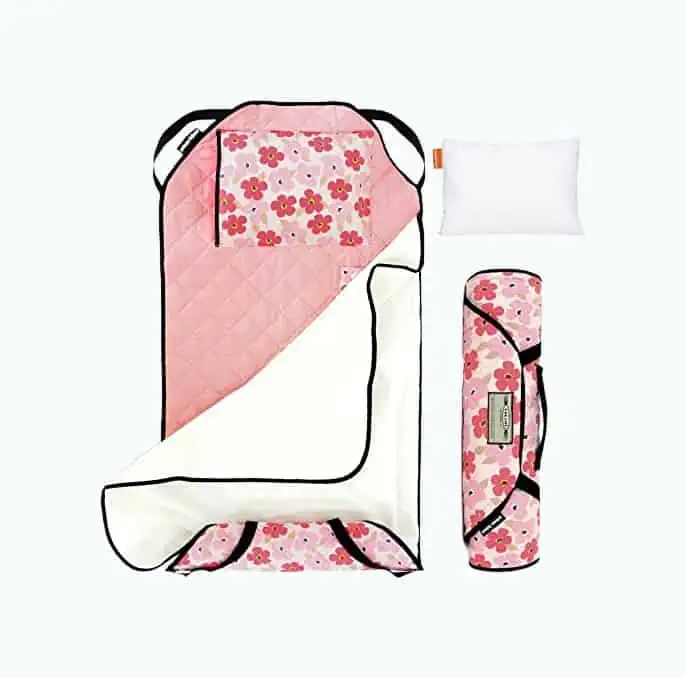 Best All-In-One
Urban Infant All-in-One
Attaches to standard cots & mats
Machine washable and durable
Has "secret" pocket
Best With Pillow
Hi Sprout Lightweight
Portable and cozy
100% cotton
Many fun prints to choose from
Best Thick Mat
Milliard Toddler
Thick and relatively long
Comes with a fitted sheet
Material is Certi-PUR
Best for Day Care
Angeles Sleeping Mat
Good size
Four-year warranty
Waterproof
Best for Babies
KinderMat DayDreamer
Wipe-clean surface
Can be sanitized
Doesn't pose suffocation risk
Best for Travel
Stephen Joseph Mat
Rolls up quickly
Super-soft, extra-wide blanket
Easy to clean
Best Memory Foam
My First Nap Mat
Cooling memory gel foam
Certi-PUR approved
Soft velour fabric
Best Disney Theme
Aquatopia Deluxe Mat
15+ Fun Disney character options
Warm, quilted fabric
Super comfortable memory foam
Best With Frame
Regalo My Cot
Waterproof
Comes with a cover
Durable steel frame
Review Methodology: At Mom Loves Best, our thorough analysis and hands-on experience allow us to evaluate nap mats from a user's perspective. We conduct research, compare various products, and assess them based on key criteria such as comfort, durability, portability, and safety. Our expert team shares quantitative measurements of each mat's performance, helping you understand what sets them apart from competitors. We identify critical decision-making factors, rank nap mats accordingly, and provide first-hand evidence to support our recommendations. By reviewing design choices and their effects on users, we ensure you find the best nap mat for your child's needs.
---
---
The Best Nap Mats of 2023
Here are the top nap mats on the market.
Wildkin Original Nap Mat
Best Nap Mat for Toddlers
This nap mat comes in tons of colors and designs, so there's bound to be one that your toddler will be excited to sleep on. It has a removable pillow, so your child can use it or take it off, based on their preference.
It rolls up to be easily portable and has built-in carrying straps.
It has an attached blanket, so your little one can't lose it or kick it too far out of reach. The cotton flannel interior provides maximum comfort. At two inches thick, it provides just the right amount of foam to keep your child safe and comfortable on a hard floor.
And best of all, it's machine washable, making it easy to clean if your child has an accident.
Pros
It's machine washable.
It comes in many colors.
The blanket and pillow are attached.
Rolls like a sleeping bag for easy portability.
Cons
It has a blanket, so it's not appropriate for babies.
It's not waterproof.
Our Ratings
Community Feedback
My experience with this nap mat has been mostly positive, as it has a cute design and provides ample comfort for my child during daycare naps. However, I have noticed that the colors begin to fade after just one wash, which is disappointing given the price point. Additionally, the Velcro placement could use improvement, as it sticks to carpeted floors when laid out. Despite these minor flaws, I appreciate that the nap mat is easy to clean and maintains its quality after multiple washes.
---
Urban Infant All-in-One Nap Mat
Best All Rounder
If your child's day care has cots that you need to provide bedding for, this is the product you'll want to consider. It has elastic loops that affix your child's nap mat securely to the cot, keeping it from sliding around and helping to ensure your child's comfort.
All you need to do is bring it home every weekend and throw it in the wash since it's 100-percent machine washable.
Pros
It attaches to standard day care cots and mats.
It is machine washable.
It's durable.
It has a "secret" pocket for your child's stuffed animal.
Cons
With no padding under the mat, it's best for use on cots, not floors.
It is not waterproof.
Our Ratings
Community Feedback
I recently purchased this nap mat for my daughter's daycare, and I must say, it exceeded my expectations. The lightweight design, coupled with the ability to roll it up and secure it with the attached straps, makes it incredibly convenient for daily use. The built-in pocket for a small pillow and an additional pocket for a stuffed animal or toy adds a charming touch, though I do wish the blanket had a pattern to match the mat.
---
Hi Sprout Lightweight Nap Mat
Best with Pillow
This cozy nap mat is plush and soft to help your child have the best sleep possible when they're away from home. It's made of 100 percent cotton, so you can feel good about not having synthetic materials next to your little one's skin.
It has built-in buckle clips for easy roll-up and handles for easy transport. And since it only weighs about three pounds, most children will be able to carry it on their own.
It also comes in several different designs and colors for a personalized nap mat for your child.
Pros
Easy to transport.
Comfortably padded.
Soft 100 percent cotton.
Many fun prints to choose from.
Cons
It's not waterproof.
The pillow and blanket are not removable.
Our Ratings
Community Feedback
After purchasing this nap mat for my oldest child, I recently bought another one for my second child. This nap mat is durable and has held up well through multiple washes, with little fading and the colors remaining bright. My toddler enjoys the soft minky lining, making it cozy for nap time at daycare or even when we go camping. It works well in both warm and cool weather, and it doesn't attract lint or dog fur, which is a plus in our household. The only downside is the short straps for buckling the mat, which can make it difficult for a child to roll up and secure on their own.
---
Milliard Toddler Nap Mat
Best Thick Nap Mat
This three-inch-thick mat is made of Certi-PUR foam to ensure your child is not exposed to harmful chemicals while sleeping. The high-density foam is comfortable and won't compress and lose its shape over time.
It comes with a soft, removable bamboo cover with a non-slip bottom, so the nap mat won't move around during naptime. The cover is also machine washable for easy cleaning.
Pros
It's thick.
It comes with a fitted sheet.
Chemical-free Certi-PUR foam.
At approximately 57 inches, it is relatively long.
Cons
There is no waterproof cover.
It's bulky for taking outside the house.
Our Ratings
Community Feedback
My experience with this foldable mattress has been fantastic, especially for my two-year-old's playroom and my granddaughter's naps at my house. I found it to be comfortable, lightweight, and easy to store. When car camping, I use it in my SUV along with an inflatable sleeping pad, making it super comfortable. The mattress is memory foam, which adds to the comfort level, and I even used it at a hotel when the beds were occupied - I had a good night's sleep without feeling the hard carpeted floor. Just a heads up, it doesn't come with a bag or extra cover, but I purchased a loveseat cover from Amazon that worked perfectly as a cover for this mattress.
---
Angeles 2" Super Rest Mat
Best for Day Care
This 50-inch mat is long enough and made of durable materials to suit your child for several years. Plus, it comes with a four-year warranty, so you'll know your investment is secure.
It's completely waterproof, making it easy to wipe clean in case of accidents. Inside the vinyl exterior is a 2-inch foam mat to help keep your child as comfortable as possible.
The mat is double-sided with two different colors and can be folded for easy and more compact storage.
Pros
It's a good size.
Four-year warranty.
It's waterproof.
Cons
It isn't plush.
It's bulky, so it isn't easily portable.
Doesn't include bedding.
Our Ratings
Community Feedback
I recently purchased this napping mat for my tall 5-year-old, and it has been a fantastic addition to his daily routine. The mat is longer and thicker than the ones I found at retail stores, making it perfect for my child's size. The durable cover and design have held up well to daily folding and unfolding, with no signs of wear on the seams. This 2-inch mat is not only well-made, but it's also quite comfortable for my little one.
---
KinderMat DayDreamer Rest Mat
Best Nap Mat for Babies
This basic, waterproof mat is a good option for your baby. The vinyl surface makes it easy to disinfect, and as it doesn't include any bedding or pillow, which is good for infants as it makes this a safe sleeping surface when they're away from their crib (1).
Plus, it's only two inches high, so when your baby wiggles around, they won't be startled or injured if they roll off the edge.
Simple is safest for your baby or young toddler, and you can upgrade to a fancy, full-feature nap mat once they get a little older.
Pros
It's low to the ground.
It is waterproof.
You can sanitize it.
There are no soft materials that pose a suffocation risk.
Cons
It may not be comfortable for older kids.
It's not machine washable.
It is bulky.
Our Ratings
Community Feedback
Definitely a worthwhile purchase, this nap mat has been a hit with both my son and my elderly dog. The size and comfort of the mat are impressive, providing ample space and padding for a good nap. However, I noticed that the durability could be better as the seam tore open after less than six months of use for my daughter's preschool naps. The mat can be a bit cumbersome to carry due to its large size, but its comfort and sturdiness outweigh this minor inconvenience.
---
Stephen Joseph All-Over Print Nap Mat
Best for Traveling
The best, comfiest nap mats can also be the hardest to carry. After all, they've got so much padding. Luckily, you don't have to choose between comfort and functionality with this nap mat. Its built-in straps make it easy to take anywhere, whether you're on a family road trip or just going to day care.
The one-piece design includes a blanket and pillow. It all rolls together with hook and loop straps and tucks into a large front pocket for easy transport. Your child will love the fun designs, and you'll love how easy it is to store and move.
All of the materials are machine washable for easy cleaning. The exterior is made from polyester, and the inner blanket and pillow feature a velvety soft Velboa. It measures 20 x 52 inches with an oversized 28-inch wide blanket.
Pros
Rolls up quickly for easy transport.
Includes an attached extra-wide, super-soft blanket.
Everything is machine washable.
Cons
Thinner fabric isn't great for hard floors.
Pillow isn't machine washable.
Our Ratings
Community Feedback
I'm very pleased with this nap mat's comfort, convenience, and durability. The soft lining provides an ideal sleeping space for my child, while the easy-to-roll design and carrying handle make transportation a breeze. This nap mat has withstood daily use and multiple washes, maintaining its fun, all-over print design. However, I do wish the pillow was a bit more fluffy and that the washing instructions were less finicky, as it requires a front load washing machine and laying it out to dry.
---
My First Mattress Memory Foam Nap Mat
Best Memory Foam Nap Mat
This mat is portable, has a carrying handle, and rolls up with a velcro strap for easy transport. It also has a removable pillow you can use or leave out based on your child's preference and developmental stage.
It is constructed of half-inch polyurethane foam, which is thin enough and firm enough to be safe for younger toddlers and is made of Certi-PUR-approved materials to avoid unhealthy chemicals and irritants. It also has cooling gel foam, which helps prevent your child from overheating during nap time.
While it's not waterproof in the event of accidents, the soft removable cover is completely machine washable.
Pros
It has cooling memory gel foam.
It's Certi-PUR approved.
It is machine washable.
It's portable.
Cons
The cover is not waterproof.
It's very thin.
It does not include a blanket.
Our Ratings
Community Feedback
In my experience, this nap mat is visually appealing and comfortable for my child, but has some issues with durability. The stitching came loose after the first wash, and it took quite a while to dry in the dryer. Despite these flaws, my child enjoys using it and the built-in pillow is a nice feature.
---
Aquatopia Deluxe Memory Foam Nap Mat
Best Disney Theme
This cute nap mat will make your little one enthusiastic about nap time and ready to crawl into their cozy bed. With 18 fun Disney designs to choose from, you're sure to find one your child will love.
The mat itself is made of comfy 100 percent polyester microfiber. It also comes with a blanket and attached pillow, which you can remove from the case to wash.
Pros
Lots of fun Disney prints to choose from.
Warm quilted fabric with attached pillow.
Memory foam mat is super comfortable.
Cons
It's not waterproof.
There are no carrying handles.
It's made of polyester, which is a synthetic material.
Our Ratings
Community Feedback
Got this Minnie Mouse napping mat for my 3-year-old granddaughter who's absolutely obsessed with Minnie, and she loved it! The mat is soft, easy to fold, washable, and well-made, ensuring everyone's happiness. However, I did notice the built-in pillow was a bit thin, so it might not be suitable for camping trips, but perfect for sleepovers. Although my 4-year-old daughter's feet hang out a bit when she uses it, the mat still gets the job done. It's also great for nap time at daycare and fits well in my 5-year-old's backpack.
---
Regalo My Cot Portable Bed
Best Nap Mat With Frame
This is more than just a nap mat — it's practically a bed in a box. It comes with a solid, all-steel frame that will keep your kiddo off the floor, and it includes a waterproof nylon canvas.
It also comes with a carrying case for easy portability. And even though the construction is solid, it still only weighs four pounds.
An included fitted cotton sheet helps protect the mat and is machine washable for easy cleaning. The cot itself is waterproof and wipeable and cleans up easily with soap and water.
It sits nine inches high, so it's most appropriate for older children and not the best choice for younger toddlers who may not be accustomed to sleeping in a bed.
Pros
It is waterproof.
It comes with a cover.
Durable steel frame supports up to 75 pounds.
Cons
At 48 inches, it's on the shorter side.
Young children could fall out.
Community Feedback
My experience with this travel cot has been quite positive, as it provided a comfortable and safe sleeping space for my 2-year-old during our beach vacation. The cot was incredibly easy to assemble, allowing me some much-needed relaxation time, and it even held up well for my slightly taller 4-year-old during a road trip. Although it doesn't come with a travel bag or strap, a simple bungie cord or duffle bag can make transportation a breeze, and the cot's versatility and durability make it a worthwhile investment for both kids and occasional pet use.
What Is a Nap Mat?
A nap mat is a soft surface for a child to sleep on when away from their regular bed. They are usually lightweight and portable and come in a variety of styles, including the following:
Roll-up mats.
Stackable mats.
Cots.
Fold-up cushions.
Nap mats keep a child comfortable when sleeping on the floor, and they offer a hygienic barrier from the ground. They are a special space reserved for the child to keep them from leaving their sleeping area. A regular nap mat offers a child familiarity when sleeping away from home to help them settle down and sleep.
These are some situations in which a nap mat can be useful:
Child care centers.
Grandparents' house.
Sleepovers.
Vacations, hotels, and travel.
Camping.
At home — some children will sleep on nap mats when they refuse to stay in bed.
As a cozy lounging space for movie nights.
In a reading nook.
Finally, nap mats are easily washable, unlike a mattress or a carpet, so they are often used in child care centers to help ensure children have a comfortable yet hygienic space to sleep and to prevent the spread of germs.
How to Choose a Nap Mat
When shopping for a nap mat, consider the following:
---
What Age Can My Toddler Use a Nap Mat?
You can use a nap mat for any child over 12 months. However, their use will differ by age group.
Babies under one year: You should not use nap mats for infants. Babies are the safest sleeping in cribs, pack-n-plays, or bassinets without bumpers or blankets.
1-year-olds: Young toddlers shouldn't use a nap mat regularly at home or day care as they still need a crib to prevent them from leaving their sleeping space. However, a nap mat can be helpful on the rare occasion you're away from home without a pack-n-play. They establish a designated napping or sleeping space on the floor, so your child will not be at risk of falling out of a bed or off a couch.
2- to 3-year-olds: As toddlers get a little older, they can understand commands and follow directions more easily — and they'll be more likely to use a mat if their friends at school are too. If your child is in childcare, the use of nap mats will likely become commonplace as they will understand that they should stay on the mat and not wander around.
Older preschoolers and school-aged children: Even if your child has outgrown naps, a nap mat can still come in handy. They're great to take to sleepovers, throw in the tent when you go camping, or lounge on in the living room during family movie nights. Many schools still have nap times or quiet times until kindergarten.
Nap Mat FAQs
---
The Bottom Line
Our top pick as the best nap mat is the Urban Infant All-in-One Nap Mat. It has elastic to fit over the cot and hold it in place, which is great for day care.
It conveniently rolls up for easy portability if your child is heading to grandma's house and includes a pillow, blanket, and secret pocket for a lovey. To top it all off, it's machine washable to keep it safe and hygienic for your little one.
It's an excellent option for any kid, whether they attend day care or not.
Getting a child to sleep away from home isn't easy, but having a safe, comfy, and familiar space set aside for them can make it easier on everyone.
Thank You For Your Feedback!
Thank You For Your Feedback!