Pack 'n plays, playards, playpens, travel beds — there are so many names for this one handy baby item, just as there are so many types and styles available. But the best pack 'n play for your family will be the one that suits your individual needs.
That's why we've analyzed all the top models, looking for a variety of pack 'n play styles. Our goal was to find the best quality playards for every situation. Whether you have a newborn, twins, or a toddler; travel often; have a small sleeping area; prefer lots of accessories; or want something really simple, we've found a variety of pack 'n play options for you.
The pack 'n plays on our list are safe, durable, lightweight, and useful for many scenarios. These are playards we feel safe using for our own babies.
We'll also discuss the differences between various types of play areas and what you need to consider to help you choose the best pack 'n play for your little one.
Image
Model
Product Comparison Table
Features
Best for Twins
Baby Trend Nursery
Electronic music and vibration console
Has wheels for portability
Includes most pack 'n play features
Best for Toddlers
Lotus Travel Play-Yard
Comes with a backpack carrying case
Greenguard Gold certified
Two-year warranty
Best for Newborns
Graco Playard Tasha
Compact
Push-button fold system
Comes with a carrying case
Best for Travel
BabyBjorn Travel Light
Easy to clean
Passed Oeko-Tex standard
No maximum weight limit
Best Deluxe Playard
Baby Jogger City Suite
Multiple baby products in one
Ultra lightweight
Elevated bassinet
Best for Small Spaces
Graco Travel Lite
With a firm mattress
Push-button fold system
20% smaller than typical playards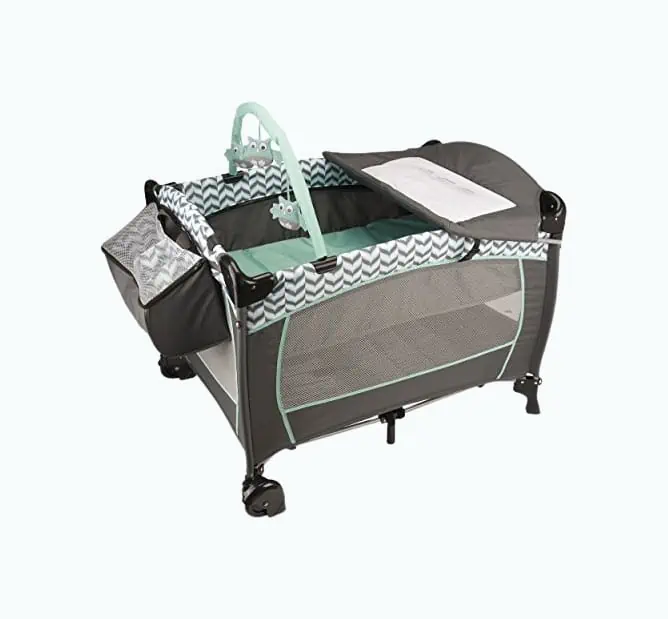 Most Simple
Evenflo Portable
Easy to wipe clean
Holds up to 30 pounds
Setup doesn't require any tools
Review Methodology: At Mom Loves Best, we pride ourselves on providing thorough, hands-on analysis and evaluation of the top pack n plays available in the market. Our experienced team diligently researches, compares, and ranks each product based on criteria such as safety, design, functionality, and ease of use. Using data gathered through first-hand experience and professional assessments, we objectively measure and review each pack n play's performance, identifying key decision-making factors and providing quantitative results. Our in-depth findings will help you understand what sets a product apart from its competitors, enabling you to make informed choices for your child's comfort and safety. In this article, we'll evaluate the top ten most important and relevant factors when choosing the best pack n play for your family.
---
---
The Best Baby Playards of 2023
Here are seven great pack 'n plays to consider.
Baby Trend Twin Nursery Center
Best for Twins
Many parents use a pack 'n play as their baby's first crib. They're smaller than traditional cribs, which means they can more easily fit in their parents' room next to their bed. However, sharing a room can be more difficult when you have twins.
This nursing center allows you to keep one crib in the room while still letting two babies sleep in their own bassinets. The bassinets have canopies, which can reduce the potential for noise and light interruptions. They're also easily removable for use as stand-alone rockers.
During the day, you can remove the bassinets and insert a changing table and diaper holder. The changing table hangs off the side when not being used, allowing your babies to have an open playard. The playard will accommodate children up to 30 pounds, while the bassinet can hold babies up to 15 pounds.
Pros
Includes most pack 'n play features on the market.
Has electronic music, sound, and vibration console.
Has wheels for easy portability.
Includes a carrying bag.
Cons
Quite heavy to carry at 41 pounds.
Our Ratings
Community Feedback
I've been using this nursery center for my twins, and so far, it's been a pleasant experience. Assembly took about 45 minutes, but the materials and construction feel sturdy and high-quality. The bassinets provide a comfortable and safe sleeping space for newborns, and although the organizer and changing table have some limitations when used with both bassinets, they're still useful features. The compact size of the nursery center makes it a great option for those with limited space.
---
Lotus Travel Play-Yard
Best for Toddlers
Many things get easier as your baby gets older. They start sleeping through the night and can communicate more easily. One thing becomes more difficult, though — controlling their movement.
This pack 'n play is both a playard and a travel crib. When used as a playard, you can keep all the mesh siding closed to confine your child when you need time to focus on something else. However, you can also unzip one side to give them more space.
When used for sleeping, the mattress lays on the ground. This means older kids up to three years old can still safely sleep on it during naptime or through the night. Weighing only 11 pounds, this pack 'n play is super lightweight and easy to carry.
Pros
Comes with a backpack carrying case to let both arms free.
Greenguard Gold certified to ensure the product has fewer chemical emissions.
Comes with a soft foam mattress, approved for both infants and toddlers.
Two-year warranty.
Cons
Has no extra features, such as a changing pad or bassinet.
Our Ratings
Community Feedback
My experience with the Lotus Crib has been overwhelmingly positive due to its ease of use, portability, and safety features. The lightweight and compact design makes it perfect for travel, and setup is quick and hassle-free. One standout feature is the absence of a fabric border at nose-level, ensuring a safe sleeping environment for infants who may not yet be able to lift their heads.
---
Graco Pack 'N Play Tasha
Best for Newborns
This playard comes with almost everything an infant needs — saving you the time and cost of buying multiple products. In addition to a playard, it also has a removable bassinet. The product comes in several color options to better fit your decor.
Furthermore, the toy bars help to soothe fussy babies. Many users rave about the durable bassinet.
Unfortunately, you have to buy a separate mattress if you wish to add one. For newborns, you can keep the mattress higher to serve as a bassinet. Or you can lower it if you want to use it as a playard. There's a built-in organizer on the side of the playard to hold wipes, keys, or toys.
Pros
Comes with a toy station to entertain your baby.
Push-button fold system for easy setup and take down.
Comes with a carrying case.
Cons
Doesn't come with a mattress.
Our Ratings
Community Feedback
After using this pack n play, I can confidently say it's incredibly convenient and perfect for family vacations. The built-in wheels make it easy to move around, and the setup and breakdown process is super quick. I would recommend purchasing a tri-fold mattress for added comfort, as the included surface is quite firm. The mesh bag attachment is handy for storing small items like pacifiers and rattles, making this pack n play a practical and efficient choice for our little one.
---
BabyBjörn Travel Crib Light
Best for Travel
Anyone who travels often probably agrees that hotel cribs leave a lot to be desired. The mattresses might be dated and lumpy, and the structure can squeak with every move your baby makes. And that's when you're lucky enough to have a hotel with cribs available.
If you travel a lot for fun or to visit relatives, it's probably a good idea to buy a pack 'n play. This one is easy to travel with and takes minimal time to set up.
When folded, it slips into a flat case, which fits well in the trunk of any car. The mesh material slides easily off the poles and is machine washable.
The pack 'n play has no removable parts, so it doesn't pose a choking risk for curious babies. The mattress sits on the ground, so your baby can safely sleep in it until three years old.
Pros
Weighs only 13 pounds in its carrying case.
Quick installation.
Easy to clean.
Passed Oeko-Tex standard.
No maximum weight limit.
Cons
Doesn't come with accessories, like a bassinet or changing pad.
Our Ratings
Community Feedback
I recently purchased this travel crib and couldn't be happier with my decision. The setup and breakdown are incredibly easy, making it a breeze to transport and use on trips. The mattress is comfortable for my baby, although slightly thinner than I would have liked. One downside is the high price of the Baby Bjorn sheets, but I found alternatives that fit well and are more affordable.
---
Baby Jogger City Suite Multi-Level Playard
Best Deluxe Playard
This pack 'n play covers all the bases: sleep, play, and diaper changes. Without a doubt, this playard grows with your child. The product also comes with a couple of features beyond the playard.
The playard can easily transition into a baby bassinet if you need one. This is a great feature for parents with smaller bedrooms. This lightweight travel playpen includes a carry bag.
The fabric of this playard and bassinet can easily be wiped clean when necessary because we all know what it's like with babies — spit happens.
Pros
Multiple baby products in one.
Ultra lightweight.
Elevated bassinet.
Our Ratings
Community Feedback
After using this play yard for several months, I can confidently say it's lightweight, portable, and easy to set up. The bassinet feature is a convenient addition, although it may not be ideal for new c-section moms due to its shorter height compared to traditional pack-and-plays. The included mattress is thick and comfortable, providing a safe space for my baby to crawl and play. While the play yard is a bit on the expensive side, its durability, design, and convenience make it worth the investment.
---
Graco Travel Lite Crib
Best for Small Spaces
Living in a city offers many benefits, but square footage is not one of them. If you're tight on space, there are still pack 'n plays that can work for your apartment or condo.
This travel crib is 20% smaller than typical playards — allowing it to fit almost anywhere. Weighing only 19 pounds, it's also lightweight and easy to carry.
When in sleep mode, the mattress has three height levels so you can adjust it as your baby grows. When the mattress is at ground level, it can safely hold a baby up to 35 inches tall.
The crib also comes with a removable canopy, allowing you to block out any sun while outside or light when inside. The canopy includes two soft toys to keep your baby entertained while lying down.
Pros
Has wheels for easy portability.
Comes with a firm mattress, approved for newborns and infants.
Push-button fold system to allow for easier packing.
Comes with a carrying case.
Cons
Doesn't come with added features, like a changing pad.
Our Ratings
Community Feedback
This pack and play has been a fantastic solution for our growing baby, providing a safe and convenient sleep space in our small living area. The detachable bassinet is great for naps in any room, and the multiple stages allow it to adapt as our baby gets older. Though assembly was a bit challenging, the compact size and versatility for travel make it well worth the effort.
---
Evenflo Portable Babysuite Deluxe Playard
Most Simple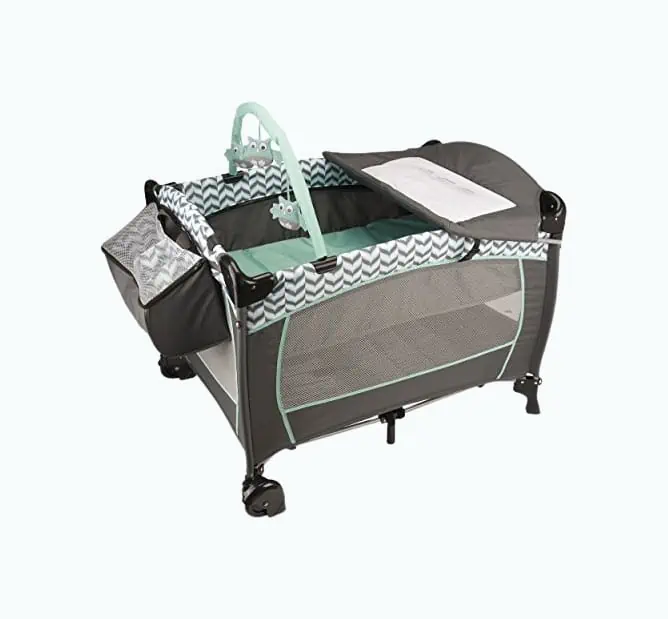 If you only need a safe space for your child to play while you cook dinner or visit with a friend, this pack 'n play is a great option. It comes in five different colors and includes a carry case for travel. At nearly 20 pounds, it's heavy enough to give you a good workout when lugging it around.
Setup doesn't require any tools; you simply lock the rails into place and push the floor down. To fold it down, you pull up on the rails and pull the floor handle to collapse the playard. It also comes with wheels to make it easy to move from room to room.
The mesh siding allows for a full view of your child, so you can still keep an eye on them. It also lets your child see the world around them from a safe space.
Pros
The fabric is easy to wipe clean.
Holds a child up to 30 pounds.
Washable carrying case.
Includes a play mat and mini mobile.
Cons
The mattress is not included.
It can be complicated to lock.
Our Ratings
Community Feedback
For a grandparent like myself, this playard is a fantastic option for our visiting grandchild. The setup process was relatively simple once I found the instructions tucked away in a pocket. I appreciate how sturdy the bassinet feature is, as it zips along the entire length of the sides and has metal rods for added support. The changing station is a thoughtful addition, easily folding out of the way when not in use. While the storage compartment could be more rigid, it's still a convenient spot for diapers and wipes, making this playard a great all-in-one solution for our family.
Do I Need a Pack 'n Play?
Pack 'n plays are one piece of baby gear I really couldn't live without. Why? Because they do so many things.
When my first child was an infant, we spent a lot of weekends out and about. A pack 'n play was both a portable crib and a safe space to play when we couldn't babyproof our surroundings. If you aren't sure if you need one, consider a few of these scenarios.
You often travel: Maybe you like to visit grandma and grandpa frequently. Pack 'n plays can help your relatives avoid the cost of a second crib and keep you from depending on unpredictable hotel cribs when you travel.
You have a crawler: Some babies can sense the exact moment you turn away to check the rice — and make a run for it. If you need a secure space to put your baby for a few minutes while you fold laundry or cook dinner, pack 'n plays are a lifesaver. With it, you and your child can still see and talk to each other, but they're safely confined to their area.
You're on the go: If you're lucky enough to live near some great parks or the beach, you may spend a lot of time there. If you want to go somewhere but naptime is due, pack 'n plays can be an excellent napping spot for your little one when away from home.
Naptime is not in their bedroom: For people who don't have a lot of square footage, the baby's room may double as a home office or an exercise room. If your baby wants to nap, and you need to get something done in the nursery, a pack 'n play can give you the freedom of choosing a different napping spot.
How to Choose a Pack 'n Play
There are many variations of pack 'n plays that offer different features. Before purchasing, you may want to think about what you do most days and how you'll use it, so you can choose the best pack 'n play for your family.
---
What's the Difference Between a Pack 'n Play and a Playpen?
As more and more research shows us the importance of playing, parents are finding new ways to create safe spaces for their children to play and learn (1). Both pack 'n plays and playpens fit the bill.
Playpens are foldable fences that create a confined space for your child to play in within the larger space of your home or yard. They don't have a floor and are usually too large to travel with. Pack 'n plays are smaller and easier to carry around.
A few other key differences:
Playpens are for play only: Pack 'n plays have mattresses that allow babies to nap or sleep in them. Playpens are much larger than pack 'n plays and cannot serve as a crib.
Playpens can grow with your child: Most pack 'n plays have weight and height limits. Playpens can be expanded to give your child room to grow, even as they reach the toddler years.
Playpens work best in large spaces: Pack 'n plays work for both small and large spaces.
---
Thank You For Your Feedback!
Thank You For Your Feedback!