Baby swings are designed to distract, soothe, and entertain your baby. They come in a wide range of styles and sizes, with all kinds of accessories and in every price range. It can be hard to know what to look for when shopping for the perfect swing — especially if you already have a baby demanding your attention.
We know what this is like, so we've put in the time for you, researching all the top models and comparing their features. We've personally tried many models and have listened to reviews from hundreds of parents.
The result is this list of our recommendations for the best baby swings, along with all you need to know before you buy.
Image
Model
Product Comparison Table
Features
Best for Newborns
Fisher-Price Snugapuppy
Dual-recline seat positioning
Extra-plush seat pad
Numerous motion & speed settings
Best High-Tech
4moms MamaRoo
Built in sounds
Bluetooth enabled
5 unique motions and speeds
Best for Colic
Graco DuetSoothe Swing and Rocker
Comes with a carry handle for portability
Comes with an AC adapter
Machine-washable seat cover
Best Bouncer Combo
Graco DuetConnec
Five-point harness
Bouncy seat and swing
Two reclining positions
Best Plug-In
Graco Simple
Saves money on batteries
Small and compact frame
Includes soothing sounds and toy
Best Budget
Ingenuity Cozy Kingdom
Super affordable
Pivoting toy bar
Highly portable
Best for Small Spaces
Jool Baby
5-point safety belt
Doesn't take much space
Trendy design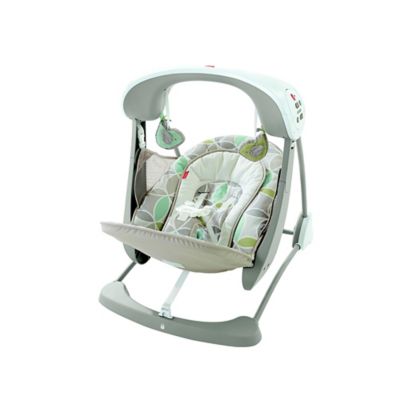 Best Portable
Fisher-Price Take-Along
Holds up to 25 pounds
Reclining seat position
Machine-washable padded seat
Best for Outdoors
Little Tikes Snug & Secure
Affordable and long-lasting
Holds up well outside
Easy to install
Review Methodology: At Mom Loves Best, we understand the importance of choosing the perfect baby swing for you and your little one. That's why we've conducted an in-depth analysis and hands-on research to evaluate and compare various baby swings based on essential factors like safety, comfort, design, and convenience. Our experienced professionals have assessed each product's performance, measured their features, and ranked them according to strict criteria and test results. With our comprehensive review, we aim to provide you with the necessary data and evidence to help you make an informed decision, highlighting the key decision-making factors and the unique benefits each swing offers. Trust in our findings and expertise as we guide you through the top ten baby swings available, ensuring you select the best option for your family's needs.
---
---
The Best Baby Swings of 2023
Here are 9 great baby swings to consider.
Fisher-Price Sweet Snugapuppy Baby Swing
Best Swing for Newborns
This Cradle 'n Swing by Fisher-Price is the ultimate swing for your newborn's comfort. With its machine-washable plush, padded seat, and dual-recline positioning, even the smallest babies will feel cozy and fully supported as they lounge.
This adorable swing doesn't just move forward and backward, it also has the option to rock your baby in a gentle side-to-side motion. Complete with six speeds and four motion settings, you can customize your baby's movement to fit their needs and preferences.
It comes with 16 built-in songs and three calming nature sounds for your baby to enjoy as they drift off to sleep.
For a visual experience to go with the motion and sounds, a bubble mirror rests above your baby's head so they can admire their appearance and see the rest of the room — even while reclining. A soft mobile also floats overhead, offering further visual stimulation.
Pros
Numerous motion and speed settings help in every situation.
Reclines to keep even the smallest babies in place as they swing.
Cushy, soft padding is comforting for babies.
Cons
The motor tends to get noisy over time.
Our Ratings
Community Feedback
I'm absolutely thrilled with this baby swing, as it has made a significant difference in my baby's sleep and overall happiness. The various tunes and nature sounds keep my little one entertained, while the different swinging motions and mobile help soothe him to sleep. I found the assembly to be quite easy, even with a busy toddler trying to help, and the swing remains stable as long as the legs are spread apart properly. My only concern is the metal button connectors on the legs, as they seem to have warped a bit over time, making disassembly difficult - but overall, this swing has been a fantastic addition to our home.
---
4moms MamaRoo 4 Baby Swing
Best High-Tech Baby Swing
This mechanical seat looks more like a work of art than a baby swing. It has five specific motions that mimic the motions babies are used to — a car ride, gentle bouncing, rocking, soft waves, and a light swing.
This swing has several high-tech features: it's Bluetooth compatible, so you can control the motion and the sound. You can choose from four built-in sounds for your baby's enjoyment. But if you want to play your baby's favorite music, you can simply connect your cell phone via Bluetooth and hit play.
The seat adjusts into a fully reclined position, and the mobile has reversible toys to keep your baby reaching and playing, enhancing their fine motor skills.
The seat cover can be removed and machine washed. The swing is safe for babies weighing up to 25 pounds and comes with a power cord, saving you money on batteries.
Pros
Connects to your mobile to play your baby's favorite music.
It's Bluetooth enabled.
Has five unique swinging motions.
Cons
It's expensive.
The gentle movement may be too subtle for fussy babies.
Our Ratings
Community Feedback
I'm delighted with how well this swing has worked for my daughter who has hip dysplasia. The seat position allows for a hip-healthy posture, and the soothing motion keeps her happy and content. I've noticed that she falls asleep quickly in the swing, giving me a much-needed break to take care of other tasks. Although some babies may not enjoy the swing as much, it's been a great solution for my family. It's become my go-to gift for new parents, and even my husband agrees!
---
Graco DuetSoothe Swing and Rocker
Best Baby Swing for Colic
This swing is loved by colicky babies everywhere. It has multidirectional swinging motions with six speeds which helps to settle your baby.
It can recline into two positions, and the seat adjusts to face one of three positions.
With six swing speed settings, Graco DuetSoothe Swing is great for babies of all ages. The motor-operated baby mobile has three attached toys and keeps babies distracted and entertained as they are lulled to sleep by the built-in white noise sounds or one of 10 included songs.
As a safety feature, the swing rocker combo is equipped with 5-point harness.
We love how quiet the motor is — you can still hear it, but it shouldn't be overwhelming for you or the baby.
Pros
Comes with a carry handle for portability.
Includes an AC adapter but can use batteries.
Machine-washable seat cover.
Cons
This swing only supports babies weighing up to 30 pounds while the rocker supports 5 pounds less than the swing.
Other parents doesn't like the vibrational sound it produces.
Our Ratings
---
Graco DuetConnect Swing And Bouncer
Best Swing & Bouncer Combo
This 2-in-1 baby swing and bouncer converts easily and saves money and space. The bouncer can hold babies from 5.5 to 18 pounds, and the swing supports babies that weigh up to 30 pounds.
The roomy seat caters to babies of all ages and includes two vibration modes and six swinging speeds.
This swing also has adequate head support to keep babies comfortable. It plays 10 songs and five different sounds, and your baby will be entertained by the three toys hanging on the mobile.
Choose from three neutral colors that go with any decor. To power it up, you can use either battery power or a plug-in cord.
Pros
The five-point harness will keep your baby safe.
Space-saving design doubles as a bouncy seat.
It has two reclining positions.
Cons
The swing is known to make a clicking noise when in use.
The vibration function only runs on battery power.
Our Ratings
Community Feedback
In my experience, this swing has been a fantastic addition to our home. I was hesitant to purchase it at first, but a family member gifted it to us and we couldn't be happier. It was easy to assemble, fit well in our small apartment, and the fabric is easy to clean. My baby instantly took a liking to the cute bears and fell asleep within minutes of being in the swing. The swing does make some noise, but it's not loud enough to disturb my baby or me.
---
Graco Simple Sway Baby Swing
Best Plug-In Baby Swing
Many baby swings run on batteries. While this is a great option when you like to move it around the house, the money spent on batteries can add up fast. Plus, you don't want to run out of batteries right when you need your baby swing the most.
That's why we love this plug-in option. The smaller frame makes it easier to store, and it's great for smaller rooms as it takes up less space . It also takes batteries, but having a power cord means you can avoid wearing out batteries.
It features a gentle side-to-side swaying motion to soothe your baby and comes with multiple speed options. You can also choose from 15 songs and sounds while your baby enjoys the three soft plush toys on the hanging mobile.
If you'd like the option to use batteries without having to rely on them completely, this simple little swing is a great option.
Pros
Save money on batteries by using the AC adapter.
Small and compact frame is great for tight spaces.
Includes soothing sounds and a plush toy mobile.
Cons
Cords and plugs can be dangerous. Supervise your baby at all times when you use the plug-in adapter.
Our Ratings
Community Feedback
Excellent baby swing with a few minor drawbacks. I was initially frustrated with the assembly process, as the instructions were unclear and the parts were not labeled. However, once assembled, this swing worked wonders in soothing my baby with its swinging action and white noise/music options. My only suggestions for improvement would be to have a mobile that moves and a more user-friendly assembly process.
---
Ingenuity Cozy Kingdom Baby Swing
Best Budget Baby Swing
This swing uses true speed technology that will maintain the swing's speed, even as your baby grows bigger.
It has six songs and volume control, so you can turn it up if your baby can't hear the music over their own sounds. It also has an automatic shut-off function, extending the life of the motor.
The foam-wrapped toy bar keeps you from bumping your baby's head when you're putting them in or taking them out. Plus, the bar pivots, bringing it closer to your baby so they can play with the two soft toys.
The seat reclines into two positions and comes with removable head support. If the seat pad gets dirty, you can toss it in the washing machine.
Pros
More affordable than many other options.
The pivoting toy bar stays within your baby's reach.
Space-saving design is easy to transport.
Cons
It only runs on batteries.
The knob that changes the swing speed is loud.
Our Ratings
Community Feedback
This baby swing has been a lifesaver for me and my children, providing a portable and easy-to-use solution for calming them down. The adjustable swing speeds, music, and vibration options keep my little ones entertained and help them drift off to sleep. However, the battery compartment could use improvement - it requires a screwdriver to access and the batteries sometimes need adjusting - but overall, it's a fantastic and affordable option for parents seeking a reliable swing.
---
Jool Baby Nova Motorized Swing
Best Baby Swing for Small Spaces
The nice thing about this compact baby swing is that it's a real space saver, which moms who live in small apartments or houses will like.
This swing has five speeds to keep your baby moving along. The overhead bar has three soft toys that dangle down a little. The rocker also has 10 melodies to soothe your baby to sleep. You have the option to automatically switch off the swing after 8, 15, or 30 minutes.
It also has a five-point harness, and its base is made of sturdy aluminum to ensure the safety of your precious little one.

Pros
Compact and lightweight.
It doesn't take up much space.
Trendy design.
Cons
The swing is quite slow for some.
Our Ratings
Community Feedback
Love the overall design and features of this swing, but it does have its drawbacks. My baby didn't initially take to the swing until around 7-8 weeks, but now it's a helpful tool for soothing and putting him to sleep during the day. The remote control and Bluetooth capabilities are great additions, allowing me to play music and control the swing's motion from a distance. However, the swing doesn't have variable speeds, only different degrees of swinging, and the voice announcing its activation is quite annoying. The hanging toys are soft and engaging, but cleaning the swing after any mishaps can be a challenge.
---
Fisher-Price Take-Along Baby Swing
Best Portable Baby Swing
This cute swing has a fun neutral design that will fit your nursery decor. It's also portable and folds well, and comes with a handle you can use to cart it around.
It has six different speeds to soothe your baby and can convert to a vibrating stationary seat.
Your baby will be enthralled by all the extras this swing offers. Plus, it includes two nature sounds and 10 songs to keep your baby entertained and relieving you of constant repetition. Two attached animal toys hang within your baby's line of sight.
The seat is padded, so your baby will feel comfortable, and the shoulder harnesses will keep them safe.
Pros
It holds up to 25 pounds and is suitable for babies up to 6 months old.
The reclined swing position is great for babies lacking head support.
The padded seat can be machine washed and dried.
Cons
It only runs on battery power.
Our Ratings
Community Feedback
This swing has a cute, neutral design that suits any nursery and is portable with a convenient handle. It offers six speeds, converts to a vibrating seat, and features two nature sounds and 10 songs to entertain your baby. While the padded seat is machine-washable, it's worth noting that this swing only runs on battery power and is suitable for babies up to 25 pounds or 6 months old.
---
Little Tikes Snug 'n Secure Baby Swing
Best Swing for Outdoors
This outdoor swing scores high marks for its safety. With a hinged T-bar that makes it easy to get your baby in and out to the harness-style shoulder straps, there's no way for your baby to fall from this swing as they glide to new heights.
This product can be used for years, with the minimum age being nine months (or whenever your baby has strong head support and neck muscles) and the maximum being around four years old. When your child is old enough that they no longer require the t-bar and shoulder straps, they can be removed, which greatly extends the lifespan of this swing.
The Snug 'n Secure baby swing can hold children up to 50 pounds. And if buying American-made products is important to you, you'll be happy to know this swing is made in the U.S.
If you don't have much outdoor room, you can also use this swing inside. You can hook it up to a standard swing set or secure it to a strong tree branch if you plan to use it outside.
Pros
Affordable, long-lasting fun for your child.
Holds up well outside, even through rain and snow.
It's easy to install.
Cons
It doesn't come with any anchors.
The shoulder straps are hard to adjust.
Our Ratings
Community Feedback
I'm thrilled with this snug and secure swing I got for my 7-month-old son, as it easily attaches to our existing swing set and keeps him safe with its sturdy harness. He may be a bit small for it now, but there's plenty of room for him to grow into it. My little one enjoys hours of swinging, and I can even mow the lawn while keeping an eye on him and giving an occasional push. The swing is not only durable and easy to clean, but it also maintains its bright color without any fading. Both my child and I are very satisfied with the countless hours of fun we've already had with this swing.
When Can Baby Start Using a Swing?
Most swings can be used as soon as you bring your baby home from the hospital, as long as they recline.
Keep In Mind
Baby swings are different from
baby jumpers
or bouncers. Swings supply the movement for your baby. Bouncers and jumpers are controlled by your baby's movements.
Types of Baby Swings
There are two main types of baby swings: full-sized and portable. These are the main characteristics of each.
1.

Full-Sized Swings

Full-sized swings require a fair amount of space and aren't easy to move.

Typically, full-sized swings have the best swinging range because the motors are placed at the top of the swing, and the swings sit higher. They tend to be durable and difficult to tip over. But be prepared to pay more than you would for a portable swing.
2.

Portable Swings

If you don't have much room in your house or your budget, a portable swing is a good choice.

They cost less and don't take up as much space. But since many portable swings are controlled by batteries alone, they may cost more in the long run since you'll be paying for battery replacements. With full-sized swings, you'll have the option of using the power cord.

If you plan to be on the road a lot, you can bring a portable swing along as it will take up minimal space in your vehicle, hotel room, or other people's homes.
The Fisher-Price Auto Rock n' Play Sleeper has been removed from our recommendations after a recall by the company due to infant deaths using the product (1). The AAP has urged parents and caregivers to stop using it right away.

To request a refund for the Rock 'n Play, visit http://bit.ly/RockNPlayRecall or call the company at 866-812-6518.

Those who have owned the Rock 'n Play for six months or less will receive a cash refund, while those who have owned them longer will receive a voucher for a new Fisher-Price product.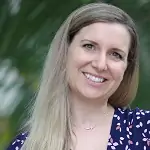 Editor's Note:
Katelyn Holt RN, BSN, BC
How to Choose a Baby Swing
These are a few things you should consider before buying a baby swing:
---
How to Use a Baby Swing
Using a baby swing isn't difficult, but there are some things you should know and precautions you should follow.
The first thing to be aware of is that you'll need to do some assembly when your baby swing arrives. This may take mere minutes or up to an hour, depending on which swing you purchased. If you're the sort of person that gets easily frustrated when trying to assemble pieces, or if you're dealing with a difficult pregnancy or recovering from birth, ask your partner or a friend or family member if they would mind putting the swing together for you.
Before you use your swing, there are a few things you should note about safety:
You need to pay close attention to the weight and age guidelines of your baby swing. If you received a used swing and don't have the original manual, search for it online to learn its acceptable weight and age range. The manufacturer guidelines are there for your baby's safety, so use them.
Even if your baby falls within the acceptable weight and age limit, you should always watch your child to ensure their safety in the swing. If you notice your child starting to wiggle free, it's time to get rid of the swing.
Never set a baby swing on an incline or a table. This will render it unstable and could cause a nasty accident.
Swings are made for baby entertainment and to give your arms a break. They can be handy for lulling your baby to sleep. However, you shouldn't use your baby swing as a crib or bassinet replacement. It's also not designed for safe overnight sleeping for your baby.
---
Thank You For Your Feedback!
Thank You For Your Feedback!