The sensation of swinging through the air is an almost universal pleasure. Scientists believe we enjoy swinging because it stimulates our sensory systems while imitating the weightless, floating sensation we experienced in the womb.
Consequently, outdoor baby swings are a popular choice for those who want to entertain their little ones while enjoying some fresh air.
We combined our purchasing, installation, and user experience with that of other users to select the seven best outdoor baby swings we feel confident recommending.
Image
Model
Product Comparison Table
Features
Best Budget Outdoor Baby Swing
Little Tikes Grow With Me
Comes with fitted ropes fitted
Adjustable angle
Recyclable material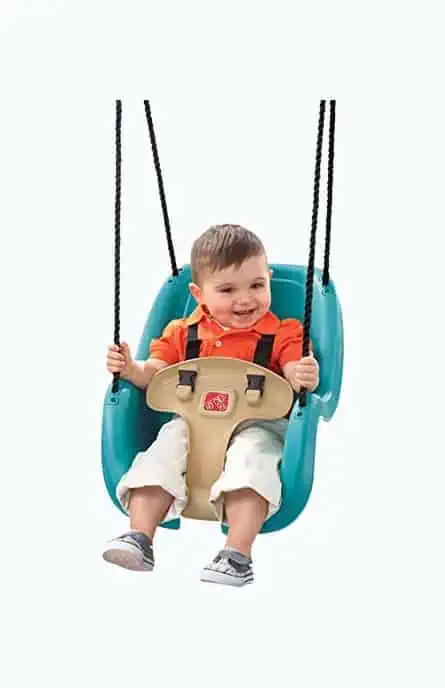 Best Bucket Outdoor Swing
Step2 Infant To Toddler Swing
Comes with attached carabiners
Roomy enough for bigger kids
Easy to clean
Best Portable Outdoor Baby Swing
Monkey & Mouse Canvas Swing
Can be hung anywhere
Easy to adjust
Has built-in toys
Best Outdoor Toddler Swing
Swing-N-Slide Nest Swing
Wide age range
Adult & child compatible
High weight limit
Safest Outdoor Baby Swing
Eastern Jungle Gym Swing
Deep bucket
Commercial quality
No assembly required
Best Non-Toxic Outdoor Baby Swing
Wooden Horse Toddler Swing
Made from natural materials
Easy to wipe clean
Can be used indoors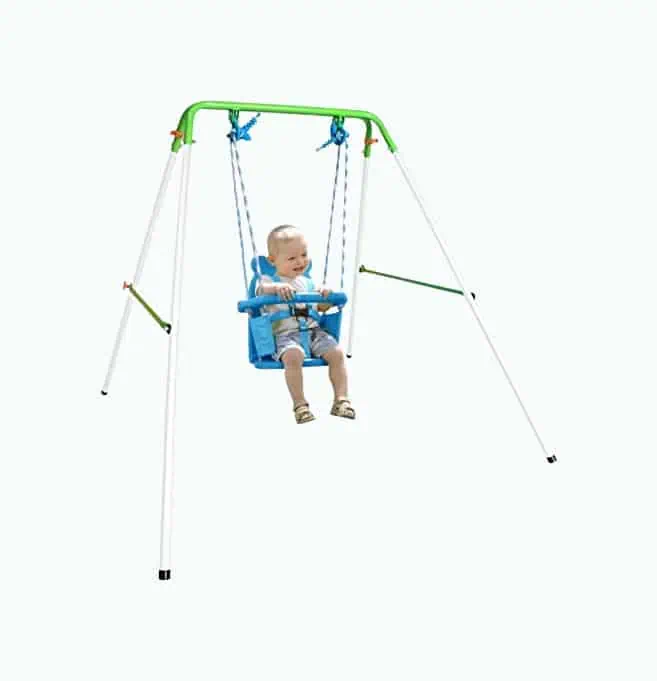 Best Versatile Outdoor Baby Swing
Sportspower My First Toddler Swing
Easy to use indoors & out
Has a cute design
Sits low to the ground
Review Methodology: At Mom Loves Best, we apply a thorough analysis and hands-on tests to rank the best outdoor baby swings. Our professional team uses their extensive experience and data from rigorous checks to measure the performance of each product. We compare the swings based on key decision-making factors such as safety, comfort, durability, and design. We also evaluate the products from a user's perspective, noting the unique features that set them apart from their competitors. Our assessments are backed by first-hand evidence and factual findings, ensuring that our reviews are reliable and trustworthy. Our ultimate aim is to assist you in making an informed decision about the best swing for your little one.
---
---
The Best Outdoor Baby Swings of 2023
Here are seven great outdoor baby swings to consider.
Little Tikes Grow With Me Swing
Best Budget Outdoor Baby Swing
The Little Tikes 2-in-1 Grow With Me swing is our top pick because of its versatility.
You can hang the swing with the seat in a more reclined position for younger children and adjust it to a more upright position for older kids. Also, the safety straps and T-bar can be stowed out of the way when your child is old enough not to need them.
Brightly colored, easy to wipe clean, and safe to be left outside, the previous incarnation of the swing had a different formulation of plastic and was recalled due to cracking issues. This problem has been resolved, and this new version of the swing has greater longevity.
Our only peeve is that the nylon rope may be too short for some locations, but this is easily resolved as replacement rope is easy to find.
Pros
Comes with ropes fitted.
Can be left outside.
Adjustable angle.
Recyclable.
Cons
You have to buy anchors separately.
Product Specs
| | |
| --- | --- |
| Age range | 9 months to 4 years |
| Weight limit | Up to 50 pounds |
| Seat material | High-density polyethylene, low-density polyethylene, and polypropylene |
| Suspension material | Nylon rope |
Our Ratings
Community Feedback
This swing is a durable and brightly colored addition to any swing set, providing a Snug 'n Secure experience for young children. I found it very easy to install and attach to the hooks on our swing set. My little one thoroughly enjoys swinging in it and, as an added bonus, it is simple to clean without any issues of fading. In my experience, this swing has been perfect for keeping my child entertained and secure. The durability and quality of the swing make it an excellent choice for those seeking a reliable and enjoyable experience for their child.
---
Step2 Infant To Toddler Swing Seat
Best Bucket Outdoor Swing
The Step2 Infant to Toddler Swing Seat is a big hit with the caregivers of bigger babies. As it is wider than other options, there is plenty of room for the larger baby. They can swing comfortably and safely without being shoehorned into the seat.
The safety straps are relatively easy to clip and unclip, but not so simple that there is any danger of your child making a sudden break for it. When your little one has reached toddlerdom, the straps can be adjusted in such a way that they sit comfortably behind your child.
There is a small amount of assembly required, but nothing complicated. The ropes are generous enough to suspend from high branches or overhangs and still have your baby at a safe height. The seat comes with carabiners securely attached to the end of the ropes, so all you need are some strong anchor points from which to hang it.
Pros
Comes with carabiners already attached.
Roomy enough for bigger kids.
Easy to clean.
Cons
You have to buy anchors separately.
Product Specs
| | |
| --- | --- |
| Age range | 9 months to 3 years |
| Weight limit | 50 pounds |
| Seat material | Polyethylene and polypropylene |
| Suspension material | Nylon rope |
Our Ratings
Community Feedback
Great product for both younger and older children, as my 6-year-old granddaughter and 1-year-old grandson have both enjoyed using it. This swing is comfortable, sturdy, and features a safe harness system, making it perfect for little ones of varying ages. It can easily be attached to any sturdy overhang, making it versatile and convenient. My 9-month-old grandson even threw a fit when removed from the swing, showing just how much he loves being in it! The swing allows kids to enjoy being outdoors, breathing in the fresh air, and having fun.
---
Monkey & Mouse Canvas Swing
Best Portable Outdoor Baby Swing
We love that the Monkey and Mouse canvas swing is designed to be hung up or taken down quickly and easily. This makes it the ideal outdoor baby swing for use in multiple locations.
You can suspend the swing from a branch, bar, or beam by throwing the end of the rope over and affixing it to itself. Alternatively, you can hang it from ceiling mounts or a doorframe anchor by simply clipping the carabiners onto your installed hardware.
The cute cotton seat pad can be removed for easy cleaning or to make more room for your child as they grow. Also, the swing can be dismantled, and the fabric machine washed while the beech wood pieces are treated for easy wipe down.
Our only quibble is, if you live in a particularly humid location, you may have to bring the swing in each day to avoid deterioration.
Pros
Everything included.
Easy to adjust.
Built-in toys.
Cons
It's best to bring it inside during sustained harsh weather.
Product Specs
| | |
| --- | --- |
| Age range | 6 months to 4 years |
| Weight limit | 110 pounds |
| Seat material | UV-protected cotton canvas and beech wood |
| Suspension material | Cotton rope |
Our Ratings
Community Feedback
I've had a great experience with this swing as it provides both fun and comfort for my child. The assembly was easy and the adjustable height feature came in handy. My child enjoys the sturdy design and the added safety of the buckle. However, for smaller kids, I did have to add some neck support, but overall it's a well-made and entertaining swing.
---
Swing-N-Slide 40" Nest Swing
Best Outdoor Toddler Swing
Our choice for the best toddler swing comes with a caveat. This is for older toddlers and should only be used under careful adult supervision.
The Swing-N-Slide diverges from the traditional swing shape and is instead a large, horizontal steel ring with a nylon cover. Children recline on the swing, which is slightly concave, allowing younger kids to lay within a bowl-like seat.
The fabric around the metal ring is padded to prevent bumps, and the nylon rope connects to a steel chain, creating a durable suspension system.
We like that you can sit in the swing with your toddler, or up to three smaller children can lay in it together. However, because there are no safety straps or harnesses, you could not leave a toddler unsupervised in the swing as they would be in danger of falling.
Pros
Wide age range.
Adult and child compatible.
High weight limit.
Cons
Requires close supervision for younger children.
Needs lots of room.
Product Specs
| | |
| --- | --- |
| Age range | 36 months to 10 years |
| Weight limit | 200 pounds |
| Seat material | Steel frame, nylon cover |
| Suspension material | Nylon rope and steel chain |
Our Ratings
Community Feedback
I recently purchased this swing for my grandkids and I'm thrilled with the results. Assembly was a breeze, although I did have to contact the manufacturer for a missing locking nut. The ropes seem to be made of a durable nylon/plastic material, but only time will tell their longevity. The strong mesh lining allows for quick drying after rain, and it can hold up to 200 pounds, making it great for kids and adults alike. This swing has been a hit with my family, providing endless fun and relaxation for all ages.
---
Eastern Jungle Gym High-Back Swing
Safest Outdoor Baby Swing
It was a struggle to choose one outdoor baby swing as the safest because all of the swings we chose met our stringent safety standards. However, we chose the Eastern Jungle Gym high-back swing for this category because of its suspension system and commercial specifications.
Rather than rope, this swing is suspended entirely by chain and metal components. The chain links have a shrink-wrap plastic cover to prevent little fingers from becoming trapped in moving parts.
The seat itself is a softer, slightly flexible plastic rated for commercial use, so we are confident it will remain a sturdy part of our outdoor play area long after our kids have grown out of it.
We are also impressed with the high back for support and the deep seat, which minimizes the possibility of your older child leaning forward and tipping over.
Pros
Deep bucket.
Commercial quality.
No assembly required.
Cons
Large leg holes.
No hardware included.
Product Specs
| | |
| --- | --- |
| Age range | 6 months to 4 years |
| Weight limit | 150 pounds |
| Seat material | Polyethylene |
| Suspension material | Galvanized steel coated in plastisol |
Our Ratings
Community Feedback
I recently purchased this swing for my 10-month-old, and it has exceeded my expectations in both sturdiness and safety. The bucket-style seat is slightly large, but it allows for plenty of growing room and closely resembles those found at public playgrounds. Installation was a breeze, as it easily attached to our existing swing set, but be mindful of older children trying to squeeze into the swing as it can be dangerous.
---
Wooden Horse Toddler Swing
Best Non-Toxic Outdoor Baby Swing
If you are looking for a wooden swing, this model from Dilimi is an excellent option. With enough rope for a 57-inch drop, the appealing horse swing works just as well indoors as it does outside.
The swing ships in pieces, and while it is easy to assemble, this may be off-putting for some people. On the plus side, the package includes a wrench and the hardware you need, so there's no need to worry about not having the right tools or fixings.
Our issue with this outdoor baby swing is that although it has been sanded smooth before shipping, there is no protective layer to ensure outside longevity. In some environments, this won't be a problem, but in other climates, you need a coating to protect the wood from the elements.
While this does give you the option of choosing whatever stain or protection you prefer, it does mean most people will have to treat the swing before they can use it.
Pros
All materials are derived from nature.
Easy to wipe clean.
It can also be used indoors, which would eliminate the need to stain it.
Product Specs
| | |
| --- | --- |
| Age range | 6 months to 3 years |
| Weight limit | 220 pounds |
| Seat material | Wood |
| Suspension material | Wear-resistant rope |
Our Ratings
Community Feedback
I'm really enjoying this wooden swing from Ecotribe! It has a cute horse design and can be used indoors or outdoors. The assembly was pretty simple, and it even came with a screwdriver and necessary hardware. However, the swing doesn't have a protective layer for outdoor use, so I had to treat the wood with a stain to protect it from the elements. On the bright side, this allowed me to choose the finish I preferred. The swing is made from natural materials and is easy to clean, which is a nice bonus.
---
Sportspower My First Toddler Swing
Best Versatile Outdoor Baby Swing
The swing does require some basic assembly, but nothing complicated. It took us about 15 minutes to assemble, and that was with a couple of adjustments to the length of the rope.
The manufacturer recommends you do not adjust the length of the ropes. However, for taller children, this can result in their feet brushing the ground when they swing.
Consequently, we pulled the rope through the fixing point and tied an additional knot making the swing sit slightly higher. But this will also alter the center of gravity for the swing so, although we did not experience this and can't imagine it happening if you shorten the ropes, it could, in theory, cause the swing to tip.
Although the frame does fold flat for easy storage, if you are going to use this indoors, you need a space of at least 55 inches x 55 inches for the swing's footprint. This makes it less convenient inside than another swing you might suspend from the doorframe or ceiling.
Pros
Easy to use indoors and out.
The swing has a cute design.
It sits low to the ground, which is nice from a safety point.
Cons
Takes up a lot of floor space.
A few parents have had issues with the shoulder straps breaking over time.
Product Specs
| | |
| --- | --- |
| Age range | 9 months to 3 years |
| Weight limit | 55 pounds |
| Seat material | Polypropylene with nylon panels |
| Suspension material | Nylon rope on powder-coated steel frame |
Our Ratings
Community Feedback
After purchasing this swing for my daughter, I found it to be a great value for the price. It's easy to collapse and store away, and can be used both indoors and outdoors, making it very convenient. The assembly was a bit confusing at first, but once figured out, it's quite sturdy and safe. The only downside is that the ropes may come loose and cause the seat to become uneven, but it's a simple fix.
---
When Can a Baby Use an Outdoor Swing?
Outdoor baby swings can be used once a child is physically developed enough to sit up unsupported and hold their head steady. This is usually around six months. If your baby can do this before that age, it's still best to wait until they hit the manufacturer's minimum age recommendations for the swing.
How to Choose the Best Outdoor Baby Swing
With so many options, how do you choose the best outdoor baby swing for your child?
---
How Do You Make an Outdoor Baby Swing?
If you are handy with a sewing machine and drill, you could always try your hand at making your own outdoor baby swing.
Our favorite tutorials are on A Beautiful Mess and A Kiwi Country Girl.
Alternatively, if video tutorials are more your thing, then Owlipop DIY has an excellent guide.
---
Safe, Secure, Fun
An outdoor baby swing is fun for both children and adults alike and is an excellent way to give your little one some much-needed fresh air. They are also great for spending time outside with your child and not having both hands full with their wriggling little bodies.
As a bonus, if you choose a swing you can hang indoors, swings are a fabulous spot for your baby to hang out. You'll be able to see each other when you are busy with work, chores, hobbies, other kids, or anything else that might cause you to take your eyes off of them for a moment.
Thank You For Your Feedback!
Thank You For Your Feedback!