If you're looking for a nursery chair, you're going to want something practical and comfortable.
There are so many different nursery chairs on the market, and they all have something different to offer. From swivel chairs to gliders to recliners, you need to find the perfect option for your nursery so you can enjoy every minute while rocking your bundle of joy — sometimes for hours on end.
We've tried all the best nursery gliders and rockers and compared hundreds of reviews to help you find the most suitable, comfortable, and practical chair for your nursery.
Image
Model
Product Comparison Table
Features
Best All Round
DaVinci Swivel
Swivels smoothly in 360°
Has head, neck, and lumbar support
Bonus ottoman included
Most Comfortable
Baby Relax Mikayla
Elegant and intricate design
Reclines and swivels for maximum comfort
Reasonably priced
Best Value for Money
Windsor Glider and Ottoman
Affordable
Padded arms and with storage pockets
Material can be spot cleaned
Easiest to Assemble
Baby Relax Double Rocker Chair
Easy assembly
Comfortable for parents of all sizes
Durable solid wood feet
Best for Bad Backs
DaVinci Ruby
Added lumbar support
360-degree swivel
Glides smoothly when not reclined
Best for Taller Parents
Stork Craft Glider With Ottoman
Includes removable lumbar support pillow
Easy to assemble
Nine color options
Easiest Breastfeeding
Graco Parker
Ultra-plush microfiber cushions
Fully upholstered sides
Nursing stool provides supportive base
Best for Plus-Size Parents
Nursery Works Sleepytime
Removable lumbar support pillow
Constructed and upholstered by hand
Made with durable materials
Best for Small Spaces
Delta Children Nursery
Steel mechanisms ensure quiet movements
Gentle glide motion
Thickly padded armrests
Best Modern Style
Babyletto Swivel
360-degree swivel
Easy to wipe clean
Ultra-soft material for ultimate comfort
Review Methodology: At Mom Loves Best, our team of experts conducts thorough research, hands-on testing, and data analysis to provide you with a comprehensive evaluation of the best nursery gliders and rockers on the market. We compare and rank products based on comfort, safety, durability, and ease of use, ensuring that our recommendations are based on real-life experiences. With our reviews, we aim to make your decision-making process easier by focusing on key factors such as performance, design, user experience, and value for your money. Our assessments are backed by evidence and facts, allowing us to confidently recommend the top choices for expectant parents seeking the perfect addition to their baby's nursery. Trust in our expertise and knowledge as we guide you through the world of nursery gliders and rockers, ensuring you make the best choice for your family.
---
---
The Best Nursery Gliders of 2023
After comparing dozens of nursery gliders and rockers, looking specifically at durability, cost, comfort, and features, these are the best options we've found.
DaVinci Swivel Nursery Glider
Best Nursery Glider Overall
If you are a shorter mom looking for a chair with great support, this gorgeous nursery glider is a perfect option. It sits lower to the ground and has a supportive lumbar section to ensure maximum support.
This glider swivels, enabling you to turn to reach any nearby baby supplies or an object to help you stand up out of the seat.
This cozy chair comes already assembled, so it is an easy addition if you are looking for a last-minute purchase for your nursery.
The swivel part is designed to be safe for fingers, with the majority of the swivel construction being hidden underneath the chair and not accessible by children.
The chair's neutral-colored fabric is free of chemical flame retardants and formaldehyde.
This chair is thoughtfully designed to meet all the needs of mom and baby during feeding time and comes highly recommended by hundreds of parents.
Pros
Swivels smoothly in 360 degrees.
Has lumbar, head, and neck support.
Delivered already assembled.
Bonus ottoman included.
Multiple colors to choose from to fit your nursery aesthetic.
Cons
Some users have found the chair to squeak over time.
No protective cover.
Our Ratings
Community Feedback
Got this glider and ottoman combo for our nursery, and it's been a great addition! The chair is comfortable for both my husband and me, and the lumbar support pillow helps us find the perfect angle to relax. It's not the widest chair, but it's perfect for us and even our little dog can squeeze in beside me. My only concern is that it's not waterproof or stain-resistant, so I'll need to find a solution to keep it clean, but overall, I'm happy with the purchase.
---
Baby Relax Mikayla Swivel Nursery Glider
Most Comfortable Rocking Chair
This nursery rocker is great for parents looking for a universal chair. It offers nearly every feature we look for in a nursery chair.
Not only does this chair swivel 360 degrees and have seamless gliding capabilities, but it also reclines.
If you are looking for a chair that can accommodate you at any time of day and at any comfort level, this is perfect. The supportive spring core and foam-filled seat offer you extreme comfort and support.
This rocking chair is unique because it has intricate designs on the backrest, making it a fashionable addition to any nursery.
We love that this chair offers the option of gliding, swiveling, or reclining, as it makes for an incredibly comfortable place to sit whether you're feeding your baby, rocking, reading, or just enjoying a little TV time.
Pros
Easy assembly.
Elegant and intricate design.
Reclines and swivels for maximum comfort.
Sturdy construction.
Reasonably priced.
Cons
No protective cover.
No removable lumbar support pillow.
Maximum weight capacity of 225 pounds.
Our Ratings
Community Feedback
Got this chair mainly for its affordable price and decent appearance. Upon receiving it, I noticed some minor scuffs and indentations on the fabric, but nothing too concerning. The reclining mechanism takes some getting used to, as it's a bit difficult to sit up again once fully reclined. The padding on the arms and seat cushion is adequate for a new chair, but I'm unsure how well it'll hold up over time.
---
Windsor Nursery Glider and Ottoman
Best Value Nursery Glider
If you are looking for a great nursery glider that won't break the bank, this is our favorite inexpensive choice. This classic rocking chair with its matching ottoman has been a beloved resting place for thousands of parents and caregivers.
The Windsor nursery glider is not only affordable, but it also looks great in any nursery. Sit comfortably in this stylish nursery chair with extensive cushioning throughout the back, armrests, seat, and ottoman.
We found the padded armrests luxurious when rocking our babies.
The enclosed metal bearings make the chair glide smoothly, helping you soothe your little one to sleep. The glider and ottoman pieces have solid wood frames to maximize stability.
The ottoman is a great bonus because it can help take some of the stress off your back. It rocks with your chair, so you don't have to disrupt your movement while giving your feet a break.
There are several color options to choose from, so you should be sure to find one that aligns with your nursery vision.
Pros
Affordable.
Padded arms.
Storage pockets.
Material is easy to spot clean.
Cons
The frame doesn't feel as sturdy as some other nursery gliders.
No protective cover included.
Without regular lubrication, the chair will often begin to squeak while rocking.
Our Ratings
Community Feedback
This glider and ottoman set has provided me with a comfortable and relaxing experience, even with my larger frame. The smooth rocking motion, sturdy construction, and side pocket for storing items have made it a favorite addition to my nursery. However, it does make a loud noise when getting up, which may risk waking a sleeping baby.
---
Baby Relax Hadley Double Rocker Chair
Easiest to Assemble Rocking Chair
There's so much to do when preparing for a baby. Make life just a little bit simpler with this easy-to-assemble rocker from Baby Relax. The seat is approximately 1.5 times wider compared to the average rocker, allowing more space for your baby to stretch out in your arms.
Once assembled, it provides a smooth rocking motion. The entire chair is covered in a soft, plush fabric, and the wide, modern design looks beautiful in any nursery. The neutral taupe color suits baby's room, and the classic design can be used long after your child outgrows their rocking years.
We also really like how large it is. Both moms and dads, no matter their size, can relax comfortably. If you're looking for a durable, comfortable rocker that's easy to assemble, this is the one for you.
Pros
Assembly is easy and takes just a few minutes.
The large design provides comfort for moms and dads of any size.
Reclines for a full range of motion.
Cons
Single color option.
Doesn't have a footrest.
Our Ratings
Community Feedback
I'm thrilled with this easy-to-assemble Baby Relax rocker that has made my life simpler while preparing for a baby. The extra-wide seat, soft plush fabric, and smooth rocking motion make it perfect for both parents, no matter their size, to bond with their little ones. Although it comes in a single color option and lacks a footrest, the neutral taupe hue and classic design ensure it'll look great in any nursery and remain useful long after my child has outgrown their rocking years.
---
DaVinci Ruby Recliner and Glider
Best Glider for Bad Back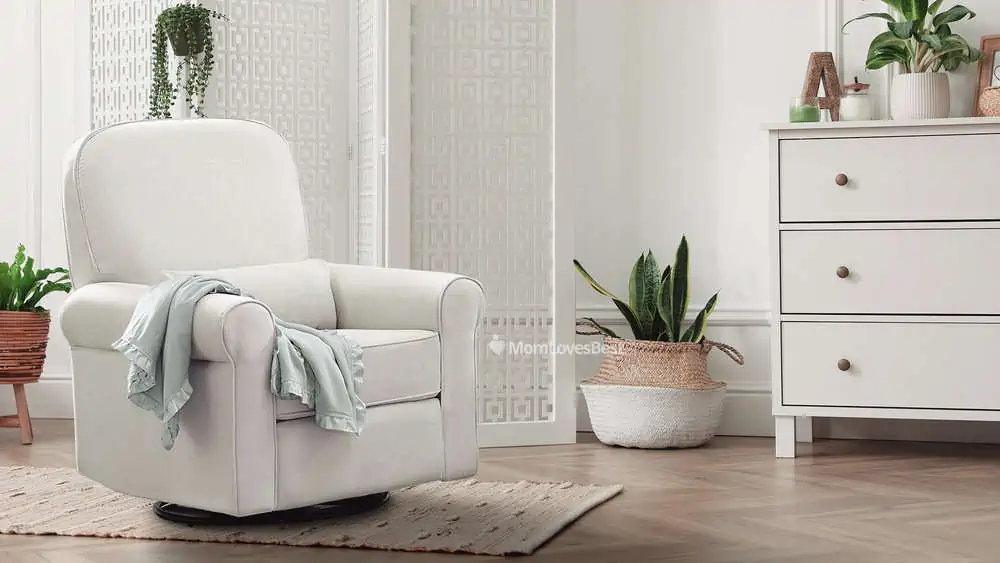 If you're searching for a comfortable nursery glider or rocker that won't hurt your back, this one is a good pick.
This chair has a firm high back, but it also includes a lumbar pillow for added support. The plush armrests accommodate comfortable feedings to keep both mom and baby content.
Sitting in an upright position in a chair can also take a toll on your back, but this chair reclines to offer you additional comfort. The recliner aspect is a no-brainer for parents suffering from a bad back. In addition to the smooth reclining function, it has a pop-out leg rest and leaning backrest.
Not only does this chair offer back support, but it also swivels 360 degrees. This chair allows you to have a full range of motion to ensure you can be comfortable at all times.
The upholstered polyester is soft, durable, and easy to clean.
Pros
The chair reclines.
Added lumbar support.
You can easily spot clean the chair.
360-degree swivel.
Smooth gliding motion when not reclined.
Cons
Limited color options available.
The chair's padding is quite firm, which some people don't find comfortable.
It can be awkward to fully recline when holding a fussy baby.
Our Ratings
Community Feedback
My experience with this chair has been mixed; the design and aesthetics are pleasing, and it complements my living room setup well. The swivel, glide, and recline features function smoothly, but I found the lumbar support to be lacking, even with the provided pillow. I appreciated that it arrived with GreenGuard certification, indicating a minimal impact on indoor air quality. However, the chair's durability and comfort level could be improved, as it may not hold up well over time, especially with frequent use.
---
Stork Craft Glider With Ottoman
Best Nursery Glider for Tall Parents
It can be challenging to find a comfortable glider when you are a tall parent, but this one has a higher back that will accommodate most heights.
This nursery glider will fully support your head, neck, and shoulders while you support your little one. The chair has padded arm cushions to ensure you are as comfortable as possible — whether you're nursing or simply rocking your baby to sleep. A lumbar support pillow is included, which will help prevent possible back discomfort.
The chair's soft polyester fabric makes it feel very comfortable while ensuring durability.
The solid wood construction takes the durability a step further, and the chair should last far beyond the baby years.
The bonus gliding ottoman allows you to extend your legs and become more comfortable.
Pros
Back and seat cushions can be spot cleaned.
Comes in a variety of colors.
Includes ottoman to improve comfort.
Easy to assemble.
Metal, enclosed ball bearings for smooth gliding motion.
Ideal seat for breastfeeding.
Cons
No protective cover.
Moving parts could hurt small fingers.
Some buyers noted the chair did not last as long as they expected.
Our Ratings
Community Feedback
Best rocking chair experience I've had so far, especially considering the price point. The frame is sturdy, silent, and beautifully designed, but the cushions could use some improvement, as they are made of polyester and can be a bit rough on the skin. Additionally, the comfort level of the cushions is decent, but not outstanding.
---
Graco Parker Glider
Best Nursery Glider for Breastfeeding
If you plan to breastfeed, it's vital to have a comfortable nursing chair in your baby's room.
This nursery glider is perfect because it was designed with breastfeeding mothers in mind. There are key features like the pull-out nursing stool that will help enhance your breastfeeding journey. When you don't need the nursing stool, it folds under the ottoman for easy access.
The higher-than-normal armrests are fully padded and designed to help you rest your arms comfortably when nursing your baby.
This chair is a great asset to make your breastfeeding journey run just a little smoother.
Mothers who aren't breastfeeding will also love this chair. The higher armrests help support your baby when rocking or bottle feeding and may be a welcome plus to a tall partner.
Pros
Ultra-plush microfiber cushions to allow maximum comfort when sitting.
The nursing stool allows you a supportive base to more easily nurse your baby to sleep.
Fully upholstered sides for comfort when nursing.
Coordinates perfectly with many crib styles.
Cons
Lower weight capacity than other nursery glider chairs at 250 pounds.
The cushions attach with ties, which are not very durable.
Our Ratings
Community Feedback
My experience with this glider has been quite positive, as it provides a comfortable and smooth rocking experience at an affordable price point. The assembly process was straightforward and took me about 30 minutes, although I encountered a minor issue with misaligned holes, which required slight adjustments. The chair is perfect for my height, but taller individuals may find it less comfortable. The ottoman is a nice addition, featuring a fold-out nursing foot-rest, though this part feels a bit cheap and requires careful folding.
---
Nursery Works Sleepytime Rocker
Best Plus-Size Nursery Rocker
If you are looking for a rocker with more room, check out the Nursery Works Sleepytime Rocker.
This nursery rocking chair has a broader base that allows the chair to have an overall wider structure. No more having to cram into your rocker; now you can enjoy your spacious comfort.
The chair is hand upholstered with quality materials that are super soft and designed with your comfort in mind. And you can choose from multiple colors, so you're sure to find one that will suit your nursery.
The wooden chair supports allow you to rock seamlessly and noiselessly.
If you are looking for a slightly larger chair that can still offer support, this might be the chair for you.
Pros
Constructed and upholstered by hand.
Composed of durable materials to ensure long-lasting stability.
Extra wide seat offers more room.
Upholstery is free of chemical flame retardants.
Cons
No footrest included.
Does not glide or recline.
Must be cleaned with solvents, foam-, or cotton-based cleaners.
Our Ratings
Community Feedback
Bought this chair for my nursery and initially fell in love with its texture, overall look, and width. After using it for a while, I discovered that the back is too low for extended periods of use, causing some neck discomfort during late-night feeding sessions. Despite that, the chair has a sleek, modern design that matches my home decor, and the vegan leather is easy to clean, which is a great bonus with pets around. Assembly was quick and easy, and the rocking motion is smooth on various surfaces, making it a stylish and functional addition to my home.
---
Delta Children Nursery Glider
Best Nursery Glider for Small Spaces
If you want a glider for your nursery but don't have much floor space, this glider is for you.
This slim glider is designed for smaller spaces, but it is big on function and versatility. The 360-degree swivel allows you to turn in any direction.
There are three color options available, so you can find one to match your nursery decor. The simple colors should easily coordinate with any decor you may already have.
This chair is built to last, and because it's designed for small spaces, it is lightweight and easy to move for relocation.
The curved seating ensures your comfort, and the thickly padded cushions will further enhance your relaxation.
If you love the chair but prefer a footrest, you can purchase a matching ottoman.
Pros
Durable steel mechanisms to ensure quiet movements.
Whisper-quiet gentle glide motion.
Thickly padded armrests.
Removable cushion for easy cleaning.
Sleek design is great for small nursery rooms.
Cons
225-pound weight limit.
Material is not as durable as some other chair options.
Our Ratings
Community Feedback
These chairs offer a visually appealing design, with a comfortable cloth cover that prevents sweating and allows for smooth movement. Despite the size being smaller than expected and lacking a headrest, it works well for those with limited space and shorter individuals. However, some concerns have arisen regarding the chair's durability, specifically the welds and a broken spring issue that can potentially disrupt the peaceful rocking experience.
---
Babyletto Swivel Nursery Glider
Best Modern Nursery Glider
Some of us prefer not to settle for the traditional rocking chairs and would rather have a modern adaptation. If your baby's nursery is modern and hip, you need a modern glider.
This glider is the perfect modern piece for any nursery. It allows stylish mommas to keep their nursery modern without compromising productivity and safety.
Although this chair is modern, it still offers spacious seating in addition to its rounded back.
The smooth and gentle gliding mechanism will help you get your little one to sleep in no time.
The 360-degree swivel motion allows you extra range of motion to freely move around. This chair also offers optimal comfort as it is hand upholstered in ultra-soft microsuede.
The Babyletto glider is perfect for moms who want comfort and style all in one. It doesn't look like a typical nursery chair, so once your baby years are over, it can still double as additional seating in any part of your house.
Pros
Modern and stylish appeal.
360-degree swivel.
Made with water- and stain resistant fabric.
Composed of ultra-soft material for maximum comfort.
One-year warranty.
Cons
No footrest included.
Doesn't feel as solid as some other options.
Our Ratings
Community Feedback
My experience with these chairs has been quite positive overall. I initially purchased one in brown a few years back, and it has held up well, becoming more comfortable the more I use it. Recently, I ordered two black velvet chairs for my living room, and they are not only stylish but also the perfect size for the space. They offer great features like rocking and swiveling, making them both comfortable and functional. However, I did notice that one of the chairs started to squeak after just a few weeks, which can be a bit annoying, especially if you plan to use it to rock a baby to sleep.
Why Is Nursery Seating Necessary?
You're going to be spending a lot of your time in the nursery with your baby.
Whether it is for feedings, story time, reading books, or rocking to sleep, it is important you find a nursery chair you are comfortable in.
Nursery seating is also a plus because babies find the back and forth motion of rocking to be very soothing. Your nursery glider or rocking chair is one of the best places to get your baby to fall asleep — every parent's mission!
How to Choose the Best Nursery Glider
Your nursery chair will be a decent investment, so you should make sure it has many qualities, not just visual appeal.
Although style and coordination are important, you are going to care most about the comfort of your nursery chair during those late-night feedings than how well your chair matches the nursery.
How To Pick Proper Seating
Start your journey of finding nursery seating by making a list of which items are most important to you, what you will be using the chair for the most, and your determined budget.
You should list your must-have features in order of necessity — that way, if you have to eliminate one, you can start from the bottom.
There are so many nursery glider and rocker features out there that it can be overwhelming, so having a predetermined list can make the buying process much easier.
These are some of the features we look for when comparing the best nursery gliders and rockers:
Lumbar support.
Recliner.
Ottoman.
Swivel.
---
Safety Notices
Always use extra caution when picking out a nursery gliding chair. Ensure it is put together well. You don't want to collapse in your chair when rocking your baby.
You should also keep an eye on any visible moving parts that little fingers could easily access. You don't want your baby getting injured on your nursery chair.
Chairs are made of different materials, and some may be harsher than others. Try to find chairs that are free of all chemical retardants.
Always glance over product recalls by the U.S. Consumer Product Safety Commission before purchasing a chair to make sure that it does not make the list (2). Some gliders have been recalled over the years because of their poorly structured frames.
---
The Bottom Line
Our top pick out of the best nursery gliders and rocking chairs is the DaVinci Swivel Glider.
This glider keeps mom and baby comfortable when they are using the chair because not only is it made with super-soft materials, but it also contains firm padding.
This chair can swivel 360 degrees but is safe for tiny fingers. It includes lumbar support to keep you free of any other additional aches and pains that parenthood may cause.
Thank You For Your Feedback!
Thank You For Your Feedback!