Are you heading out of town with baby in tow and are wondering where your little one will sleep?
Getting baby to sleep well on her home turf can be challenging enough, so it's no wonder if planning an upcoming trip has you feeling a bit nervous when it comes to making sure your baby gets a good night's rest.
Travel cribs can be a lifesaver for quick overnights to Grandma's house, flying to a new destination.
We've rounded up the best travel cribs that are both lightweight and easy to carry.
Image
Model
Product Comparison Table
Features
Best Non-Toxic
Lotus Everywhere
Backpack style carrying case
Machine washable mesh
Made with non-toxic materials
Best for Toddlers
BabyBjörn
Easy to set up/take down
Safety feature attaches mattress to frame
Removable cover is machine washable
Best Easy to Setup
LuckyDove Portable
Certified non-toxic
Ultra-breathable mesh panel
Single zippered side
Easiest to Use
4Moms Breeze Go
No-fuss set up/takedown
Sturdy and durable
Attaches mattress to base
Best for Camping
KidCo Peapod Travel Bed
Super light and compact
Minimal setup
Offers UV protection
Best for Twins
Joovy New Room2
Two wheels for easy moving
Attaches mattress to base
Offers a 2-year warranty
Best Budget Pick
Graco Pack N' Play Nimble Nook
Cost efficient
Allow for room-to-room mobility
Extra features like bassinet vibration
Best Backpack Travel Crib
Phil & Ted's Traveller Crib
Rolls up like a yoga mat
Includes inflatable mattress and sheets
Certified fabrics gentle on skin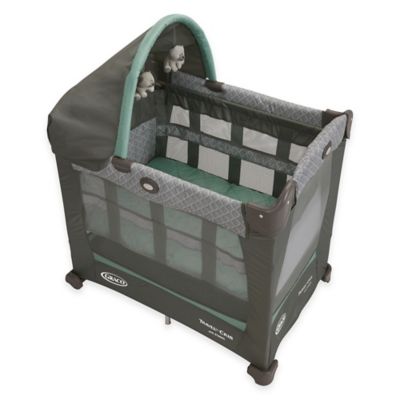 Most Lightweight
Graco Travel Lite
Compact fold
Convertible and cozy
Canopy with toys
---
What is a Travel Crib?
A travel crib is a lightweight, compact, foldable crib that provides a safe and comfortable place for your baby or toddler to snooze while you are away from home.
They also double as play yards where baby can play in a safe, contained area. Most can be used from birth until about age two to three.
They typically offer see-through mesh sides that provide ventilation and allow for visibility so parents can keep an eye on their little one. They are easily foldable and ready to stash in their accompanying carrying bag for convenient transportation.
Pro Tip
When most parents think about travel cribs, Graco's
Pack N' Play
and other portable cribs come to mind. However, almost all of these types are bigger and bulkier than these more streamlined types, making them easier to bring along on your family adventures.
How to Choose the Best Travel Crib
Of course, everyone has needs and preferences specific to themselves and their own family, but when researching which travel crib is right for you, here are some questions to ask yourself.
Is weight important to us? Do we need an ultra-lightweight model?
Is this model easy to set up and take down?
Would it work well for my child's age and size?
Do I want one with extra accessories like a bassinet feature or a changing table?
Would I like it to come with a mattress and sheet included?
Is it easy to care for and keep clean?
Does it come with a warranty?
---
The Best Travel Crib Reviews of 2021
Here are our favorite travel cribs on the market.
1. Lotus Everywhere Travel Crib
The Lotus Travel Crib uses only non-toxic materials and is the only model on the market to receive the GreenGuard Gold Safety Certification (1).
Parents love the lightweight, at only 13 pounds, which makes traveling through airports or to destinations a breeze. My favorite feature on the Lotus is the backpack style carrier! It is sleek, compact, and hands-free to carry.
The zippered mesh panel on one side is a nice option for baby to crawl in and out of during playtime, as well as offering parents access to snuggling or nursing baby to sleep.
Recommended from birth to age three or older, the Lotus is a solid choice that will be useful to your family for a long time.
Pros
Backpack style carrying case.
Machine washable mesh.
Made with non-toxic materials.
Zippered mesh opens one side completely.
Cons
Bassinet feature requires additional purchase.
Some parents found the mattress too thin.
---
2. BabyBjorn Travel Crib Light
A fan favorite among parents, the BabyBjörn Travel Crib Light is an excellent choice for toddlers on the go because it is spacious and sturdy. I like that the sides are high enough to contain a climbing toddler.
With no extra pieces, this model is simple to set up and take down, and folds neatly into a briefcase-sized carrying case with handles for easy travel. These are all great features to have, as I know you want to get your family to your destination and start having fun as quickly as possible.
Smartly designed so the mattress protects the frame during travel, it is sturdy enough to be checked luggage or is compact enough to fit into an overhead compartment when flying.
All materials are toxic-free and allergen-free, and the BabyBjörn Travel Crib Light adheres to the highest safety standards. At 13 pounds, it is light enough not to weigh you down when you are on the go and makes the perfect getaway companion.
Pros
Parents love how easy it is to set up/take down.
Safety feature attaches mattress to frame.
Removable cover is machine washable for easy cleaning.
Cons
More expensive than similar models.
Sheets require additional purchase and are more costly than most.
---
3. LuckyDove Portable Traveller Crib
One of the few considerations I have to look into when buying travel cribs is the ease of assembly. Traveling alone with an infant is already stressful in itself and I do not want to add further insult to the injury by selecting a crib that would take hours to set up. The ultra-lightweight LuckyDove traveler crib is ideal for bringing with you on a flight. Weighing in at only 13.57 pounds, there is a good chance it weighs just a little more than your baby!
This full-sized crib offers completely mesh sides, and comes with a thick, non-collapsing sponge mattress and soft cotton sheet to keep your baby snug-as-a-bug.
The unique zippered mesh side is a really nice feature to have, as it opens completely for fun playtime, or for parenting or nursing baby to sleep.
Pros
Ultra-breathable mesh panel.
Includes a mattress and a cover.
Single zippered side opens completely.
Made with toxic-free materials.
Cons
Some parents thought the mattress was too thick.
---
4. 4Moms Breeze Go Travel Crib
The one-step easy open and close system offered by the 4Moms Breeze Go Travel Crib makes it a winner in the easy to set up and take down category.
I like that there are no additional pieces to attach (or lose), making set up a simple process of pushing on the center until it clicks. Unlike some other models, it has a free-standing easy open frame that does not require any wrestling to set up.
It does take a few additional minutes to attach the mattress to the base with Velcro straps safely, but it is an important safety feature you won't want to skip.
Take down is just as simple; remove the mattress and pull up on the center pull-strap to unlock and fold it in one fluid motion.
4Moms' other models, Breeze Classic and Breeze Plus are larger and offer more features, which may be a good option for your family, especially if you have a toddler. Of course, they are heavier and more expensive so there is a bit of a trade-off.
Pros
No-fuss set up/takedown.
Parents love how sturdy and durable it is.
Safety feature attaches mattress to base.
Cons
Some parents found the mattress too hard.
At 23 pounds, it isn't ultra-lightweight.
---
5. KidCo Peapod Travel Bed
The KidCo Peapod Travel Bed is very light and easy to pack. Weighing less than three pounds, it folds up to the size of a dinner plate. Its compact size makes it another great option for airplane travel as well!
It requires no assembly at all, which can be a major plus if you are tasked with setting up camp after dark. I like that it springs open and lays flat on the ground. The zippered mesh completely encloses baby, protecting from mosquito bites and other insects.
A cushy, removable pad attaches to the bottom outside of the crib, which keeps baby comfortable and is an important safety feature that alleviates the danger of a gap between the mattress and crib wall.
While smaller than a full-sized travel crib, the KidCo Peapod still offers enough room to comfortably house an average three-year old which means it will last your family for a good many camping trips.
KidCo also offers the Peapod Plus, a larger version, that is built to comfortably sleep an average five-year-old. This can be a great option for camping or traveling with an older toddler.
Safety Tip
This model springs open quickly, so be sure to carefully remove it from the carrying bag when setting up, and always open it away from your face.
Pros
Super light and compact.
Minimal setup.
Perfect for outdoor use.
Offers UV protection.
Will not damage tent floor.
Cons
Smaller than most.
No metal frame like others.
Doesn't double as a play yard as easily.
---
6. Joovy New Room2
The Joovy New Room 2 is one of the largest portable cribs on the market, with 50 percent more space than traditional play yards. The heavy-duty, padded mattress and cotton crib sheet are included, and are spacious enough for two little nappers.
When used in conjunction with the Joovy Room2 Twin Nursery Center, which is sold separately, it creates a nice safe nursery set-up for twins when you are out of town, or would make an ideal nap and diaper station to keep in your main living area. The divider which comes with the purchased Nursery Center, separates the babies and provides the safest option for your twin babies to sleep in the same crib.
The Twin Nursery Center's divided bassinet provides space for two young babies, and the changing table offers a convenient place to change diapers. The changing table flips out of the way when not in use, but stays attached so it can easily transition back into place when needed.
Pros
Large enough for twins with ten square feet of sleeping space.
Two wheels for easy moving.
Safety feature attaches mattress to base with Velcro.
Joovy offers a two-year warranty, twice as long as other leading brands.
Joovy Room2 Twin Nursery Center available for purchase for added sleeping safety.
Cons
Heavier than most at 29 pounds.
Larger folding size than other leading brands.
Some parents had difficulty setting up and taking down.
---
7. Graco Pack N' Play Nimble Nook
To get the biggest bang for your buck, look into the Graco Pack N' Play Nimble Nook. It offers a ton of great features that are especially useful to have for young babies.
The bassinet is easy to install, and makes a cozy place for small babies to nap and play. The cute mobile bar is included and comes with stuffed, dangling toys for baby to bat and coo at. The Nimble Nook is the only travel crib offering a two-speed vibration feature to help calm fussy little ones, which is an awesome feature to have on hand.
Because the bassinet is on the small side, I feel like babies will outgrow that feature rather quickly. Although older babies and small toddlers will have a safe place to play or sleep in the larger base area, making the crib useful for some time. I like that the sturdy mattress pad is included with purchase.
The Nimble Nook is 20 percent smaller than typical Pack N' Plays, and is made with lighter materials, making it easier to transport than standard Pack N' Plays.
Pros
Cost-efficient.
Wheels on feet allow for room-to-room mobility.
Extra features like bassinet vibration and mobile bar.
Cons
Parents had difficulty finding sheets that fit.
Set up and take down can take some practice.
Not full-sized so babies can outgrow it quickly.
---
8. Phil & Ted's Traveller Crib
As a parent, it's important to still experience the world and go for lots of adventures. With that in mind, you'll need some new gadgets and products to make the experience easier. That's why we recommend the Guava Lotus Travel Crib.
This crib is a backpack option — so you can fold it up and wear it on your back. Weighing only six pounds, it's compact, light, and easy to wear even when trekking to your camping spot for the night.
The crib comes with an inflatable mattress and sheets. Just keep in mind it takes a bit of time to set up; some parents found the process rather tricky.
The crib uses Okeo-Tex certified fabrics so that it's gentle on your baby's skin. It's perfect for use indoors and outdoors. The crib has an opening on the side so your baby can crawl in and out when they please. But you can also keep this closed for more security, especially during night or nap time.
Lastly, it has darkened mesh which allows for some shade especially if you're setting this up outside. Your baby will be super comfortable and safe in this crib.
Pros
Rolls up like a yoga mat for easy transportation.
Side opening for more freedom.
Darkened mesh that offers shade.
Certified fabrics that are gentle on skin.
Cons
It's quite small, so it's best for babies less than two years old.
It takes a bit of time to assemble.
---
9. Graco Travel Lite Crib
Parents love the airy mesh sides and quilted mattress of the Graco Travel Lite. With less than 20 pounds in weight, this is definitely an on-the-go crib!
The integrated wheels make it easy to transfer from one place to another with ease.
I am so impressed with Graco's signature push-button fold. It takes only a few seconds and means you don't have to wrestle with individual frame legs or disassemble any loose pieces.
The Graco Travel Lite Crib is recommended for newborns to toddlers, up to 20 to 30 pounds and 35 inches, making this a product that will grow well with your little one.
And did I forgot to mention that it's JPMA certified? Absolutely!
Pros
Lightweight and travel-friendly.
Economical.
Grows with your child.
Cons
Users reported a strong smell upon unboxing.
---
Travel Crib Safety Tips
While all the cribs listed here meet US Safety Standards, it is still important to consider safety when choosing a travel crib. Some things to consider include checking for space between the crib and the mattress, whether it offers safety features like Velcro or snaps to keep the mattress in place, and whether it is made with toxic-free materials.
Safety Tips:
Do not use with pillows, blankets, stuffed animals, or additional bedding, bumpers or positioning wedges.
Only use sheets intended for the crib's specific model.
Always place it directly on the floor — never on a bed, table, or unstable surface.
Place it away from window blind cords and electrical cords.
Mesh should be ¼ inch holes or smaller (smaller than the snap on a baby's onesie).
Once your child is old enough to climb out of the crib, discontinue use (2).
---
Which One Will It Be?
The Lotus Travel Crib is our top pick as the best travel crib. It is a fan favorite of parents, and its lightweight of 13 pounds makes it a versatile choice, great for traveling either by airplane or car.
With a high standard of non-toxic, child-safe building materials plus a reputation for quality and durability, it would make an excellent choice for most families. Plus, I really love the backpack style carrier!
Whichever travel crib you decide on, remember to ask yourself what features are most important to you, including crib weight, age recommendation, special additions like bassinet or diaper changing features, how it will grow along with your baby, and all the other factors covered here.