Crib sheets come in several sizes, fabrics, and styles. So how do you find the right style for your baby's bed?
With many babies between us, our team of moms has plenty of experience shopping for crib sheets. We've learned how to shop for the correct size and avoid poor-quality sheets that pill, tear, or keep popping off the mattress.
We'll explain the difference between standard and mini sizes and discuss which fabric options to choose from. We'll review the best crib sheets we've found for every situation to help you find the perfect fit for your baby's mattress.
Image
Model
Product Comparison Table
Features
Best Organic Sheets
Pickle & Pumpkin
100% organic cotton
Free of harmful chemicals
Deep pockets for staying put
Best Winter Sheets
American Baby Company
Super soft, velvety chenille
May help baby self-soothe
Choose from many colors and prints
Best Flannel Sheets
Trend Lab
Deep 10-inch pockets
Pre-shrunk
Fully elasticized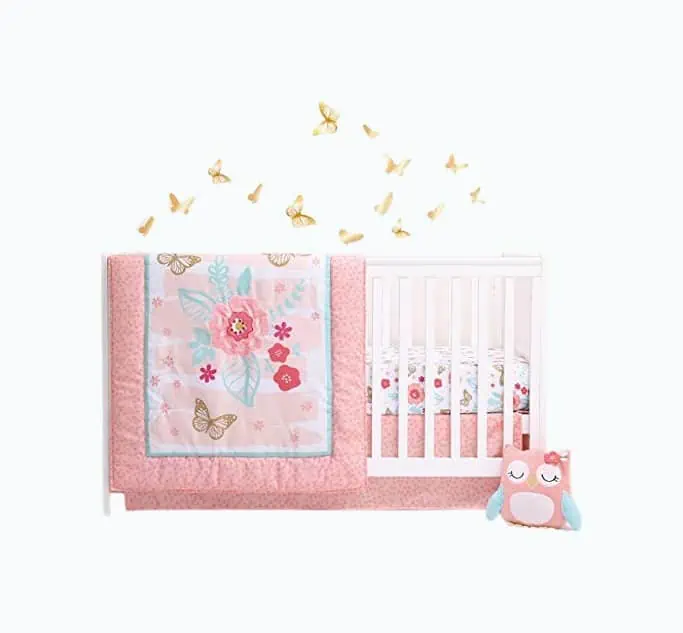 Best Polyester Sheets
The Peanutshell Floral
Beautiful design
Machine washable
Microfiber
Best Mini Crib Sheets
Brolex Portable Mini
Jersey knit material
Fit mini cribs of various depths
Budget-friendly
Best Bamboo Sheets
Pure Bamboo Sheets
Breathable and moisture-wicking
300 thread count
Hypoallergenic
Best Hypoallergenic Sheets
TillYou Hypoallergenic
Complies with CPSC requirements
Soft sateen finish
Two per pack
---
---
The Best Baby Crib Sheets of 2023
Now that you know what materials to look for, let's go through our top picks for crib sheets. These sheets are super cute, soft and cozy, and safe for your baby's skin.
Pickle & Pumpkin Pack 'n Play Mattress Sheet
Best Organic Cotton Crib Sheets
These organic sheets, made for mini cribs or playpens, are ultra soft, making them great for your baby's sensitive skin. They are GOTS (Global Organic Textile Standard) certified and made from hypoallergenic 100% organic jersey cotton. They don't contain any harmful chemicals.
With a tight weave and 6-inch pockets, the cut of these sheets makes them fit the mattress snugly, but you won't have to struggle to change the bed.
Because they come prewashed, there won't be any shrinking after you wash them for the first time. Plus, you can wash them in your washer and dryer. These sheets are an eco-friendly option and come with two to a pack.
The gender-neutral design is great if you want to pass on all your baby stuff later.
Pros
100% organic cotton.
Hypoallergenic.
Deep pockets for staying put.
Cute design.
Prewashed.
Cons
Only for smaller cribs or play yards.
Our Ratings
---
American Baby Company Chenille Fitted Crib Sheet
Best Winter Crib Sheets
American Baby Company has created a standard-size, cozy chenille sheet made from polyester. With this super-soft material that feels more like a stuffed animal than a crib sheet, your baby will be happy to snuggle up in their bed.
The softness of the fabric can help your baby self-soothe, especially if they're inclined to rub soft items with their fingertips. My daughter was a thumb sucker and needed a "soft thing" at bedtime. These sheets fit the bill!
The material is durable and machine washable, and the deep 9-inch pockets are a good fit for most standard crib mattresses. There are many colors to choose from, making it easy to match a crib sheet to your nursery decor.
Pros
Super soft, velvet-like material.
May help your baby self-soothe.
Deep 9-inch pockets.
The company offers other linens to match.
Cons
Must be washed on a cold cycle.
May be too warm for some climates.
Our Ratings
---
Trend Lab Deluxe Flannel Fitted Crib Sheet
Best Flannel Crib Sheets
These crib sheets are super soft and made from a high-quality 100% cotton flannel. Even though they're flannel, there is minimal pilling, even after multiple washes.
They come pre-shrunk with an elasticized fitting to help them stay put. The 10-inch deep pockets will keep them securely fitted on a standard-size crib mattress.
Due to their thickness, they may be a good fit for those that live in chillier climates, but you might be able to use them all year round. Additional colors and prints are available, but these elephants are too sweet.
Pros
Washes well.
Super soft, 100% cotton.
Deep 10-inch pockets.
Pre-shrunk.
Fully elasticized.
Cons
Might be too big for thinner mattresses.
Our Ratings
---
The Peanutshell Aflutter Crib Bedding Set
Best Polyester Crib Sheets
These are super soft sheets made from 100% polyester fabric, which is easy to care for. They're breathable and help wick moisture away from your baby's skin. The floral pink color is perfect for any baby girl's bedroom.
The material is sturdy and will hold up well to regular washing without pilling or tearing. This is important if you have kids like mine that had a habit of over-filling their diapers!
They'll keep your baby warm in the cooler months without causing sweating.
Pros
Pink and flowery.
Machine washable.
Full bedding set included.
Cons
No gender-neutral print options.
Included quilt is quite small.
Our Ratings
---
Brolex Portable Mini Crib Sheets
Best Mini Crib Sheets
Made from a stretchy jersey knit, these mini crib sheets will go easy on your baby's delicate skin. Plus, they fit most mini crib mattresses without bunching or pulling. The patterned designs are vibrant, sweet, and modern.
While the material is soft, it has enough stretch to fit a 3-inch or even a 5-inch deep mini crib mattress. The sheets are machine washable and hold up well after multiple rounds through the washing machine.
Many options for the mini crib sheets can often feel lower in quality; however, you won't have this issue with these. Two colors are available, so these are worth checking out if you often travel or use a Pack' n Play. Sold in a set of two.
Pros
Variety of cute and unique prints.
Fit mini cribs of various depths.
Easy to care for.
Budget-friendly.
Cons
Only available in the smaller size.
Our Ratings
---
Pure Bamboo Sheets
Best Bamboo Crib Sheets
These sheets, available in 12 beautiful colors, are made from organic pure bamboo. They've been tested for over 100 harmful chemicals, so you can rest assured they are a safe, healthy, and eco-friendly option.
These sheets are cool and breathable. The fabric is thermo-regulating, so it keeps your baby cool while they sleep, no matter the season. It has moisture-wicking properties, and since bamboo is hypoallergenic and antimicrobial, it's great for babies with sensitive skin.
Overall, the Pure Bamboo Sheets can provide your baby a comfortable and blissful night of sleep. They're lush and soft, so going to bed at night can be relaxing and dreamy.
Pros
100% organic.
Hypoallergenic.
300 thread count.
Breathable and moisture-wicking.
Cons
They fit some cribs too tightly, and the elastic may break.
Our Ratings
---
TillYou Printed Hypoallergenic Sheets
Best Hypoallergenic Crib Sheets
These sheets are made with organic cotton and pass the CPSC's test for children's products (1). That means they're safe and don't include any harmful chemicals.
The company uses an exclusive weaving and brushing process to give the sheets a soft finish. They recommend washing the sheets on cold, followed by a tumble dry without heat as they tend to shrink if warm water or heat is used. The set includes a reusable storage bag to keep them safe when not in use.
If your little one has sensitive skin, you'll really like that no pesticides were used while growing the cotton. The fabric is hypoallergenic, and the simple prints are cute enough without being overwhelming.
Pros
100% organic and hypoallergenic.
Complies with CPSC requirements.
Soft sateen finish.
Simple designs.
Two per pack.
Cons
The dyes may run a little in the wash.
They will likely shrink if washed on warm or heat dried.
Our Ratings
Best Crib Sheet Materials
Crib sheets are usually made with one of four different types of fabric: cotton, polyester, bamboo, or flannel. Some sheets may be a blend of these fabrics or contain a little spandex for stretchiness.
---
Sizing Your Crib Sheets
When perusing baby linens, you'll generally see crib sheets labeled as "standard" or "mini" sized. So, what's the difference?
1.

Standard Crib Mattress

"Standard" isn't a marketing word thrown around by crib makers. There actually is a standard size: 28 inches wide by 52 inches long.

The federal government requires a standard crib mattress size for safety (4). This law reduces the risk of being trapped between the mattress and the crib. Any standard crib mattress will fit most cribs snugly and securely.

This standard for mattresses also means there's a standard for crib sheets. This makes it much easier to find one that's guaranteed to fit.

The depth of a standard mattress can vary slightly, so measure yours to find the optimal size. Sheets with deeper pockets will usually stay put a little better, especially if your mattress is on the thicker side.
2.

Mini Crib Mattress

The mini crib mattress is another matter. They're smaller than the standard-size mattress, by up to 20 inches. Mini crib mattresses will come in different depths, usually between five and six inches deep, so be sure to measure your mattress before purchasing sheets.

You won't be able to use standard crib sheets on your mini crib mattress; having excess material in the crib can be a safety hazard.
---
Thank You For Your Feedback!
Thank You For Your Feedback!