I recently found myself searching for an organic crib mattress. I thought the process would be simple but quickly discovered that there are many choices, all boasting different claims.
Some crib mattresses say they're "made with organic materials," while others are labeled "nontoxic," "environmentally friendly," "green," or "natural." Then there's the confusing matter of certification, with some labels sporting GreenGuard Gold, GOTS, GOLS, or CertiPUR-US awards.
If you're as confused as I was, you'll want to read on. We've dug deep to learn more about crib mattress standards and organic mattress certifications. We'll explain it all below in simple terminology.
We'll also share our top picks for organic crib mattresses based on certification, safety features, cost, size, and weight. Here's how to find the best organic crib mattress for your baby.
Image
Model
Product Comparison Table
Features
Best Coil Mattress
Naturepedic Organic Mattress
Breathable
Waterproof coating
Limited lifetime warranty
Best Bassinet Mattress
Colgate Cradle Mattress
GreenGuard Gold certified
Durability proven and tested
Easy to clean
Best Affordable Mattress
LA Baby Foam
CertiPUR-US certified
Blended organic cotton cover
Waterproof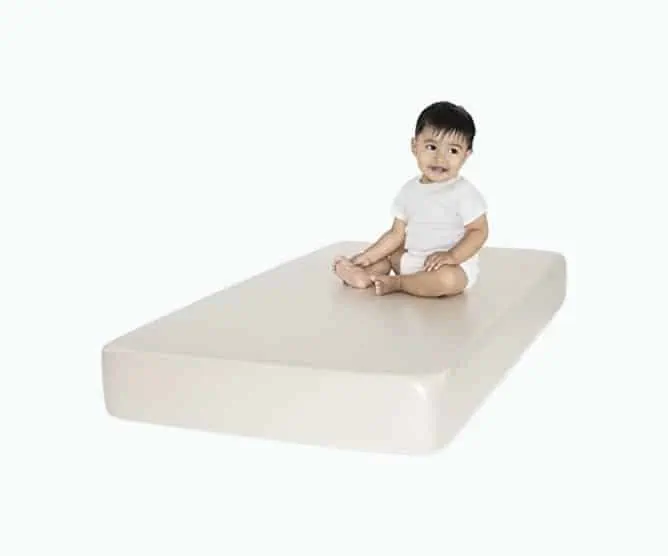 Best Foam Mattress
Colgate Eco-Classica
CertiPUR-US & GreenGuard certified
Blended organic cotton cover
Extremely lightweight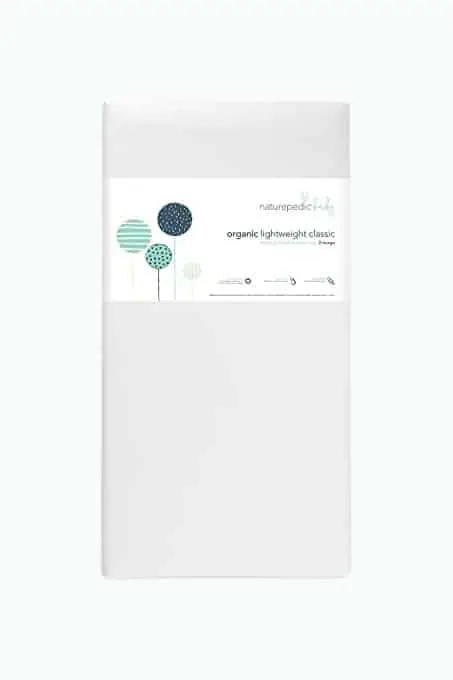 Best Cotton Mattress
Naturepedic Cotton
GOTS and GreenGuard certified
Can be used with a toddler bed
Hypoallergenic
Review Methodology: At Mom Loves Best, we understand the importance of a safe and healthy sleep environment for your little one. Our hands-on analysis and thorough research of the best organic crib mattresses evaluate products from a user's perspective, combining our professional experience with data-driven comparisons. We meticulously assess factors such as materials, safety, comfort, and durability, while providing quantitative measurements of each product's performance. Our criteria for evaluation include identifying key decision-making factors and ranking each mattress based on those areas. By examining design choices, sharing first-hand evidence, and highlighting what sets each product apart from its competitors, we aim to instill trust and confidence in our recommendations for the ideal organic crib mattress for your baby.
---
---
The Best Organic Crib Mattresses of 2023
Here are 5 great organic crib mattresses for you to consider.
Naturepedic Organic Coil Crib Mattress
Best Organic Coil Mattress
This coil mattress has many of the certifications we discussed above to assure buyers of its high-quality material. The mattress has a 252 coil count and is padded with GOTS-certified 3D fabric for ultimate comfort.
Rather than using chemicals for protection, this mattress has an organic cotton cover that is not only breathable, allowing 360-degree air circulation, but also waterproof for easy cleanup of messes.
When it comes to chemicals, the mattress is GreenGuard Gold certified. This means it is held to stringent chemical emissions limits. The mattress also comes with a limited lifetime manufacturer's warranty for defects, which always gives peace of mind.
At just over 22 pounds, though, this is one of the heavier mattresses out there. If you haven't been lifting weights recently, changing the mattress could be a two-person job.
Pros
GOTS and GreenGuard Gold certified.
Breathable and waterproof.
Firm mattress.
Limited lifetime warranty.
Cons
Changing sheets can be a chore with this 22-pound mattress.
Our Ratings
Community Feedback
Definitely a unique mattress with its bouncy feel and breathability claims. My baby seems comfortable on it, and it's held up well over the past few months. The mattress had a smell when it first arrived, but after airing it out for a couple of weeks, it eventually went away. One downside is that it advertises having two sides for babies and toddlers, but there's no way to tell which side is which. I appreciate the waterproofing and the removable, washable cover, which makes cleaning it a breeze.
---
Colgate Bassinet or Cradle Mattress
Best Organic Bassinet Mattress
Bassinets are used in the earliest days, but this is also the time when children are most sensitive. The Colgate bassinet mattress is a great option if you're looking to go organic from the beginning but don't want to use a traditional crib just yet.
This mattress is made with a GreenGuard-Gold-certified nontoxic material. A waterproof core helps protect it from long-term liquid damage — perfect for those newborn diaper blowouts or when you need to set your baby down after bathtime.
Designed to last, this bassinet mattress is tested for safety and durability and meets government safety standards. The mattress also meets the GreenGuard Gold standard for chemical emissions.
At 11.2 pounds, this is not a lightweight option compared to others on the list, but it certainly will fit most bassinets and cradles. Many bassinets are oval-shaped, but some aren't, so take care that yours is the right size and shape before purchasing.
Pros
Tested and proven to be durable.
GreenGuard Gold certified.
Waterproof.
Easy to clean.
Cons
It only fits oval-shaped sleep spaces.
Our Ratings
Community Feedback
I'm pleased with the comfort this bassinet mattress provides to my baby, as it has a nice thickness and is neither too soft nor too hard. It took about a week for my baby to get used to it, but now she sleeps soundly in her bassinet. Although I initially expected a memory foam-like feel, it still meets our needs. Just be sure to measure your bassinet accurately to ensure a proper fit, as some users have reported size discrepancies.
---
LA Baby Foam Organic Crib Mattress
Best Affordable Organic Crib Mattress
This soy foam mattress is CertiPUR-US certified for its low chemical emission levels. Soy foam is also high-density, ensuring this mattress provides the support new babies need. Because foam is usually petroleum-based, this soy alternative helps reduce your carbon footprint.
One side also includes a memory foam layer. This is for toddlers who are strong enough to control their bodies and can safely sleep on a softer mattress at night.
The mattress is wrapped with a blended organic cotton cover. "Blended organic" means it doesn't quite fit the higher percentage standards of GOTS, but it does contain some organic raw material. This cover is waterproof and hypoallergenic for babies with sensitive skin.
At 13 pounds, it's lighter than many on the market. It's also designed with air vents to promote durability and a longer lifespan.
Pros
Lighter than other organic mattresses at only 13 pounds.
CertiPUR-US certified.
Blended organic cotton cover.
Waterproof outer layer.
Our Ratings
Community Feedback
In my experience, this mattress is lightweight and soft, making it great for camping trips but not ideal as an everyday mattress. It took some time for my son to adjust to the firmness, and it can be a bit challenging to put on a fitted sheet due to the mattress wanting to roll up. On the other hand, the dual-sided feature offers versatility for infants and toddlers. However, I would recommend using a waterproof protector, as it might not be as easy to clean as advertised.
---
Colgate Eco-Classica Organic Crib Mattress
Best Organic Foam Crib Mattress
This mattress is CertiPUR-US certified, ensuring that the foam material is made with fewer chemicals. It's also compliant with the GreenGuard standard, which means it meets more stringent VOC requirements.
The mattress is covered with certified organic cotton, containing a percentage of organic raw material. On the back side of this cotton cover is a waterproof layer to protect the mattress from accidents.
At 6 inches thick, you'll get a tight fit for sheets, reducing the potential for suffocation hazards in your child's crib. And at just over 9 pounds, this mattress is extremely lightweight.
Like others we have reviewed, this mattress is two-sided. As your child grows, you can flip it over for more comfort.
Pros
CertiPUR-US certified.
GreenGuard certified.
Blended organic cotton cover.
Easy to clean.
Weighs only 9 pounds, making it easy to move around.
Cons
Not fully organic.
The infant side is firmer than many other mattresses.
Our Ratings
Community Feedback
I recently purchased the Colgate Eco Classica III crib mattress for my newborn and couldn't be happier with my decision. This mattress not only met all my safety and comfort requirements, but it's also environmentally friendly and great value for money. The dual firmness design provides the perfect balance of support for my baby and the certified organic cotton cover is soft and free from any unpleasant odors.
---
Naturepedic Organic Crib Mattress
Best Organic Cotton Crib Mattress
This mattress is made with GOTS-certified organic cotton and doesn't contain polyurethane foam. The mattress is also GreenGuard certified and contains no phthalates, vinyl, latex, perfluorinated compounds, formaldehyde, or flame retardants.
It's covered with food-grade polyethylene waterproofing that isn't derived from GMO plants. This keeps liquids and biological irritants, like mites, out of your mattress and away from your child. It can also be beneficial for babies who are sensitive to allergens, such as dust and pollen.
The size of this mattress contributes to its durability. It will fit most toddler beds. If taken care of, this mattress can last from the newborn days through the toddler bed years.
Pros
GOTS and GreenGuard certified.
Waterproof.
It can be used with a toddler bed.
Materials are good for kids with allergies.
Cons
Doesn't hold its shape for very long.
Our Ratings
Community Feedback
This crib mattress has been a source of peace for my wife and me as new parents, given its breathability and firmness. Our baby seems to prefer sleeping face-down, which initially worried us, but this mattress has eased our anxiety. On the other hand, some may find it too firm and cold to the touch, but adding a soft mattress topper solved that issue for us. The mattress is made of organic materials and doesn't emit any unpleasant odors. It also comes with a two-stage design, offering different firmness levels for infants and toddlers, making it a long-lasting investment.
Natural vs. Organic: What's the Difference?
Thanks to the work of journalists and environmental groups, we now understand that many modern products are made with a host of harmful chemicals. From pesticides to fire retardants, chemicals are introduced into products at every stage of the manufacturing process. Baby products, like crib mattresses, are no exception.
Unfortunately, for many of these chemicals, we don't understand exactly how they impact human health. We do know that once products are in the home, these chemicals can "off-gas" and affect indoor air quality. Poor air quality can, at the very least, lead to eye, nose, and throat discomfort for your child (1).
Several brands have started offering "natural" or "organic" products in response to these revelations. These allegedly contain fewer harsh chemicals, such as heavy metals, pesticides, or phthalates.
In reality, though, the "natural" label means almost nothing. The Food and Drug Administration (FDA) has a policy on using the word "natural" with food products. However, it doesn't apply to textile products like mattresses.
In essence, companies are free to use the term to attract buyers. The products behind the label don't actually have to contain fewer chemicals or be more eco-friendly. So, the next time you see the word, it may be a good idea to dig deeper!
Items under an "organic" label are a different story, although still a complicated one. As of this writing, there isn't a 100% organic certification available for mattresses. The United States Department of Agriculture (USDA) allows non-food brands to use the term organic, even when only a portion of the materials are certified organic.
However, there are a variety of helpful eco-friendly and organic certifications that can tell you more about your mattress. They inform you of some of the following criteria:
The percentage of organic materials in the product.
The types of chemicals not used in the product.
The sustainability of the supply chain.
The labor practices for the workers that manufactured it.
We use these certifications to ensure the crib mattresses we recommend are the most organic the market can offer.
How to Choose an Organic Crib Mattress
When it comes to crib mattresses, there are so many options. For many families, eco-friendly and organic materials are a top priority. However, other factors should be considered to ensure a safe sleeping environment for your child.
---
Organic and Environmental Certifications: What Do They Mean?
When it comes to crib mattresses, six different certifications may apply. Some apply to chemical levels in the mattress, while others indicate how the material was farmed and produced. Mattresses can have more than one of these certifications, or none of them.
---
Thank You For Your Feedback!
Thank You For Your Feedback!