Mini cribs are the perfect solution for small nurseries, room sharing, and sleeping spaces for twins. But do you sacrifice quality when purchasing a smaller crib?
Some mini cribs are flimsier than their standard counterparts. And when your infant goes from the size of a puppy to a grown adult in the blink of an eye, they may outgrow a smaller sleeping space quickly. But this doesn't mean you should avoid mini cribs altogether.
We've thoroughly studied the mini crib market and narrowed the best-selling models to only those we'd feel good about using for our own babies. We've based our mini crib choices on safety, convenience, size, portability, cost, and extra features.
We'll show you how to purchase the best mini crib for your situation and get the most out of your baby's sleeping space.
Image
Model
Product Comparison Table
Features
Best Portable
Babyletto Origami
Foldable
Has wheels
Smaller than other mini cribs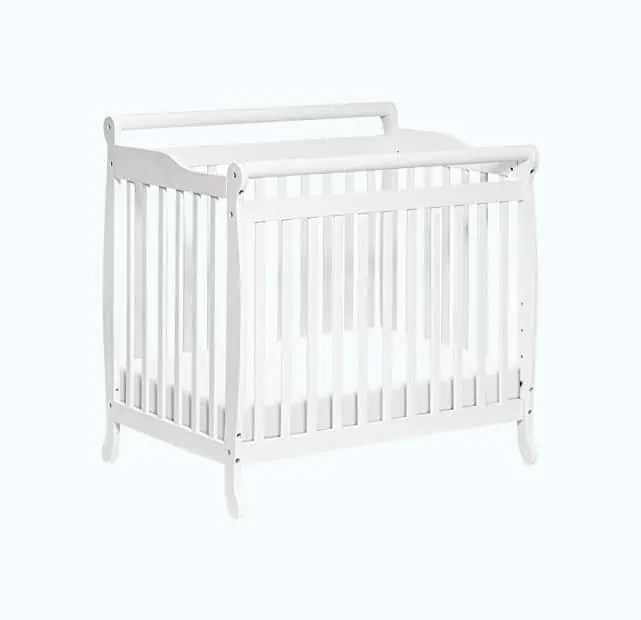 Best All-Around
DaVinci Kalani
3 adjustable mattress positions
Affordable
Converts to a toddler bed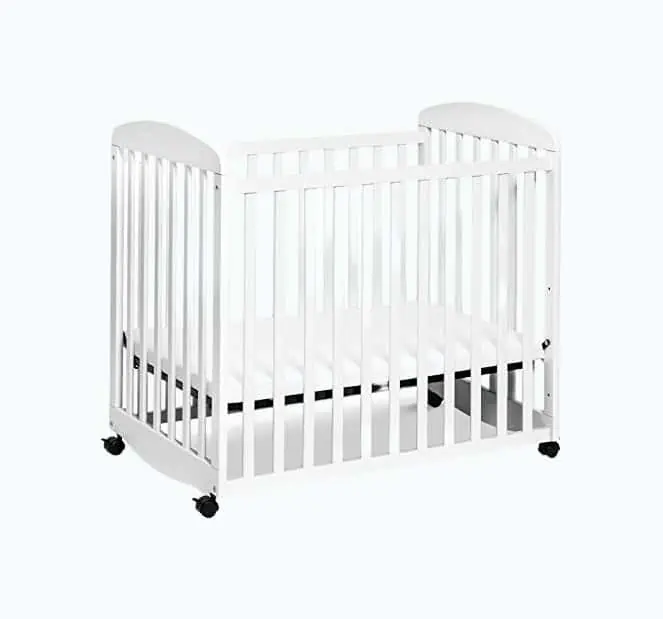 Best Rocking
DaVinci Alpha Mini
Rocking feature
1-year warranty
For newborns up to 18 months
Best Pack 'n Play
Graco Travel Lite
Super lightweight
Lockable wheels
Budget friendly
Most Affordable
Delta Children
8 colors to choose from
Durable construction
Comes with mattress
Best Convertible
Dream on Me
Highly convertible
Simple yet elegant
Sturdy wood construction
Best Combo
Casco Crib and Table
Changing table attachment
Space saver
Nice-looking crib
Review Methodology: At Mom Loves Best, our hands-on experience and comprehensive research make us experts in evaluating and ranking the best mini cribs available. We analyze and assess each product based on key decision-making factors, such as design, safety, functionality, and portability. Our data-driven approach includes comparing various mini cribs using criteria like material quality, mattress support, size, and convertible options. We also measure performance and track user satisfaction to provide you with accurate and trustworthy results. Our goal is to help you make informed decisions by presenting first-hand evidence and professional insights that highlight what sets each mini crib apart from its competitors.
---
---
The Best Mini Cribs of 2023
Here are seven of the best mini cribs for your mini human.
Babyletto Origami Mini Crib
Best Portable Mini Crib
This crib has a super trendy design and comes in eight fresh colors or wood finishes. It's foldable and has wheels, making it easy to transport. It's also several inches smaller than other mini cribs, making it the best mini crib for extra-small spaces.
It comes with a 1-inch mattress pad and has two adjustable mattress levels to adapt as your baby grows. The crib's finish is free of lead and phthalates, limiting your child's exposure to harmful compounds.
Pros
Trendy design and eight color choices.
It folds to save on storage space.
The locking caster wheels make it easy to transport.
The smaller size is great for tiny spaces.
Cons
On the more expensive side.
Babies outgrow it quickly.
Our Ratings
Community Feedback
Got this mini crib for our small space and it's been a fantastic addition to our home. The adjustable mattress height and foldability make it incredibly versatile, and it's sturdy and easy to assemble. Although the provided 1" mattress pad isn't ideal, a 3" mattress can be easily found to enhance the crib's comfort.
---
DaVinci Kalani Mini Crib
Best All-Around Mini Crib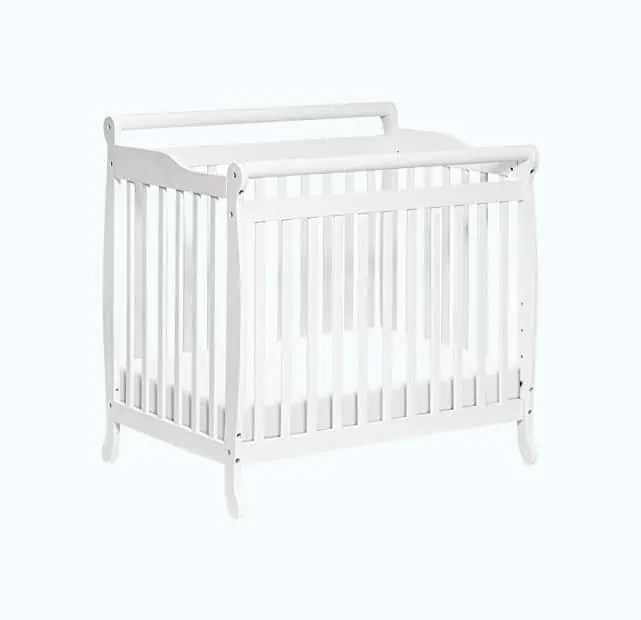 This sturdy crib has a classic, sleek design that helps reduce its size. It also has three adjustable mattress positions. For breastfeeding mommas, keeping the mini crib next to their bed can make nighttime feedings less disruptive for everyone.
It is also GreenGuard Gold certified. Compliance with this standard ensures your product has fewer chemical emissions. It also comes with a 1-inch waterproof pad.
The Kalani mini crib is convertible to a toddler bed, daybed, and twin-sized bed. This feature quadruples your investment, as you can continue to use it as your little one grows.
Pros
Three adjustable mattress positions.
Multiple color options.
Budget-friendly option.
Converts to a toddler bed, daybed, and twin-sized bed.
Cons
The conversion kit must be bought separately.
The assembly instructions aren't easy to understand.
Our Ratings
Community Feedback
This mini crib is not only sturdy and well-finished, but also a great space saver for smaller rooms. Although it's quite heavy and assembly can be challenging, its adjustable height, multiple color options, and convertibility to a twin size bed make it worth the effort. However, be prepared for a strong chemical odor upon arrival and consider airing it out or using vinegar to reduce the smell before use.
---
DaVinci Alpha Mini Rocking Crib
Best Rocking Mini Crib
This crib includes wheels, which makes it easy to move around the room or your house. It has three mattress positions, allowing you to move your baby further down as they grow.
It also has a rocking feature, so you can soothe your baby back to sleep without lifting them out of the crib.
This mini crib is GreenGuard Gold certified, which means it has been tested for thousands of chemicals.
At 25 pounds, it is on the lighter side, which is ideal for portability.
Pros
The rolling wheels allow you to move it for portability or to clean under it.
Comes with a 1-year warranty.
Works for newborns up to 18 months.
Cons
It doesn't fold, so you have to take it apart for storage.
The wood has an off-putting smell at first and should be aired out before usage.
Our Ratings
Community Feedback
I recently purchased this mini crib for my growing baby and found it to be perfect for small spaces and apartment living. The rocking feature was a nice addition, but it became less convenient once my baby started standing up, and I had to be cautious about it tipping over. The crib is lightweight and easy to assemble, but finding sheets and a mattress pad to fit was a bit challenging; overall, it's a good option for a second child who will eventually transition to a larger crib.
---
Graco Travel Lite Mini Crib
Best Pack 'n Play Mini Crib
This item is both a crib and a Pack 'n Play. It has an adjustable height setting for the mattress, which you can move to the bottom to use as a play area.
At less than 20 pounds, this crib is easy to carry around. It comes with a bag for dust-free storage and transportation. It also has wheels, making it easy to move it somewhere else in the house.
The crib has mesh sides, so you can keep an eye on your child when they're sleeping or playing.
Pros
Super lightweight.
Compact fold.
Affordable option without a lot of extra pieces to store.
Cons
Not as sturdy as a typical mini crib.
Not as easy to clean as a standard mini crib.
Our Ratings
Community Feedback
After using this Graco mini crib for several months, I can confidently say that it's perfect for small spaces and traveling. The assembly is quick and easy, and it comes with a carrying case for convenient transport. The padding is on the thinner side, so I'd recommend adding a soft blanket for sleeping, but overall it's a great product. I particularly love the adjustable height levels as my baby grows, and the optional canopy shade for added comfort. This playpen is not only sturdy, but also versatile; I've used it as a bassinet, playard, and even for babysitting. If you're in need of a compact and reliable crib solution, this Graco mini crib is definitely worth considering.
---
Delta Children Mini Crib
Most Affordable Mini Crib
The Delta mini crib has the durable construction of a standard mini crib while also being foldable for easy storage and portability. It folds flat to 6 inches thick, which makes it easy to set up, take down, and fit in most car trunks.
This crib also includes a mattress, helping your wallet even further. The mattress stays in the crib while folded, so you don't have to worry about another bulky item when traveling or storing. However, the mattress is quite thin and not as firm as most experts recommend for a safe baby sleep surface (1).
At 34 pounds, this isn't the lightest mini crib option, so it's best to leave it in place. However, it does come with wheels, making it easy to clean under it when necessary.
Pros
Has wheels.
Eight colors to choose from.
Inexpensive but sturdy option.
Comes with a mattress.
Cons
On the heavier side.
The mattress is too soft to be considered a safe sleep surface.
Our Ratings
Community Feedback
From easy assembly to its compact size, this mini crib has been a great addition to our home. Although the folding sides can be a bit wobbly and the stickers were difficult to remove, the crib's portability and adjustable levels make up for these minor flaws. However, I would recommend purchasing a separate mattress as the one included is thin and squishy, but overall, this crib has been a convenient and practical choice for our growing baby.
---
Dream on Me Convertible Mini
Best Convertible Mini Crib
We love that you can convert this mini crib to a daybed or a twin-sized bed with a headboard and optional footboard. It also comes in five colors to adapt to any room design.
It has three mattress positions, allowing you to change the mattress height depending on what is more comfortable for you and safest for your baby. It also includes a 1-inch mattress pad.
Pros
Converts to a daybed or twin-sized bed.
Easy to assemble.
Sturdy wood construction.
Cons
Does not come with wheels, so it's not easy to move around.
The conversion kit must be purchased separately.
Our Ratings
Community Feedback
My experience with this mini crib has been mostly positive, as it is perfect for small spaces and comes with a crib pad. The crib is sturdy and easy to assemble, but I do wish it included screw caps to cover the noticeable silver nails. One downside is finding suitable mini crib bedding sets, but overall, it's a great choice for a compact and functional crib.
---
Dream on Me Mini Crib and Dressing Table
Best Mini Crib and Shelf Combo
This mini crib includes a three-shelf attachment with changing table. This not only maximizes your space but also makes late-night diaper changes easier.
You can convert the crib to a daybed or twin bed. If used as a twin-sized bed, you can remove the changing table and use the attached shelf as a nightstand.
It has three different mattress positions and comes in five different colors. This allows you to adapt it to whatever room you need it in.
Pros
Changing table attachment.
All the tools for assembly come with the crib.
It's a nice-looking crib.
Cons
Not portable with shelf attachment.
The crib finish seems to scratch easily.
Our Ratings
Community Feedback
I recently purchased this crib and was impressed by its sturdiness and compact size, which makes it perfect for small spaces. Assembly was straightforward, but it's important to pay attention to the details when putting together the drawers and parts. The cherrywood color is quite vibrant and may not match other similarly described furniture, but it's not a deal-breaker. I appreciated the additional changing pad and storage options provided, though the included mattress was quite thin and needed to be replaced with a better one.
How To Choose a Mini Crib
When shopping for a mini crib, it's best to keep the following criteria in mind.
Size
By law, full-size cribs must conform to specific size and safety regulations (2). However, mini cribs don't have to follow these rules and can range in size by several inches. To ensure you purchase the best mini crib for your baby and your room, consider these points:
Your space size: Compare your measurement to the crib size before purchasing — and especially before setting it up — to save time and avoid a lot of wasted effort. Believe me, the few minutes required to measure are worth it!
Your baby's size: Unless you only want to use your mini crib for a short period, keep an eye on the crib's length compared to your baby's length. If you have a tall baby, you'll want to look for the longest mini crib model you can find. It's not worth buying a crib your little one will outgrow in a few weeks. Some mini cribs convert to daybeds or even twin beds with a conversion kit, so you can extend the use of your baby's sleeping space.
Sheet size: The difference between crib mattress sizes can make it challenging to find sheets that fit well. It's essential that your baby's crib sheets fit snugly to prevent entanglement (3). To ensure your baby's safety, look for sheets designed specifically for your mini crib model. Always try the sheets on the mattress before using the mini crib. If they fit too loosely or won't stay in place on the mattress, find a better alternative. 
Mattress size: Most mini cribs don't come with a mattress, so you'll have to ensure your mattress is a good fit to prevent any gaps. Most mini crib mattresses are 24 inches by 38 inches and vary in thickness from 3 inches to 5 inches.
Storage size: Although they're "mini" cribs, they can still take up a lot of space in storage. If you'll be storing your mini crib often, look for one that folds flat and doesn't require a lot of work to take apart.
Crib depth: A mini crib model that allows you to raise the mattress higher will make it easier for you to transition your younger baby in and out of the crib, which is especially helpful if you've had a C-section. It also helps keep your baby from waking when you lay them down asleep. If you want your little one to sleep safely in their mini crib into the toddler months, you'll need to ensure you can set the crib height at a low enough level to keep them safely contained. A thinner crib mattress will add a couple of inches of extra clearance to help keep your little climber contained.
Portability
Typical mini cribs are sturdy, non-foldable, small cribs. A portable crib is usually the same size as a mini crib, but you can fold it to easily move it to another part of the house or take it to Grandma's. Portable cribs also typically have wheels.
Most parents purchase a mini crib to leave in one space at home or at a caregiver's home. However, with many models now including wheels or the ability to fold flat, they are much easier to transport than they once were and could double as a slightly more bulky portable crib for your baby.
Cost
Although mini cribs are smaller than standard cribs, they aren't always less expensive. Our favorites range from $150 to $300, with the average being around $170.
Some factors that affect a crib's cost are the quality of materials used, extra features such as an add-on changing table or storage drawers, and the inclusion of a mattress.
Remember to confirm whether your mini crib comes with a mattress and confirm that the mattress is more than a thin, soft pad.
Extra Features
If you want to get the most out of your mini crib, there are several extra features you can look for.
Wheels: Having wheels on your mini crib will make it easier to move from room to room if necessary. It also makes for easy cleaning as you can simply unlock the wheels, move the crib a few feet, and clean under and around it before returning it. To ensure your baby's safety (especially if you have other curious little ones running around), always keep the wheels locked when your baby is in the crib.
Conversion Kit: Some mini cribs convert to a daybed or twin bed with the addition of a conversion kit, extending the life of your product. Before buying, check whether the mini crib converts and if you need to purchase any additional pieces in order to do so.
Changing Table: To save the space and expense of purchasing another bulky item for your nursery, some kits include an attached changing table. Having a built-in changing table also makes it very convenient when doing late-night diaper changes. You can have everything you need just inches from the crib, preventing a lot of movement and (hopefully!) keeping your baby from fully waking.
---
Thank You For Your Feedback!
Thank You For Your Feedback!