Have you bought a crib for your baby but don't know which mattress to buy? The choices are overwhelming, and let's face it, a crib mattress is not the most exciting item to purchase. However, it is one of the most important baby items.
We've spent a lot of time evaluating crib mattress sizes, materials, and weights, as these differences can determine your baby's safety in their sleep space.
We've reviewed the best crib mattresses on the market. We'll highlight their top features and describe any weak points, to help you make the safest crib mattress choice for your baby.
Image
Model
Product Comparison Table
Features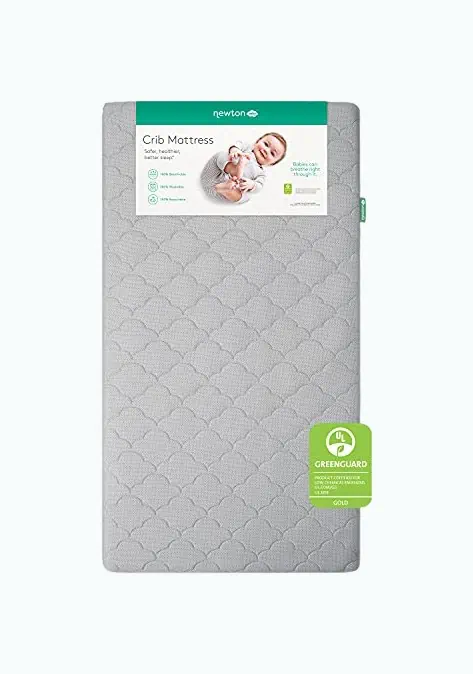 Best Hypoallergenic Mattress
Newton Baby
Hypoallergenic technology
Greenguard Gold certified
Temperature regulation features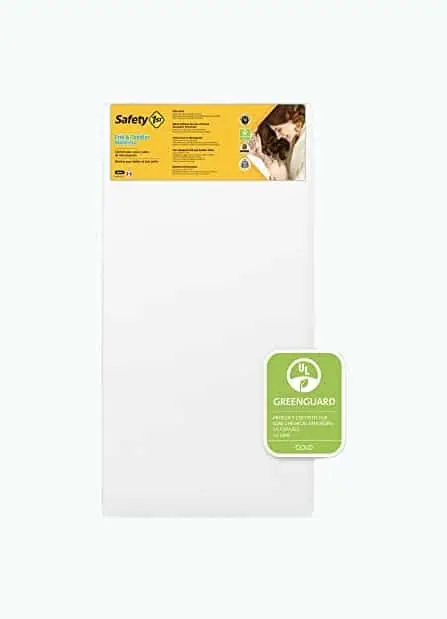 Best Newborn Mattress
Safety 1st
Lightweight
Water resistant
Trusted brand
Best Toddler Mattress
Milliard Memory Foam
Easy to clean
Removable cover
For crib-to-bed transitioning
Best Portable Mattress
Dream on Me Portable
Antibacterial cover
Extremely affordable
Greenguard Gold certified
Best Preemie Mattress
Sealy Baby
Ultra firm for premature babies
Tested for flame retardants
Lightweight
Best Affordable Mattress
Graco Premium Foam
Fits any full-size crib
Water-resistant lining
Breathable foam
Best Two-Sided
Dream on Me
Waterproof and prevents bedbugs
Made in the USA
Conducive to more airflow
Best Organic Mattress
Colgate Mattress
Greenguard Gold certified organic cotton
Best quality
Follows pediatrician recommended foam firmness
Best Waterproof Mattress
Serta Tranquility
Waterproof vinyl cover
Durable two-sided design
Long-lasting firmness
Best Foam Mattress
My First Crib
Comfortable for baby
Waterproof, washable cover
CertiPUR certified
Review Methodology: At Mom Loves Best, we prioritize your child's safety and comfort by conducting thorough research and analysis on the best crib mattresses available in the market. Our experienced team of professionals perform hands-on evaluations, measure performance, and compare criteria such as firmness, breathability, material quality, and safety standards. We assess each mattress from a user's perspective while providing quantitative data to help you make informed decisions. Our comprehensive reviews highlight the design choices that set top-rated products apart and identify key factors like durability, support, and ease of cleaning. Trust our findings and recommendations to choose the perfect crib mattress for your precious little one.
---
---
The Best Crib Mattresses of 2023
Here are 10 great crib mattresses to consider.
Newton Baby Crib Mattress
Best Hypoallergenic Crib Mattress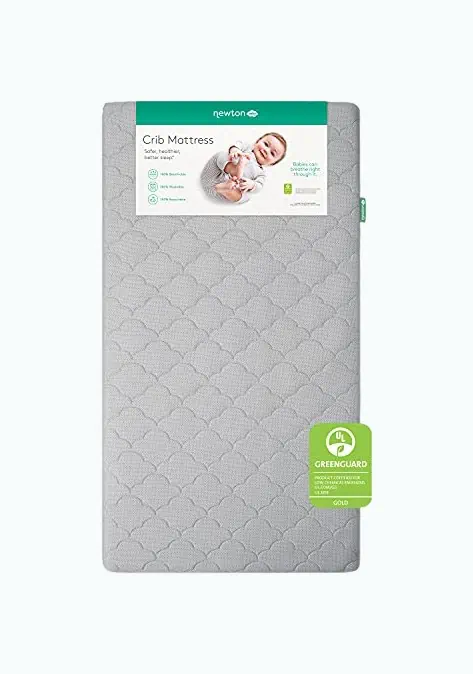 This specialized mattress is made with a technology that encourages air to move more freely. Made from 90% air (yes, you read correctly) and 10% food-grade polymer, this mattress limits the potential for allergen buildup while allowing for more airflow.
The mattress is also designed to regulate temperature. Regulating temperature reduces the potential for your baby to heat up at night, which can cause them to wake up when you really need them to sleep. It's also Greenguard Gold certified and 100% recyclable.
At 11 pounds, this mattress is heavier than some others. However, it weighs less than most coil mattresses.
Pros
100% recyclable (eco-friendly).
Hypoallergenic technology.
Greenguard Gold certified.
Temperature regulation features.
Cons
More expensive than other mattresses.
Our Ratings
Community Feedback
Bought this breathable mattress for my baby who loves to sleep face down, and it has eased my anxiety immensely. The mattress covers are easy to remove and wash, fitting back on perfectly after drying. My child seems to find this mattress comfortable, and the fact that it grows with them from crib to toddler bed is a definite bonus. Although it's a bit of an investment, the peace of mind and easy cleaning make it worthwhile for our family.
---
Safety 1st Heavenly Dreams Crib Mattress
Best Newborn Crib Mattress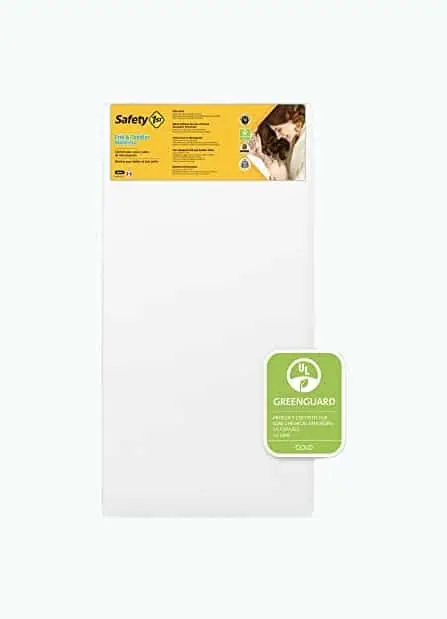 This BPA-free mattress has a little bit of everything for your newborn. It's affordable but also incorporates a few features of the more costly mattresses.
This foam mattress is Greenguard Gold certified, so parents can feel comfortable knowing it contains reduced chemical levels. It's covered in 100% vinyl, which means it's water resistant and super easy to clean.
At 7.5 pounds, this mattress is as lightweight as they come. It won't take a team of people to help you lift it from the crib. In 2017, Safety 1st won the Women's Choice award for Most Recommended Brand for Crib & Toddler Mattress.
Pros
Affordable.
Lightweight.
Water resistant and hypoallergenic.
Trusted brand.
Our Ratings
Community Feedback
I recently purchased this mattress for my second daughter and was amazed by its quality, especially considering its reasonable price. The high-density memory foam is firm, which is essential for reducing the risk of SIDS, and it fits perfectly in our crib with no gaps. The waterproof cover is hypoallergenic, easy to clean, and tear-resistant, ensuring a hygienic and durable surface for my baby. My daughter has been sleeping on it for six months now, and the mattress has retained its shape without any sagging or impressions.
---
Milliard Memory Foam Crib Mattress
Best Toddler Crib Mattress
This crib mattress is best for toddlers still in the crib but can also be used for toddlers transitioning to a "big kid" bed. The mattress is made from ultra-firm foam. However, it's also topped with a memory foam layer, making it softer and more comfortable for kids old enough to sleep securely on it.
The foam is hypoallergenic and CertiPUR certified, but the mattress also comes with a removable bamboo cover. This is great for kids still working on nighttime potty training.
The mattress weighs 11 pounds, which is heavy for a foam mattress. However, it's still lighter than many coil mattresses.
Pros
Soft and comfortable.
Affordable.
Easy to clean.
Removable cover.
Good size for crib-to-bed transitioning.
Cons
Not organic.
Heavier than most foam mattresses.
Our Ratings
Community Feedback
Got this mattress for my twin babies and it has been a great purchase. I appreciate the reversible feature, with one side being firm for infants and the other side softer for toddlers. It fits perfectly in a standard crib without any gaps, which means no lost pacifiers or socks! The only downside was the waterproof cover that made it a bit too firm, but I easily replaced it with my own waterproof sheet.
---
Dream on Me Portable Crib Mattress
Best Portable Crib Mattress
This Dream on Me mattress fits most standard portable cribs while offering many of the same benefits as a traditional crib mattress. It comes with a hypoallergenic, antibacterial cover that makes it easy to clean. This is especially important for portable cribs that may see a variety of environments.
It's lightweight and Greenguard Gold certified. For all of these benefits, the mattress is extremely affordable. It's no surprise that it has rave reviews online.
At only 3 pounds, this is the lightest mattress on our list. When looking for a portable crib mattress, you want something easy to carry and move, and this mattress allows for that.
Pros
Hypoallergenic, antibacterial cover.
Extremely lightweight.
Greenguard Gold certified.
Budget-friendly option.
Our Ratings
Community Feedback
This mattress has been a great purchase for both my dog and my baby. The removable cover makes cleaning a breeze and the waterproof feature is a bonus. My dog no longer limps when getting out of his crate, and my baby sleeps through the night, enjoying long naps on it. The mattress is firm enough for safe sleep but still soft and comfortable, making it a win in my book.
---
Sealy Baby Firm Rest Crib Mattress
Best Preemie Crib Mattress
This coil mattress is reinforced for extra support. It has an awesome anti-sag system that evenly distributes your baby's weight. This helps with posture for the developing skeletal system and ensures that a premature baby won't get too entrenched in the mattress.
The mattress comes with a hospital-grade antibacterial cover that makes it easy to keep clean. It's also hypoallergenic, which is critical for premature babies. At 13 pounds, it is lighter than many coil mattresses but still provides the extra firmness needed for a preemie.
Pros
Ultra-firm mattress is good for premature babies.
Easy to clean.
Tested for flame retardants and other chemicals.
Lightweight for a coil mattress.
Cons
The stiff waterproof layer is louder than some other options.
Our Ratings
Community Feedback
I'm a soon-to-be parent who recently purchased this crib mattress, and overall, I've been quite satisfied with my decision. The mattress is firm yet comfortable, providing ample support for my little one, and the waterproof cover is a definite bonus for easy cleaning. I did notice a slight vinyl smell when I first unboxed the mattress, but it dissipated quickly after airing it out for a day or two. For the price point, this crib mattress has exceeded my expectations and I'm looking forward to my baby enjoying a good night's sleep on it.
---
Graco Premium Foam Crib Mattress
Best Affordable Crib Mattress
This mattress is made of breathable foam to help with airflow. It comes with a water-resistant lining to keep your baby dry and protect against diaper leaks or accidents.
Because it will fit any full-size crib, you can also use it into the toddler years as your child transitions to a big kid bed. Its foam material ensures that it's lightweight, which is a bonus for parents who don't want to throw their back out trying to clean or change the sheets.
The mattress weighs 10 pounds, which is slightly more than other foam mattresses but still manageable for one person. The extra weight is most likely from additional layers of breathable foam, which add ventilation for your baby, so it's worth it.
Pros
Quite affordable.
Water-resistant lining.
Great for toddlers or infants.
Cons
Not organic or certified for reduced chemicals.
Our Ratings
Community Feedback
This Graco mattress has been a great addition to our child's crib. Despite initial worries about it inflating fully, it eventually did after four and a half days, fitting perfectly in the crib and having no weird smell. Our child sleeps comfortably on it, switching positions easily without waking up in discomfort. The mattress is GreenGuard Gold certified, ensuring its safety and low chemical emissions. Our toddler loves his bed and has been using this mattress for two years, still in mint condition.
---
Dream on Me Two-Sided Mini Crib Mattress
Best Two-Sided Crib Mattress
This is one of the more expensive mini crib mattresses, but it's a good option for parents intending to use a mini crib as their baby's primary bed.
One side of the mattress is sturdy and firm — great for infants. As with any mattress, you may want to check it out in person to test how you feel when picking it up to change the sheets. The opposite side of the mattress reveals a soft foam layer — perfect for the post-infancy stage. Safety-minded parents will appreciate that this mattress is also Greenguard Gold certified.
It weighs around 5 pounds, which is extremely light for a mattress. This will make changing sheets and cleaning easier.
Pros
Waterproof and prevents bedbugs.
Greenguard Gold certified.
Conducive to more airflow.
Made in the USA.
Cons
Some may not like that one side feels a bit stiff.
More costly within its class.
Our Ratings
Community Feedback
In my experience, this mattress has been a great addition to our mini crib. It's firm and fits snugly in the crib, ensuring no gaps or bulges. My baby sleeps comfortably and soundly on it, and I appreciate the quality construction. The only minor issue I encountered was finding sheets that fit properly, but making my own bedding solved that problem.
---
Colgate Mattress Eco Classica III Organic Crib Mattress
Best Organic Crib Mattress
Colgate's patented wave support technology ensures that this mattress provides firm support while maintaining portability. It meets all Greenguard Gold and CertiPUR-US standards. This certification assures parents that most of the material is organic.
The outer layer is made of organic cotton fabric, which adds an extra level of water protection. Unlike other cribs that use hazardous vinyl or water-repellent treatments, Naturepedic's waterproof materials are environment-friendly.
At 9.6 pounds, this mattress won't break your back, which is definitely a plus when you need to clean it. However, the mattress is more expensive than most other mattresses due to its organic status.
Pros
Made with Greenguard Gold certified organic cotton.
Follows pediatrician recommended foam firmness.
Natural waterproofing coat.
Very lightweight.
Cons
Pricier than many other mattresses.
Our Ratings
Community Feedback
Got this crib mattress for our newest family member, and I have to say, it exceeded our expectations. We wanted a mattress that was safe, comfortable, environmentally friendly, and provided value for money. After much research, we decided on the Colgate Eco Classica III, and we couldn't be happier. Our little one sleeps soundly on this dual firmness mattress, which is made of eco foam and has a certified organic cotton cover. The mattress has no smell and fits snugly in the crib, ensuring our baby's safety.
---
Serta Tranquility Eco Firm Crib Mattress
Best Waterproof Crib Mattress
This coil mattress has a waterproof vinyl cover to protect against spills and stains. But in many cases, waterproofing can mean added chemicals. This mattress, however, is Greenguard Gold certified, so you can rest assured your baby won't be breathing in any hazardous chemicals while they sleep.
Coil mattresses tend to be heavier than foam mattresses. This mattress is about average, at 16 pounds. However, the coil layer ensures that the mattress remains firm enough for your baby over time.
Finally, this crib mattress has two sides — one for infants and one for toddlers. That means, if cared for properly, it can grow with your child for several years. This mattress prices out in the middle of the range, but you still get some advantages you'd get with a more expensive mattress.
Pros
Waterproof vinyl cover included.
Lightweight construction.
Greenguard Gold certified.
Cons
Not organic.
Heavier than foam mattresses.
Our Ratings
Community Feedback
My experience with this mattress has been positive, as I purchased it for both of my children and it held up well, even with our Great Dane occasionally laying on it. The only issue I encountered was the lack of labels indicating which side is for newborns and which is for toddlers.
---
My First Mattress Crib Mattress
Best Foam Crib Mattress
This is a CertiPUR-certified foam mattress, which ensures it has minimal chemicals in the foam. It's also hypoallergenic to help protect your baby from allergens and mites.
The mattress has a soft, washable, waterproof cover to make cleanup easy. The cover's material has led many parents to mention how quiet the mattress is compared with plastic or vinyl covers.
It's more expensive than others in the "foam" class. However, it's cheaper than most coil crib mattresses. At around 12 pounds, the weight of this mattress is mid-range.
Pros
Comfortable for baby.
Waterproof, washable cover.
CertiPUR certified.
Cons
Not organic.
More expensive within its class.
Our Ratings
Community Feedback
I've had this baby/toddler mattress for quite some time now, and I must say it's one of the best investments I've made. Initially, there was a strong chemical smell, but it eventually aired out, and now there's no odor at all. The waterproof cover is soft and durable, having been washed multiple times without showing signs of wear. While it may not have been the miracle sleep solution for my little ones, it's definitely more comfortable than our previous coil mattress, and I feel it's firm enough for a newborn.
Bare and Back Are Best
The Centers for Disease Control (CDC) has done tons of work to promote safe sleeping habits for infants, also focusing on crib mattresses. As a result, infant deaths related to sleep have dropped dramatically since the 1990s (1).
While these practices don't remove all risks, there are conscious choices you can make to protect your baby while they sleep. You can even use this helpful alliteration: Bare and back are best.
But what does it mean?
Bare mattress: Your baby's crib should have nothing in it except your baby, a tightly-fitted sheet, and the mattress. The CDC recommends removing blankets, toys, crib bumpers, and other items from the area. It might look lonely in there, but it's the safest way for your baby to sleep.
Back to bed: Babies should always sleep on their backs.
The CDC also recommends keeping your baby's crib or bassinet in your room for at least six months (2). This lets you know quickly if something is wrong and minimizes the reaction time to address it. It's also great for bonding and breastfeeding.
How to Choose a Crib Mattress
When you first begin searching for a crib mattress, the number of things to consider can seem endless. As is the case for many baby items, it's important to be realistic about your family's lifestyle. A mattress that works for someone else won't always work for you.
---
How to Clean Your Crib Mattress
Crib mattresses go through a lot. Babies have diaper blowouts, spit up, and get sick. All of these things mean liquids, germs, and other allergens are getting into your baby's mattress.
Knowing this, it's super important to keep your mattress clean. There are a couple of ways to do this, depending on how much gear you want to buy and your baby's sensitivity to different materials.
Waterproof Mattress Pads
The easiest way to keep your mattress clean is to buy a waterproof mattress pad. Pads add an extra layer of protection between liquids and your mattress, and there are other benefits as well.
If you notice quite a bit of spit-up after a nighttime feeding, you can quickly take off the sheets and the mattress pad and throw them in the laundry. All you need to do is put on your replacement pad and a new pair of sheets, and your baby can be back to bed in less than 10 minutes.
Mattress pads, especially zippered pads, can also protect against bedbugs, mites, or other irritants. My baby was especially sensitive to dust, and changing to a zippered pad worked wonders. Many pads now come in cotton so they won't make noise when your baby moves.
Detergents and Cleansers
If you would rather not buy a mattress pad, or the spill was so bad that it breached the pad, don't worry. There are still options to keep the mattress clean.
For most spills, mixing a bit of baby-safe laundry detergent with water will do the trick. Make sure to soak up any liquid from the accident with a rag or paper towel before wiping clean. This will keep you from pushing liquids further into the mattress.
If you're worried about bacteria, you can use rubbing alcohol on the spot after you wipe it clean with detergent. This will kill anything that's still lingering from that naptime diaper blowout.
Keeping Dry
Ensuring your mattress is dry before putting it back in the crib is critical to avoid mold growth. For smaller spills, a few dabs with a dry paper towel after cleaning may be enough. For larger spills, you may want to find a sunny, well-ventilated area of your home to air dry it for a few hours.
---
Thank You For Your Feedback!
Thank You For Your Feedback!