Hiking carriers come in many styles because they serve different purposes. Some carriers are better for short treks, while others are best for hardcore hiking.
So how do you know what you need?
We've tried them all, and we want to help you out by explaining the difference between the various types of hiking carriers and highlighting their features.
We'll even take the guesswork out of the purchasing process by sharing our reviews of the 10 best hiking carriers for comfort, durability, support, and safety.
Image
Model
Product Comparison Table
Features
Most Comfortable
Deuter Kid Comfort
Padded adjustable cockpit
Removable pillow/drool pad
Fully adjustable
Best for Newborns
Ergobaby Adapt
For newborns and toddlers
Back support for baby
3 baby positions to choose from
Best for Toddlers
Wipha Backpack Carrier
3-point weight system for even distribution
Plenty of storage space
Soft padding for your comfort
Best for Big Kids
Kelty Journey
Auto-deploy kickstand
Wide seat base and adjustable stirrups
Two large grab handles
Best Lightweight
Phil&Teds Escape
Weighs just 6.6 pounds
Compact
Ultra padded belt
Best Standing/Rider
Piggyback Rider
Compact and lightweight
Suitable for carrying older children
Holds up to 50 pounds
Best Budget Pick
Clevr Cross Country
Durable at an affordable cost
Lightweight
Highly adjustable
Best for Short Walks
Boba 4G Carrier
Suitable for newborns & toddlers
Wide, comfortable padded straps
Easily portable
Best for Storage
Luvdbaby Premium
Ample storage
Durable, waterproof material
Integrated sunshade
Best for Weight Distribution
Osprey Poco Plus
Plenty of airflow for comfort
Repair or replacement guarantee
Safety mirror included
Review Methodology: At Mom Loves Best, our thorough analysis and hands-on experience evaluating hiking carriers allow us to provide you with reliable, data-driven recommendations. Our team of professionals conduct extensive research, comparing various criteria such as performance, design, comfort, and safety to measure and rank the top hiking carriers in the market. We evaluate products from a user's perspective and identify key decision-making factors such as durability, weight capacity, and ease of use. Our assessment results combined with first-hand evidence allow us to confidently recommend the best hiking carriers that truly set them apart from their competitors. Trust in our expertise and let us guide you in selecting the perfect hiking carrier for your next adventure.
---
---
The Best Hiking Baby Carriers of 2023
Here are our favorite baby carriers for hiking.
Deuter Kid Comfort Pro Carrier and Backpack
Most Comfortable Hiking Carrier
This carrier from Deuter has been JPMA certified for safety. It's also been tested independently to meet federal and state guidelines, so there should be no safety concerns.
The company has been producing backpacks and outdoor gear for over 100 years — they must be doing something right!
Although on the heavier and larger side, it can carry little ones from when they can hold their head up until they weigh approximately 40 pounds. Its VariFit system is easily adjustable for any wearer and fits waist sizes from 24 inches up to 54 inches. I love that I can transfer it, complete with kiddo, between my partner and me.
Pivoting hip wings move with you, even when the trail is uneven or steep. The "VariSlide" shoulder straps allow for a lot of adjustability to help relieve strain on your neck.
We love all the storage pockets, including two suitable for hydration packs, to carry all the additional bits you might need.
It has a collapsible sun guard, and you can purchase a rain cover separately. These are essential for protecting your little one from the ever-changing elements.
This carrier caters to your baby's comfort with an ergonomic adjustable seat. It also has height-adjustable foot stirrups, side entry, and well-ventilated fabric. In short, it has all the extras you might be looking for.
A nice extra touch is a comfort pillow for if your baby happens to fall asleep, and it even comes with a teddy bear!
The five-point safety harness is super secure and adapts as your child grows.
For those not feeling so confident about using a hiking carrier, the sturdy aluminum frame has grab handles for ease of lifting. The airflow system and enhanced mesh fabric help keep you cool. Plus, it has a useful kickstand for stability, so you can set the pack on the ground with your child still in it and not have to worry about it toppling.
Pros
Padded adjustable cockpit for your child.
Easy to get your child in and out.
Easy-to-wash, removable pillow/drool pad.
Fully adjustable for any body shape or size.
Cons
Might take a few adjustments to get a comfortable fit.
Our Ratings
Community Feedback
This backpack carrier is fantastic for hiking with a toddler, providing great comfort for both the child and the wearer. The weight distribution is impressive, making it easier to carry a heavier kid, and the adjustable straps accommodate different heights. The sunshade and storage compartments are great perks, and it even fits a 3L water sleeve. However, some users may find the day pack to be of lower quality and not as convenient as the rest of the carrier.
---
Ergobaby Adapt Cool Ergonomic Baby Carrier
Best Hiking Carrier for Newborns
Ergobaby has been producing baby carriers since 2002. These carriers were designed by a mom and are recognized as a hip-healthy product for your baby, so you know they hold their legs in the correct position.
Ergobaby's instructional videos provide the right information on how to wear the carrier and how your baby should be supported in the carrier.
This carrier is suitable for children from 7 to 45 pounds. We love that it adapts to grow with your baby from newborn through to toddlerhood. The seat adjusts so you can carry your baby on your front, facing inward, while they're still small. As they grow, you can carry them on your hip or back.
You can use the extendable back panel to support your little one's head or extend it to provide back support for a toddler. This is an important feature in a soft structured carrier.
Not only is this carrier cozy and snug for kids, but it's also comfortable for parents. It's great when you stroll along and forget you're carrying any extra weight.
The Ergobaby Adapt has a lumbar support padded belt at the waist that adjusts easily. It gives the support needed for good posture and helps prevent lower back pain. You can also wear it high on your frame, which is an advantage following a C-section.
The padded shoulder straps provide extra comfort and can be worn criss-cross, making it a good choice for petite parents. You can also wear the straps backpack-style if you have a longer torso.
You can adjust the carrier to suit multiple body shapes and sizes, which is always a bonus. The waist strap will fit sizes between 26 and 55 inches, and the shoulder straps adjust from 28.75 inches to 48.75 inches. This is particularly useful when you get tired and wants to pass the carrying duties to another caregiver.
This carrier's cool air mesh fabric allows plenty of airflow and breathability for you and your baby.
The baby hood can be used for privacy when breastfeeding or as a UPF 50 sunshade. This is ideal for helping to protect your baby's delicate skin from the sun.
The carrier is machine washable, so you can clean up easily after those inevitable diaper accidents.
Pros
Economical since you only buy one carrier for a newborn to toddler.
Back support for baby.
Adjustable for many body shapes and sizes.
Three different baby positions to choose from.
Cons
It cannot be adapted to forward-facing.
No zippered storage pocket. (Although Ergobaby offers a separate pouch that fastens to the carrier waistband)
Our Ratings
Community Feedback
Love the Ergo Adapt carrier for its comfort and versatility! After trying multiple carriers, I found the criss-crossing straps on this one to be perfect for my petite frame - they evenly distribute the weight and provide excellent support. The fact that it doesn't require an infant insert is a huge plus, making it quick and easy to get my baby in and out. My only wish is that it had a storage pocket like the original Ergo, but overall, this carrier has been a fantastic choice for me and my baby.
---
Wipha Backpack Carrier With Sun Canopy
Best Hiking Carrier for Toddlers
Toddlers aren't always up for walking themselves, especially if you're taking them on a hike. If your little one still needs to be carried, we're sure you'll love this Wipha backpack carrier as much as we do.
The carrier is suitable for children up to 39 inches tall and 50 pounds in weight.
You can rest assured they will be content the whole hike, thanks to the soft padding and adjustable height. If they want to fall asleep, they'll be well supported due to the soft cushion at the front and back. But if that cushion bothers them, it's easily removable, which is also great for cleaning.
With this carrier, you won't need to worry about your child while you hike. It comes fully equipped with an advanced safety belt and side baffles to support and protect your child.
The UV sunshade offers protection on sunny days (although sunscreen is still recommended). If you don't want it, you can collapse the sunshade and zip it up so it's out of your way.
The zipper pocket at your waist lets you keep your cards, keys, and phone within reach. It also has a bottle holder bag to keep your water bottle nearby — perfect for long hikes!
The carrier weighs 7.83 pounds, so it's comfortable and lightweight enough for most parents. And it folds up easily, so you can store it in the car or a closet at home.
Pros
3-point weight system for even distribution.
Added pockets for storage.
Soft padding for your comfort.
Four color options are available: blue, black, army green, and navy.
Cons
Nowhere for the child to rest their legs.
Our Ratings
Community Feedback
I recently tried out this backpack carrier and found that it had many great features, but the fit was not ideal for my body type. The color was attractive, and it was easy to get my child in and out, thanks to the quick-release buckle and well-placed harness clip. The carrier also offered multiple adjustments and a non-bulky kickstand, with plenty of storage space for my child's essentials. On the downside, the straps were too stiff and caused me discomfort. While the carrier may not have worked for me, it could be a great fit for others seeking a high-quality, lightweight, and easy-to-use backpack carrier.
---
Kelty Journey PerfectFIT Child Carrier
Best Hiking Carrier for Big Kids
Kelty's mission is to get kids back outdoors.
Weighing just 6 pounds, 6 ounces, it gives more room for your child and extra gear. The carrier measures 28 inches by 15.5 inches by 22 inches and has an impressive storage capacity of 1587 cubic inches. Sturdiness is provided by a lightweight aluminum frame, padded roll bar, and auto-deploy kickstand.
The wide seat base and adjustable stirrups keep big kids comfortable. The maximum weight, including gear, the carrier, and the child, is 48.5 pounds.
This means it's suitable for carrying kids weighing between 16 and 40 pounds.
The Kelty suspension system is also designed for the caregiver's comfort and adjusts to fit perfectly. It has mesh pockets on the hip belt for small essentials and a large pocket to store things like toys, snacks, and sunscreen.
Don't forget that sunscreen as it doesn't include a sunshade. However, you can purchase one separately to fit the carrier. Or your baby can wear a sunhat.
Pros
Sturdy, long-lasting design.
The auto-deploy kickstand is easy to use.
Wide seat base and adjustable stirrups.
Two large grab handles at the top make it easy to transport when not in use.
Cons
Carrying a larger child might decrease storage capacity.
No sunshade.
Our Ratings
Community Feedback
Love the functionality and comfort of this carrier, as it has been perfect for our moderate hikes and trips to the zoo with our 8.5-month-old. The seat and stirrups are clearly comfortable for him, and he has even napped in it. However, the sunshade could be designed better to provide more protection from the front and sides, and a Velcro strip might help secure the cover more effectively.
---
Phil&Teds Escape Child Carrier
Best Lightweight Hiking Carrier
This lightweight carrier weighs just 6.6 pounds and has tons of features. It can carry a child up to 40 pounds and even folds flat when not in use. It's perfect for ditching the stroller when traveling and is accepted by most airlines as carry-on luggage.
The aluminum frame provides stability and strength when loading up your child and allows you to set them down while keeping them safe and contained.
We especially appreciated the washable and waterproof fabric, making it an ideal choice for wet weather hiking and a quick cleanup afterward.
The mesh back is ventilated, keeping you cool while providing comfort for your back. Ergonomically-fitted shoulder pads and hip belts are supportive but soft. This means you won't be wasting time worrying about the carrier and can focus on enjoying the outdoor time with your little one.
It has a convenient storage pocket for a drink bottle and another pocket for keys on the bottom. There's also room for diapers, food, and a change of clothes. You won't be scrambling to find what you need with a wiggly baby on your back.
As much as we found this lightweight carrier comfortable for the wearer, the lack of a headrest makes it a little less comfy for little travelers — especially if they drift off to sleep on their journey.
Pros
It weighs just 6.6 pounds, so there is no excessive strain on your back.
Ample storage for all your hiking essentials.
Self-standing design.
It's compact enough not to hog space when you need to store it at home.
Cons
No cushioned support for a little one's head.
Our Ratings
Community Feedback
This baby carrier has been a great addition to our family adventures. I was able to comfortably carry my 23lb son and all the essentials for 6 hours, with the foot stirrups providing excellent support for him. The pack is comfortable for both the child and wearer, making it perfect for exploring new places without needing a stroller. The only downside I experienced was some soreness at my hips from the tight belt, but overall, the carrier kept my son secure and happy. After trying other carriers, this hard carrier has proven to be a great choice for both city use and outdoor excursions.
---
Piggyback Rider Backpack for Hiking
Best Standing/Rider Hiking Carrier
The Piggyback Rider is the brainchild of the Lifshitz brothers. Tired of carrying their own ever-growing children around, they invented this carrier.
It's suitable for children between two and four years old or weighing up to 50 pounds. You can even carry a heavier child if your back can withstand it. Unfortunately, my husband drew the line when I asked to hop on.
The carrier is portable and lightweight, weighing less than 3 pounds. You wear it like a harness backpack, but it has a metal bar for your child to stand on. The child safety harness clips onto your harness, securing your child.
Your child's weight spreads out evenly along the bar, allowing you to stand upright as your little one holds on to the integrated handles.
This carrier is compact enough to take anywhere with you. It folds up to the size of a rolled towel. When your child wants to run along the trail beside you, simply lower them, unclip their safety harness, and let them hop off.
You can purchase additional accessories for this carrier, including a mudflap, water bottle holder, selfie stick carrier, and hip belt.
Pros
Compact and lightweight to bring along to any outing.
Suitable for carrying older children.
Kids love the view from above.
Cons
Harness straps would benefit from more padding.
Child can't sit in the carrier.
Our Ratings
Community Feedback
I recently used the Piggyback Rider for a 5K event with my 50lb, tall 5-year-old, and though it's better suited for trail hiking, it still managed to get the job done. While running, there was some bouncing and constant whacking from the metal bar and my child's feet, but a fast power walk pace made it more manageable. The harness system was a bit complex, but my son simply held on to the shoulder straps for stability. The construction is solid, although the adjustment straps did loosen and needed tightening a couple of times.
---
Clevr Cross Country Backpack Hiking Carrier
Best Budget Hiking Carrier
This backpack hiking carrier from Clevr Cross is easy to use and easy on your bank account. It weighs just 5 pounds, has a sturdy aluminum frame with a kickstand, and folds flat when not in use.
Measuring 30 inches by 10 inches by 16 inches, it's suitable for babies as young as 6 months. While it won't support the weight of some of its more expensive rivals, it will carry your little one until they reach 33 pounds.
The child seat is three-way adjustable, and you can move the foot stirrups to the most comfortable position for your child. Believe me, this is great for those kids who like to kick you in the back throughout the entire hike.
We don't even have to mention how great it is that the washable drool pad keeps your little one's drool and spit-up from dripping down your back.
This carrier comes with a retractable rain and sun canopy, so there's no need to buy expensive extras.
The carrier straps are fully padded, and the hip belt and lumbar padding make it comfortable to wear.
There are multiple storage options, including two water bottle pockets and a large back pocket. It has everything you need — without the hefty price tag.
Pros
Lightweight and durable at an affordable cost.
Plenty of storage, so you don't need to bring too many other bags.
Adjustable for both child and parent.
Baby sits high up, so they don't miss any of the action.
Cons
Sunshade could give more coverage.
Water bottle holders are out of reach when you're wearing the carrier.
Our Ratings
Community Feedback
I recently purchased this child carrier backpack for a family camping and hiking trip, and overall, it did a decent job. My three-year-old daughter was comfortable throughout the entire journey, even using the foot stirrups to stretch her legs. The backpack has ample storage for essentials like diapers, wipes, and extra clothes, and the materials used are of good quality. However, both my partner and I experienced some discomfort in our mid-backs and shoulders due to poor weight distribution, and I found it difficult to adjust the harness to fit my petite frame. Despite these issues, this carrier served its purpose and allowed us to enjoy our outdoor adventures without breaking the bank.
---
Boba 4G Baby Carrier
Best Hiking Carrier for Short Walks
The Boba 4G is a lightweight carrier, super for shorter adventures with your little one. It's compact enough to just throw in the car and drive to the beach for a nice walk.
You could even pop it in a bag to use when your little one gets tired of walking. This would have been so useful all those times when I had a tired, squirming toddler in my arms.
It will carry a child from 8 pounds to 45 pounds in a front- or back-carry position. There's even an integrated infant insert for small babies.
The carrier weighs just two pounds, and you can adjust the shoulder straps from 20 inches through to 40 inches. The hip belt fits waists from 25 inches to 58 inches. It will fit adults from 5 feet to 6.3 feet tall, making it suitable for a range of different caregivers.
The carrier is made from 100% cotton to keep both you and your child cool, and it has removable ergonomic adjustable foot straps for a toddler or older child.
The carrier has a pocket on the waist belt for small items such as a mobile phone, money, or credit cards. There are also strap holders to carry a purse or an extra bag when you visit the grocery store on your way home.
The removable sunshade offers sun protection, privacy, and a soft place for a sleeping baby to rest their head.
The Boba 4G comes in a variety of solid colors or fun patterns.
Although this is one of the comfiest carriers on our list, we found it best for shorter hiking trips and outings closer to home. The lack of a supportive frame and waterproofing made it a little more complicated for use on longer hikes or bad-weather days.
Pros
Suitable for newborns and toddlers.
Wide, comfortable padded straps for a comfy walk.
Storage for smaller items, so you don't need to bring a purse.
Easily portable.
Cons
You might need help to put an older child in the carrier on your back.
Without a frame, you'll have to hold your child or set them on the ground when you need to remove the carrier.
Our Ratings
Community Feedback
My experience with this baby carrier has been mostly positive, especially when it comes to breastfeeding and comfort for both me and my little one. The material is sturdy and reliable, and the fun print adds a nice touch. However, I did have some issues with the back strap rubbing on my neck, which could be due to my body shape. The carrier is easy to adjust and doesn't have an overwhelming number of buckles, making it user-friendly. While the baby can only face me in this carrier, my child still seems to prefer it over other carriers with more positioning options.
---
Luvdbaby Premium Baby Backpack Carrier
Best Hiking Carrier For Storage
This hiking backpack baby carrier has loads of large and small pockets — some mesh and some zippered. They're located under the cockpit, on the back, and on the waist belt. There's even an insulated pocket for a baby bottle or a drink.
We love that it includes a detachable backpack and foldable diaper changing mat. These are ideal for when you want to lay your little one down somewhere clean when you're out in the woods.
The carrier is made from waterproof, durable nylon to withstand the elements.
You can adjust the carrier to fit most heights, and the shoulder straps and waistband are padded, making it comfortable for longer hikes.
The aluminum frame has a kick-out stand for stability when you place it down. There's a comfortable cockpit for your baby, safety straps, and adjustable stirrups. A stowable hood protects your child from the sun's harsh rays.
Pros
Ample storage in both zippered and mesh pockets.
Durable, waterproof material that's also easy to clean.
Integrated sunshade.
Cons
Unclear instructions mean you may have to use some trial and error to figure it out.
Our Ratings
Community Feedback
Bought this backpack-style carrier and have enjoyed its comfortable padding and multiple adjustment options for both parent and baby. The sun cover provides decent protection, but be mindful of some sunlight still getting through the sides. Although it fits a variety of body shapes and sizes, the carrier can be a bit bulky for travel and shorter individuals may experience slightly off weight distribution.
---
Osprey Poco Plus Child Carrier
Best Hiking Carrier for Weight Distribution
Osprey is dedicated to creating comfortable backpacks for outdoor pursuits. The company has applied its custom-fit philosophy to this child carrier. You can adjust the hip belt, shoulder straps, and torso strap quickly and easily to fit whoever is wearing the carrier.
The result is a very comfortable carrier for both you and your child. The design lets your hips hold your child's weight rather than your back and shoulders.
It will support a child with a minimum weight of 16 pounds with a maximum weight load of 48.5 pounds. If you want to lighten the load, there's a detachable backpack for storing extra supplies.
Another large storage compartment sits under your baby's seat. This carrier also boasts a large pocket for a hydration pack and zippered pockets on the hip belt. This carrier even has loops so you can attach baby toys to keep your little one entertained.
This carrier is one of the comfiest for your child with its fully framed and padded seating area and double halo harness.
It comes with several extras, such as adjustable stirrups to keep those little feet and legs in place; a removable, washable drool pad; and an integrated sunshade.
Our favorite feature is Osprey's guarantee to repair or replace your carrier if there are any defects. This gives peace of mind to parents hesitant about committing to such an expensive piece of gear.
This hiking carrier may cost more than many other options, but we think it's more than worth it for its ease of use, comfort, and outstanding storage capacity.
Pros
Plenty of airflow for comfort.
Easy to adjust between users.
Repair or replacement guarantee.
Safety mirror is included so you can easily check on your child.
Cons
The hip belt is sturdy, but some find it hard and uncomfortable.
More expensive than many other hiking carriers.
Our Ratings
Community Feedback
My experience with this backpack has been excellent for both myself and my little one, who started using it around 10 months old. The adjustable frame makes it easy for my spouse and me to switch between carrying our child without having to take them out. This backpack is lightweight and offers ample storage space for diaper changing essentials, snacks, and drinks. It keeps both the parent and child cooler thanks to the space between the carrier and the wearer, making it perfect for long hikes and outdoor adventures.
When Will My Child Be Ready for Hiking?
First, you might want to consider when you will be ready for hiking. Some moms recover from childbirth quickly, while others take longer. You should take your time to heal to prevent injury and check with your health care provider before you start to exercise again (1).
Having the correct size carrier is essential for your baby. Some are front carriers that are made for an infant or have an infant insert. The larger backpack carriers are not typically made for a small baby. This is because a baby's neck isn't strong enough to keep their head stable and their airway unblocked.

However, there are carriers designed for very young babies that let them snuggle up cozy and warm in front of you while you walk. When you have a young infant in a front carrier, you should be able to see their nose and mouth and kiss their head (2).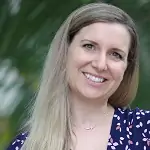 Editor's Note:
Katelyn Holt RN, BSN, BC
Once your child can sit up on their own and hold their head stable —around 6 months old — they can progress to a framed hiking carrier. It's a good idea to check with your pediatrician to see if your baby is ready for a big kid's carrier.
Types of Hiking Carriers
How to Choose the Best Hiking Carrier
Your child's age and the type of hiking you want to do can influence your choice of carrier, but there's sure to be one to suit your needs.
Since carriers can be quite an investment, it's worth taking the time to consider a few factors before you take the plunge. In our quest for the best hiking carriers, these are the top factors we considered:
---
Thank You For Your Feedback!
Thank You For Your Feedback!