Babywearing has grown in popularity over the past couple of decades, but it doesn't have to stop when your baby becomes mobile.
If you want to wear your toddler, not just any baby carrier will do. Toddlers are heavier, so you'll require a carrier that will support their weight while keeping you both comfortable and protecting your muscles from strain.
But there's no need to worry or spend hours searching for the right fit. We've combined our many years of toddler-wearing experience with thorough research into today's market to find carriers that will keep you and your toddler comfortable while out and about.
Learn what to look for in a carrier, and check out our reviews of the best toddler carriers for a comfortable bonding experience with your little one.
Image
Model
Product Comparison Table
Features
Best Overall
Tula Baby Free-to-Grow
Adjustable design
Lightweight, breathable fabric
Removable hood
A Midwesterner's Dream
Lillebaby 6 Position Carrier
Comfortable fit
Six ways to carry
Storage for keys and phone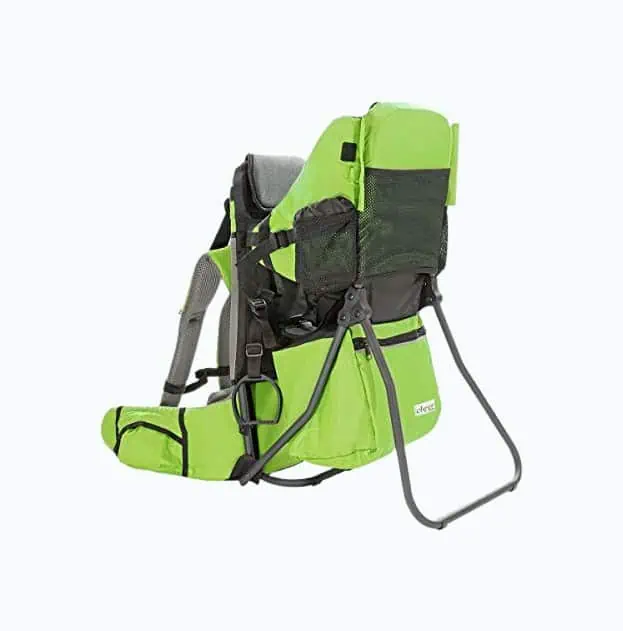 Great for Hiking
Clevr Country Backpack
Folding metal frame
Adjustable seat and foot stirrups
Plenty of storage
For The Earthy Mama
Pura Vida Ring Sling
Supports a good cause
Great for any body size, shape
Lifetime guarantee
Easiest Cleanup
Moby Evolution
Easy to clean
Comfortable fit
Breathable fabric
Review Methodology: At Mom Loves Best, we provide a thorough analysis of the best toddler carriers by conducting hands-on research and comparing various products based on criteria such as comfort, safety, and durability. Our team of experienced professionals evaluates each carrier through tests and assessments to identify key decision-making factors and rank them accordingly. We also consider design choices and their effect on users, sharing first-hand evidence and quantitative measurements of performance. By examining factors such as weight limits, ergonomics, adjustability, and ease of use, we present an extensive review that helps you make an informed choice for the ideal toddler carrier. Trust our expertise and data-driven approach to guide you in finding the perfect carrier that sets itself apart from competitors.
---
---
The Best Toddler Carriers of 2023
Here are 5 great toddler carriers to consider. We've ensured that these carriers are comfortable, supportive, stylish, easy to use, easy to clean, and affordable.
Tula Baby Free-to-Grow Carrier
Best Overall Toddler Carrier
For parents looking for a general carrier, this should be your top contender. It's a fully adjustable and ergonomic buckle carrier, so it's easy to navigate. The carrier also comes in plenty of design options, so you're sure to find one to suit your style.
Because this carrier is good for newborns, infants, and toddlers, there are three adjustable seat widths. You can use it until your child reaches 45 pounds. By that point, most children are ready to walk on their own.
You can carry your child facing you or on your back. The manufacturer notes this style of carrier isn't meant to be worn on the front facing outward.
The carrier is just under 2 pounds and has breathable fabric to keep you and your toddler cool even in warm temperatures.
It's also good for neck and shoulder comfort as it has dual-adjustment shoulder straps with plenty of padding. The waistband is comfortably wide with padding to provide extra support.
Pros
Adjustable design.
Lightweight, breathable fabric.
Removable hood.
Machine washable.
What We Like
Adjustable Design
An adjustable, body-conforming design guarantees comfort for both the parent and toddler.
Lightweight, Breathable Fabric
This design keeps the wearer and the toddler cool even in hot weather. The carrier is made from 100% breathable cotton as certified by OEKO-TEX. Breathable fabric is increasingly important in the summertime and during warm days to prevent overheating.
Removable Hood
While the hood is mainly for infants, it can still come in handy if your toddler needs some coverage on sunny days. It can also be beneficial if Mother Nature sprinkles a little rain unexpectedly.
Machine Washable
Having a machine-washable carrier is a must. It makes cleaning so much easier and less work for you. You don't need to worry about accidents and stains because the washer does the hard work for you.
What We Don't Like
May Dig Into Skin
Parents have mentioned that, although padded, the straps may dig into your shoulders and your baby's legs. This could be due to improper adjustments, but it's still something to remember.
Product Specs
| | |
| --- | --- |
| Material | 100% cotton |
| Weight limit | 45 pounds |
| Unique features | Removable hood |
| Carry positions | Back and front carry facing inward |
Our Ratings
Community Feedback
Got this carrier to help manage my two kids, and it has been a game changer. It's comfortable and secure, allowing me to carry my baby for hours without straining my back. The carrier is easy to adjust and doesn't have loud Velcro, making it perfect for nursing moms. My only minor complaint is that the pocket isn't big enough for keys, but overall, I'm extremely impressed with this carrier.
---
Lillebaby Six Position Carrier
A Midwesterner's Dream Carrier
This carrier is optimal for all seasons, so if you live in an area where the weather changes from day to day, you're covered. It has a zipper panel that reveals breathable fabric for when it's hot outside.
This one also grows with your child. You can use it starting in infancy, but it can accommodate up to 45 pounds. You can use it in six carrying positions, four of which are good for toddlers.
You can face your toddler ergonomically outward, on your hip, facing inward, or on your back. The fit is customizable with two-way adjustable straps, an extendable back panel, lumbar support, and an adaptable seat. This allows for a more comfortable carry for both you and your baby.
The straps can be worn parallel or crisscrossed, and the carrier can be machine washed on a cold cycle. Keep in mind the carrier should be air-dried. It also comes with a slim zippered pocket to store your phone or other small necessities.
Pros
Great for all seasons.
Comfortable fit.
Six ways to carry, four for toddlers.
Storage for keys and phone.
What We Like
Great for All Seasons
If you live anywhere with four seasons, you'll need versatile outdoor baby gear for the weather.
Having a carrier that can adapt to the seasons will save you time and money. The included air panel on this one could come in handy in regulating your toddler's temperature as well.
Comfortable Fit
A comfortable fit is a must. If you want to enjoy the wearing experience, you need to feel comfortable. Luckily, this one comes with full support, including a lumbar belt.
You can wear the straps in two different ways. This is nice so you can experiment and determine which feels best for you.
Six Ways to Carry, Four for Toddlers
You can wear your toddler in the front facing inward or outward, on your hip, or on your back. There are two additional front-carry positions you can use for infants. Being able to switch positions is especially helpful when you're carrying a toddler, as it works different muscles and prevents fatigue.
Storage for Keys and Phone
Storage is good for keeping your hands free. The storage pocket can be handy if you don't want to carry a bag but need your main necessities.
What We Don't Like
Bulky Straps
While extra padding is great for added comfort, bulky straps can make you feel awkward. Depending on your body type, these straps may tuck under your arm. This can cause you to lose the ability to put your arms at your sides.
Product Specs
| | |
| --- | --- |
| Material | 100% cotton, breathable mesh lining |
| Weight limit | 45 pounds |
| Unique features | Zipper pocket for storage |
| Carry positions | Six ways to carry, four for toddlers |
Our Ratings
Community Feedback
I've been using this baby carrier for quite some time now and I must say, it's incredibly comfortable and versatile. The lumbar support helps alleviate any back strain, and the six different carrying positions allow for a perfect fit as my child grows. Additionally, the all-weather design with a zip-open mesh panel keeps my little one cool in the summer and warm in the winter, making it perfect for all our adventures together.
---
ClevrPlus Backpack Hiking Child Carrier
Best Toddler Carrier for Hiking
Finding a supportive carrier is especially important for families who enjoy hiking together. This is where backpack carriers come in handy. This carrier, in particular, is super lightweight and can accommodate your child up to 33 pounds.
The seat is adjustable in three ways and comes with movable foot stirrups for your child. There's also a drool pad, but that's more geared toward small babies who are still teething.
The metal frame folds flat, which is convenient for storage, and it comes with a kickstand to easily stand it up. The shoulder straps are thick and padded to offer optimal support while you're carrying.
The carrier has a canopy that can be removed or folded back if you don't want to use it. It also has multiple pockets to hold your hiking essentials and includes two special water bottle pockets.
Pros
Folding metal frame.
Super lightweight.
Adjustable seat and foot stirrups.
Plenty of storage.
Cons
Only accommodates up to 33 pounds.
Zippers may break easily.
What We Like
Folding Metal Frame
Storage can be a concern with a carrier as big as this one. To help with that, it comes with a foldable metal frame, so you can store it easily in a closet or other small space.
Super Lightweight
This carrier is only 5.5 pounds, which is nice because you don't need to worry about unnecessary extra weight. This is handy if you like hiking because you'll already be carrying a lot.
Adjustable Seat and Foot Stirrups
The adjustable seat is nice because you can change it to accommodate your child's height and weight. This will ensure a proper-fitting carry and maximum comfort for your toddler. The foot stirrups are nice for keeping their legs in an ergonomic position.
Plenty of Storage
Since this is a backpack, it comes with a lot of storage. You won't need to lug around a separate bag because you can store most of your hiking essentials in this.
What We Don't Like
Only Accommodates up to 33 Pounds
Unlike many other carriers, this one only holds up to 33 pounds. If you have an older toddler, you might not get much use out of it.
Zippers May Break Easily
Parents have complained that the zippers on this carrier break easily. While this isn't technically a safety issue, it can be inconvenient.
Product Specs
| | |
| --- | --- |
| Material | 600d Oxford cloth |
| Weight limit | 33 pounds |
| Unique features | Foot stirrups and canopy |
| Carry positions | One (on the back) |
Our Ratings
Community Feedback
This child carrier backpack was a last-minute purchase for our family camping trip and it definitely got the job done. Our three-year-old daughter was comfortable throughout the trip and we appreciated the ample storage space for her essentials. However, both my partner and I experienced some mid-back pain and pressure while using the carrier, and found that weight distribution could be improved. Despite the discomfort, this backpack served its purpose and was a more affordable option compared to higher-end carriers.
---
Pura Vida Ring Sling Carrier
Best Toddler Sling Carrier
If you're pretty confident in your wrap and sling abilities, you may want to consider this luxury sling. Available in a variety of colors, it's made of super-soft bamboo and linen fabric. And we love that it's eco-friendly.
With every sling purchased, 5% of the profit is donated to CEPIA, an organization in Costa Rica. CEPIA works with low-income families to ensure children and adolescents get the necessary support.
This sling is recommended for children up to 35 pounds and is designed to avoid neck and back strain. Because the sling fabric is long, it's great for virtually any size, from petite to plus. It also supports the natural "M" leg position, so it's a good carrier for supporting hip development.
The sling comes with a lifetime guarantee, so you can send it back if you aren't satisfied with it.
Pros
Supports a good cause.
Great for any body size and shape.
Lifetime guarantee.
Plenty of color options available.
Cons
You may need to adjust the straps periodically.
The fabric wrinkles easily.
What We Like
Supports a Good Cause
Any company or brand that actively supports children's organizations will always get a gold star in our book.
Great for Any Body Size and Shape
Because this is essentially a long piece of fabric, it's great for virtually any body type. As long as you know how to tie a sling, you'll be able to fit it to your body.
Lifetime Guarantee
We like that you can return this product anytime without jumping through a million hoops.
Plenty of Colors Available
Having plenty of colors to choose from is nice because you can find a color that best fits your style. After all, carriers are like another accessory. You'll want to find one you don't feel embarrassed about wearing.
What We Don't Like
May Need to Adjust Periodically
The fabric is a bit slippery, so it may need periodic adjustments. This can get pesky if you're still breastfeeding and want to wear the carrier while doing so.
Fabric Wrinkles Easily
The fabric has also been known to wrinkle easily. This may not seem like a significant concern, but it can get frustrating if you don't like how it looks.
Product Specs
| | |
| --- | --- |
| Material | Bamboo and linen |
| Weight limit | 35 pounds |
| Unique features | Aluminum rings |
| Carry positions | One, front facing inward |
Our Ratings
Community Feedback
In my experience, this baby sling is a handy tool for busy parents, but there is a learning curve when it comes to mastering its use. Once you get the hang of it, it's easy to put on and adjust, providing support for your baby and freeing up your hands for other tasks. The fabric can be a bit scratchy on the skin and may cause some discomfort over extended periods, but it softens with use. One of the standout features of this sling is its ability to facilitate easy breastfeeding. The safety standards and quality of the sling are impressive, and the pocket is a great addition for extra convenience. While it may not be my absolute favorite carrier, it's definitely a valuable addition to any parent's arsenal.
---
Moby Evolution Wrap Carrier
Easiest to Clean Toddler Carrier
If you're ready to try out a wrap but don't want to spend a ton of money, this is one to consider. The Moby wrap is probably the most well-known brand of stretchy wrap. It's recommended for children up to 33 pounds and comes in several color options.
Wraps are versatile, as they allow for many carrying positions, and this one is no exception. You can adjust the wrap to fit your comfort level, and it evenly distributes weight across your shoulders, back, and hips.
This wrap carrier is made of a soft, lightweight but sturdy cotton blend and is breathable to keep your little one cool.
It's also machine washable and can be tumble-dried on low. This is nice for low-maintenance cleanup.
Pros
Easy to clean.
Comfortable fit.
Breathable fabric.
Cons
Requires periodic readjustments.
Has a bit of a learning curve.
What We Like
Easy to Clean
As parents, we're busy people. Having gear and other clothing that requires step-by-step laundry care isn't the most practical option. Luckily, this one is super easy to clean, as you can just throw it in the washer and dryer.
Comfortable Fit
Wraps also tend to be the most comfortable carriers because they're made from soft fabric. There aren't any buckles or rough fabrics digging into your skin. This one is made of a cotton blend for softness.
Breathable Fabric
Breathable fabric is especially convenient when you live in warmer climates or are traveling somewhere warm. It's also a big safety feature. Breathable fabric will help prevent you and your child from overheating while wearing.
What We Don't Like
Requires Periodic Readjustments
Because it's stretchy, it requires periodic readjustments as it tends to slip around a little. This can cause frustration if you're breastfeeding while carrying.
Learning Curve on How to Use It
It can take some time to learn how to put it on properly. However, once you learn, it's a quick and easy process.
Product Specs
| | |
| --- | --- |
| Material | 70% viscose, 30% cotton |
| Weight limit | 33 pounds |
| Unique features | Dryer safe |
| Carry positions | Front facing inward and hip carry |
Our Ratings
Community Feedback
In my experience, this wrap is of good quality and comfortable for both baby and parent. The stretchy fabric allows for easy adjustments, but it may require a tighter tie to prevent sagging as your baby grows. Although it might not be ideal for heavier or more active babies, this wrap is perfect for newborns and hot weather. The Moby Evolution offers breathability and comfort, allowing for daily tasks and outdoor walks.
---
| Product | Award | Material | Weight Limit | Features | Carry positions |
| --- | --- | --- | --- | --- | --- |
| Tula Baby | Classic & Functional | Cotton | 45 pounds | Removable hood | Back & front carry facing inward |
| Lillebaby | A Midwesterner's Dream | Cotton | 45 pounds | Zipper pocket for storage | Six ways to carry, four for toddlers |
| Clevr Country | Great for Hiking | Oxford cloth | 33 pounds | Foot stirrups & canopy | One (on the back) |
| Pura Vida Ring | For the Earthy Mama | Bamboo & linen | 35 pounds | Aluminum rings | One, front facing inward |
| Moby Evolution | Easiest Cleanup | 70% viscose, 30% cotton | 33 pounds | Dryer safe | Front facing inward and hip |
How to Choose a Toddler Carrier
Before shopping, it's good to keep a few things in mind to ensure you get the best product for your dollar.
Different Types of Carriers
There are a few different styles to accommodate carrying your toddler. Each one has its own benefits, and there isn't one that is universally better than the other. It all comes down to your personal preference.
We tend to reach for our structured carriers more because they're much less complicated than slings and wraps. Here are your options.
Standard Buckle Carriers
These are probably the most common carriers you'll see used. They're pretty easy to set up and come in both plain and printed designs.
Backpack Carriers
These are the more heavy-duty carriers you might see while hiking. They're meant for outdoorsy families, as they come with lots of storage to hold snacks and other necessities.
Wraps
Wraps can be the most difficult carriers to get used to. A wrap is a long cloth you wrap around yourself strategically and then tie off. They take practice to get a tight fit, especially with a busy toddler who weighs more than an infant and can shift more.
Slings
Slings are similar to wraps, but they're worn around one shoulder rather than around both.
---
Thank You For Your Feedback!
Thank You For Your Feedback!