Are you looking for a close and cuddly way to carry your baby? Have you decided to purchase a baby wrap, but don't know where to begin?
Shopping for a baby wrap can be overwhelming. You're going to spend a lot of time wearing your carrier — so you need it to be comfortable for both you and your baby.
To help you in your babywearing journey, we've rounded up the best baby wraps currently on the market.
Image
Model
Product Comparison Table
Features
Best for Newborns
The Baby K'tan
Great for beginner wrappers
Nursing friendly
Machine washable & dryable
Best for Summer
Moby Wrap Evolution
Versatile wrap options
Stylish one-size fits all
Machine washable
Best for Twins
TwinGo Original
Easy to wear
Ensures optimal position
Custom fit for waists
Best for Plus Size
Boba Baby Wrap
Great for all shapes and sizes
Nursing friendly
Lifetime guarantee
Best for Dads
The Moby Sling
Neutral design
Straightforward & easy to use
Grows with your baby
Best for Swimming
Beachfront Baby
Fully tested and safety compliant
Non-toxic materials
Breastfeeding friendly
Best for Back Carrying
KeaBabies Baby
Machine washable
One size fits all
Easy to care for and maintain
Best for Comfort
Acrabros Baby Wrap
Super soft yet durable
Great for nursing
Variety of color options
Best for Toddlers
Hip Baby Wrap
Multiple carrying options
Fair-trade product
Perfect for nursing
Best for Sleeping
Nalakai Ring
Great for traveling
Lightweight and comfortable fabric
Plus size friendly
---
How to Choose the Best Baby Wrap
Different to a structured carrier, a baby wrap is, essentially, just a long piece of fabric with no buckles, belts, or clasps to complicate things. The fabric is wrapped around your body in different ways, to create a comfortable pouch for the baby to sit in.
A lot goes into shopping for a baby wrap. If you're in the market for one, these are some things you'll want to check out.
Whatever kind you decide is right for you, make sure its construction is good quality. Your baby is relying on you to keep them safe — shoddy quality and subpar materials won't cut it.
Before purchasing your wrap, double-check the status of the materials used.
Are they safety compliant? Are they fire-rated? Has the wrap been tested and evaluated by commercial safety organizations?
Don't be swayed by a lower price tag if it means sacrificing safety. The extra money for a wrap that's been fully tested and approved will be money well spent.
Compatible with Your Needs
After safety, you'll want to look at how you plan to use your carrier. Not all wraps are appropriate for all carrying positions. If you know you want to carry on your back, make sure you buy a carrier that's rated for back carrying.
I made the mistake of bringing home a carrier I couldn't use with a newborn — and that was the whole reason I'd been looking for a wrap. Make sure you get what you want from your wrap — by knowing what you want before you make your purchase.
Your carrier is going to be exposed to all the delightful things babies bring with them. This might include — at one time or another — spit up, diaper leaks, and vomit.
You might find the only time you have two hands-free long enough to eat a meal is when your baby is in the wrap. If that's the case, your wrap will also be exposed to spills and food, too.
I like wraps that can be put in the washing machine, which most can. Yet some wraps need to be hand-washed, or even taken to the dry cleaner. I know I can't commit to that level of care, so I opted for something else.
Know what you're willing to do to maintain your wrap before you go shopping.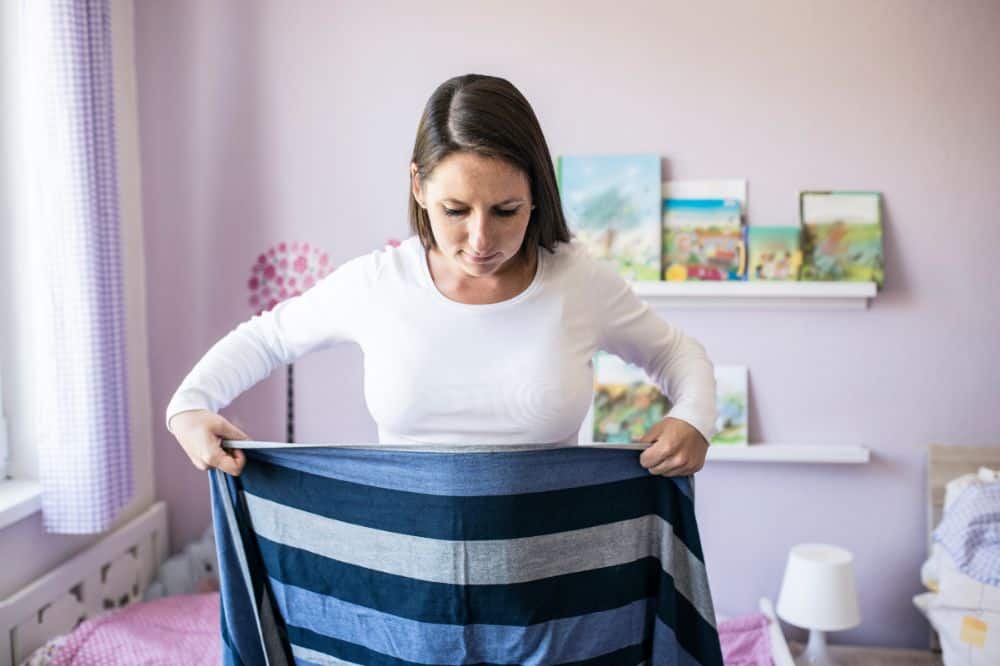 Baby wraps are available in a wide variety of materials. You have non-stretchy woven materials, 4-way stretch jersey, nylon, and linen — just to name a few.
Some of these are better for cooler weather (they get hot and don't breathe well), while others are great for rigorous outdoor activity or hot summers. Keep this in mind when shopping.
You might find you need multiple wraps to suit different times of the year, or different activities. If you're hot while trying on a wrap without a baby in it, standing in the aisle of an airconditioned store — you'll definitely be hot wearing your child.
---
The Best Baby Wrap Reviews of 2022
Here are our favorite baby wraps on the market.
1. The Baby K'tan Baby Wrap
Best Baby Wrap for Newborns
The Baby K'tan is a great option for a newborn, as it's a stretchy knit, made from 100 percent cotton. It's very comfortable for both you and the baby, but can get warm if temperatures are high.
This wrap is easy to care for and can be both machine washed and dried. This is a huge perk when dealing with a newborn. Discolored spots of dubious origin, spit-up, and remnants of your lunch are all a thing of the past.
Unlike some other wraps, this one is simple to use — there's no need to learn complicated wrapping techniques. The two separate pieces are easy to navigate, even for a beginner. The Baby K'tan also offers a variety of positions suitable for both nursing and newborns.
I love that this can be used with a new baby but can still be used well into toddlerhood. Its simplicity means it's a little less customizable than other wraps; if you and the other babywearers aren't a similar size, you won't be able to share this.
Pros
Great for beginner wrappers.
Nursing friendly.
Machine washable and dryable.
Cons
The stretchy material can be problematic with older, heavier children.
While easy to use, this wrap is less customizable than some others.
Can be warm in hot weather.
---
2. Moby Evolution Baby Wrap
Best Baby Wrap for Summer
I can't get enough of the Moby Wrap Evolution. You won't be able to do a back carry with this wrap, which tends to be cooler, but it does allow for several different carry positions. The Moby wrap is safe to use with both front and hip carries.
You'll probably need to spend some time learning how to use it, but it's more than worth it. Practice using it around the house until you're comfortable with the techniques and the fabric is broken in.
You'll find the lightweight material means it's comfortable to wear, even for long stretches of time. The fabric is breathable to keep you and baby cool, and it's softer than other wraps I've used.
While this can work for multiple wearers of different sizes, it's not truly plus-sized friendly. Even if you're taller than average, you may find there's not enough material for a safe wrap.
Pros
Versatile wrap options.
Superior quality fabric.
Suitable for both very young children and older toddlers.
Cons
This is a true wrap that can be intimidating for a beginner wearer.
No back wearing.
---
3. TwinGo Original Baby Carrier
Best for Twins
If you're looking for a wrap that can handle twins, the TwinGo is an excellent option. It's what I would choose if I were bringing home a set of twins. This is probably one of the only products you can buy just one of.
As a twin mom, it can be challenging to find awesome products to cater to your little bundles. Created by a twin mom herself, this carrier is great for carrying both your babies at once. It combines comfort and practicality and will allow you to do shopping, bounce your babies to sleep and maybe even eat breakfast yourself!
It prioritizes ergonomic positioning, ensuring your babies' hips are in the optimal position. Not only that, but it has eight different adjustment zones so you can ensure your babies are comfortable.
But that's not the best bit. Nope! This carrier can actually split into two single carriers. So if you and your partner both want to use it, you can split it and share the load.
What about fit? Well, the waistband is adjustable from 20 inches to over 99 inches. Therefore, it should suit most people. It's easy to adjust, and the premium foam waistband will ensure you're comfy.
As for the babies, this suits little ones from 10 to 45 pounds. So you may not be able to use it from day one, but once your babies have packed on a bit of weight, it will be a fantastic carrier.
Pros
Super simple for twin parents; easy to wear.
Ensures optimal position for babies' hips and spines.
You can wear both twins at once or split the carrier for single carrying.
Custom fit for waists from 20 inches to 99+.
Cons
Quite pricey, especially compared to cotton wraps.
10-pound minimum weight, which means you can't use it from day one.
It's hard to get the babies in by yourself.
Some parents found the instructions complicated.
---
4. Boba Baby Wrap
Best Wrap for Plus Size
My favorite size-friendly wrap is the one from Boba. It's one of the original stretchy wraps, and there's a reason it's still around and doing well.
I can't say enough good things about having a wrap that's machine washable and dryable. When my Boba encounters an unfortunate baby-related mishap, it's as good as new in two short hours.
This wrap is also great for nursing. The spandex in the fabric helps it keep its shape — and it stays where you want it to be. The fabric molds to your body, whatever size you are, and however your shape changes.
You'll also find this wrap easy to use. You can be suited up and out the door in a matter of moments. When you're juggling your baby, a diaper bag, and your own belongings, you know just how much that can mean.
Pros
Great for all shapes and sizes.
Machine washable and dryable.
Nursing friendly.
Lifetime guarantee.
Cons
There's a lot of material in this wrap — you may find there's just too much of it if you're on the shorter side.
The fabric can be hot and heavy.
---
5. The Moby Sling Baby Wrap
Best for Dads
I love that the Moby Sling Wrap is simple to use — it's not intimidating for a new dad, or mom, who's just trying to get the hang of babywearing. There are no complicated maneuvers or methods to learn. Just put the wrap and baby on, and go.
This is for use with newborns to toddlers, and offers both hip and front carry options. It's one size fits all, so there's no need to worry about sizing. If you're inclined to share a wrap, this model is the way to go.
The fabric is breathable, woven cotton that's machine washable and comfortable to use, even during long periods of wear. If you have a partner that's looking for a functional and intuitive way to babywear, the Moby sling wrap is a great option.
Pros
Neutral design that dads won't mind wearing.
Straightforward and easy to use.
Easy to care for and maintain.
Grows with your baby.
A great option for couples who share babywearing duty.
Can be used with heavier babies — it's rated for use all the way up to 45 pounds.
Cons
Fabric is thick and can be difficult to adjust.
Can be too warm and heavy to wear.
---
6. Beachfront Baby Wrap
Best Wrap for Swimming
The Beachfront baby wrap has everything you're looking for in a swimming wrap. The material is light and it dries quickly. It's also comfortable and made in the United States.
But best of all? It's safety tested, and CPSIA and ASTM compliant.
I love the UV protection the wrap affords my child, especially when swimming. I don't need to worry about repeatedly pulling out the sunscreen. It's also nice to know there's one more barrier between the sun and sensitive skin — just in case I've missed a spot.
Of course, this wrap isn't only for use by the water. It's great to use anywhere — all year round.
A great feature is that there's enough stretch to feel like this is customized to your shape. The stretch is only in one direction, though, so you don't need to worry about any extra stretching or sagging.
You can use this for hip or front carries, and it's ideal for young children and breastfeeding. While you can use it out of water, you may find it slips out of place easily when dry.
Pros
Fully tested and safety compliant.
Constructed with non-toxic materials and made by work-at-home moms in the United States.
Breastfeeding friendly.
Available in multiple sizes.
Cons
The fabric is slippery when not wet and can be difficult to tie.
Not as customizable as some other wraps when it comes to fit.
---
7. KeaBabies Baby Carrier Wraps
Best Wrap for Back Carrying
This design is made from premium cotton spandex. It's sturdy and durable and can support a heavier child, which you really want when looking for a back carrying wrap.
You'll use back carrying techniques mostly with an older child, especially if you're tandem carrying a younger baby on your front. My toddlers loved to peer over my shoulder in this position and see the world from mom's perspective.
The KeaBabies fits all sizes, so you can have more or less fabric, according to your needs. It's also easy to care for and can be machine washed, making it a great option for people who are new to babywearing.
I love that this wrap is great for back carrying, but also for other types of wearing. The material is soft and just as suitable for front carrying a young baby.
The KeaBabies wrap is available in a variety of beautiful colors. If you're looking for a fashionable babywearing accessory that will be in it for the long haul — this might be the perfect choice for you.
Pros
Machine washable.
One size fits all.
Measures up to 35 pounds.
Easy to care for and maintain.
Cons
Some may find it extremely long and large.
---
8. Acrabros Baby Wrap
Best Comfortable Baby Wrap
This wrap is a great option for someone looking for the benefits of a wrap with a little extra comfort and cushioning. It's great for a newborn because they spend so much time in your arms. If you can free up your hands for some of that time and still be comfortable, you'll be happier for it.
The Acrabros wrap is skin-friendly, perfect for those who want to desire comfort even while doing the chores at home. This helps you avoid sweating too much when wearing for prolonged periods.
It's also available in multiple designs for a custom fit. Breathable rayon and polyester blended yarn are the perfect choice for a growing baby. They won't become overheated — and neither will you.
You should always be aware of where your baby's mouth and nose are while you're wearing them. Acrabros can help ease your mind when baby is in a more covered nursing position.
Discreet nursing is definitely doable in this. It's easy to position the baby without being exposed, and you can also use the tail end for additional coverage if you prefer.
Pros
Super soft yet durable.
Variety of color options.
Comfortable to wear for long periods of time.
Cons
Other parents find it disadvantageous for the fabric being too stretchy.
---
9. Hip Baby Baby Wrap
Best Baby Wrap for Toddlers
Woven wraps are the best choice for an older (or heavier) child. The same stretch that's great for a baby wrap with a young child can allow for too much give once your baby weighs more. This can put pressure on your lower and upper back, instead of providing stability and comfort.
The Hip baby wrap is made entirely of cotton, and offers front, hip, and back carrying options. Each one is handmade and individually dyed, but it's still machine washable and easy to care for. A fair-trade product, you can feel good, not only about the benefits of using it, but also about the way it was made.
I love that this wrap can easily accommodate breastfeeding needs. It would be nice to see some extra length in the wrap, though. As it is, it won't be the best option for a mom who's plus sized.
Learning how to use wrapping techniques can be time-consuming. The Hip baby wrap is something you'll need to invest some time into learning to get the most out of it. Once you've mastered the movements, you'll think it's entirely worth it — and probably forget how frustrating it was in the beginning.
Pros
Multiple carrying options.
Easy to care for.
Fair-trade product.
Great for nursing.
Cons
This wrap can be hot.
Not plus-size friendly.
Complicated for the inexperienced wrapper.
---
10. Nalakai Ring Sling
Best Baby Wrap for Sleeping
Made from linen, the Nalakai ring sling is lightweight and breathable — it's perfect for naps. You won't need to worry about your little one overheating. The extra breathable fabric will put your mind at ease and keep your baby breathing easy.
This is also a wrap that's easy to learn to use. You won't be overwhelmed trying to understand the ins and outs of positioning. It's straightforward — you'll love it, and so will your baby.
It's super easy to travel with for naps on the go, and it takes up barely any room in a diaper bag, purse, or stroller. When wearing, a handy pocket can keep everything you need at your fingertips — pacifiers, phones, money — so you won't need to fumble around while trying to balance your baby.
This is great for a lightweight baby, but there isn't a good way to redistribute weight. If your child is older or heavier, you may find this isn't comfortable to use for long stretches.
Pros
Great for traveling.
Lightweight and comfortable fabric, even in hot weather.
Easy to use.
Comfortable for sleeping.
Plus size friendly.
Cons
Can be uncomfortable with a heavier child.
The fabric wrinkles fast.
---